Part of my beagle's bucket list was to take a short road trip. We chose Minneapolis because it is a short enough drive (about 6.5 hours – stop at the approximate midpoint in Des Moines for Zombie Burger) to do by myself from Kansas City, the weather is unbelievable in the summertime, and the city is remarkably dog-friendly.
The dogs and I were not disappointed! Here were some of the highlights from our visits to one small part of the Twin Cities.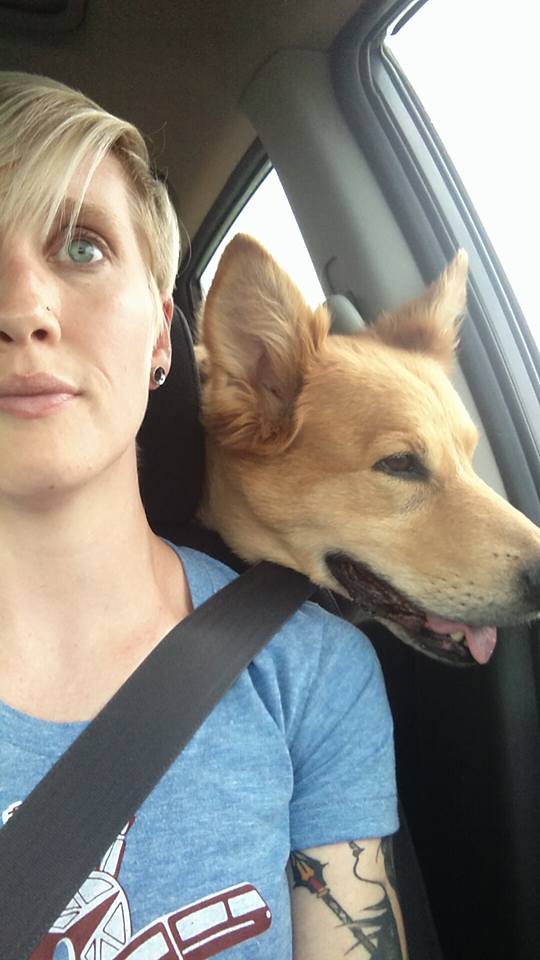 Where We Stayed
We stayed at a fun, artsy little dog-friendly apartment AirBNB near Cedar Lake and stuck mostly to the Uptown area throughout this trip. It was super convenient to walk straight out the front door to Cedar Lake for a beautiful long walk with the dogs, and it was a great home base to come back to after being out and about with the pups.
Ford and Otto especially loved being allowed to sleep in the same room with me, when normally they're relegated to my office overnight at home. They each cozied up on a bath mat and did great with apartment life.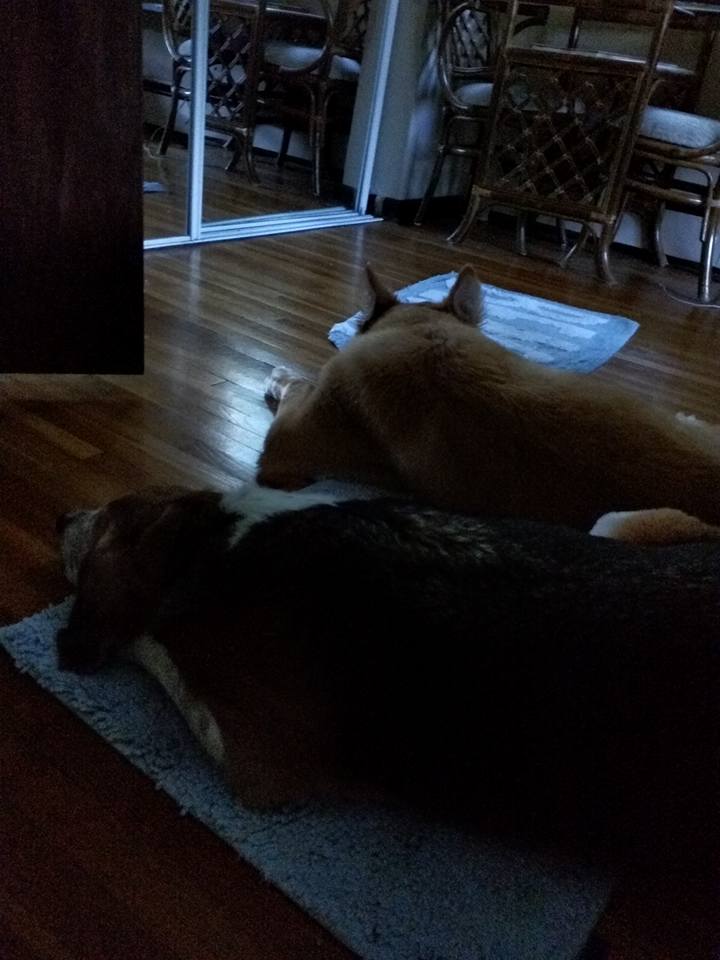 Enjoyed Dinner on the Patio at Four Bells
On my first night in town, I treated myself an excellent dinner on the front patio with the dogs at Four Bells near Loring Park. Apparently they have a rooftop patio that allows dogs! However, there was a private event that night.
I ordered a glass of the Malene Rosé from Paso Robles and the scallops, which came with curry plantain sauce, mango, cashews and cilantro. The scallops were so delicious I savored every bite – and ordered more food. I doubled down on spicy seafood with a crab cake with jalapeño tartar, pickled onion and arugula, and was not disappointed – but nothing holds a candle to those scallops.
(I enjoyed this peaceful evening meal and about every other meal so much with my book in-hand and the dogs at my feet I didn't bother taking photos – sorry!)
Walked Through Lyndale Park Rose Garden & Peace Garden at Harriet Lake
Lyndale Park with all its nooks and crannies was a great activity for the dogs on a cool day. The rose garden was a pleasant little stroll, and Peace Garden lives up to its name.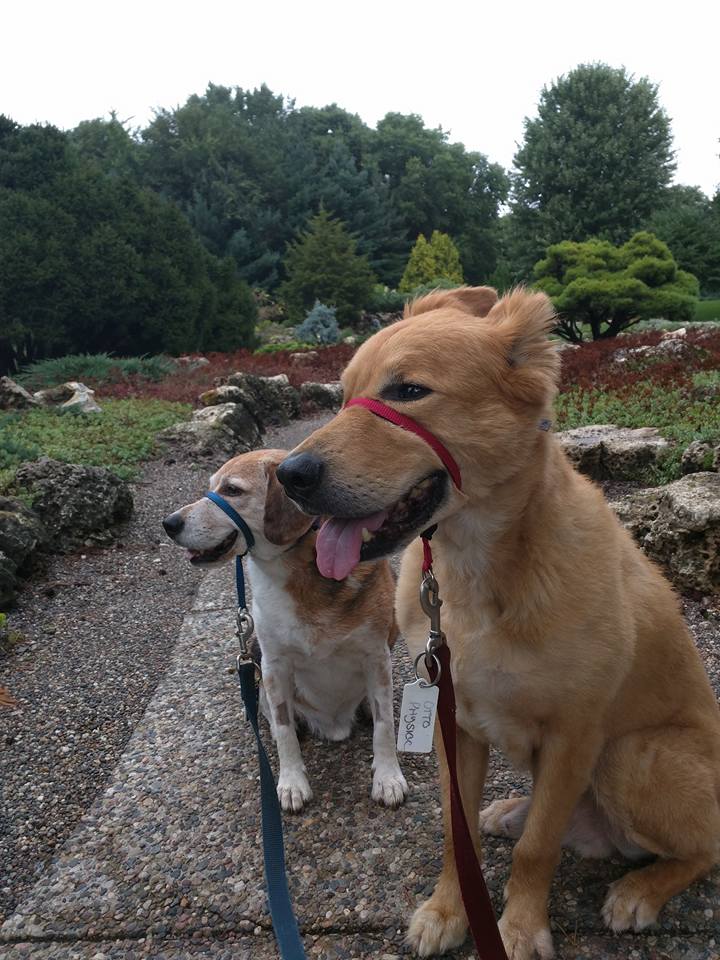 Between a walk around Cedar Lake first thing in the morning, and piddling around at Lyndale Park, the dogs were already wiped before lunchtime. (Admittedly – so was I – there may have been a long nap back at the apartment for all of us shortly hereafter.)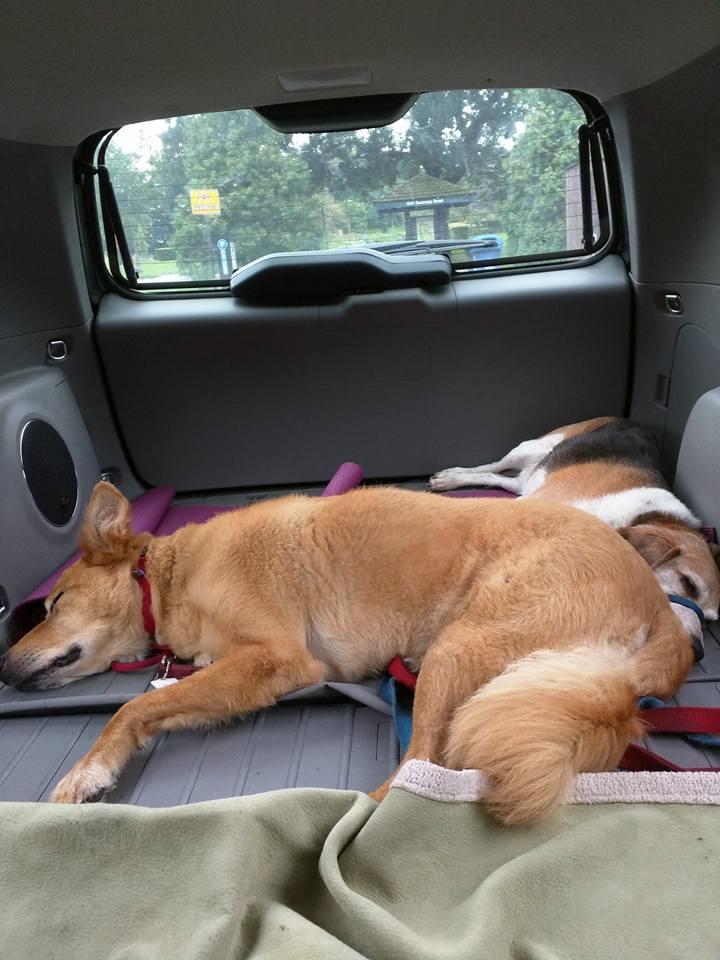 Visited Minneapolis Sculpture Garden
You probably recognize the iconic "Spoonbridge and Cherry" from Claes Oldenburg and Coosje van Bruggen! The Minneapolis Sculpture Garden is free and dog-friendly. It was a wonderful, unconventional outing with so much to see. Lots of folks stopped us to give the pups pets.
Had Beers at Sisyphus Brewing
Some of the breweries in Minneapolis have worked closely with the city to allow businesses that don't produce food on-site to have dogs indoors! For dog-lovers, especially those who are visiting and have the dogs in tow non-stop, this is huge.
Sisyphus Brewing is one of those craft breweries that earned the proper permits to become a dog-friendly bar. Sisyphus is a fun little spot with plenty of tabletop games, shuffleboard, and some pinball machines. The servers were so friendly and welcoming to me and my dogs.
I just hung the dogs' leashes on the hook under the bar, pulled out a good book, and tried their Piney But Younger Imperial and Steam Beer! Tons of people stopped by my spot at the bar on the way to the bathroom to give the pups all the pets and love they could hope for.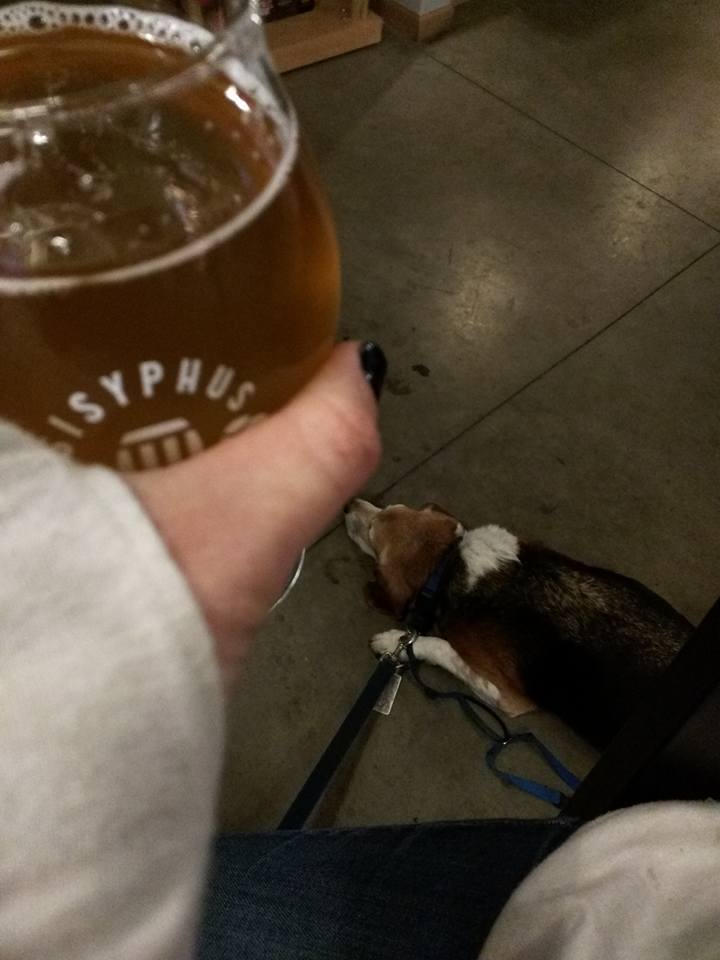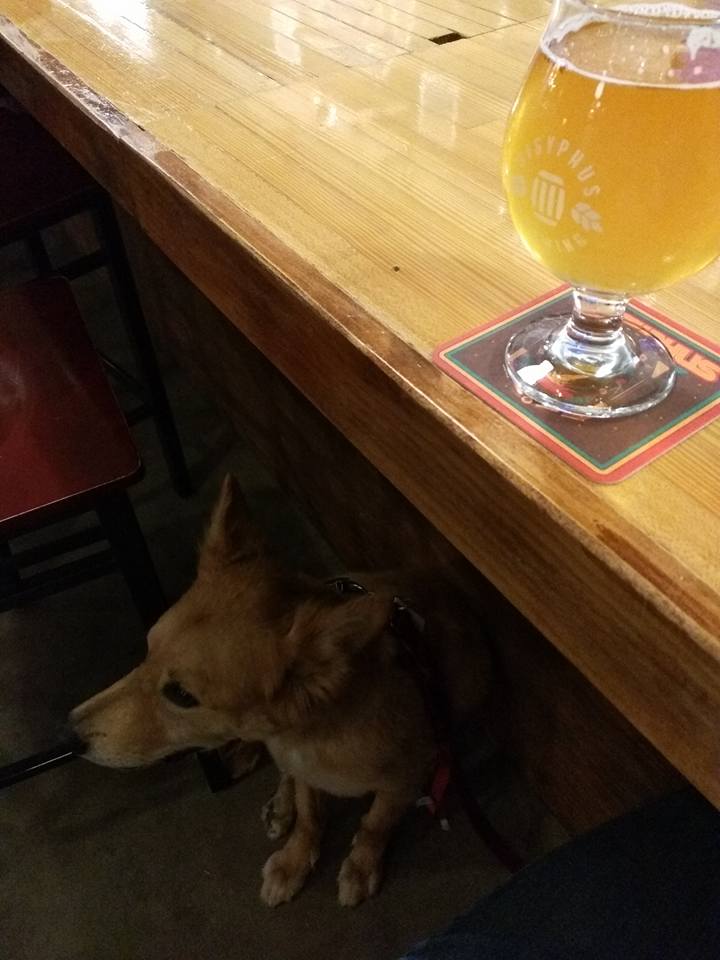 Had a Scoop on the Sebastian Joe's Patio
Sebastian Joe's is a hip little ice cream shop that has made its home in Minneapolis since 1984. It gets rave reviews and we just had to stop by for a scoop of ice cream. Both dogs got a scoop of the vanilla bean ice cream, and I went all-in with a scoop of their raspberry chocolate chip ice cream on a chocolate sprinkle cone. The best part about this was the interesting conversation with three friendly regulars on the patio who knew a lot about Kansas City baseball.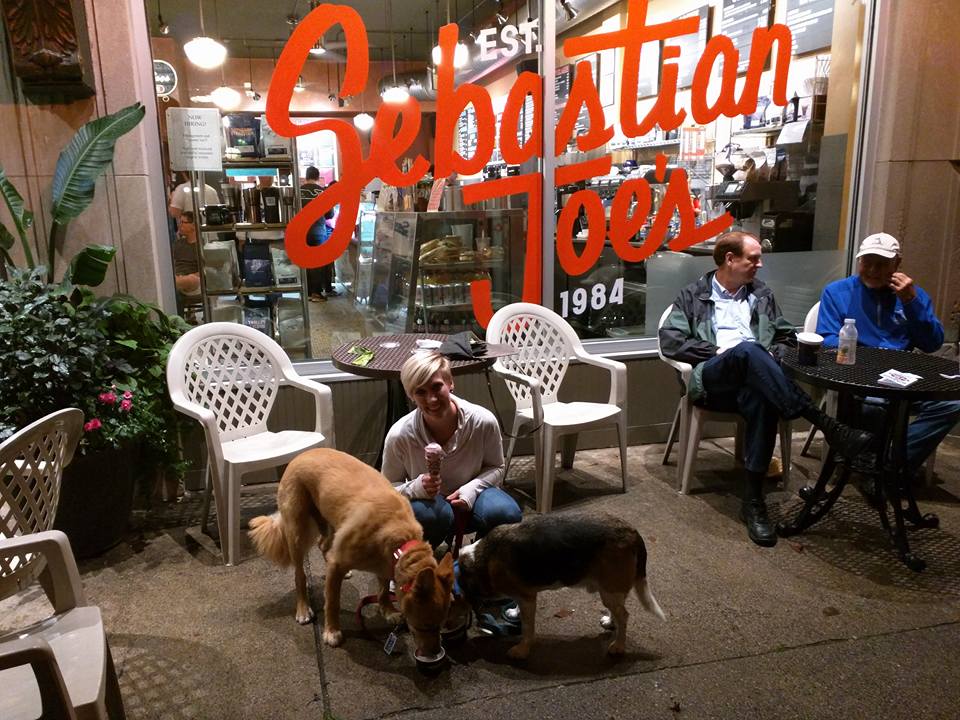 Got a Caffeine Buzz at Vicinity COFFEE
I got a gluten-free blueberry donut and dairy-free latte at Vicinity on Lyndale. It was a little misty and cool, but they had their bay door open and plenty of seating on the patio for folks with dogs in tow.
Brunch at The Zumbro in Linden Hills
I wandered over to the Zumbro in Linden Hills for brunch on Sunday morning to enjoy their Weekender menu. It was right across the street from a local farmers market that ends at 1 p.m. The restaurant was packed, but the line wasn't long for just one person and they have awesome outdoor seating where you can people watch and wait for your name to be called. I'm sure the serving staff was horrified that I ordered a Vegetarian Eggs Benedict and a whole Blueberry Cornmeal Waffle the size of my torso. In my defense, I only managed to eat half the waffle in addition to every single delicious bite of the Benedict – but seriously, every bite of both dishes was delicious. The serving staff was also super friendly and offered several good dog-friendly suggestions for my visit.
ToOK ADVANTAGE OF All-Day Happy Hour WITH COCKTAILS & APPS at Eat Street Social
Everyone behind the bar and at the bar is friendly at Eat Street Social. This actually wasn't my first visit to this hot spot on Eat Street (I visited around the same time last year!). This time around I enjoyed one or four Summer Tea & T cocktails off of their all-day Sunday happy hour menu, with a tea-infused gin, cardamom-juniper and citrus tonic.
I also sampled their happy hour scallops and calamari dishes.  The bartenders are true mixologists and absolute nerds about their concoctions – it's a blast to watch them do their thing behind the bar.
The scallops broke every rule imaginable – heavy parsnip and pear with maple reduction and strong flavors like walnut bits that risked overpowering the seafood, but mystically it all came together for a very unique dish. The fried calamari was a great snack with a spicy aioli using a local hot sauce called Cry Baby Craig's. I shared it with my new friend Ryan who works in the neighborhood and happened to sit at the bar next to me and made outstanding music recommendations (and gave me a few music history lessons).
Quick Breakfast at Rustica Bakery on the Way Out of Town
I needed a quick bite before leaving Minneapolis and was craving carbs and protein after one too many Tea & T's the night before at Eat Street Social, and Rustica Bakery really hit the spot. I grabbed an oat milk latte and their Eggy sandwich sans meat, and of course a ginger cookie for the road. I regret nothing. It was quick, easy and super convenient on the way out of town.
In CONCLUSION…
8/10 will visit again. The weather always didn't play nice – a little rainy almost every day we were there – but the dogs and I had a wonderful time visiting this small chunk of the Twin Cities and I look forward to visiting again.