June 15, 2022 - Yellowstone National Park Update: I published this story just two weeks before record-breaking floods occurred at Yellowstone National Park, causing widespread destruction, with mudslides and rock slides washing out major roadways. At a time when the country's first national park was to celebrate their 150-year anniversary, this astonishing flooding created extremely hazardous conditions and major damage to the park's infrastructure. Dozens of people have been recovered by helicopter search and rescue. The 

photos of the damage at Yellowstone

 are jaw-dropping. The northern road loop -- including sites like Grand Canyon of the Yellowstone, Mammoth Hot Springs Lodge, Lamar Valley, and Yellowstone National Park headquarters -- is so badly damaged that it will likely remain closed all season. Half the park is not operational as the National Parks Service works to stabilize from the historic flooding, and with more rain and warm weather that causes snowmelt in the mountains in the forecast.  If you are considering a visit to Yellowstone National Park, read the latest conditions at NPS.gov.
We think we know a place after driving a few hours on a tourist road, but we don't know a thing. What we could see in one afternoon at the beginning of the season is Yellowstone National Park is perhaps one percent of one percent of what this massive, wild place has to offer. With more than 2.22 million acres of land (still only the eighth largest national park in the U.S.), most visitors see less than one percent of the park when sticking to the roads and pull-outs. Even with that sliver of an experience, it's immediately apparent why this place has fascinated wanderers, artists and scientists alike for generations.
Yellowstone National Park is located at the headwaters of the Yellowstone River, like a piece of tape holding the corners Wyoming, Montana and Idaho together. The early season visit and unpredictable weather limited the scope of what we could see, but even in the best conditions it could take months to feel you have truly seen a representative sample of Yellowstone.
This reassures me and keeps me from feeling rushed to "see it all" during our short visit due to the unforeseen circumstances that forced us to roll with the punches and adjust our plans. Most park roads are closed until April 15, and then they begin opening in stages, with the highest elevation passes last. We entered the North Entrance from Gardiner (our lodging was located about an hour away at the foot of Emigrant Peak), and drove south until we reached the slushy trudge to Old Faithful, then turned back around.
Hydrothermal Features at Yellowstone
Yellowstone is perhaps best known for its massive collection of hydrothermal features, heated from the magma underneath its surface. The park is settled atop the Yellowstone Caldera complex. The park is dotted with geysers, hot springs, steam vents, mudpots, and other searing bodies of water, minerals and mud.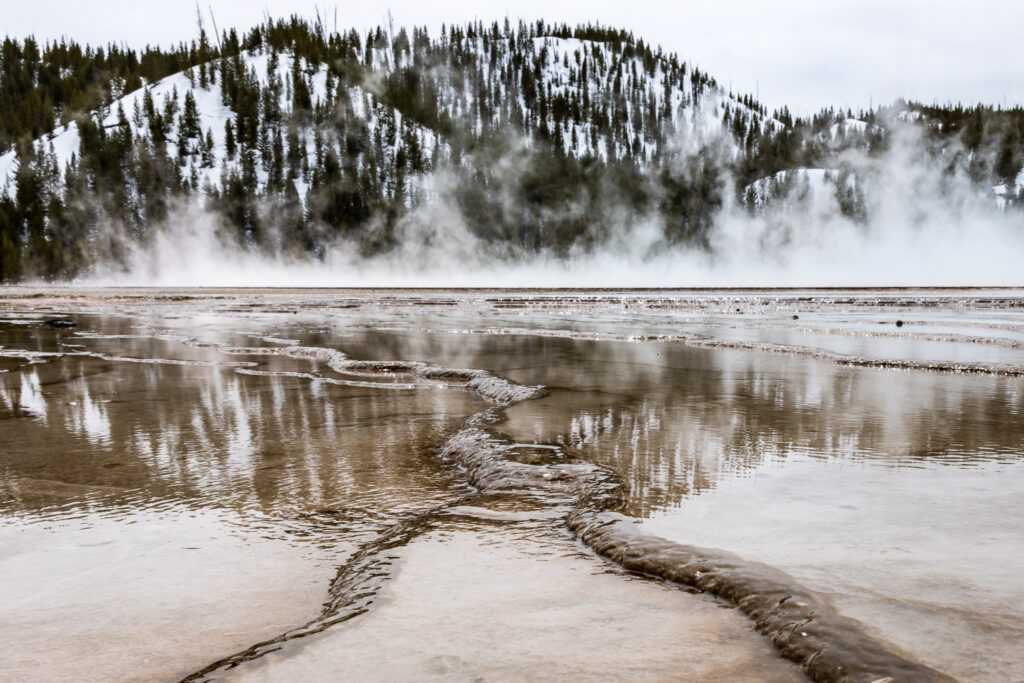 Steam vents, also called fumaroles, dotted the landscape of the park. They are among the hottest hydrothermals in the park, and the brisk, breezy weather made them easy to spot when the hot steam hit the cool air.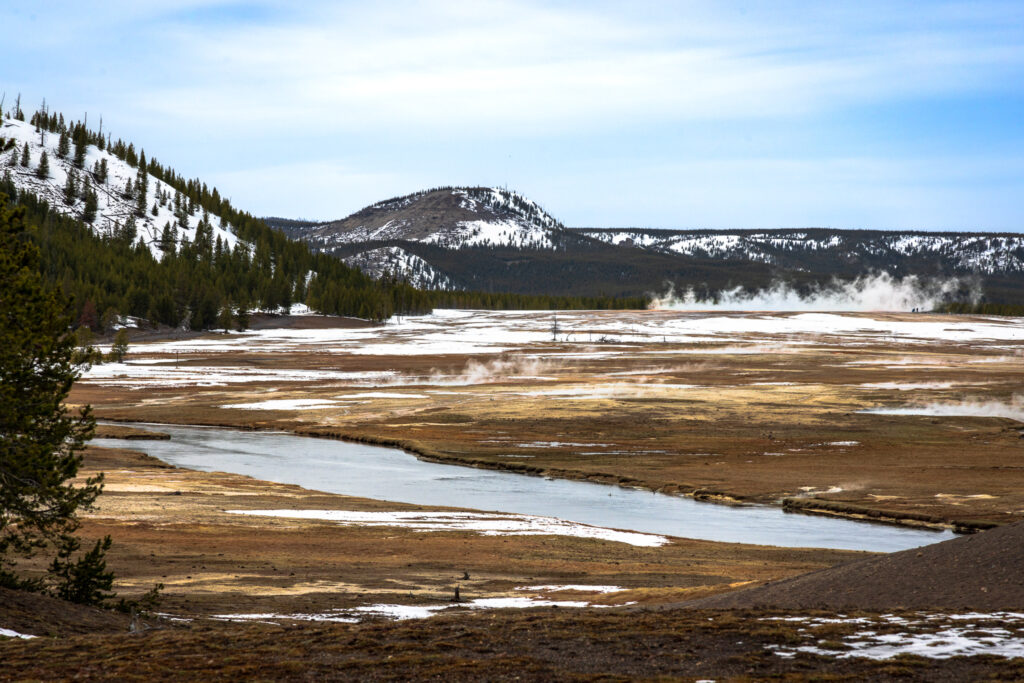 Our first stop was Beryl Spring in the Gibbon Geyser Basin. We crossed a small footbridge still heavy with ice and snow to see it, but the scent of minerals and sulfur reached us first. This was my first exposure to steamy hot springs rumbling and popping out of the ground – a lovely little thrill!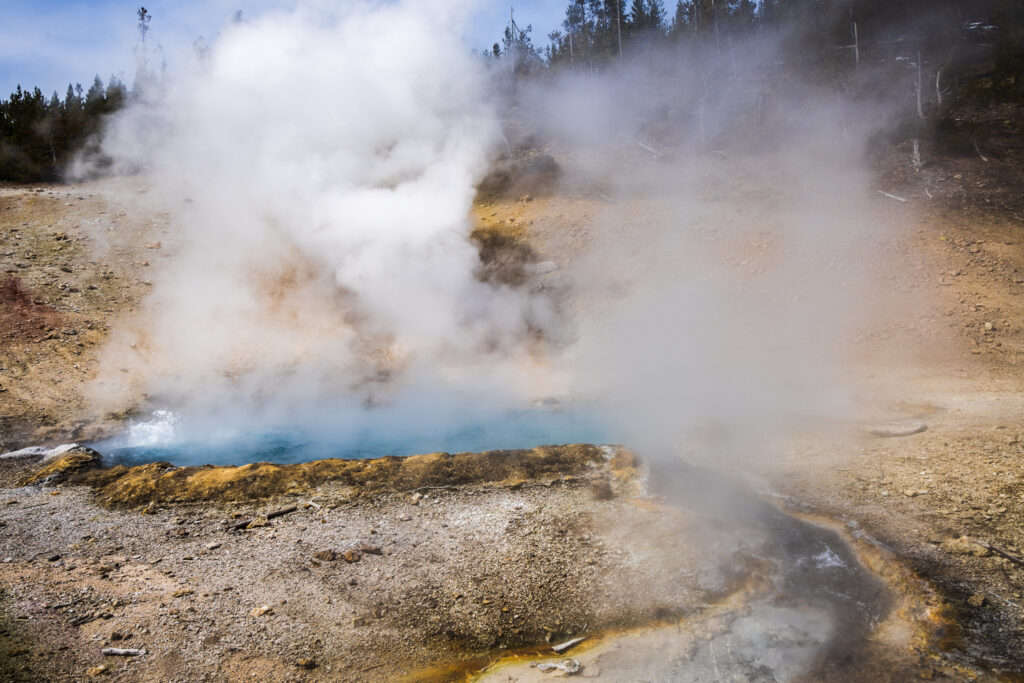 Hot springs are the most common of the hydrothermal features in the park. We spent some time at the Midway Geyser Basin to see the Grand Prismatic Spring, Excelsior Spring and Opal Pool. From the boardwalk, Grand Prismatic looks like a colorful steaming pond. But from above, it's a gigantic sun shape with tendrils of color reaching out from the center; it's blue, then white, then orange, like the combustion colors of open flames. It looks like a spooky nebula hole to nowhere, with winding little tributaries of steaming water like a fanning river delta.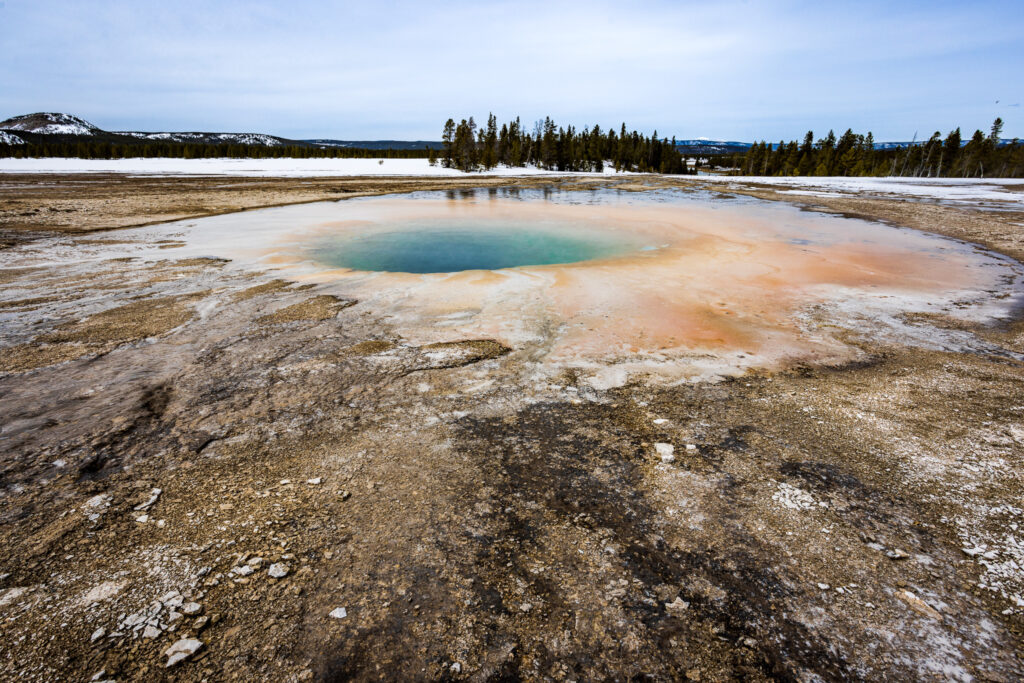 Some of the hot springs formed small chutes that carved channels in rock slopes, turning the sides burnt siennas, umbers and ochres. It was a cool and hazy day, so the swirling steam often obscured the features of the park, then the winds would still for a moment and I could catch a glimpse of the vibrant colors and crystal-clear waters.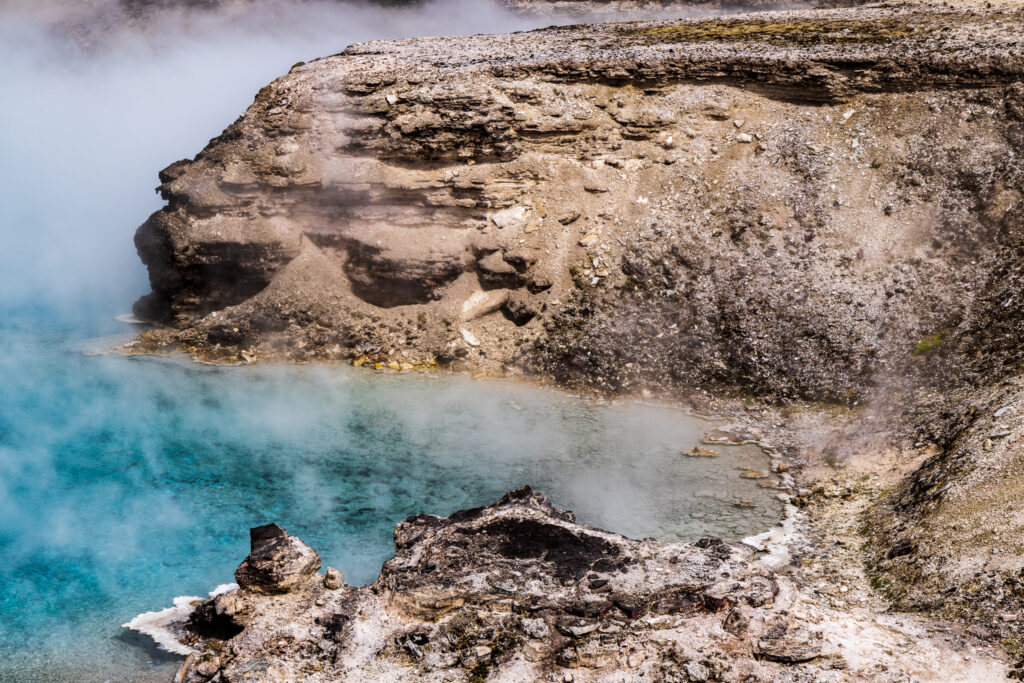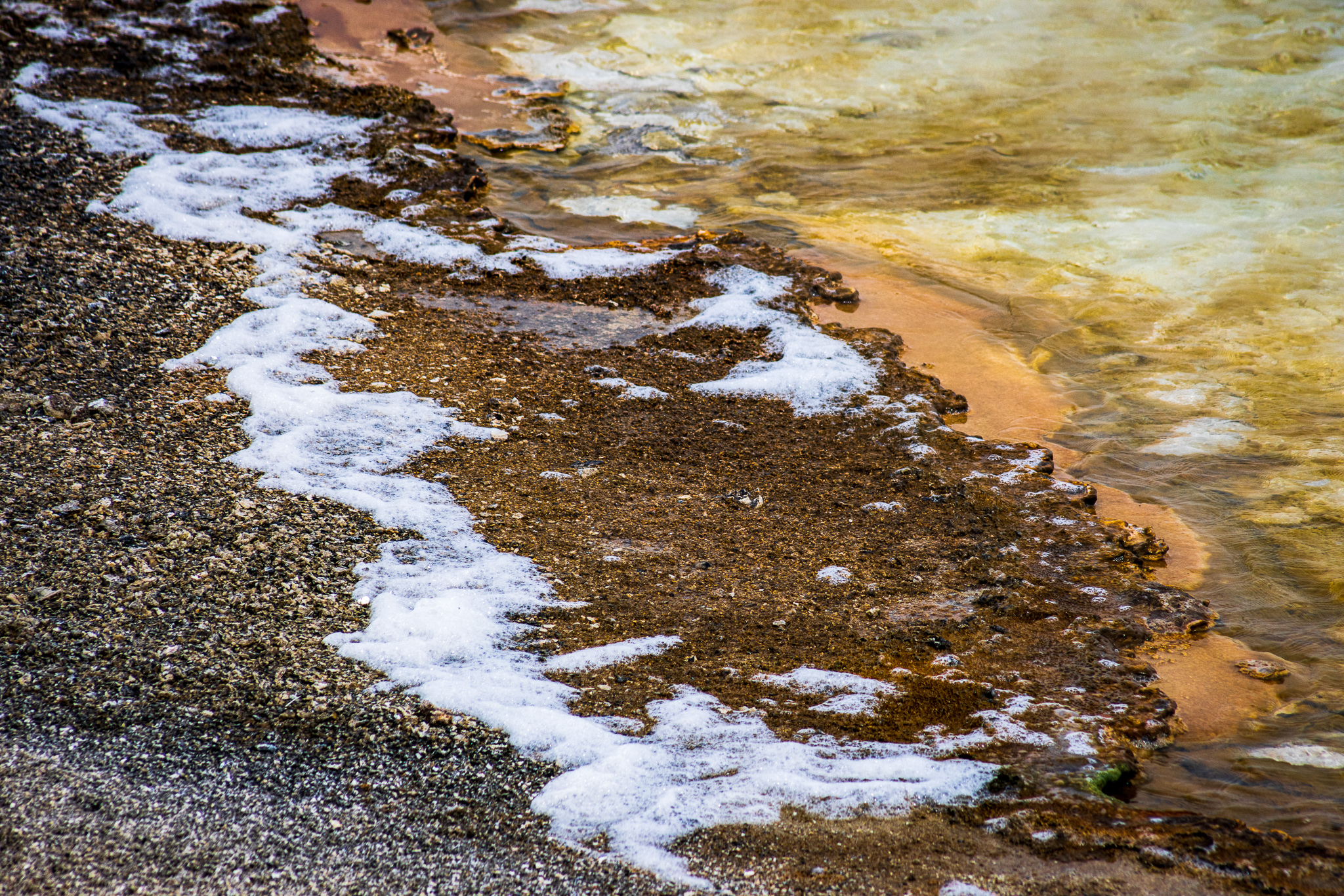 Yellowstone Wildlife
I hoped more than anything to see bears, and distant bear sightings were the first and last delights! As unpredictable as April weather can be in the northern U.S., this is also a special time when grizzly and black bear cubs are emerging from their winter dens and venturing out with their mothers in pursuit of food.
Black bears are most commonly found along the edges of wooded areas, and grizzlies can be spotted in more open areas. We passed two snowy scenes at just the right time to catch a glimpse of these massive mammals, even at their early spring weights before they have packed on the pounds all summer long.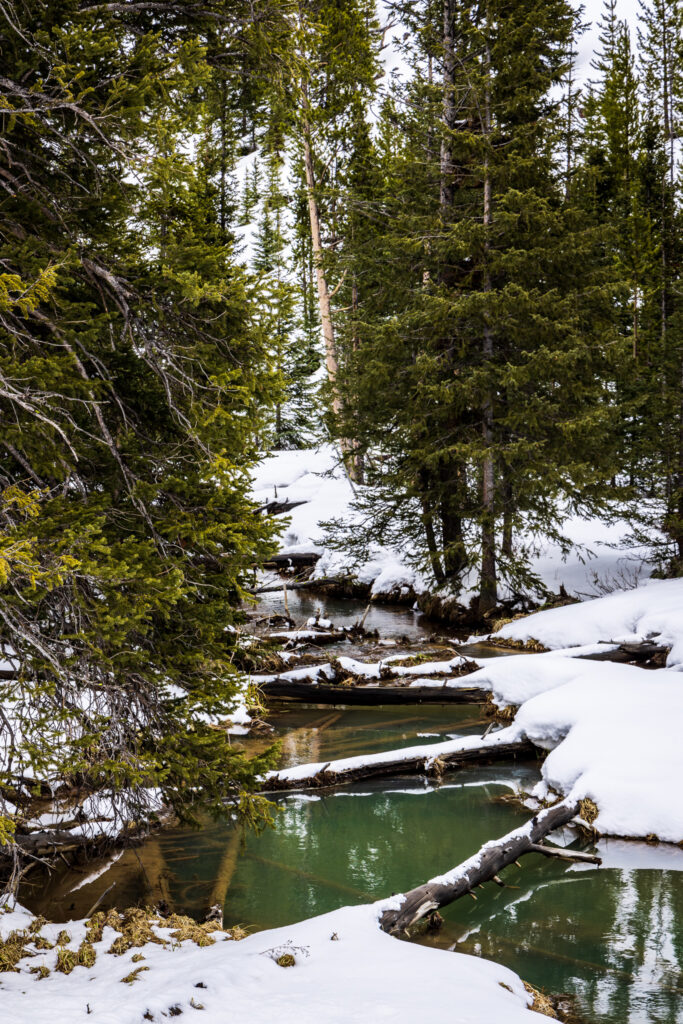 When you see a crowd of practicing photographers with giant lenses posted up at the lens waiting for the perfect shot, you can be confident there is something cool to look at – and thus the throng of casual visitors mobbing the spot for a quick cell phone shot is quick to follow. Then there's me, somewhere in between, pretending to be a serious practicing photographer, and yet not willing to tolerate the crowds to set up camp, so I behave like a tourist and move on.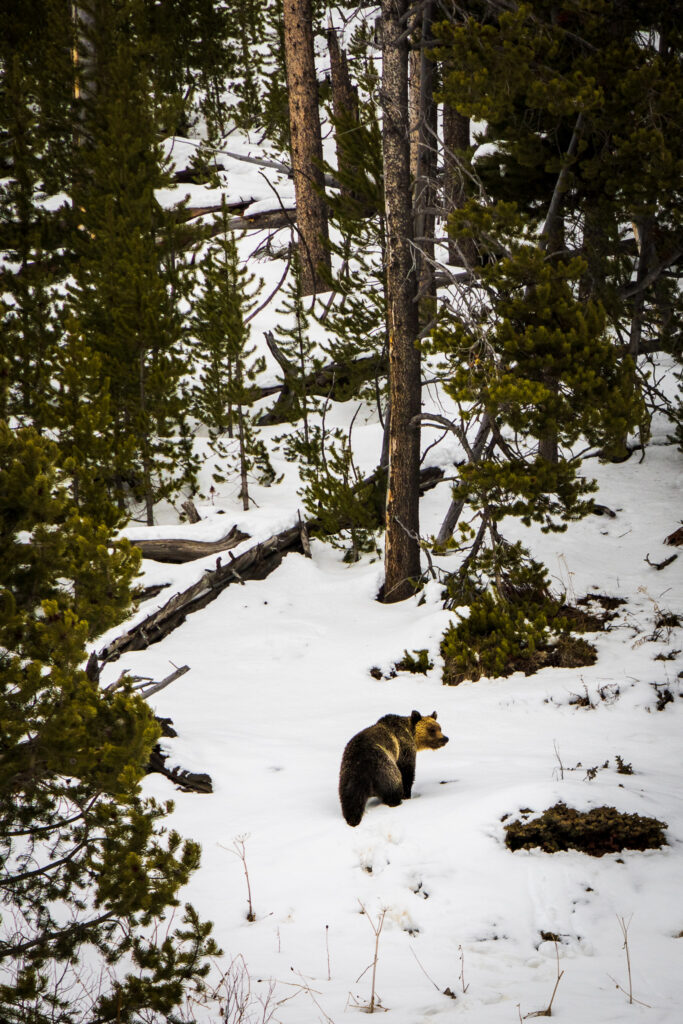 We also saw numerous elk and wood bison grazing throughout the park, and sometimes crossing the road just feet from our car. Yellowstone is home to one of the largest publicly-owned American bison populations. These bison seemed larger than life – or at least larger than the plains bison we saw at Custer State Park in South Dakota. This wood bison is a larger variety of these giants with sloping, muscular humps. The cape of fur transitions more seamlessly on their backs than the plains bison. They have straight, down-sloping hairdos on their heads, and their beards are more compact and better defiined than the plains bison.
Yellowstone's Troubled Past
Yellowstone was established in 1872 by the "Yellowstone National Park Protection Act," signed into law by President Ulysses S. Grant, to protect the "intrinsic and recreational value" of the land for Americans. It is the first national park established in the United States, and it celebrates its 150-year anniversary this year.
This momentous occasion is one to be celebrated, but we must not overlook the controversial past of Yellowstone National Park. It is a history fraught with poor wildlife management practices that brought iconic American mammals like the gray wolf and bison to the brink of extinction, and with injustices done to the Indigenous peoples native to the area.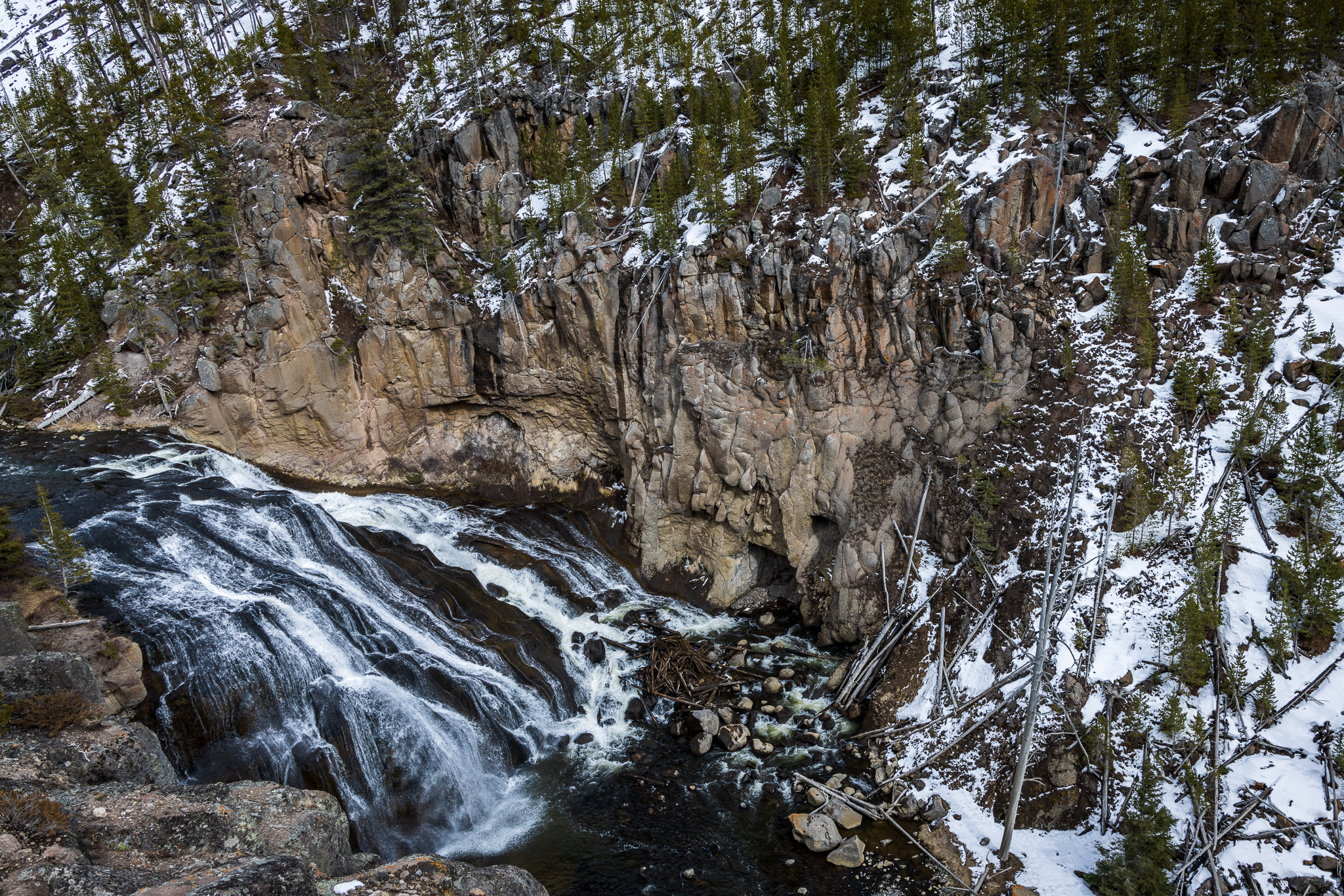 Yellowstone houses thousands of historical and archaeological sites and trails from the Indigenous populations that once resided here. More than 27 Indigenous tribes have been associated with the Yellowstone area, with relationships from hunting and gathering, to engaging in trade, to conducting ceremonies, to permanent life in what is now the park. But when the national park was established, Native Americans were discouraged from entering the park they once called home. In 1877, the infamous flight of the Nez Perce crossed through the Yellowstone National Park territory as they fled pursuit, capture and murder by the U.S. Army. The military and market hunters killed hundreds of thousands of bison to deplete Native Americans' food sources, and by the late 1880s there were barely two dozen of the animals left.
Only in recent years has the National Parks Service begun to reckon with this tumultuous past. It was established to preserve a natural landscape for the American people, but did precisely the opposite of both. Among the efforts to restore equilibrium is the Yellowstone Wolf Project and better management of in-park culling of bison herds, which have helped the two species rebound in the park and restored some (but certainly not all) balance to this vital ecosystem. The Yellowstone Tribal Heritage Center has also been established to honor the cultural significance of the area to Tribal Nations, and educate the public about its true history.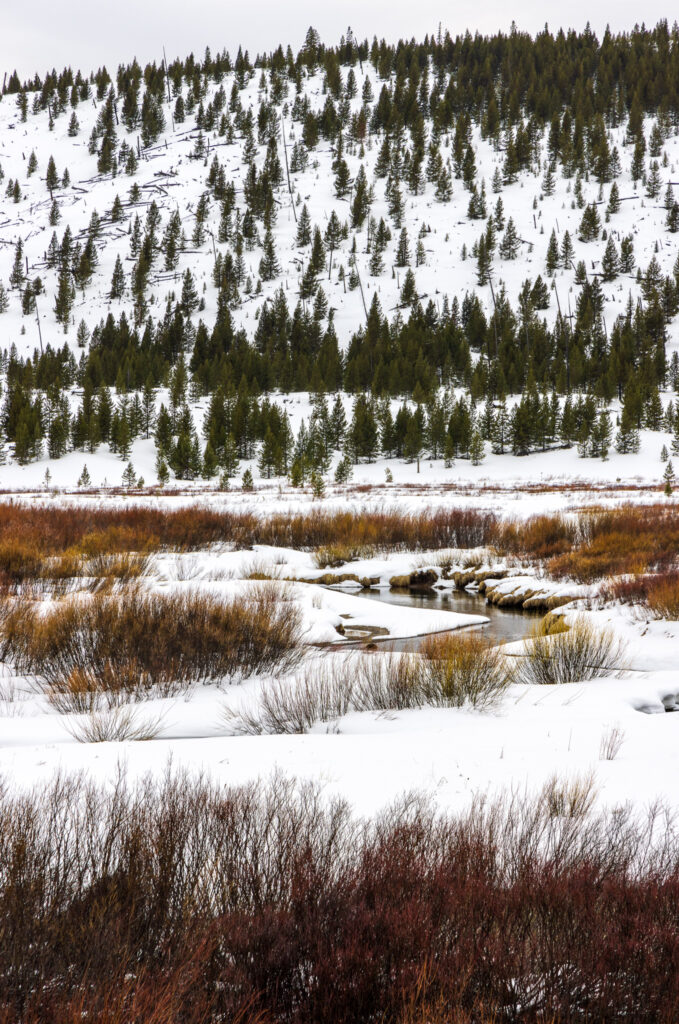 Mystery & Wildness Yet to Be Discovered
On my next visit to Yellowstone, I think I'll book an extended time in a later season to take full advantage of the single destination. I imagine booking a cabin in the park for a long stay so I can see and photograph all the features I missed – like the mudpots at Artists Paintpots, active geysers erupting (we stopped at Old Faithful late in the day and between eruptions), or the constantly-changing, chalk-white travertine terraces that form when the hot water and limestone interact. I want to learn about the archaeological history of the Indigenous peoples who originally settled this land. I want to see Yellowstone Lake, maybe still emerging from its long freeze. Perhaps I'll take a photography workshop from one of the many respected wildlife photographers that call the Yellowstone area home. I want to get off the tourist roads to enjoy real hikes, possibly riding my bike through the park or going kayaking.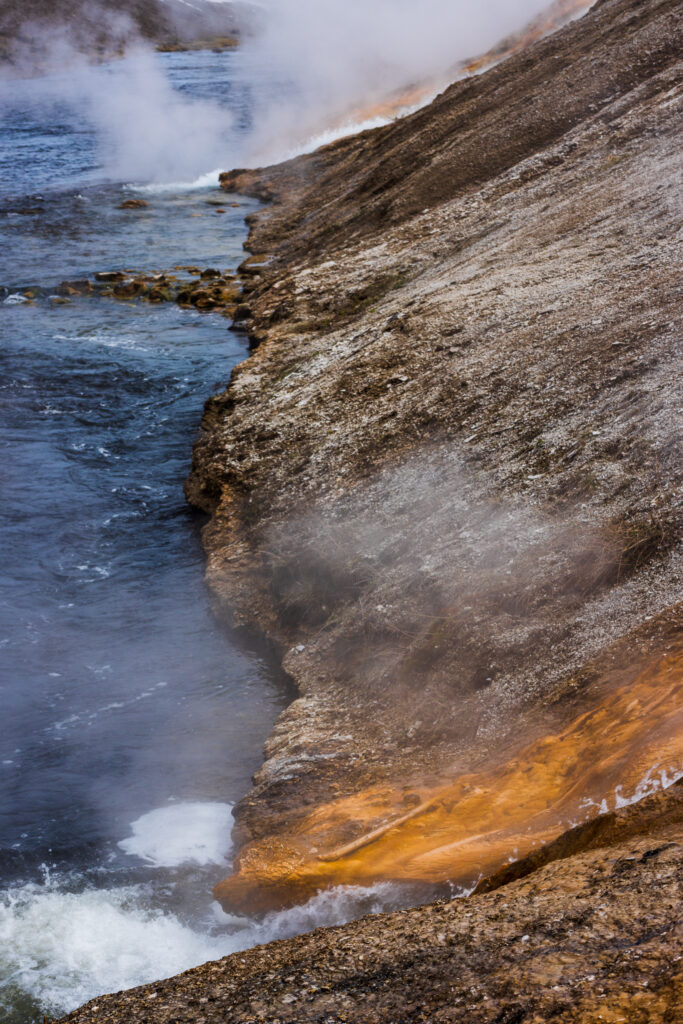 During our short visit, we experienced mere hours and inches of what's possible. It's a humbling realization that you have barely peeked inside this indescribable place. It is simultaneously exciting to get a taste of something that still has so much mystery and wildness left in it to be awed by. It feels like unfinished business. I just returned home, and I'm already planning my next visit to wild Yellowstone National Park.