My husband and I rotate where we do Christmas each year. Some years we may stay home in Kansas City to visit with my side of the family and some of his, we may travel to wherever his parents are, or we'll escape Christmas altogether and travel just the two of us wherever we want to go. This year was Christmas in Annapolis with his parents, and his sister, her husband and their three kids in nearby Arlington.
As cold as it was in the Annapolis and Washington, D.C. area this week, averaging low 30s to below freezing, my in-laws' home is always so warm and welcoming and we always have a wonderful time. I only had a few days to spend in the Annapolis area for Christmas ( I had to get back home to two aging dogs) but we managed to squeeze a lot of fun and learning into a little bit of time.
Below are some of the things we saw, did and ate on this short trip. I hope you find some inspiration for your next visit to the Annapolis and Washington, D.C. area.
Attend SERVICE at the Naval Academy Chapel & Visit the Crypt of John Paul Jones
On Christmas Eve, we went to the United States Naval Academy Chapel for the Christmas Eve service delivered by my father-in-law, Pastor Physioc, and his colleague Chaplain Johnson. It is always a joy to see my father-in-law do what he does best and is so passionate about.
The Naval Academy Chapel is a beautiful church with capacity for around 2,500 people. Apparently much of the beauty and elegance can be credited to an extensive restoration in 2009. Note the ship hanging above it all at the end of this photo – one of my favorite features. The chapel also has one of the largest knob organs in the world, a beautiful accompaniment to the church choir. Be sure to take time to observe the symbolic and memorial stained glass windows throughout the chapel.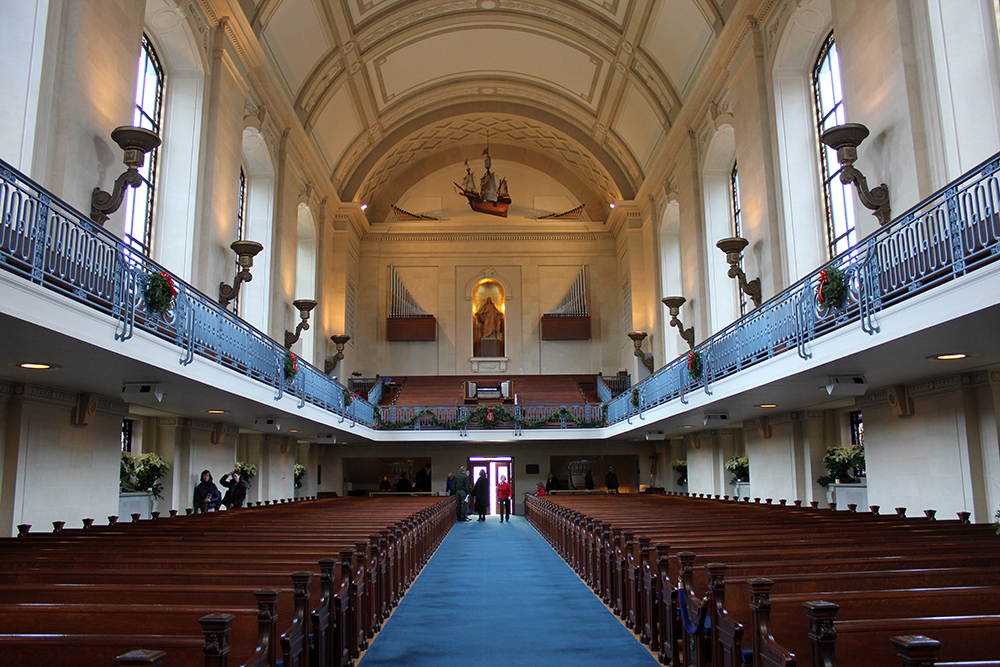 Apparently the oculus in the dome (pictured below) was rediscovered under plaster in the 2009 renovations. Rumor has it a midshipman had climbed the outside of the chapel dome and placed his cap on the tip of the dome in recent weeks – it sounds like he got into a heap of trouble for this dangerous feat, though.
Should you decide to attend a service at the Naval Academy Chapel in the future, be sure to stick around afterward, as a member of the congregation offers a tour of the chapel and its rich history. Also, be sure to visit Naval war hero John Paul Jones's crypt below the chapel. This chapel contributed to the Academy grounds being designated as a National Historic Landmark in 1961 and there's a ton of great history here.
Stop for Lunch at Galway Bay Irish Restaurant and Pub
We were craving oysters, but our first choice fish house on the main drag near the water was absolutely jam-packed on Christmas Eve with a long wait and no formal waiting list, so we wandered a few blocks over to Galway Bay Irish Restaurant and Pub at 63 Maryland Ave. It won't be earning any Michelin stars any time soon, but the service is fast and friendly.
For lunch I had the vegetarian-friendly portobello sandwich, and the others dove into shepherd's pies, an Old Man Winter beer and a Guinness. The food is not something to write home about, but it was warm and filling and they have a good beer selection. One interesting winter touch was a special eggnog and toddies menu, though we didn't partake. All told, Galway Bay was a cozy little spot to stop and warm yourself up for more cold Christmas shopping.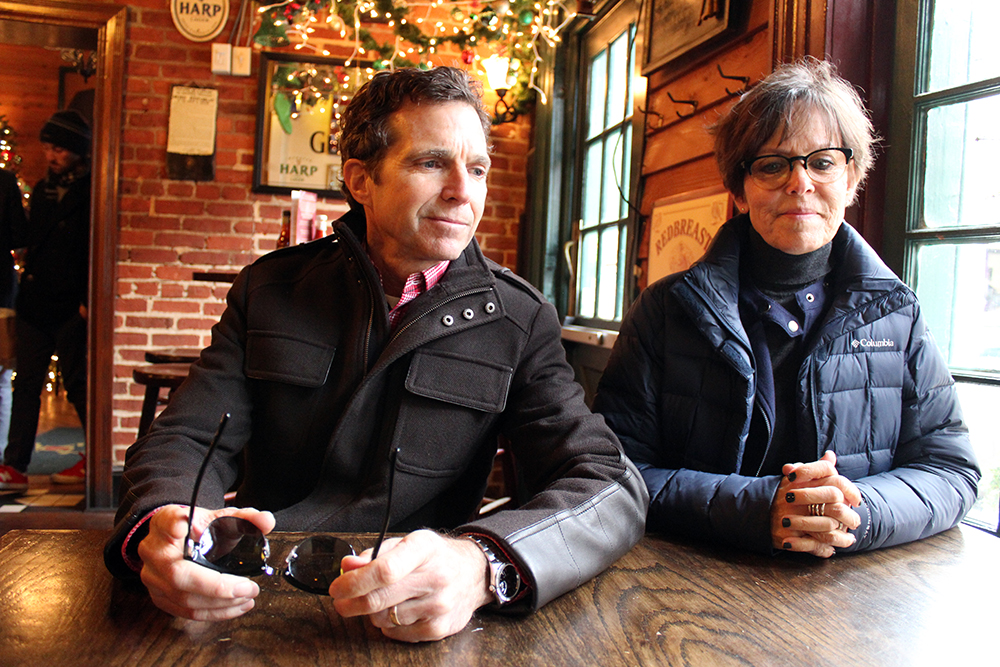 ENJOY CRAB CAKES FROM ANNAPOLIS SEAFOOD MARKET
My mother-in-law  got in line at the Annapolis Seafood Market at 1300 Forest Dr. at 9:03 a.m. (they opened at 9) on Christmas Eve and she said there were already almost 50 people in line! She was worried their limited supply of about 800 super fresh crab cakes for the day would disappear before her eyes, but she managed to get four just in the nick of time! She cooked these up for an outstanding Christmas Eve dinner for the family.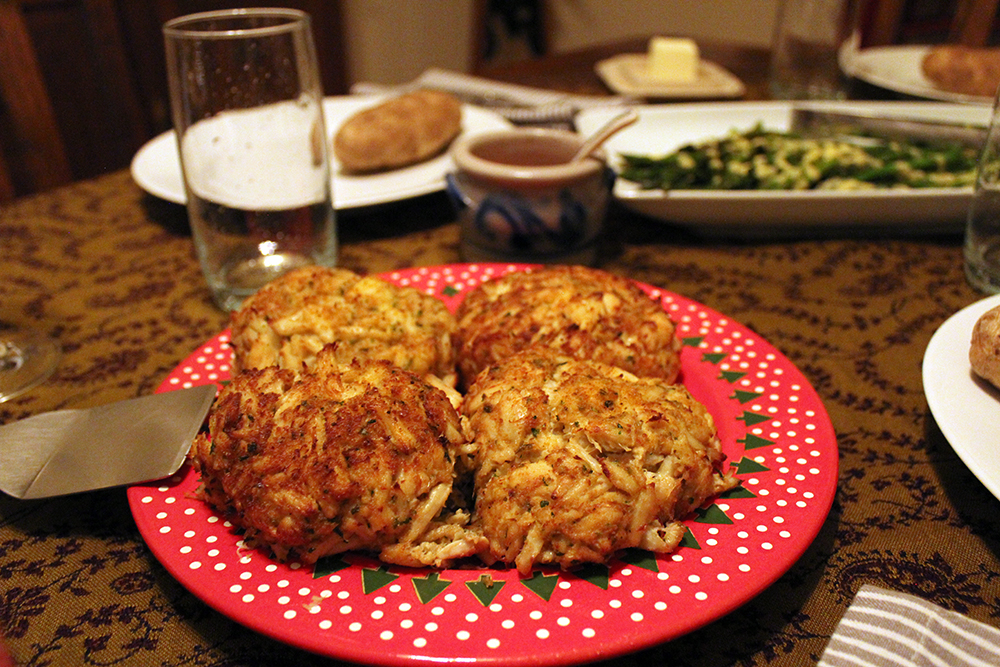 Get a Little Something Special Annebeth's of Annapolis
We popped in briefly to locally owned shop Annebeth's at 46 Maryland Ave. to check out their unique beer and wine selection, and browse their fun little gifts. Doing my best to shop small and support local business owners, I picked up a small Tobacco Leaf/Patchouli candle that will look fab at my office desk next to my succulents!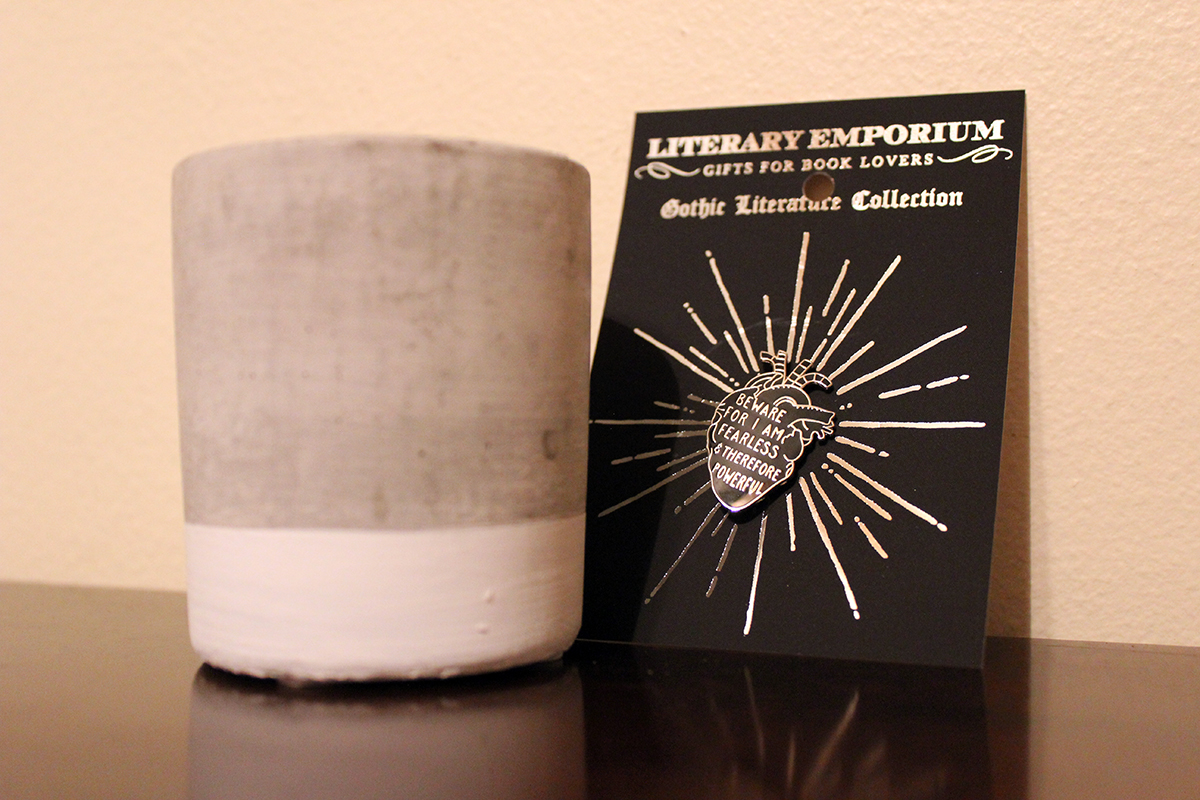 Find Small Surprises at Old Fox Books in Historical Annapolis
Old Fox Books can be found on the cobblestone streets of historical Annapolis at 35 Maryland Ave. Trust me, introduce yourself to ownerJinny Amundson behind the counter – she instantly makes you feel at home and like you're old friends through her bright, energetic personality and quickness to crack a joke! You'll have a fun and memorable conversation, I promise. At Old Fox Books you can find an eclectic mix of used and new books, and wander down the spiral staircase into their cozy little basement with two additional rooms of books.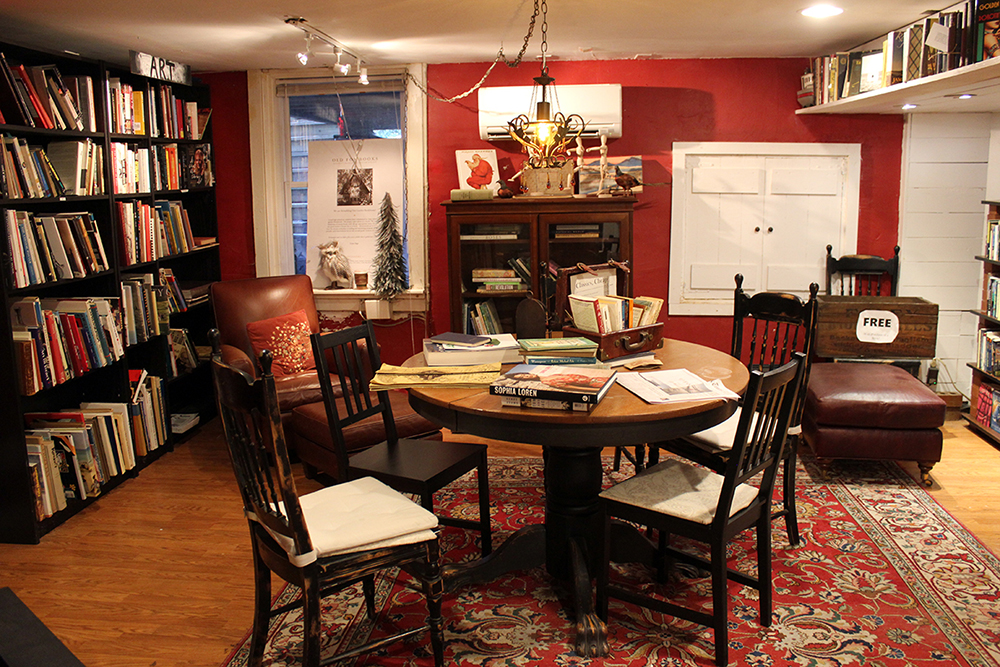 Keep an eye out for a few special Easter eggs throughout the building as a nod to Harry Potter – including a Marauder's Map, Hedwig in his cage, and Harry Potter's room in the cupboard under the stairs.
Also, check out the magical little garden behind the bookstore – it was much too cold to sit out on the patio during our visit, but it looks like such a great place to lose yourself in a great book in warmer weather!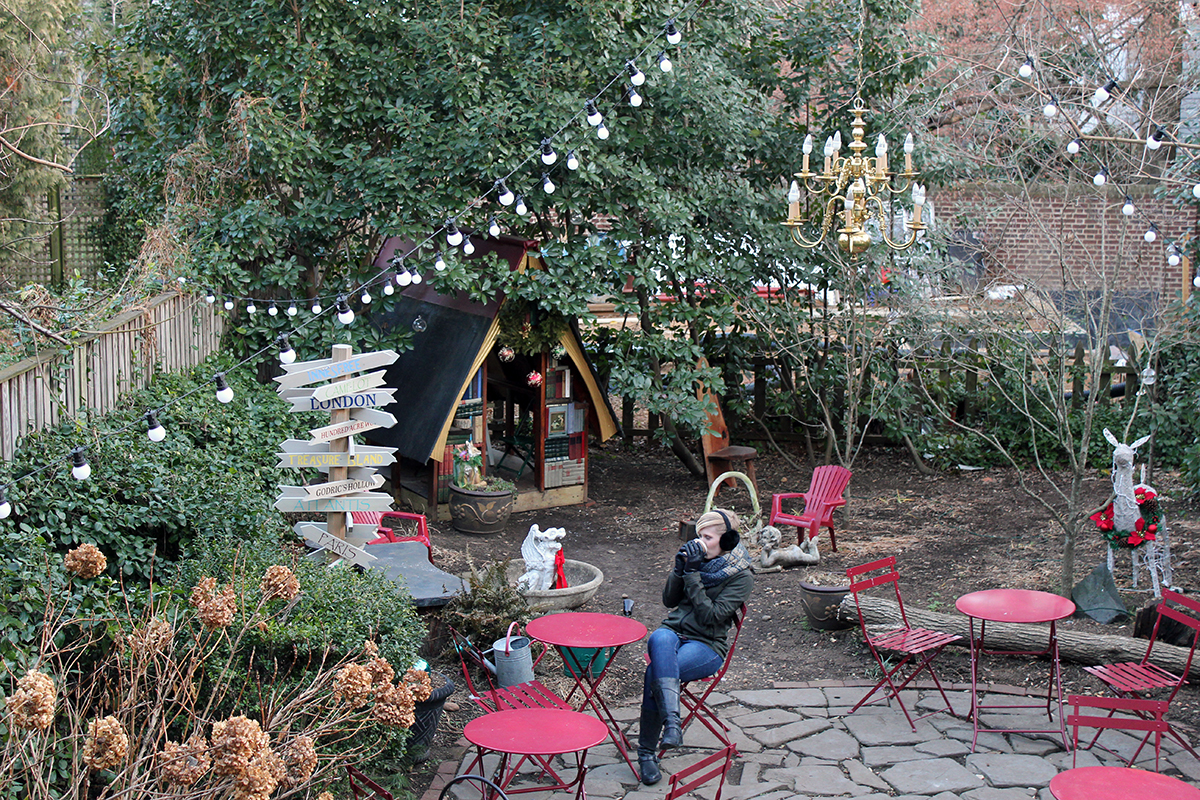 I picked up an awesome little quote from Mary Shelley's Frankenstein on a pin with this little quote: "Beware: for I am fearless and therefore powerful." (See three photos up!)
WARM UP WITH  a Latte at Brown Mustache Coffee
Inside Old Fox Books is a great little cafe where my in-laws seemed to know every barista by name – Brown Mustache Coffee. I got a hot almond milk latte, my husband and father-in-law treated themselves to mochas, and my mother-in-law swears by the London Fog, an earl grey tea with steamed milk and a dash of cinnamon on top. My drink was delicious and it was perfect for the bitter cold weather!
Stand Where George Washington Stood at the Maryland State House
If you get a chance, check out the Maryland State House in historical Annapolis! At 100 State Circle, this is the oldest state capitol building still in use, and once served as the entire nation's capital, where George Washington once resigned his commission and the Treaty of Paris was ratified. The State House is a free and short stop, and you'll leave a little smarter.
When we visited the halls were decked with an assortment of Christmas trees created by various Maryland organizations and schools. You can also see where local lawmaking happens in the Senate Chamber and House of Delegates Chamber.
They also have a great exhibit about General George Washington delivering the resignation of his commission on December 23, 1783. You can stand where Washington himself stood for this landmark event, which established civilian authority over the military rather than the authority of military commanders.
"General George Washington Resigning His Commission" by John Trumbull, on display in the Rotunda of the U.S. Capitol. (not at the Maryland State House)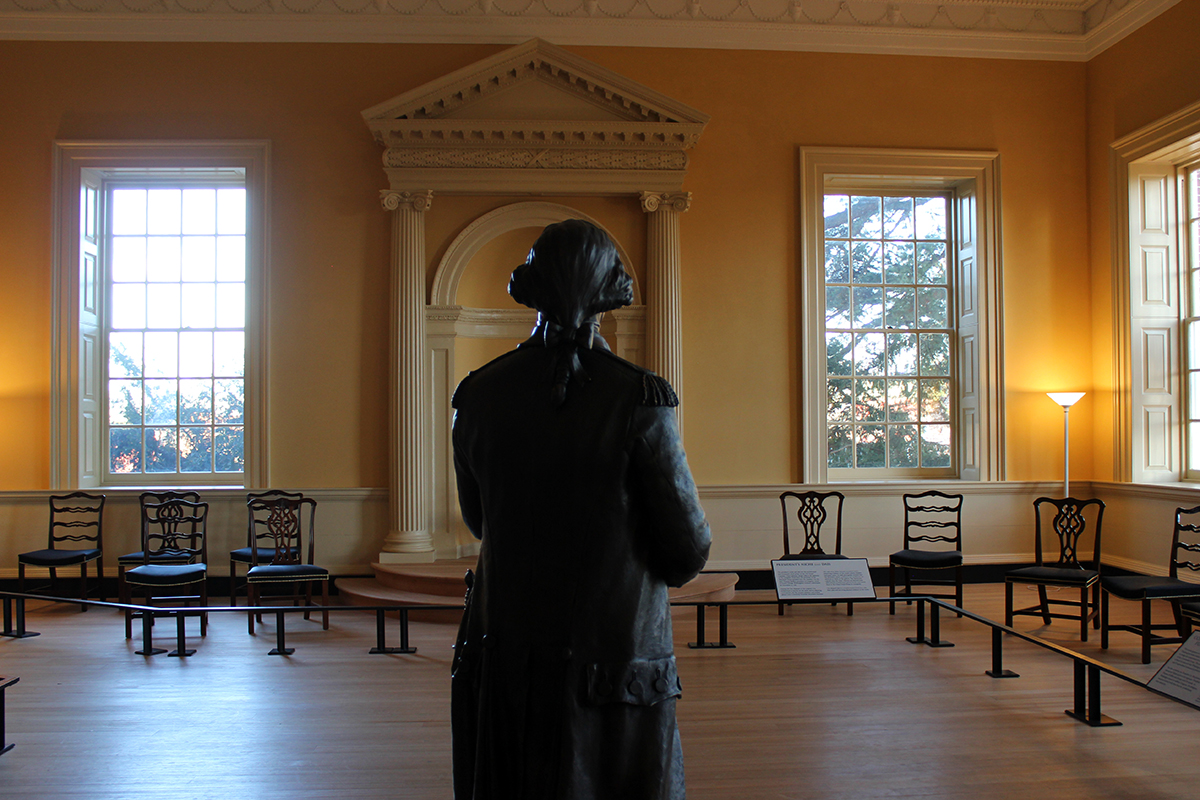 Christmas Day with Family in Arlington
We drove from Annapolis to Arlington (about 40 minutes in no traffic on Christmas) to spend Christmas Day with our family. We passed the Pentagon, Washington Memorial and White House on the way – tres cool, but the best part of this day was watching our niece and two nephews tear into Christmas presents, having breakfast and dinner surrounded by family, and interesting conversation with lots of laughs with my in-laws. Did I mention we had the most delicious seafood pasta packed with fresh, local seafood cooked by my lovely and talented mother-in-law?
Get Smart at the Newseum
A couple days after Christmas we headed into Washington D.C. to get our learn on. I have my degree in journalism, and have a deep love for the profession and the history of news, so the Newseum at 555 Pennsylvania Ave. felt like a museum tailor-made for me. Museum tickets are $25 apiece, but when we purchased our tickets online we got a 15% discount at the time. It must be weird to charge in a city full of free museums, but the Newseum was plenty busy without being overcrowded the day we went!
I love that they feature the day's front pages of newspapers from around the country and around the world. It's so fascinating to compare the front pages in their 9/11 exhibit, and contrast the front pages of the standard daily news around the world. In the first part of the day, we experienced the Berlin Wall Gallery, the "Make Some Noise" Civil Rights exhibit, the "1967: Civil Rights at 50" exhibit,  the "Inside Today's FBI" exhibit, and the incredibly moving 9/11 Gallery. All of the exhibits were packed with information and different perspectives on the news.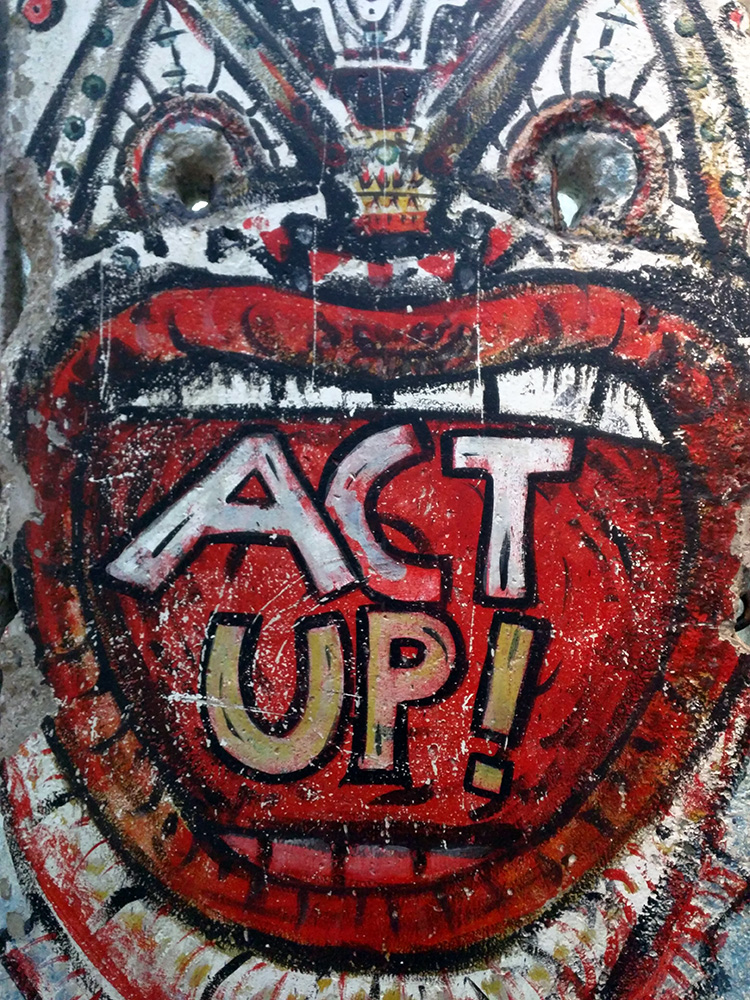 I wish I had days upon days to pore over every detail of the News Corporation News History Gallery, a permanent fixture at the Newseum that covers 500 years of news history features nearly 400 historic newspapers over that timespan. I barely even got a chance to look at the outside walls I was so absorbed in the center exhibit, which did a great job of marking major milestones in journalism history, as well as major world events covered in the news throughout.
We also checked out the Greenspun Family Terrace for an unbeatable rooftop view of the U.S. Capitol Building. But it was short-lived – good grief it was cold!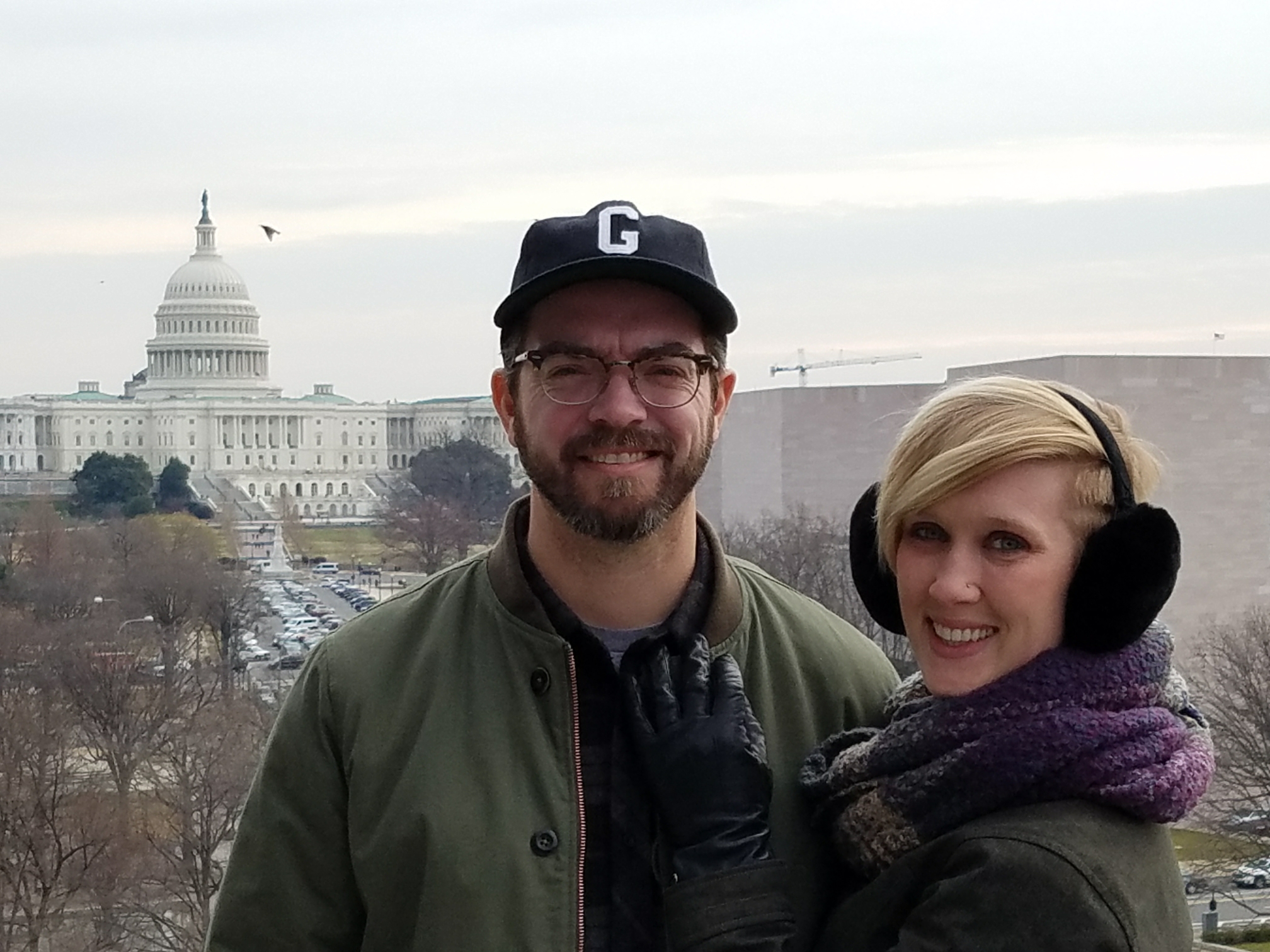 We spent about two hours in the morning before our parking meter ran out, but wanted to cover more ground, so came back later in the afternoon to see more exhibits. In the second half of the day, we viewed more of the smaller exhibits. One that especially stood out to me were the Journalists Memorial  recognizing journalists who died for their work, either by covering dangerous assignments or being targeted.
Other Newseum exhibits we appreciated were the Comics exhibit, Creating Camelot: The Kennedy Photography of Jacques Lowe, and (duh) First Dogs: American Presidents and Their Pets. I was absolutely taken with the Pulitzer Prize Photographs gallery – "the most comprehensive collection of Pulitzer Prize-winning photographs ever assembled," according to the booklet.
There is more information in this museum than one could possibly consume in a day, and I wish I lived closer and had their annual membership so I could keep coming back and spending more time exhausting every detail of each exhibit one at a time!
Oh PS – I hope you have to go to the bathroom while you're there, because the restrooms are peppered with hilarious and pivotal errors published in newspapers over the years.
Experience Free, Unique Art Exhibits at Renwick Museum
Both of the most recent times I have visited Washington D.C. we stopped into the free Renwick Gallery, a branch of the Smithsonian at 1661 Pennsylvania Ave NW, to see their changing art exhibits. On the recommendation of my sister-in-law, this time we went for the "Murder is Her Hobby" exhibit, with the Nutshell Studies of Unexplained Death by Frances Glessner Lee.
The display highlights how Glessner Lee created an entirely unique career in the male-dominated police investigation and forensics field by using these traditionally female-dominated craft skills like dollhouse-building. She recreates crime scenes to help detectives determine whether the scene was an accident, homicide or suicide.
The trouble with our visit to the Renwick, however, was that this exhibit had clearly caught on and the gallery was jam-packed with what seemed like a hundred or more people crammed into a tiny space with an awkward setup and flow. It simply didn't allow for that many people to be in the space and actually see each dollhouse scene. And sadly, there were a few people who shoved their way to the front of every display and completely monopolized them while shouting their play-by-plays of what they thought the cause of death was. This would be a ton of fun in a smaller crowd, but it was an extremely claustrophobic and frustrating experience with this many people and it prevented many of us from getting to see the exhibits and enjoy the full experience. (The last time we visited the Renwick it wasn't nearly this crowded, so this exhibit must have been particularly popular.)
We managed to escape the room and wandered upstairs to see their Connections exhibit and Parallax ceiling art, but from there, headed back to the Newseum for a second round.
Have Lunch at Farmers Fishers Bakers Restaurant in Georgetown
We tried to pop into to the new restaurant Founding Farmers around 12:15, but the wait was an hour and a half – nope! It seemed trendy and smelled delicious, but a 90-minute wait wasn't happening. Instead we popped over to Georgetown to visit its sister restaurant, Farmers Fishers Bakers, a spot that overlooks the Potomac and we got to people watch lots of little kids pushing around an ice skating rink holding on to cute support penguins to keep their balance as they pushed around and learned to skate.
Overall, the restaurant was a positive experience. You guys, I had my first bowl of clam chowder. As a seafood lover, I cannot believe it took me this long to have clam chowder. It's such a simple, warm, hearty, creamy dish – how have I missed this until now?! I really need to make this at home to get through Kansas City winters.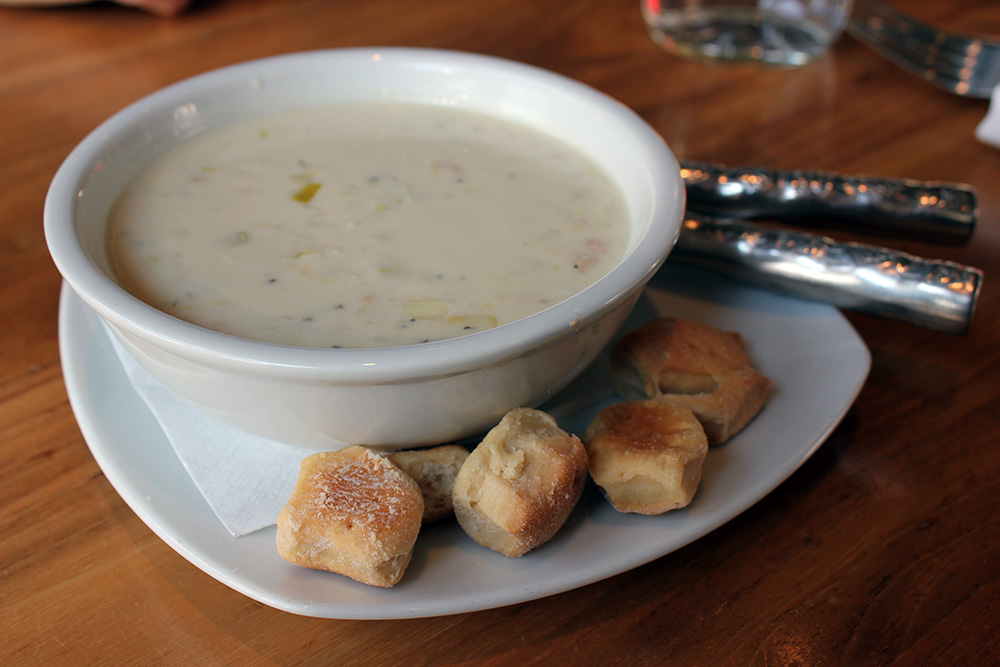 After the clam chowder starter, I ordered seared citrus scallops in a butternut risotto. The scallops were a bit overcooked, but overall I enjoyed the very citrus-forward dish.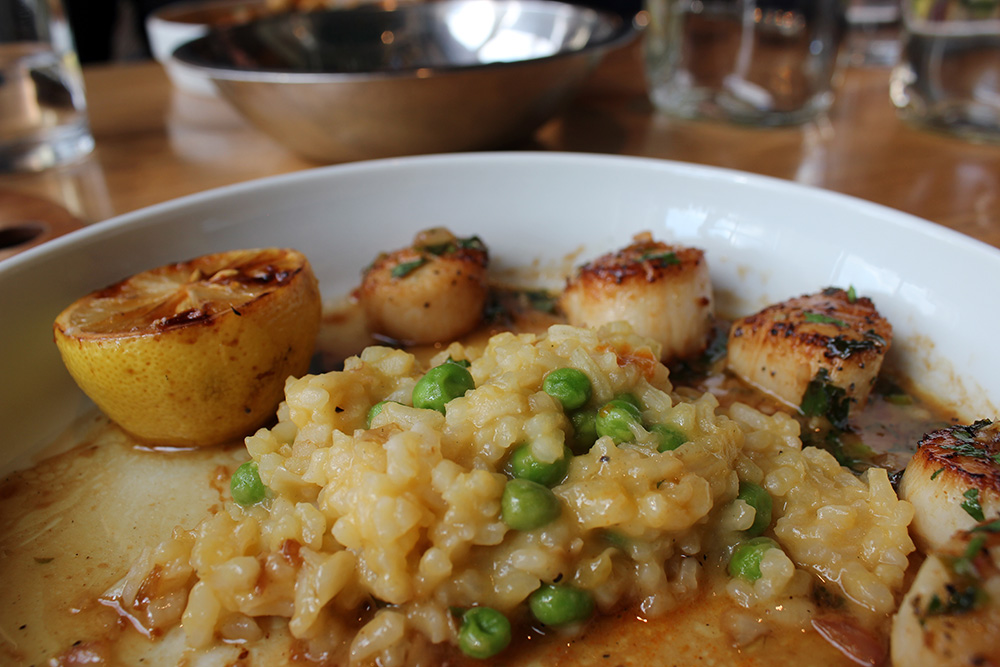 Also ordered at the table – a burger and fries, an apple and brie sandwich on cinnamon raisin bread (delicious), and a cioppino soup comparable to a bouillabaisse with seafood and whitefish in a yummy tomato-based broth and big hunks of crusty bread (also delicious).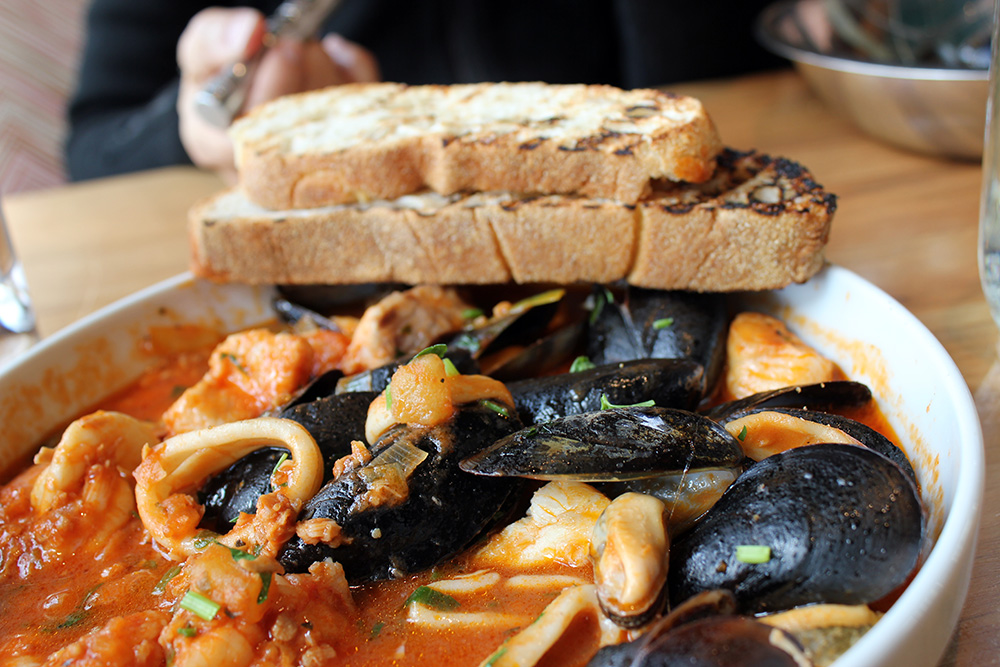 We really wanted to have their big puffy beignets we saw another table order as we walked in, but opted out after realizing they took 15 to 20 minutes to prepare after ordering.
A few bonus items from our last visit to Annapolis…
A VISIT TO THE u.s. NAVAL ACADEMY MUSEUM
We visited the U.S. Naval Academy History Museum at 118 Maryland Ave. one day on the Naval Academy Grounds. We could have easily spent hours in this museum on the First Deck learning about Navy history from origin to present through the many flags and trophies of war. Some of my favorite historical stories were about the admittance of women into the Navy and how many Navy seamen later went on to be NASA astronauts. On the Second Deck, there was a phenomenal collection of beautiful, ornately detailed, hand-crafted ship models from the 17th and 18th centuries. One of the most impressive collections was the group of bone models, carved out of beef bones by French prisoners of war in England. I highly advise reading more on the Gallery of Ships here and experiencing this gallery for yourself.
Crab Cakes & Beer at Dock Street Bar & Grill
Husband and I popped over to Dock Street Bar and Grill for a quick bite one day and had some pretty killer crab cakes and good beers one day! Total whim, and totally surprised at how great they were.
Trivia Night at Reynolds Tavern
One Monday night we visited Reynolds Tavern at 7 Church Circle in historic Annapolis to do a little trivia with our folks, and we had a blast. Some say Reynolds Tavern is haunted by the ghost of Mary Reynolds (and perhaps up to four more spirits) who has been known to make things move and break dishes in the restaurant. We also had an ever-so-slightly wobbly bar table, so on this night, the trivia team the Wobbly Marys was born. The questions were right in our wheelhouse, and we managed to take third place, which earned us a $10 gift card!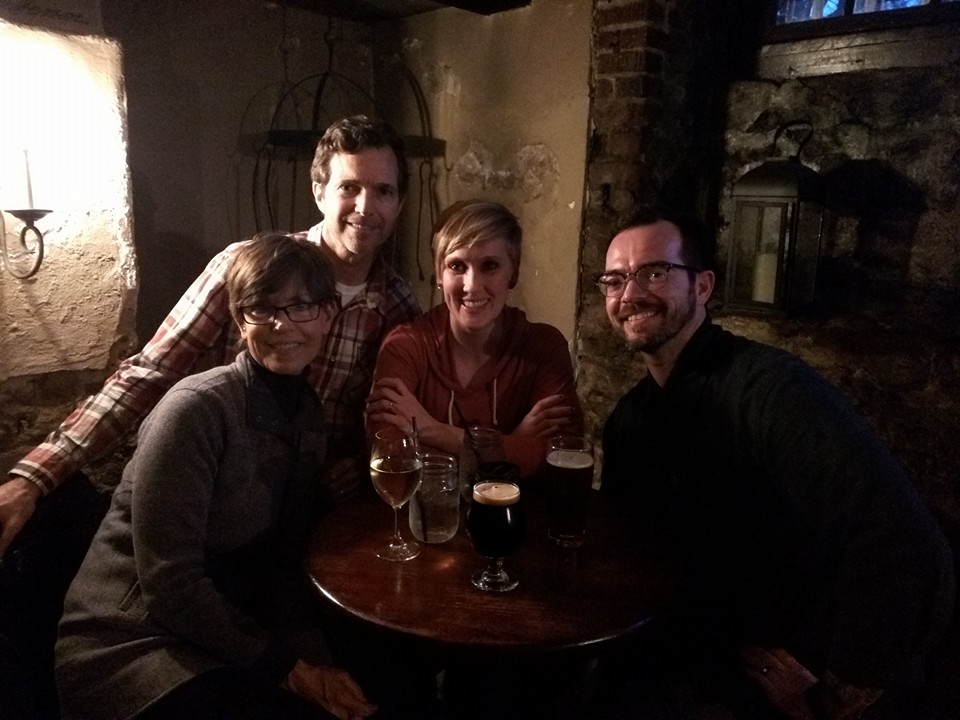 In Conclusion…
I took off from BWI a few days early to get home to my two sick doggies, and my husband stayed the full nine days. Can't wait to hear what he did for those last few days when he gets back. I am eager to get back to Washington, D.C. especially – ideally when it's warmer – to start exploring more of the Smithsonian museums and other free museums and attractions throughout the city that I haven't seen since I was a kid.