When some friends of ours asked, "Do you want to go to Santorini with us in September?" the obvious answer was an immediate, obvious yes.
We got to Santorini by way of Athens, so we had just over two days to spend in the city. That's hardly enough to fully immerse oneself in one of the birthplaces of modern civilization, but we prioritized a few important sites for our short visit.
What We Did in Athens
The Acropolis
I love waking up early in new cities while the locals are just beginning to stir. You can feel and hear a place breathing much more clearly when there's hardly anyone around.
We woke up early to beat the crowds to the Acropolis, the most renowned site in Athens. We enjoyed the quiet walk through the meandering streets as shop owners were sweeping their patios and the temperatures were still cool and comfortable, ascending the steps to the citadel.
Even before they opened at 8 a.m. a line was beginning to form. Fortunately you can purchase tickets at a kiosk so we hardly had to wait. As the sun rose higher in the sky and temperatures warmed quickly, we were very glad to have started early. Plus – the light on all the marble and texture was just beautiful.
Athens is the birthplace of democracy. To see the monumental marvels of architecture, history and mythology is an unmissable opportunity.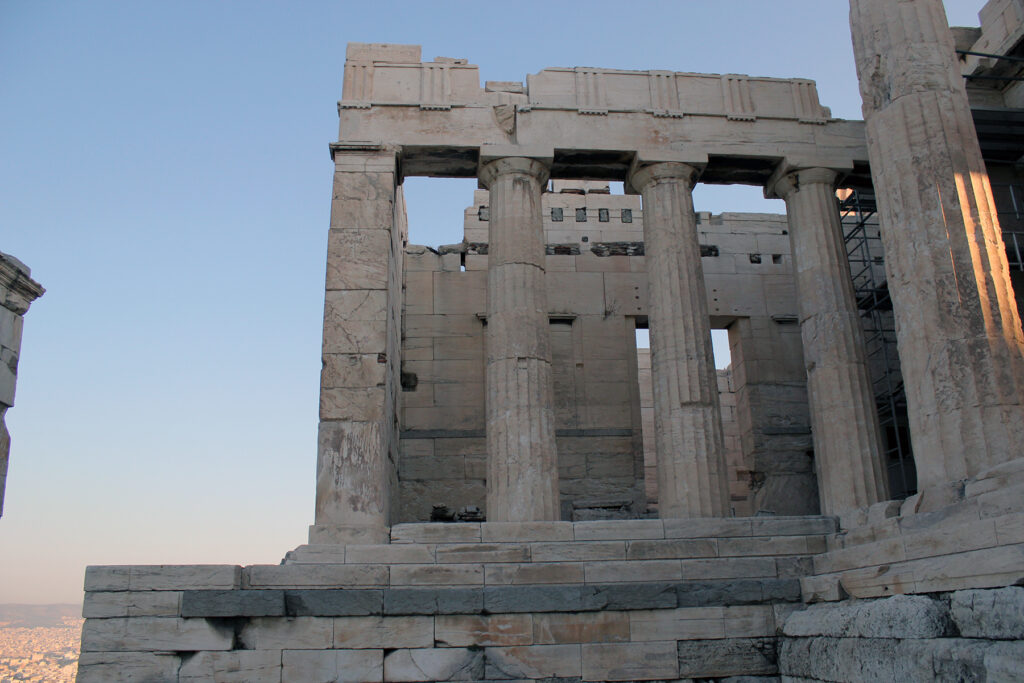 For years we all studied the Ancient Greeks and their incredible civilization, conflicts, government, traditions, and inventions in school. It's awesome, in the most literal sense of the word, to see the Parthenon towering over you in person.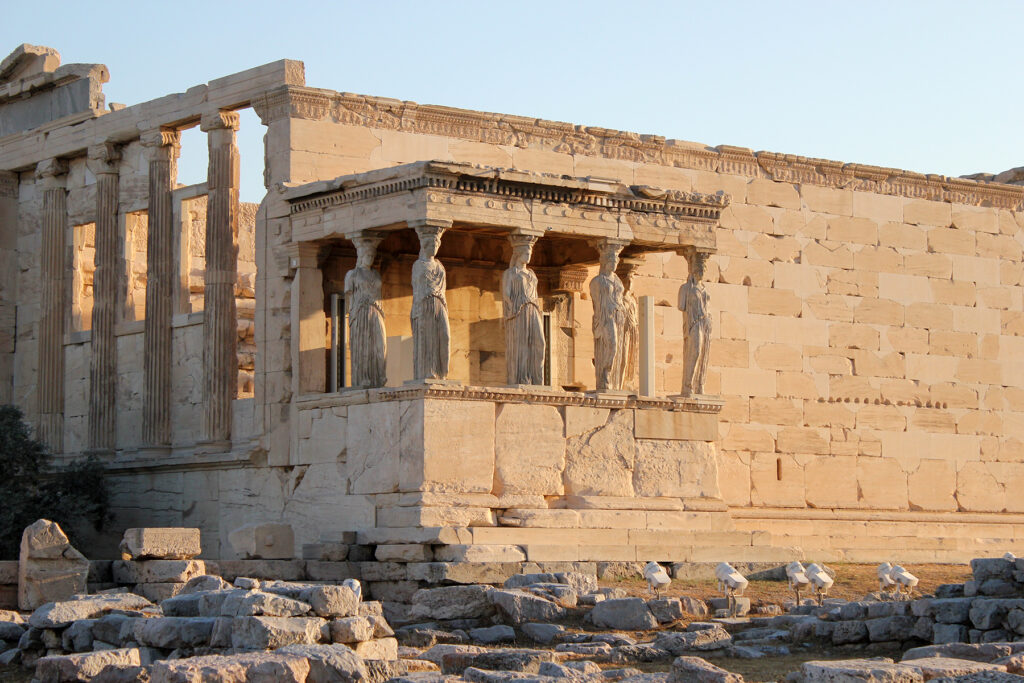 At the Acropolis, you can experience first-hand remarkable ancient architecture like the Parthenon, the Temple of Athena Nike, the Erechtheion, and the Theatre of Dionysus, the Greek god of wine and theater. You can walk the slopes the ancient Greeks walked.
The Acropolis also has gorgeous views of the city of Athens over the ancient ruins from atop the hill. It's especially beautiful in the morning light.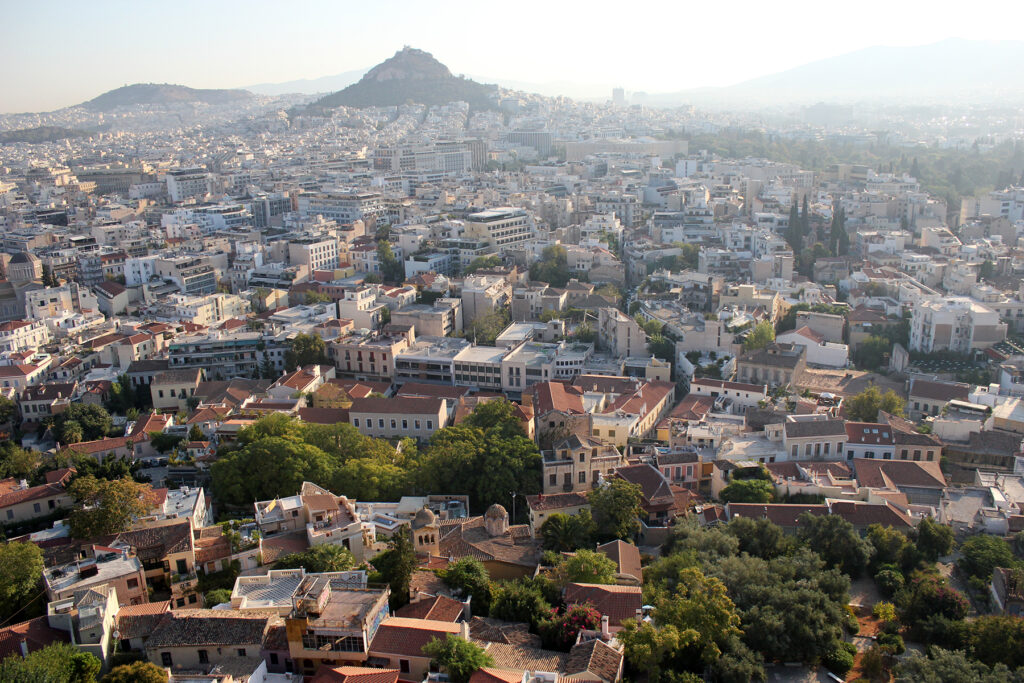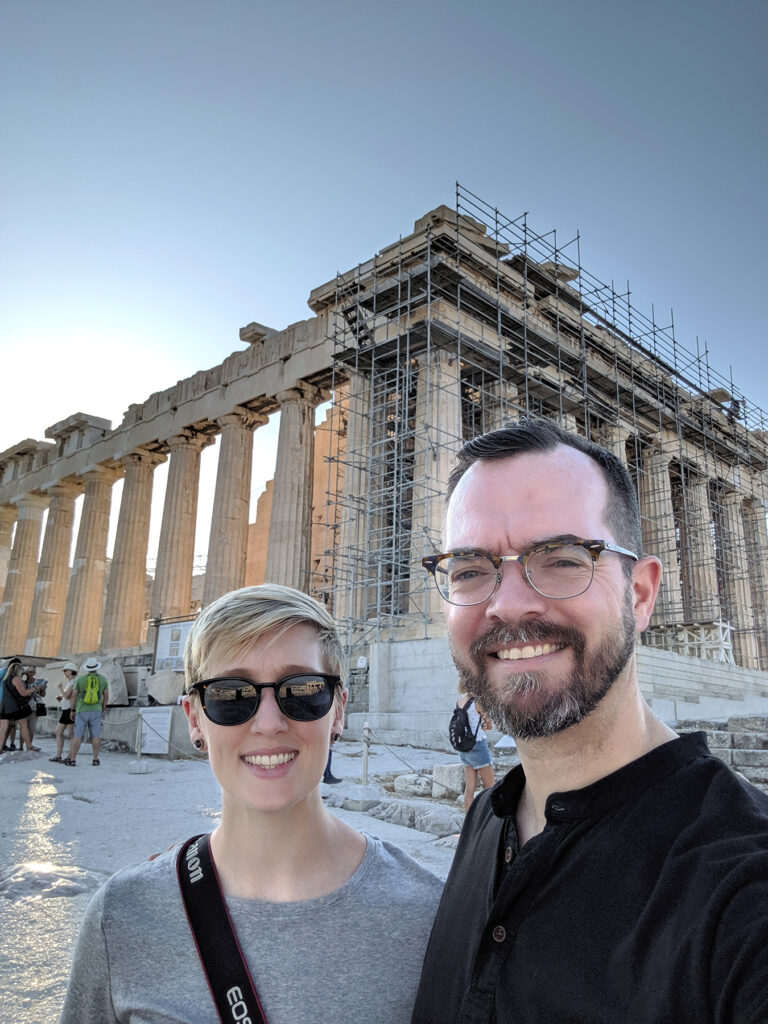 National Archaeological Museum
We visited the National Archaeological Museum, an exceptional collection of antiquities, art, and artifacts throughout Greek history, including Cycladic, Mycenaean and Minoan art.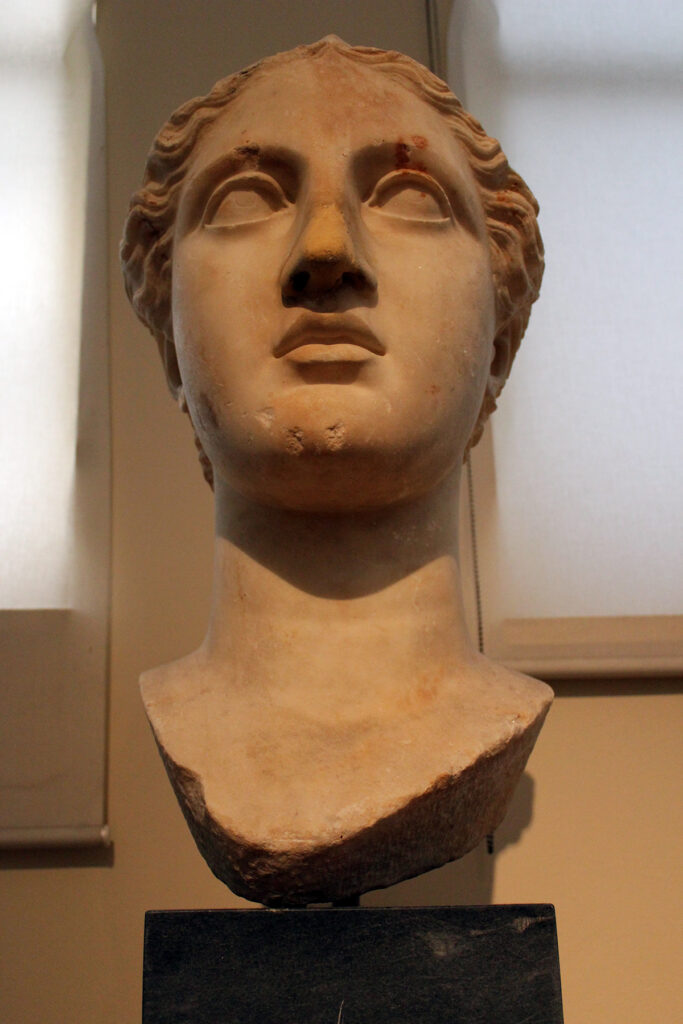 Room upon room unfolded with statues and reliefs and pottery and craftsmanship and artwork from ancient Greece and ancient Egypt.
Ancient gold, metalwork, ceramics and so much more in every room, on every wall, in every corner.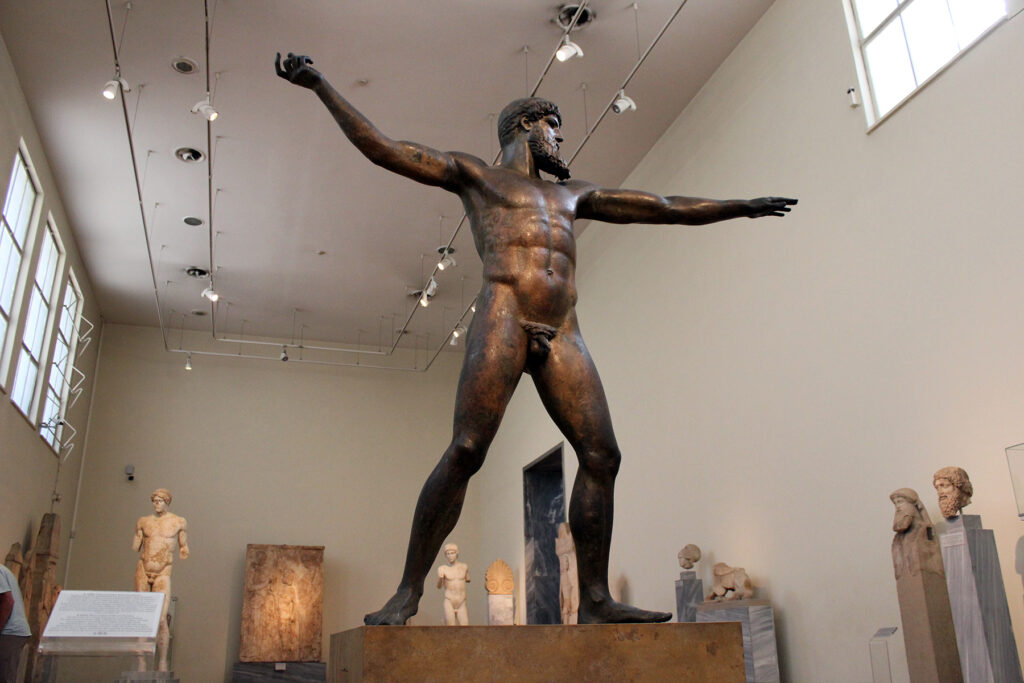 It's a beautifully curated collection of remarkable and important pieces. The museum does an excellent job of organizing clear themes and stories throughout.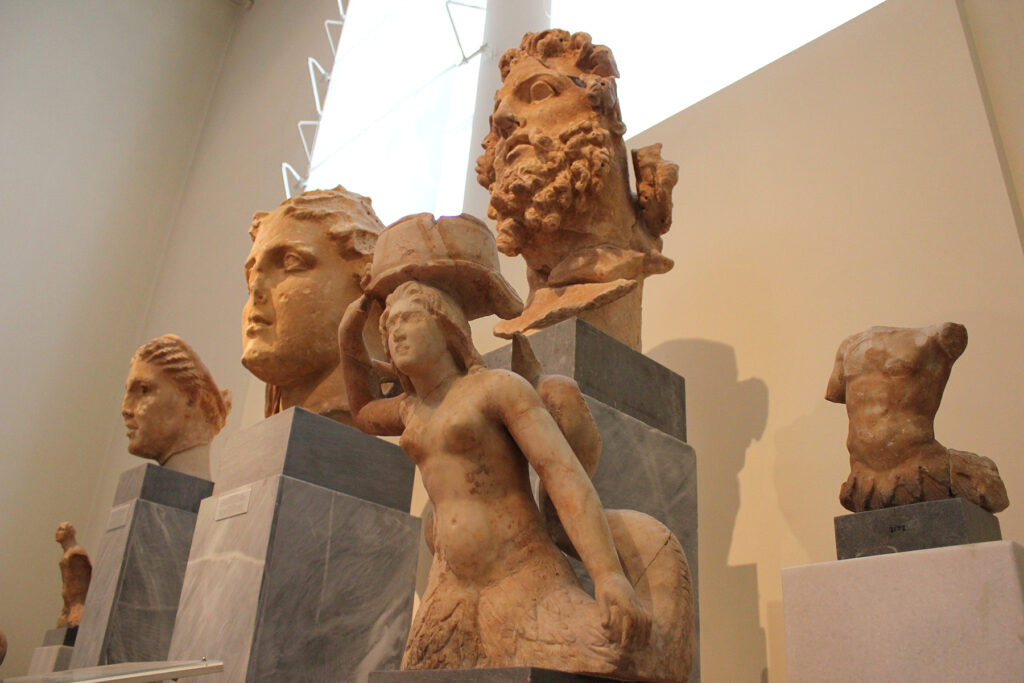 We spent several hours in the museum, covering only the ground floor. We will need to visit again to tackle the second floor, too!
National Garden of Athens
While this site isn't substantial enough to recommend if you only have two days in Athens, it suited our needs at the time. Our hotel was walking distance to the National Garden of Athens, so we took advantage of some outdoor time between a busy travel day and dinner.
This green place of respite in the middle of the city is popular with local joggers, couples taking engagement photos, and people socializing or reading on benches. The story behind it is that Queen Amalia, the wife of King Otto, commissioned and managed this garden.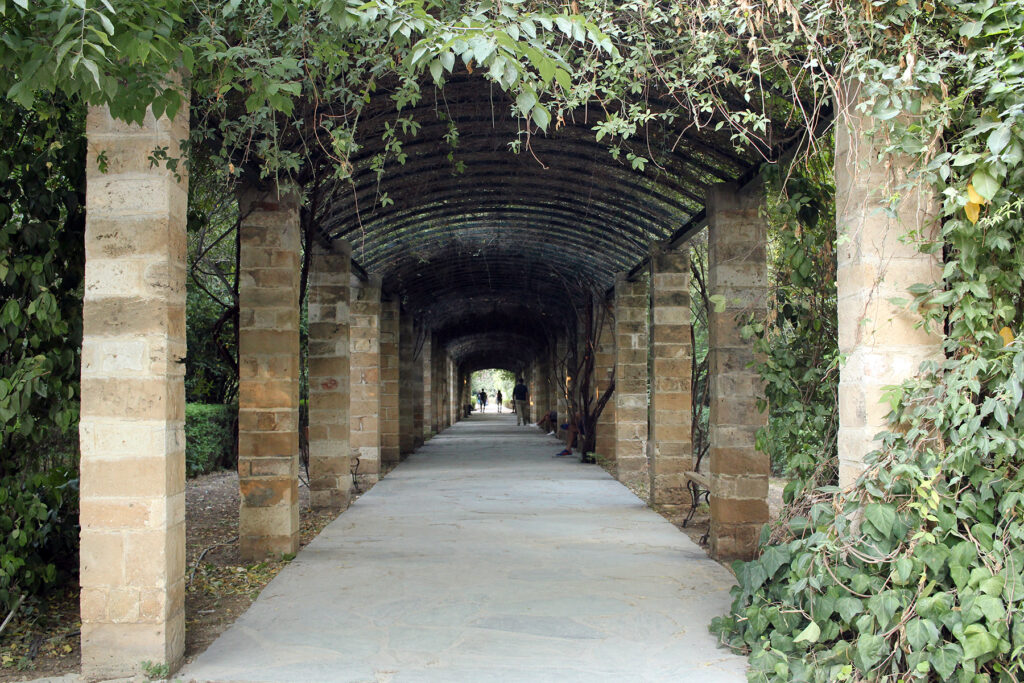 The entrance greets you with enormous Washingtonia palm trees, and you can wander the looping paths to find eucalyptus trees, bamboo, a citrus grove, shrubs and other flora and fauna – like this tortoise that walked out of the leaves to greet us.
As it's the fall, not much in the way of a blooming botanical garden. But you can also find on your walk chunks of ancient columns and ruins, statues and busts, and small ponds with ducks and terrapins.
Melissinos, The Poet Sandal-maker of Athens
On the recommendation of a friend who had recently been to Athens, we popped into Melissinos to have leather sandals made. Pantelis is the third-generation owner of the shop. People come from far and wide to have sandals made by these leather experts, and the walls are plastered with images of celebrities and politicians posing with Pantelis.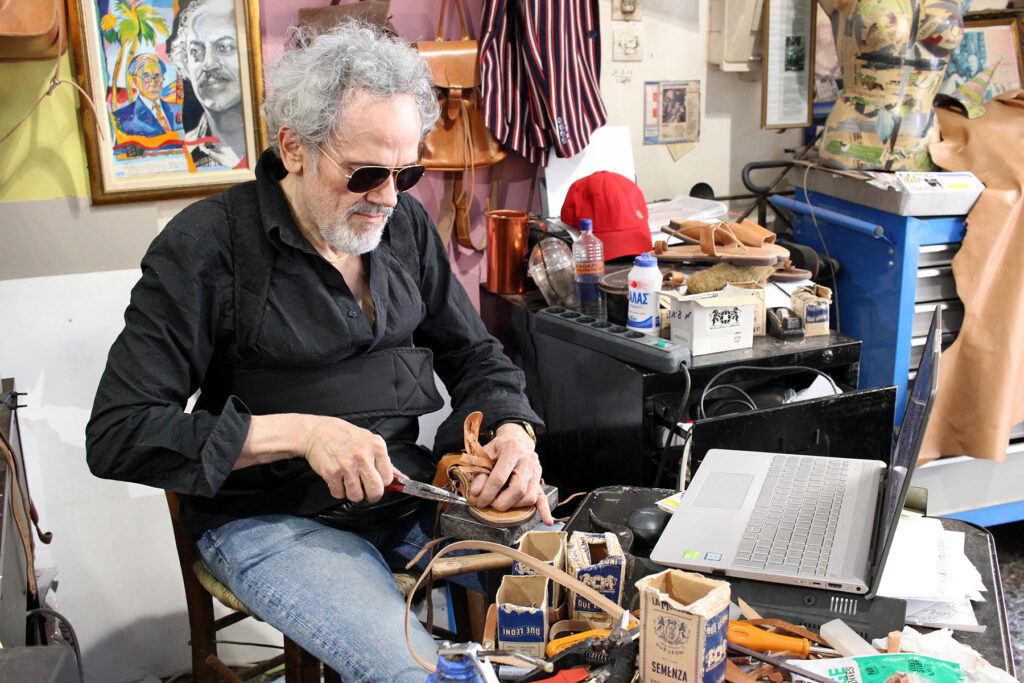 It was quite crowded – clearly this little gem is a poorly kept secret. Customers have the option of selecting one of their standard designs with standard leather, or having a completely custom pair designed with custom materials. I opted for the former, ordering the Gallico design. The experts put the sandal on your feet, adjust and size it, glue and nail it, and within an hour you can walk out with a pair of sandals made entirely for you.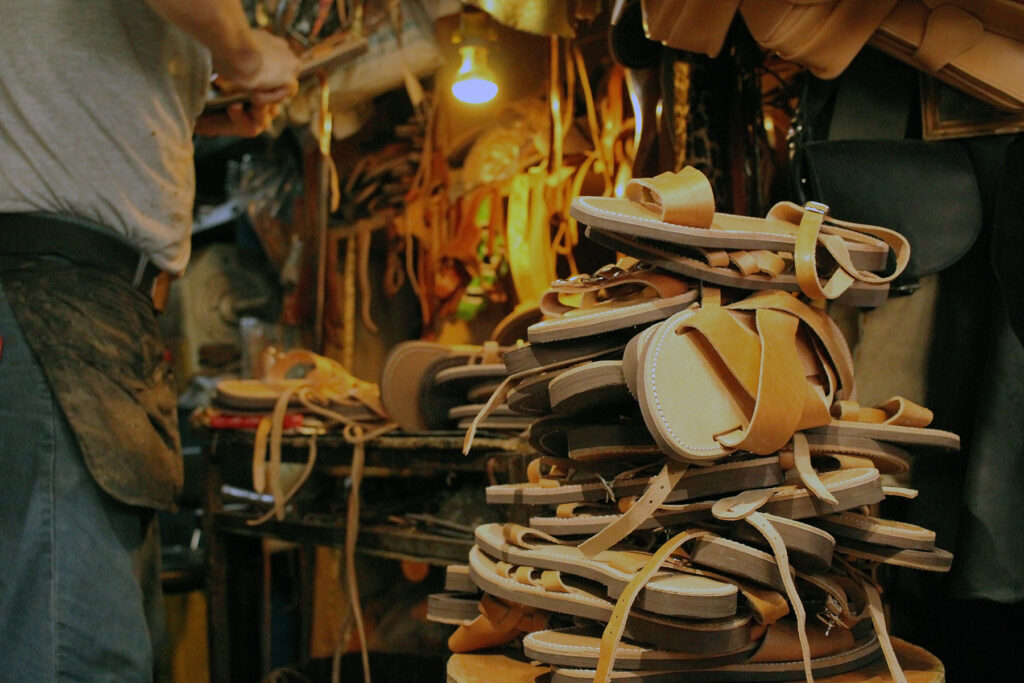 You can do some walking and people-watching if you have a short wait, or there's a friendly little pup in the shop to keep you company.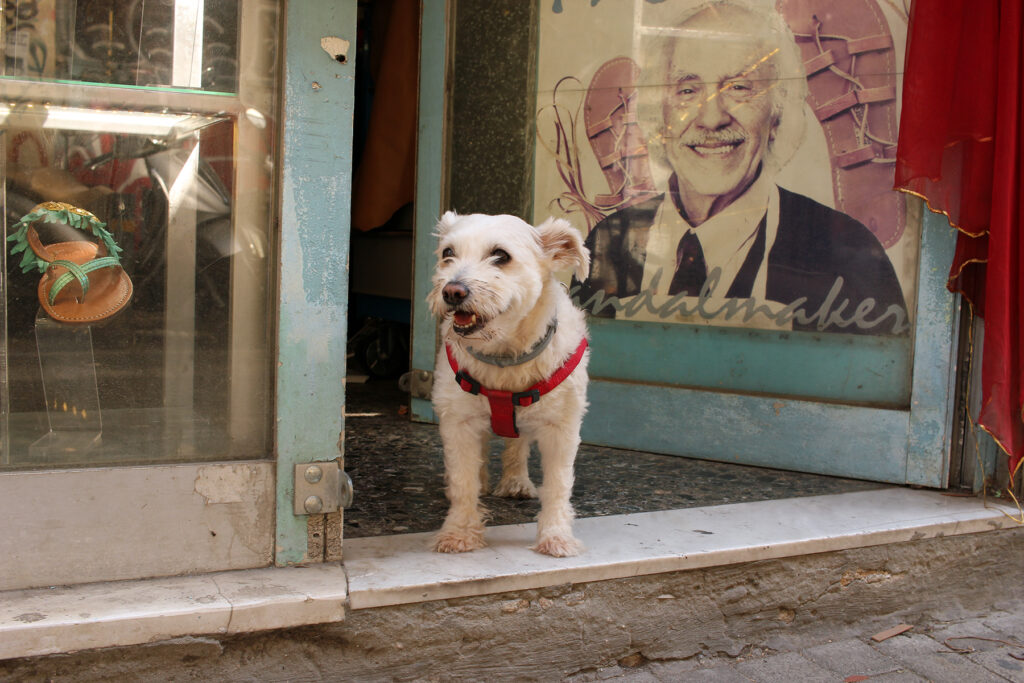 Neighborhoods
We spent a good chunk of time walking through neighborhoods like Plaka, Psiri, Monastiraki and a little dip into Exarchia.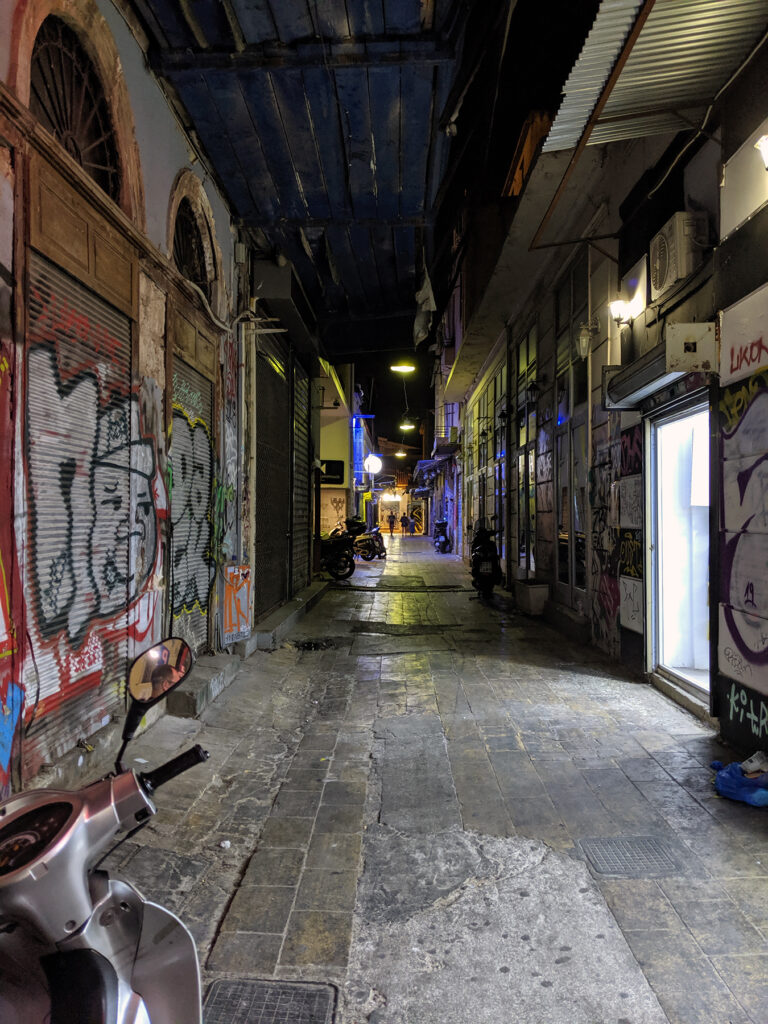 While it's not necessarily a tourist "attraction," it's part of the Athens experience to people-watch, check out some of the local businesses, and dine at the local restaurants.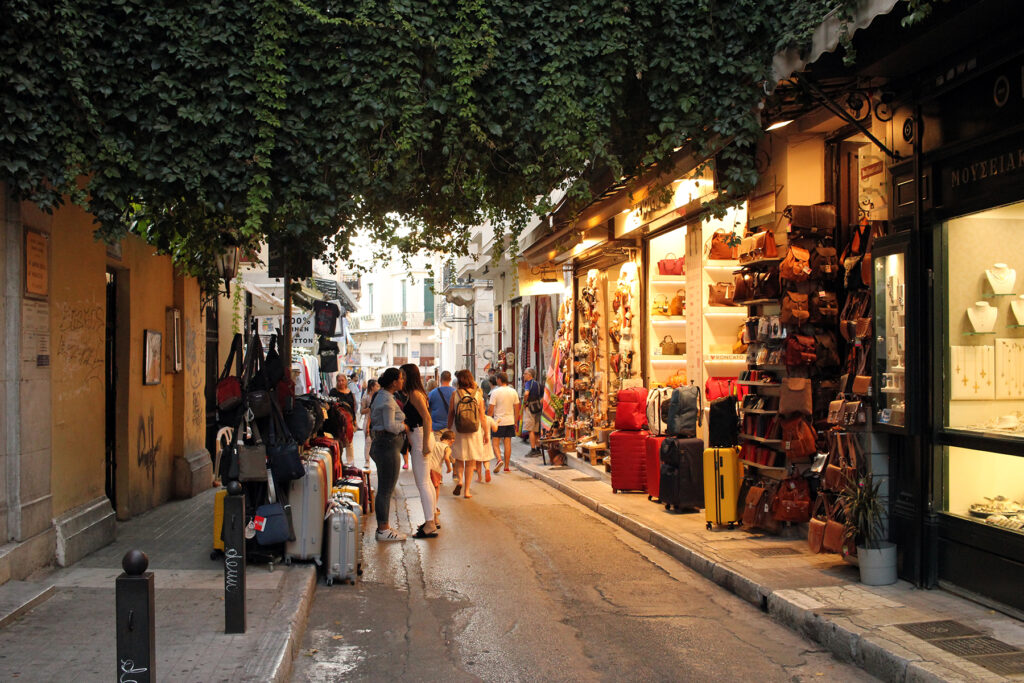 Street art and well-fed stray cats abound. Spotting perched and hidden cats became a fun activity as we wandered through the Athens streets to and from our hotel.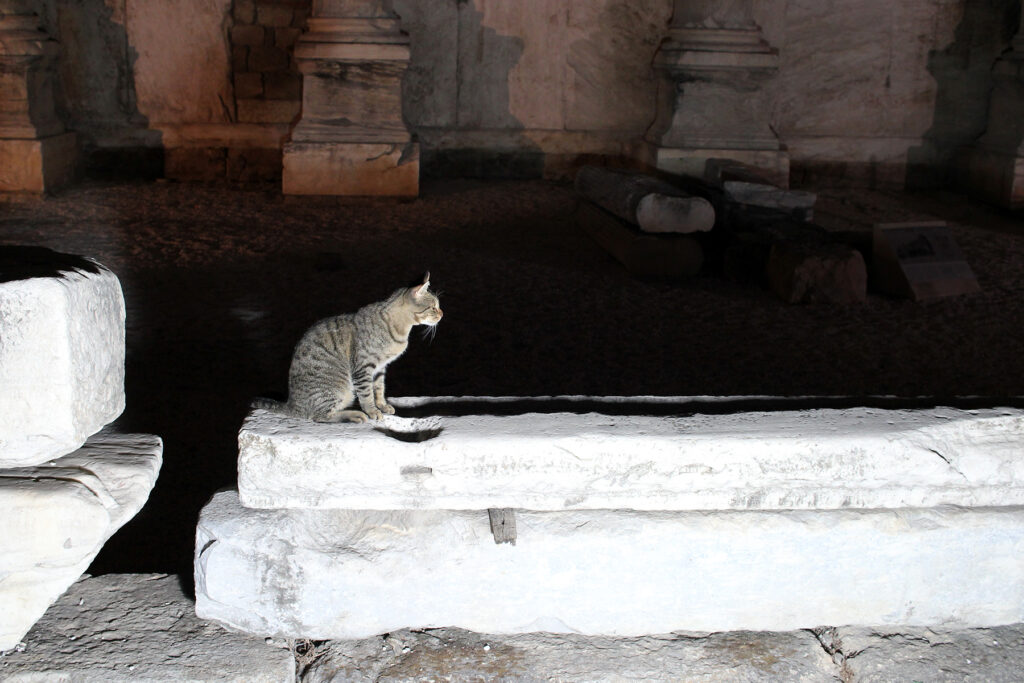 There is art, architecture and graffiti to be appreciated everywhere. Certainly some street art is better than others, but even the casual graffiti makes for interesting photos on the streets of Athens.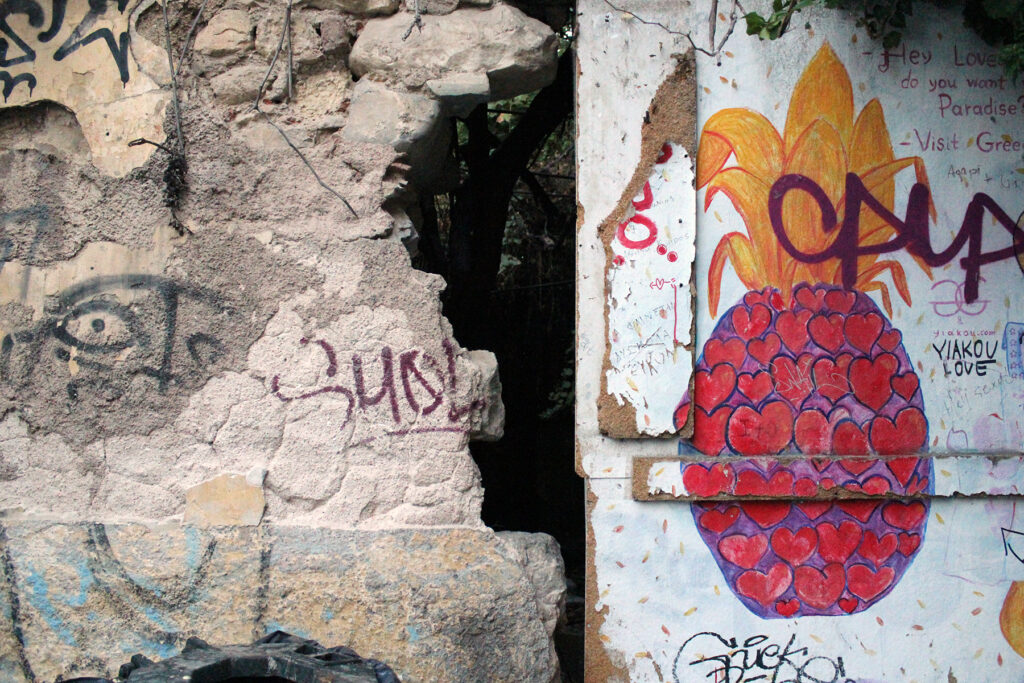 With so little time, we wished for the ability to deep dive individual neighborhoods, so we'll look forward to that on our next visit.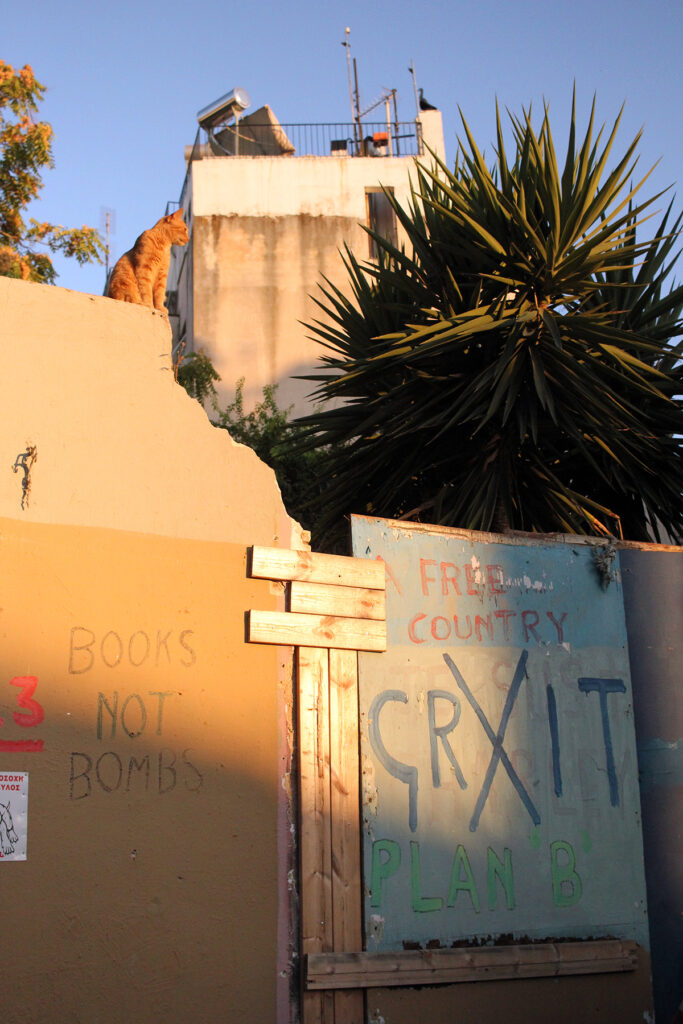 But for now, we happily settle for nighttime views of the Acropolis, beautifully illuminated and visible on the hill from Plaka at night.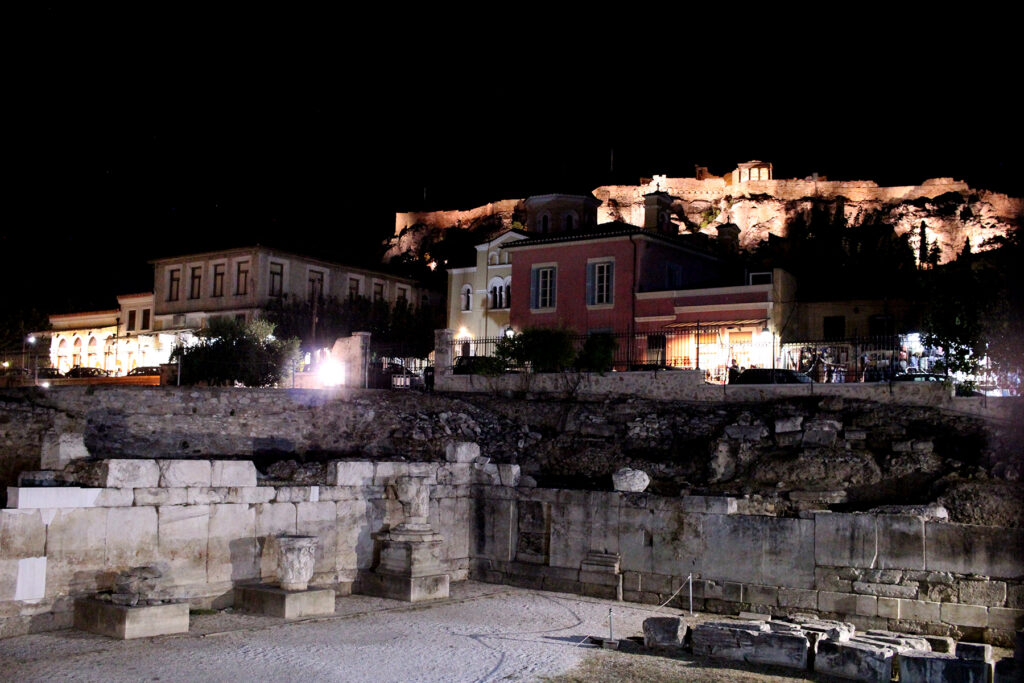 What We Ate in Athens
In the more touristy areas, prepare to be badgered and pressured by businesses to dine at their restaurants. We typically avoid the pushiest places, but gave into pressure once and found ourselves at a spot that left us quite disappointed with the food and the experience (except for the simple and satisfying dessert of Greek yogurt, honey and cinnamon).
We did have a few meals worth mentioning, however.
BlueFish
The seafood was good, but the atmosphere is what really sold BlueFish for us. The weather was perfect and the sunset was behind us on this lovely outdoor patio strip. Blue and white hues, candlelight and finding actual peace and quiet in the Plaka neighborhood was quite lovely.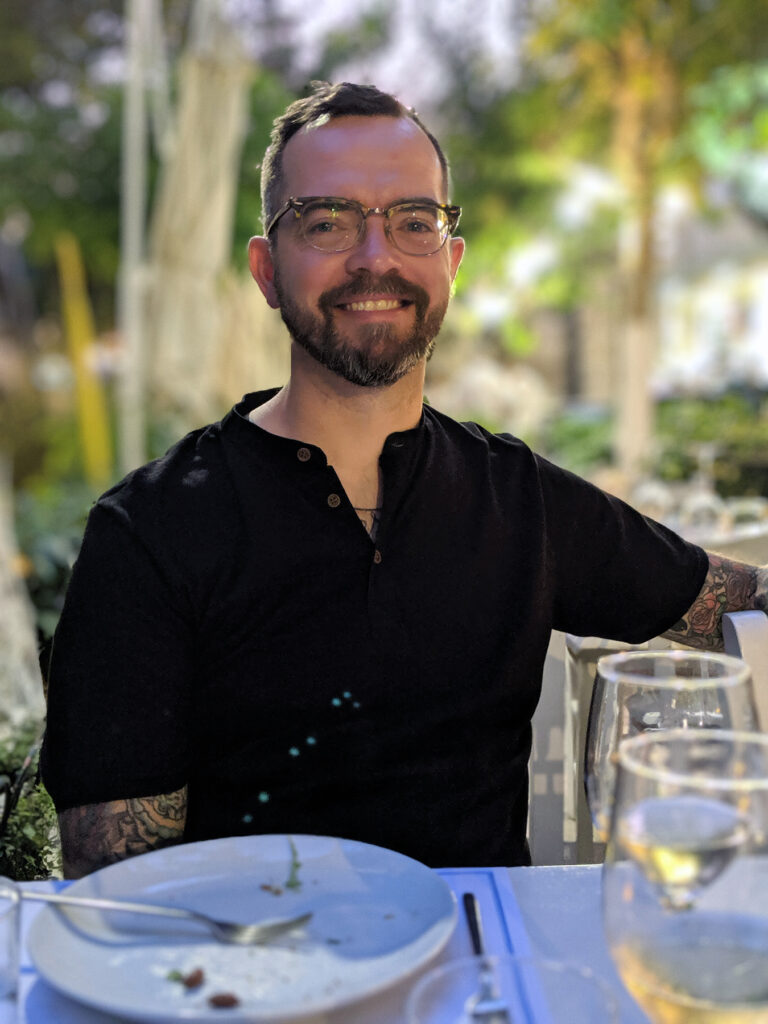 We enjoyed a bottle of wine and shared a few dishes – the bread basket, Oysters 60° with an unusual garnish of wine and passion lime, perfectly fried squid calamari with a sweet lime sauce, and the prawns with grilled avocado and harissa mayo (not as spicy as we would've liked).
Dope Roasting Co.
Dope Roasting Co. is a brand new coffee shop and café that came recommended to us by a woman who worked at the first hotel we stayed at. The staff was extra nice, the prices were absurdly low, and we had such a nice morning and meal at this spot after visiting the Acropolis.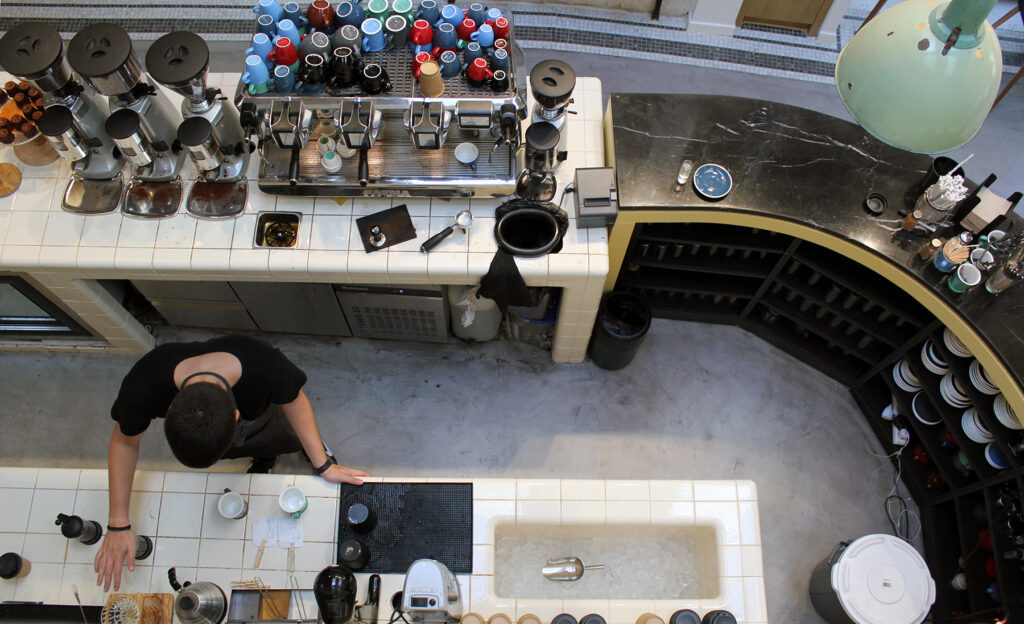 Might I recommend a bagel sandwich for each of you, a pastry split between you, and their flat white and latte?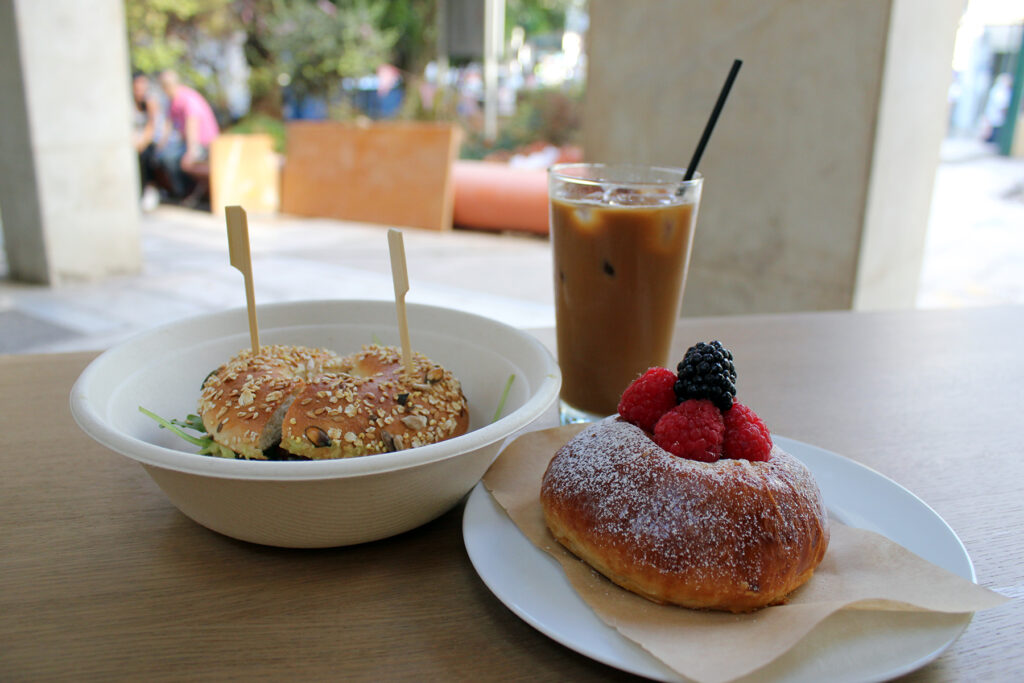 Freud Oriental Athens
To be honest, we were just exhausted from travel and didn't want to go far from our hotel in Kifisia before flying out early the next morning. We agreed to eat at whatever restaurant was attached to the hotel and be cool with it. Freud Oriental was overpriced and too loud, but it was quite delicious modern Asian fare.
DaVinci Gelato
I don't know if we've ever gone to Europe and didn't enjoy their gelato. We cured my sweet tooth with gelato from a popular chain called DaVinci Gelato in the Plaka neighborhood. I was very happy with my cone with a scoop of dark chocolate and a scoop of hazelnut.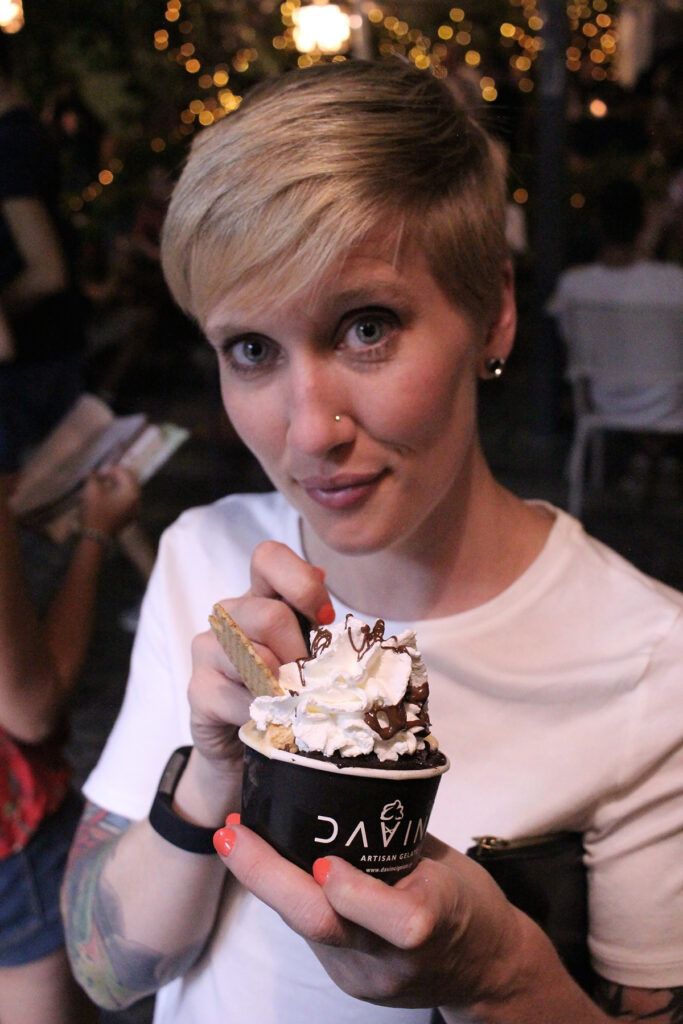 Tailor's House
We just killed some time relaxing on the patio and people-watching at Tailor's House, a quirky Athens bar.
Where We Stayed in Athens
Greece wasn't part of our international travel plan for the year, so we did some bargain-hunting and capitalized on hotel points to make the trip work. Worth it! (I rack up my points through my Marriott Bonvoy membership and credit card if you're looking for a good program.) We stayed at two great hotels in the Marriott family.
Academia of Athens
Acadamia of Athens was a beautiful and comfortable hotel room we enjoyed for two nights. The service at this hotel was exceptional – the staff was super friendly, greeted us with the "elixir of life" (a delicious cucumber and ginger drink that literally brought me back to life after a long travel day), smiling and helpful at every turn.
Academia of Athens is also very conveniently located within walking distance from a number of well-known neighborhoods like Plaka, as well as major sites like the Acropolis and the National Garden.
Two special bits about this hotel – our queen bed was actually two twins pushed together, which made for much improved nights of sleep for me, and "smart glass" that you can switch on and off for privacy in the shower and bathroom.
Pro-tip: if you're hungry, tired, and headed back to the hotel for a nap, there's a convenient cafe across the street where you can pay about two euros for a casual and delicious cheese and phyllo pie.
Hotel Semiramis in Kifisia
The Semiramis hotel is weird with its bright, funky pink and green neons, plexiglass décor, buttons for everything, and rooms that are identified by symbols instead of numbers. But we stayed in their suite and had such a fun time recharging – ourselves and all our devices – before traveling the next morning.
The best part, though, was waking up to gorgeous, panoramic views of the mountains on all sides from our private patio. I did yoga and meditated on the patio, followed by room service breakfast that had very good cappuccinos, a bread basket with delicious croissants, a scrambled egg, and Greek yogurt with honey. Not a bad way to gear up for a long day of travel!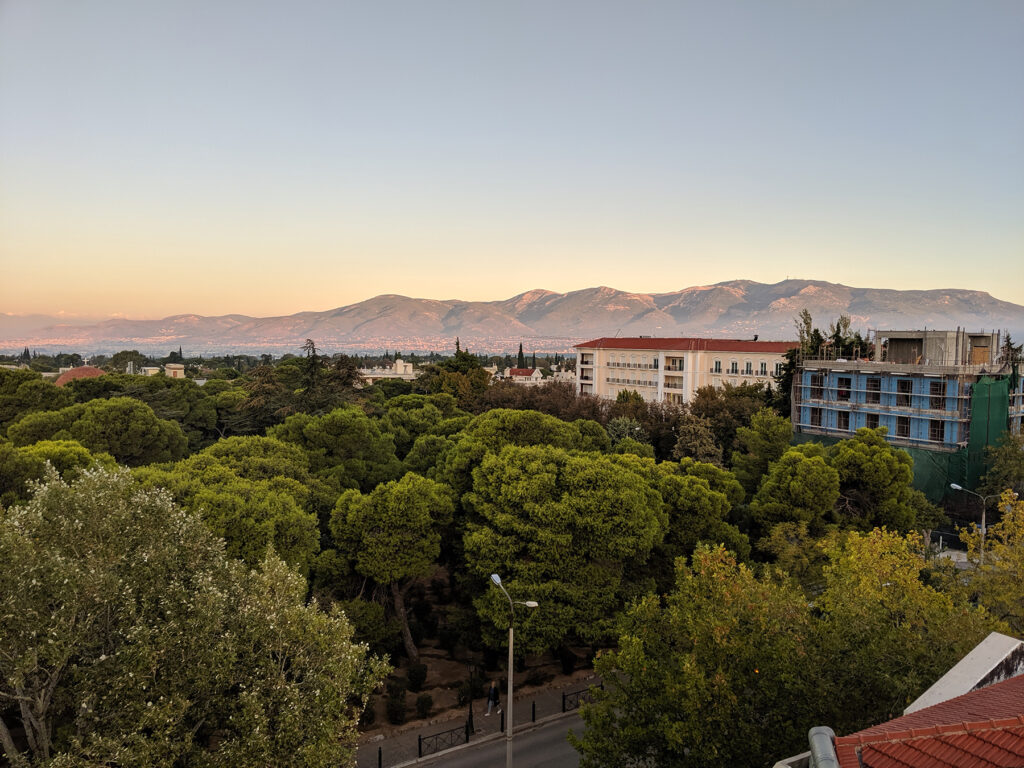 Next Time in Athens
Two days is not enough to fully appreciate such an important historical city. Next time we visit, I'd love to explore more of the museums Athens has to offer – the Acropolis Museum, Benaki Museum, and the Museum of Cycladic Art. I'd love to see more ancient architecture, like the Temple of Olympian Zeus, the Stoa of Attalos, Hadrian Library, the Ancient Agora, Odeon of Herodes Atticus, Temple of Hephaestus.
And beyond the ancient sites of Athens, I want to experience more of the local culture through things like the Central Market or the Monastiraki Flea Market, and going on a mission to find the best local street art, along with the stories behind it. I also want to experience the outdoor beauty the area has to offer, perhaps through hikes of Mount Lycabettus or Hymettus.
In anticipation of the trip, I brushed up on my ancient Greek history with National Geographic's The Greeks: An Illustrated History – a lot of fun to read and remember all the mythology and stories.