After a few short days in Athens, Greece, we took the five-hour express ferry to Santorini to join our friends who generously invited us to join them on their annual vacation to this location. When you are invited to travel to a bucket place that looks like this, you say yes.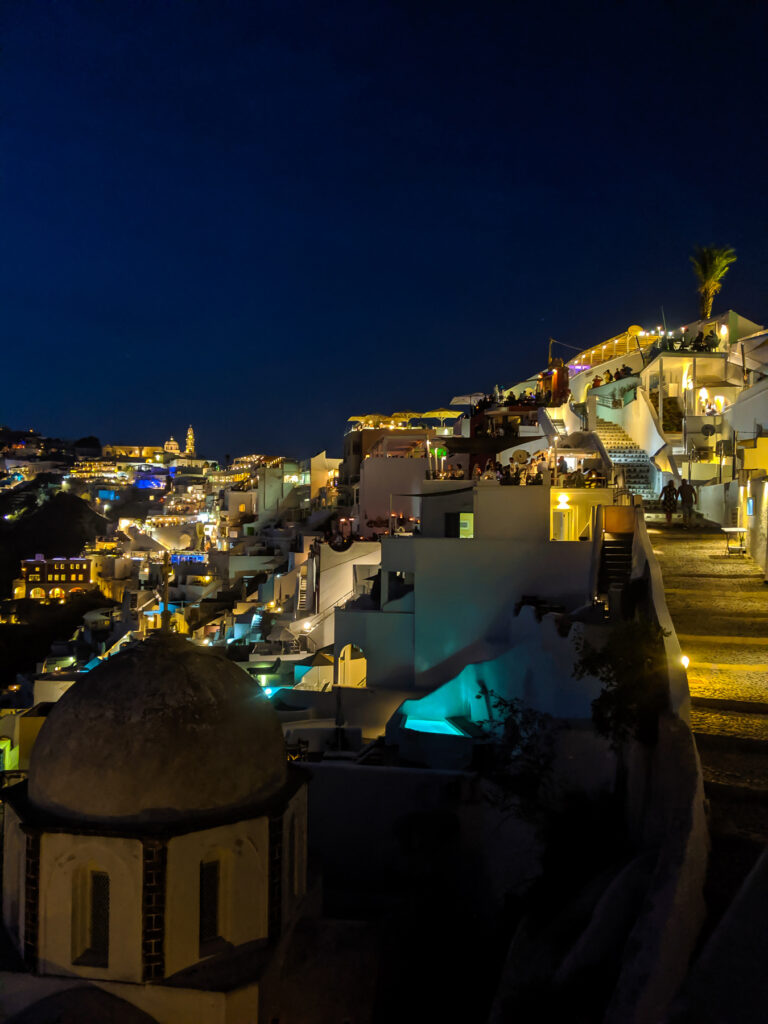 They picked us up at Athinios Port (the "new port"), which was a bit of a madhouse with arriving and departing passengers, after a long morning of travel past Mykonos and other islands to arrive at Santorini.
Psarotaverna O Perivolos
It was fast relief from the chaos when we arrived at Psarotaverna O Perivolos for a relaxed seafood lunch on Perivolos Beach in Thíra. It's a small, unassuming, casual spot right on the beach that our friends enjoy and we had multiple lunches and beach afternoons at this spot throughout our stay.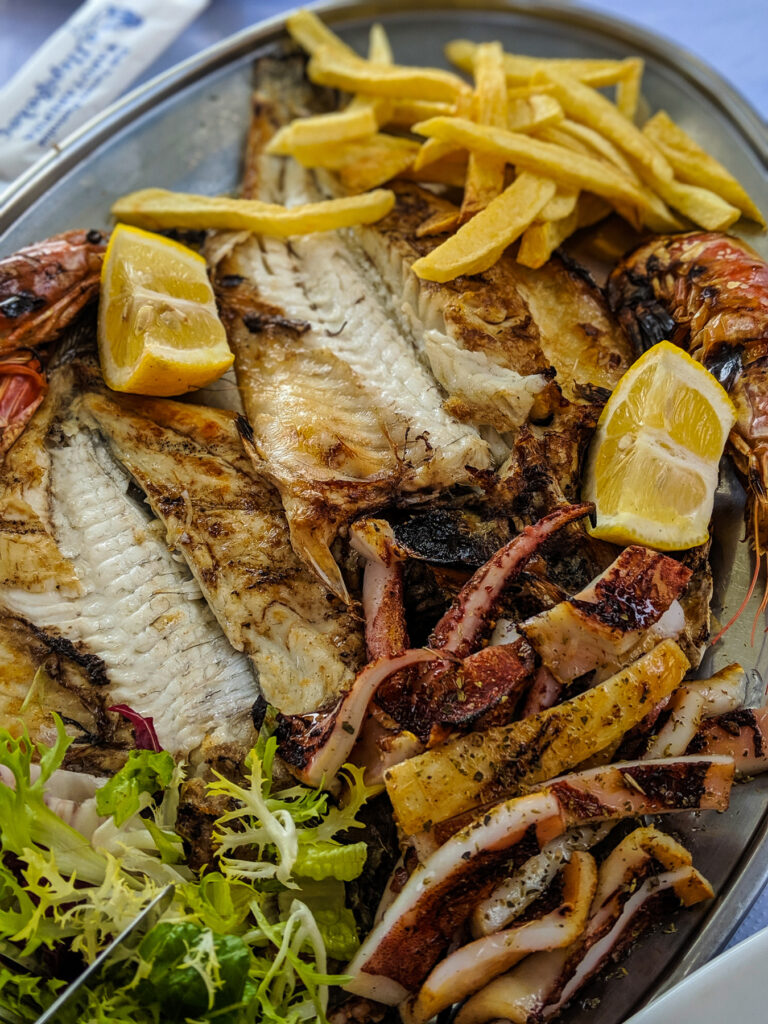 The Santorini House
Then we headed back to our condo in Fira, right down the hill from the Atlantis Hotel.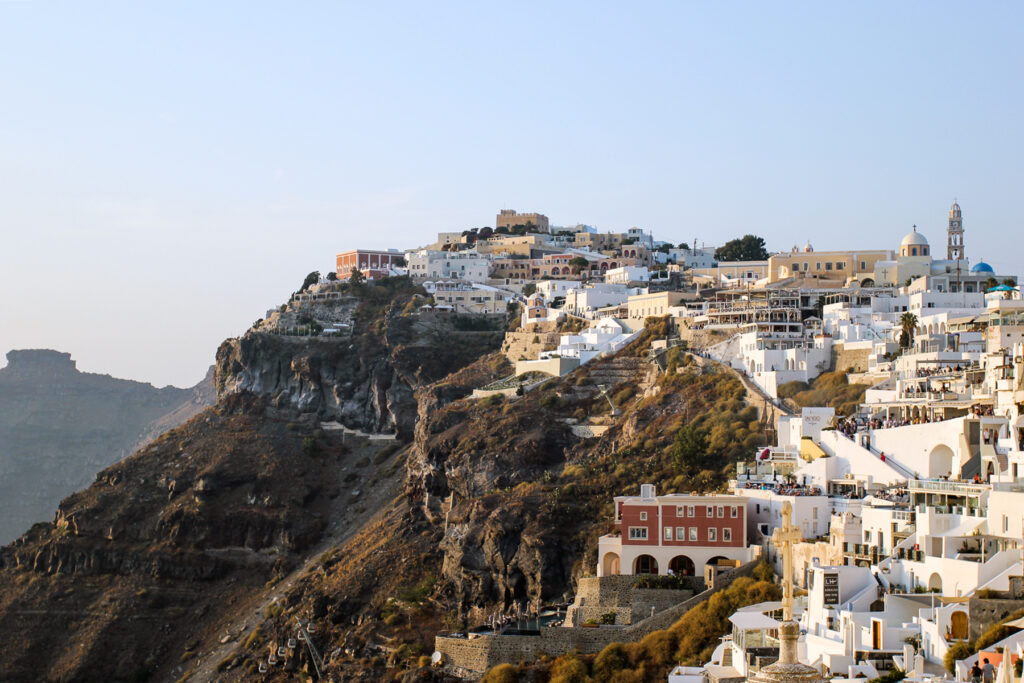 We hung out on the patio with our friends most of the evening just enjoying the views and gorgeous weather.
Sunset in Santorini
It's hard not to fall in love with the beautiful sunset over the islands and the town of Fira lighting up blue, white and gold at dusk.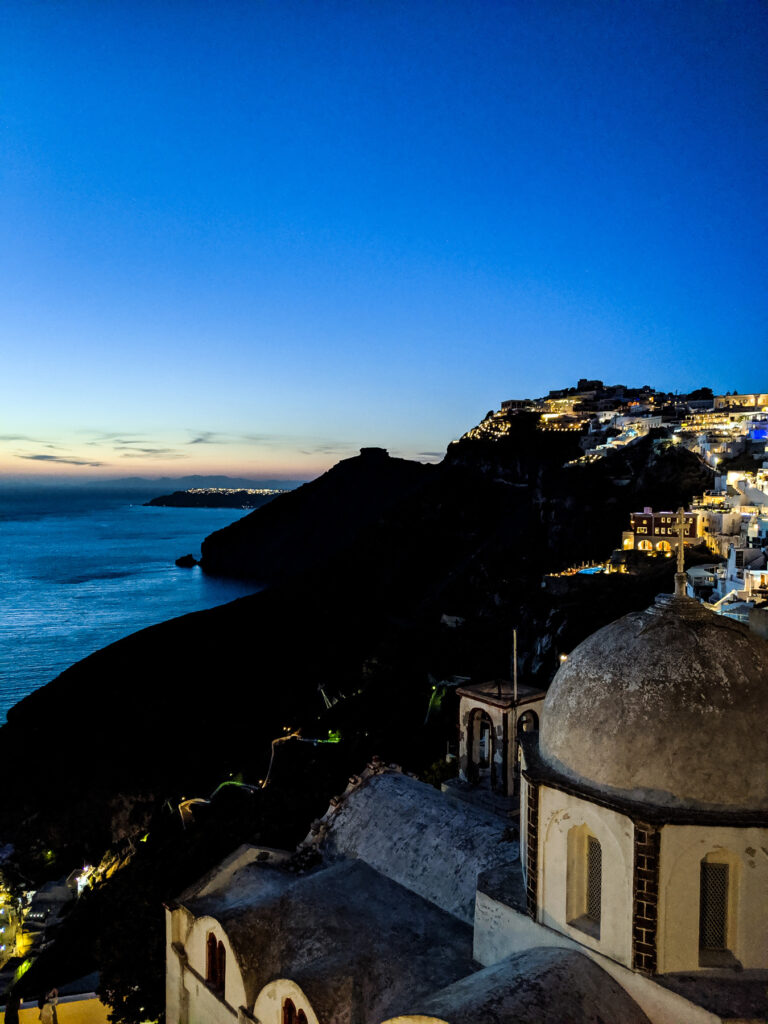 The sunsets are truly spectacular here from the caldera side of the island as the sun sinks behind the volcano.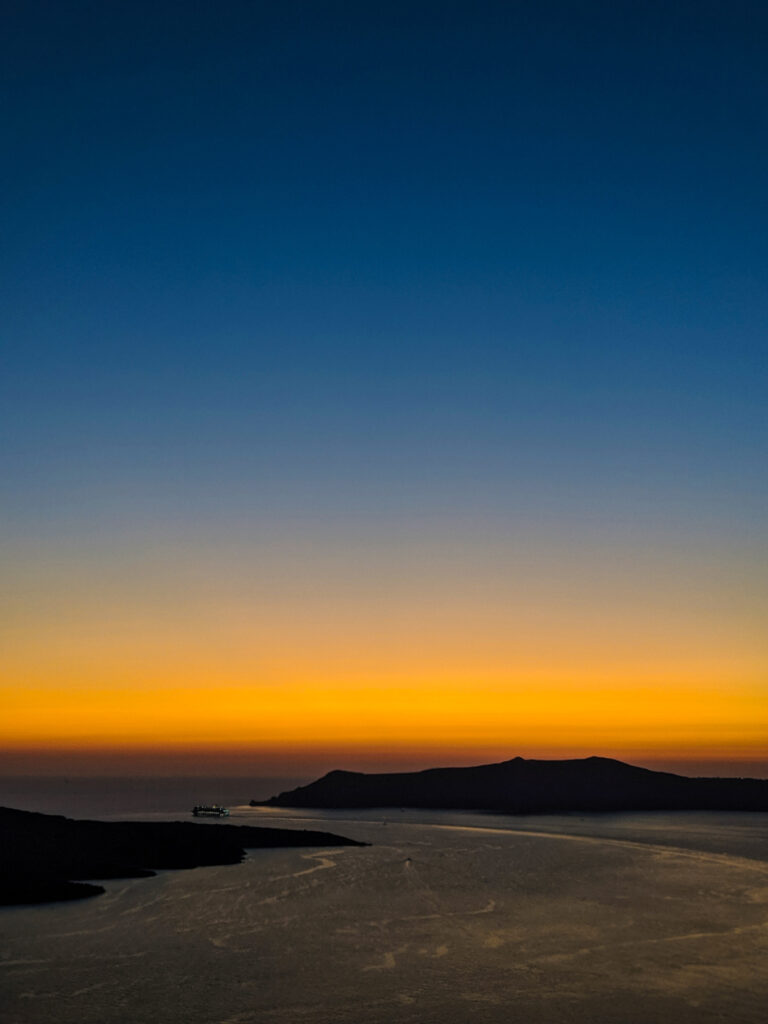 (Just try to block out the piles of tourists who clamor to the steps to snap their sunset selfies).
Nikola's
We then headed to Nikola's, a long-standing, authentic local Greek restaurant in Fira, for dinner. The owner herself served us – and many other tables in many languages – providing recommendations well-suited to our group.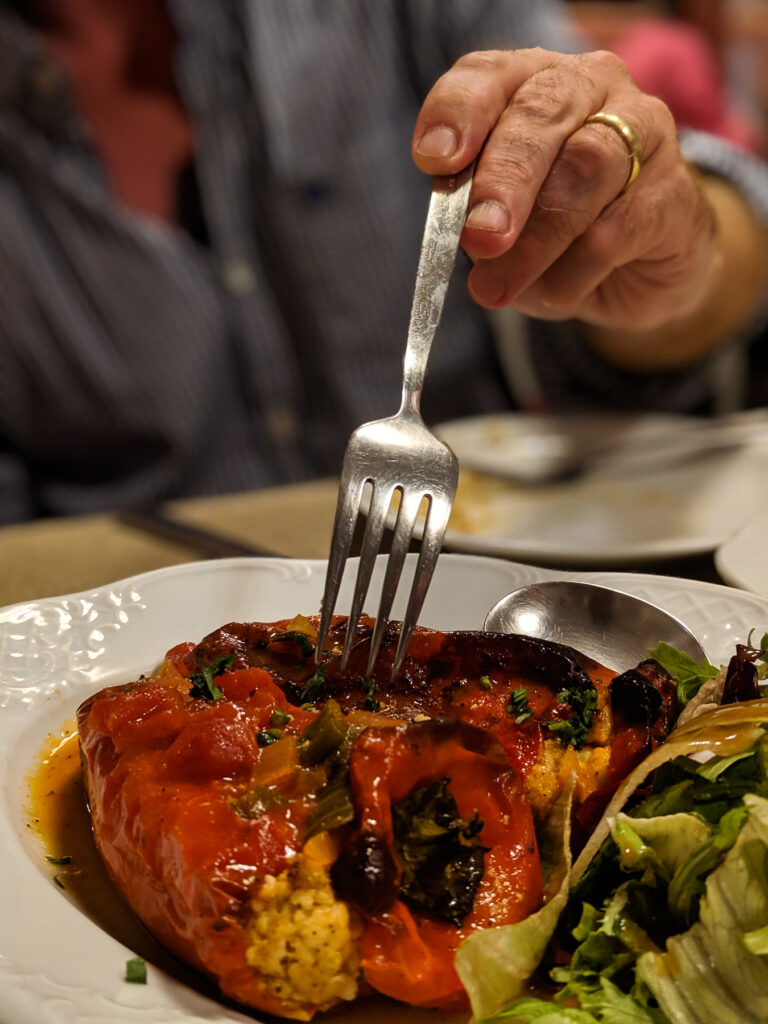 We enjoyed her stuffed red peppers, the vegetarian-friendly dolmadakes (dolmas), their shrimp saganaki in a tomato broth with feta, fava puree, and plenty of a white wine local to Santorini.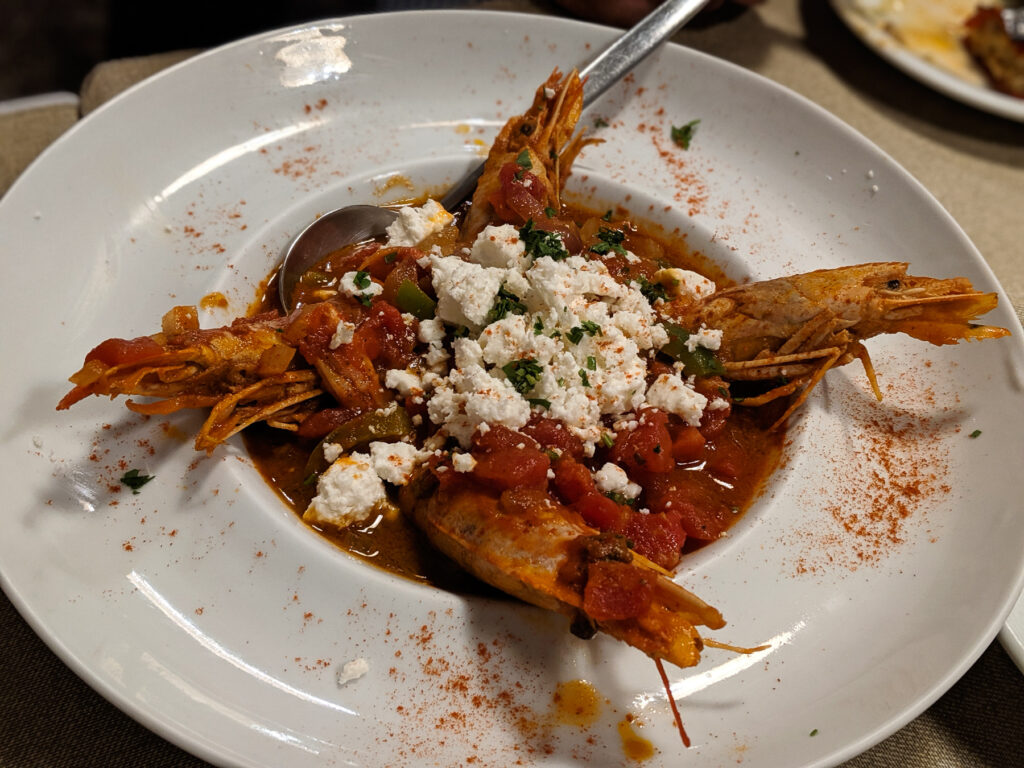 After our lovely dinner together, we grabbed some gelato on the winding walk back to our unbelievable house on the hill for music, great conversation, drinks and card games.
Hike to the Old Santorini Port
We slept in the next morning after a long few days of travel – one of the wonderful luxuries of being on a beautiful island like Santorini with zero agenda. We wanted to get a little exercise in, so we decided to hike down and back up the steps from Fira to the Old Part. This is commonly traveled by cable car or donkey – so prepare to make way for droves of donkeys and dodge donkey poop on the way down.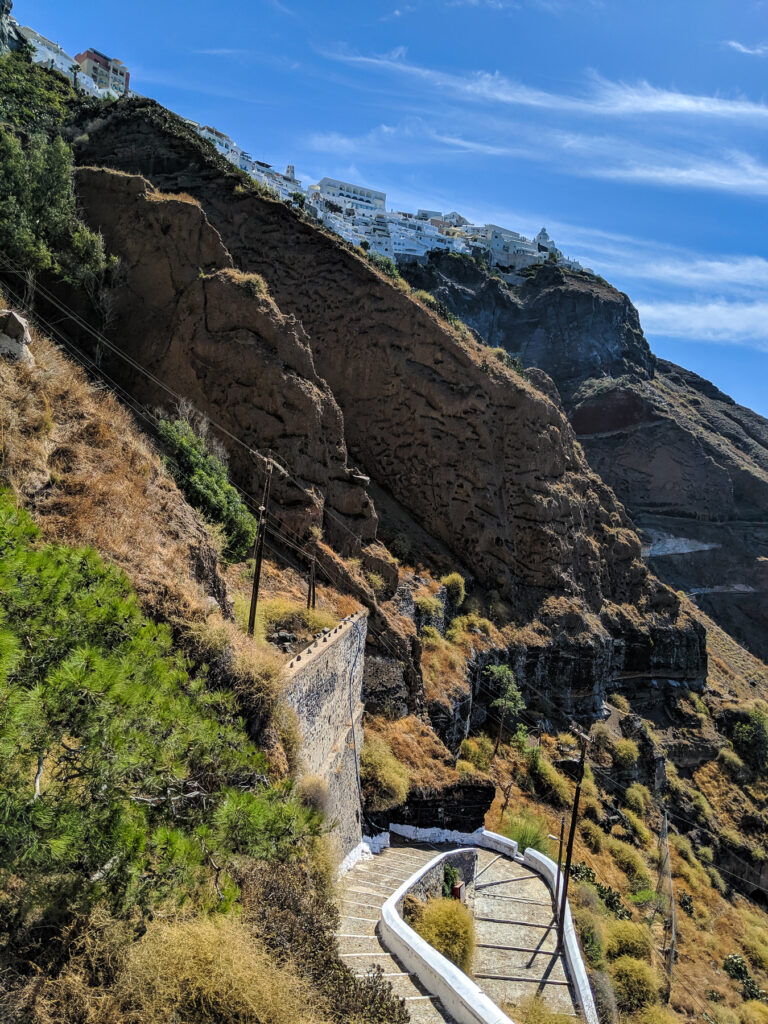 But it's nice to be directly on the Aegean Sea and poke around at the bottom at the old port and wander through the cave-like alleys of shops. And it's even better to break a sweat on the way back up.
Psarotaverna & Perissa Beach
The weather was perfect for a day on the beach. We headed to the same restaurant as the day prior – Psarotaverna O Perivolos – this time enjoying the spinach salad, their toasted and salted pitta bread with olive oil, tzatziki, cheese croquettes, spinach salad, pita, tzatziki, cheese croquettes, and meatballs for the meat-eaters at the table.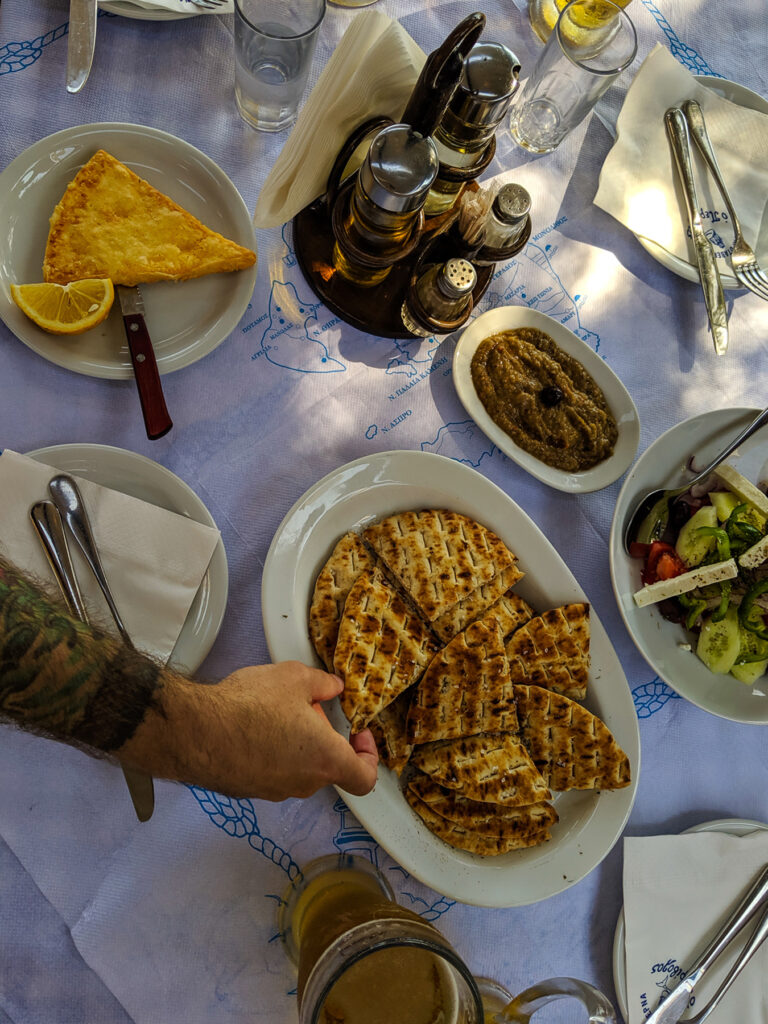 After that we lounged on Perissa beach for hours. This spot on the Aegean Sea is dark with volcanic sand, and has practically unlimited seating and umbrellas for visitors. And since the height of tourism season had passed the month prior, it felt like we had the beach to ourselves.
Plus, the folks from the restaurants up the hill happily bring beers to our chaise lounges. The boys played paddle ball on the beach, I read my magazine for hours.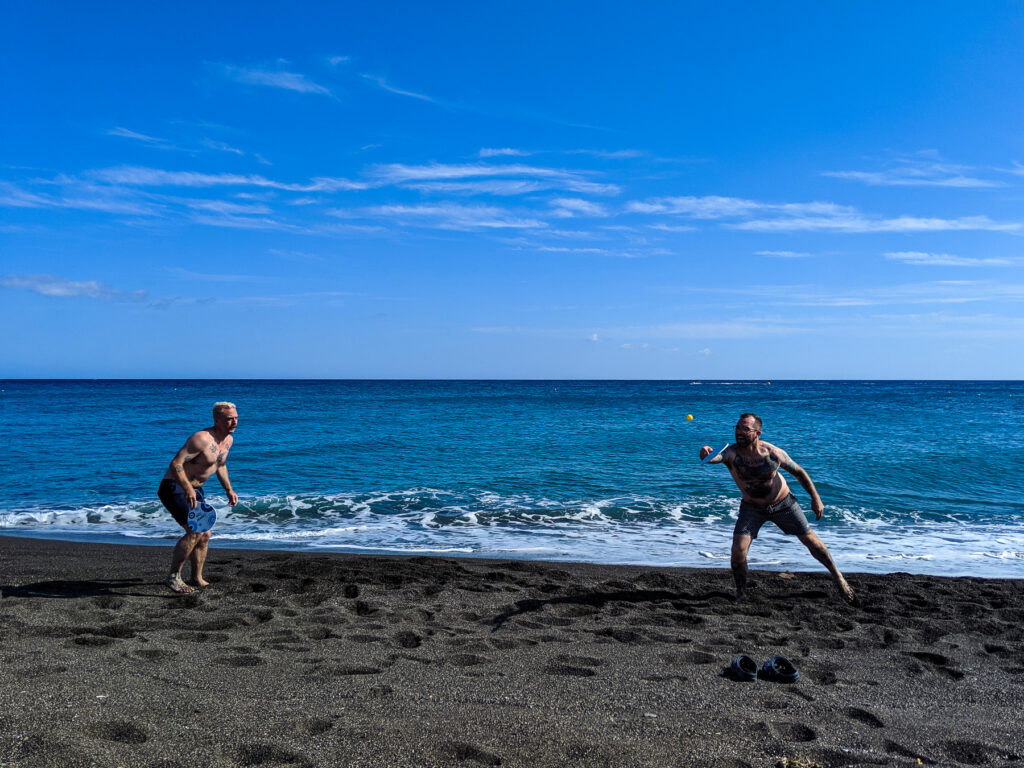 I even said yes to the 30-minute back massage from the vendors watching the beach (something I regretted not doing when we were in Costa Rica).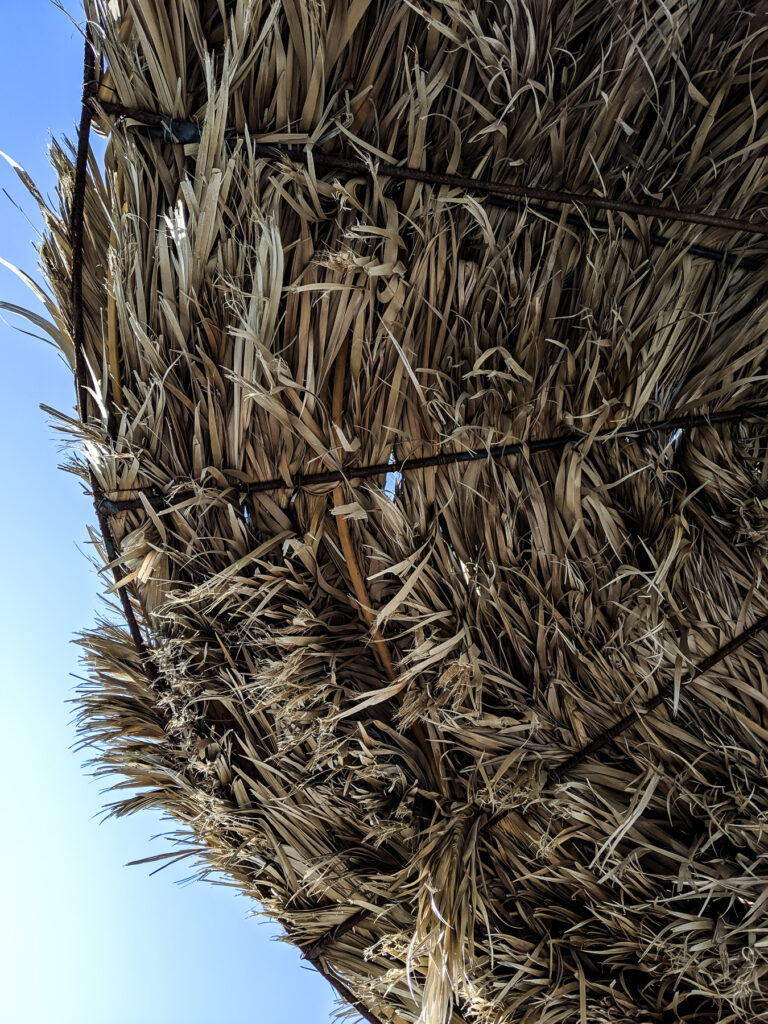 Dinner at the Condo
Instead of going out to a restaurant again, we decided to lay low at the house for dinner, because we heard our balcony was the best possible spot to watch the fireworks that night (more on this shortly).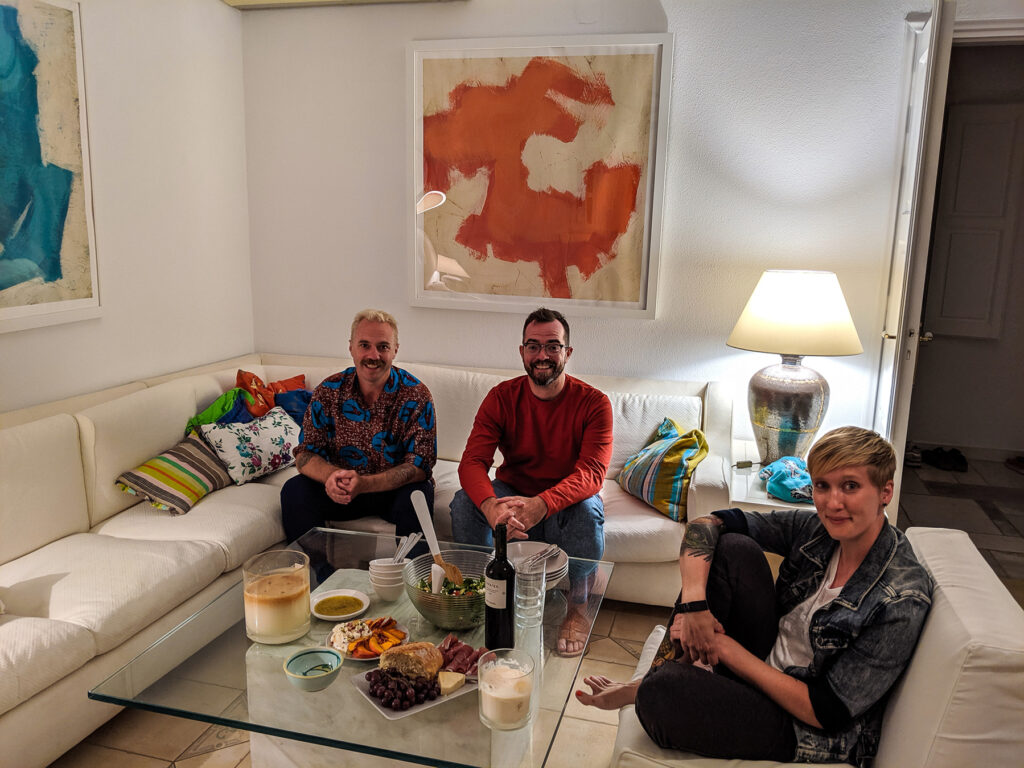 We went grocery shopping for ingredients and a few bottles of wine. We prepared a spread of a feta salad, bread and oil, cheese, grapes, and yogurt with peaches, honey and pistachios.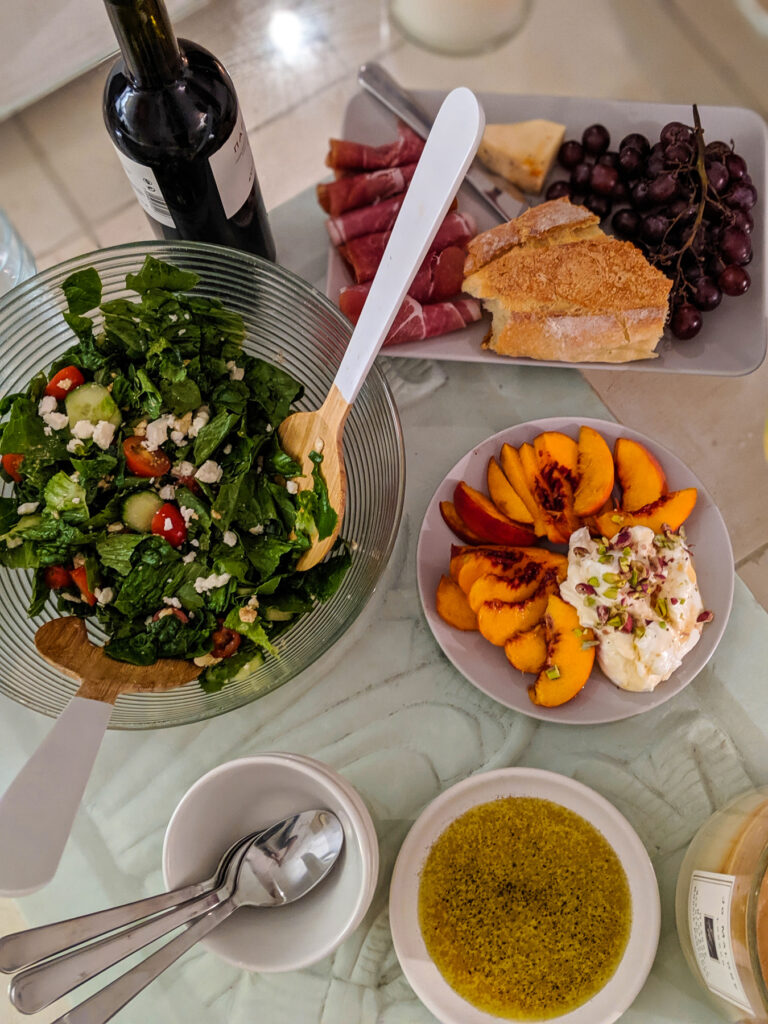 Ifestia Festival 2019
This was an entirely unexpected experience – there is an annual fireworks show called the Ifestia Festival, celebrating the birth of the Santorini island from the eruption of the volcano.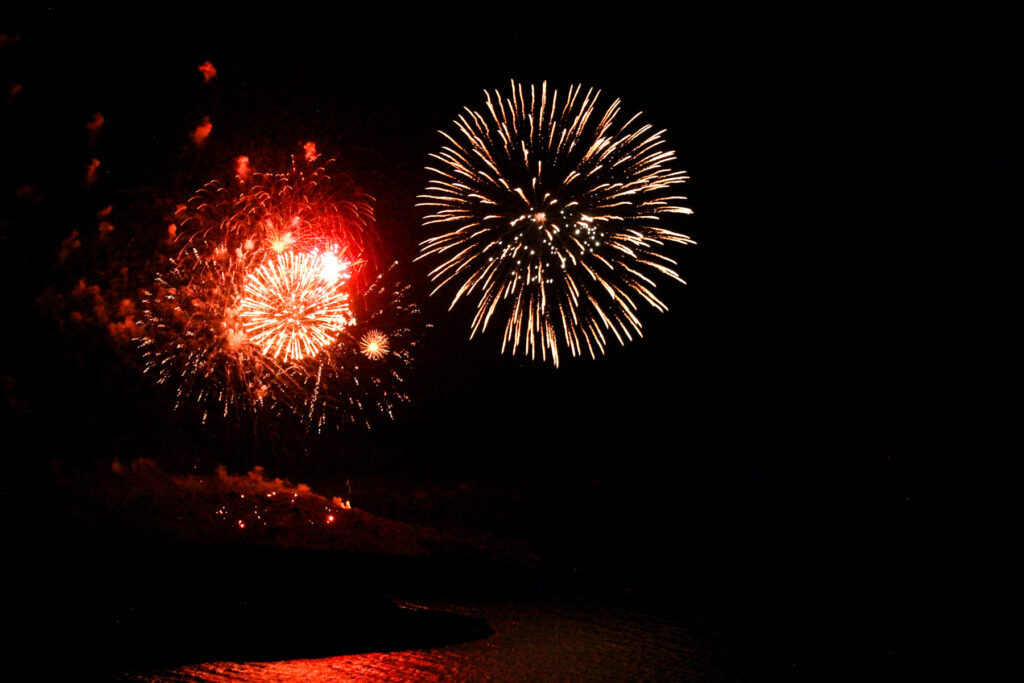 Just saying this out loud blows my mind – we got to watch a beautiful fireworks display from our gorgeous Santorini balcony, and the fireworks were designed to look like volcanic activity, explosions and creeping lava alike.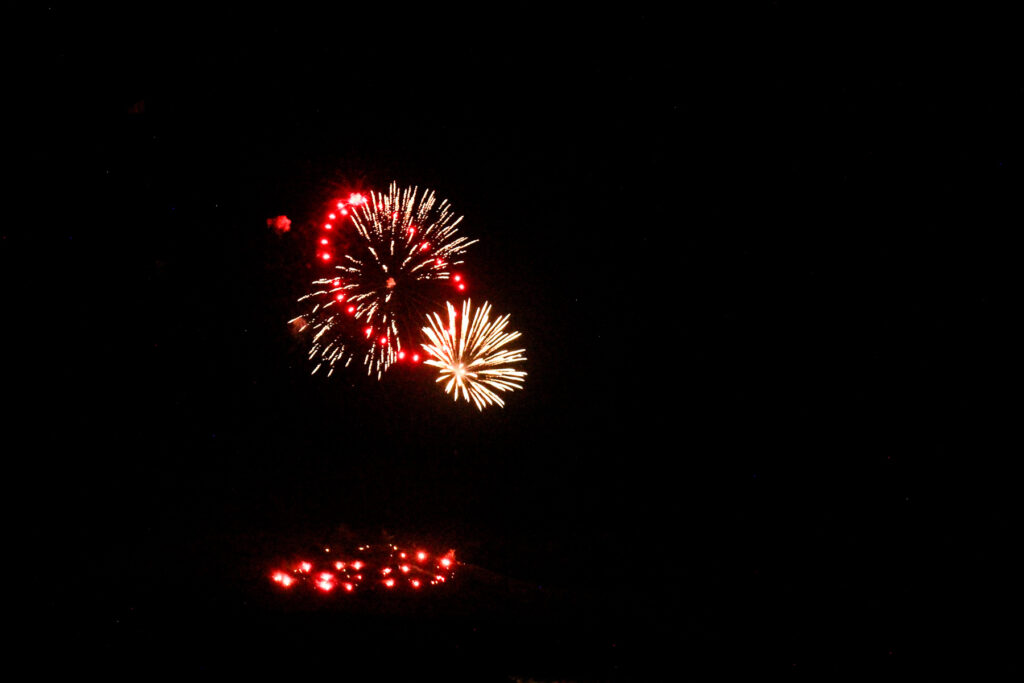 Despite the strong, chilly wind, tons of people crowded to the edges of Fira and tons of cruise ships and boats were poised in the water to watch the show.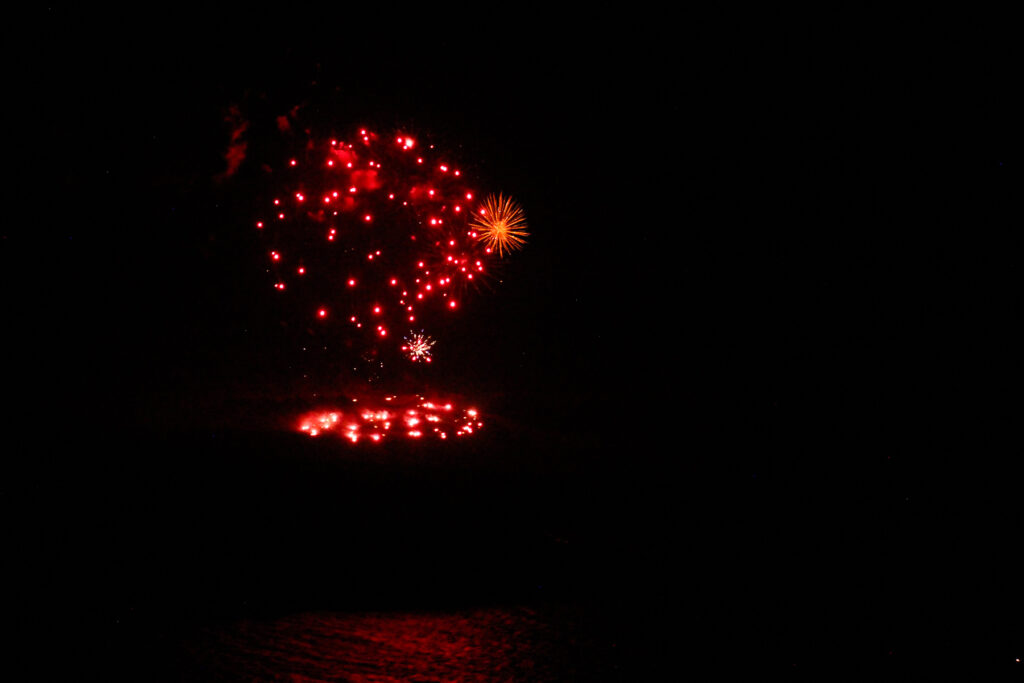 Walked from Fira past Imerovigli
We started our day walking from Fira through Firostefani to Imerovigli and a little beyond. It was roughly five kilometers, all told.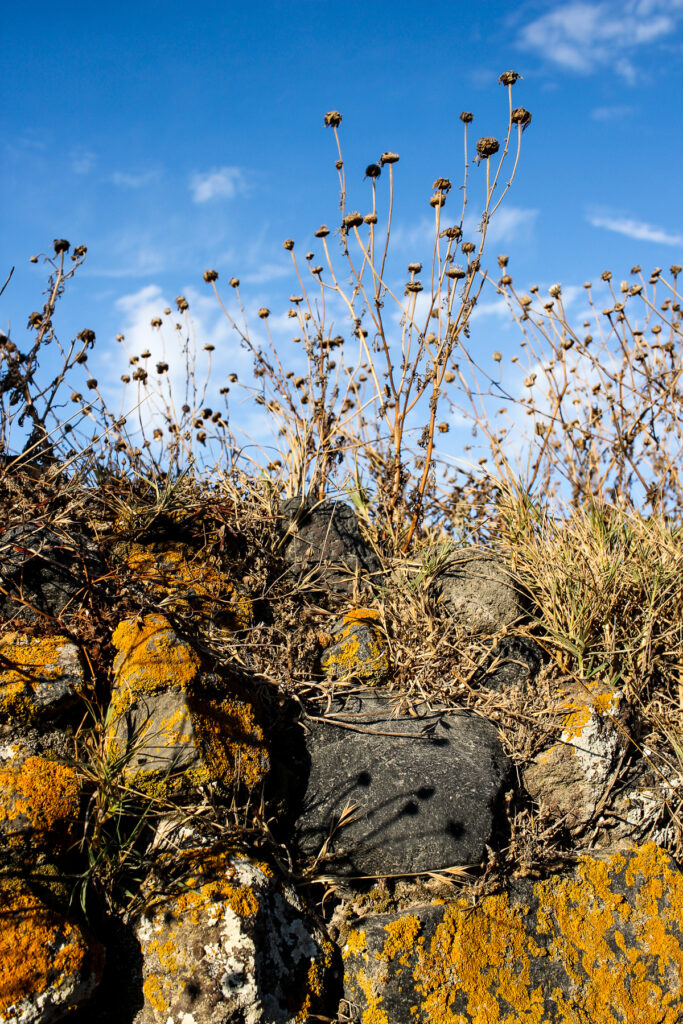 It's a lovely walk between the little coastal towns on Santorini with the stone streets and gorgeous luxury villas, and cliffside views the entire way. We polished off our walk with croissants and coffee for breakfast at the house.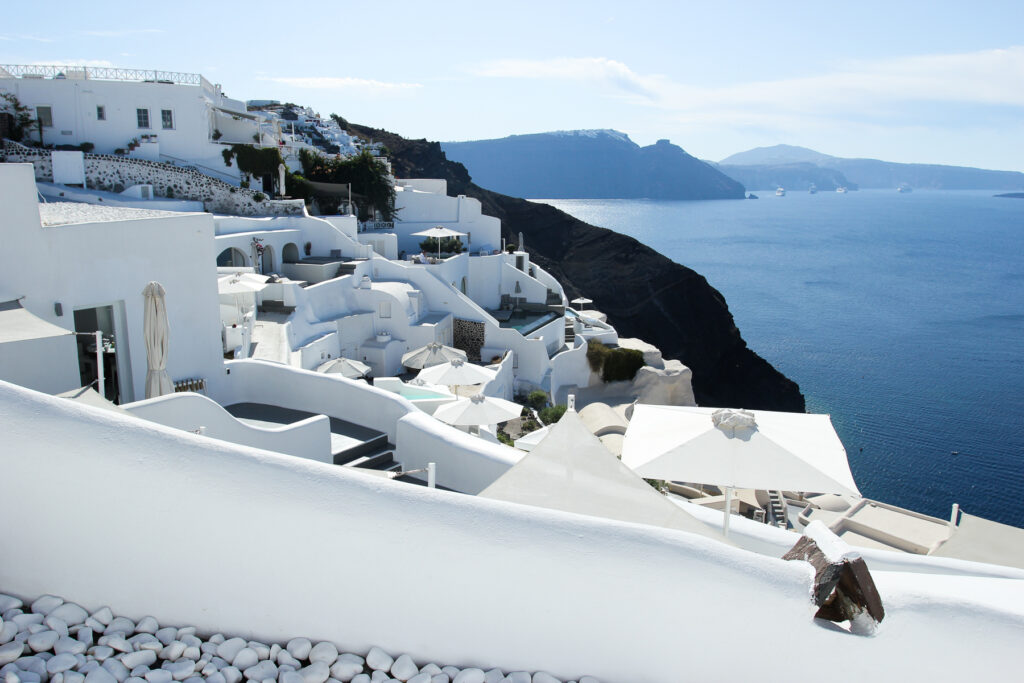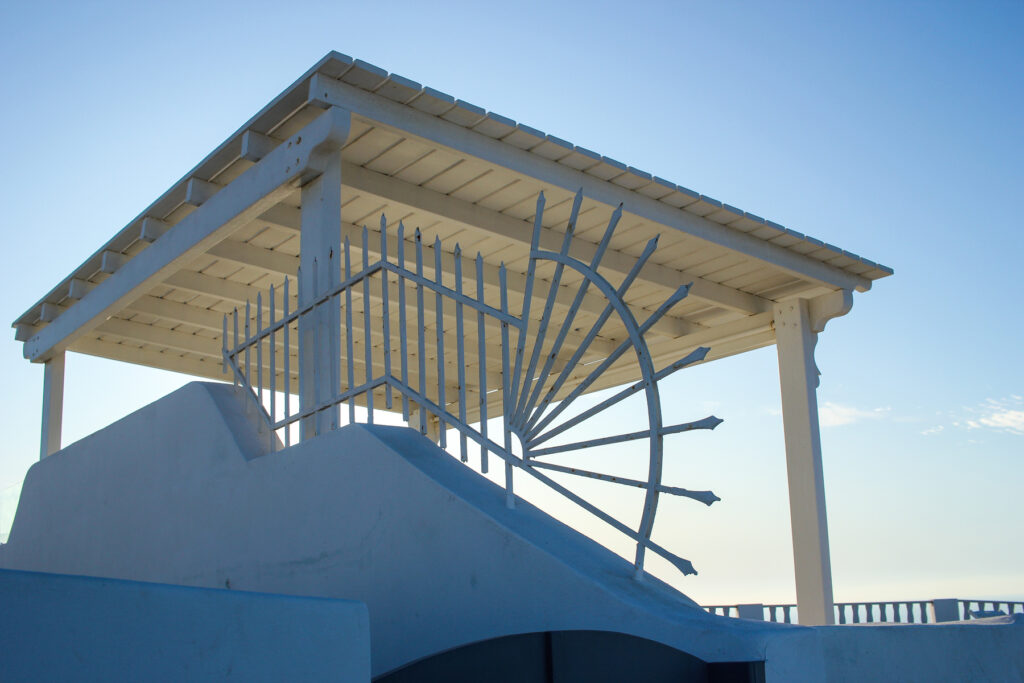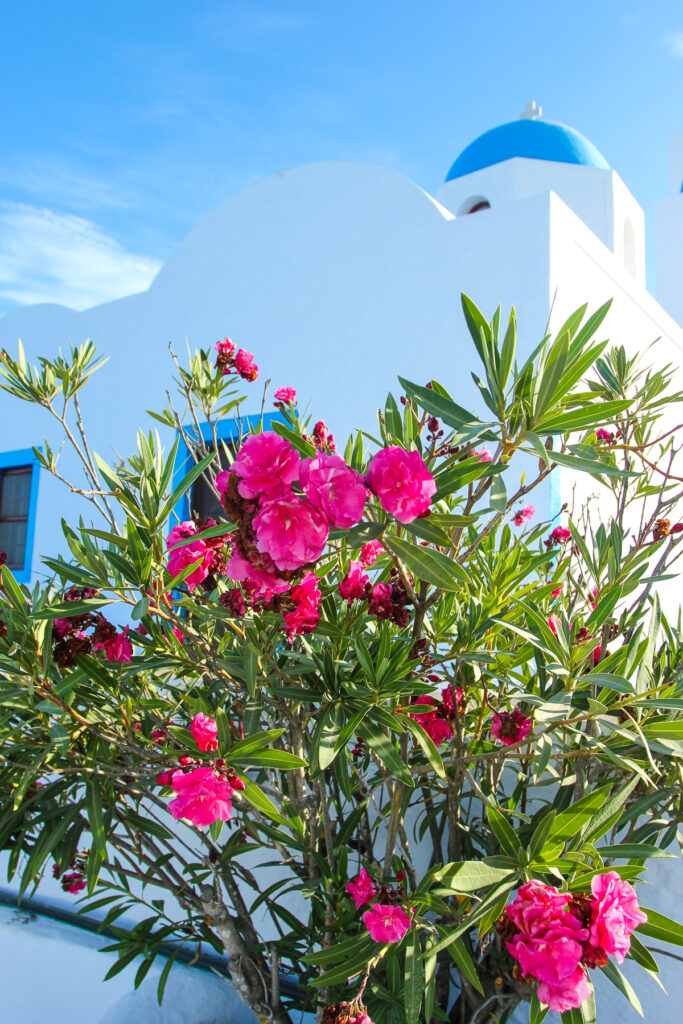 Mezedaki
We changed it up for lunch this time, heading over to Mezedaki. This was a beautiful beachside restaurant where we enjoyed their selection of breads and cheeses, a roe puree, an awesome squid ink pasta with salmon, tzatziki, wine.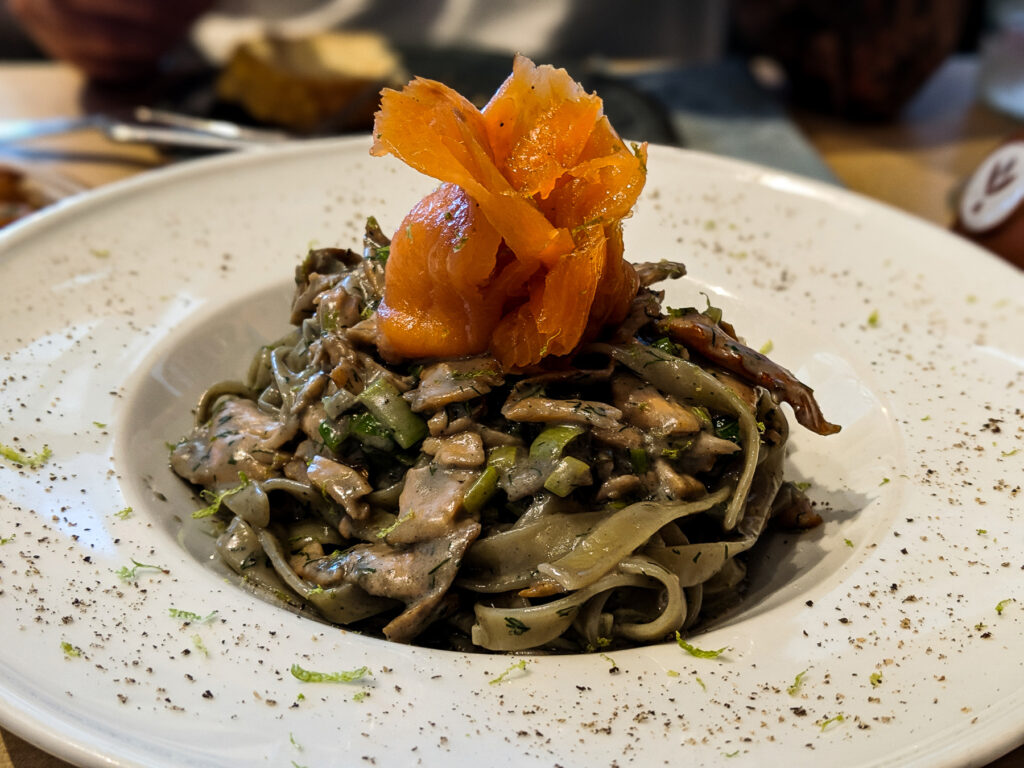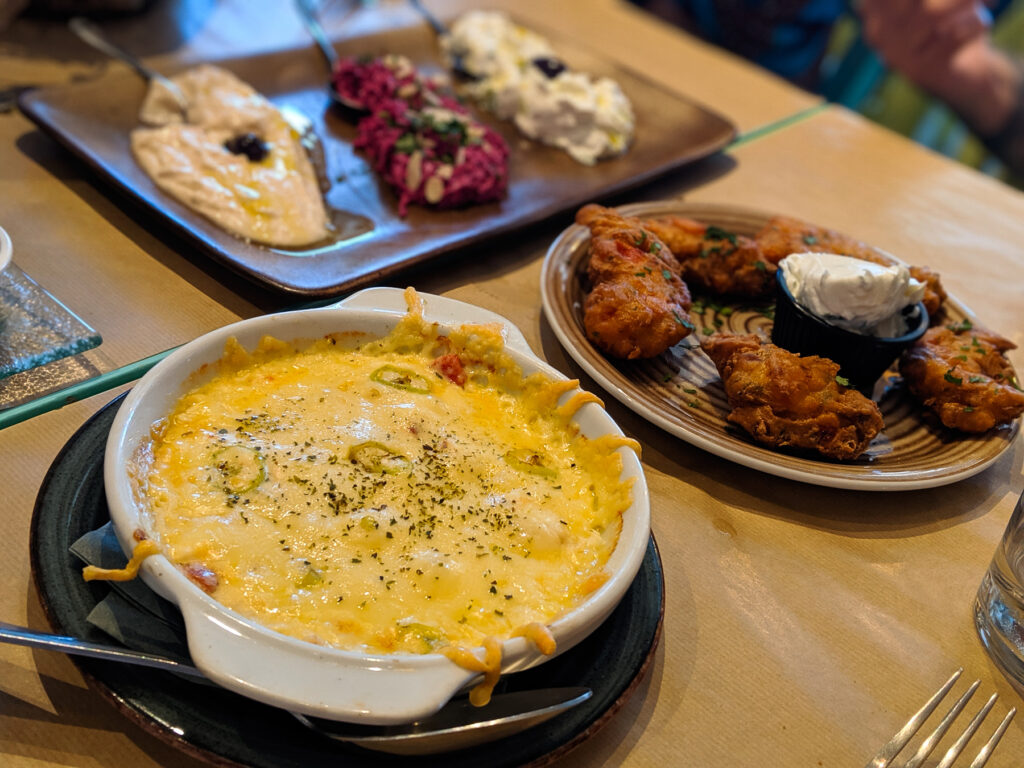 Then, we of course headed back to Perissa for several hours on the beach for reading, sunbathing and napping. The boys also dipped out to smoke shisha down the way, but the girls opted to stay at the beach and catch every last second of sun and breeze we could.
Obelix
My husband was craving a proper doner kebab, so we had a super casual street dinner from Obelix. Armed with gyros, a falafel, and super tasty fries seasoned with salt and oregano, we walked along the stone paths of Fira to the main square area for some people watching.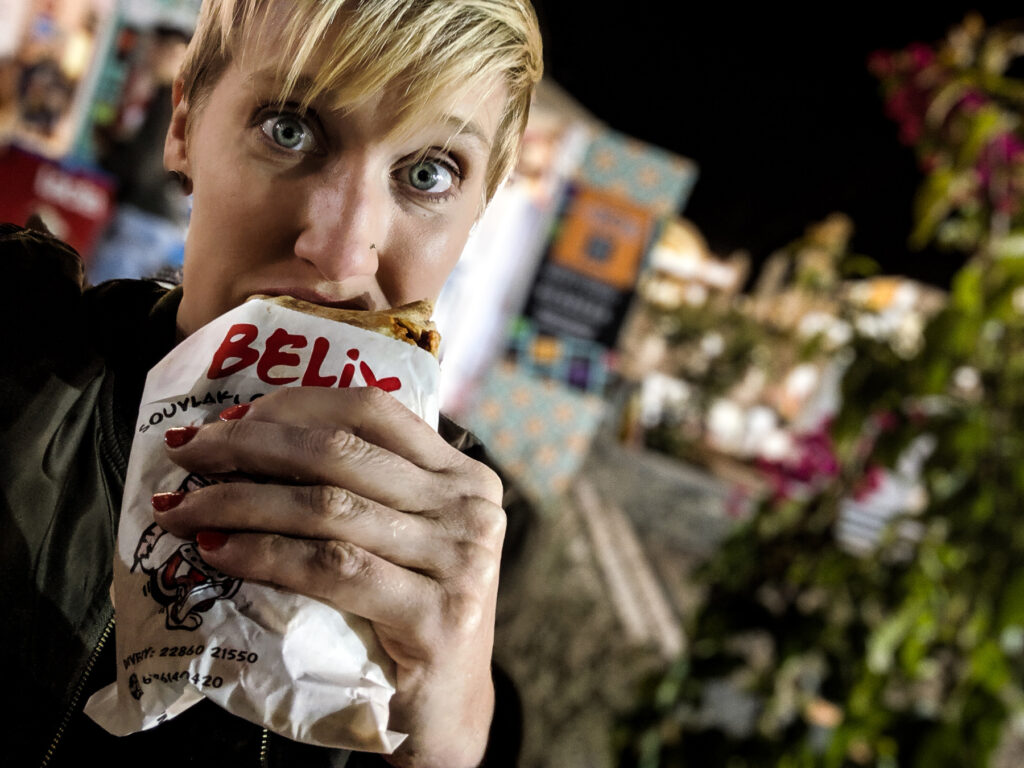 And followed it with gelato again… duh. Then we headed back to the house for cards, margaritas, and 90s rap and 80s hits – and an early bedtime because the big hike was set to happen the next morning!
Fira to Oía Hike
We embarked on the beautiful 6.5-mile Fira to Oía hike at about 7:40 a.m. and finished by 10:30 a.m.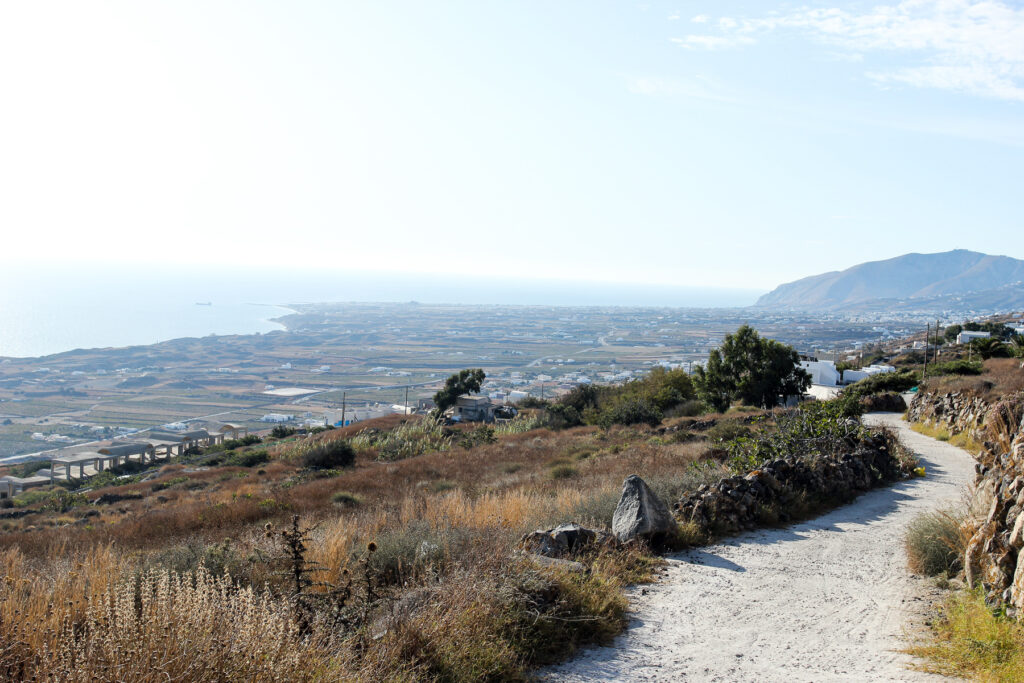 These are some really gorgeous views every step of the way, and we were fortunate that the weather was perfect – high 60s to low 70s, clear and sunny, a light breeze.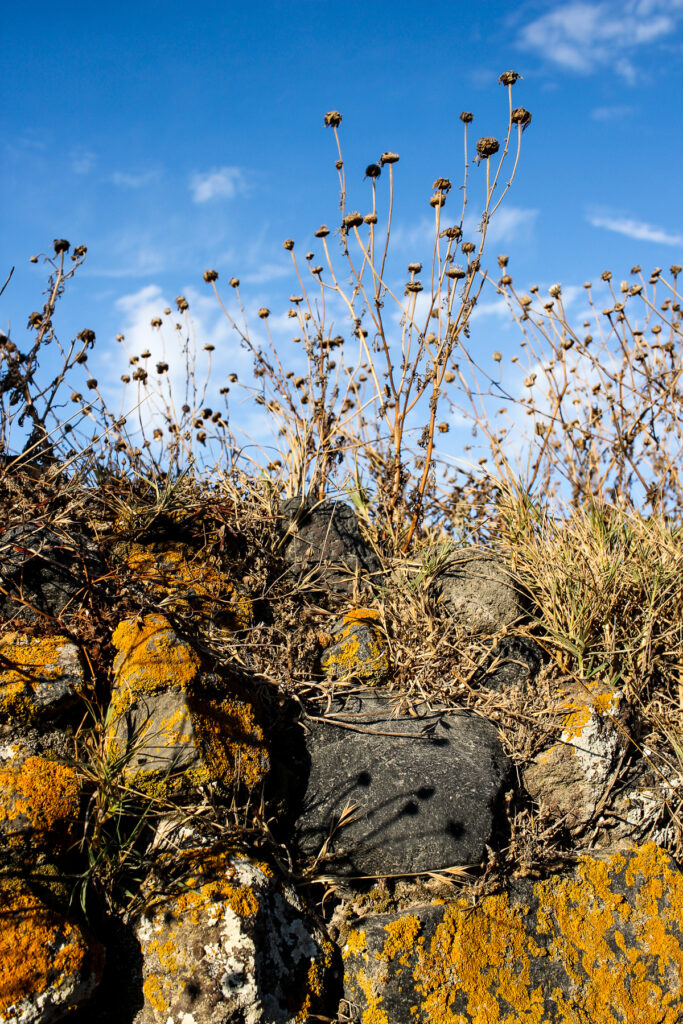 The hike is roughly 6.5 miles (10.4 kilometers). This is a very doable hike for anyone of average fitness, and only has a few tricky spots and challenging uphill parts.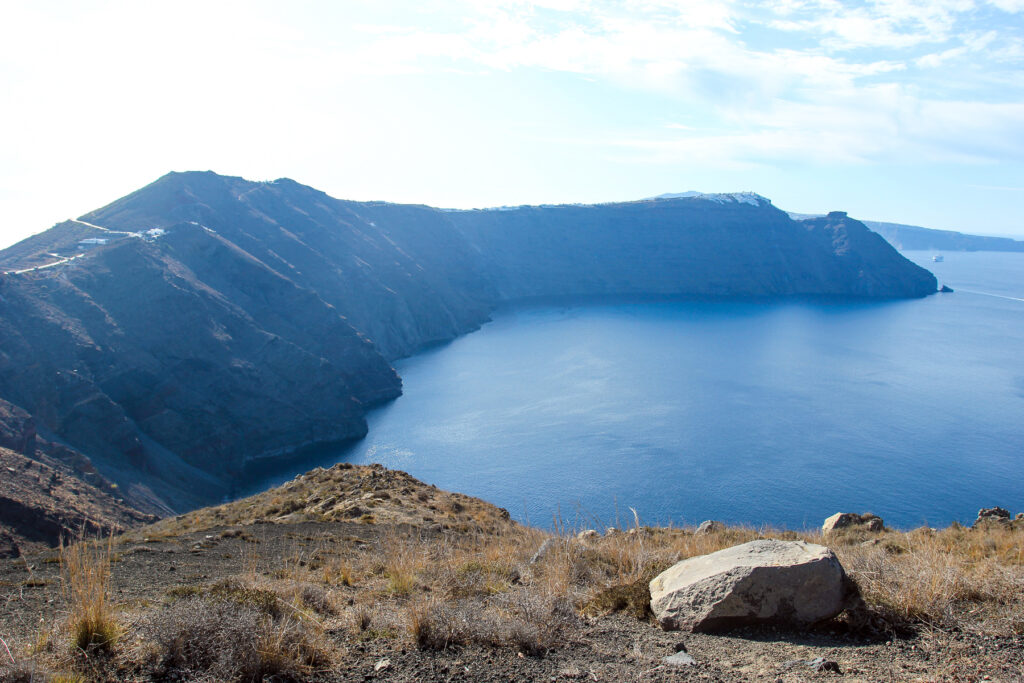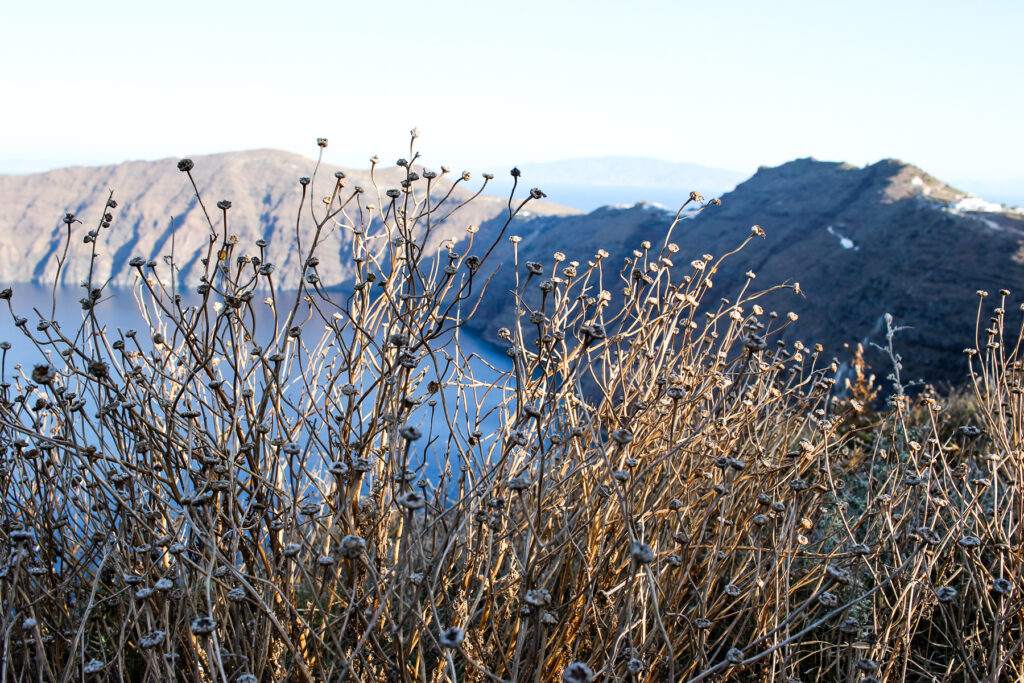 We passed everything from little hillside churches, to posh resorts with private views, to men with donkeys beginning their days, to aerial views of both coasts of the little island.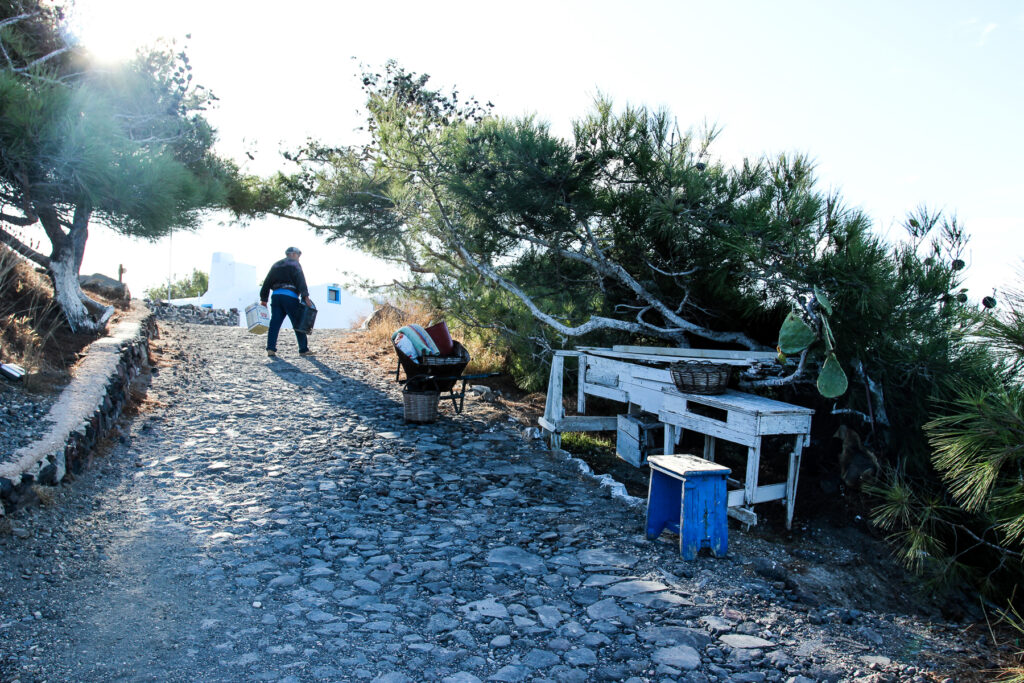 There is no shortage of beautiful views that make you pause and breathe it all in. Islands, ocean, foliage, cliffs.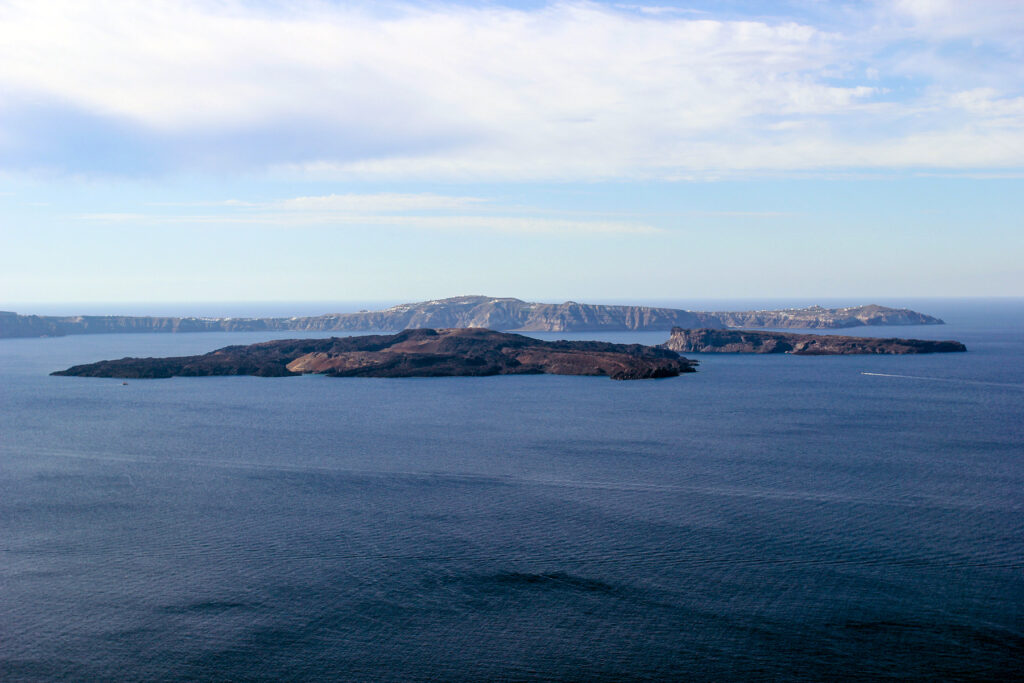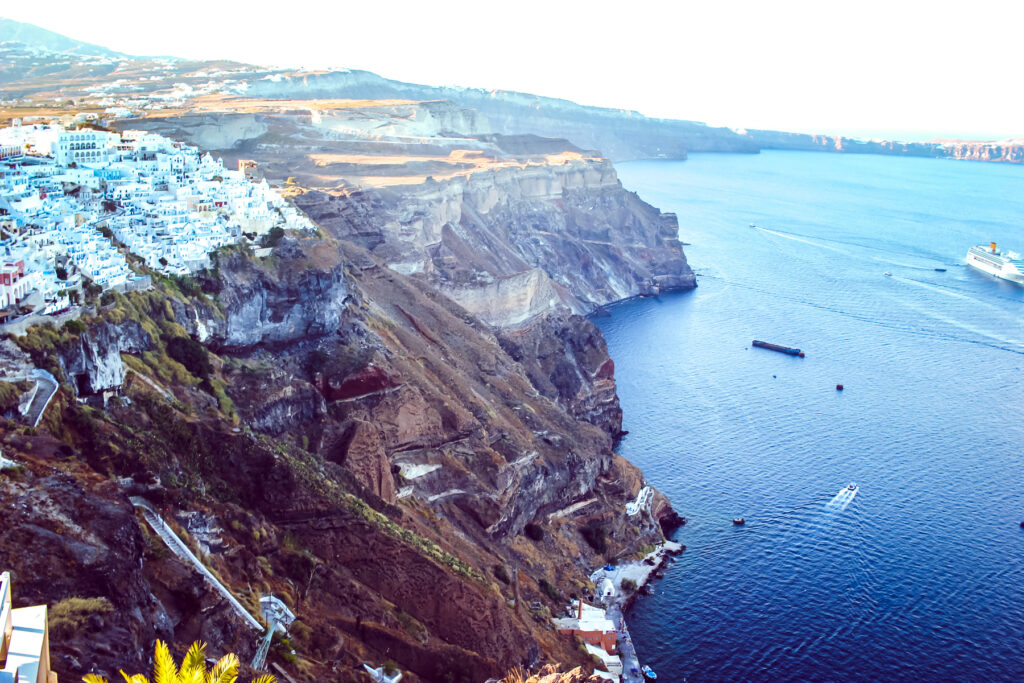 The hike ends in the town of Oía on the northern part of the island. It was a beautiful town with marble flooring on the footpaths.
The only down-side is that the town was very packed with tourists going extraordinarily slowly in single-file.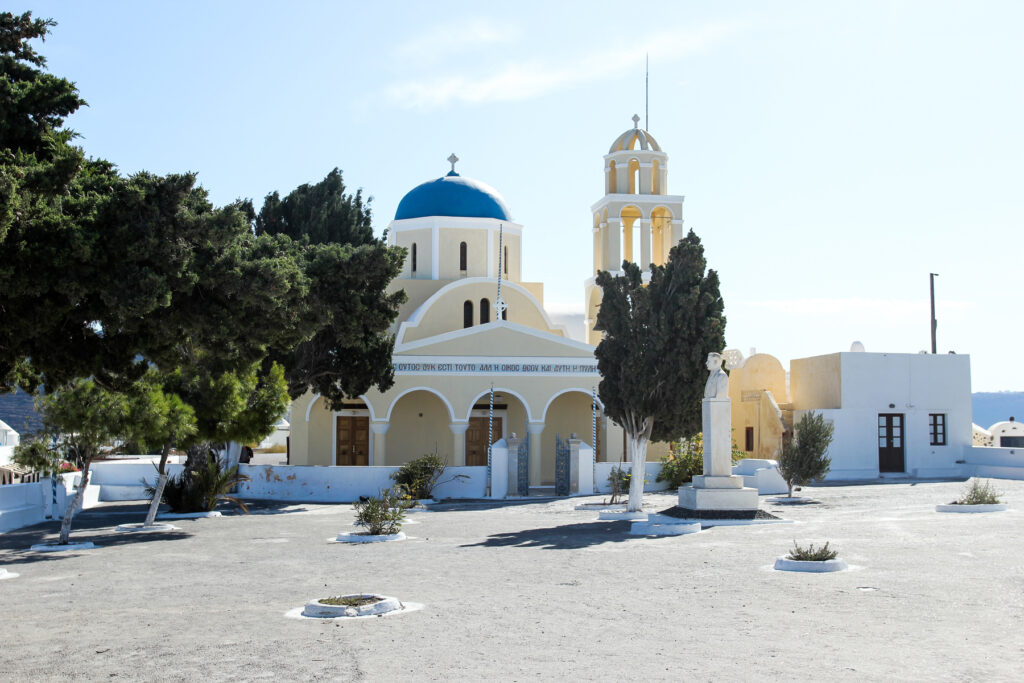 It was a less-than-pleasant ending to an otherwise perfect hike – but it hardly negates the beauty of the 6.5 miles before us.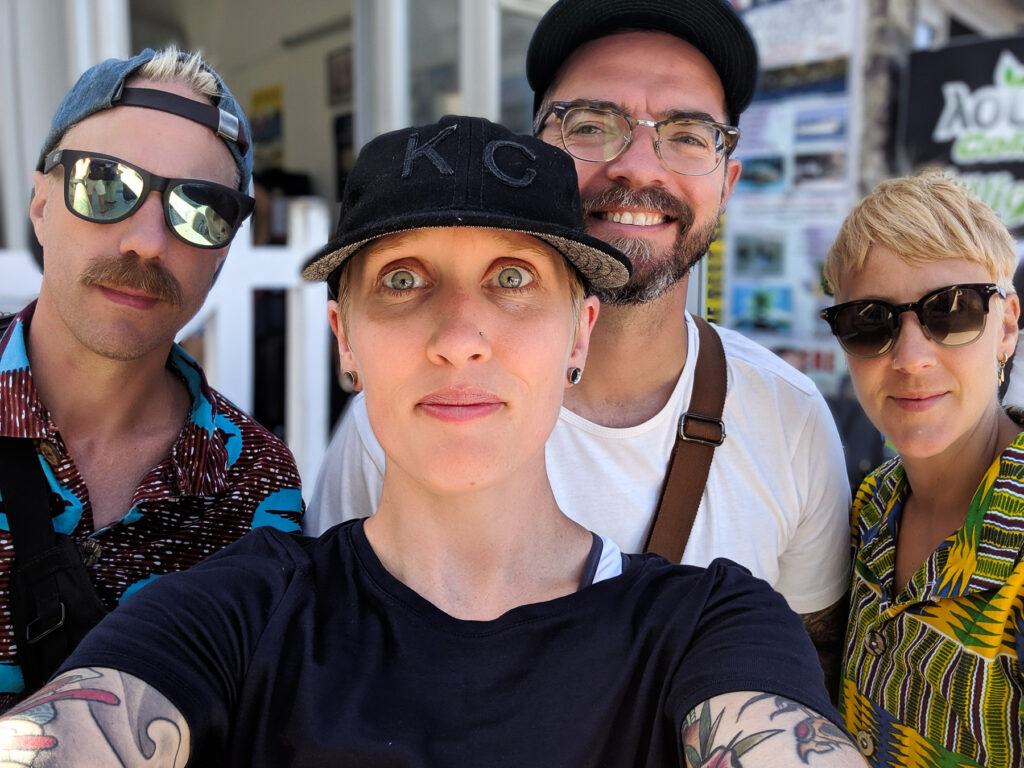 We then took the local bus back to Fira (about a 30 minute ride), cleaned ourselves up, and headed out for lunch.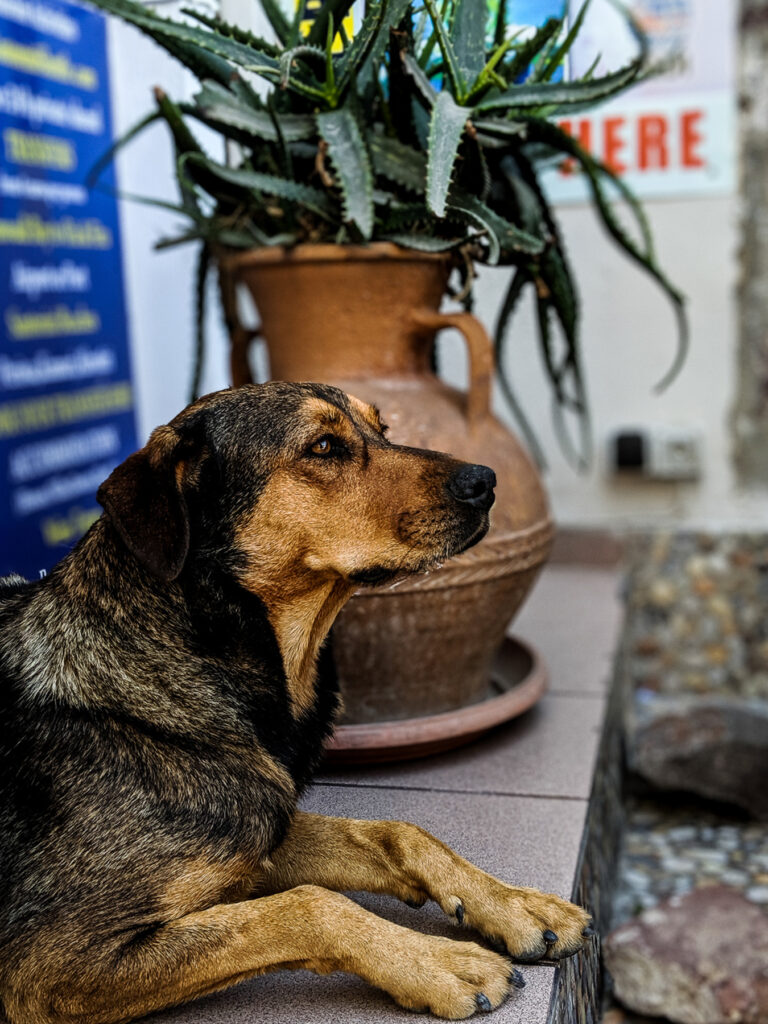 Parea
We were so ready for a heavy meal and lots of hydration when we arrived at Parea in Fira for lunch. We stuffed our faces with fried saganaki cheese, fried calamari, Greek salad, mussels in white wine sauce, and a few of us had beers. The service was great, the views were nice, and the food really hit the spot.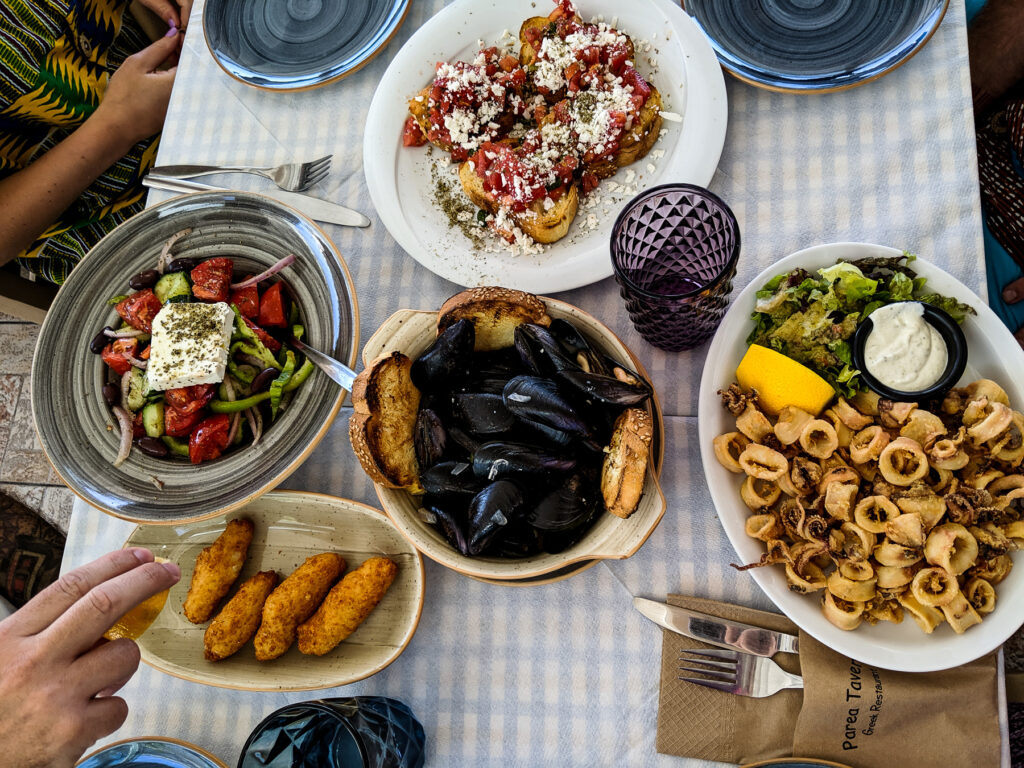 Side story: We saw the most obnoxious and unusual behavior from some inconsiderate tourists at this restaurant. Everything from moving tables three times to get the most Instagrammable views, to sending food back because they misunderstood what it was on the menu, to using a drinking straw to poke and suck bone marrow and putting it back in his drink, to him hand-feeding her all the messy foods so she could gnaw on it without touching it with her hands.
Travelers… be cool, ok?
Walk Thera at Night
The town of Thera (also called Fira) is alive well into the night. It's brightly lit with restaurants and shops galore, and the winding stone steps and narrow walkways are quite enjoyable to walk.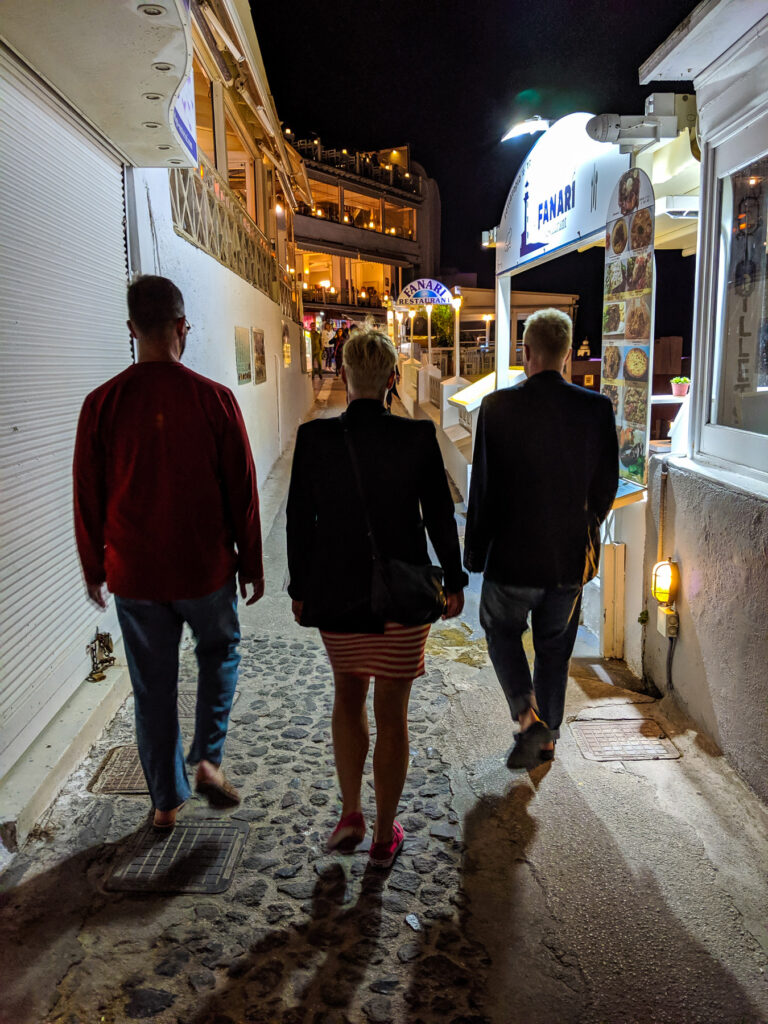 Once in a while, though, make sure to stop and breathe in the ocean air and appreciate the nighttime cliff-side views. I hope I never forget them.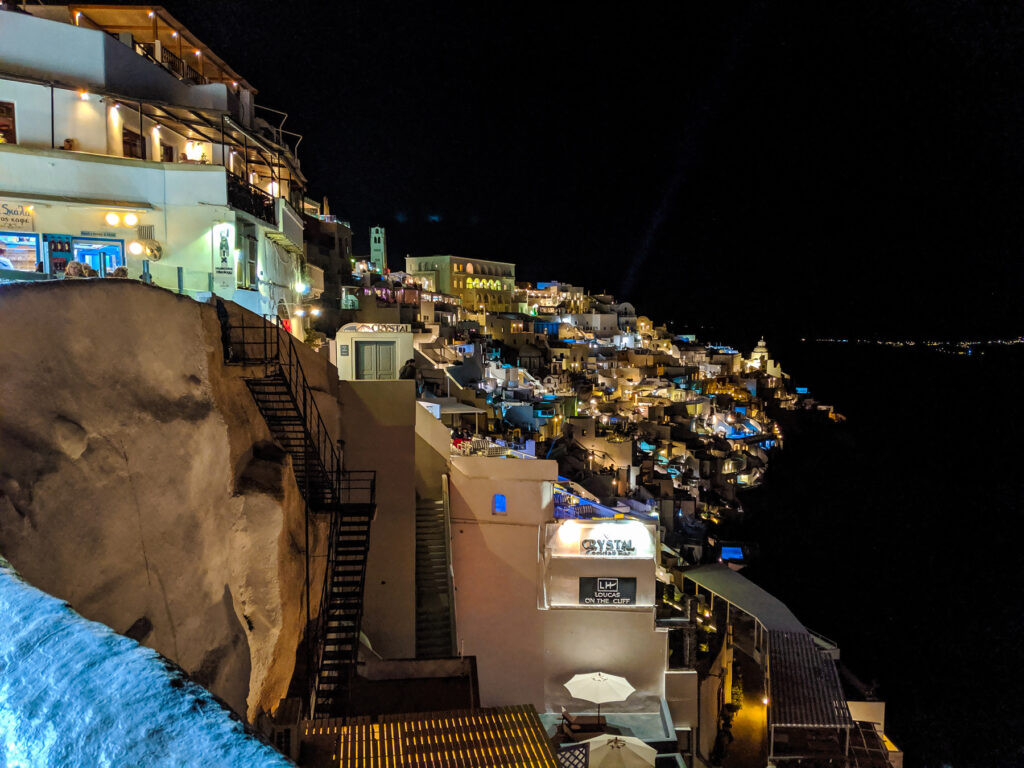 Katrin (Warning: Ripoff)
We thought we were having a decent dinner at Katrin… until we got ripped off by about 50 euros. We casually walked up to this spot one night and did not look it up online for reviews. They lure you in with beautiful cliff views and a seemingly over-the-top nice host who seats you and immediately starts pushing "Greek mojitos" on you, making up side dishes, and going off-menu and thus to the land of undocumented prices. We actually had a very tasty seafood pasta here, but the actual price and the price of feeling ripped off when we had hoped to have a nice experience was a major bummer. Also, it was cash-only which we did not have on us and thus had to use their ATM, which added extra insult to injury as we stared at a drastically over-priced bill. This ruined our experience, so I unfortunately recommend avoiding this place.
Epic Dance Party
Not to worry. We came back to the house, got profoundly drunk on tequila margaritas, queued up all our favorite 80s songs, and had an epic dance party on the patio until 3 a.m.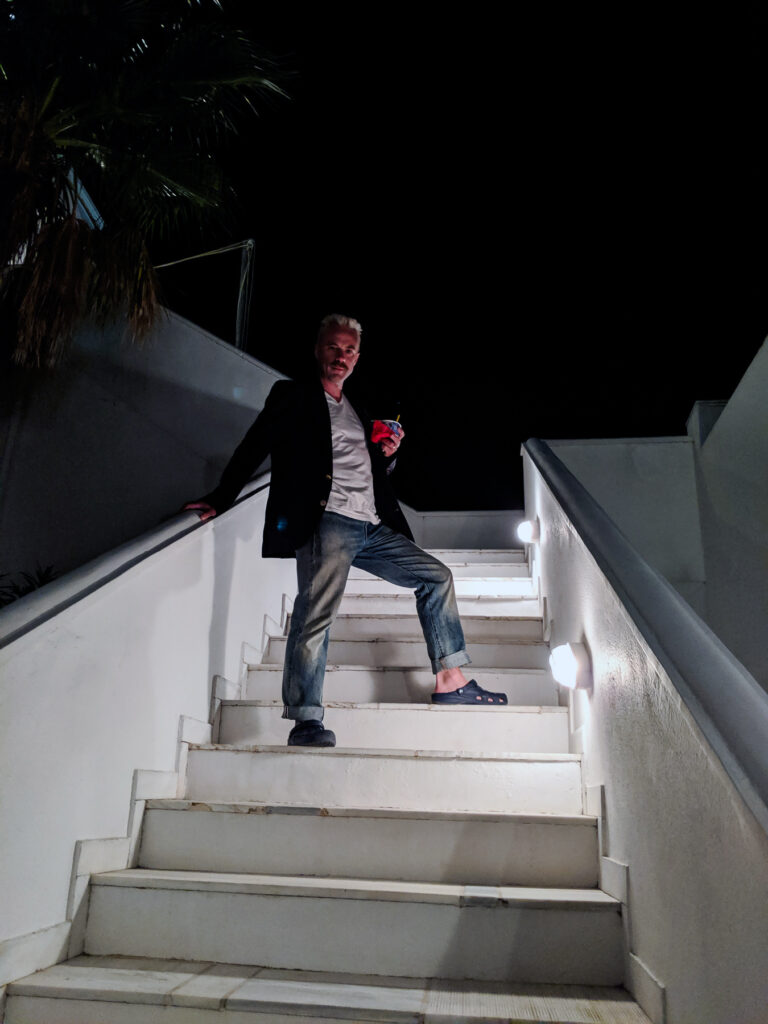 Creme De La Crêpe
Naturally, we all woke up a touch hung over. After a very slow rise, I took a long bath, then headed out to Creme De La Crêpe. My husband had their yogurt, honey, strawberry and banana smoothie with a ham and cheese crêpe. I ordered not one, but two of their giant crêpes. I couldn't decide between savory and sweet, so I got both, and I regret nothing. Their egg and cheese crêpe saved me from my hangover, then their out-of-this-world banana strawberry chocolate hazelnut crêpe took me to the next level. This shop also had the first good cappuccino I had in Santorini, and there are no words for how good that felt as I powered up to full strength.
Back to Perissa Beach
Just in time to fall asleep at the Perissa beach again. I napped and read and swam in the Aegean Sea until it began to cool off and rain.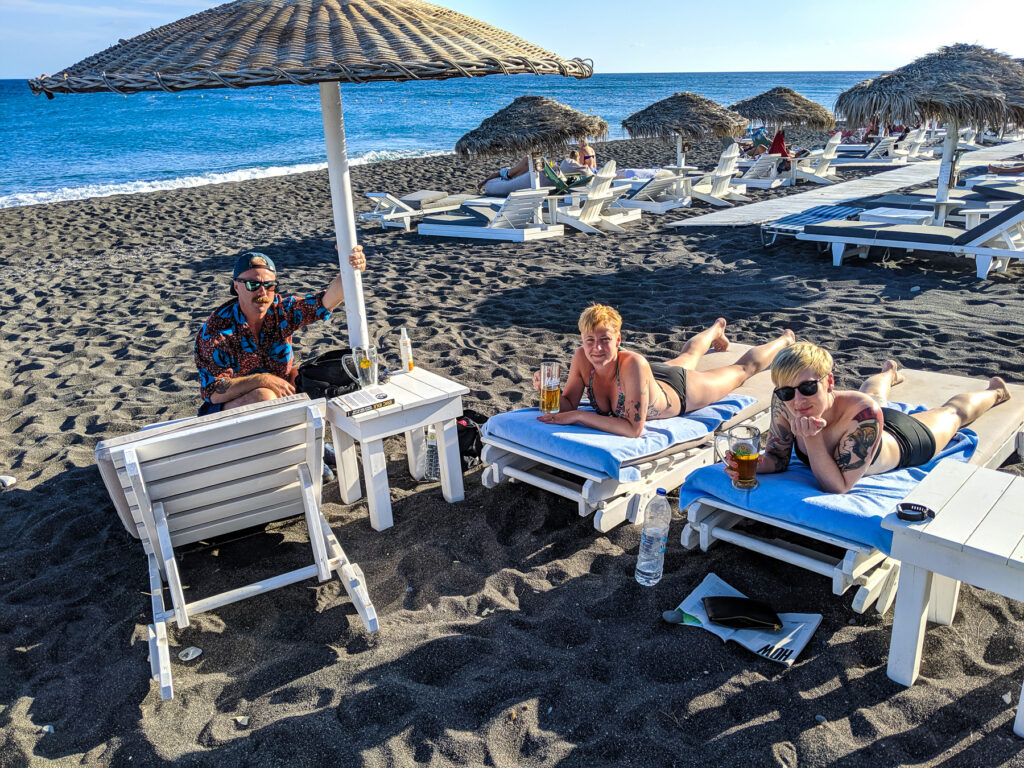 I have to say, swimming in the Aegean was the absolute highlight of my time in Santorini.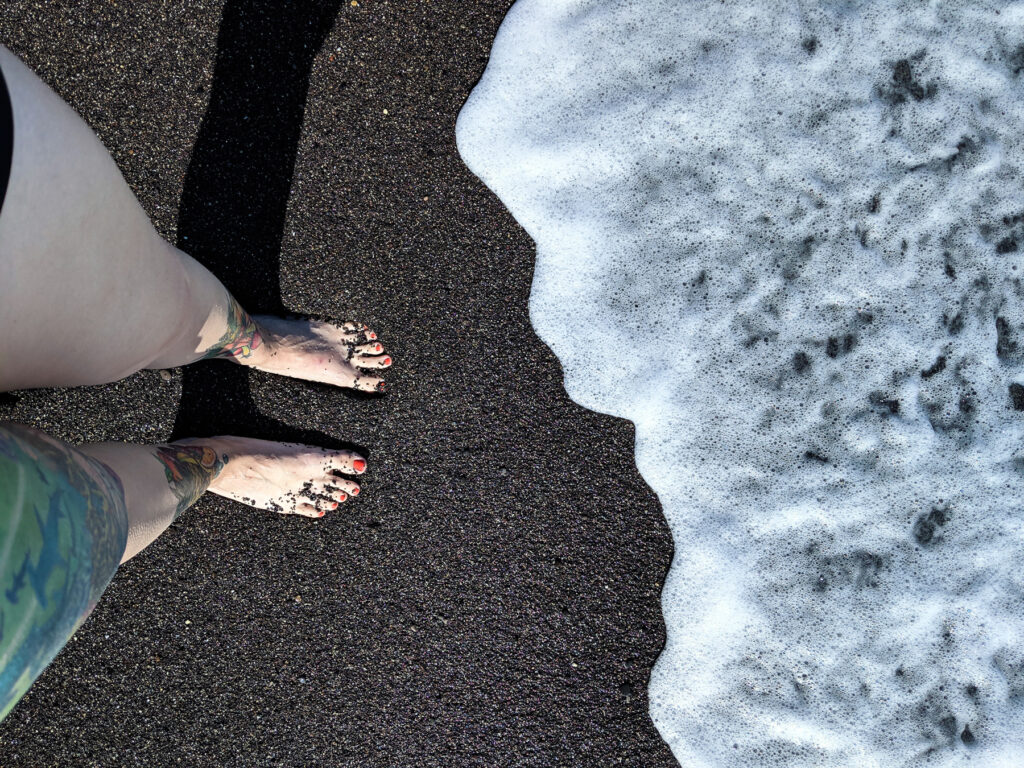 The Family Pizzeria
We wound down our trip with our friends by having an unpretentious pizza dinner together at The Family Pizzeria in the main Thera square. We had a quiet night back at the house where we read, listened to music, drank hot tea, and packed the house up to head back to reality the next morning.
La Scala
We ducked out to walk the streets of Thera one last time and take in the morning caldera vista. We arrived at La Scala while it was still quiet on our last morning, and snagged a small table on the ocean side balcony. I enjoyed the crepe with fresh fruit and my husband had the yogurt with fruit and honey, and we both sipped delicious cappucinnos. It was a quiet, sunny morning with a light breeze and gorgeous views, the perfect end to our trip.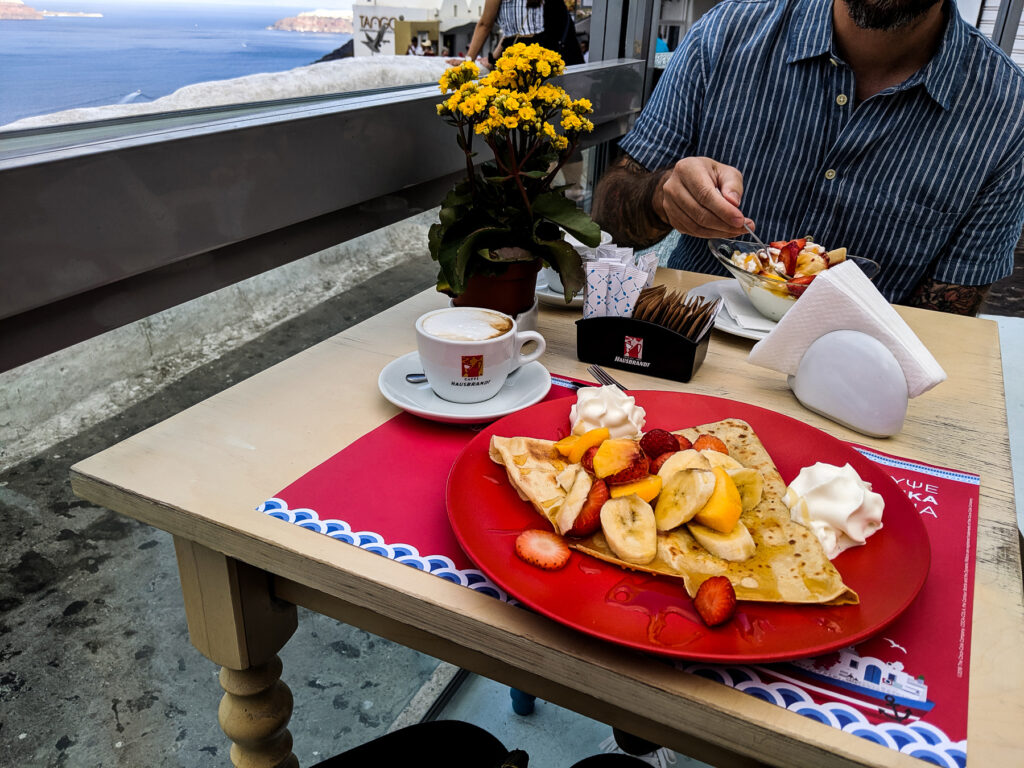 Saying Goodbye to Santorini
While it's true that tourists have taken over the island of Santorini, an island that has just 15,000 permanent residents, it's hard to deny the beauty and relaxation this gorgeous location offers. It's no wonder millions of travelers flock to the island every year and its popularity continues to increase.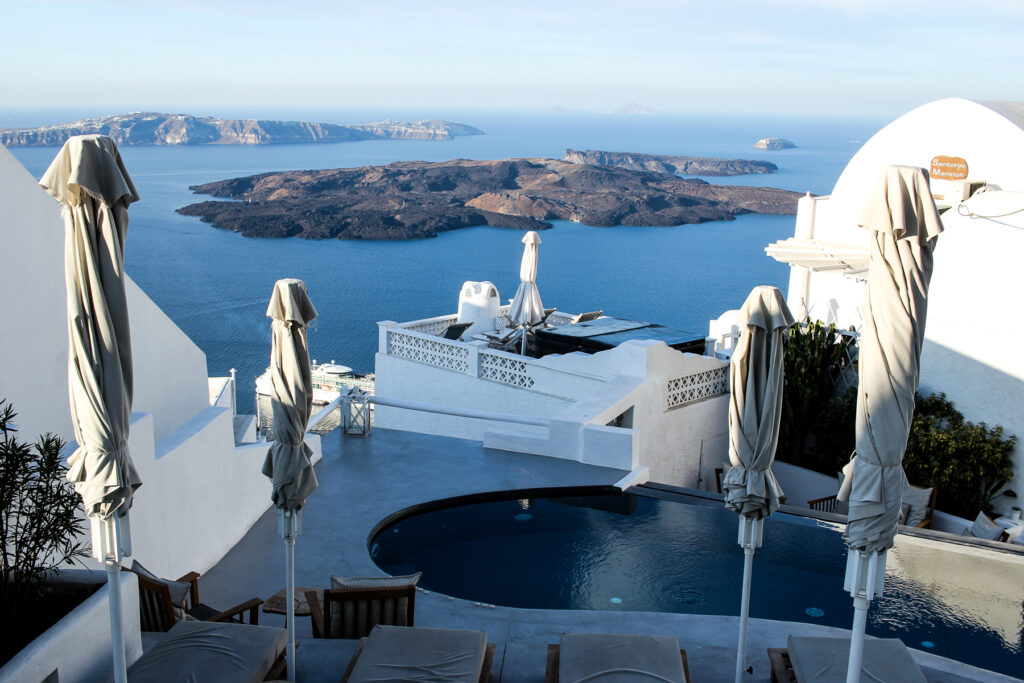 We are deeply grateful to our friends Rhys and Emma for inviting us to join their Santorini vacation. We loved getting to spend quality time with them, and so appreciated our unforgettable experience on the island, filled with laughter, beauty and tranquility.