I have eaten at some of the best restaurants I could have hoped for with wonderful dining experiences while in London twice in the last two months.
These great dining experiences are largely thanks to going wherever friends and colleagues recommended without question. I may never travel any other way! Personal recommendations are everything.
Here are the 11 best meals and most memorable experiences I enjoyed at London restaurants on the last two trips.
Silk Road
Our friends invited us to this simple, unassuming restaurant on Camberwell St. for dinner and we were just blown away. Silk Road is a cash-only spot serving delicious dishes from the northwestern Xinjiang province of China. The best part was letting our friend Bedir do all the ordering – he stacked the table with flavorful, colorful dishes like garlic pak choi, a Xinjiang spicy salad with onion, green chilli, tomato and coriander, hot-and-sour shredded potatoes with heat from chilis and tang from vinegar, stir-fried aubergine in tomato and green chiles, and several bowls of the hand-pulled noodles. We also tried the shredded kelp in chili, Szechuan pepper oil and garlic and prawn dumplings. The hand-pulled noodles were absolutely phenomenal, and so delightful to eat in the spicy, flavorful broths left over from our shared dishes. As delicious as the meal was, though, the best part was enjoying a new food experience with new friends and great conversation.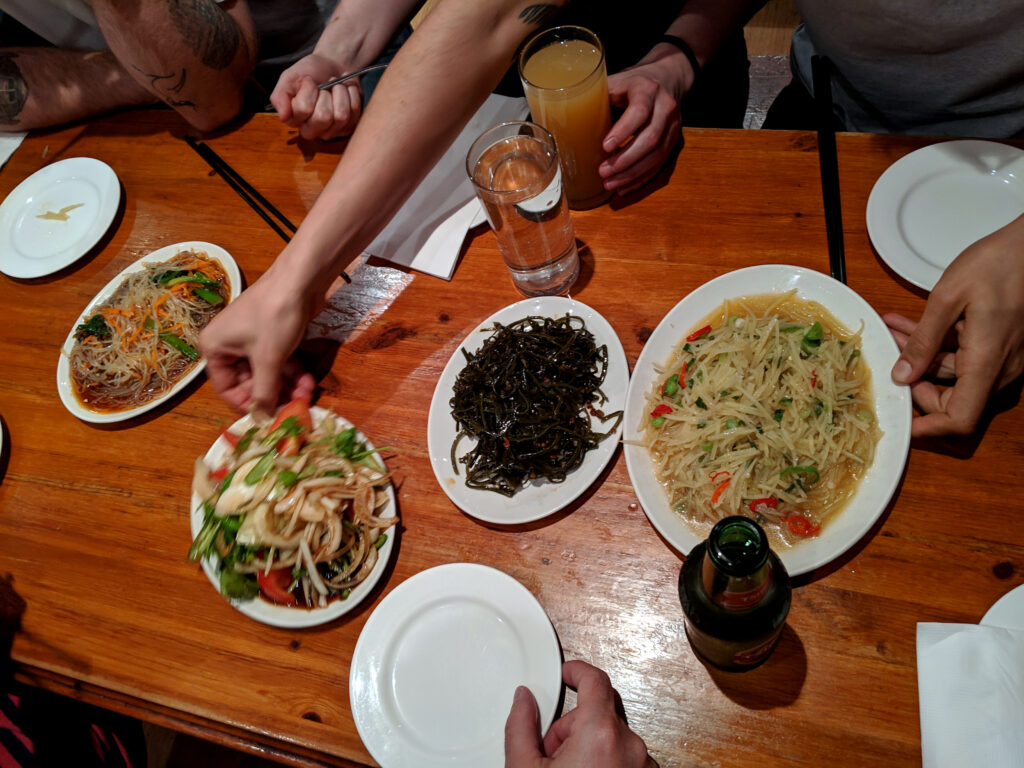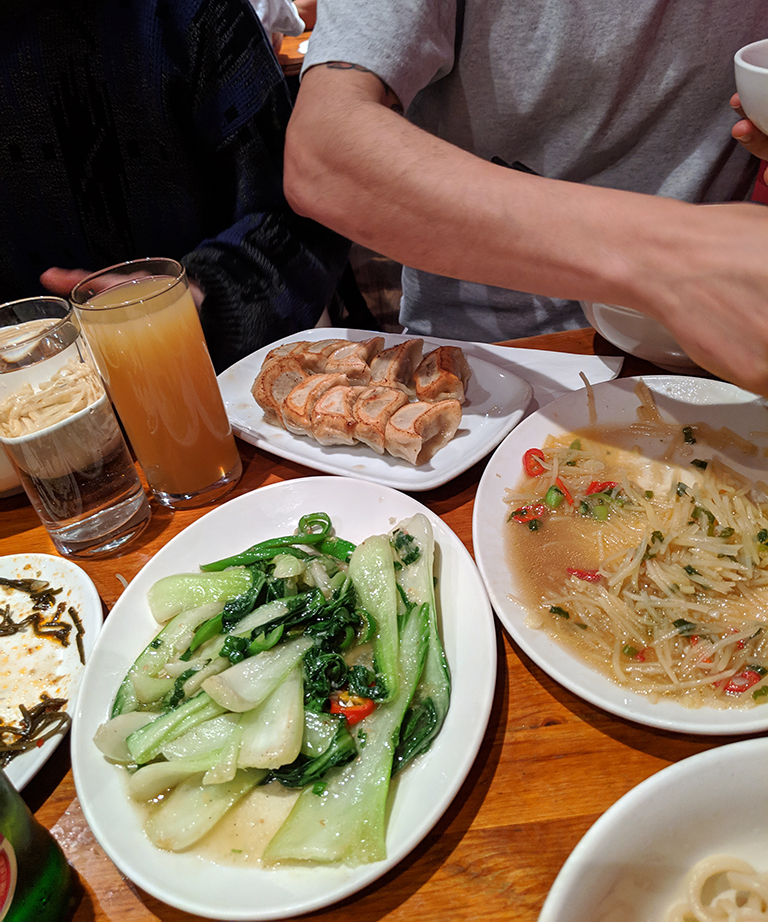 Dishoom
The Indian restaurant Dishoom came highly recommended from friends and colleagues, so we popped into the Covent Garden location for lunch one day. After a short wait, we were escorted to the downstairs bar while our table was prepared. Before long, we were at our table enjoying their delicious potato and pea samosas with a spread of three chutneys ranging from sweet to spicy. For our meal, we ordered their 24-hour house black daal to share and some garlic naan. I ordered the mattar paneer in a creamy, spicy red curry sauce, and Luke enjoyed the Dishoom chicken tikka, a marinated chicken that was perfect with the chutneys. The mango lassi was a crave-worthy creamy, sweet, satisfying finish to an awesome meal.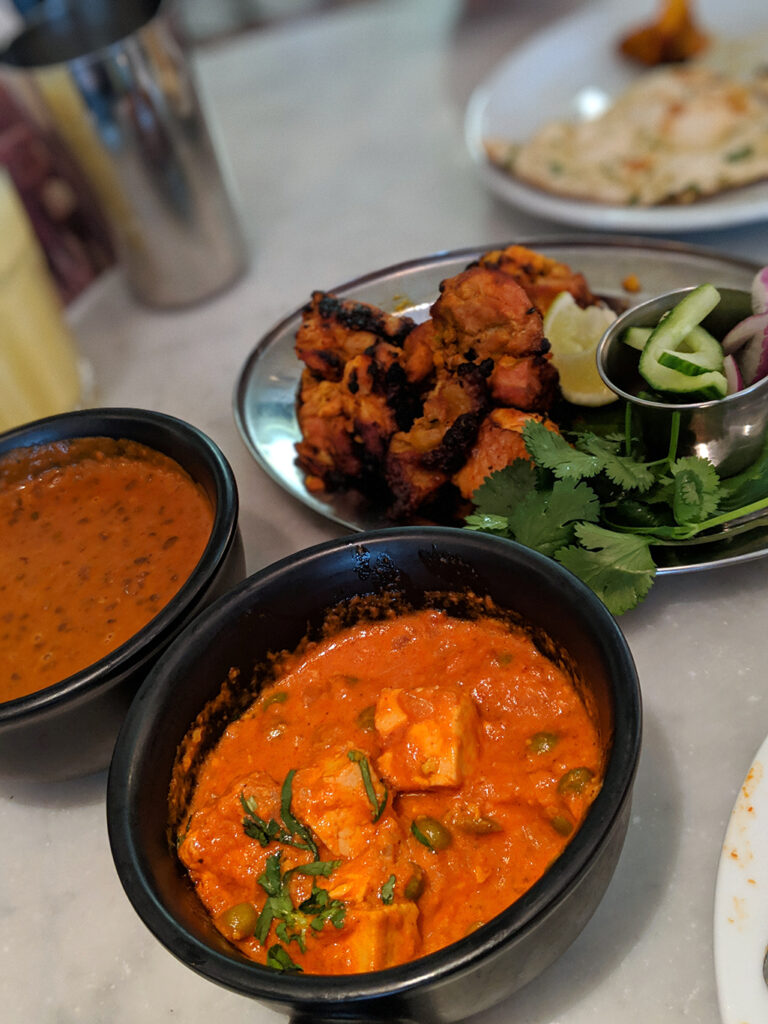 Portland
Portland in the Fitzrovia neighborhood was our "date night dinner" on the first leg of our London trip. This small and chic spot had perhaps a dozen tables, and the service was top notch. We started with a carrot and hazelnut financier (a small, molded cake) with Cornish gouda cheese. For my meal, I had the smoked ricotta tortellini with almonds, basil and a sort of bitter radicchio. I enjoyed this dish because it's such a rare treat to be surprised by a dish, and this was a unique combination of flavors and textures. Luke ordered a Cornish venison dish with purple carrots, pistachios and a sweet glaze. For dessert we had their milk chocolate trifle with cherry and pink peppercorn ice cream.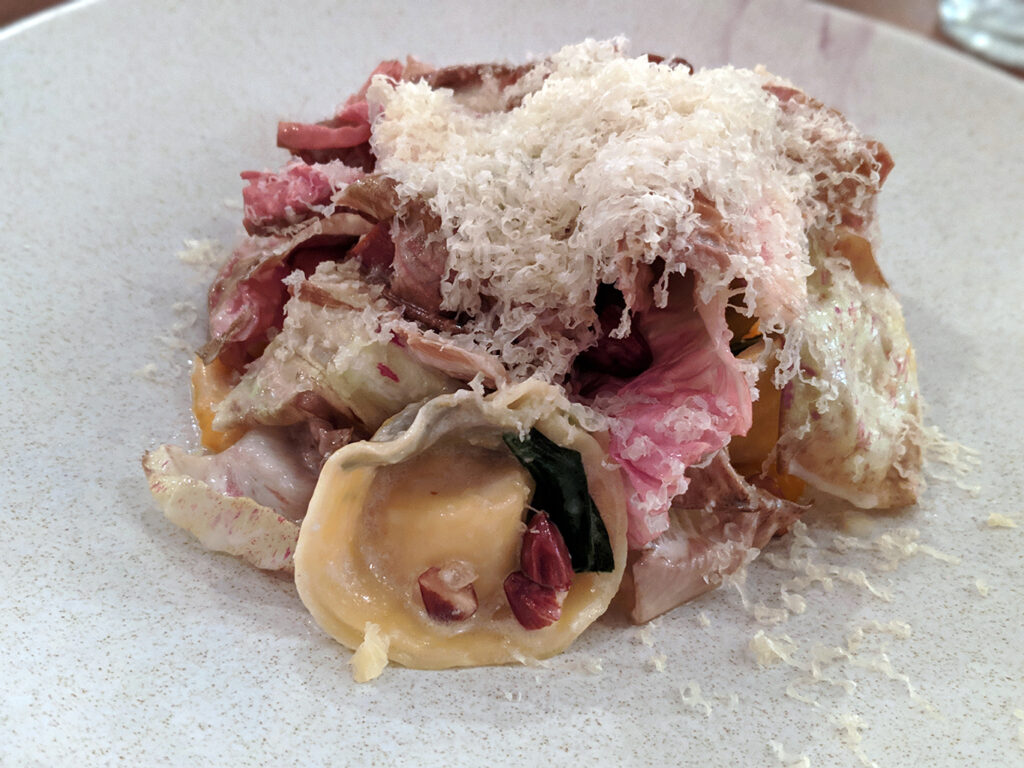 Ducksoup
The Ducksoup recommendation came from a friend-of-a-friend, and my colleague and I loved this spot on the second leg of our trip! The ambience in this restaurant was cozy and quaint with a rustic European vibe, dim lighting and a handwritten menu du jour. What a joy after a long day of travel, jetlag and work. We sat at the bar and started with a "dealer's choice" of wine by the glass, and our server gave us a glass of the most unusual, tart pinot grigio I've ever had. Then, we ordered a number of small plates and happily ate ourselves sick. Imagine plate after plate of sourdough bread and butter, creamy dukkah and olive oil, masala-spiced haddock and chickpea fritters with burnt chilli yoghurt, blistered courgettes (zucchini) with smoked ricotta and almonds, and just when you think you crossed the finish line, a plate of fettuccine with asparagus, egg and parmesan arrives. You practically had to roll us out of there, but we were full and happy.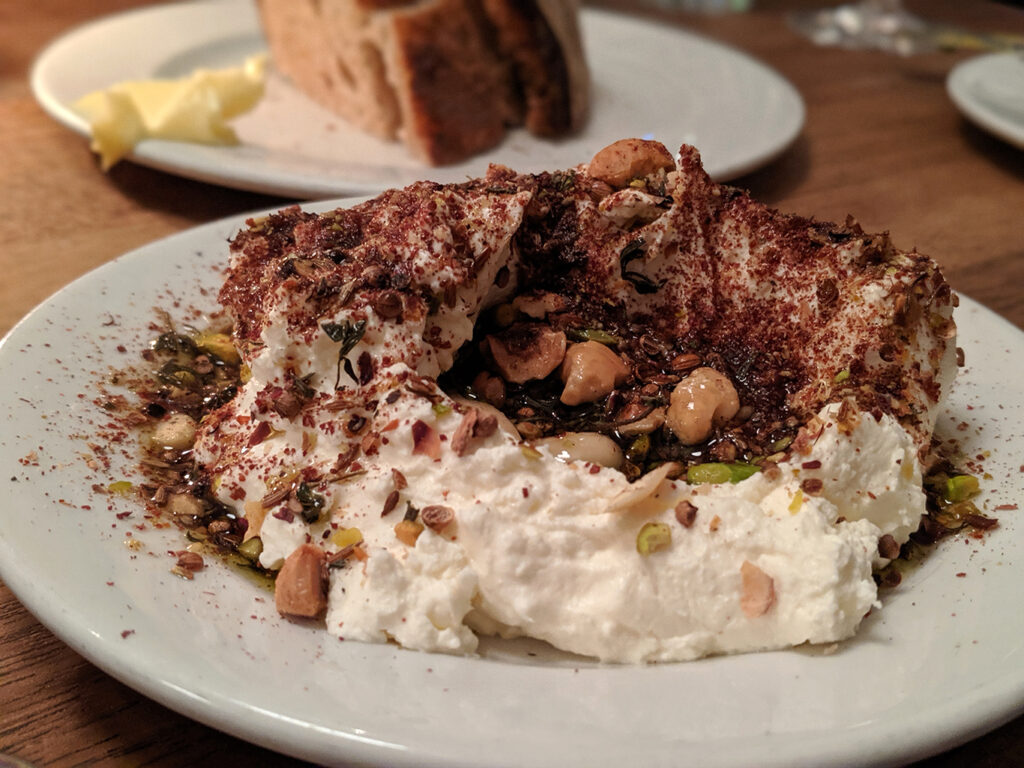 Courgettes

Fritters
Padella
Padella. My colleague Chris recommended this spot after his last visit to London. You can't get a reservation here, but rather queue up outside the restaurant, which is immediately next to the bustling Borough Market. For lunch on a Friday, I waited about 20 to 30 minutes for a table for one. It was absolutely worth the short wait to sit outside where I got to people watch at London Bridge while I ate glorious piles of pasta. The creamy burrata with Fiorana 2018 olive oil paired with the Padella sourdough bread and flaky sea salt was just to die for. To follow that I ordered the potato gnocchi with nutmeg butter. Then, despite being insanely full already, I decided to brave one last dish – the pici cacio e pepe. My word, these handmade flour noodles had the most unbelievable chewy texture. These dishes are simple, elegant, and unbelievably delicious.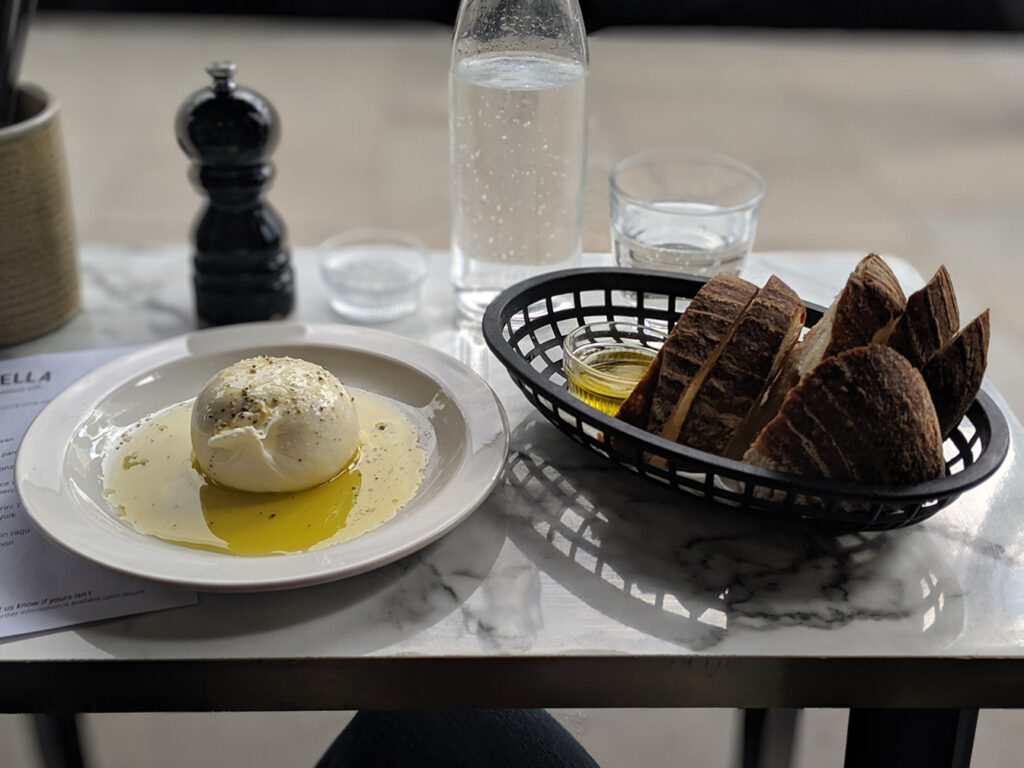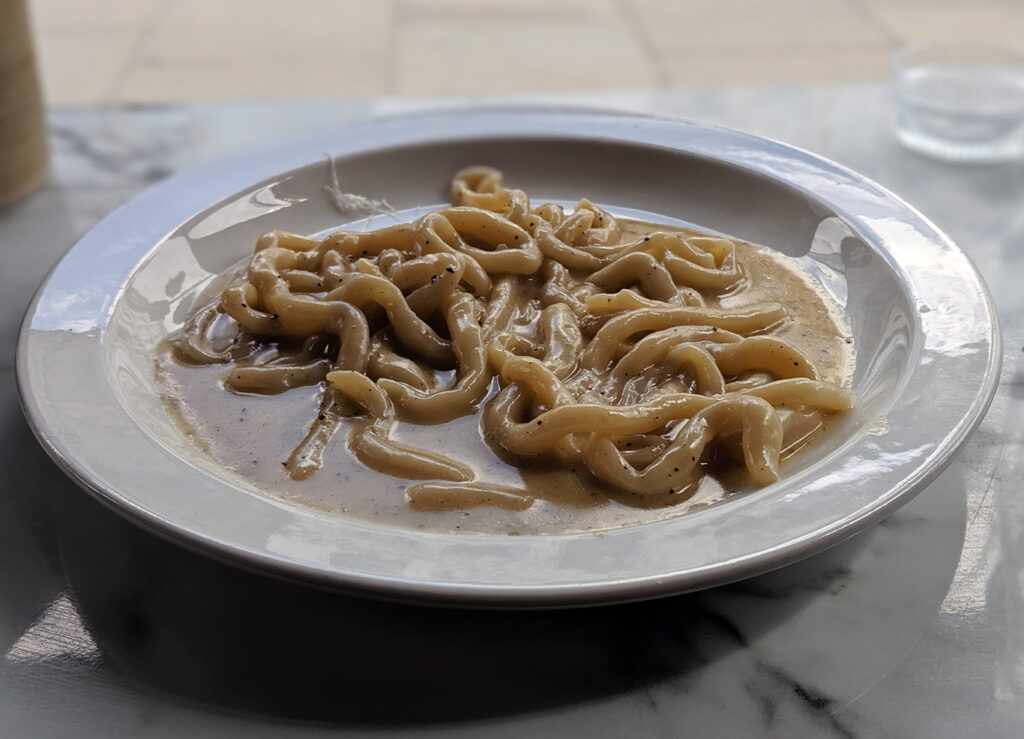 Phat Phuc Noodle Bar
Phat Phuc Noodle Bar. After getting my hair done by Rhys (more later), we wandered to his favorite nearby pho place in Chelsea. He recommended the Laksa, a prawn-based rice noodle soup with rich and creamy coconut milk, lemongrass and some greenery, and prawns as the protein, for an easy £8. It was spicy, bright, rich, filling and oh-so-satisfying to enjoy in the courtyard outside this street stall turned permanent staple.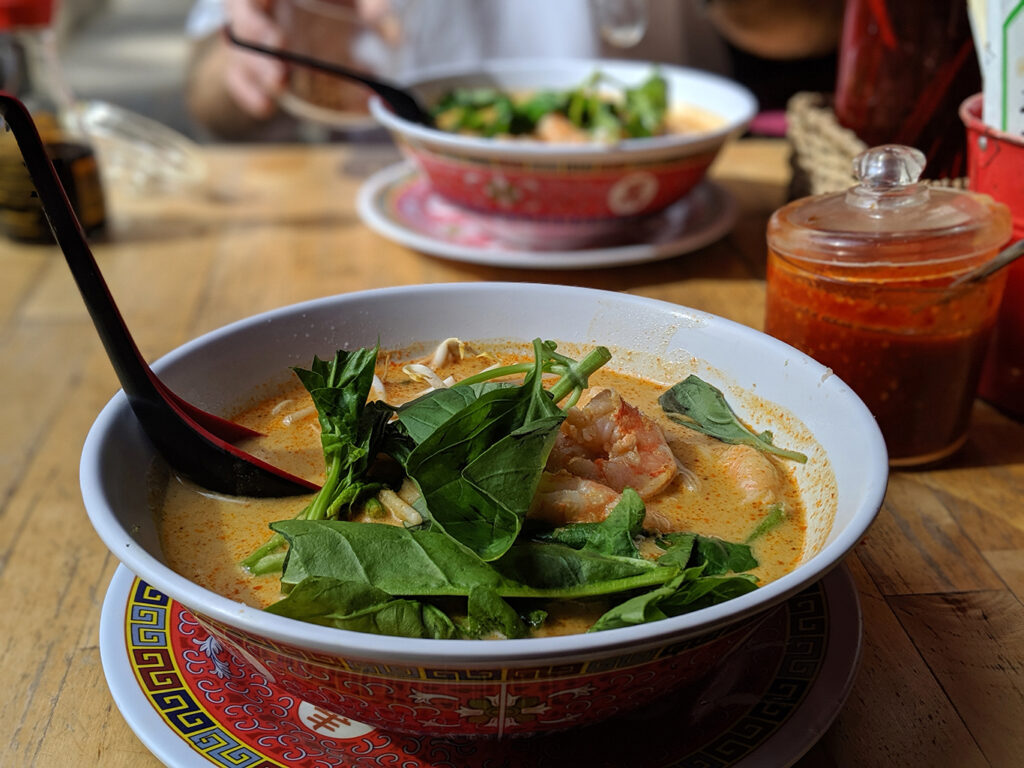 Wright Brothers
After a restaurant we attempted to eat at didn't pan out, I was craving oysters and went on a mission. My research led me to Wright Brothers South Kensington. It turns out that Wright Brothers, founded by two brothers-in-law turned oyster farmers turned restaurateurs, are the London purveyors of oysters and seafood. My colleague and I easily snagged a seat in this intimate restaurant at the open window on a beautiful, breezy night. I got a half dozen oysters in three varieties – the Jersey rocks from the Channel Islands, the Morecambe bay from England, and the Carlingford Lough Co. oysters from Ireland. I loved each of them for different reasons – some salty, some with a touch of mineral taste, some sweet and melony. As we came late in the evening, they were out of a few items so I had to go with second choices – I ended up with the potted brown shrimp croquettes and tagliatelle with asparagus, Berkswell cheese and truffle oil. Both were perfectly fine, but I would've really loved to have tried the seared Brixham scallops, burnt shallot purée and pickled shallots.
Tagliatelle with Asparagus

Oysters
Vinoteca
On the recommendation of our colleague Siobhán when we asked for a patio, we checked out Vinoteca at King's Cross for lunch one day. This large, bright open space was quite posh in the heart of Pancras Square. We got our patio seating, albeit in the sun, so it was a minor miracle we didn't end up extra crispy. We both enjoyed the three-item prix fixe "Set Lunch" menu for £18 and a glass or two of wine each. For my three dishes, I elected to start with the Scottish smoked salmon, mustard crème fraiche and fennel salad, then loved the casarecce pasta with sun-dried tomato pesto and ricotta, and we both closed with the vanilla panna cotta, passion fruit coulis and shortbread crumb.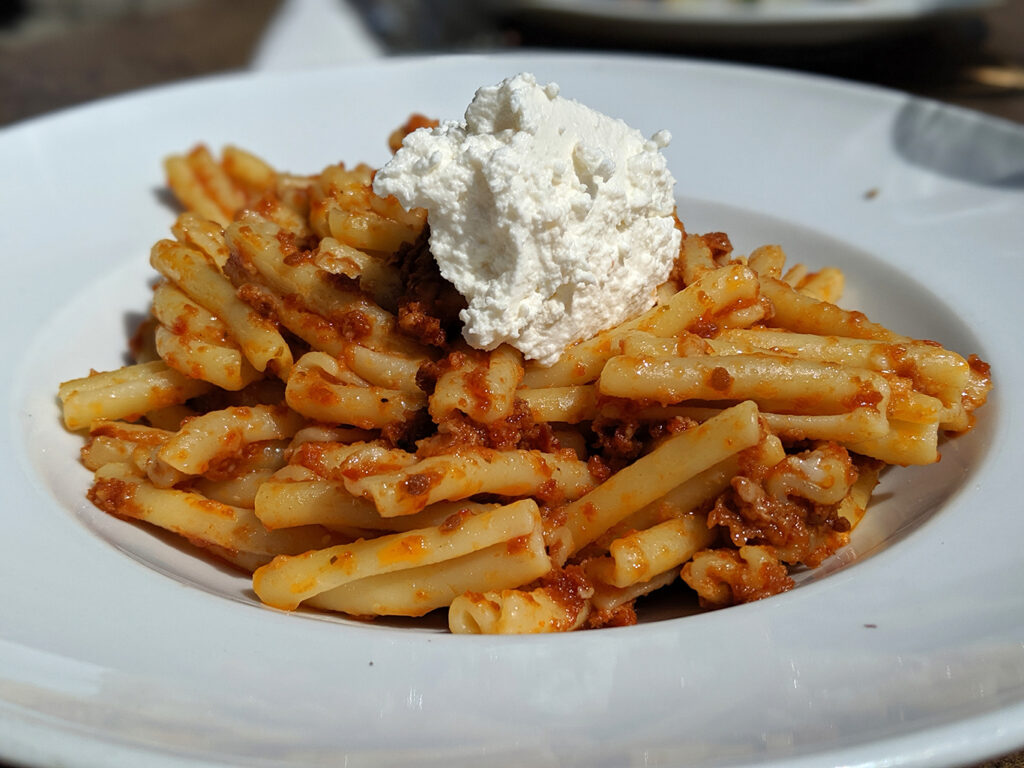 Granger & Co.
Bless the kind souls at Granger & Co. Notting Hill who welcomed us with a small despite group of five of us pouring in just shy of 10 p.m. when the kitchen was near closing. I also stole a few chips (fries) and courgette chips with nigella seed and tahini yoghurt from my friends' plates. I was mostly full of beer from the pub, so I went light-ish with crispy wonton fried prawns that came paired with a cashew satay, chilli sambal and lime. It's kind of a silly dish when you look at it, but it was actually quite fun. With more time and appetite, I would've loved to have tried their shrimp burger with jalapeño mayo or seared salmon in mirin nori sauce!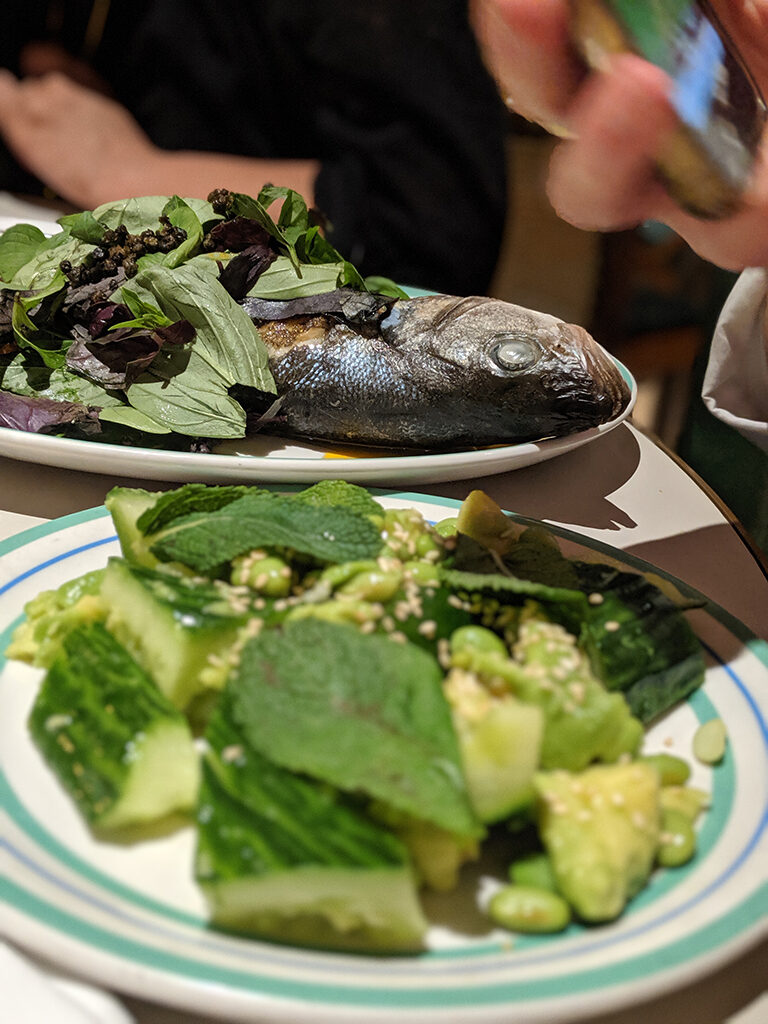 Leya's
Leya's is an artsy, hip coffee shop in Camden that's just a short walk from my London office, so I popped in on both trips. (On the most recent visit, one of the employees asked where we were from, and come to find out he knows Kansas City and remembers well our famous Kansas City Joe's gas station barbecue experience!) This time I got to do breakfast with two of my colleagues and I am so glad I got more than just coffee. Trust me, try the vegetarian Eggs Avo from their brunch menu that they which is essentially an eggs benedict with avocado, chilli, lemon, and homemade hollandaise sauce on a seeded toast. Paired with an almond milk latte, and this was my dream breakfast to start the workday right.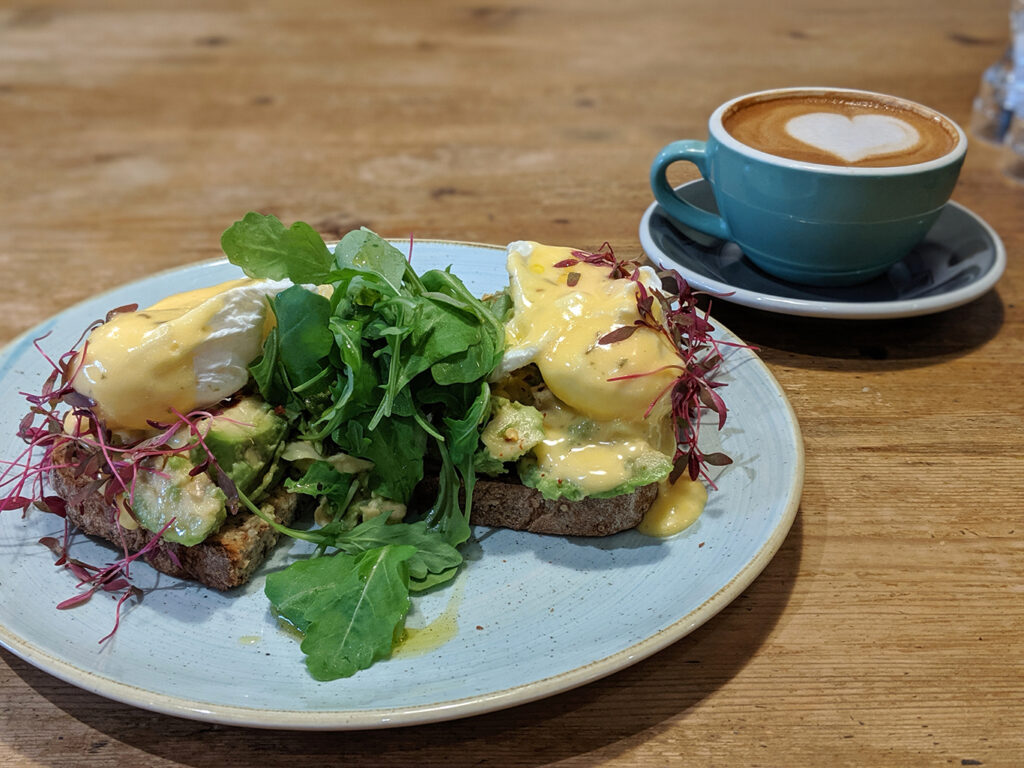 Mildred's
I popped into Mildred's at King's Cross for a dinner on my most recent trip. Our friend Bedir recommended this colorful, trendy spot with a massive menu of vegetarian fare. The restaurant was quite crowded, as I hear it always is, so I opted to sit outdoor on their breezy patio, but unfortunately I got overlooked after I had been seated. Once I gave the staff a heads up, though, they quickly re-sat me indoors and took great care of me. I had already stuffed my face earlier in the day, but still managed to make room for their mushroom dumplings, a small pile of sweet potato fries, and even closed with a chocolate hazelnut dessert. I wish I had been hungrier, though – it's rare that I can actually eat everything on a restaurant menu with my dietary limitations!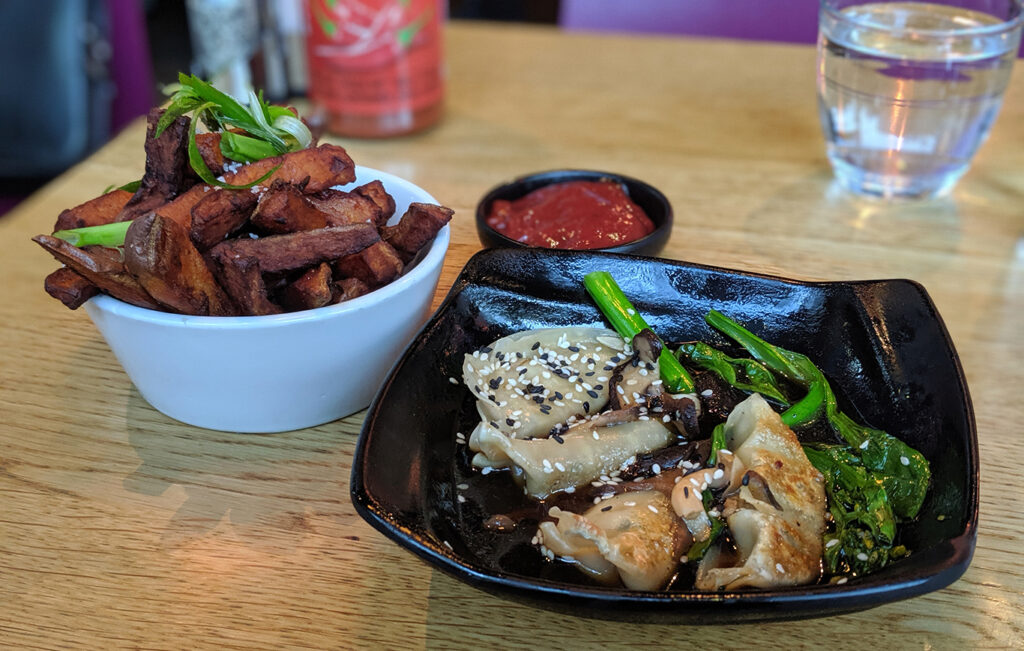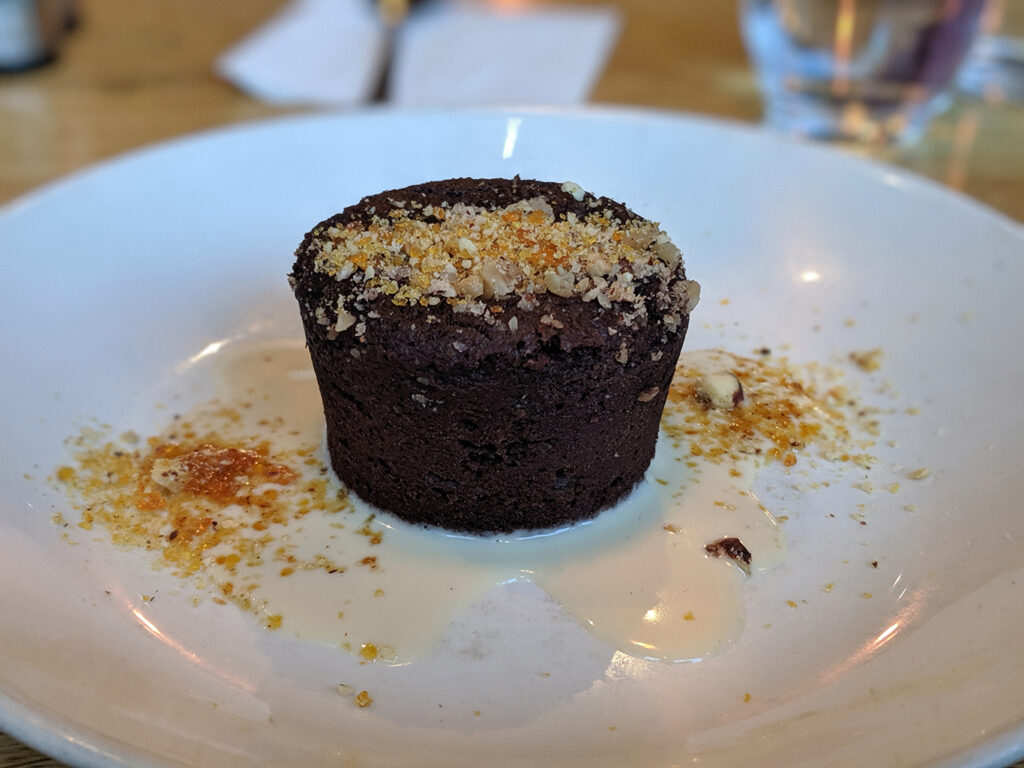 Are you hungry for London yet?
All of these great London restaurants bring something unique to the table worth experiencing. No matter your tastes, dietary restrictions or budgets, there is something for everyone in this list of restaurants to try in London. Give them a try next time you're visiting the bustling capital of the UK, and let me know what you think!
What restaurants in London do you recommend I should try? Leave me a note below in the comments!