A fan pushes warm, humid air around the room. The first hint of hazy morning light seeps through slatted wooden blinds, the bright blue curtains puffing in and out in the morning breeze. I hear palms rustling and waves crashing and rolling onto a beach.
I get out of bed and shuffle to the window. I arrived on this dark, quiet side of the island well after 1 a.m., just a few hours ago. My driver had to navigate the winding, weathered roads in near pitch black to bring me here. I realize now that I had no idea at that time what I would be waking up to.
My travel to Barbados had exploded into a nearly 24-hour maelstrom of flight cancellations, delays, and customer service escalations. It was a comedy of errors from American Airlines on an already precariously balanced three-leg series of flights to Barbados due to late booking. By 7 a.m., the carrier had canceled my entire itinerary and tried to gouge me three times the original cost of my tickets to repurchase my own seat. After the high-stakes travel chaos of yesterday, it's a minor miracle I'm standing here now.
My sleepy eyes adjust. I see bright pink, blue and white houses dotting the hill down to the rocky beach and swirling below. Their yards are green and lush, each lined with hedges of white, magenta and orange tropical flowers and coconut clusters dangling from every few palms.
I see something moving out of the corner of my eye. A troop of more than a dozen green monkeys sneaks in single file along the hedge bordering the yard. I hold my breath when I see the pregnant female and a handful of infants in tow.
All the chaos, the stress, the sweaty dashes across airports – it was all worth it. It was all worth it, and none of it mattered anymore. I'm in beautiful Barbados.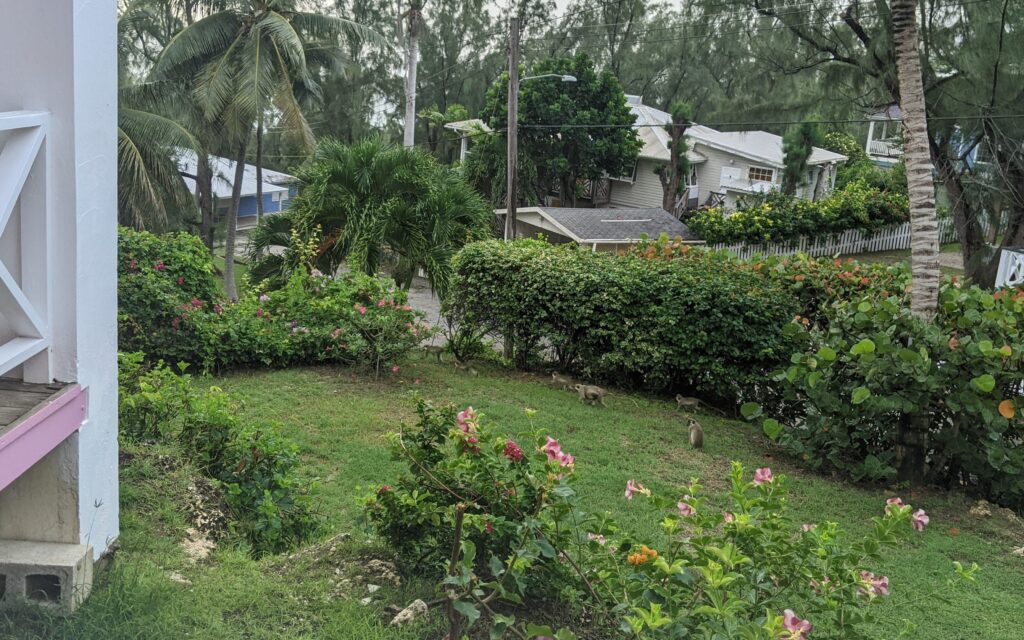 A Brief Exploration of Bajan History
Barbadian Indigenous Peoples, European Colonization, & African Slavery
A small number Bajans can still claim indigenous heritage today. More than 90 percent of the population of Barbados is Afro-Barbadian, and less than 4 percent of the population is of European descent. Indigenous Arawak and Carib people inhabited Barbados until British colonizers invaded in the 1600s, bringing deadly disease and slavery to the land and claiming it for England in 1625. Tens of thousands of enslaved people were transported from Africa over three centuries to work on sugar plantations as the burgeoning rum industry took hold in the Caribbean.
Barbados became an independent country from England in 1966. Only recently, in November 2021, Barbados became a republic within the Commonwealth of England; the country now has a president as head of state instead of a monarch.
Mount Gay Rum Distillery, The Oldest on Earth
Our group visited Mount Gay Rum Distillery to learn about the history of rum in Barbados and how the molasses, yeast and water coalesce to create this sweet liquor. Dating back to 1703, Mount Gay Rum Distillery is the oldest known rum distillery worldwide that continues to operate today.
The tour takes visitors through the distillery grounds to see the sticky sweet molasses pits, past the original well, and through the fermentation house. You'll learn about the history of rum in Barbados, the impact on its economy, and taste the different molasses varieties. Afterward, guests can sample a flight of Mount Gay Rum products in a tasting at their bar, styled with a giant banquet table and library-like lounge.
Historic Clifton Hall Great House
The impetus for my trip to Barbados was to speak at the inaugural BarbadosSEO conference. The event was hosted at the historic Clifton Hall Plantation, an estate established in the late 17th century and home to prominent families for generations. The property was later used as a sugarcane plantation but fell into disrepair.
Under new ownership, the 13,500-square-foot Great House and its surrounding buildings have been restored.
Many incredible things were uncovered during the renovation, but the strangest of all is its rare "poor relations room." Otherwise known as a death room or sick room, families would relegate ailing and dying loved ones to this enclosed space. Food and water were passed through a slot, and visitors could watch over the sick individual from a viewing area.
A team of people now maintains the grounds to preserve its architecture and history, and the plantation serves as a tourist destination and event venue. Its spacious verandah with Italian marble, breezy archways shaded by lush gardens and bougainvilleas, and statute-lined swimming pool are the picture of tropical luxury.
A Tale of Two Coasts
Barbados is a small island country with just 166 square miles of land and just over 287,000 inhabitants. Barbados island is just 20 miles on the diagonal and 15 miles wide at its widest point. Situated in the North Atlantic Ocean, it is just east of the Caribbean Sea and shares similar marine conditions. The east and west coasts of the country have some remarkable differences that can create a wonderfully dichotomous experience of the country.
Staying in Cattlewash
I rented a bright pink house on a steep road in Cattlewash, a quiet residential neighborhood in St. Joseph parish. The home had a luxurious outdoor porch with ocean views, which became a golden hour stakeout for wildlife watching. From this post, I spotted velvet monkeys, a variety of hummingbirds feeding on the nectar of tropical flora, many well-fed stray cats, and a sneaky little mongoose.
This uncongested part of the island boasts rugged natural beauty, rocky ocean cliffs and lush vegetation. Sweating through my sundress in 90°F November heat, I hiked through the hills of St. Joseph in search of a meal. I crossed Joe's River, a rocky creek trickling to the ocean through swaying palms.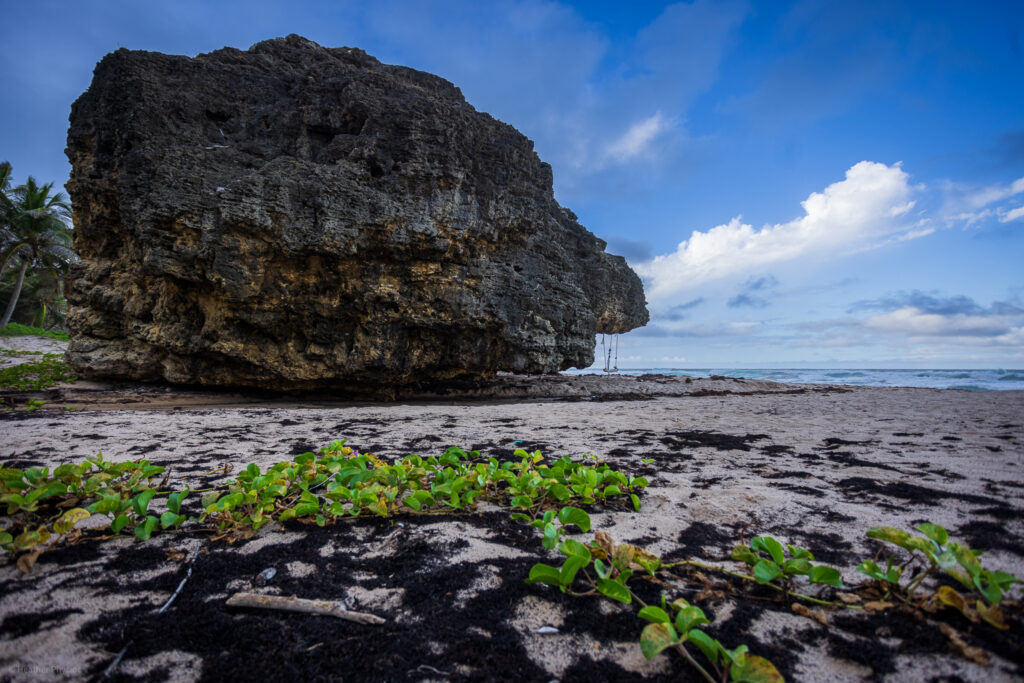 I ate pumpkin ginger soup and coconut fried shrimp from a table at RoundHouse, letting the ocean breeze wick away the moisture from my skin. An Antillean crested hummingbird hovered to feed on nectar in the cocoplum outside my window. Below, beachgoers and their dogs waded in the shielded Bathsheba Beach tidepools. The waters are choppier on this coast, so ocean swimming is discouraged here. It's better known as a surf destination called the Soup Bowl, with waves on average 360 days per year and reaching 15 feet high in some seasons.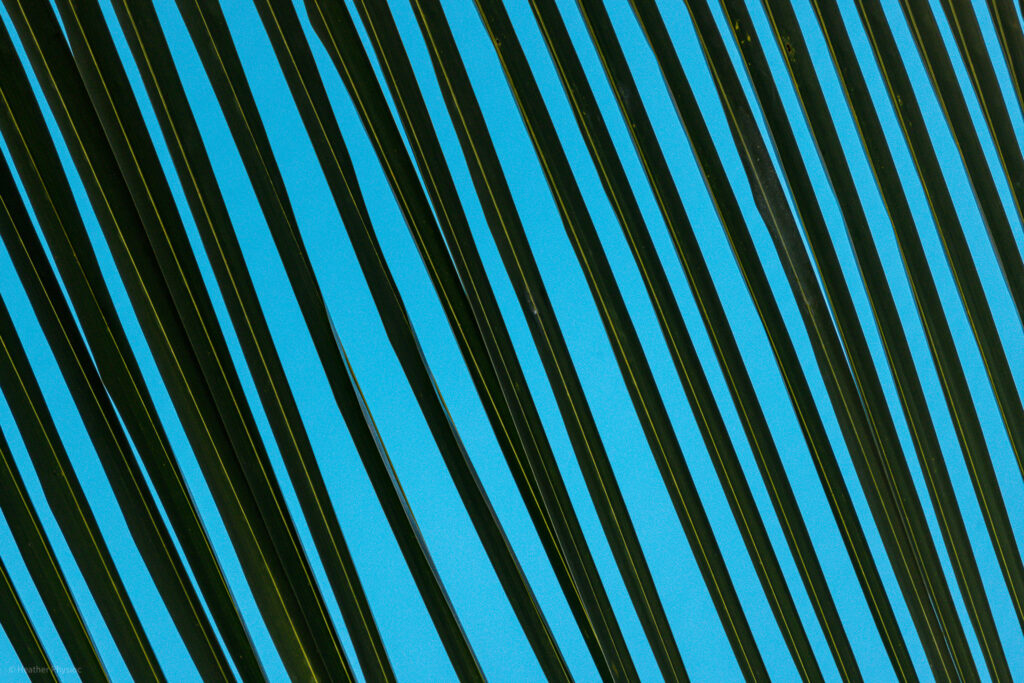 I chatted with locals who owned the few market stalls still open selling a few pantry staples and fresh produce, who pointed out my watch was off by an hour. (Barbados is Atlantic Standard Time, not Eastern Standard Time, and the country does not observe Daylight Savings Time). I shelled out a few Barbadian dollars cash for some fruit, rice and chickpeas and bid them adieu to trek back to the house for a nap on the patio until the perfect evening light arrived for photography.
On this night, the weather was balmy and breezy. I came across this idyllic scene with a path constructed of driftwood and stones leading into the distance. At the trail's end is a lone, white gate, with purple orchid-colored skies above and verdant carpets of green below.
Another night, storms rolled in and transformed the skies. Blustery winds whipped seaspray around me while I photographed from Cattlewash Beach. I wanted to capture waves crashing against the giant coral boulders on Bathsheba Beach, about 1.5 km away, freezing every droplet in motion.
Finding flora and fauna in Barbados
Barbados Wildlife Reserve
The Barbados Wildlife Reserve is a protected area that houses several indigenous, naturalized, and exotic species, and serves as an educational center about wildlife conservation efforts.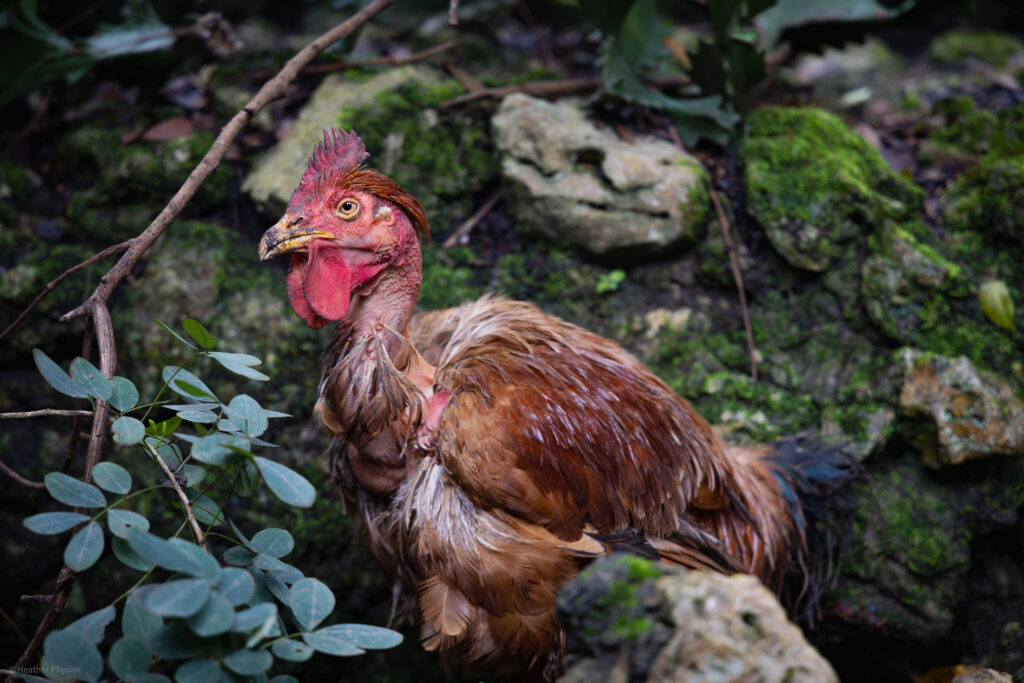 Visitors can see red-footed tortoises, peacocks and peahens, iguanas, brocket deer, and other species up close from walking paths inside the reserve.
The reserve also hosts twice-daily feeding times when free-ranging green monkeys descend on a shady courtyard to enjoy bucketloads of fresh fruit and sweet potatoes while visitors look on.
It's easy to relate and empathize with our fellow primates, and the babies are adorable, but make no mistake – they smell revolting. They dart in and out of the smorgasbord, tussling over their favorites until it's all gone. They were gone just as quickly as they came, back into the surrounding mahogany forest outside the reserve.
Flower Forest Botanical Garden
Near the reserve is Flower Forest Botanical Garden, a 53-acre explosion of color and scent with a café and a shop filled with handmade Bajan pottery by Earthworks. Tropical flowers and trees are curated into stunning collections along a tranquil self-guided walkway.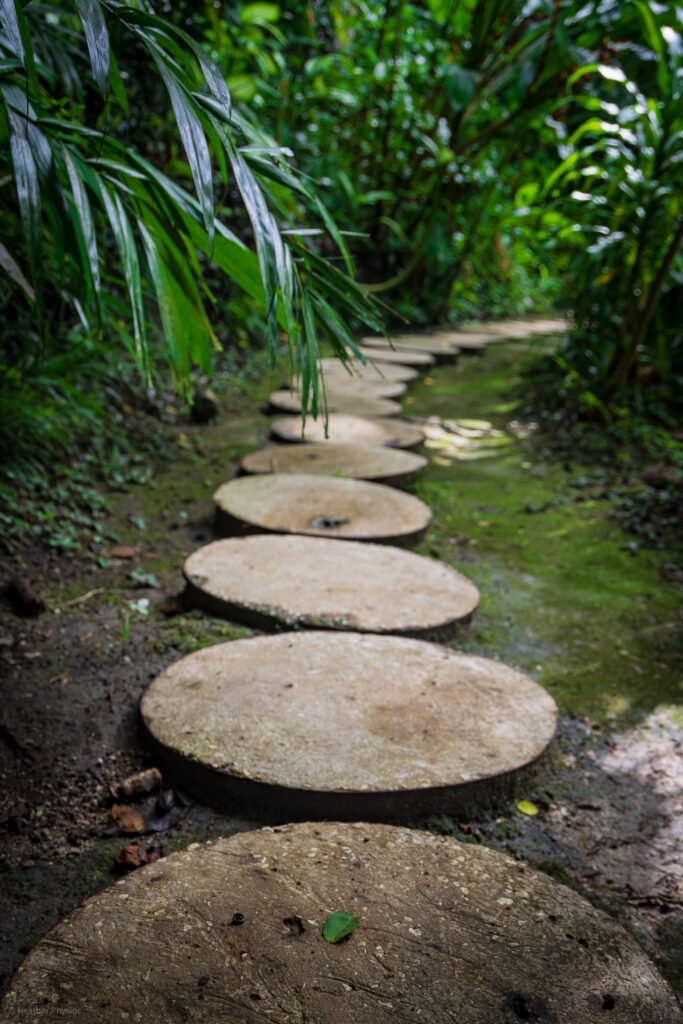 Around every turn is an extraordinary find – from jungle drum honeycombs and shampoo gingers to lobster claws and powder puff blooms.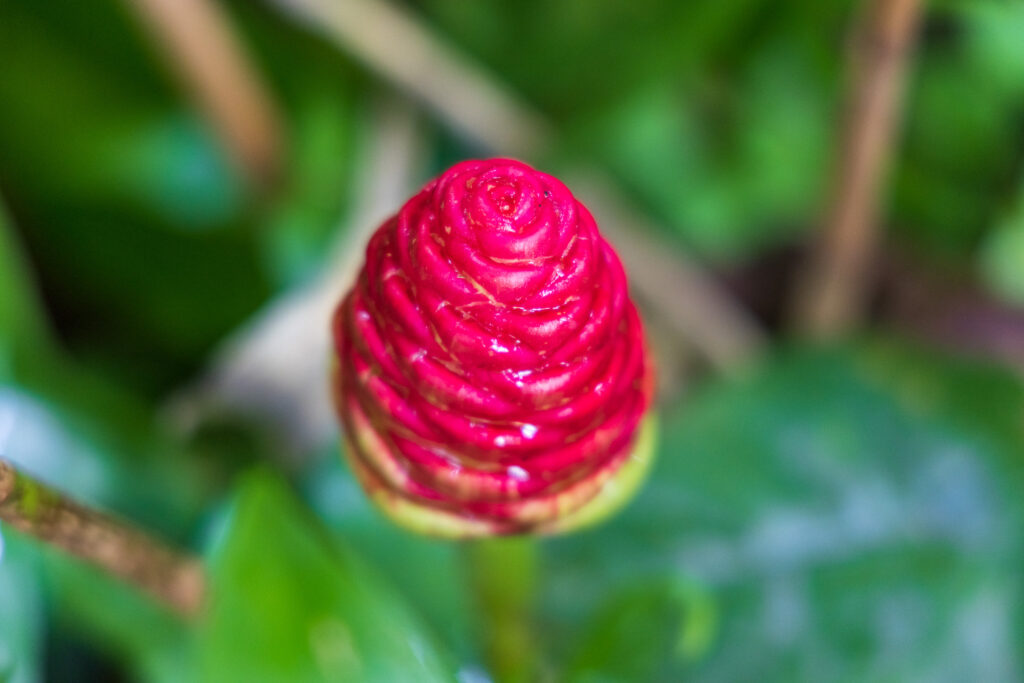 All varieties and colors of Pride of Barbados (peacock) flowers can be found here. Ferns, palms and lilies intermingle with beautiful sculptures, hidden paths, and lookout points over the surrounding countryside.
The Caribbean Coast
The west coast is popular among tourists for its lively tropical vacation vibes. The water is calmer and crystal clear here, a beautiful Caribbean shade of dragon skin turquoise that begs for you to float in it. White sandy beaches invite long golden hour strolls, playing hooky to take a morning nap under the umbrella, and hopping a fence late at night to have cerebral conversations with a friend on a beach lounge chair with your feet in the ocean under a blanket of stars.
Staying in Bridgetown
A Tale of Two Hotels
The conference organizers booked speakers at Barbados Beach Club, and I added nights at Turtle Beach Resort to my trip independently. Both are two all-inclusive hotels in Christchurch. (All-inclusive meant the room charge included food, alcohol and access to recreational activities.) Both hotels offered a range of beach amenities and on-site activities for guests, each suitable for different travel tastes.
Barbados Beach Club is a smaller, more relaxed resort that offers a laid-back atmosphere that caters to a more adult audience with late-night music, including cover bands and DJs. This crowd seemed primarily interested in tanning and drinking. The service and experience at this hotel were very casual. The staff was friendly, and the buffet was unpretentious.
Turtle Beach Resort is tailored to kids and families but suitable for couples' travel. Part of Marriott, it's larger and more polished, with a more universal standard of hotel service. It offers a more robust buffet and asks that guests not dine in the restaurant in swimwear alone. Professional cover performers provide evening entertainment and end at a kid-friendly hour.
Calabaza Catamaran Cruise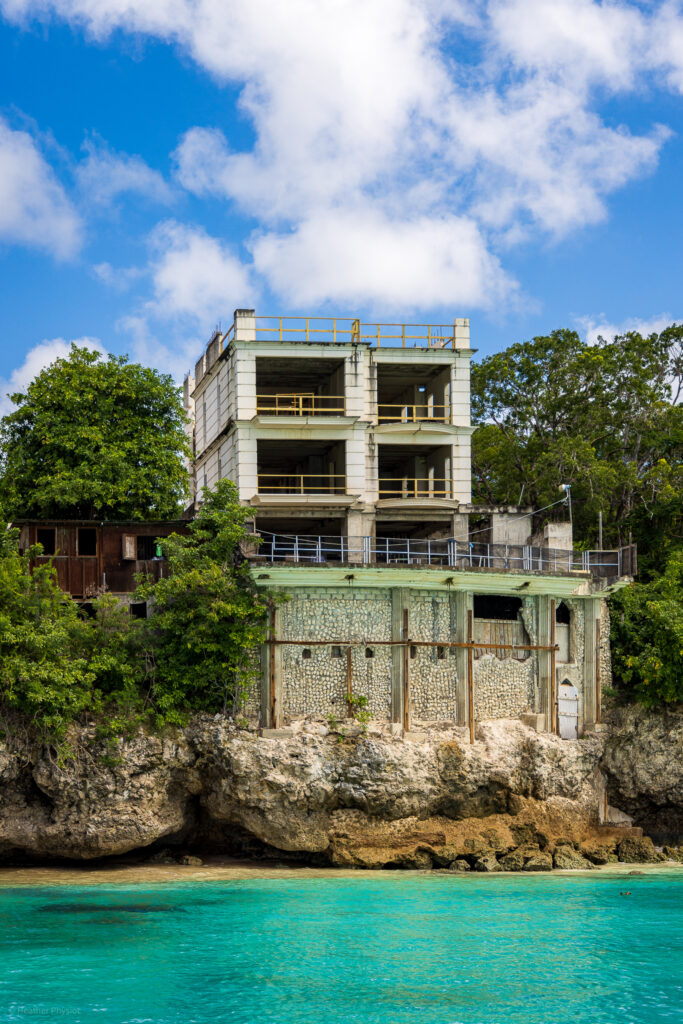 The conference booked speakers for a half-day Lunch Cruise on the Caribbean with Calabaza Sailing. The snorkeling portion of the trip was shortened because not one but two taxis took our group of 16 people to the wrong destination. However, our Calabaza crew still managed to deliver us to snorkeling among schools of fish, stingrays, sea turtles and shipwrecks.
Afterward, the catamaran dropped anchor in Batts Rock Cove. Nearshore, a man fly-fished shin-deep in the water. A sailboat crept past a small peninsula in the distance. We lounged in the water and sipped rum punch, rocking on our floaties in the gentle waves. My mind became the quietest it had been in as long as I could remember.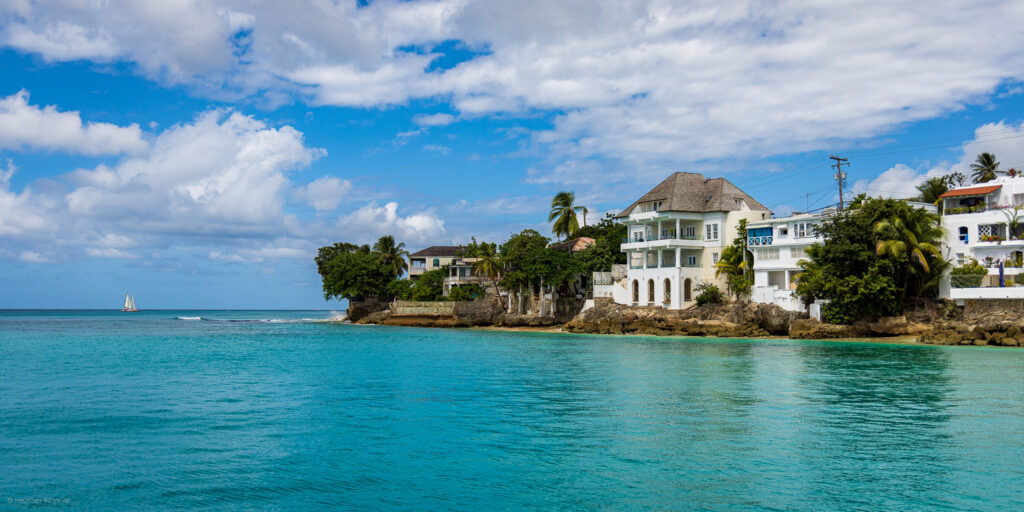 Oistins Fish Market
After a full day in the sun, many from our group walked 30 minutes to Oistins Fish Market for their famous Fish Fry. Throngs of locals and tourists descend on the market every Friday night to grill freshly caught seafood, shop vendor stalls, dance to live music and socialize. Lining the first picnic table we could snag, we ordered from a short woman in a red apron with a mangled spiral notebook. I split a lobster platter with a friend.
We wove through the crowd to watch a group of dancers in a synchronized calypso line dance. The music intensified to a party vibe from the lighter, more family-oriented feel of before. The energy in the place was transforming, and the music seemed it would make a growing crowd near the stage erupt into dance. But suddenly, the skies opened up, and the crowd parted and scattered for shelter from the rain under food stall awnings and tents during the downpour. Though these storms come and go quickly, we took our cue to leave.
Until next time, Barbados.
For such a tiny landmass, Barbados still encompasses so many things. I was surprised at how different my experiences felt on the Atlantic and Caribbean coasts. The beautiful tropical flora and fauna of the east were creatively invigorating, but nothing compares to the relaxation of floating in the warm Caribbean waters. Seeing both sides of the island made Bajan geography, culture and lifestyle feel more whole to me, and yet there is still so much more to experience.
Postscript: Rihanna, National Treasure of Barbados
Rihanna is a music superstar, fashion entrepreneur, billionaire and climate philanthropist. She is the national treasure of Barbados, bringing this island nation into the global spotlight. This post is going live just as Rihanna will be playing the Super Bowl Halftime Show this weekend, where my Kansas City Chiefs are taking on the Philadelphia Eagles! Go Chiefs!
Follow me on instagram @KCTRVLR to see more from Barbados