I got called up to speak at the BrightonSEO conference in April, so we tacked on a day to explore the small British beach town a bit. Brighton is just an hour's ride on the Thameslink train from London. The conference put us up at the economy hotel Ibis Brighton City Centre, which although it had no frills, was at least conveniently located to the core of Brighton. Below are some of the Brighton attractions and restaurants we fit into our short two-day trip.
Brighton Beach
Brighton Beach is a roughly five-mile stretch of rocky beach on the English channel. It is still quite cool and breezy in Brighton in April, but there was no shortage of locals and visitors along the beach.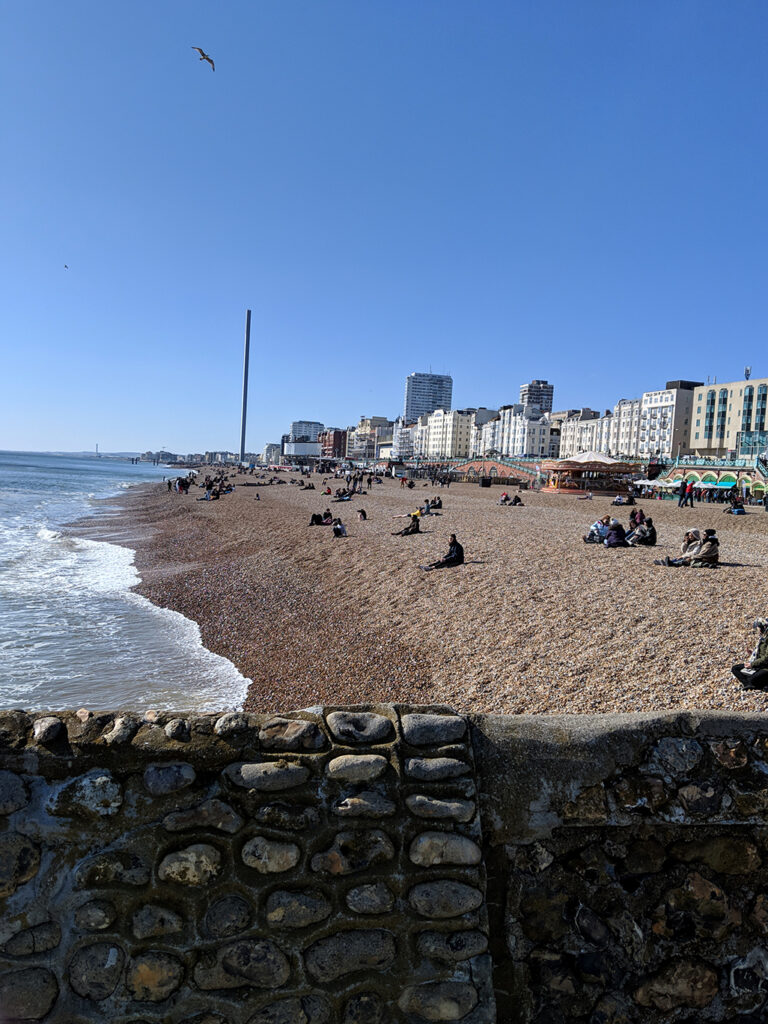 Many appeared to be young people stretched out on blankets, and at some point you could find locals fishing off of a dock or pier. It feels like a classic "boardwalk" style walk along the length of the beach.
Brighton Palace Pier
When you arrive in a beach town, your instinct is to drop your bags and walk straight to the beach. Brighton Palace Pier is by far the most visible thing on the beach line with its garish state fair carnival setup for the length of the platform. It was mobbed with children, smelled of funnel cake, and had a smoky casino slash kids' arcade smack in the middle.
It's certainly something to see, but it's a bit of a monstrosity calling to mind bits of Coney Island and Atlantic City. I'm glad I saw it first-hand to take in the slightly cheesy seaside resort vibe, but in retrospect, I wish we had not done this first as it impacted my impression of an otherwise lovely little town.
LGBTQ-Friendly Town
One of the bright spots about Brighton is how LGBTQ-friendly this community is. It has become something of a hub for the queer community with many locals and visitors drawn to this welcoming city. It is clear that the town is united behind a message of acceptance and positivity, and it's nice to see so many LGBTQ small business owners thriving in the city.
Dinner at Riddle & Finns
After all the walking around Brighton on foot, we worked up quite an appetite. Being on the English Channel made me particularly hungry for oysters. A quick search revealed that Riddle & Finns topped the rankings in the area, so we headed into the Lanes.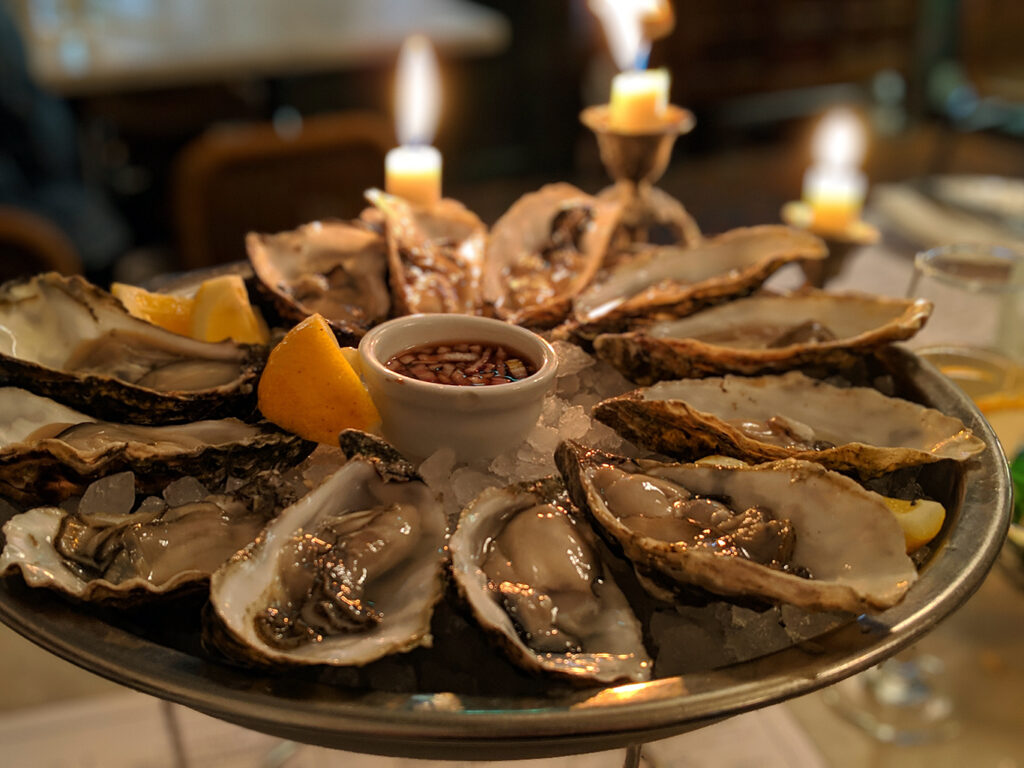 It's a lovely little spot with a warm, romantic ambience when it's quiet. The walls are lined with white tiles and simple, but elegant, framed art, and the open kitchen allows you to watch the chef bustling around to prepare the meals. The high marble top tables are all illuminated with ornate candelabras. They seated us on the same side of the table, because as the spot starts to get crowded, the tables are shared.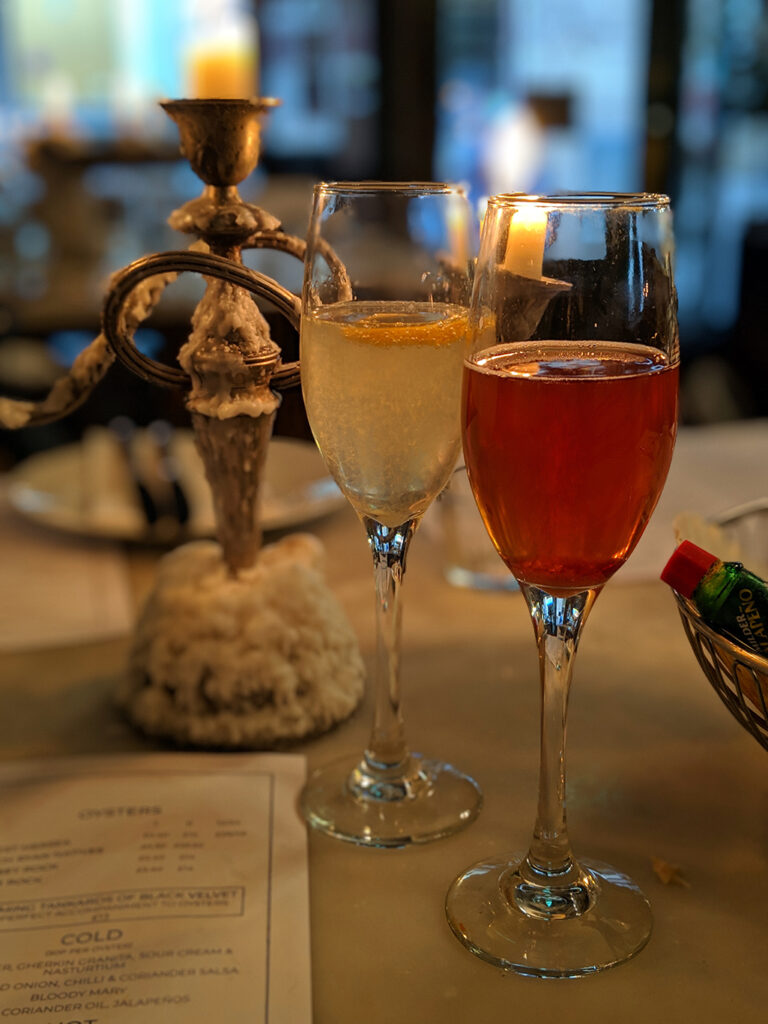 We started with champagne and oysters, and their awesome bread and butter basket. Then we dived into their ceviche of the day with chilli, red onion and lime salsa, their crispy-fried calamari with peanut and ginger dipping sauce, and their tempura-fried tiger prawns with a tom yum mayonnaise. This was our splurge meal upon arriving to Brighton – we regret nothing!
The Pond
As other BrightonSEO speakers were filtering into the city, we decided to get together with friends and fellow speakers Lily Ray and Phil Nottingham (hello, you two!) at The Pond for a pint. I thoroughly enjoyed this dark little pub filled with lots of hardwood, friendly bartenders with good recommendations, a solid beer list, and a relaxed time with good conversation on a Wednesday night. One delightful little bonus was that our table had a window view and we got to see a fox darting around on the street outside.
The Coffee Counter
The Coffee Counter was an awesome find at 25 Church St. (though I understand they are seeking funding to relocate). It just had a good vibe so I walked in, and I was pleased to find a super-friendly guy behind the counter and two also-friendly little dogs hanging out in the shop. (If you're reading this, HI RUDY!)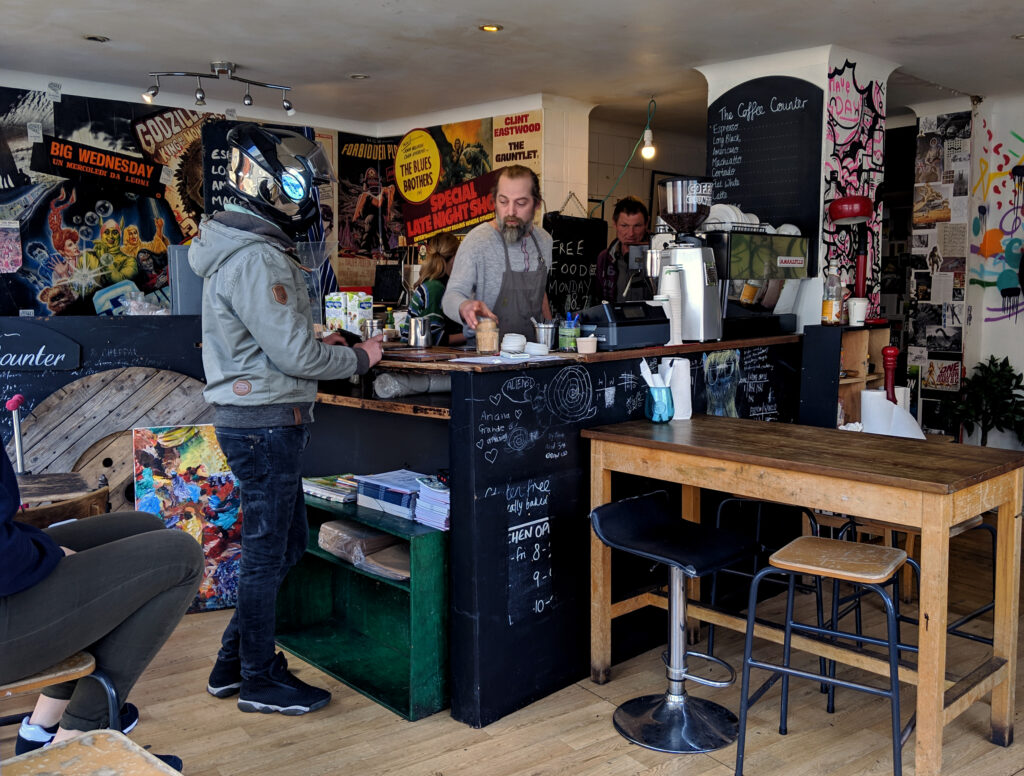 I enjoyed my dairy-free latte and all the quirky art and posters on the walls. I was legitimately bummed that we had already eaten breakfast when I saw their full menu of vegetarian-friendly breakfast eats – like that delicious-looking veggie loaded breakfast muffin.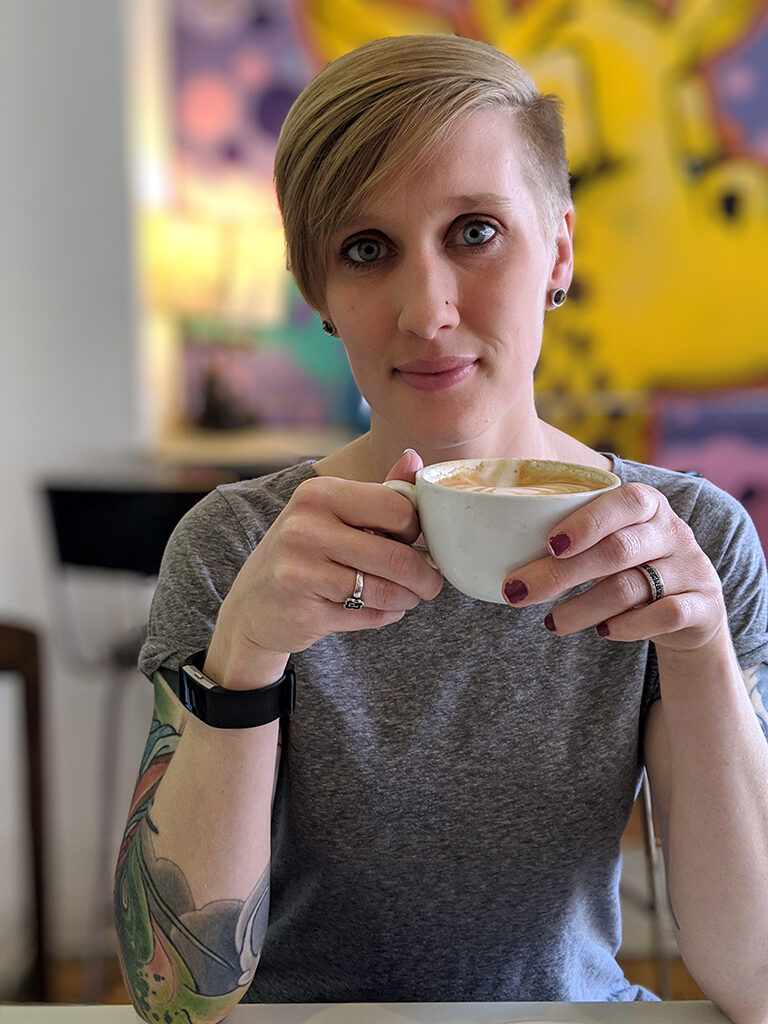 One more special detail about The Coffee Counter is their commitment to helping the homeless and dispossessed, by offering free meals and coffee on Mondays using donations from customers and money out of owner Hayden Maze's own pocket.
BeFries
Look, I like fries and I love sauces. We popped into BeFries in Brighton for an afternoon snack, where they use a traditional Belgian method of cooking their hand-cut double-fried fries. Hello crispy, salty exterior and fluffy, soft interior! We got a large cone of fries and a flight of sauces. It was so difficult to choose which sauces we wanted!
The very helpful person behind the counter gave us a handy color-coded guide to their sauces and happily made some recommendations based on our tastes and preferences. We got everything from the classic Belgian mayo to the black truffle mayo to a combination of the sweet chili and sambal. It was a fun outing – do recommend!
Shopping in the Lanes
Cutie Boy Parker
I spotted an awesome vintage-style pencil dress with an outstanding and unique Frida Kahlo fabric in the window of this little shop. We popped in and it turns out they make custom dresses. My husband encouraged me to treat myself, so I did! They took my measurements and a dress arrived in the mail from the UK a few weeks after we returned.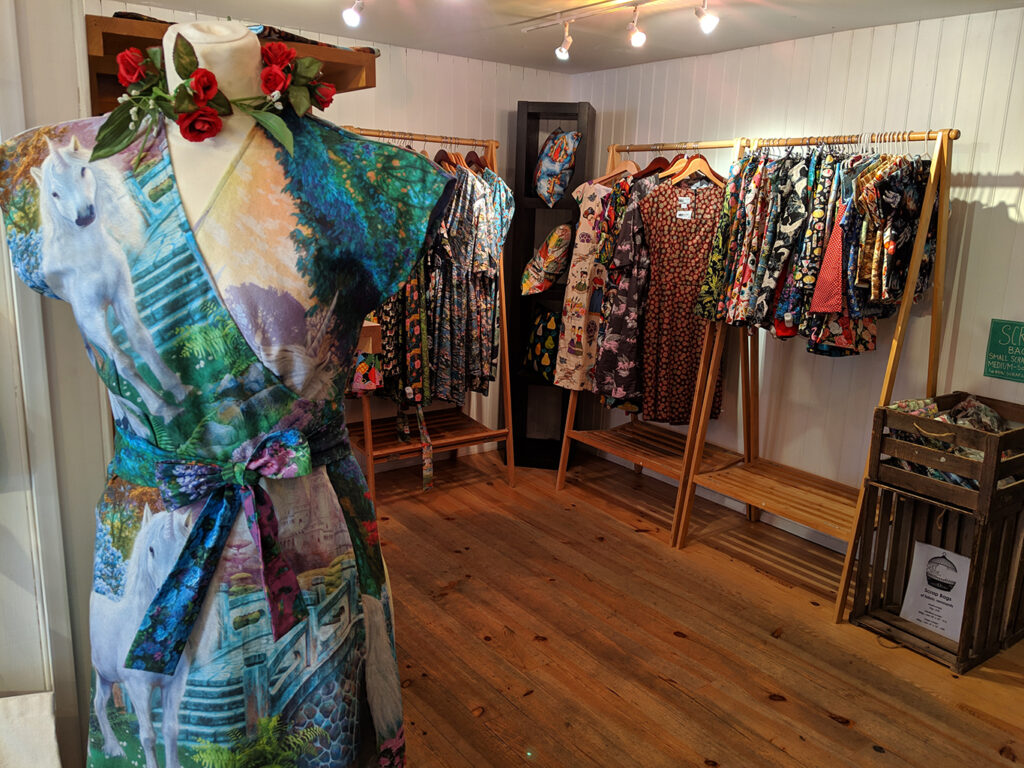 I love this fabric and I'm so excited to have such a unique, custom piece, but the dress did end up needing several adjustments for fit, which I am having done locally in the U.S. Would've loved to have had them done at the original source, but c'est la vie.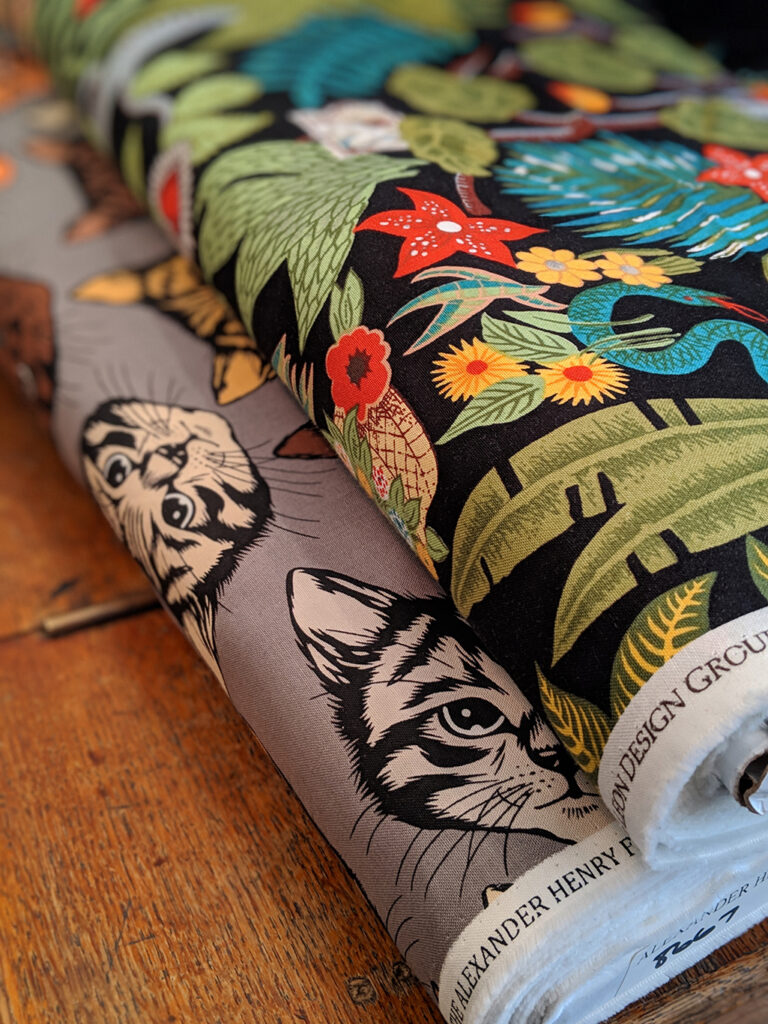 WiDEYE
WiDEYE has three stores across the UK. The gal who worked in this shop was clearly very passionate about all the handmade soaps and bath bombs in her shop. I got myself a fancy bath bomb to relax in the Cotswolds after Brighton and several soaps to bring home to the U.S. with us.
Bird & Blend Tea Co.
I popped into Bird and Blend a local tea shop and award-winning UK purveyor of handmade tea blends.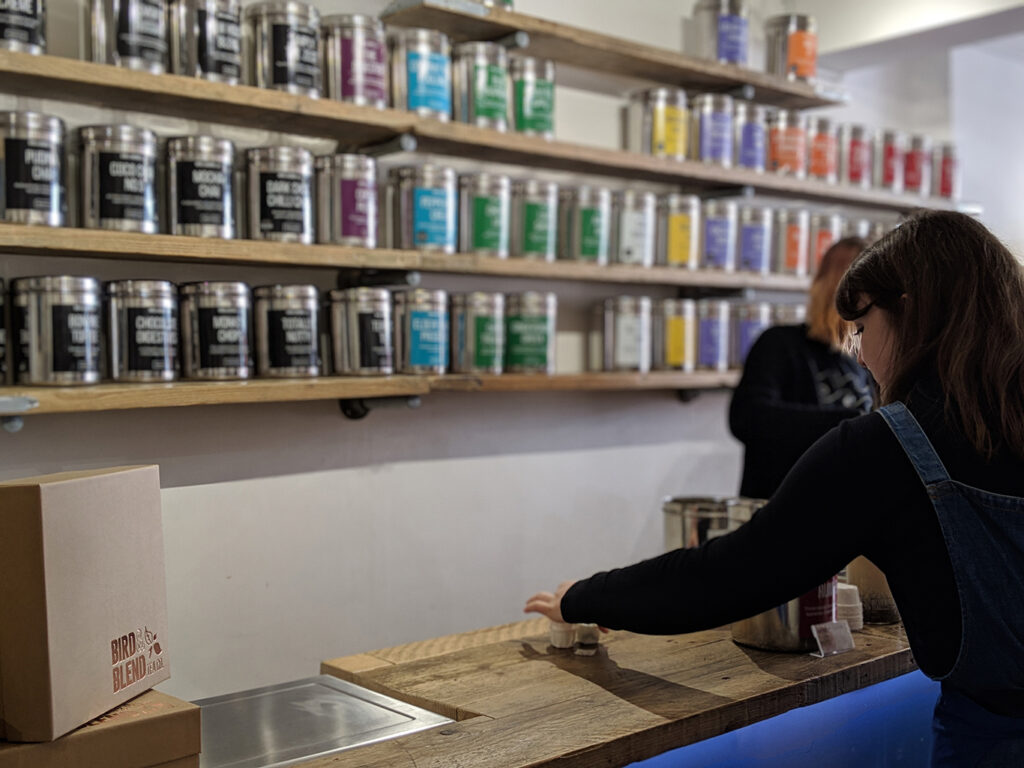 Given my taste for lightly citrusy green teas and appreciation for ginger spice, the "tea mixologist" made several recommendations. I came home with their Moji Tea and Ginger Snap Green.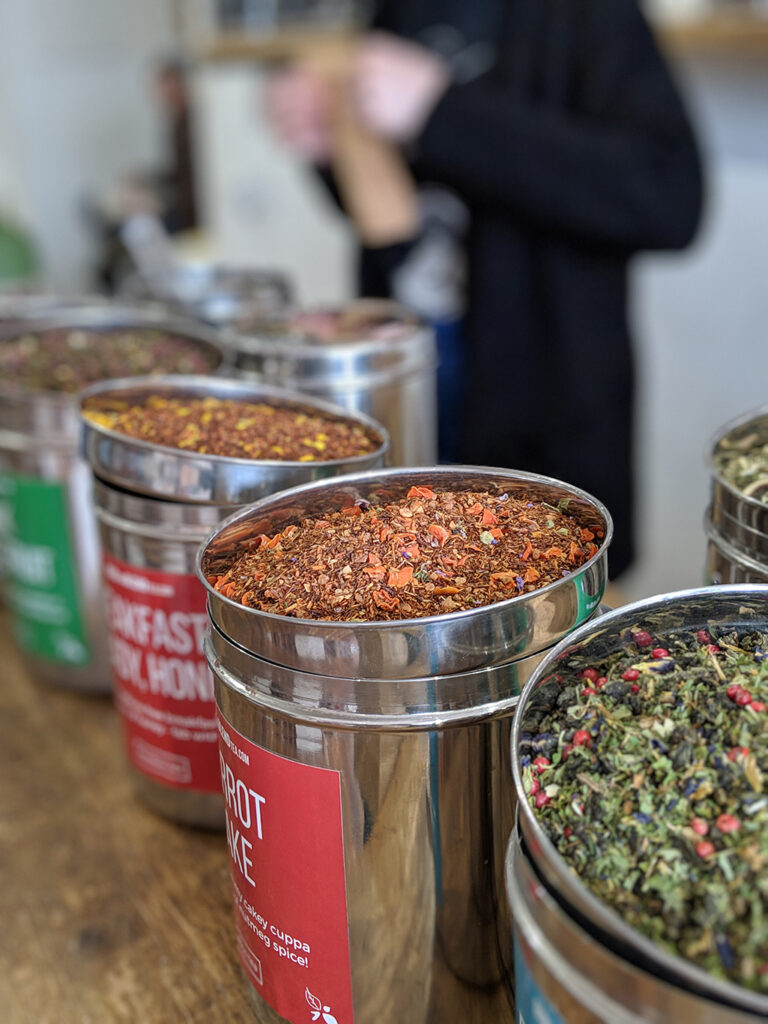 We Love Falafel
Holy moly this was a good falafel wrap – it's no wonder the line was stacked several deep. We Love Falafel is an entirely vegetarian-friendly spot in the Lanes where the falafel patties are made from scratch daily.
I stand by the falafel + halloumi wrap with the original falafel flavor, hummus, greens, carrot, cabbage, peppers, a chili relish and a yogurt sauce.
Lost in the Lanes
This was our last breakfast in town before heading onto the Cotswolds. We took our time in this upscale-feeling breakfast café.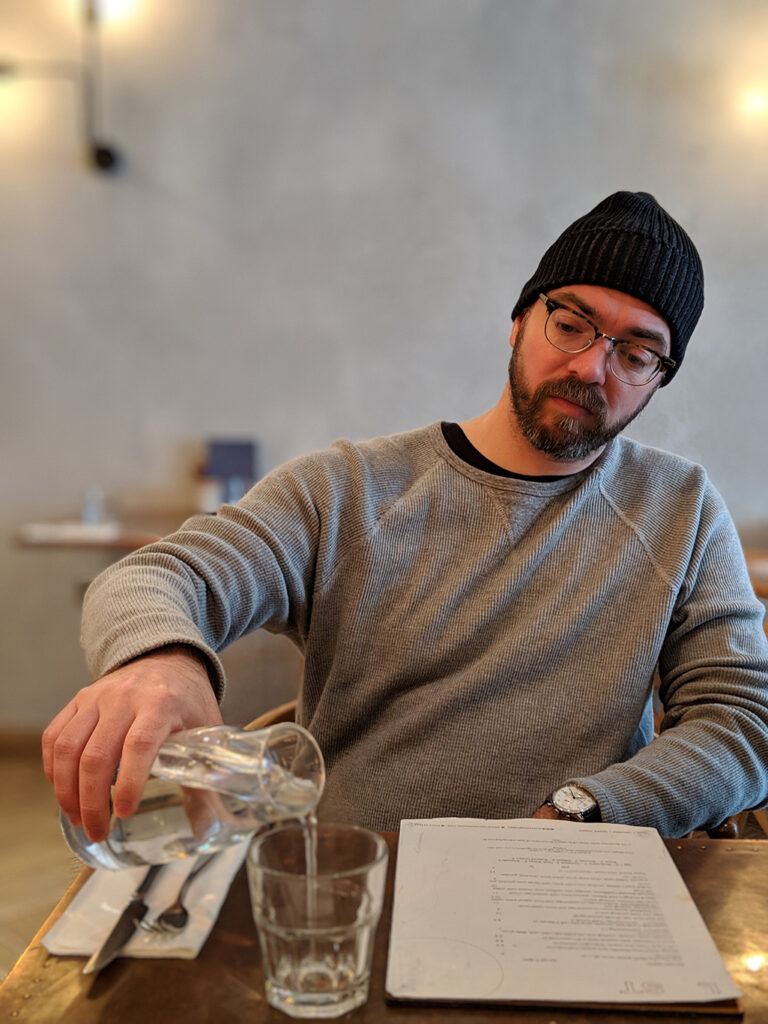 I thoroughly enjoyed my latte and their "Lost Breakfast" with smashed avocado, eggs, potatoes, buttered greens, roasted tomato, and field mushroom on sourdough toast.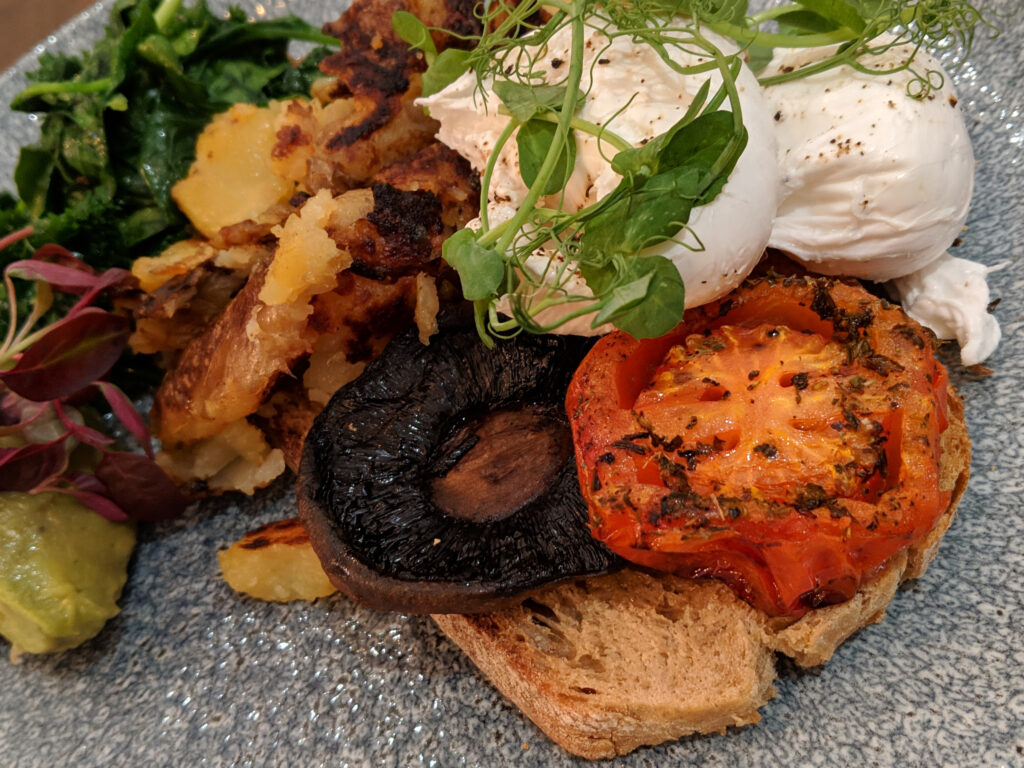 Luke had the açai bowl with berries, granola and bee pollen (unfortunately the berries were still a bit frozen).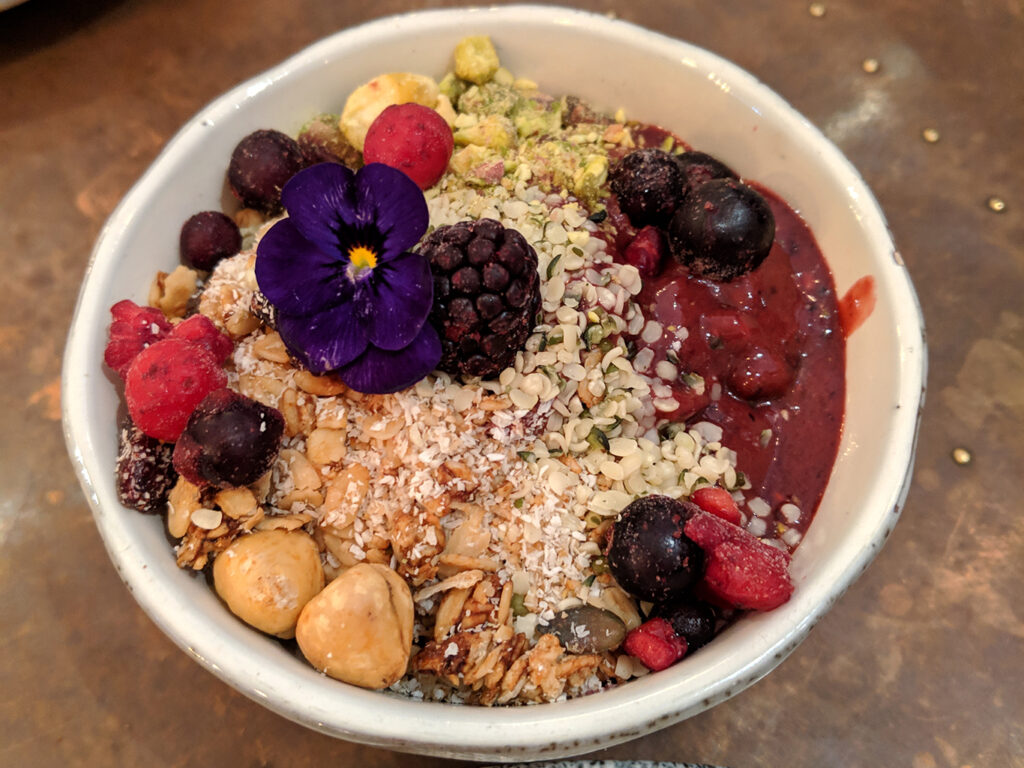 Yoga in the Sky at British Airways i360
One very cool thing about the BrightonSEO conference is how they set up a bunch of experiences for attendees, including things like a run club, a beach clean-up, and "Yoga in the Sky" at the British Airways i360 observation tower.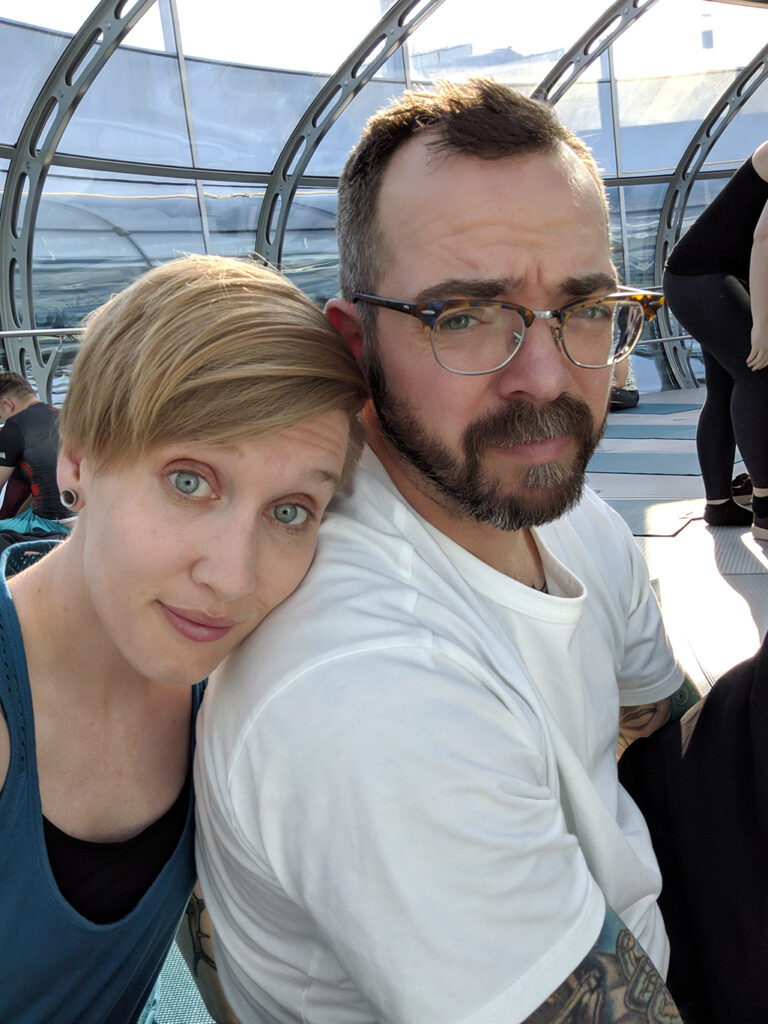 My husband and I signed up for the yoga outing and spent an hour early in the morning rising 450 feet into the sky in a glass-enclosed viewing pod.
It was quite a pleasant and memorable experience to get our minds and bodies right through yoga paired with lovely aerial views over Brighton & Hove and the beach.
Until next time, Brighton…
As we only had two days in the city and half of it was dedicated to the conference, we left a few boxes unchecked on our list. Should I find myself on the BrightonSEO stage again, I would love to check out the Royal Pavilion and the Brighton Museum & Art Gallery. My friend Yosef at Fusion Inbound, who is a Brighton native, had a great recommendation for a spot to do tea time in Brighton that we missed out on. I'd also love to spend some outdoor time at Preston Park, Old Steine, Ditchling Beacon Nature Reserve, Devil's Dyke, or any of the other green spaces Brighton has to offer.
Bonus tip: Concorde2