My brother and I have been looking for a good excuse to use all the backpacking gear we invested in (hiking to the top of Pikes Peak was its inaugural journey), so we put a camping trip on the books for White Rock Mountain, Arkansas in the Ozark National Forest.
Getting to White Rock Mountain
White Rock Mountain Recreation Area was just a five-hour drive from home. On the way up the mountain (at an elevation of 2,260 feet) we saw deer, a turkey and a snake right away. It was quick and easy to set up our reserved campsite, with a few conveniences at the check-in lodge nearby.
Heavy rains in the Midwest delayed our trip from May till June, but this time the weather held steady for us, with high temperatures in the low 80s and lows in the mid-60s, and minimal precipitation.
The Rim Trail
After setting up camp, we immediately headed to the Rim Trail, a two-mile loop hiking trail with numerous steep bluffs overlooking practically endless forested hills.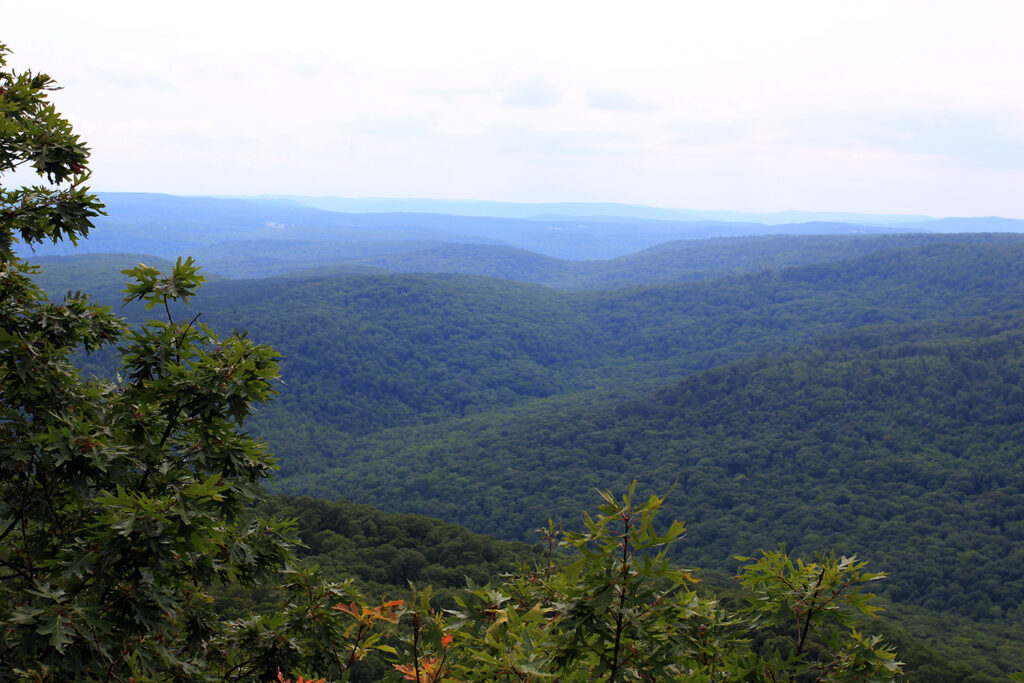 The main scenic overlook featured panoramic views of the Ozark National Forest. The shades of green in the tree-carpeted hills seemed endless.

Every few minutes, we were treated to walk-out views to sheer drop-offs over the rock bluffs.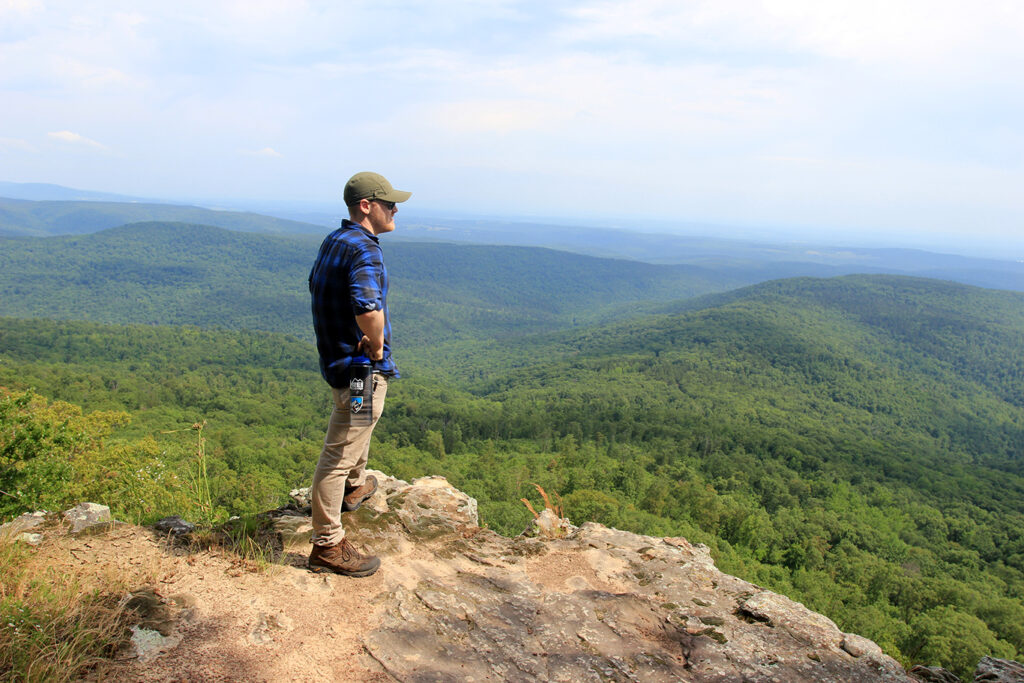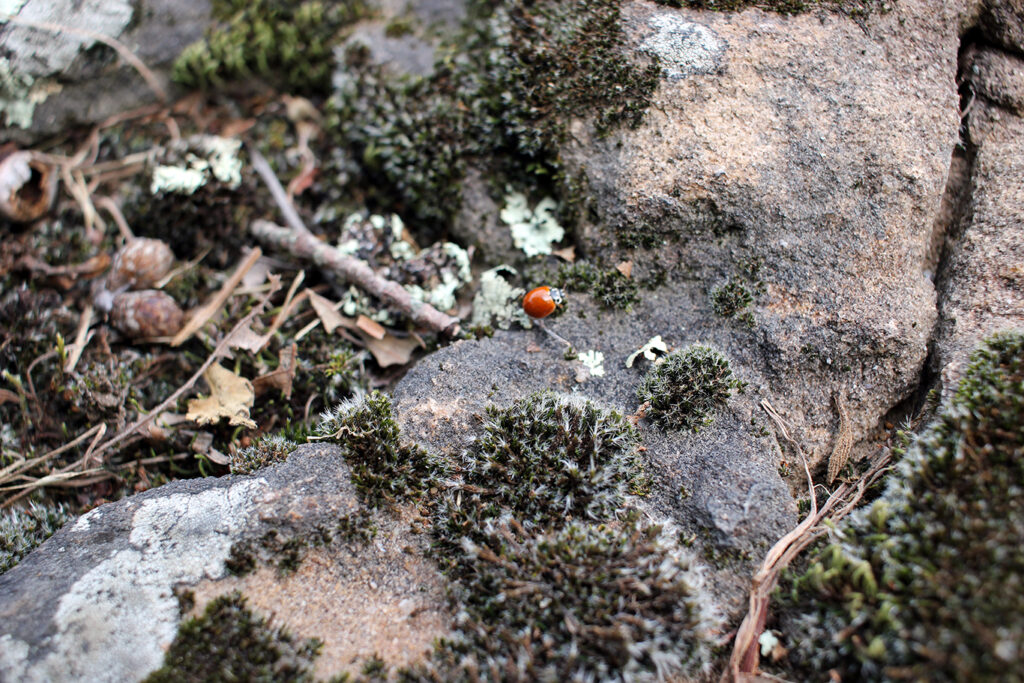 One of the best parts about both our hikes on this trip was the variety of wildflowers we got to see and snap photos of along the way.
Relaxing Around the Campfire
At dinnertime, we built a campfire and parked our camp chairs nearby. The sun was setting over the bluffs as we peeled off our hiking shoes and stretched our toes in sandals. We were grilling biscuits ("smoked bread," we joked) in a cast iron over the campfire in silence. Our bellies were full of salmon and twice baked potatoes, and we sipped ice cold Boulevard American Kolsch. The breeze picked up and the sun dipped lower and lower behind the trees. We played half a round of Phase 10 before it got too dark to see even by our lantern.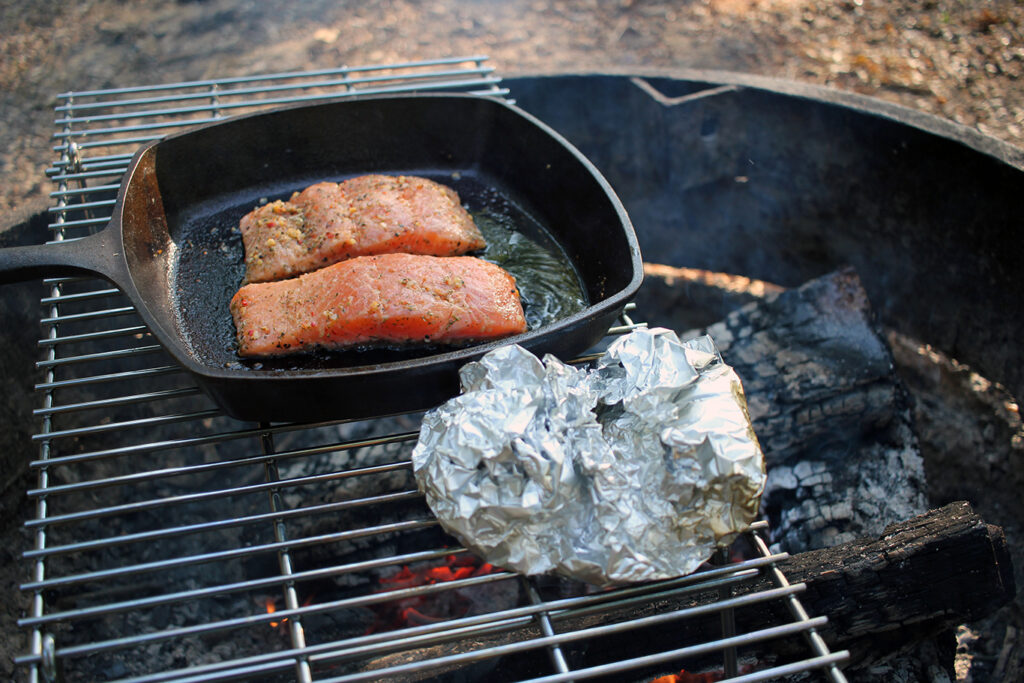 Watch-Outs
Bring Bug Spray
I suspect the bugs are often an issue at this site, and this trip was no exception. The warm temperatures, humid air, vast tree coverage for miles meant we were plagued with obnoxiously persistent flies, gnats, and mosquitoes at midday, cellar spiders ("daddy long legs") and various beetles by night, and more than a few ticks throughout the weekend. We were drenched in bug and tick sprays, yet I still came home with more than 20 big, itchy mosquito bite welts, though we escaped with miraculously few ticks.
Noisy Neighbors
On Saturday night, every campsite and all the cabins were reserved and they were quite close by to one another. By and large, all our neighbors were quiet and polite, though the campsite immediately next to us had a large group that was clearly there to party – and let's just say one guy partied way too hard and we all got to hear the party come back up. On Sunday morning through Monday when we left, however, everyone cleared out and we practically had the whole recreation area to ourselves!
Breakfast at Camp
On day two, we awoke around 7 a.m. and immediately took to cooking breakfast. We had veggie sausage and scrambled eggs with our slightly crispy biscuits cooked the night before. (Pro-tip: we found cooking scrambled eggs over a campfire to be more work than it was worth.) We used our backpacking stove to boil water for tea, and kicked back and relaxed.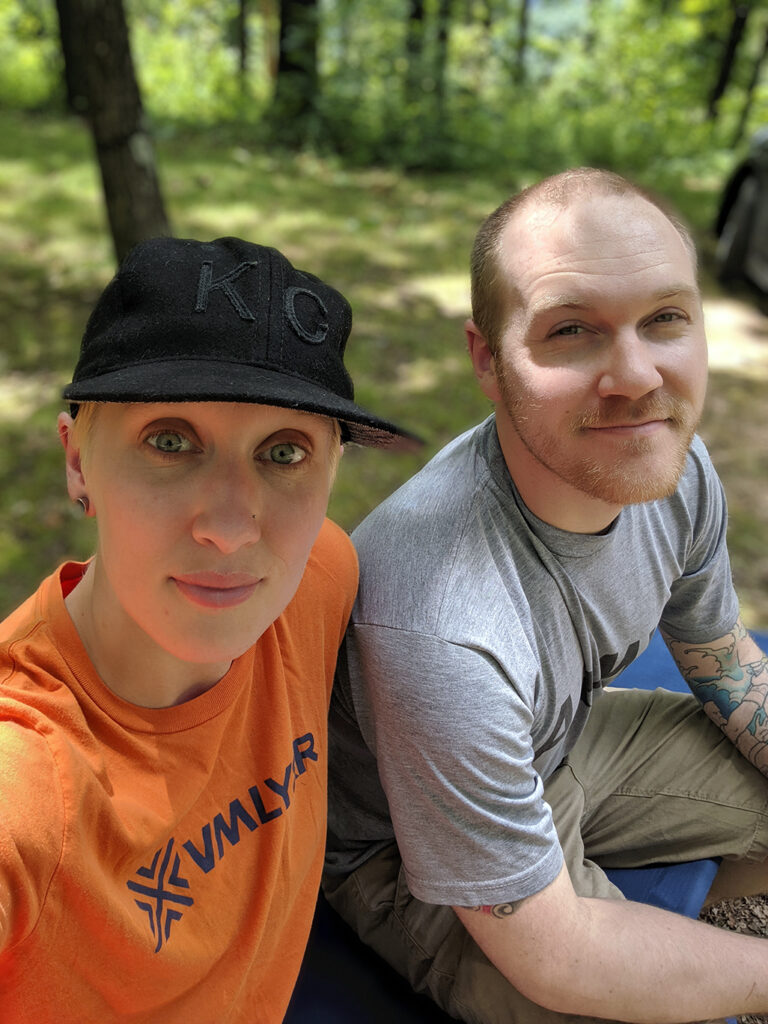 Ozark Highlands Trail (OHT)
We wanted to hit the trail before temperatures heated up, so we headed to another trailhead on-site to hike a section of the Shores-Lake loop on the Ozark Highlands Trail (OHT). The air was thick and humid, and it wasn't long before we were drenched in sweat and the bugs were out in droves. We were first on the trail that day, so Cody took lead on clearing spiderwebs as we forged through the somewhat overgrown path. We knocked out a sweaty three miles – the first half almost all downhill, and the second half all uphill.
Relaxing at Camp
After returning to the campsite, we had to change into dry clothes before we could kick back and relax. I pulled my camp cot out of my sweltering tent to take a nap in the shade and read my book (just wrapped Becoming by Michelle Obama) and the flies and mosquitoes descended upon us for the next few hours. We continuously moved our chairs to chase the shade as we read the afternoon away.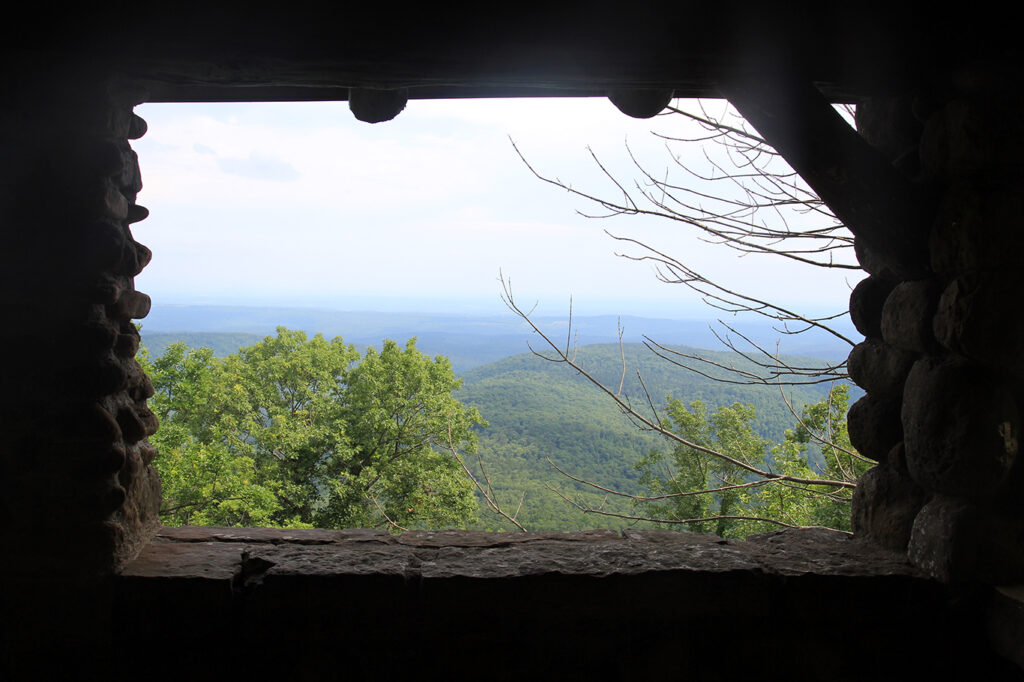 White Rock Mountain Overlook
We were super relieved when the sun finally started to dip in the sky and we got some relief. We started heating up the grill rack over the fire, and walked back to the outlook point to take in the evening views and snap a few photos.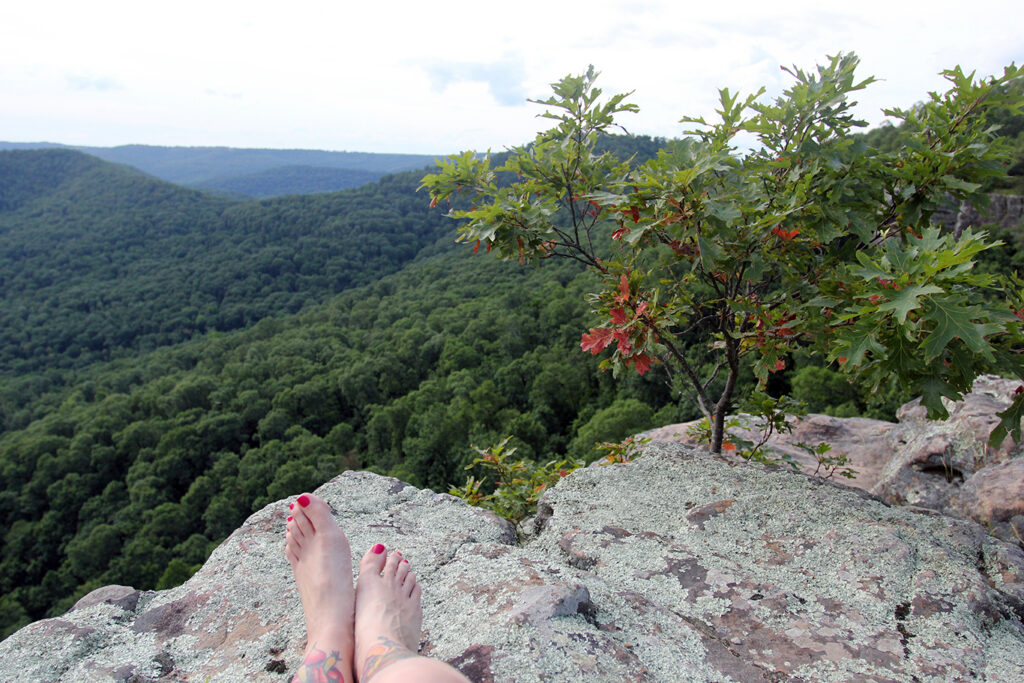 The stone wall around the site had engraved city names with their distance from the location. We managed to find Kansas City (234 miles away).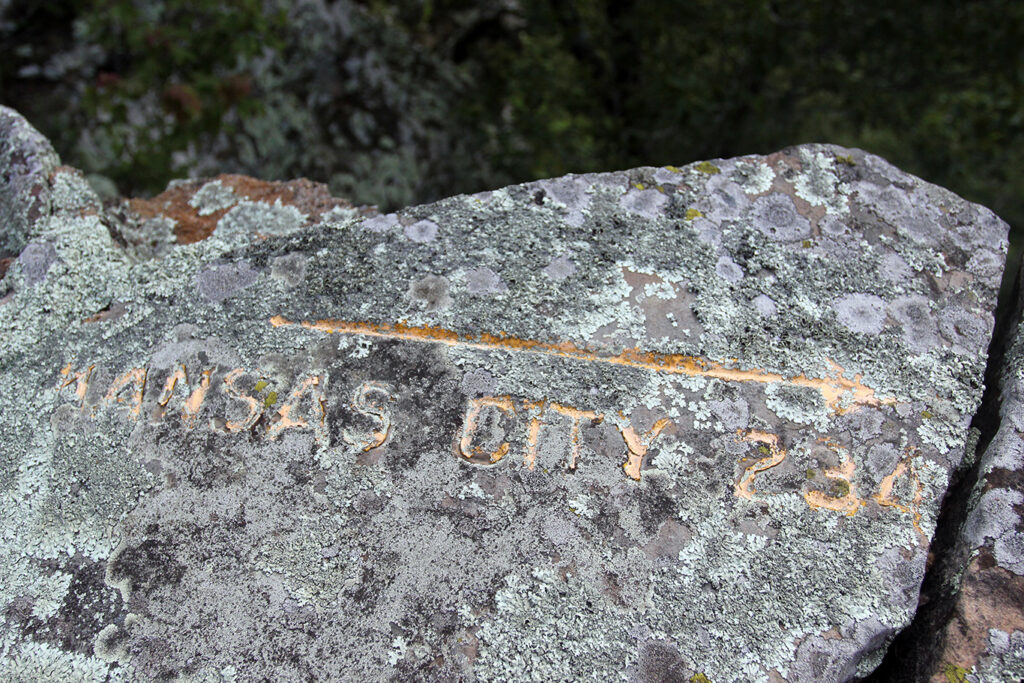 In the distance and overhead, we noticed a huge group of dozens of buzzards circling near one of the bluffs.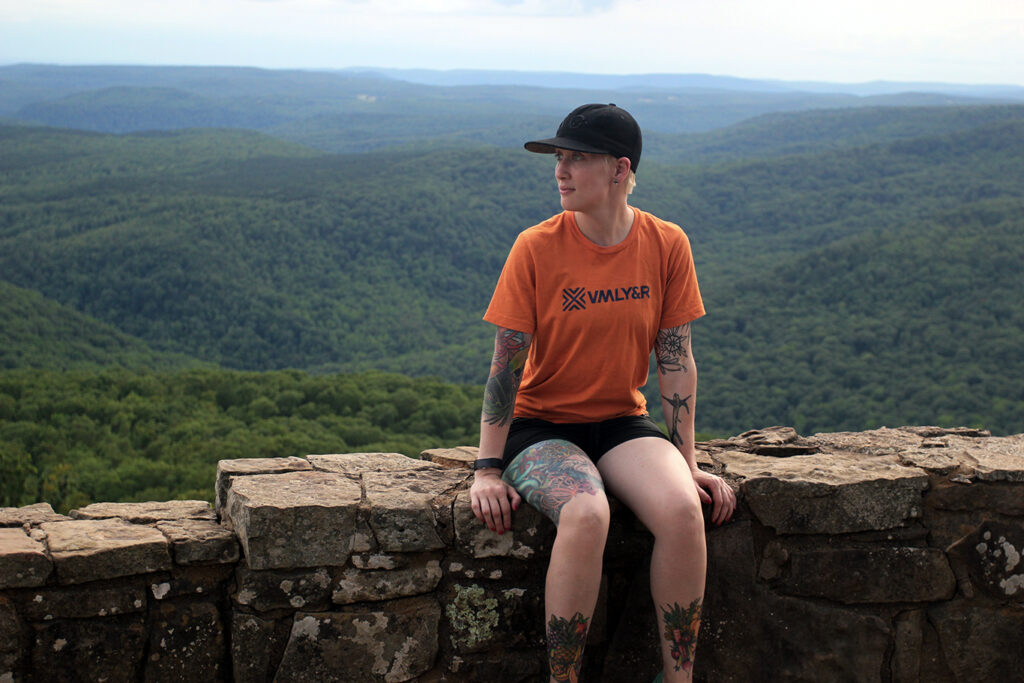 And as we peered over the stone wall to the sea of trees below us, once in a while a buzzard would coast just in front of us. It's an odd feeling to be at or above high level with birds of prey.
Last Campfire Dinner
We bought firewood on day one. But I won't lie; when all the other campers left the site for good, we scoured their fire rings and swiped all the unused firewood they left behind. It was exactly the right amount of wood to finish our weekend. Don't tell on us…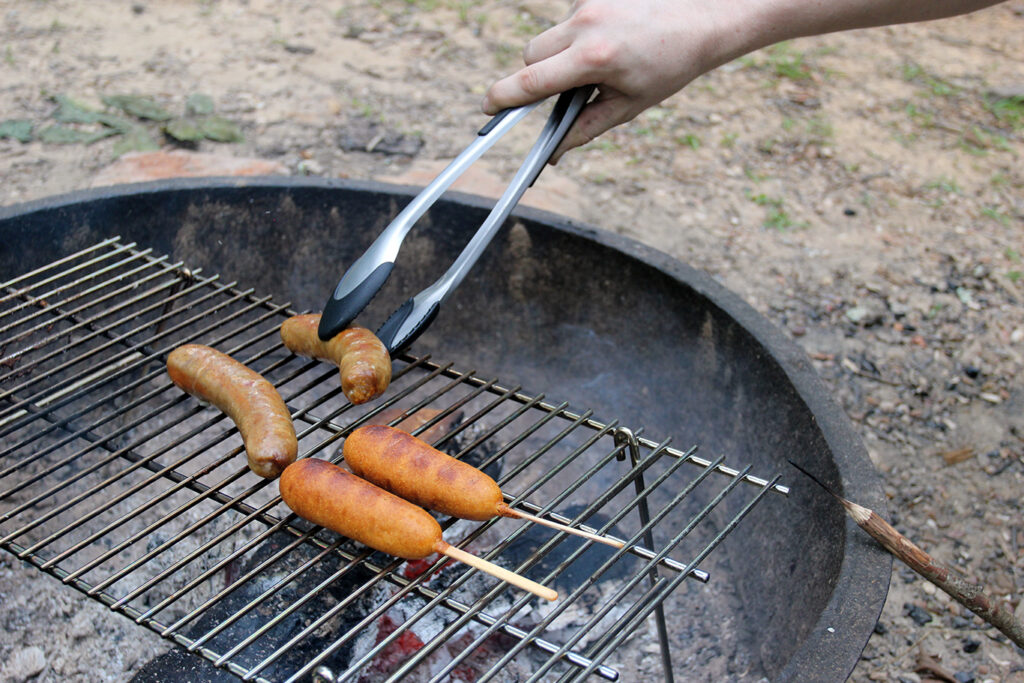 Our dinner on night two was bratwursts for my brother and veggie corndogs for me. (The veggie dog itself is nothing to write home about, but cornbread on a campfire is actually pretty legit!)
Rain & Fog
We closed out the evening playing more Phase 10 and stuffing our faces with candy until the rain came. It was on-again off-again for a while, but ultimately picked up and drove us into our tents for the night. (At least until we had a racoon and armadillo visit our campsite and wake us up.)
When we awoke, fog filled the entire valley and mountain into the trees surrounding our campsite. It was silent of all city and human sounds, and all we heard were birds, bugs and breeze. Not long after that, we broke camp and hit the road for the drive back to Kansas City.
Breaking Camp
All told, it was a great little weekend getaway to do something different and clear our heads. However, we'd love to try another Ozark or Ouachita, Arkansas location earlier in the spring or later in the fall when the bugs aren't so bad!