We have isolated for months in response to COVID-19. All our trips have are canceled. Work jaunts to cities around the country for speaking engagements tabled. Celebratory vacations for my husband's 40th birthday and my little brother's 30th birthday overseas – canceled.
It was relatively easy for the first three months to stay isolated, consistently socially distance, cancel all social activities, and generally avoid anywhere that isn't our home. But eventually, you get stir crazy, and you need to let off a little steam. We wanted to do the most responsible, safe travel possible, and so my brother and I elected for a long weekend road trip to Colorado to bag our second 14er (Pikes Peak was our first 14er ever in September 2018).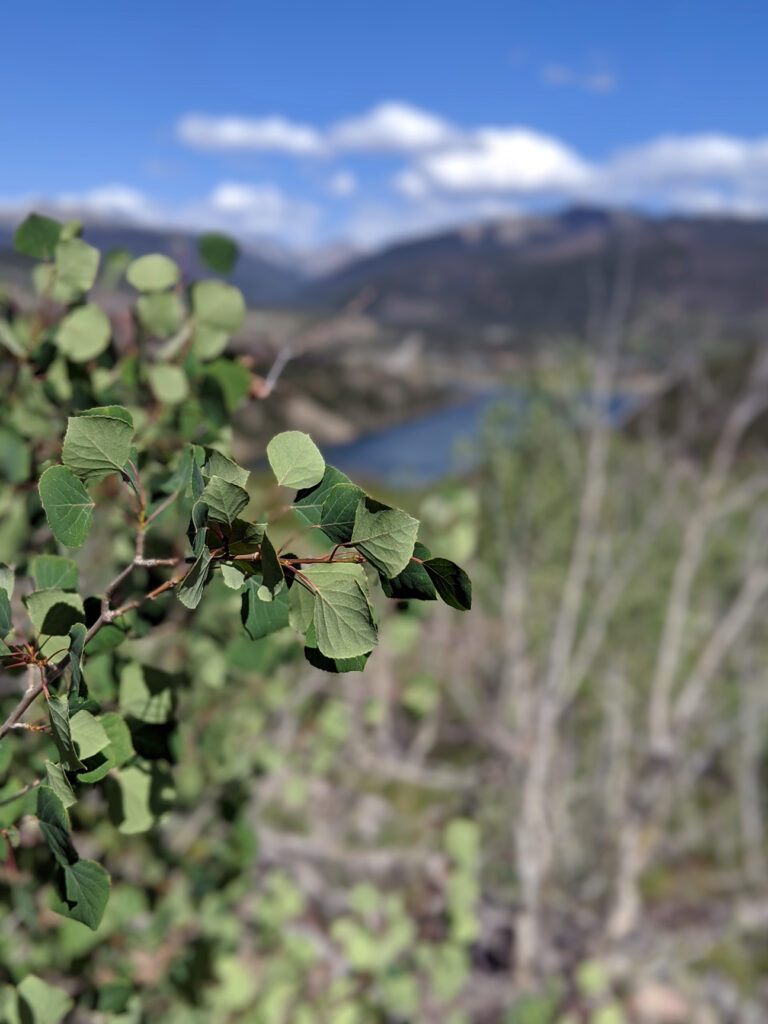 Small mercy from this social distancing situation is that I have had more time at home and fewer commitments, so it gave me the bandwidth to plan for a nice camping trip. My brother works a very different schedule and has been working hard since the social distancing began. It was hard to let go of our planned trip to Iceland for this year, so I wanted to make sure this was memorable.
ARRIVING IN COLORADO & SETTING UP CAMP
We left Kansas City on-time at 7:15 a.m. CT on a Sunday, taking turns behind the wheel. Kansas is every bit as flat as we left it. We've crossed Kansas more times in our lives than we can remember, as we trucked back and forth between our parents in Kansas City and Albuquerque over the years.
We arrived at camp around 5:00 p.m. MT, roughly 10 hours on the road. We immediately took to setting up camp. The campground is at approximately 9,000 feet in elevation. We read that Prospector Campground in Summit County struggled for shade after a pine beetle infestation required thinning the trees, so we splurged on a few canopies to create our shade – Cody managed to score an excellent shade tree for his tent. The canopies served well over my tent and the shared table area. With shade and temperatures that vary widely from day to night on the mountains, these created a lot of comfort.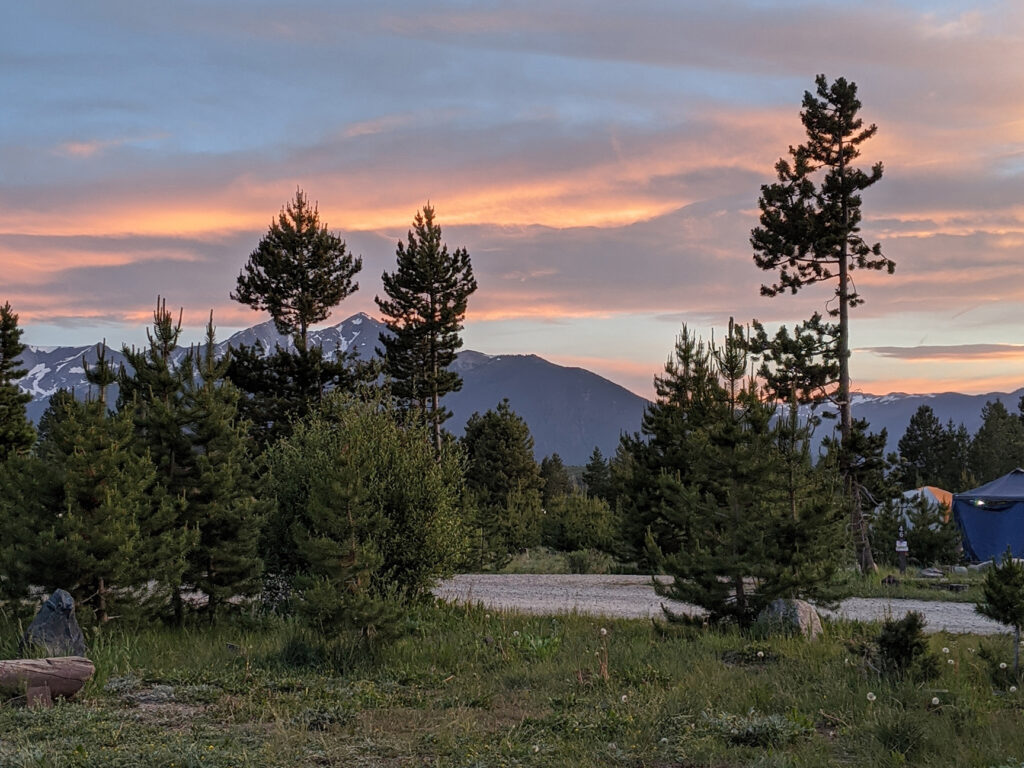 We purchased wood on-site at the campground and got a fire going right away. I had pre-prepped ingredients for several meals we planned to cook. For dinner on night one, we grilled marinated shrimp skewers with pineapple and fresh asparagus. Simple, healthy, fresh, and delicious! (Should I post my campsite recipes and campfire cooking tips we learn along the way? Let me know!)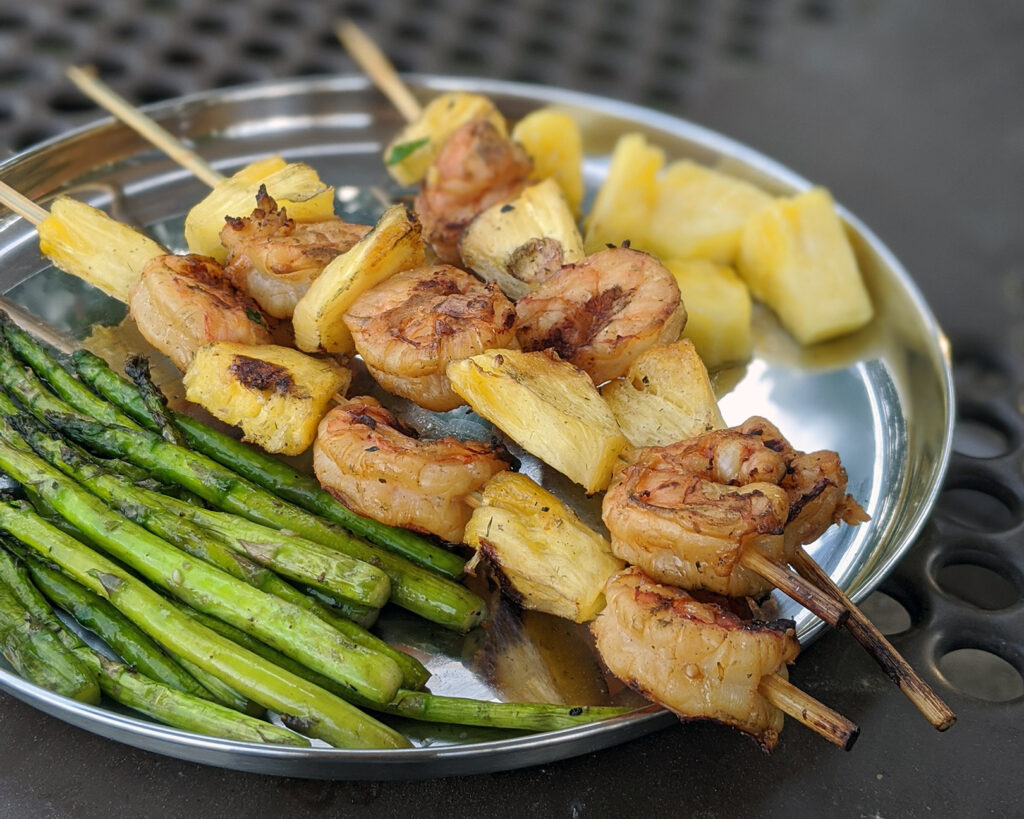 We enjoyed our meal, relaxed around the campfire, enjoyed the sunset mountain views, and made our way to our tents to crash by 10 p.m. We had a big hike ahead of us in the morning, and we were in for a chilly night.
QUANDARY PEAK
Quandary Peak is our second 14er, after our first two-day hike of Pikes Peak. This mountain is considered one of the "easier" Class 1 14ers. (No such thing.) But it was way more manageable than Pikes! The out-and-back trail is only about 6.75 miles round-trip, and 3,450 feet in elevation gain. The trailhead is at roughly 10,850 feet, and the summit is at an elevation of 14,265 feet.
I had read that there was a bit of snow at the peak, but recent hikers primarily had not reported needing spikes to pass the snowfields. So we flatlanders started on the Quandary Peak trailhead at 8:15 a.m. The temperature on the way up was pleasant at this time of the morning. The uphill climb was rocky but felt steady.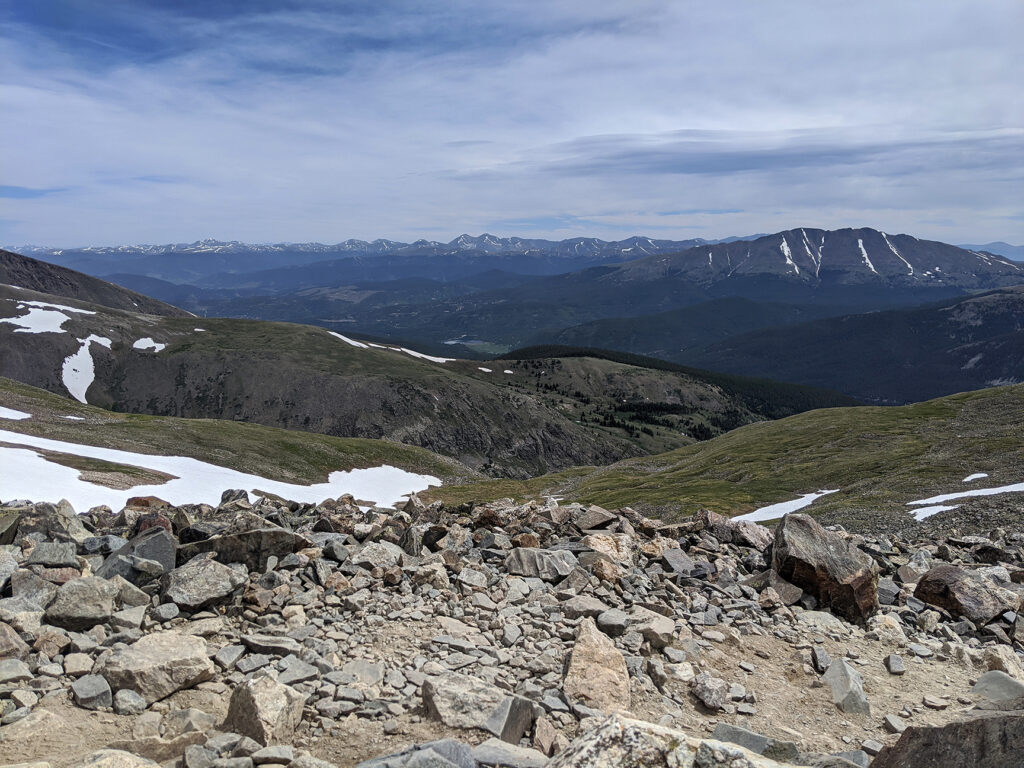 I genuinely enjoyed the uphill climb. We had great weather, suitable temperatures, a nice steady pace upward, and the terrain around me and scenery varied enough to keep it interesting. I sometimes catch myself trudging up the mountain with my head down, so I had to remind myself to pause and take in the vistas periodically – which is also a great excuse to catch my breath.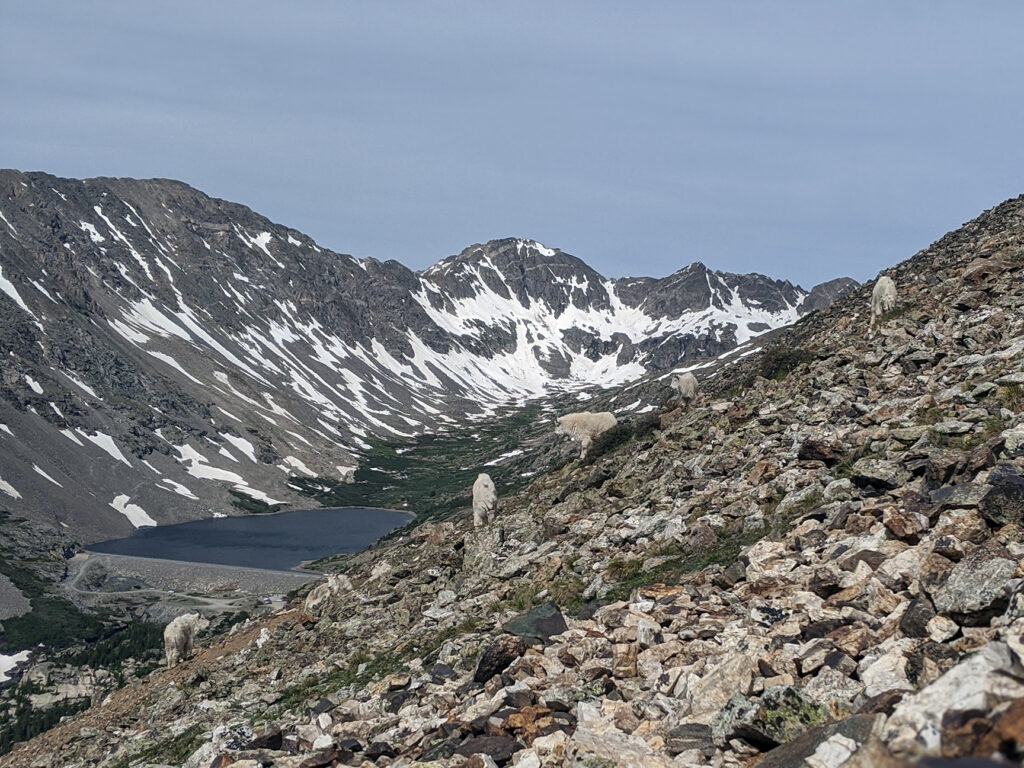 We stopped briefly about midway up the mountain to enjoy a herd of beautiful white mountain goats. They were grazing and meandering, then they found an out-cropping and dug into the ground with their hooves to flatten a more level field to lay.
The best part was a sweet little kid (baby goat) curiously watching all the hikers make their way up the trail and grazing with the grown-ups. At first, its little ears barely peeked above the rocks, but I managed to capture a photo of that precious face. It gave me life.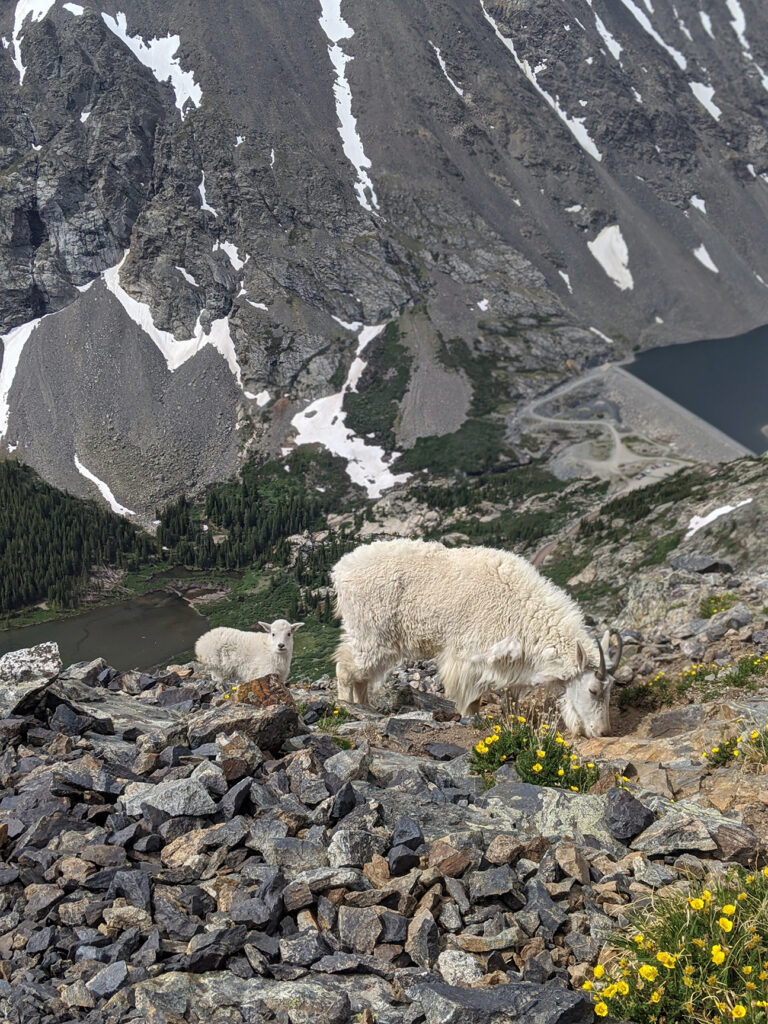 We continued upward. It became increasingly steep, rocky, and challenging as we approached the summit. It picked up noticeably in difficulty in the last third of the elevation gain and became more crowded with two-way hiker traffic. The wind picked up as we turned curves on the trail so much that a gust blew my brother's hat off.
At almost 14,150 feet, we reached a snow-and-ice field that hadn't yet melted. A risky descender slushed through a snow-drifted cornice side and made me hyper-aware of the risk of one wrong move. I decided not to continue the short remaining distance to the true summit. Cody summited and returned a short time later.
I know I was just shy of reaching the peak. Like really close. But I am strangely comfortable with my decision. Usually, I would feel immense regret (everything from not finishing a smaller summit in Utah, to declining to zip-line about 20 feet upside down in Costa Rica). But this time, it felt comfortable saying no because it was beyond my comfort and ability level. The peak will be there, and I look forward to hiking it again.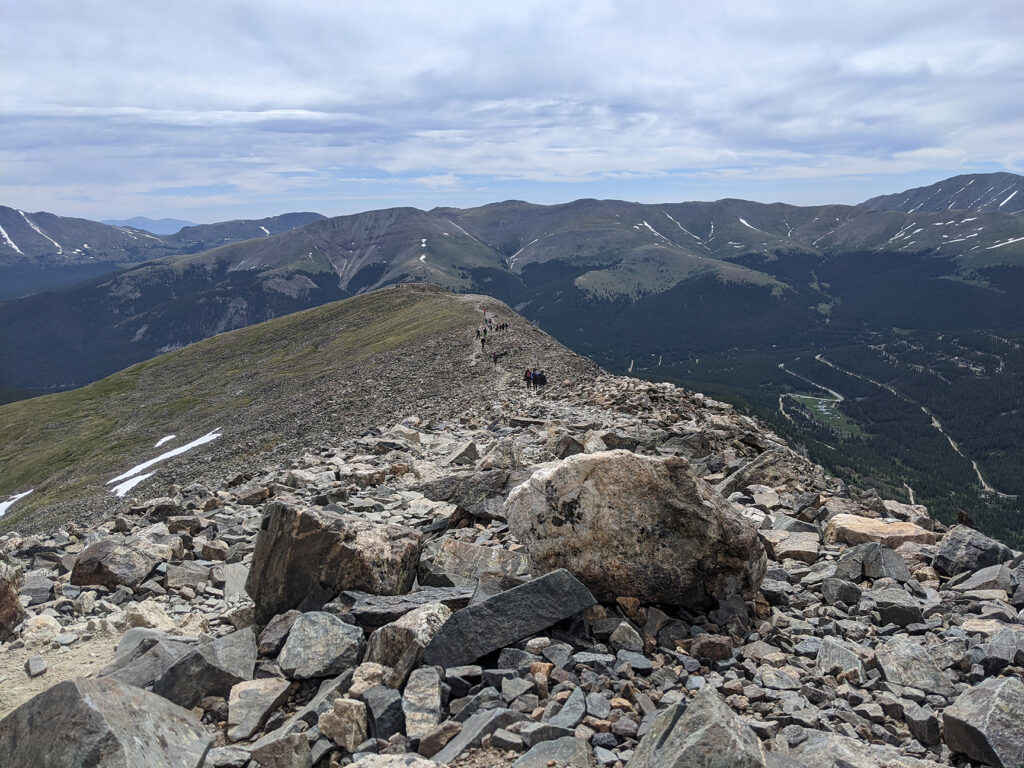 That said, the descent SUCKED! It was so rocky, and it felt never-ending. Our knees were screaming. Our big toes were pressed into the fronts of our hiking shoes and begging for mercy. I was amazed that the descent felt longer and worse than the ascent!
We finished at about 3 p.m. or roughly 5:45 round trip. We originally had delusions of doing another 14er on day two. But we knew before we even finished descending Quandary, that was a terrible idea.
We were exhausted and so relieved when we got to the car. When we got back to camp, we "triaged" our needs. Which terrible state would we tackle first? The miserable feet? The raging hunger? The desperation to fall asleep? Our filthy skin?
Obviously, we kicked our hiking shoes off IMMEDIATELY. We dragged ourselves through a mediocre lunch, then both zonked out for a few hours. When we awoke, we began prepping for dinner – salmon fillets and corn on the cob. It was a lot of trial and error, but it turned out perfect in the end!
Fun fact – it gets cold in the mountains. Even in June and July. As soon as the sun starts to dip behind the mountain range, the temperature drops dramatically. You suddenly find yourself adding layers. Socks. Fleece. Stocking caps. The works.
We took a stab at roasting marshmallows for s'mores. Pro-tip: It's a "grown-up s'more" when you've got a fancy chocolate bar. (Might I recommend the ChocoLove Almond Sea Salt?) It didn't take long for us to wind down and head to bed, though.
THE TENT SLEEPING SITUATION
I am still developing my tent sleeping strategy. I have a 21°F graded sleeping bag, I was in all my clothes, I was off the ground on a cot, and I had a blanket – and I was STILL cold at night! I might need a warmer-graded sleeping bag for cold scenarios, and to go blanket-only in warm situations.
Night two after the Quandary Peak hike I slept quite well, relatively speaking. Part mountain hiking exhaustion, part temperature comfort, part my ability to side-sleep.
I think my cot is more annoying than helpful inside a tent, though. The extra storage space underneath is useful, but the cot is too tall. Note to self.
A QUIET ESCAPE
We slept in till 9 a.m. the day after we went to bed at about 9 p.m. Kind of amazing while camping. We lazily roused ourselves mid-morning, and I took to cobbling together some pancakes. I used my 24-ounce water bottle to mix protein pancake batter. It was slow-going, but we managed to pull off campfire pancakes.
Cody woke up with a monster headache paired with a gnarly sunburn. He forgot to sunscreen for the nearly six-hour hike at high elevation, and boy did he pay the price. He stayed in the shade and slept a ton that day, saying he could barely turn his head because his neck was so sunburnt.
I read, wrote, napped, and ate all day. Pretty great, tbh, but by late afternoon I was feeling antsy. I laced up my hiking boots and left the campsite. I walked about a mile on the gravel road from the campground to a trailhead we saw on the way into Prospector.

I think it was called Sapphire Point Trail. It was a short and easy trail, perfect for my knees and calves, which were turning to stone after the Quandary Peak 14er the day prior. This little hike was a beautiful, quiet escape for me this afternoon to just move and be and appreciate the colorful details.
It had great overlooks. The snow-tipped mountain range views were quite stunning. That vista never gets old to me. There's always some new shadow or shape or edge or detail to discover in the mountains.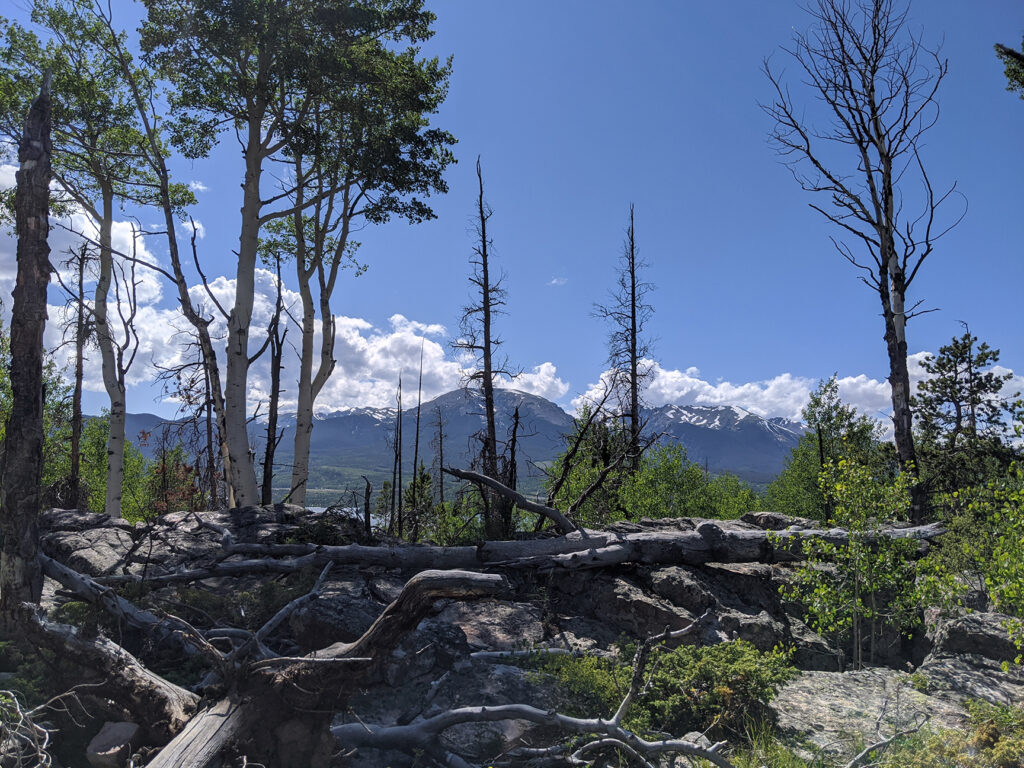 The trail also perched above the gleaming Dillon Reservoir, which on this sunny and lightly breezy day, felt peaceful and calm. I could almost pick out our spot at the campground below. I paused in the shade a while to appreciate the gorgeous weather and a moment of actual solitude.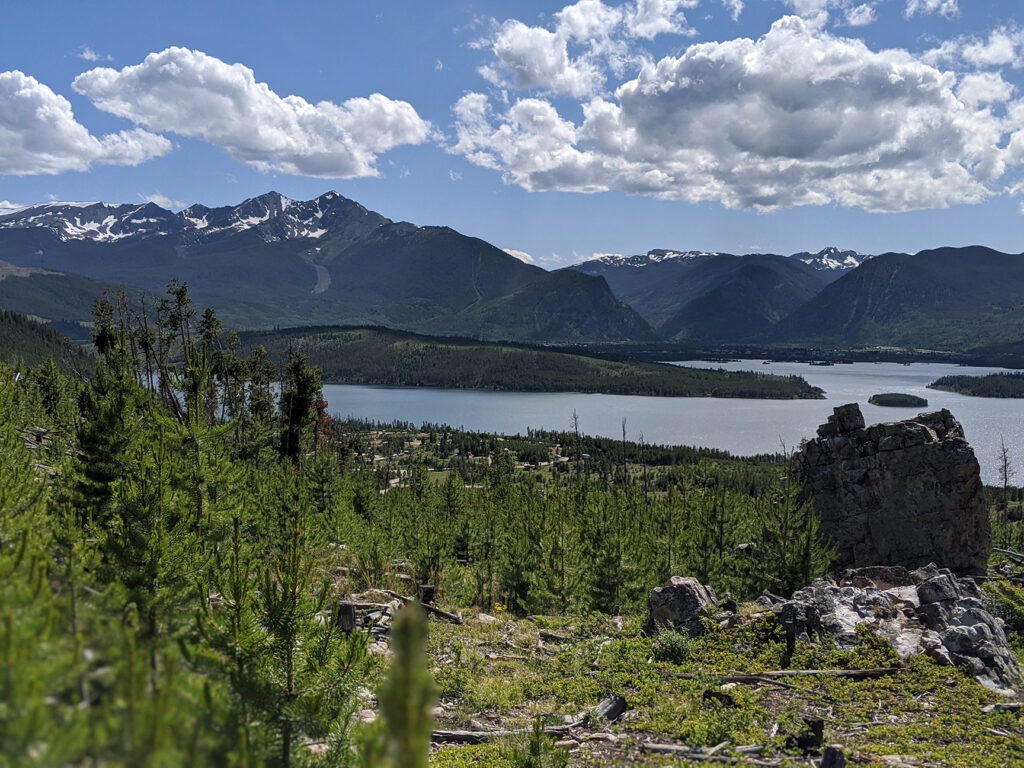 Eventually, I headed back to camp to read my book by the campfire. Might I recommend Doctor Sleep by Stephen King? Apropos for the mountains of Colorado, no? Cody stirred awake a while later.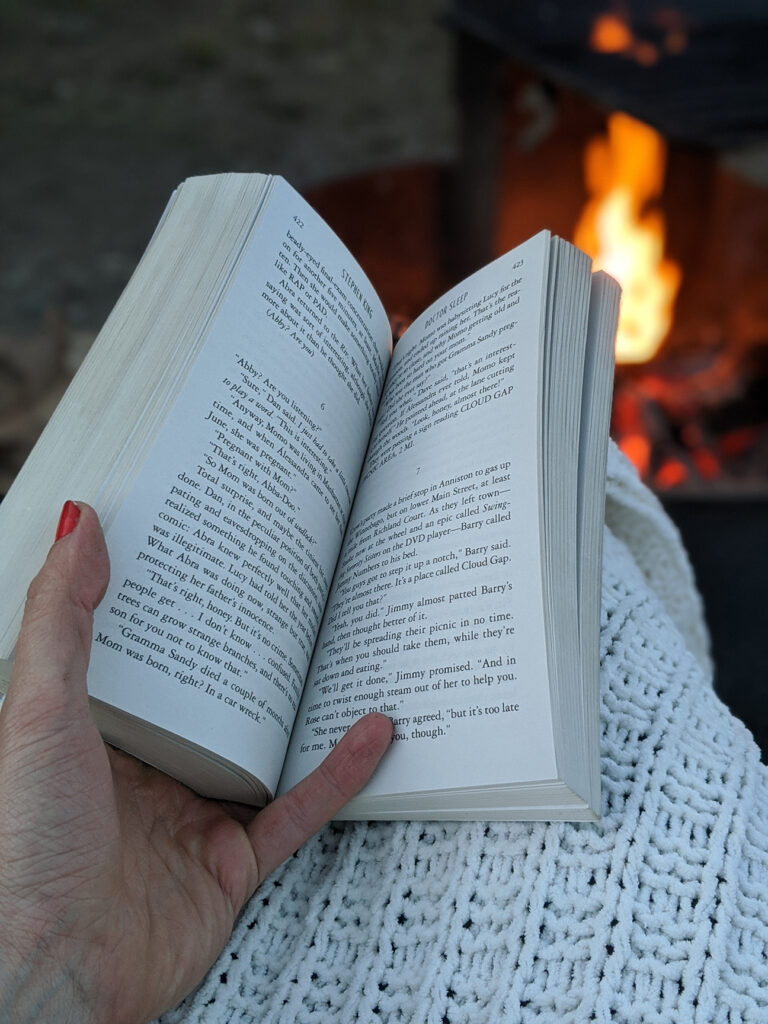 We grilled up vegetarian tamales, which I served with a black bean quinoa salad that I had prepared back in Kansas City. It was incredibly filling stick-to-your-ribs food. We couldn't even finish it all! The tamales were a gift from my wonderful friend Lauren from a Kansas City locally-owned shop called Three Bees Pottery & Coffee, where they also sell Talavera pottery from Jalisco in Mexico.
You should have seen Cody and I science up some perfectly flaky campfire buttermilk biscuits, cooked beautifully in the cast iron with a MacGyver foil pan hack job. We drizzled warm, melted butter over the slightly smoked bread, then sprinkled cinnamon and sugar for an adult version of the campfire "brown bears" we made as kids on our grandparents' farm, just south of Butler in Western Missouri. (Check out my Grand Dad's work as a cartoonist at this link.)
Holy hell, it was cold on night three. Nothing hard about getting motivated to break camp and get outta Dodge when your buns are freezing. I awoke before sunrise and immediately took to tending the fire. Thankfully, buried under the ashes of last night's fire a few coals were still smoking lightly. I started the potatoes cooking while I began breaking down the campsite.
I was sad to be leaving the beautiful views, the perfect (daytime) weather, good hiking, fresh air, and near-complete disconnection from day-to-day responsibilities. But by day four, the desire for a shower and a real bed is just too strong, and it calls us home.