Bryce Canyon in southern Utah is the last of the four national parks I visited on this road trip. (Prior parks: Capitol Reef National Park in Utah, Black Canyon of the Gunnison National Park in Colorado, and Rocky Mountain National Park in Colorado.) At this stage, I am equal parts exhausted, in awe of what I'm seeing, tempted to stay here forever, and sad my trip is near over.
But Bryce Canyon is nothing if not a grand finale, showcasing some of the most magical of America's enormous beauty.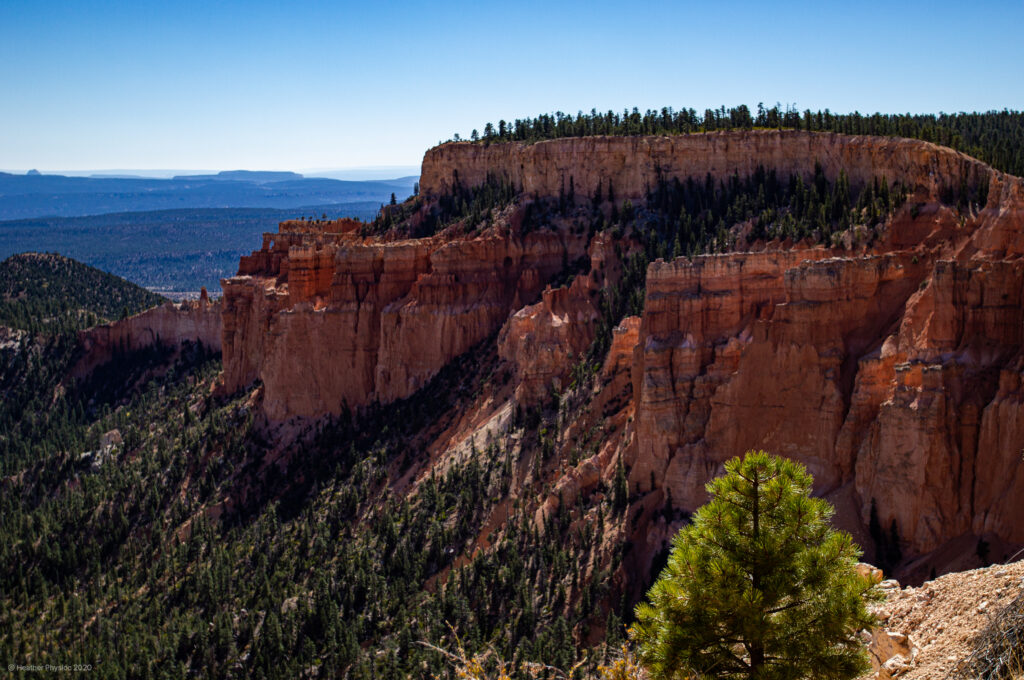 Geologic History of Bryce Canyon
Bryce Canyon has not always been a crumbly, dry, red series of exposed canyon wall – some 55 million to 40 million years ago this entire place was filled with water. It was a system of lakes into which river deposited limestone sediment, surrounded by mountains.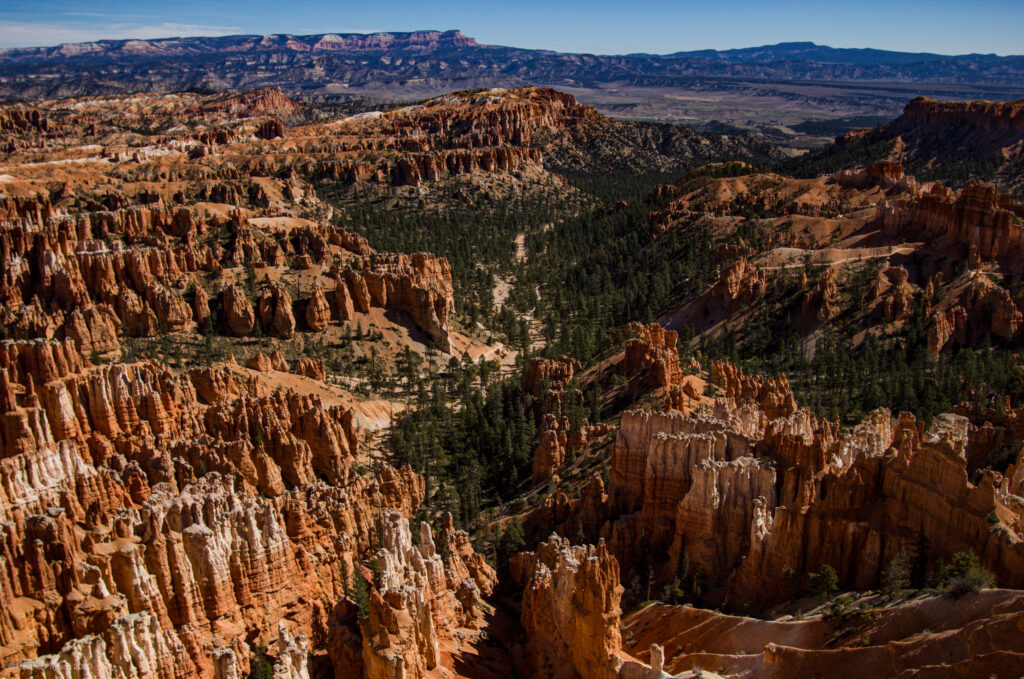 Bryce Canyon is best known for its enormous volume of spire-shaped hoodoos, the largest concentration of them on earth. These strangely sculpted hoodoo formations result from a combination of gravity, flowing meltwater, and rapidly changing temperatures.
The grooves form when snow and ice melt expand and contract as the temperatures swing wildly from nighttimes below freezing to full daytime sunlight. The gravity and meltwater come into play when stone fragments move downhill through "soil creep," followed by dissolved limestone into moving clay, washed down the spires in summer thunderstorms.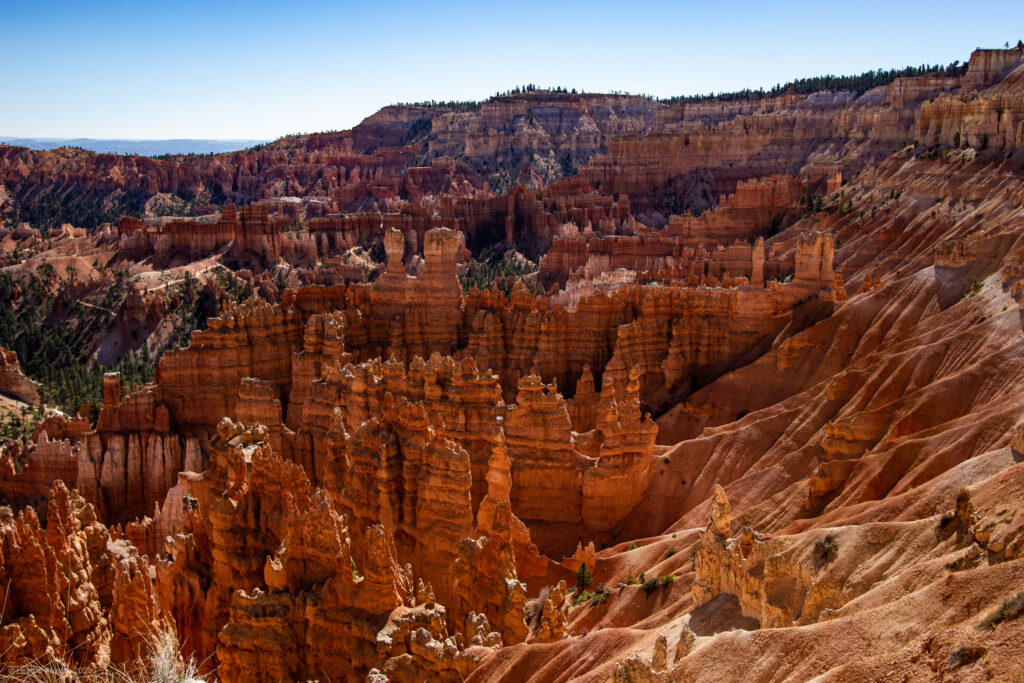 Every step exposes a different combination and vantage point of canyon fins, assemblages of hoodoos, and windows in the canyon walls that later collapse their tops and give way to columns.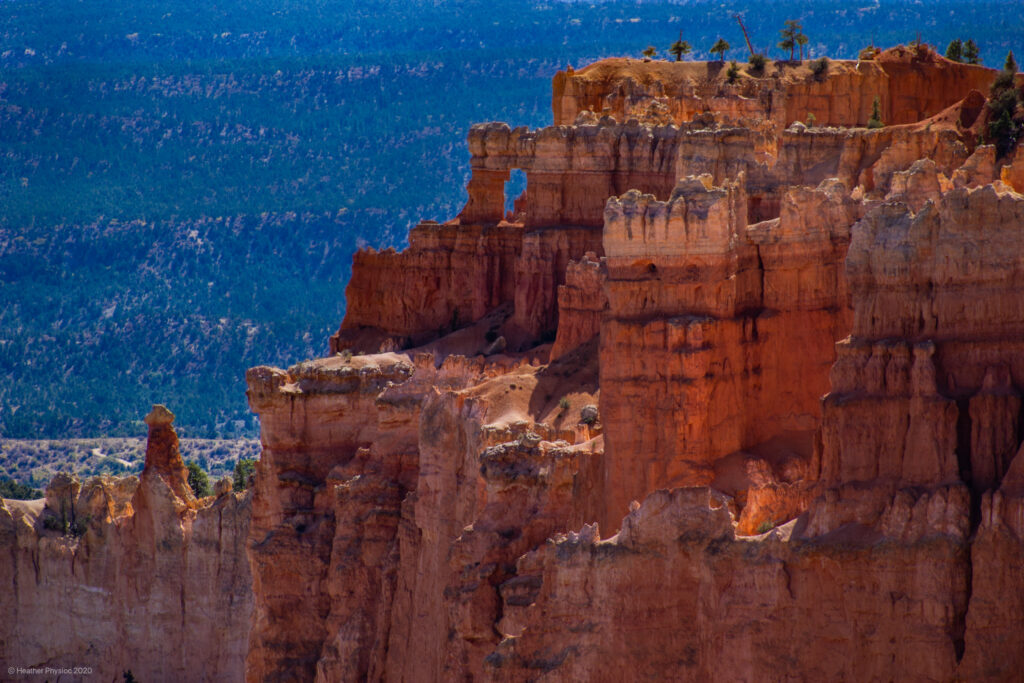 The Highest Point of the Grand Staircase
The park is part of the grand staircase that stretches from the Grand Canyon at the bottom, through Zion Canyon in the middle, to Bryce Canyon at the top. The views are composed of aptly named, colorful flavors of cliffs from Chocolate to Vermillion to Gray and White, to the Pink Cliffs at Bryce Canyon.
There are about 60 miles of trail available to hikers in Bryce Canyon National Park. For this trip, I mainly stuck to the 18-mile main road. I peeled off periodically for short hikes, like the paved Sunrise Point to Sunset Point Trail and some of its extension, the one-mile Bristlecone Loop, and pieces and parts of various other trails that caught my eye in the moment.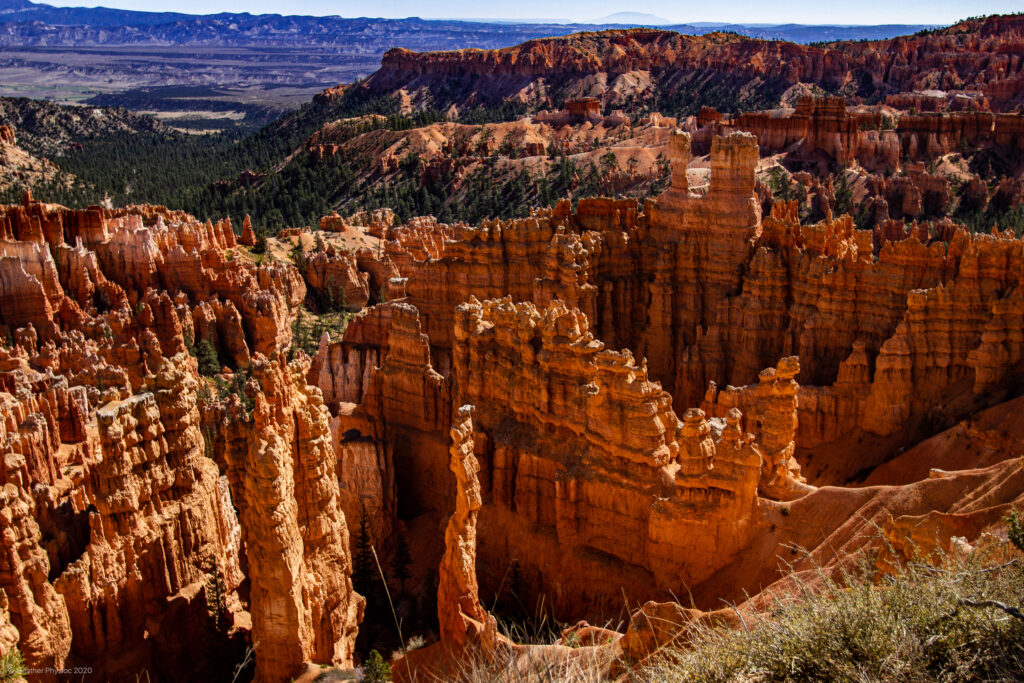 Bryce Canyon makes up the eastern rim of the high plateau atop Utah's Grand Staircase. The highest points are the southern part of the park, topping out over 9,000 feet in elevation. I dipped below the canyon's edge a few times. Each step below the rim amplified my hunger to hike more extensively in the backcountry far below.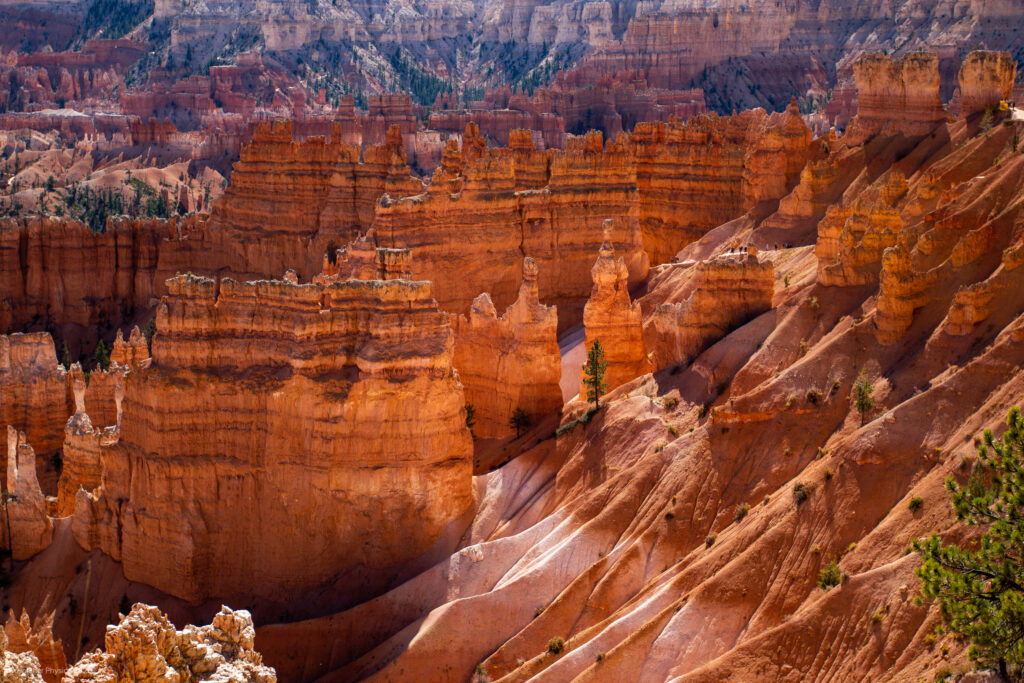 Sky Sanctuary
Bryce Canyon's night sky sanctuary status makes it a particularly special place for stargazers. In fact, its uninterrupted sky and lack of light pollution make it the perfect destination for the Annual Astronomy Festival hosted here.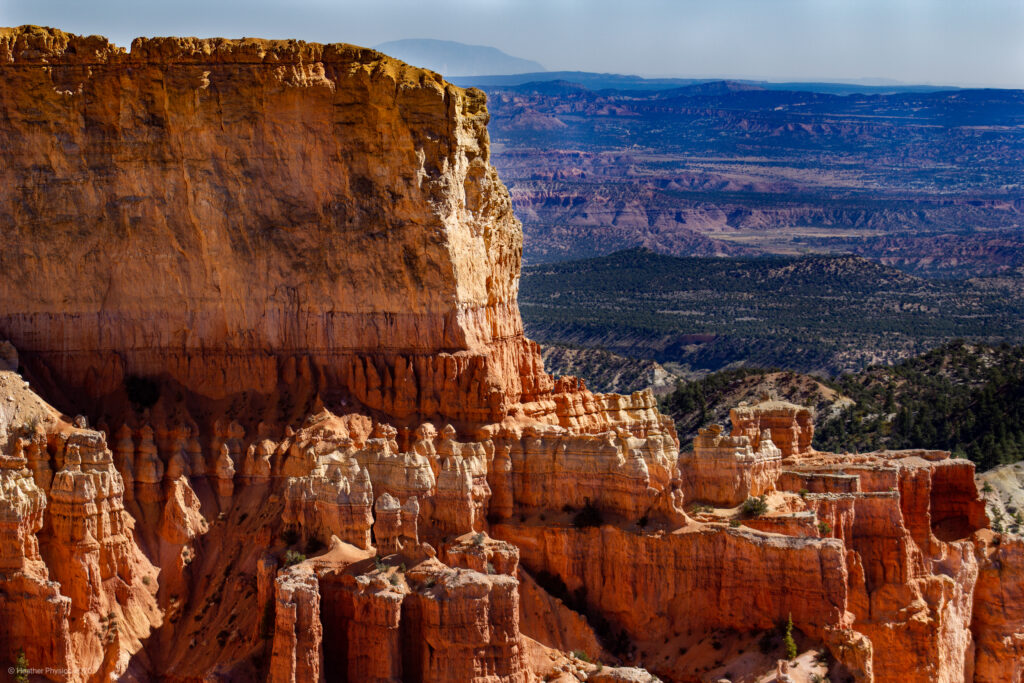 I cannot express the strangeness of this otherworldly terrain, so I hope the photos capture even a fragment of this phenomenon. I have never seen anything like these formations before, especially not in the sheer volume and concentration seen before me. It almost feels like an optical illusion. At once it seems as random as thousands of pieces of hand-crafted clay pottery, each one-of-a-kind, and uniform with regimented symmetries and predictable angles.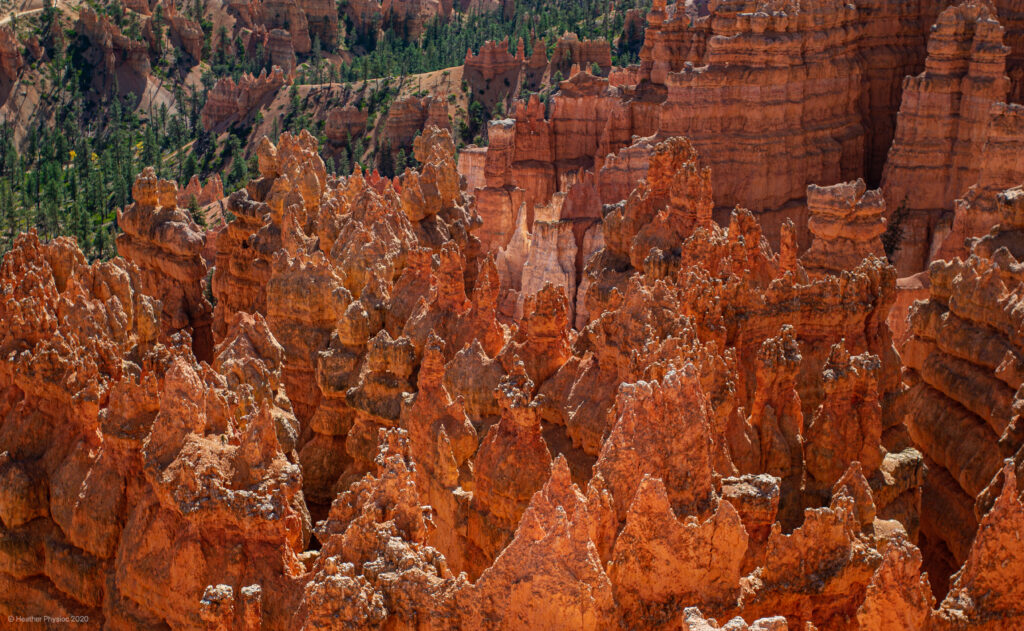 To see and photograph this eroding, shifting terrain in winter when it has been dusted with fresh snow would be a dream. To explore the backcountry, and hike and camp below the rim, is absolutely on my short list. You can count on my future attendance at the Astronomy Festival, and a return to attempt night sky photography in this incredible landscape.