Boston, Massachusetts. One of the nation's oldest cities. Pivotal place in the American Revolution. 2018 World Series champions. Destination of our short business trip to visit a new client.
My colleagues Dan, Lauren and Keyaira had some down time before the meetings kicked up and wanted to see some of downtown Boston. Here's how we spent our time.
Copley Hotel
We stayed at the Copley Square Hotel in downtown Boston. The rooms are nice and comfortable, but no-frills on the amenities. A few of us had some thermostat trouble in our rooms, but overall we had a nice stay. Their lavender peppermint lotion is A+ in my books.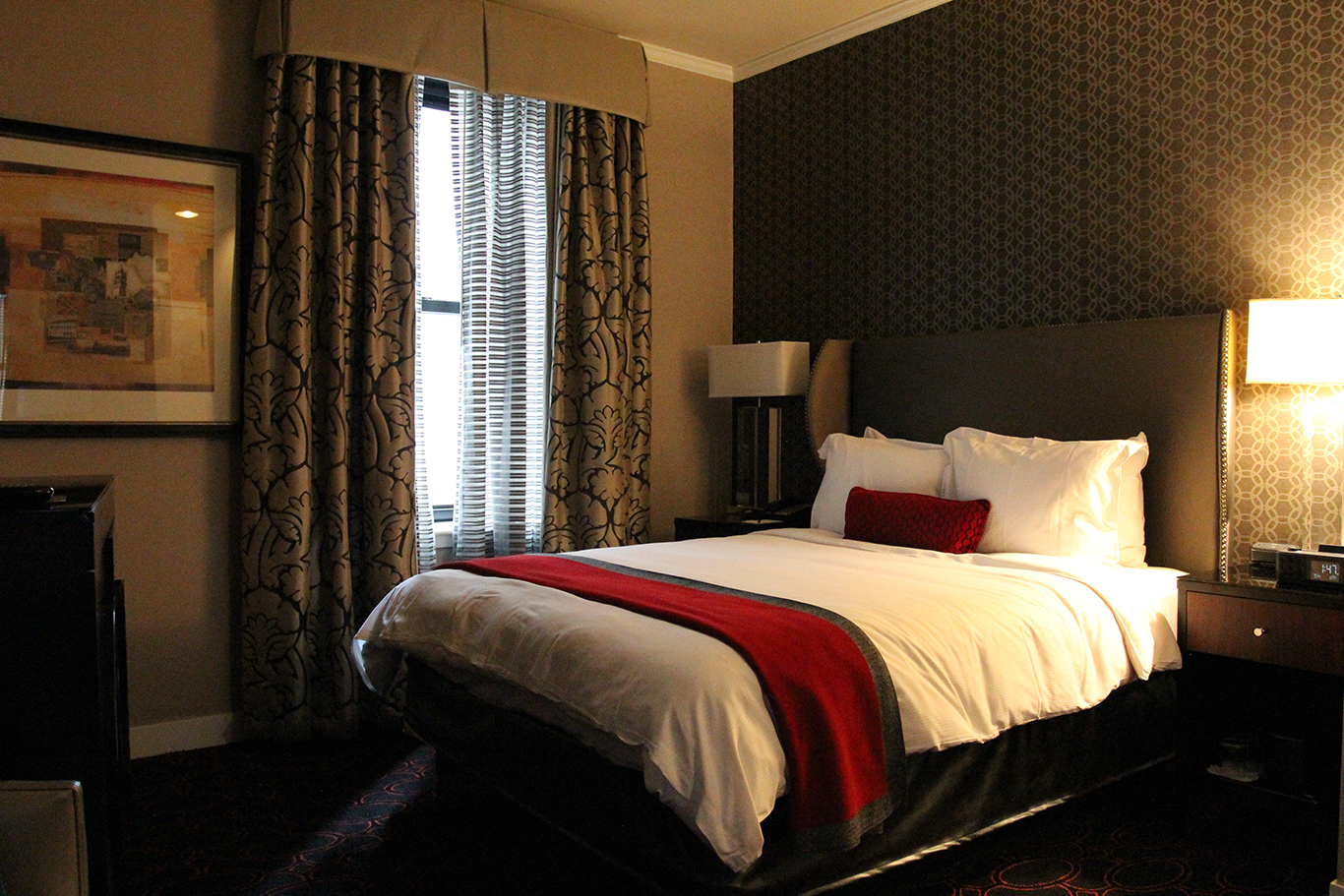 Easy access to the newspaper, coffee, tea and a granola bar each morning. A decent workspace for us to collaborate at night before the client meetings. Easy access to coffee shops, restaurants and other sites around downtown Boston. It was a good HQ to come back to.
Atlantic Fish
There is no shortage of great seafood in Boston. After dropping our stuff off at the hotel, we were all more than ready for lunch and headed to Atlantic Fish.
Check out this gorgeous autumn planter – I love the colors, texture and depth. I noticed a lot of planters around Back Bay using purple and green ornamental kale and I'm so in love.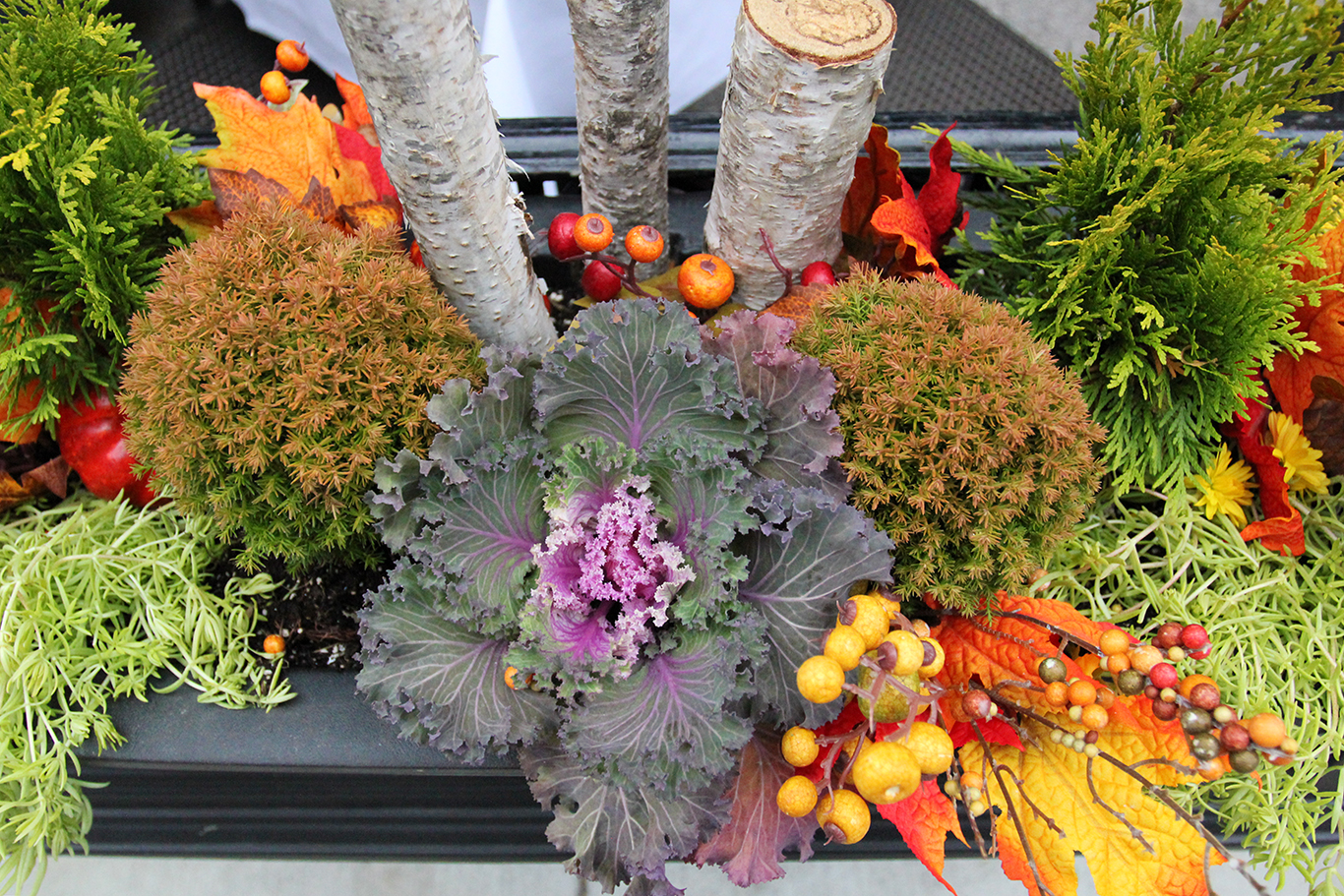 After destroying a basket full of bread and some crab artichoke dip, I went hard on the hot buttered lobster roll out of the gate. Loved the crisp they were able to get on the toasted bun.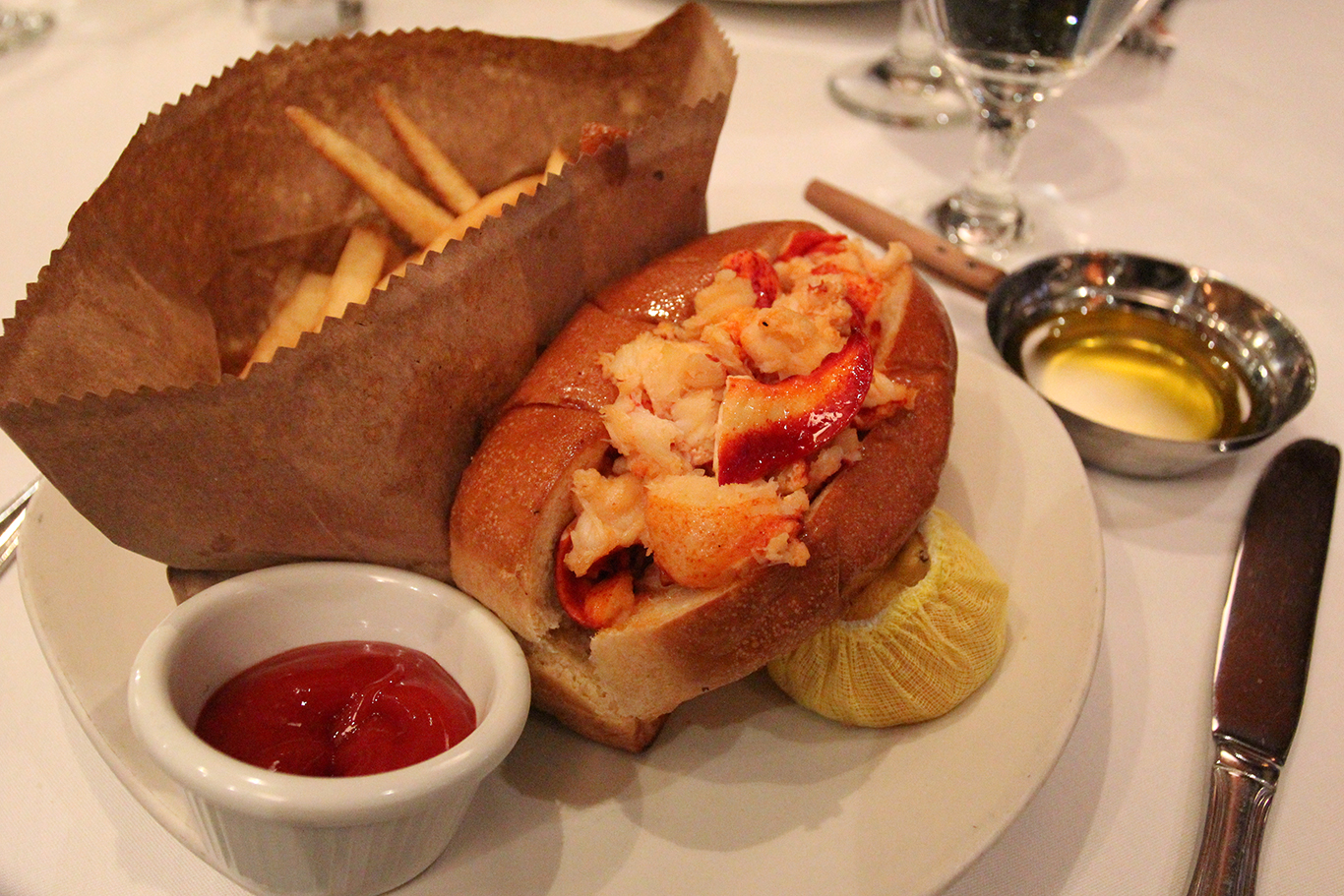 Jaho Coffee Roasters
After a long day of travel and a huge meal, we all needed a pick-me-up, so we headed to Jaho Coffee Roasters. It was a very hip and trendy coffee shop in the Back Bay area. Jasmine hot tea for me this late in the afternoon.
Boston Common & Boston Public Garden
Hat tip to Lauren who suggested we do some leaf-peeping at Boston Common and Boston Public Garden.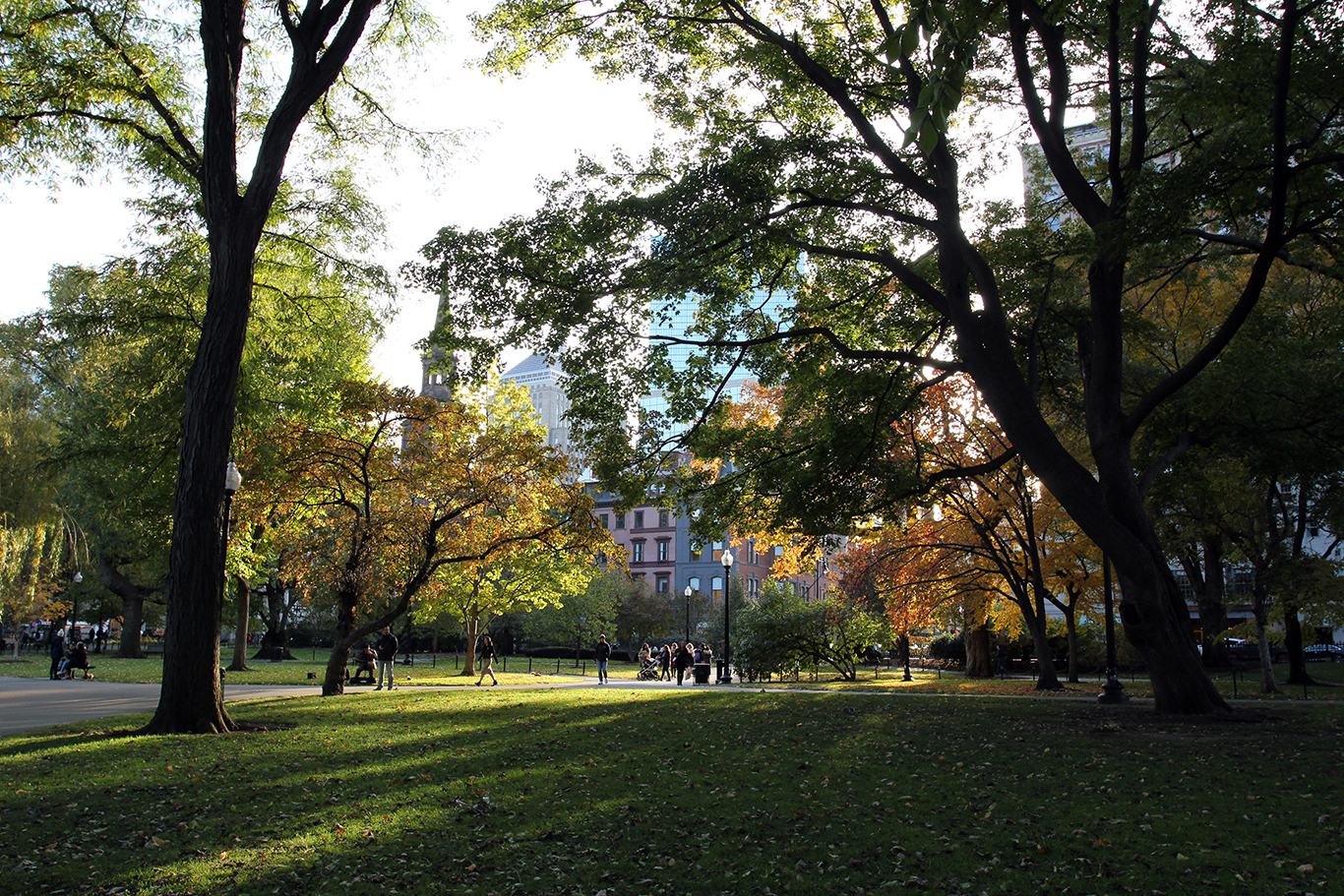 It was a popular spot with lots of walkways, trees and open space set against the backdrop of the buildings of downtown Boston.
The two adjoined parks were founded some 200 years apart. Founded in the 1630s, Boston Common is apparently America's first public park, and in the 1830s, Boston Public Garden became America's first botanical garden.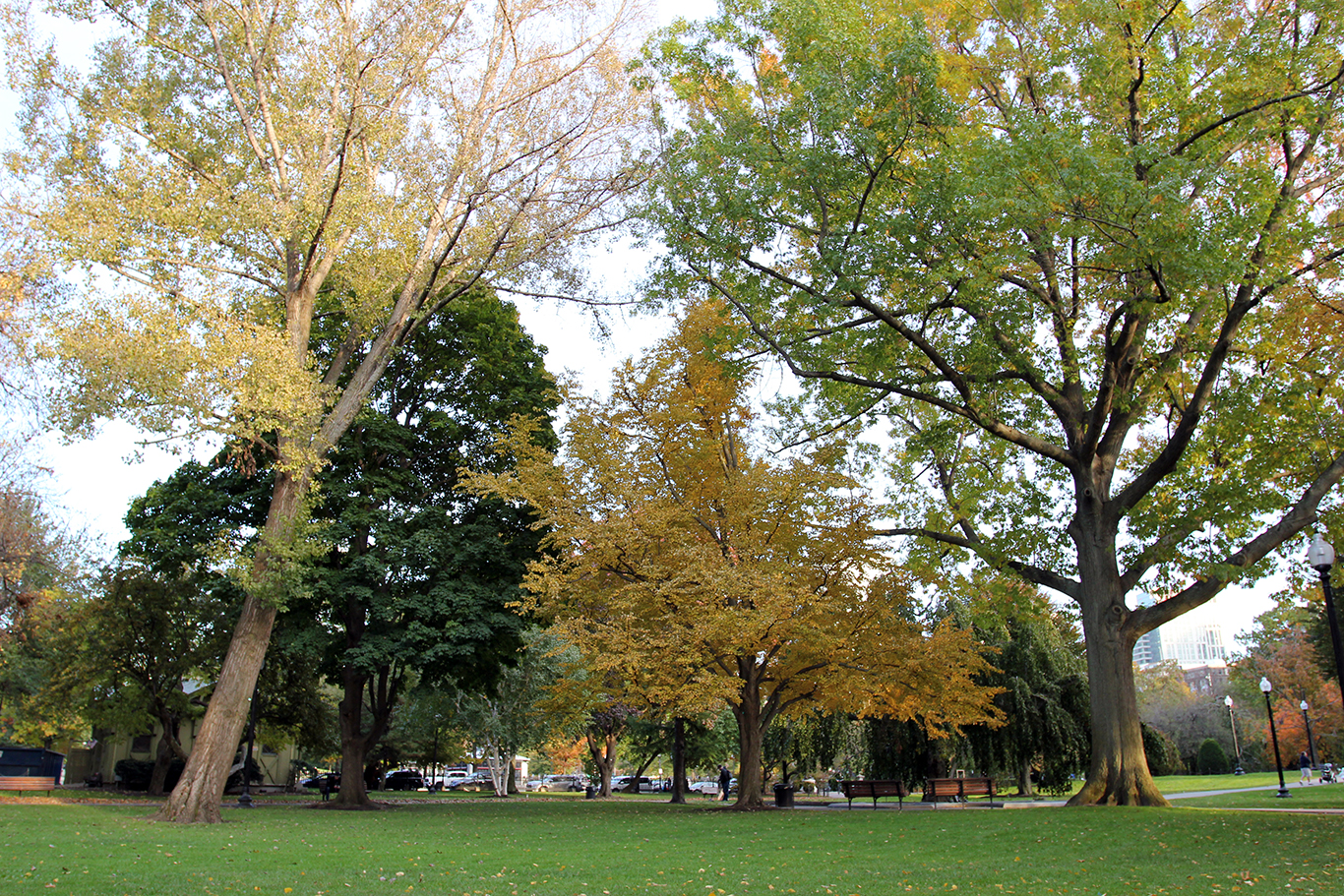 We saw the fattest squirrels on earth. Apparently these obese rodents are becoming a tourist attraction in themselves. One even tried to climb Dan's leg when it thought he had food, and left Lauren in tears she was laughing so hard.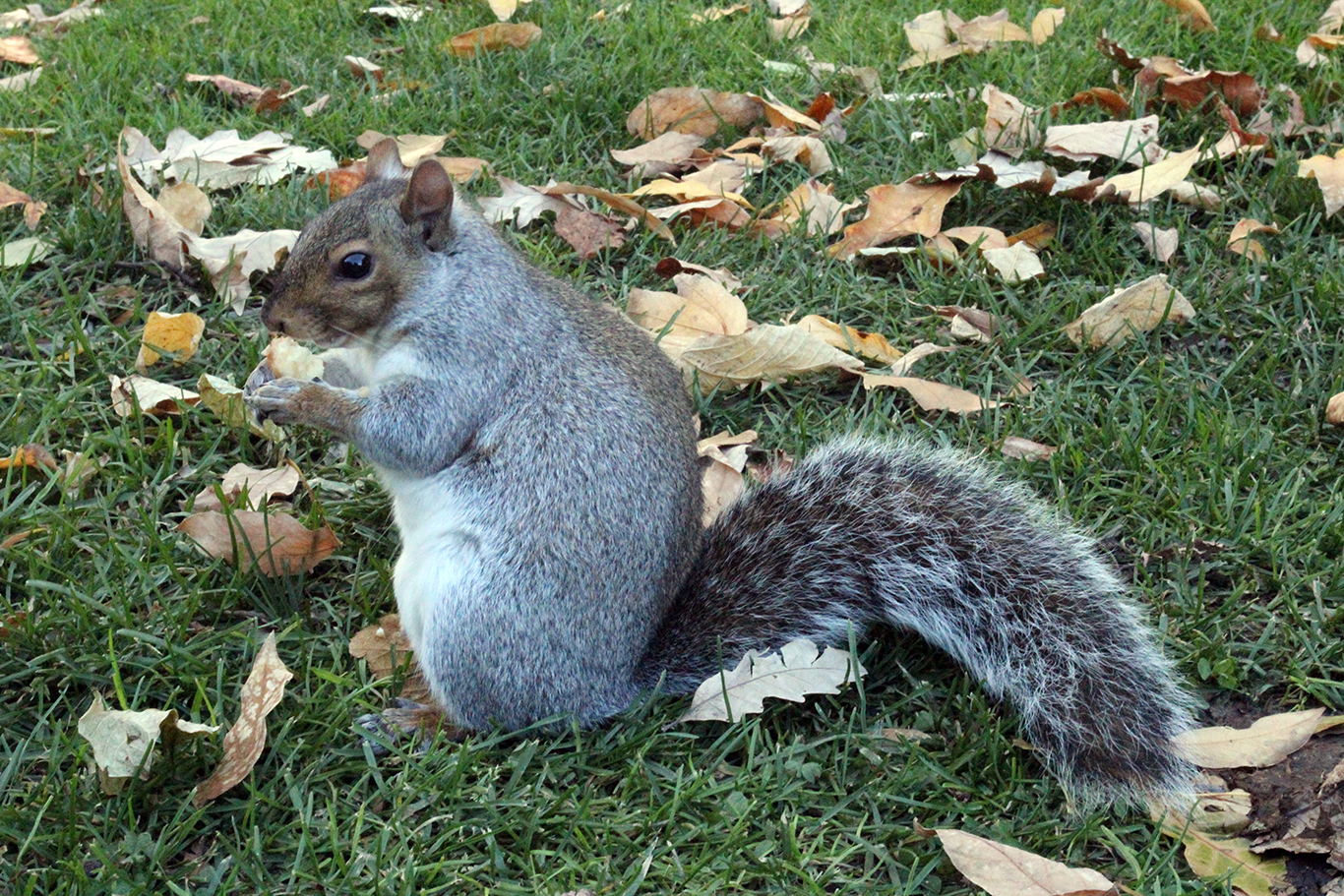 The squirrels aren't the only ones fine dining at Boston Common. There was a pond with numerous ducks and geese looking for their next meal.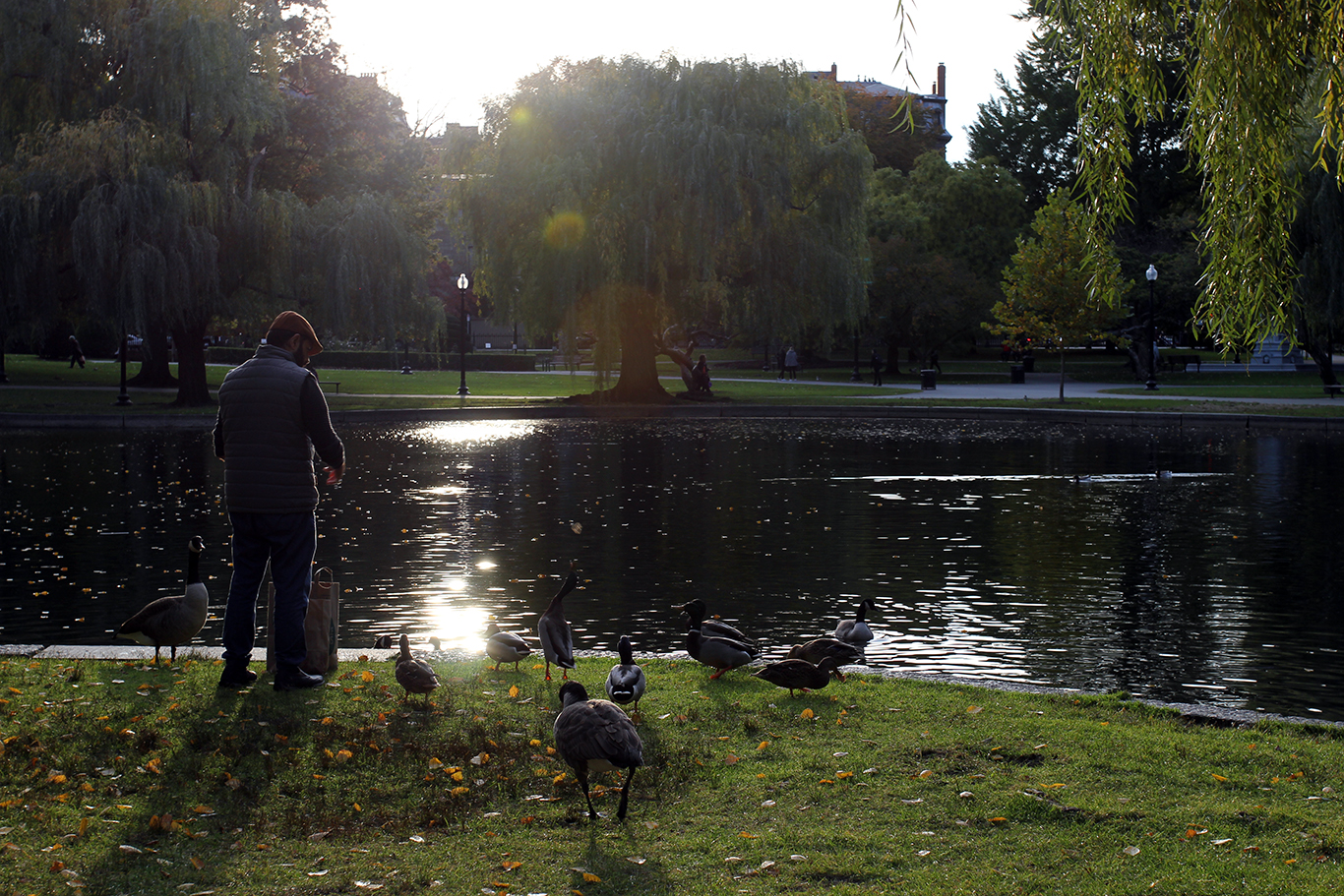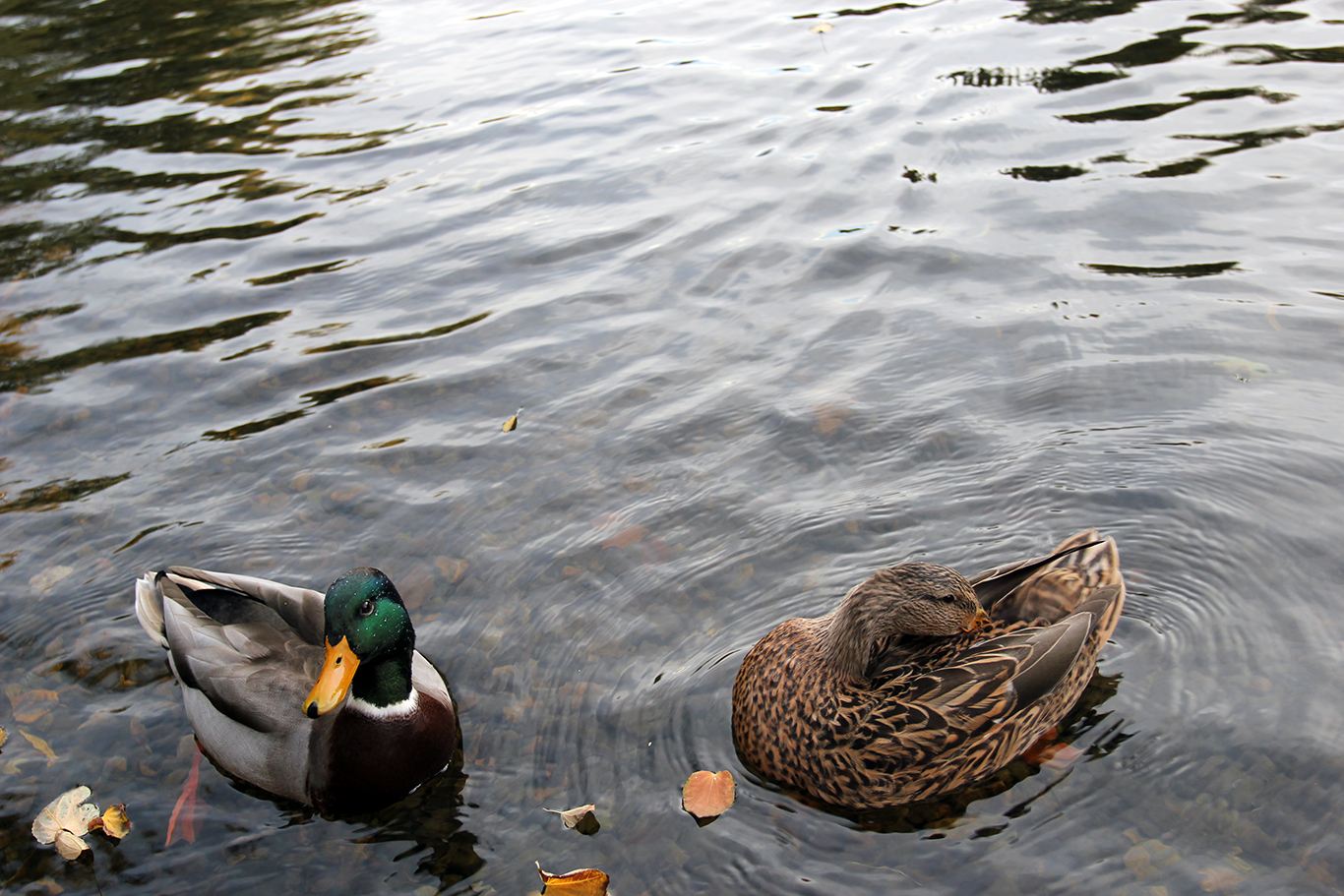 A few more photos from around Boston Common – live music in the park, manicured hedges in a rose garden winding down for the season, the bridge overlooking the pond.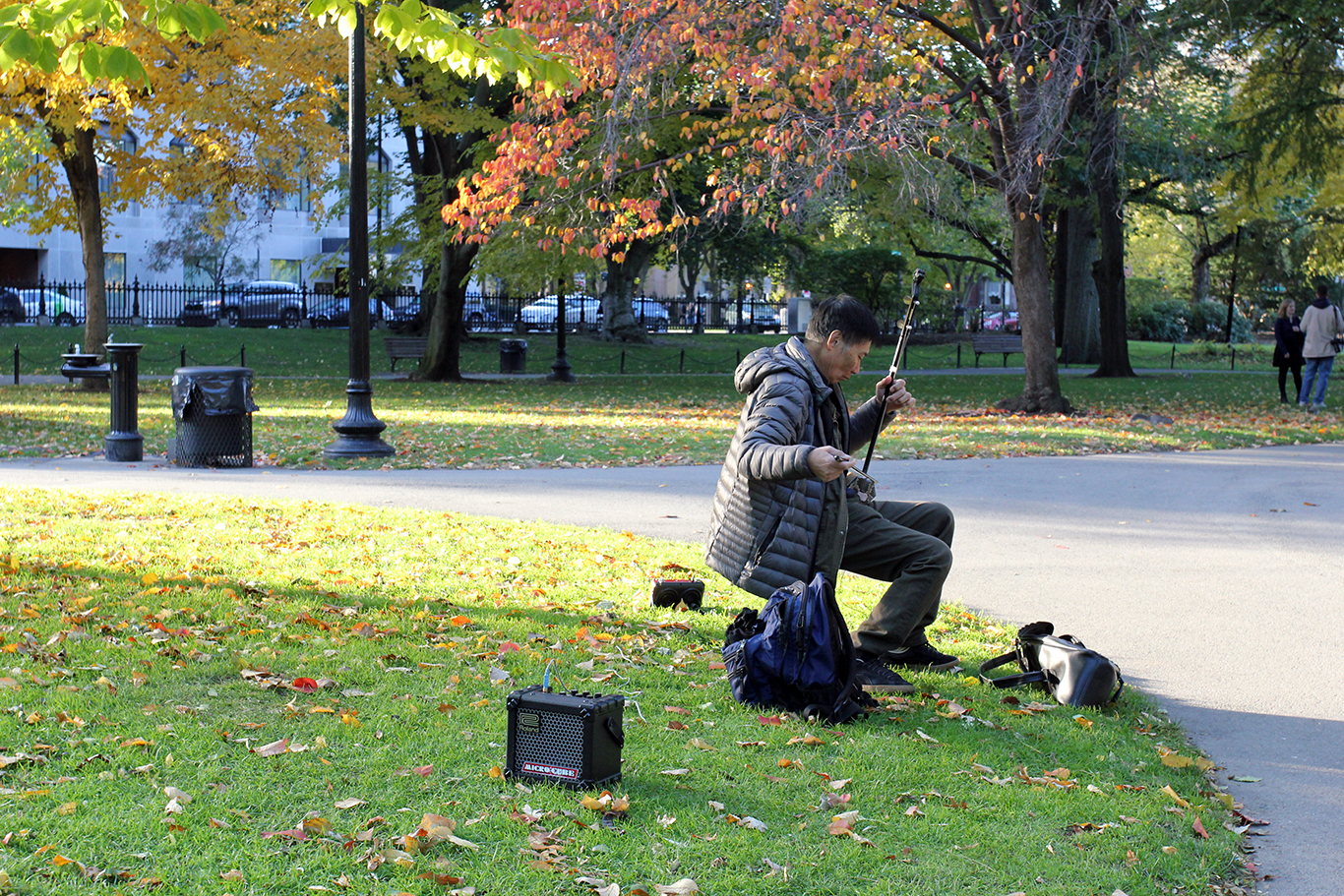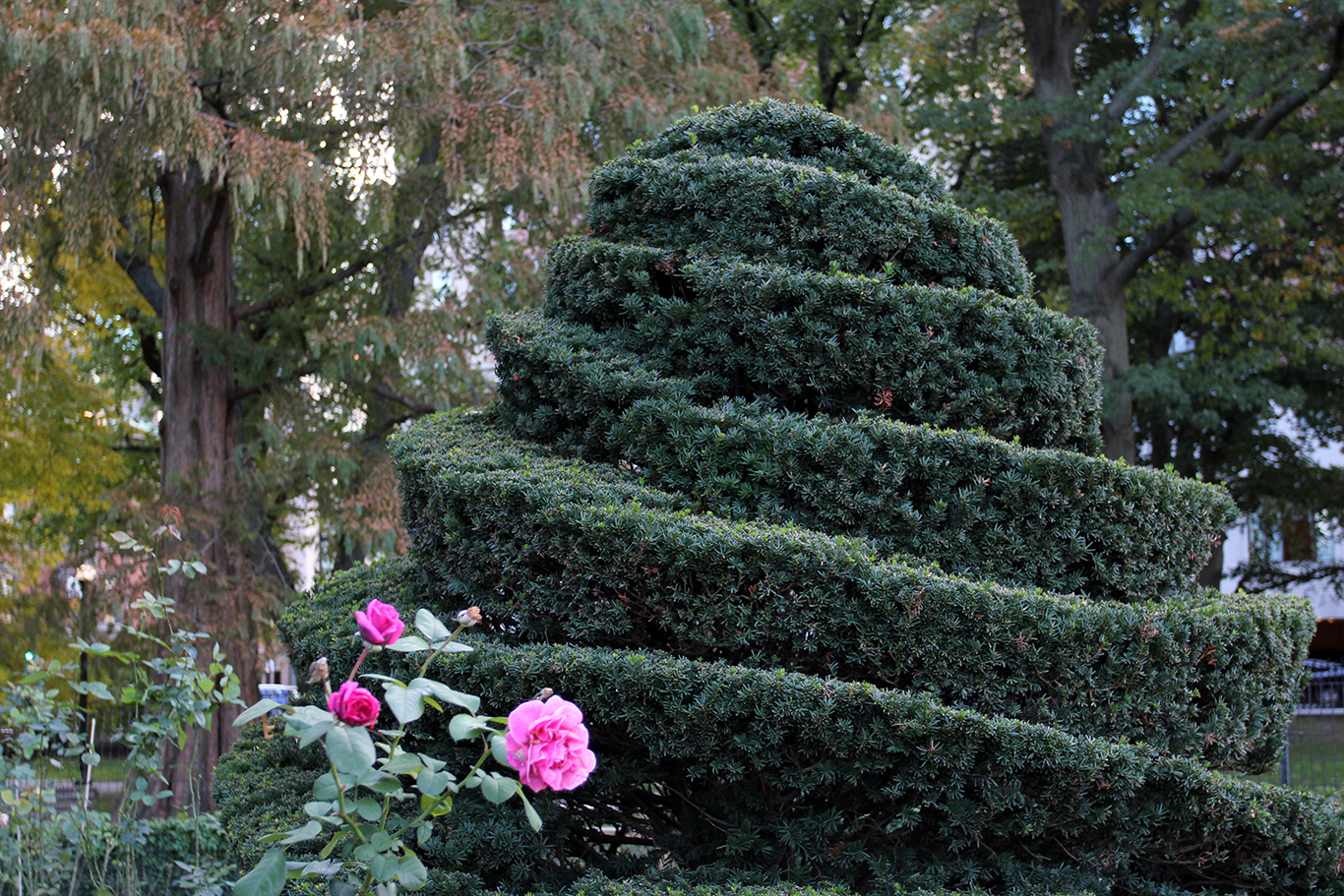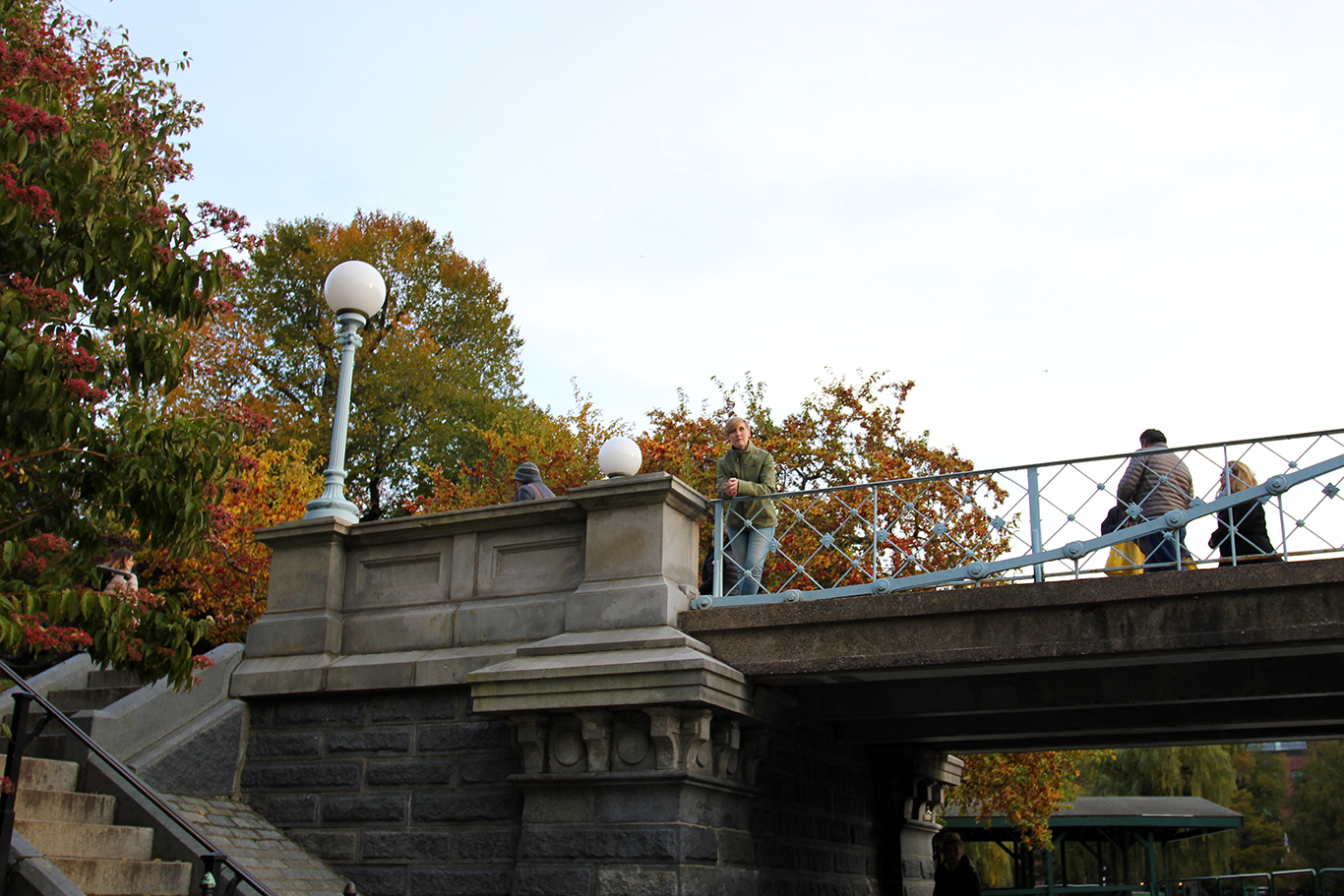 Commonwealth Avenue Mall
Hat tip to Keyaira who brought up the idea of walking from Boston Common to Fenway park, about a mile and a half through the Commonwealth Avenue Mall. With the autumn foliage and falling leaves in cool weather it was just beautiful – and great exercise after such a filling lunch.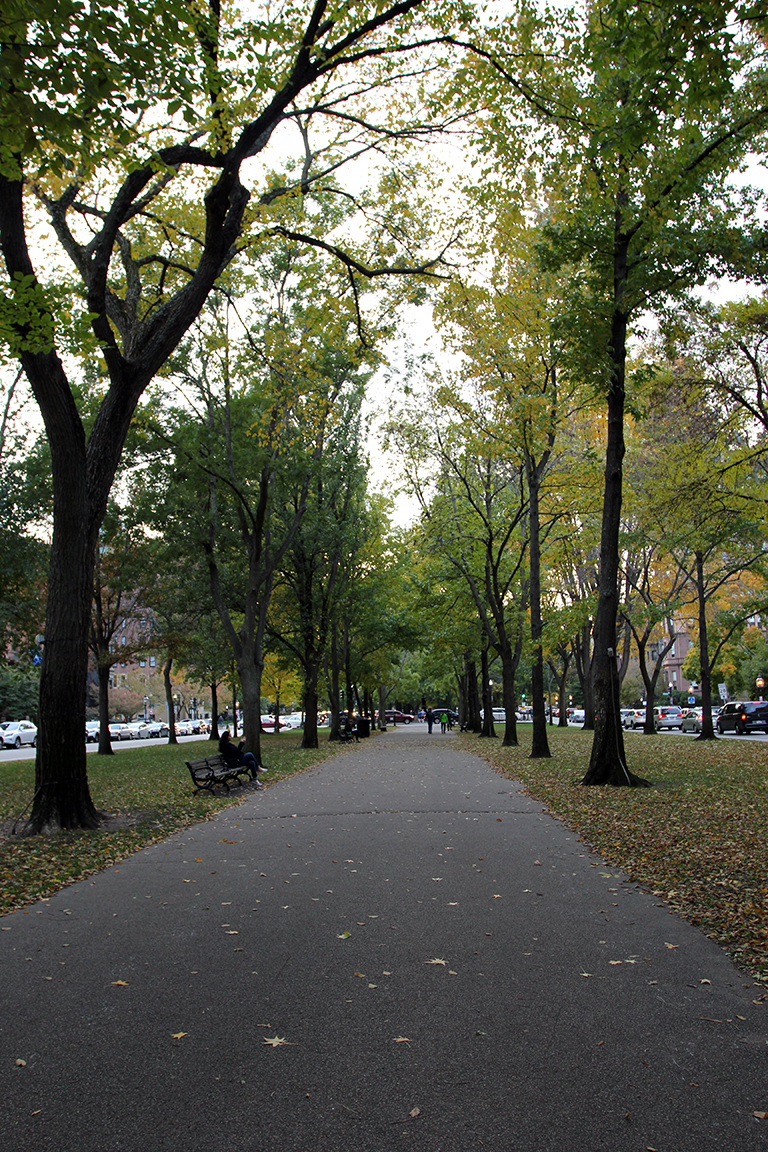 We walked just over a mile of the scenic greenway through Back Bay, which is dotted with stone monuments to Massachusetts historical icons like Alexander Hamilton, and William Lloyd Garrison. Though I didn't know anything about him until the writing of this article, my favorite statue was this one of naval historian and writer Samuel Eliot Morison.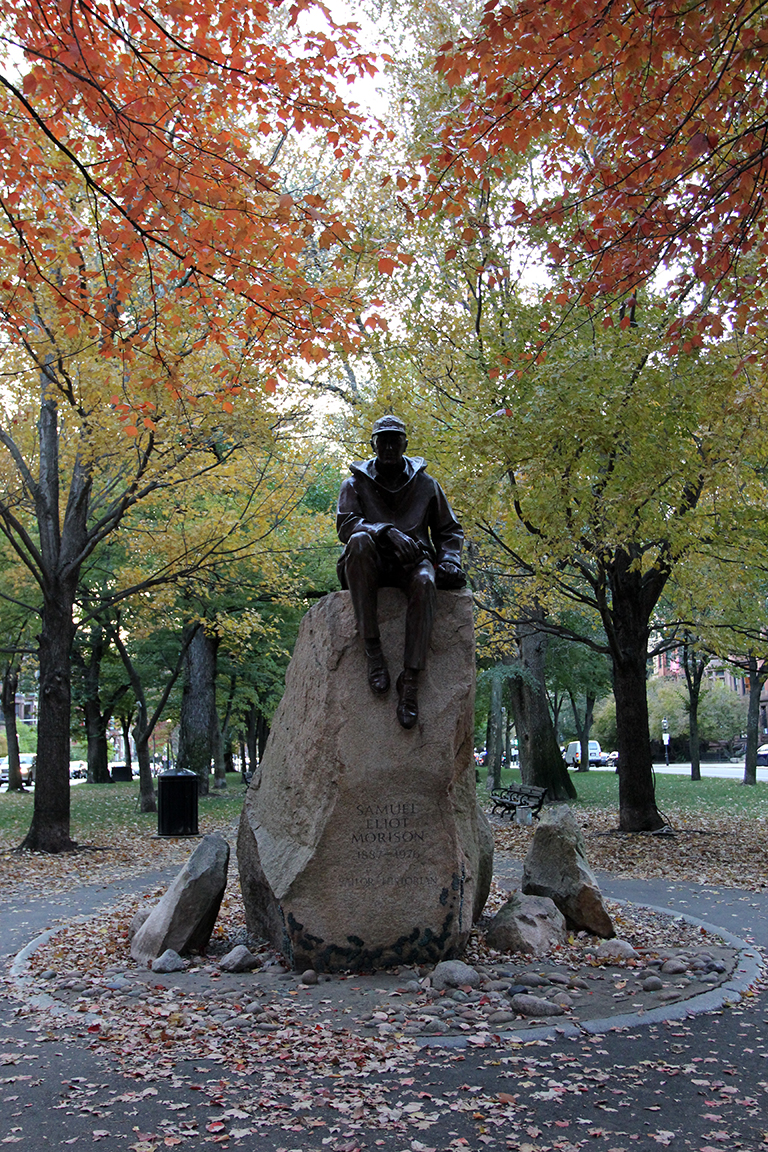 The brownstone-style homes along this walk are really remarkable to look at, and at this time of day lots of residents were out walking their dogs. I highly recommend getting some exercise and fresh air on this lovely walk.
Fenway Park
We were originally concerned about our arrival into Boston because the Red Sox just won the 2018 World Series, the parade was set for 11 a.m. on Halloween day, and our flight arrived at 1 p.m. but it turns out we had nothing to worry about. Traffic was a breeze and, aside from the occasional booze-steeped Sox fan shouting in the streets, most of the the festivities have subsided.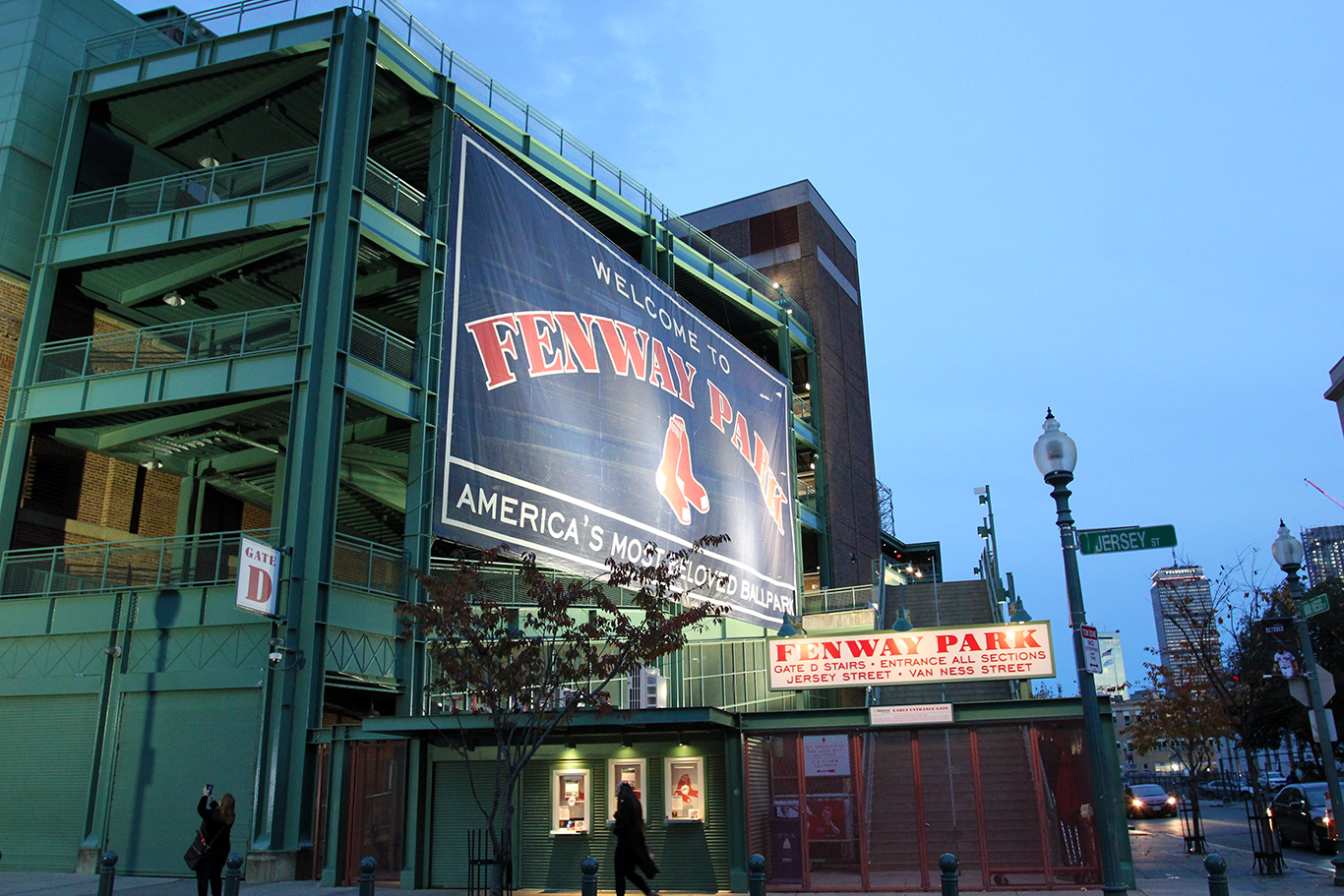 We still wanted to see one of America's most beloved baseball stadiums, Fenway Park. I only wish we could have gone inside! Next time I will try to book one of the stadium tours.
These are my teammates and travel buddies, Dan, Keyaira and Lauren looking awesome outside Fenway Park.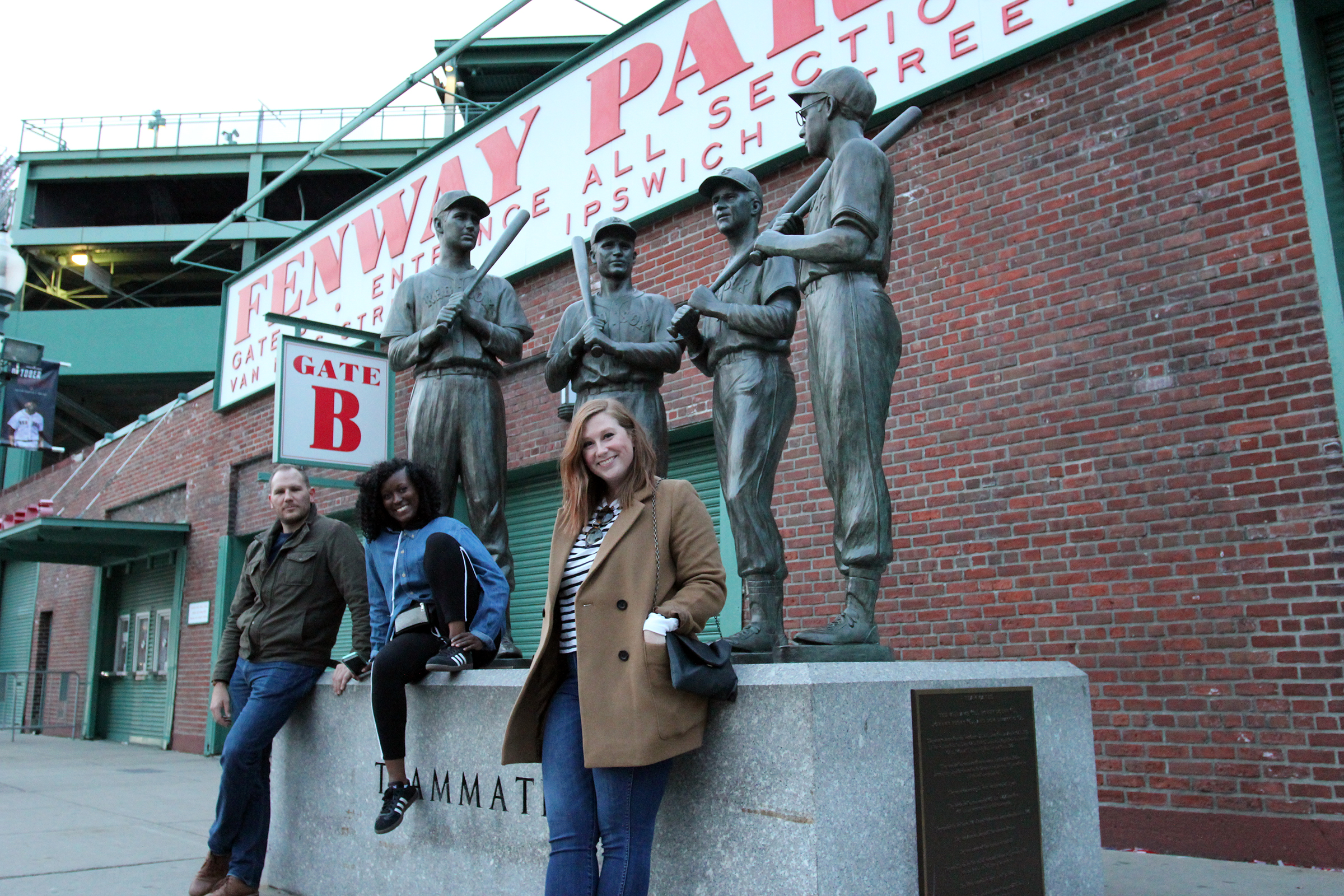 Casa Romero
We originally attempted La Lolita, but a 2-hour wait and no reservations available at normal person dinner hours for several days ruled out that option on this trip. In the mood for Mexican food still, we instead found Casa Romero a short walk away and with no wait.
Casa Romero is tucked away in a small side street in the Back Bay neighborhood. How much do you love this heavy doorway?
It kind of feels hidden away. When you get down the stairs the brightly painted walls are lined with painted masks, and the tables are lined with colorful Talavera tiles.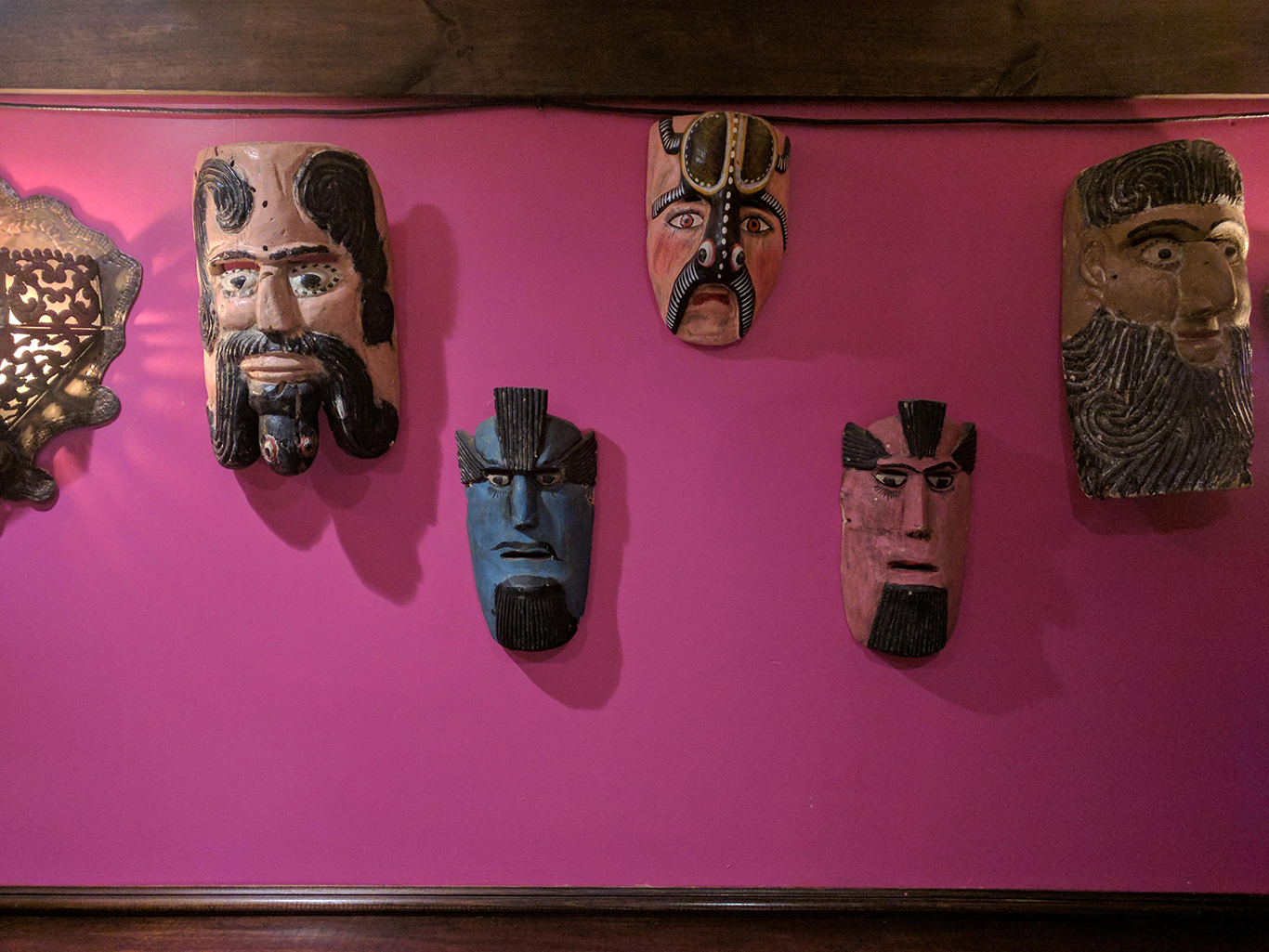 I ordered the enchiladas vegetarianas en salsa verde, stuffed with cheese and red beans and doused in green salsa with a side of red beans and cheese. I appreciated their reasonable portions, and while I craved a little more salt or heat in the dish, overall it was very tasty.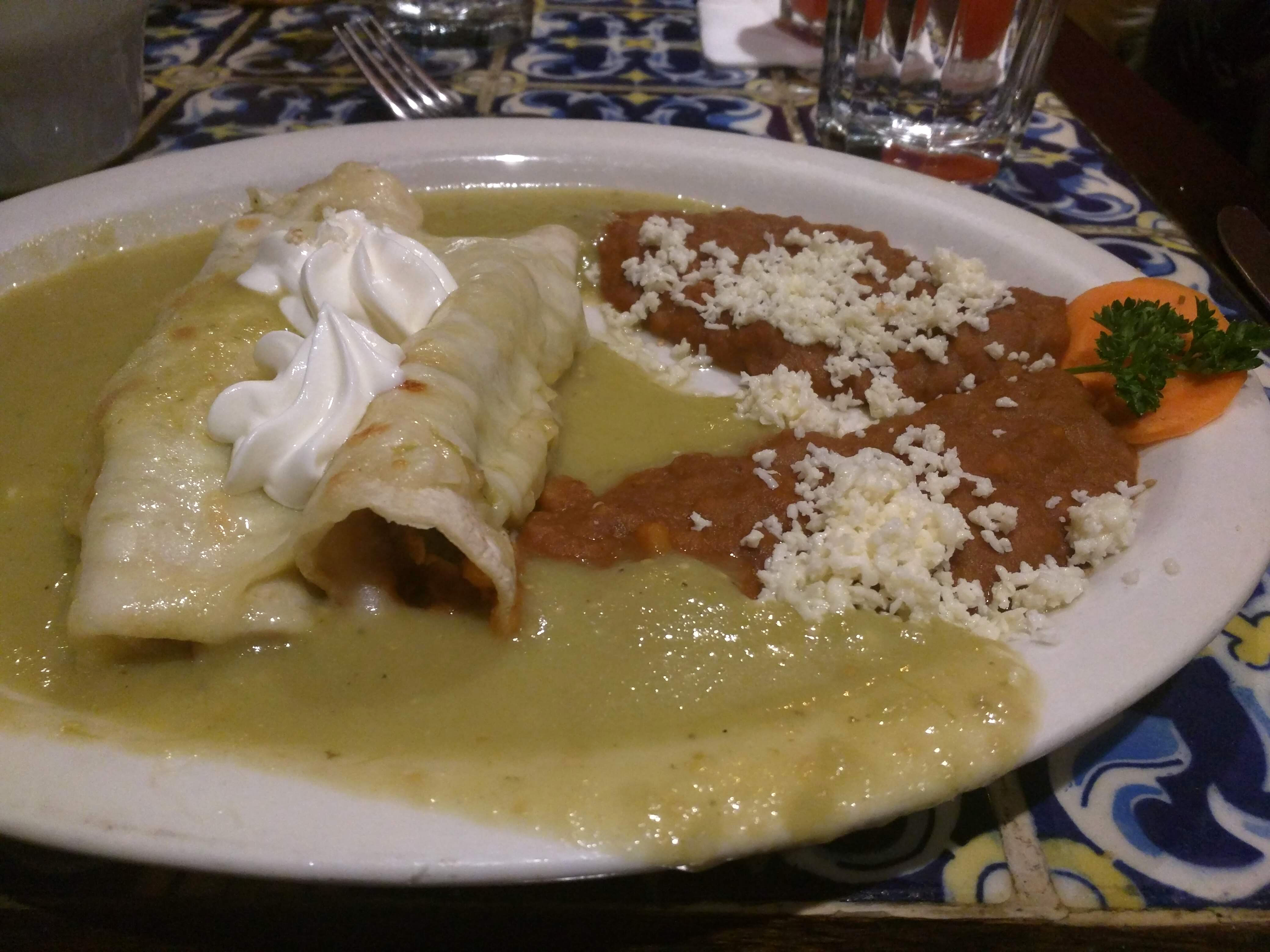 Blue on Highland
We joined our clients for dinner at one of their recommended spots, a modern American restaurant called Blue on Highland in the Needham area. We started glasses of wine and appetizers, including Sriracha shrimp and crispy calamari, but my personal favorite was the tune poke in a soy sesame sauce with seaweed salad, scallions and crispy wontons. I almost ordered the lobster roll, which looked delicious, but that would be lobster rolls three days in a row. The server said the scallops were her favorite, and I was not disappointed by their perfect sear and the side of risotto.
Modern Pastry
We had a lot of time to kill waiting for our spot in line at Neptune Oyster, so we wandered around the Little Italy part of North Boston. Our clients had a healthy debate about the merits of Modern vs. Mike's over dinner the night before, and the ultimate winner was the family-owned Italian bakery Modern.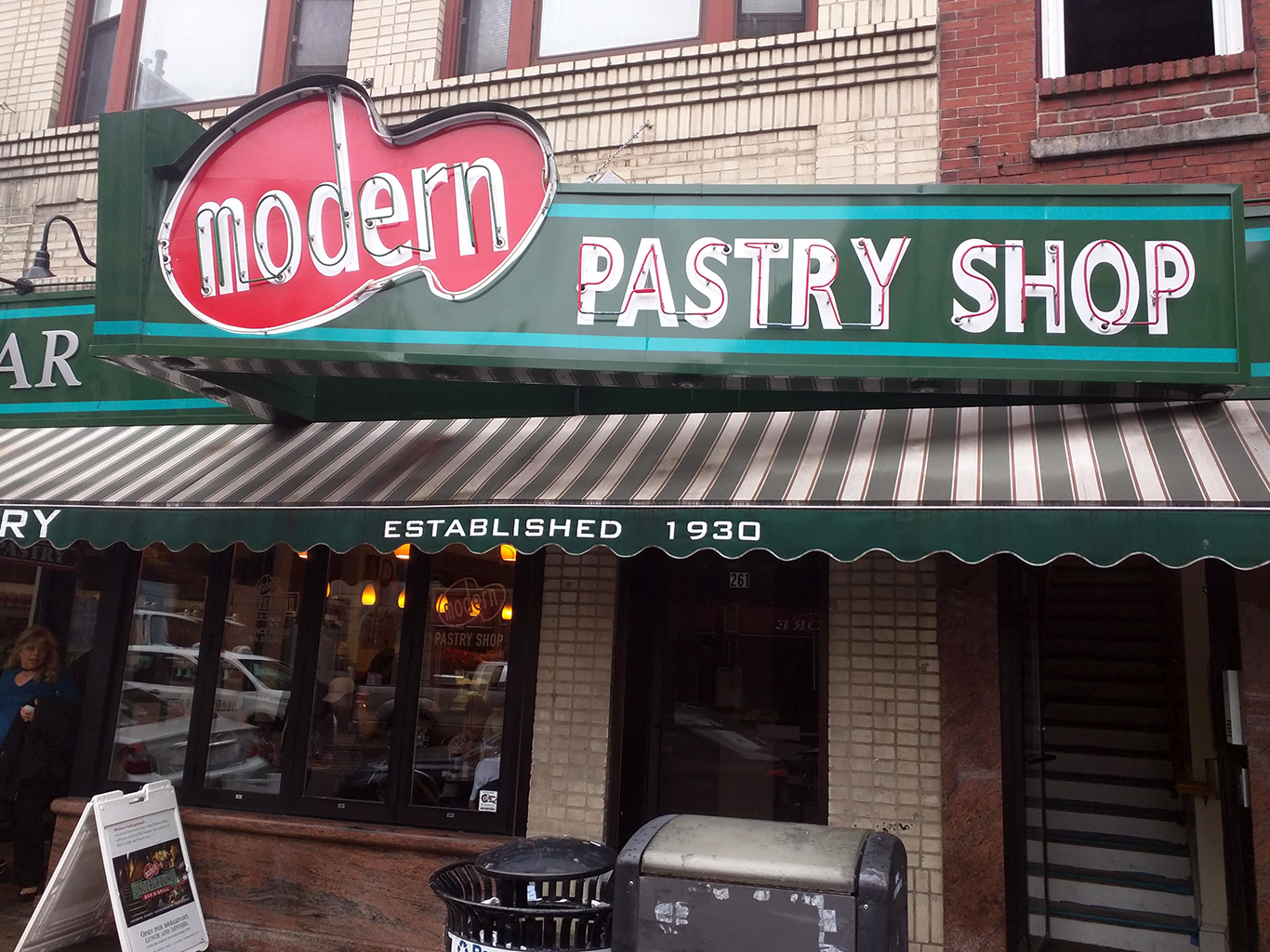 So we popped into this pastry shop and ogled at all of the cookies, candies, pastries and truffles. Alluring, decadent desserts filled the cases.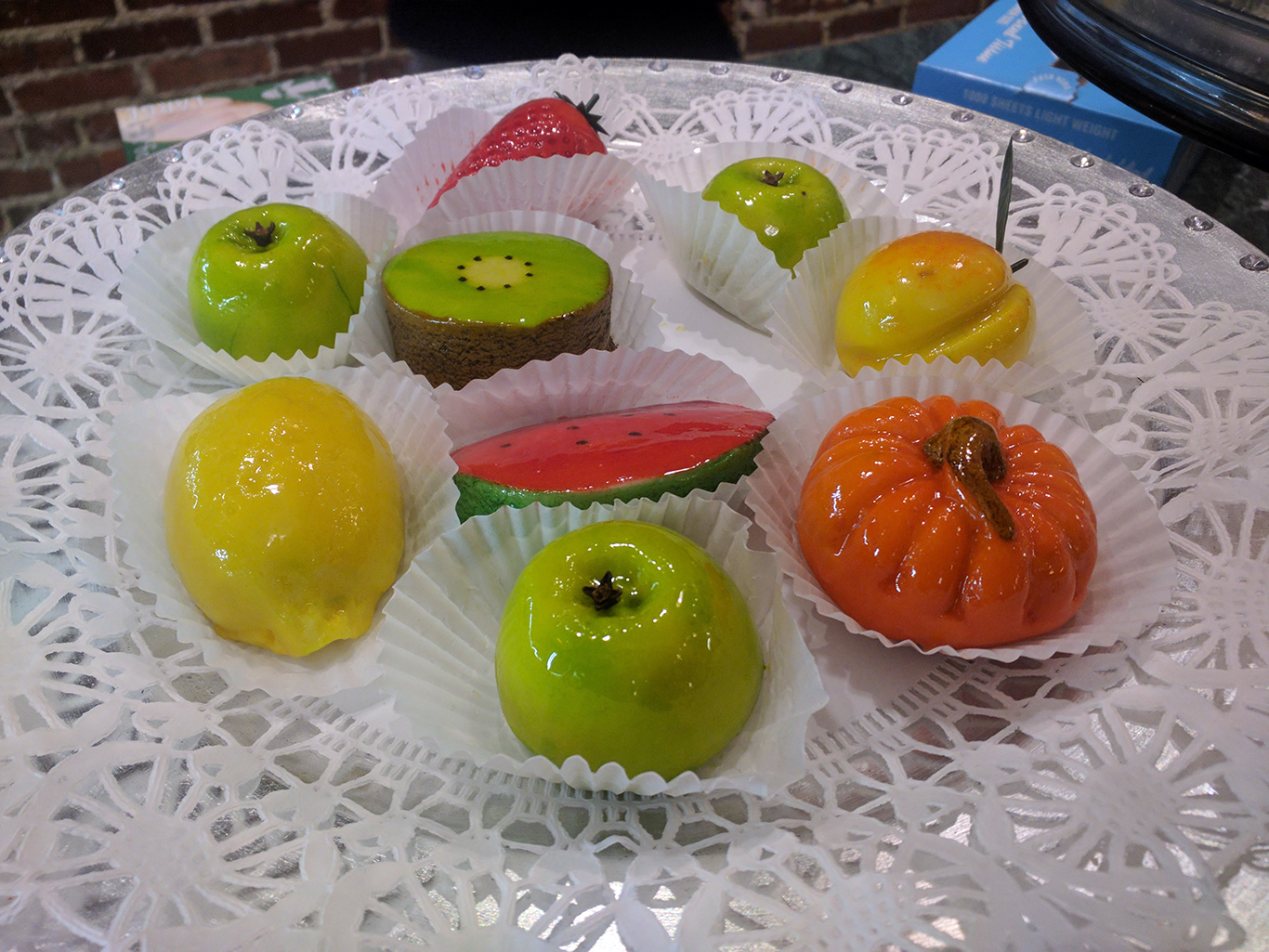 Lauren spotted sfogliatella near the register, which she learned all about on the Great British Baking Show. The pastry got fresh powdered sugar right at the register in this cash-only spot.
The place was packed, so we stood outside to enjoy our sfogliatelle experience. I didn't know what to expect, but I was greeted with crisp, crunchy bites of the super-thin leafy layers on the outside, and soft, sweet, almond and citrus flavors on the inside. I regret nothing!
Little Italy in North Boston
We also spent some time walking around the Little Italy neighborhood of North Boston. Italian restaurants, cafes, bars, markets, and boutique shops lined the streets, quaint and trendy alike. Just a vibrant and fun area to spend some time on foot.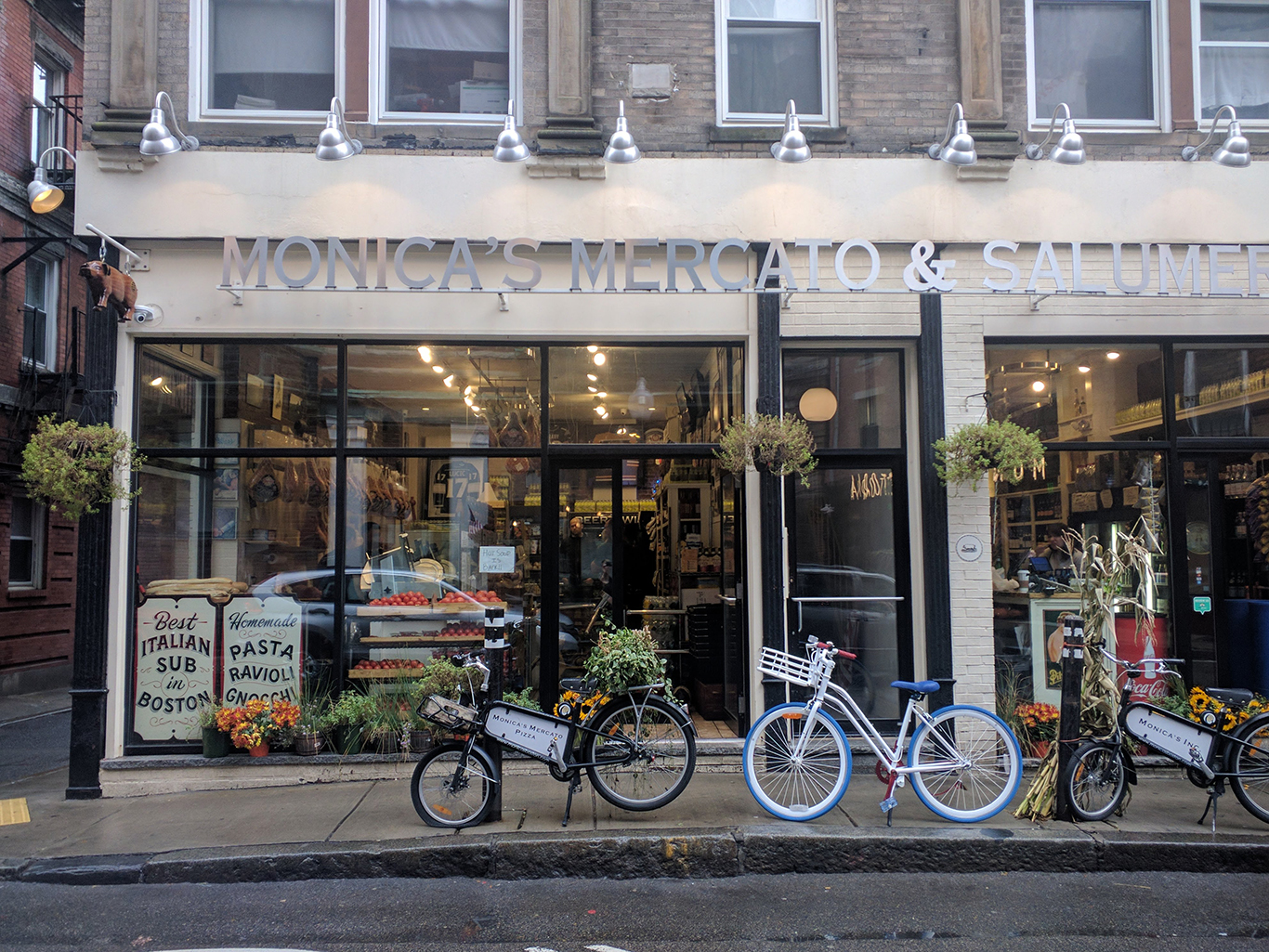 Polka Dog Bakery
I spotted Polka Dog Bakery in Boston's north end and had to stop. This is a renowned Boston-local dog treat bakery that uses locally-sourced ingredients in small, handmade batches. I love coming home from trips with special treats for my boys.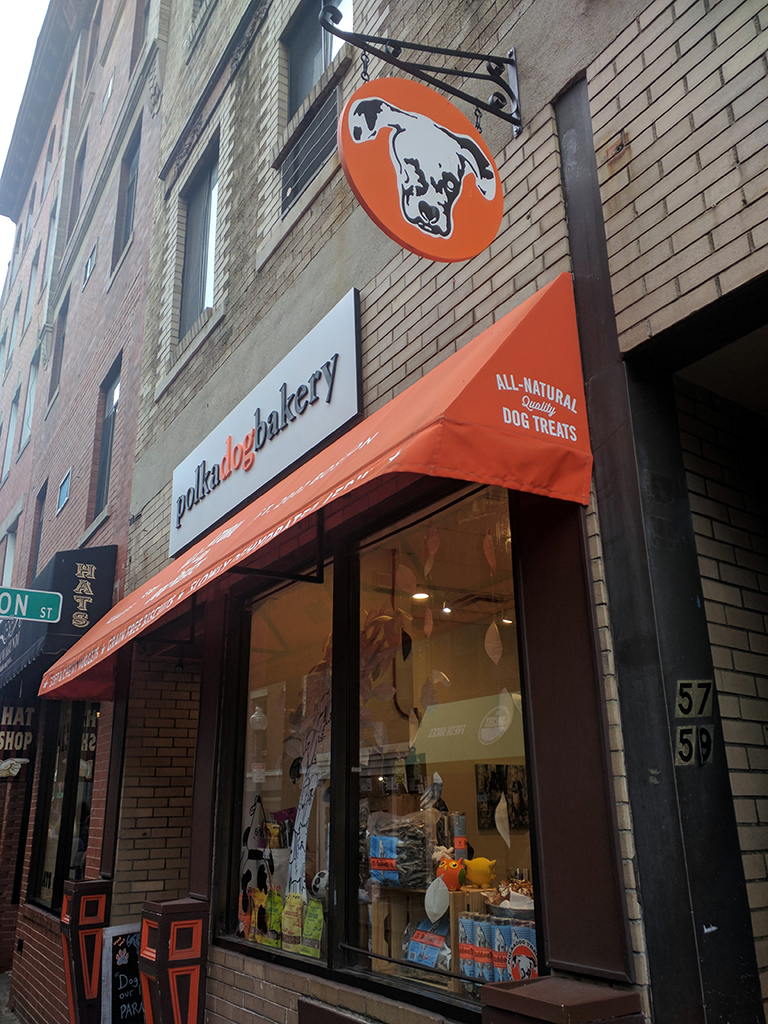 I was on a mission for sodium-free snacks for Otto who has special dietary needs. I found their Lucky Duck Crunchy Dog Treats — made with just two ingredients: duck liver and potato flour — and my dogs are in love with them.
Neptune Oyster
This tiny spot is quickly becoming a "Boston tradish," as Lauren calls it. After we came to Boston to pitch the new business several months ago, the pitch team hit up Neptune for some oysters and lobster rolls to celebrate before heading to the airport. After a successful workshop with our clients this time, we felt the call of the oyster and made our way back.
While last time we were here we got in immediately, this time the wait was incredible – we got on the list with an hour wait in mind, but ended up waiting almost two and a half. But guest after guest kept leaving and telling us, "It's worth the wait." It is – and not to worry, they hooked us up with a free lobster claw to share for the wait.
This restaurant is tiny and very popular, so it can be tough to get a seat! We hung in there, we made it in the door, even got our same seat as last time at a shared table.
We had a round of oysters – above you see Chatham, Mookie Blue, Savage Blonde (among my top three favorites I've tasted in the U.S. so far), Beausoleil and Kumamoto oysters.
Below, you see classic hot butter lobster rolls with French fries all around, a house favorite. It's seriously a marathon to eat this thing, as it's overflowing with fresh, tender lobster chunks.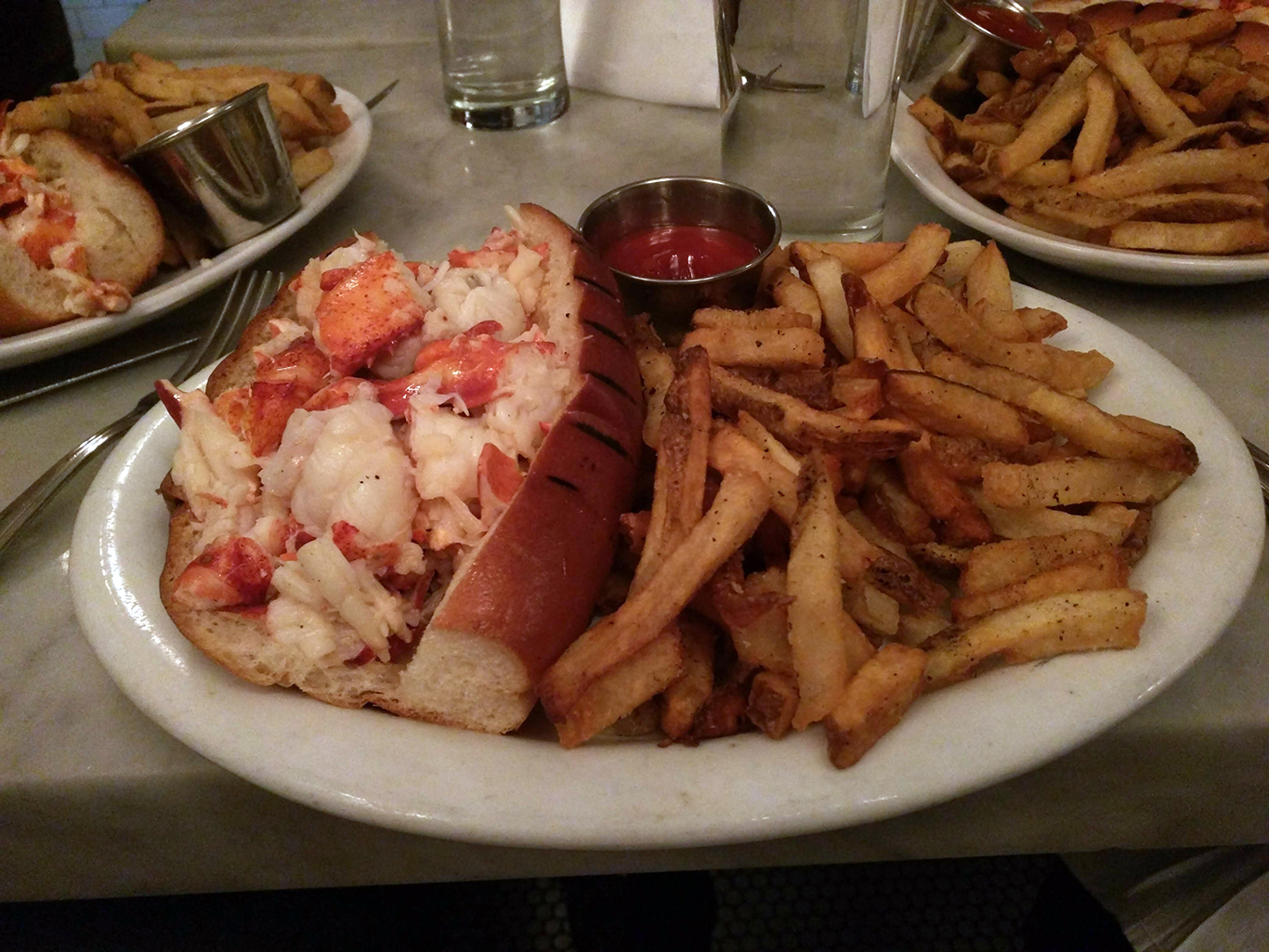 Next Time in Boston…
As with all business trips, we don't have much time in-city and we barely scratch the surface of what a town has to offer. We were so fortunate to have some downtime to spend on the ground before immersing ourselves in work, but I am already thinking ahead about all the things I want to do on upcoming Boston trips.
I'd love to see the Mapparium, experience Caffe Vittoria, visit the Harvard campus and some of their museums. I'd like to walk the Freedom Trail and see some of the shops and museums along the way. I want to spend some time on the Boston Harbor, and at the Museum of Fine Art and the Museum of Science. I want to learn more about Boston's history on the Black Heritage Trail and at the Kennedy Presidential Library. There is so much to do, so much history, so much culture in this town, and I am so excited to dig in.