Without fail, October through December every year is a madhouse for us. As if the holidays weren't enough, both of our jobs tend to ramp up at end-of-year and everything moves at breakneck speed. Between the chaos of our day jobs and my dog Otto's terminal illness, it has made travel and quality time more difficult for us.
We have done a little more independent traveling so one of us can stay back with the dogs – I just hiked Pikes Peak with my brother over a long weekend and I used some airline miles on the verge of expiration to send Luke to Chicago to visit some friends for a few days. It helps, but we needed time together, so we had to get creative.
We thought taking a short day trip to one of the neighboring towns near Kansas City would help us feel like we were getting away and doing something all-new. We originally planned to tackle Atchison, Kansas because it's famously "haunted" and we're fast-approaching Halloween, but we decided at the last minute to add Weston, Missouri on the way. Both towns a short drive north of Kansas City.
Weston, Missouri
The small town of Weston has a lot of history. The area was part of the Louisiana Purchase, explored and endorsed by Lewis and Clark, and was bustling port community with frequent steamboat stops and a role in resupplying nearby Fort Leavenworth. The main cash crops at the time were hemp and tobacco, though the industries were largely fueled by slave labor until the Civil War.
There was once a time when the Weston population exceeded that of Kansas City and St. Joseph, but the war, floods and fires forced the population to dwindle. Today, the permanent population is around 1,600 people, and the town is on the National Register of Historic Places because of its preservation of so many antebellum era and Victorian homes and buildings.
Travelers make their way to Weston to experience the history, peruse rustic local and antique shops, and take part in the local wine-making, beer brewing and distilling culture. We were in Weston too early in the day to justify winery, brewery and distillery visits, but we will be sure to do so next time.
Weston Street Organ Muster
When we arrived in Weston, parked street side parking on the historic Main St. drag. We were charmed by the preservation of the "old-timey feel" of the area
Through the air was wafting this sweet, mechanical almost carnival-like music. We saw at almost every street corner people setting up decorative fairground organs, often accompanied by an accordion-player and stuffed monkeys hanging off the edge of the instruments.
Spending little to no time in rural America and having researched nothing prior to arriving in Weston, we wondered if this was some kind of Dutch festival (there was a man clomping around in clogs) or if this is just what Weston people do on a casual Saturday, ha!
Turns out it was the annual Weston Street Organ Muster, organized and performed by the Carousel Organ Association of America. Antebellum era music on display in a properly antebellum town.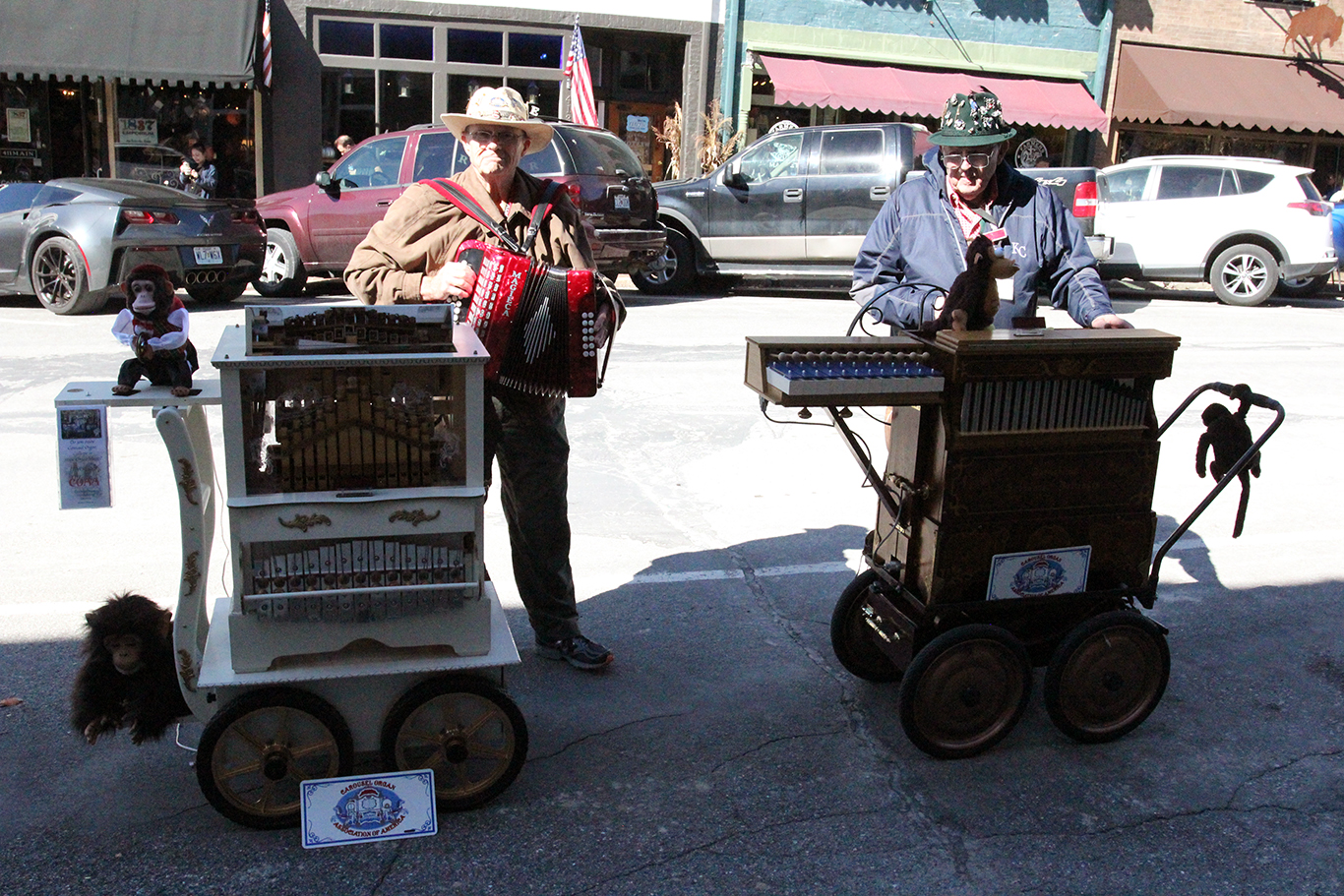 Weston Cafe
We popped into Weston Cafe for a quick breakfast to fuel our day. Turns out it was not so quick. While the servers were nice and it had a great small town charm, waiting almost an hour for some eggs and toast was unfortunate. At first we thought it was just a casual pace of life thing, then we discovered that the kitchen was "behind" from breakfast and they were struggling to serve the now incoming lunch guests. Fortunately we weren't on a timed agenda for the day, and Luke is good company.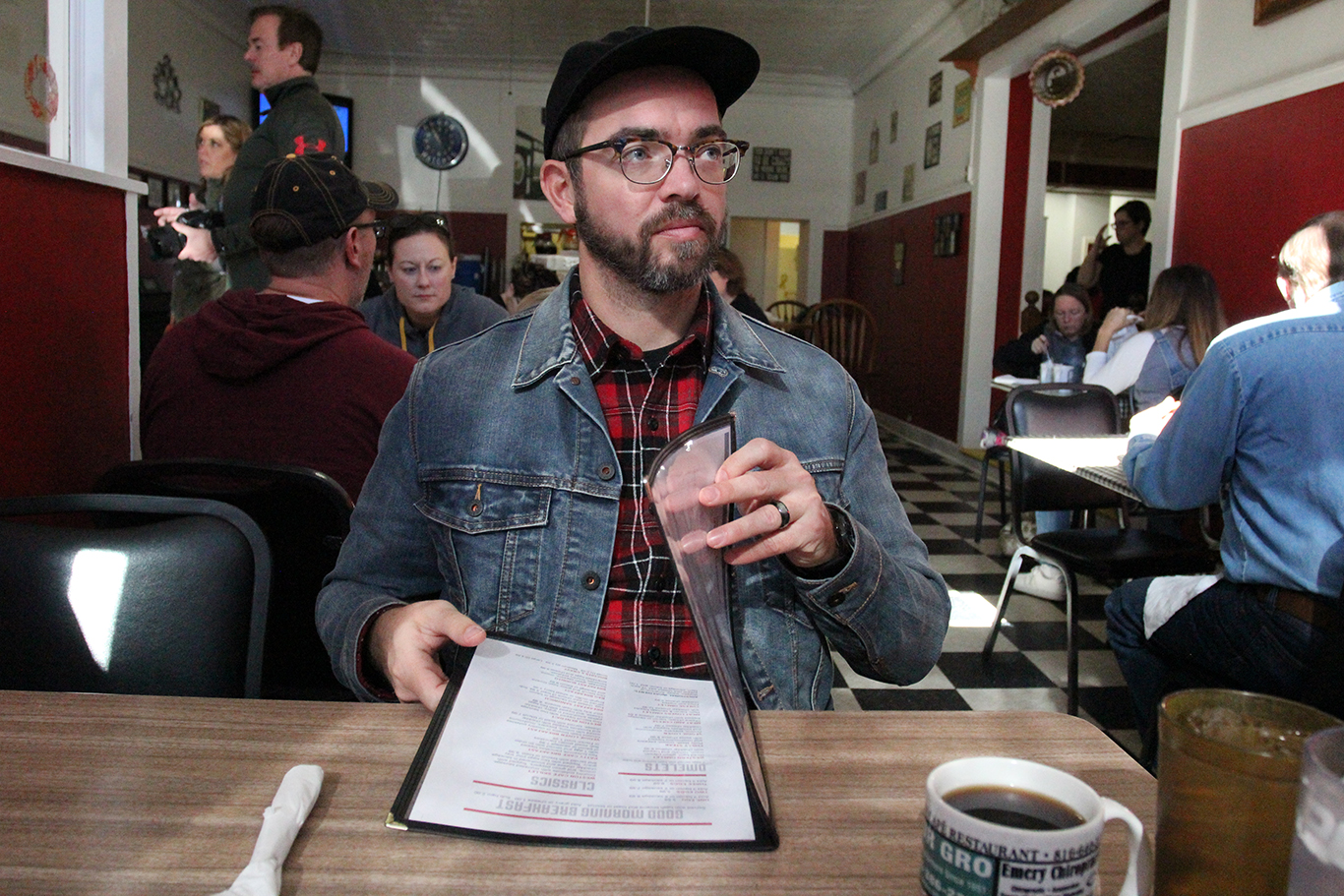 Renditions
We were so pleased to find this gem on Weston's Main Street – a polish pottery store called Renditions!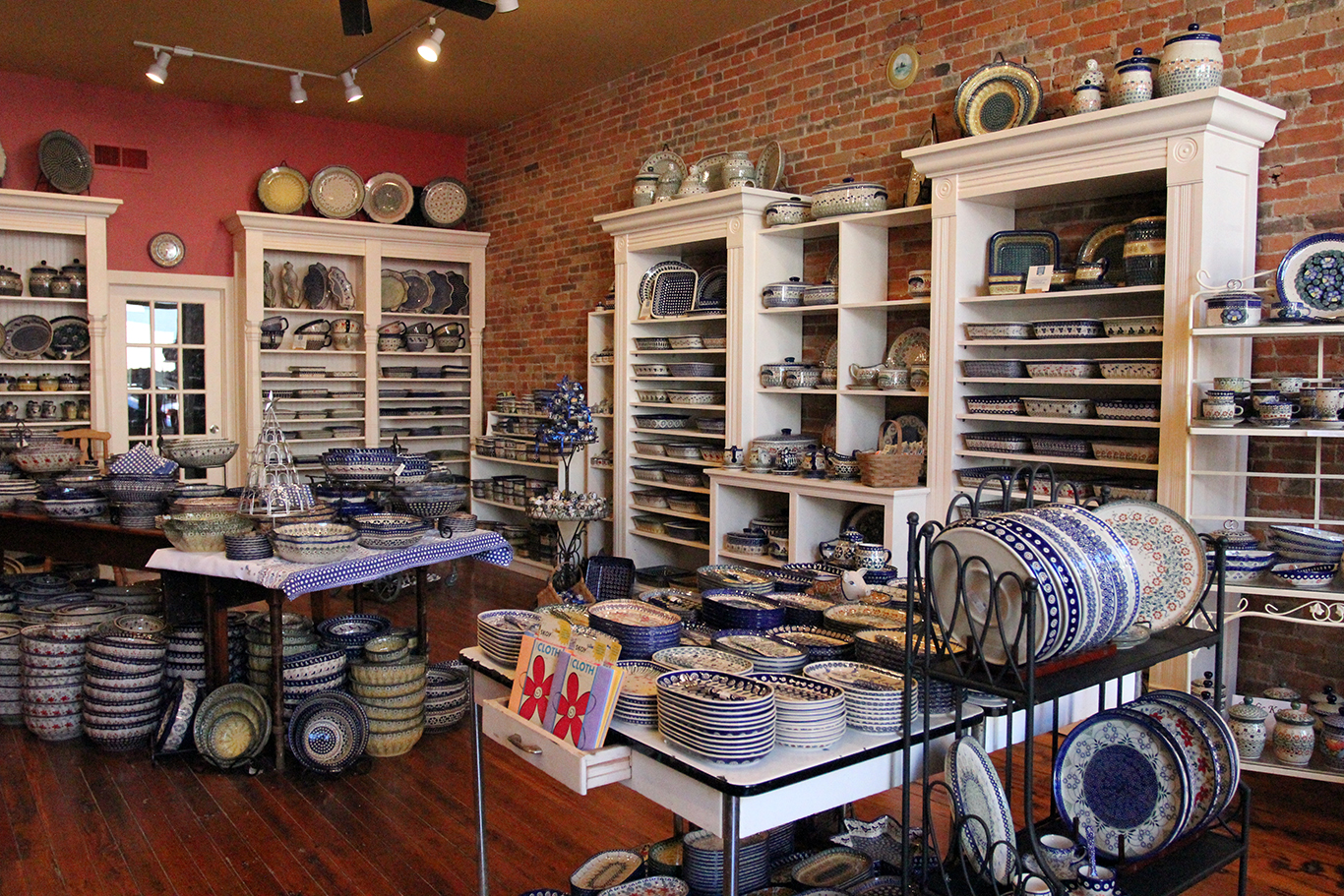 This fabulous little shop sells more than 50 different traditional Polish patterns in more than 300 pottery shapes, and it's all hand-painted in Poland.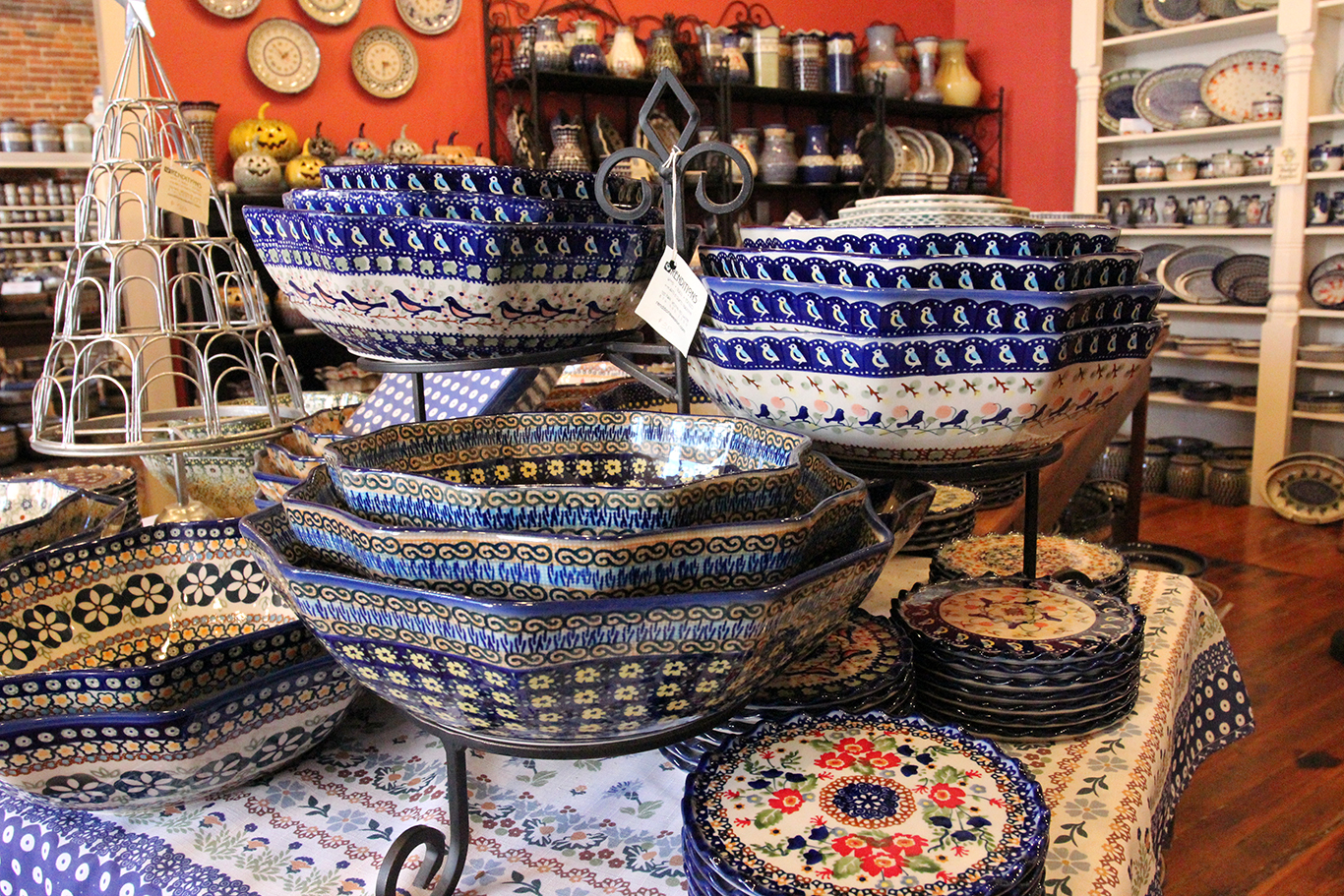 I asked how such a robust collection could be found in small-town Missouri, and the woman said they get just four shipments per year with more than 1,000 boxes each! You have to see it to believe it.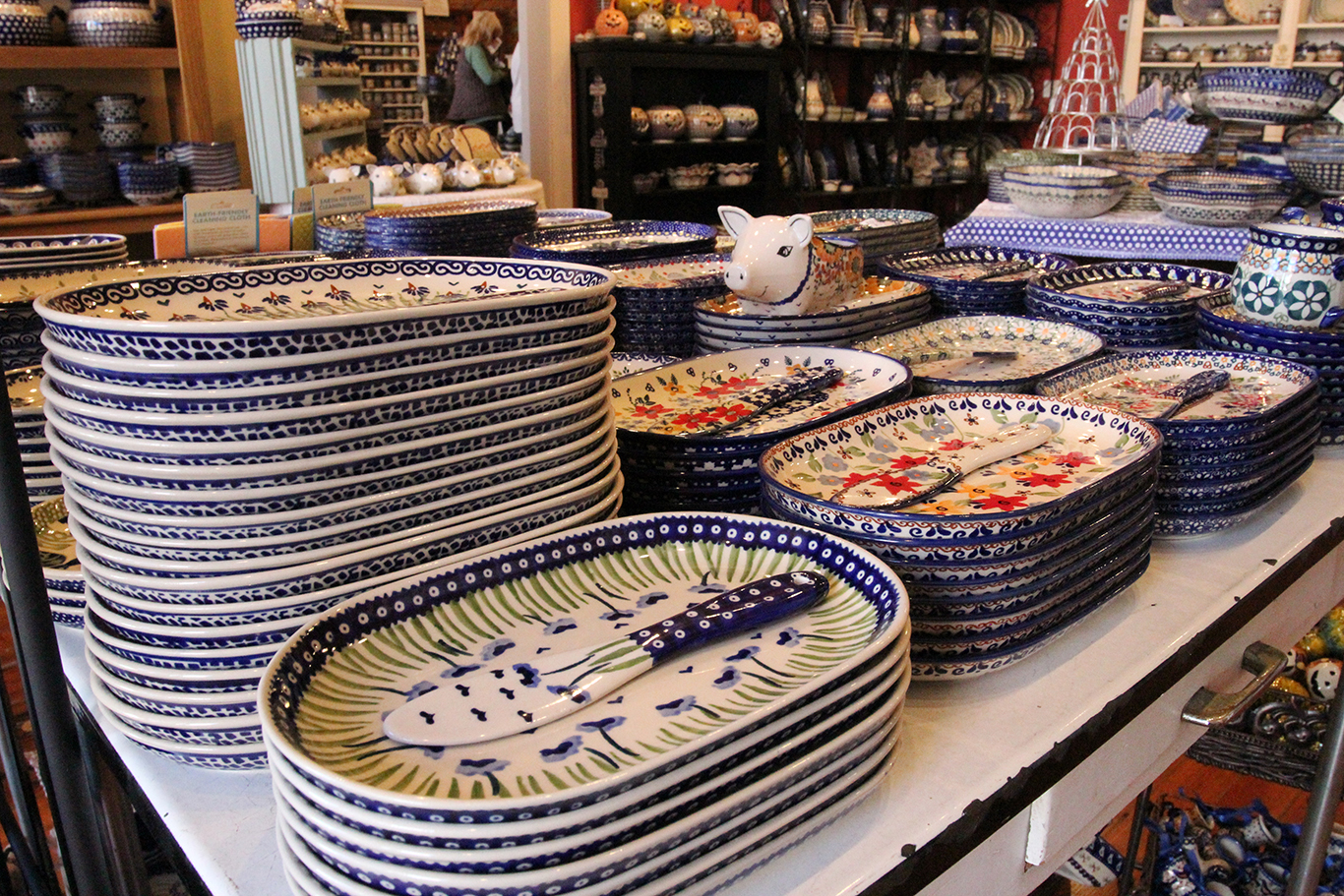 It was an unbelievable selection with two floors and multiple rooms lined floor-to-ceiling with options. I learned that this beautiful yet versatile dishware (it's microwave, oven, and dishwasher safe) began as folk art generations ago in a German province of Silesia, which is now part of Poland.
Now, the hand-stamping artisan stoneware continues to be created in the small village of Boleslawiec, and because each is hand-crafted, each is completely unique.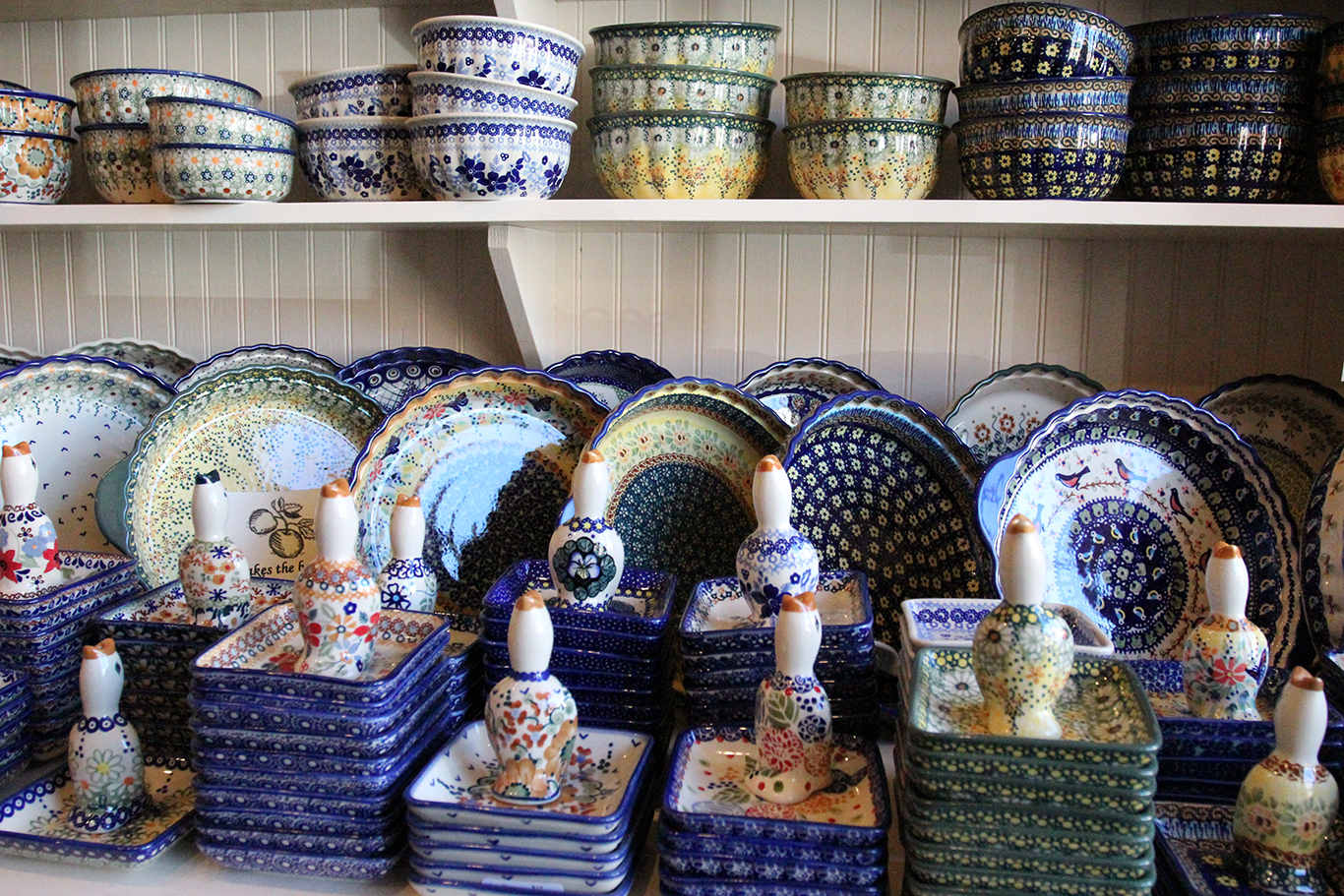 Weston Bend Candle Company
Candles are starting to become a mainstay in our home decor with three pets running around underfoot, and I was in the market for some new candles, so we popped into the Weston Bend Candle Company.
It was such a pleasure meeting the artist owners behind the wax, Jeff and Angie, and their friendly black shop cat, Django.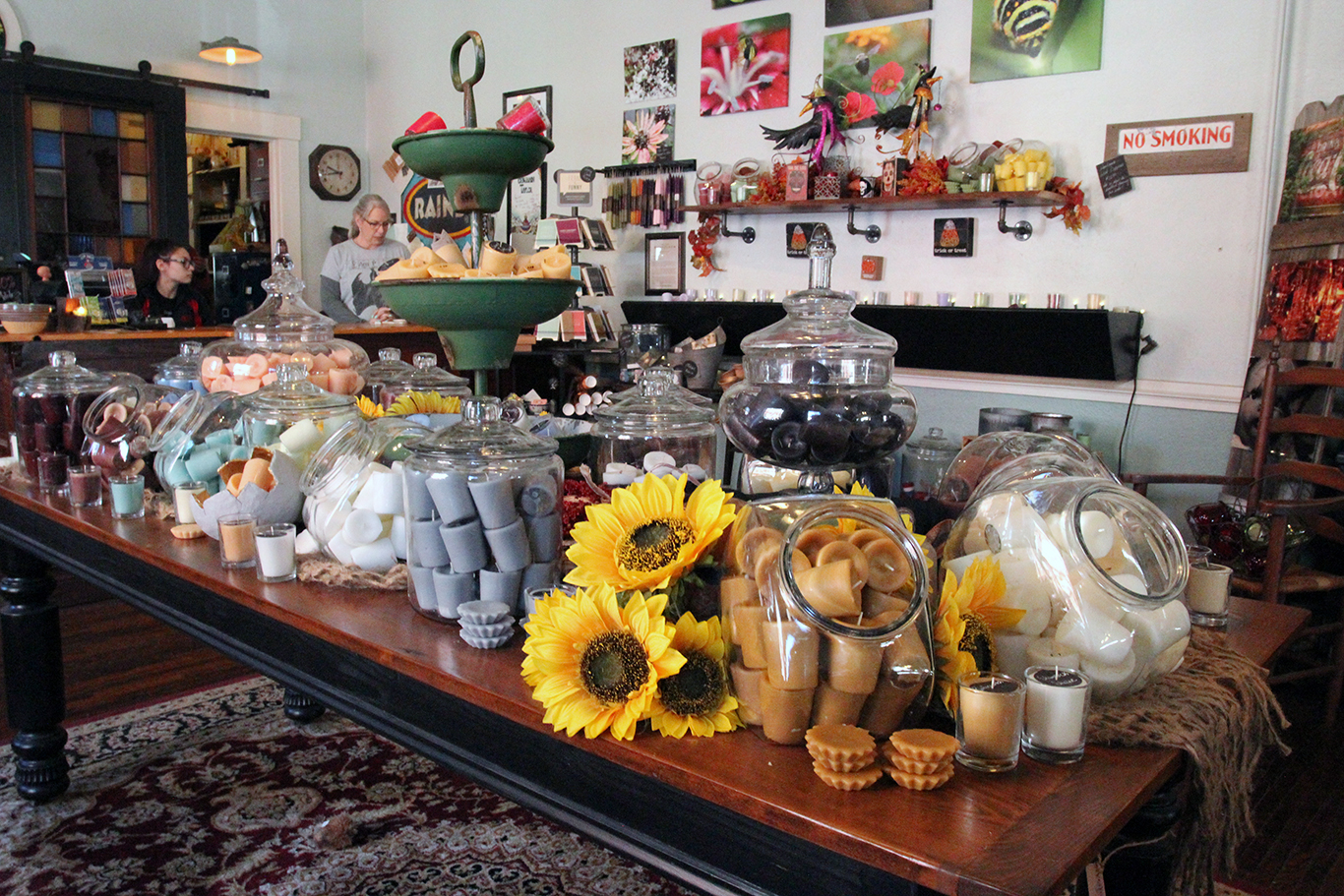 They kindly advised us that the best way to smell the candles was to pull the display ones in glass votives out by the wick and smell the bottom of them.  Of course fall was on full display at the Weston Bend Candle Company with a selection of seasonal scents.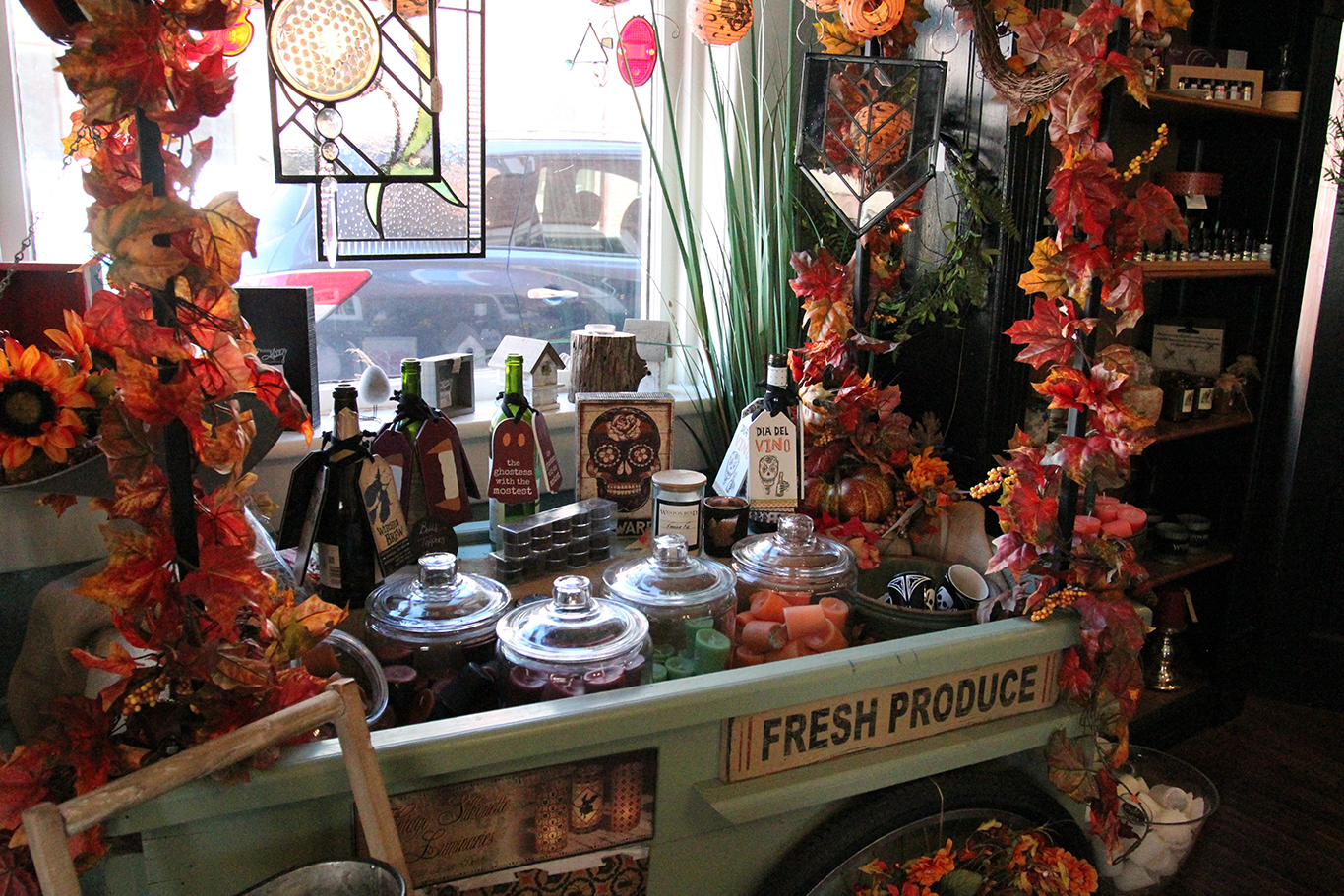 The family has been hand pouring their candles in-house for about five years. Angie tells me that she pours all the container candles herself, while Jeff and Angie together with their family friend pour the votives.
We left with two brushed gold votive holders, and a dozen scented candles, including their Olive Branch, Lemongrass, and Citrus & Cedar scents.
Weston Bend State Park
We left Weston to head toward Atchison, and on the way out of town stopped at Weston Bend State Park. (We had also considered nearby Lewis & Clark State park.) The fall weather was perfectly cool and comfortable, and the trail was just right for a short hike.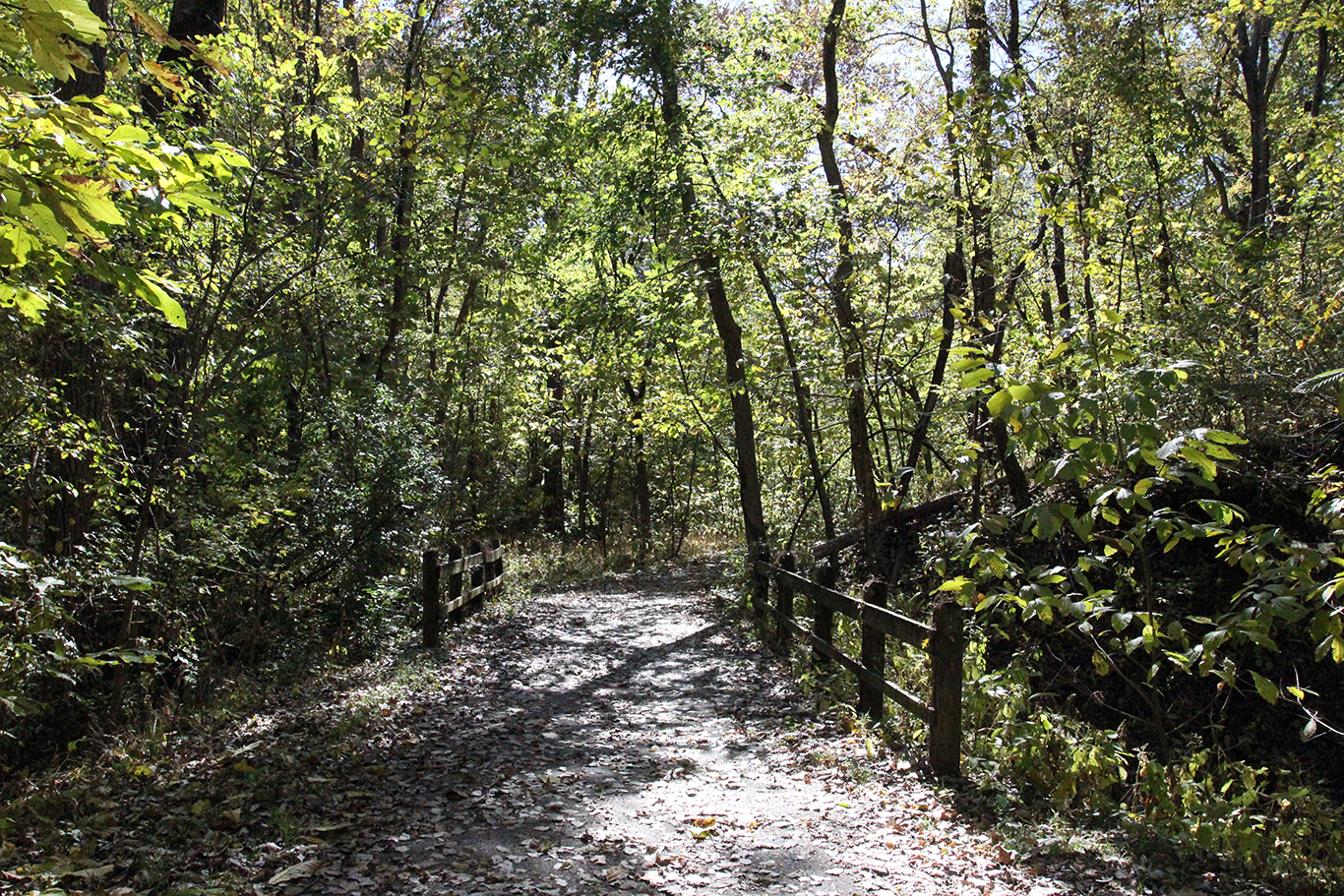 We hiked an easy mile and a half round trip to visit the overlook point at the park. On the wooden platform, we got to take in the beautiful oranges and golds of the trees turning and a peek at the Missouri River from above.
I love being outdoors and hiking, so this was easily my favorite part of our trip. The gorgeous weather, perfect trail conditions, fall leaves, and quality time with my husband didn't hurt.
Atchison, Kansas
Like Weston, the town of Atchison, Kansas was frequented by French explorers and settlers since the mid-1700s, and was yet another stop for explorers Lewis and Clark. The town was named for pro-slavery senator David Rice Atchison, and remained pro-slavery until the late 1850s, after which notorious anti-slavery jayhawkers turned robbers and assassins took up residence in the town. The area's peak population was circa 1910, and today the town houses around 11,000 people.
As the original eastern end of the Atchison, Topeka and Santa Fe Railway,  Atchison was supposed to become a leading rail town for Kansas, until it was passed up by Kansas City and Omaha. The town is now home of the Benedictine College, a Catholic liberal arts school. Most notably to me, the town is also the birthplace of Amelia Earhart, the first female aviator to fly solo across the Atlantic Ocean.
And for whatever reason, Atchison, Kansas claims to be the most haunted city in Kansas, nay, America.
While we did not go in, we did drive by the famous "haunted" X Sallie house, and the renowned Victorian mansion with kick ass gargoyles adorning the rooftops. New life goal – my dream house with some gargoyles on top.
Amelia Earhart Birthplace Museum
We came to Atchison specifically to check out the Amelia Earhart birthplace and childhood home. Guarding the front walkway were two statues of greyhounds positioned in alert repose, donated to the museum.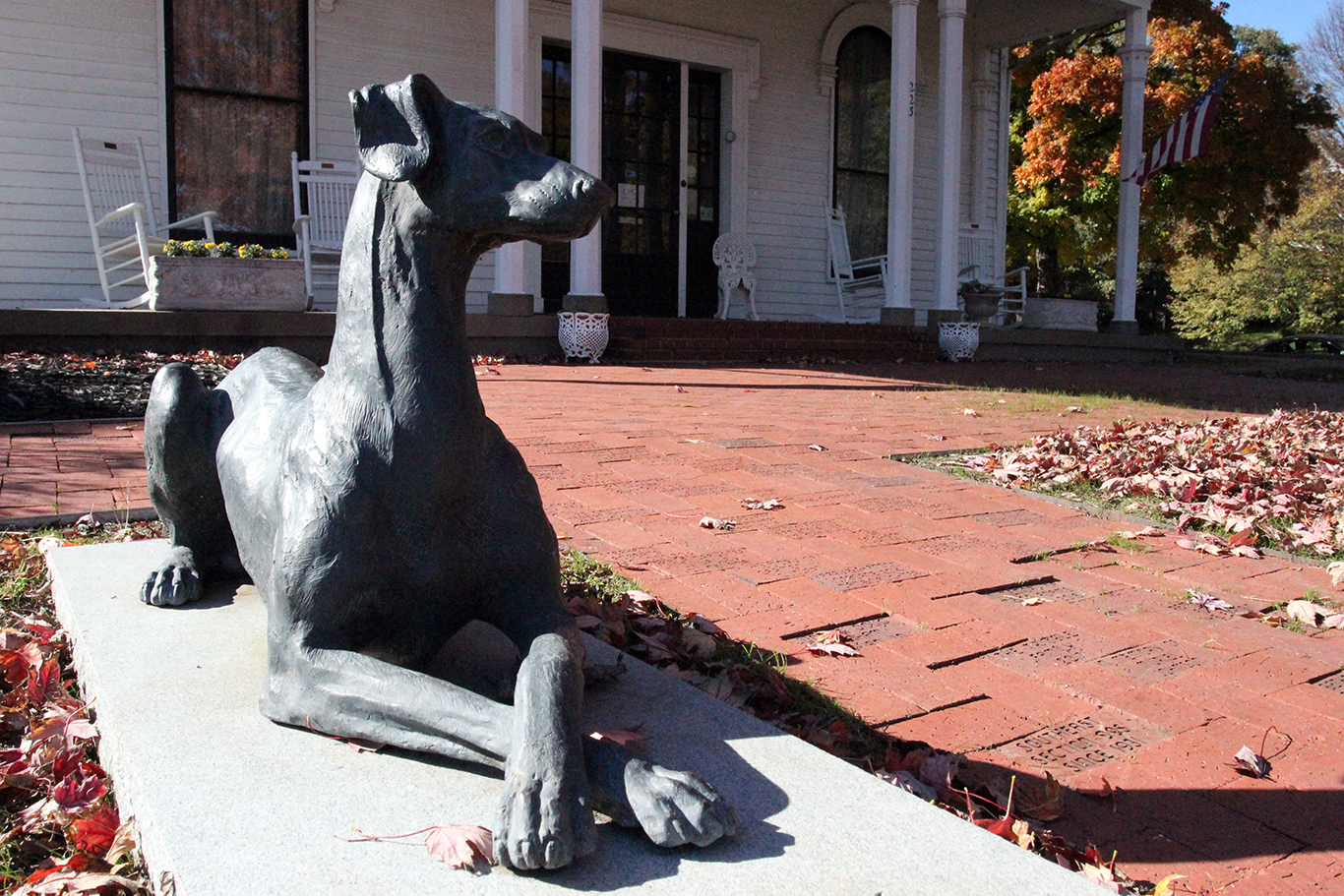 This mid-19th century Gothic Revival home is situated on a bluff overlooking two bends in the Missouri River, so we took a moment to take in the view of Amelia Earhart bridge before entering the museum.
The docents were charming, and supplied us with a handy self-guided tour sheet to help us navigate Earhart's grandparents' home. It was one of the original homes in Atchison. In the 1980s, the home was purchased and given in trust to the International Ninety-Nines. The Ninety-Nines are an organization of women pilots, and Amelia Earhart served as its first president.
I was genuinely excited to be in the home of one of America's iconic historical pilots and women's rights advocates, and I can't resist the urge to pose with a wax statue of her. Nailed it, if I do say so.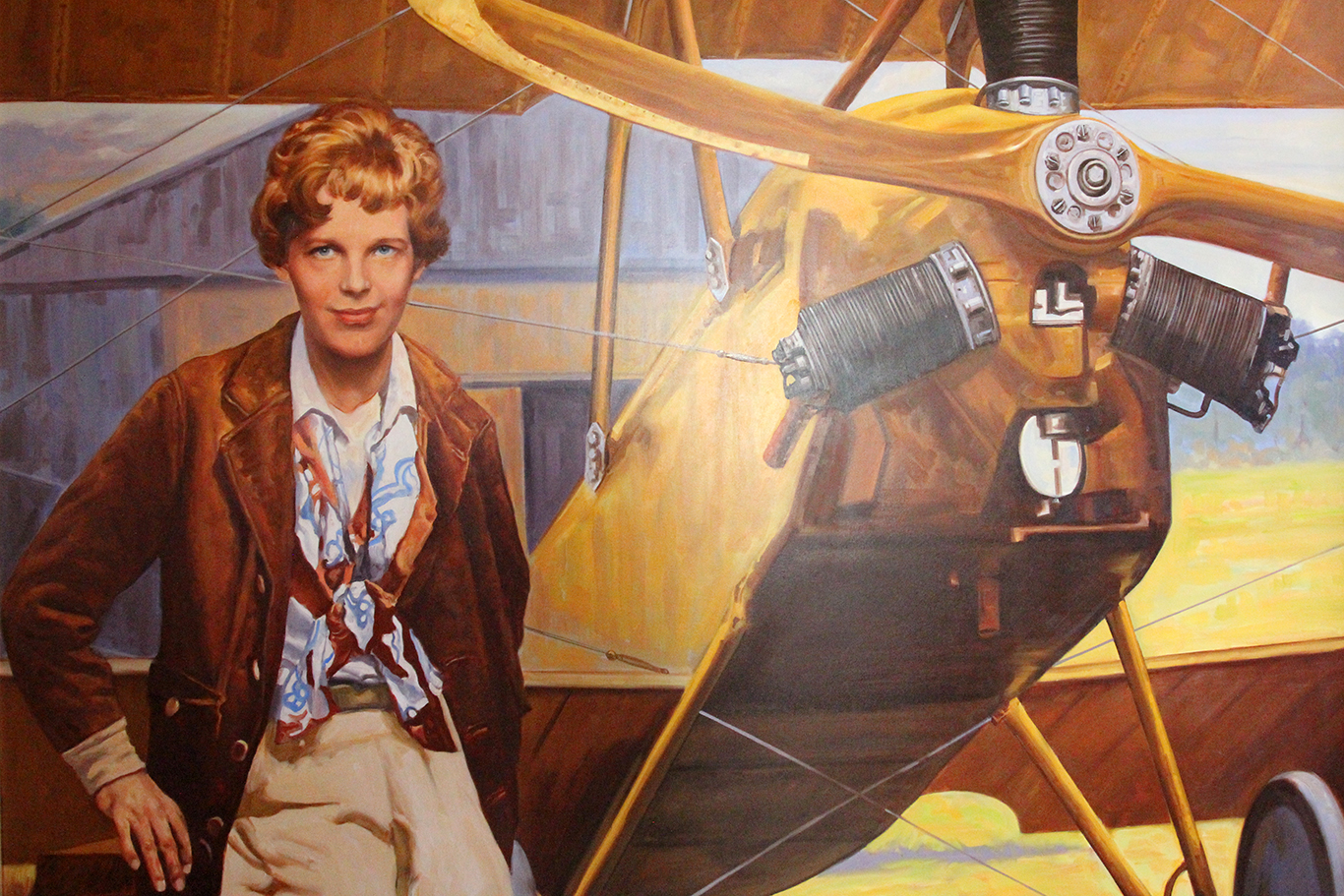 On the upper floor were a number of paintings of Earhart, including this one. One of the bedrooms also had a pile of newspaper clippings collected about her disappearance. I also appreciated that this floor shared some letters and clippings of Earhart's writing, as she was an author in addition to a pioneering pilot.

We knew about the most likely theory that Earhart and her navigator, Fred Noonan, ran out of fuel after getting lost and crashed into the Pacific Ocean. We also knew about the half-cocked Bermuda Triangle theory. We have heard more in recent years about the Marshall Islands photo that some suspect has her and her navigator in the background. But we were surprised to learn that the latter photo led to a theory that Earhart and Noonan were detained on the Japanese Marshall Island – which has since been debunked because the photo was published two years before her famous flight even took place.
Parlor
After a leisurely but full day with virtually no agenda, we began to make our way back to Kansas City for dinner. We checked out a new restaurant in the Crossroads district called Parlor, a food hall billing itself as a collection of chefs bringing a variety of unique food experiences under a single roof. It is all open seating with seven restaurants and two bars, as well as an open terrace on the second floor.
I experienced a similar setup at a place called Avanti in Denver. I love the concept, as it allows smaller local restaurant stalls to be more agile and experimental with food, and it makes group gatherings simple where everyone can order exactly what they want.
I enjoyed the Hiroshima-style Okonomiyaki from the Japanese Yaki Ya stall, brought to us from the chef at Shio Ramen. The dish comprises a Japanese crepe, noodles, cabbage, onion, bean sprouts, a fried egg, and topped with kewpie mayo, okonomiyaki sauce and katsuobushi bonito flakes that danced on top of my steaming dish. I drank the Towhead from Springfield, Missouri's Mother's Brewing Company.
Luke ordered from the Swedish street dog stall Vildhast, designed by the two chefs at Swedish restaurant Klubb Krokstrom. He had the Copenhagen street dog with a pickled all-beef pølse, cucumber slices, onion, senap mustard, curry ketchup and mayonnaise, topped with crispy fried onions. He also had a side of the korv fries topped with curry powder, ketchup and mayo. His libations began with the Rebel Yell mezcal cocktail, and finished with the bartender's choice where you choose your spirit (mezcal again) and your style (Old Fashioned) and the bartender crafts something custom for you.
Closing our one-day getaway.
All-in-all it was a much-needed miniature escape from the day-to-day, and I'm glad we made the time to do it. It was so refreshing just to do something completely different from the norm, and take the time to appreciate small towns around the Kansas City metro. There are a lot of hidden gems we never knew existed just a short drive from home.