I'm sitting in front of a fire in my sweats, under a red, chunky knit blanket. I'm in a drafty and strangely decorated stranger's house in Colorado Springs. Wet clumps of snow keep falling off the trees outside.
On our first full day in Colorado Springs, the weather was sunny, dry and hot, topping 91F degrees. Within 24 hours, Colorado Springs experienced gusty winds that blew in a cold snap and flurries, with temperature bottoming out below freezing. The town had record high temperatures over Labor Day weekend, and then record low temperatures on back-to-back days the Tuesday and Wednesday after.
We hunkered down in the house with blankets, comfy clothes, the fireplace, a few candles, and a lot of hygge. During the cold snap, we laid low, read books, ordered carry-out from The Rabbit Hole, played numerous rounds of Scattergories, and soaked in the backyard hot tub of our rental while the snow drifted down on our faces and steam rose up in a cloud around us.
Cheyenne Mountain State Park
I had hiked quite a few miles of trail at Cheyenne Mountain State Park several times on a previous trip. It's on the south side of Colorado Springs at the foot of Cheyenne Mountain, on the southern section of the Colorado Front Range, and overlooks parts of the Fort Carson Army Base. With about 32 miles of trail to choose from, it has meandering paths and low hills to hike with a mostly dry, crunchy mountain-desert environment underfoot.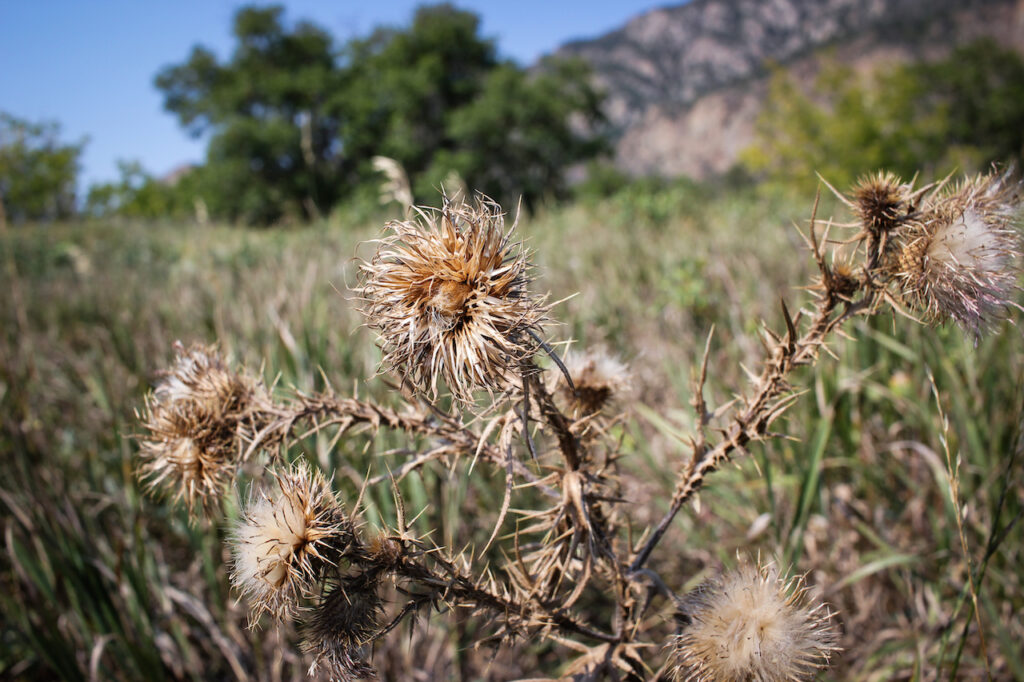 We hiked just over five miles, and while the light was too bright at midday to capture many ideal photos, hiking in the shadow of Cheyenne Mountain was more than enough to fulfill me. Expect to see wildlife like red-tailed hawks and prairie dogs commonly along the trail if you visit. In the last quarter of our hike, an adolescent male buck emerged and disappeared again on the trail immediately before us.
Paint Mines Interpretive Park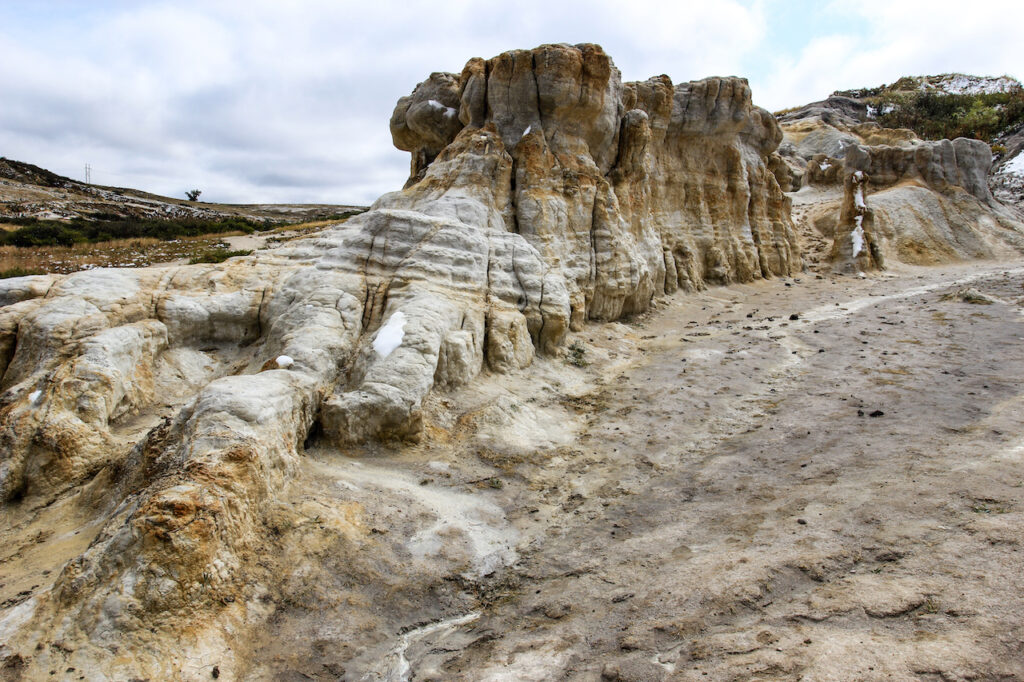 I had never heard of this unusual site before researching for this trip. Paint Mines Interpretive Park on the way into town from Kansas City, we realized later, but we drove about an hour from Colorado Springs to visit it (oops). I was worried it might just be some dirt piles in a field, but I was surprised to find it beautiful, interesting and worthwhile.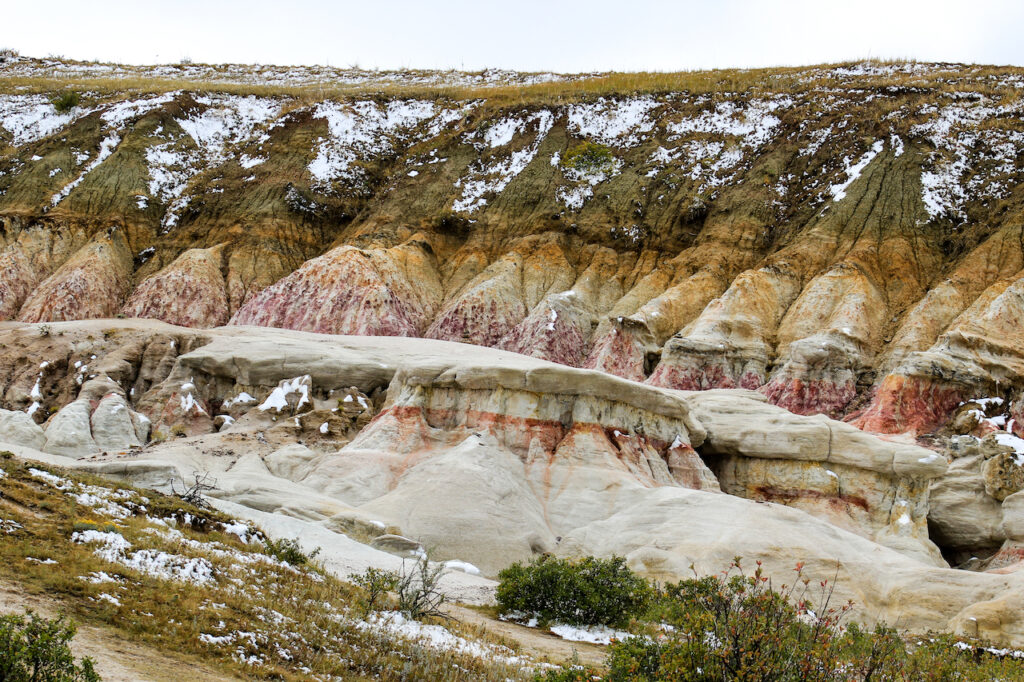 This site features hoodoo pillars in layered creamy whites, rusty oranges, pinky purples, and desert greens. I have read that Native Americans in the region collected clay for creating pottery from this site. Some damp weather made for sticky clay on our shoes on many parts of the path as we explored, but that was hardly a deterrent.
There aren't many miles to cover, but in the small space we saw various formations and colors of soil and clay, unusual terrain that resembled a foreign planet, and extensive vistas where you can see for miles into Colorado farmland. It led to some very unconventional photos from an area you may not have seen before. A completely free site to visit, it's worth a stop to stretch your legs next time you're coming into Colorado from the east.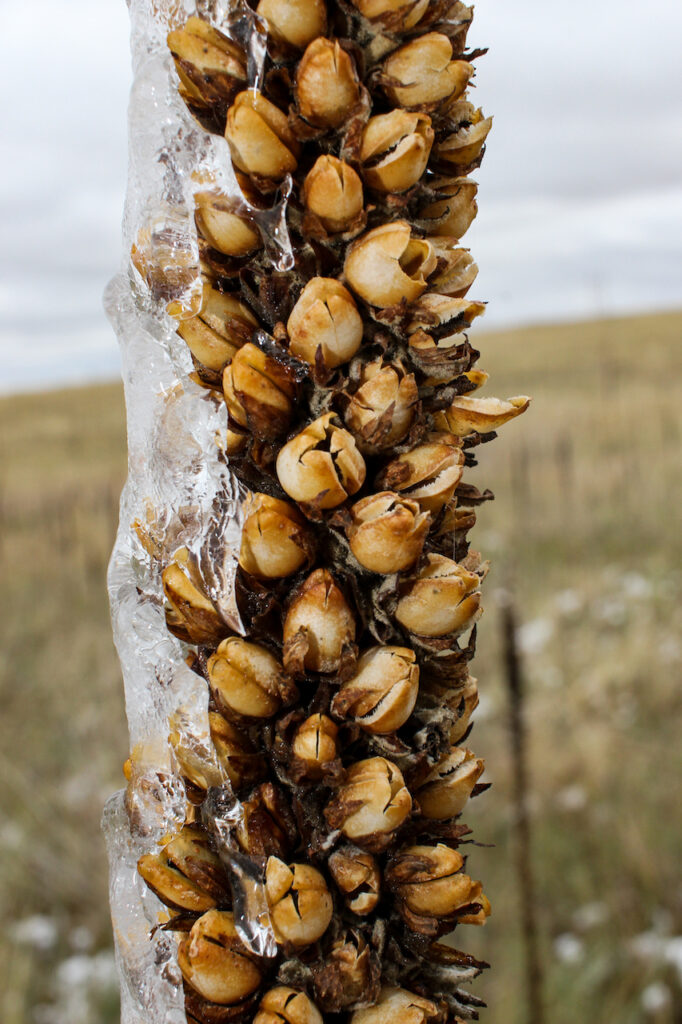 Garden of the Gods
This was my second visit to Garden of the Gods, so I wanted to do it a bit differently this time. Rather than entering at the central garden, we started on a trail on an outside edge of the park, and entered through a beautiful, misty valley with the giant red rock formations towering over it. I love the name "Garden of the Gods." It perfectly captures the Olympian giantess of the red sandstone and limestone formations protruding out of the Colorado landscape.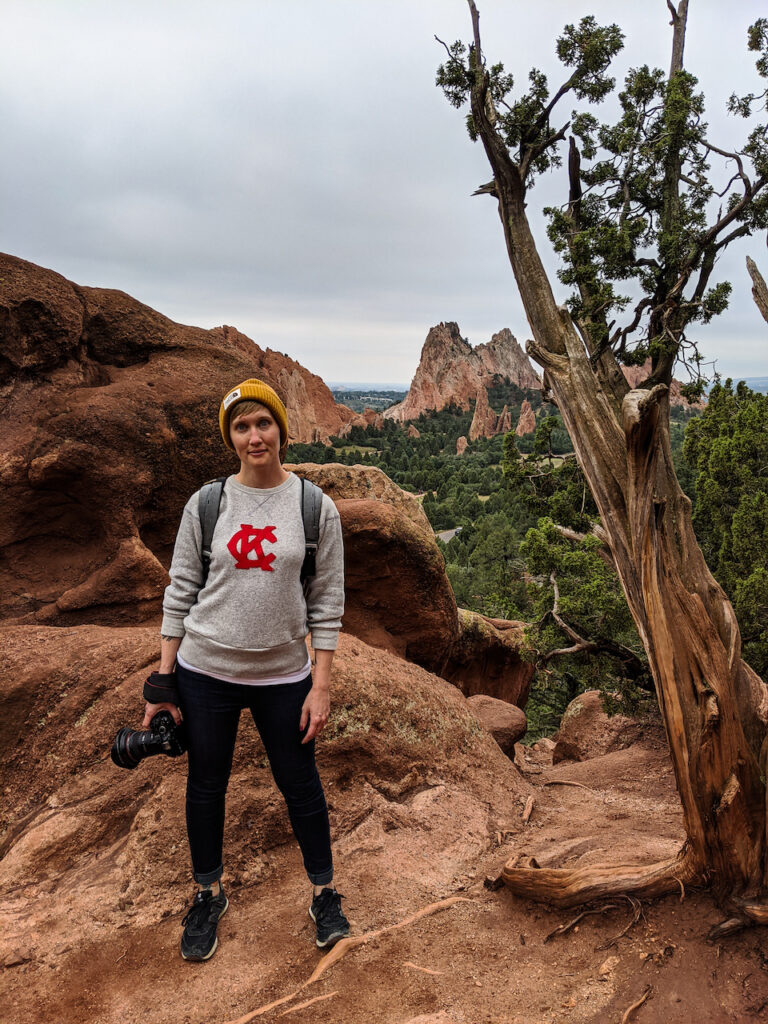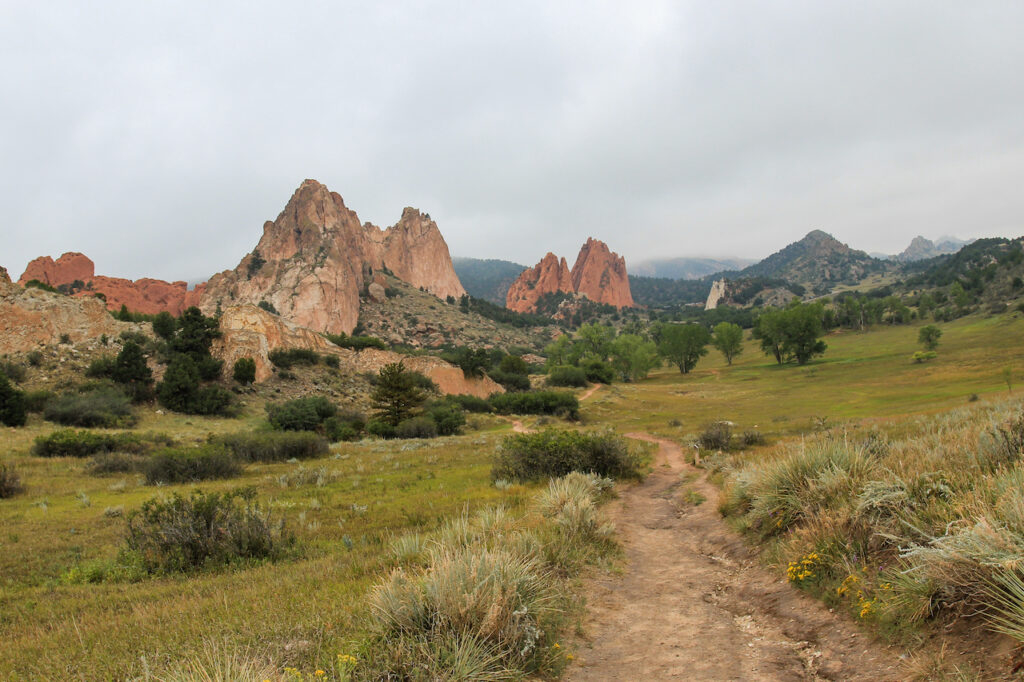 We spent a brief time in the paved central garden, but the throng of noisy, maskless tourists made it tough to enjoy. We headed back out to the trail system winding through Garden of the Gods park instead – a better option to avoid people, get a little workout, and get far better views to appreciate the sedimentary behemoths.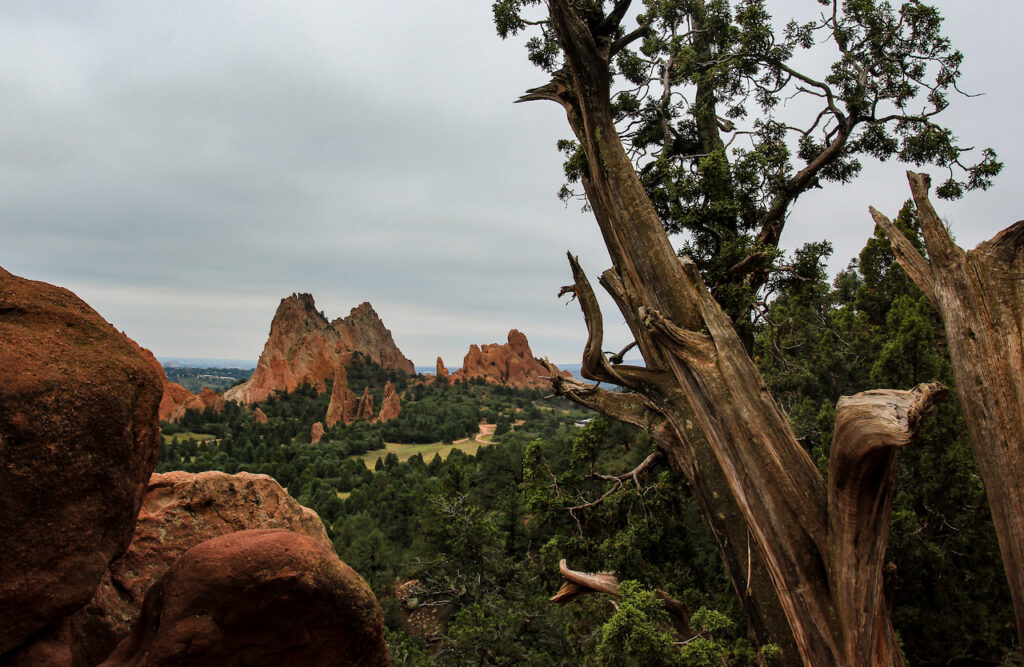 It's a low-effort hiking trail and you can do any combination of trail segments for the time you have available. You're more likely to run into a few critters on these trails, too, adding another layer of beauty to the park. We ran into comfortable deer noshing multiple times against the backdrop of the stark and beatific natural monuments.
Pandemic Travel Planning
The pandemic dashed any hopes of epic international travel to celebrate my 10-year wedding anniversary, so we booked a home in the Colorado Springs area to make the most of this time and honor the occasion. I booked an AirBNB in central Colorado Springs near downtown, to operate as a home base that we could sanitize fully upon arrival. We planned to visit outdoor attractions only. I made a big list of all available outdoor attractions without scheduling anything so we could pick what we felt like doing each day. At just over eight hours from Kansas City, the trip was easy driving distance. It would need all the comforts of home, including cookware and a full kitchen, so we wouldn't need to dine inside restaurants – takeout and grocery shopping only. Of course, we had masks in our packs, our cars, and everywhere we went.