I'm terrified of heights.
My partner asked me, "Then why do you do it?" (Hike to the top of tall mountains, he meant.)
"Because I'm terrified of heights," I replied.
All my life, I have lived in a mild state of fear. The fear of plummeting to my death from the edge of a cliff. Or leaping to my doom if I went off the diving board at a swimming pool, or used a rope swing into a lake. Or barrelling into a tree going full-speed down a ski slope.
So many unpleasant ways to die or be permanently maimed. So I never skied. I don't dive. And you will never see me free solo.
As I get older, I question more and more often where this fear comes from. I worry whether it's holding me back from my maximum potential. My maximum happiness.
It reminds me of this passage I read.
"Sometimes I can feel my bones straining under the weight of all the lives I'm not living."

Jonathan Safran Foer, Extremely Loud & Incredibly Close
Pushing myself to hike tall mountains and do things that scare me is my way of progressively challenging this lifelong fear of heights. I will likely never be a mountaineering athlete summiting Mount Everest simply to know that I can reach the outside limits of human potential. But going to the top of 14,000-foot mountains on foot is a skill within my reach.
Two years ago, almost to the day, I summited my first 14er, Pikes Peak in Colorado with my younger brother. This year, I set out to attempt my third with my friend Lori on Humboldt Peak, in the Sangre de Cristo Range. It would be her sixth 14er summit attempt (five peaks) and first backpacking trip, and we're no strangers to camping, we did together last fall in Summit County.
Of the fourteeners I've attempted, Humboldt Peak is the first Class 2. I am quite amateur in this sport, but we had it on good authority that the views were exceptional. This peak is neighbored by the Crestones, and the notorious Crestone Needle, some of the more challenging 14er hiking in Colorado.
We took turns driving the 11 hours from the flatlands of Kansas City to the 2WD trailhead of Humboldt Peak. We arrived later than we had hoped in the afternoon, and admittedly, had underestimated the tough slog up the old forest road between the 2WD and the 4WD-accessible lot.
Fortunately, we were able to hitch a ride with a pair of experienced 14er enthusiasts in the back of their pickup. This saved us a solid two miles of hiking, and a ton of critical energy and time as dark was fast approaching and we still needed to set up camp.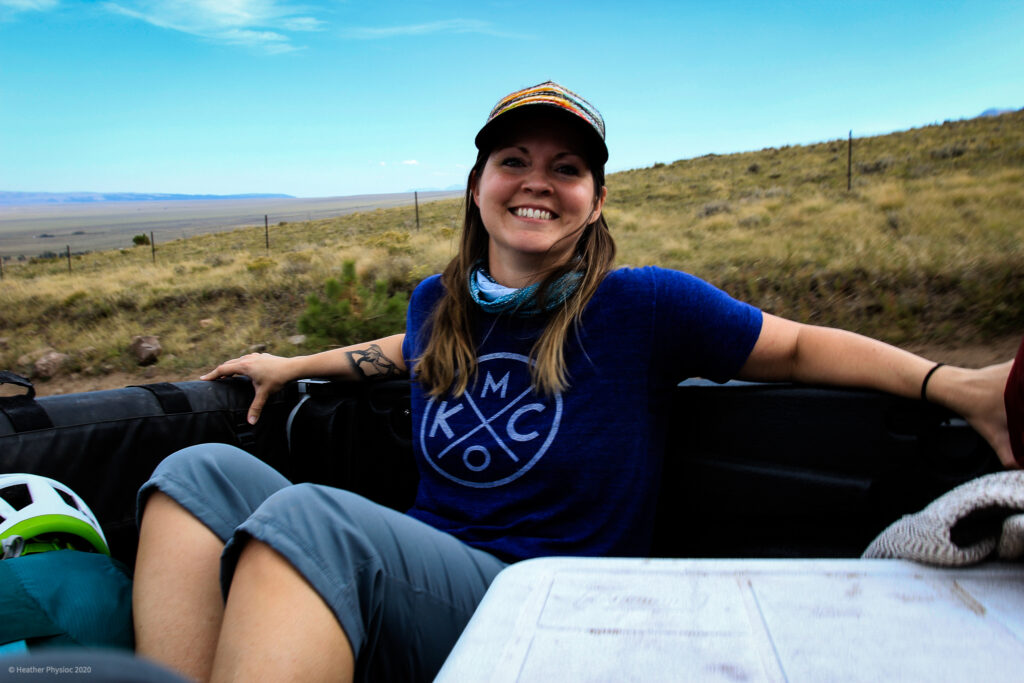 We bestowed upon them airplane shots of Fireball to express our gratitude. They were planning to summit much harder (read: scarier) mountains. We put the finishing touches on our camp just as the sun dipped behind the mountains.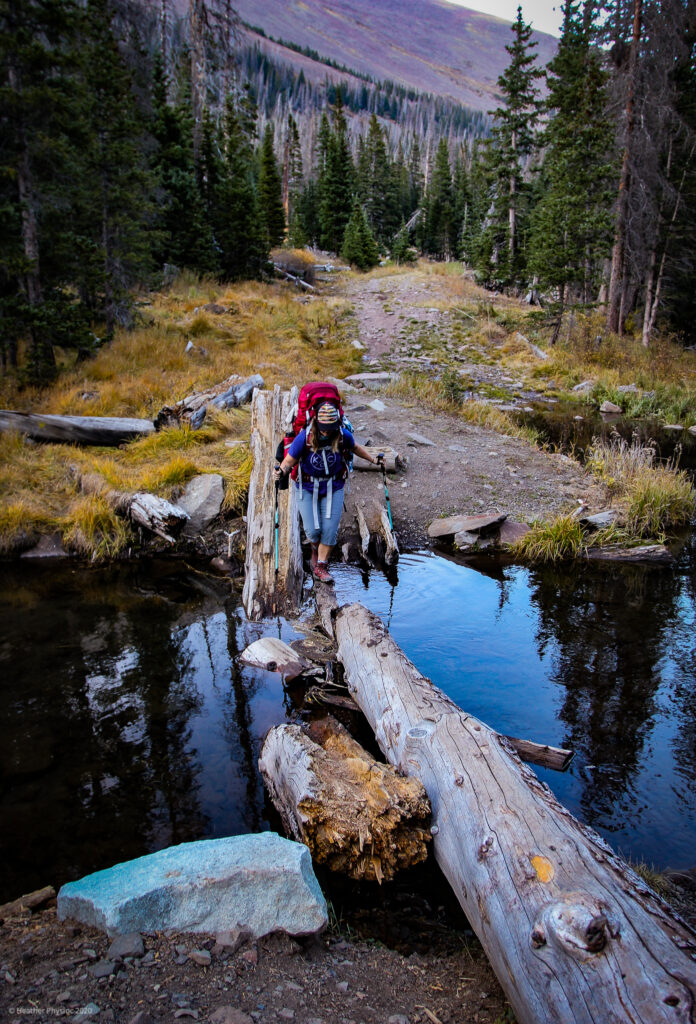 Sangre de Cristo. The Blood of Christ, so named because of the theater drapes of red hues that raises over the mountains at sunrise. The moniker held true each morning at our campsite.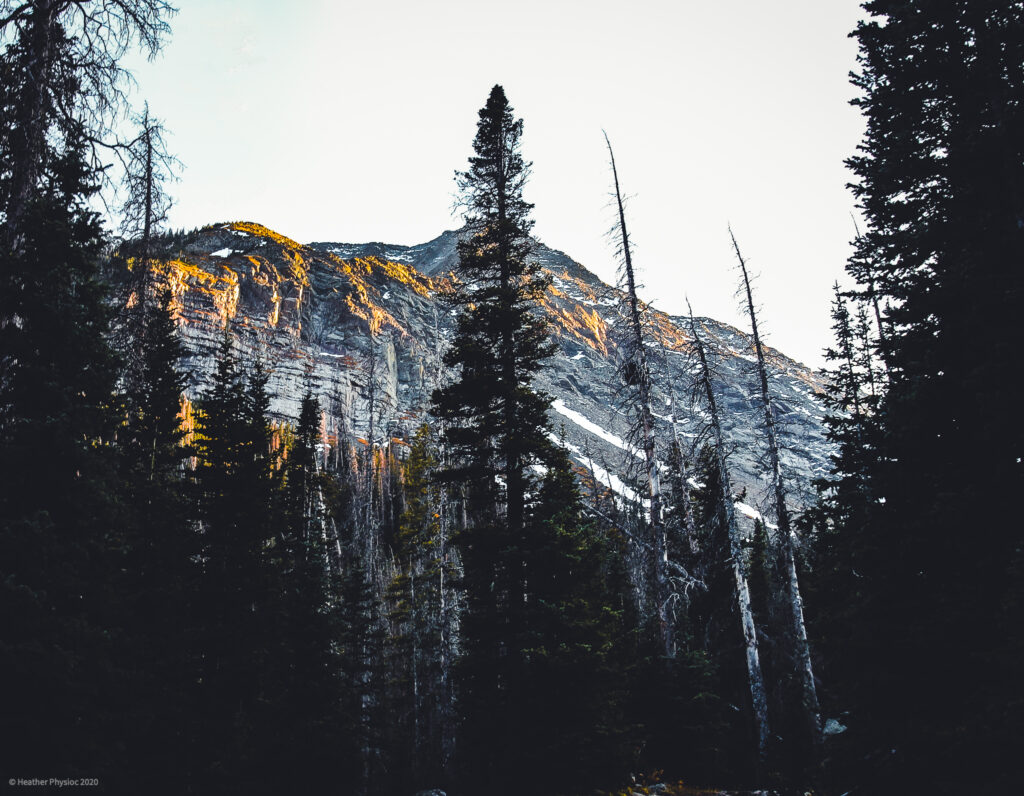 This 14er is the most beautiful of the three I've done. The surrounding mountains, valleys, and alpine lakes make for varied terrain with vast depth and visual interest.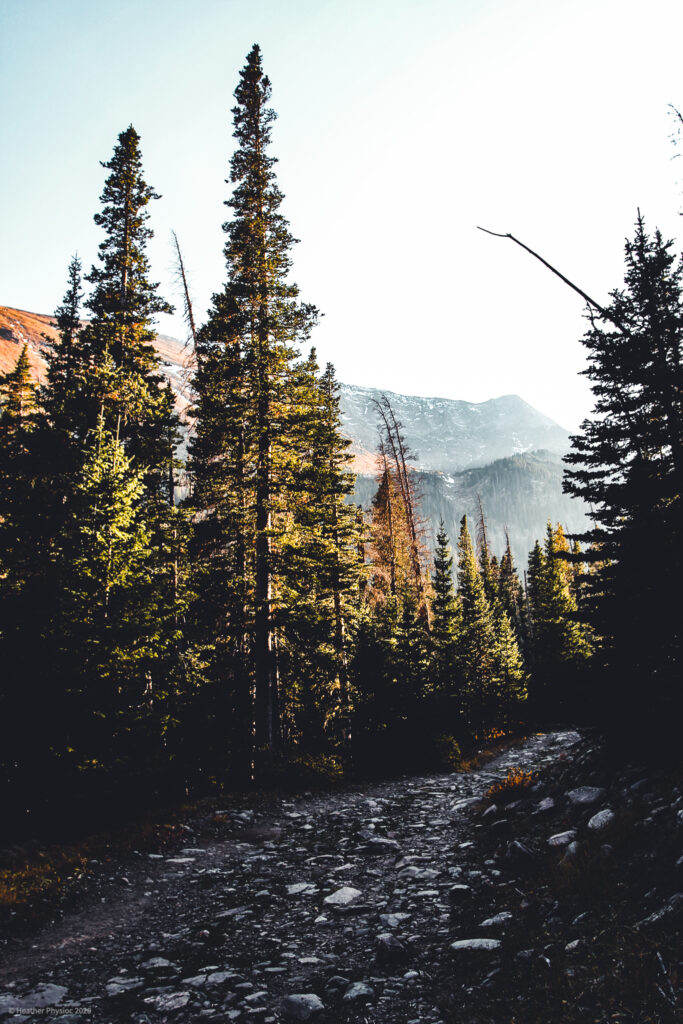 The alpines turning autumn gold made for a lovely contrast against the dark green-gray of the pines. The gray of the mountains, the stark white streaks of snow, the browning alpine grasses. A full artist's palette.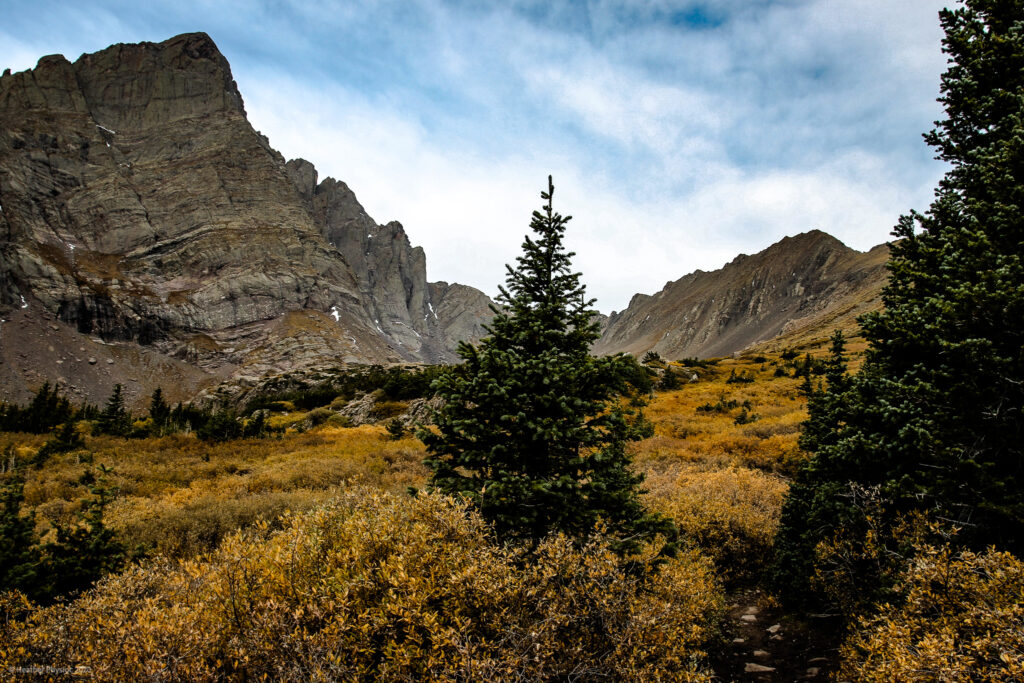 The wind had picked up dramatically overnight on the mountain. It blew loudly all night long. Then our early morning start on our hike was brisk and breezy, too.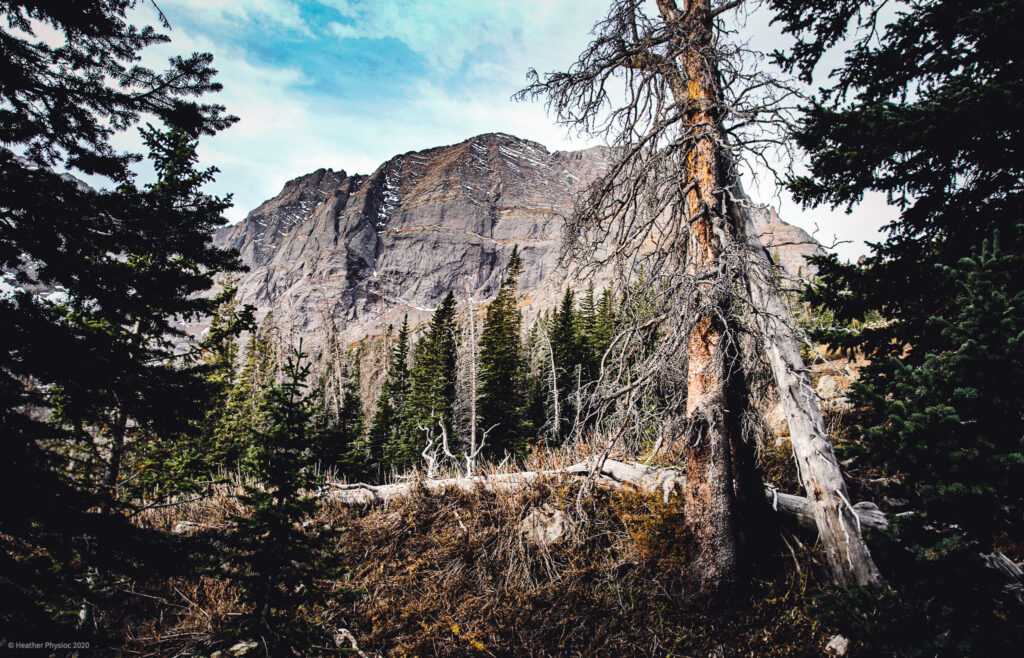 When we rose above the tree line, the wind turned especially blustery. It ebbed and flowed as we plodded up the switchbacks, me, counting my steps as milestones and negotiating with myself between pauses to catch my breath. And the higher we climbed, the more we had to brace ourselves with our trekking pole against the gusts.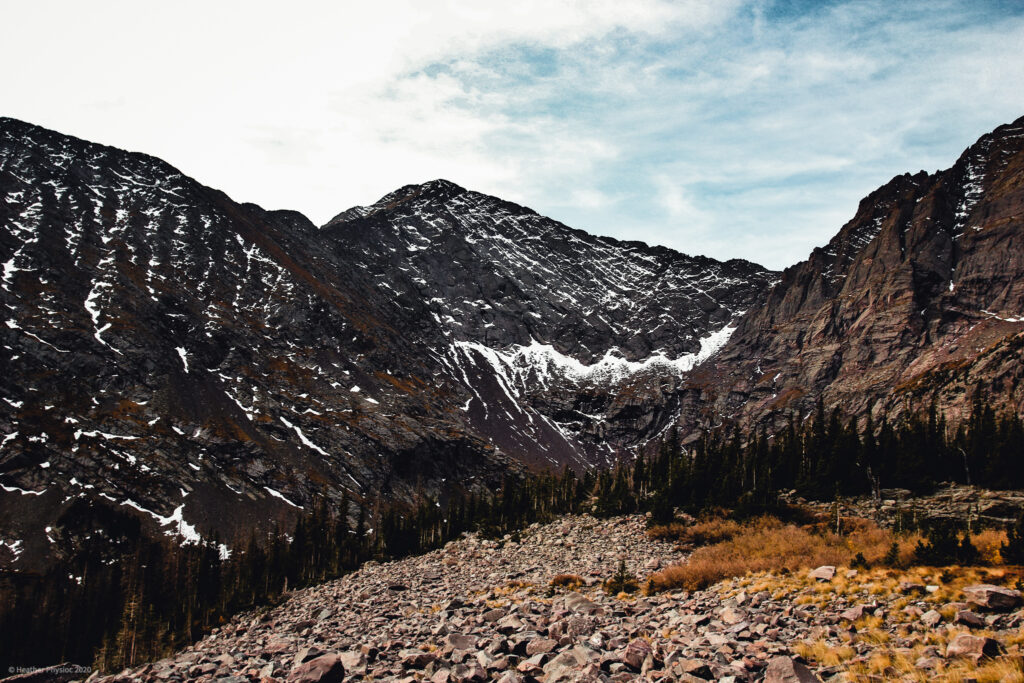 Then, we paused to have a conversation with a young pair on their descent after summiting. "It was really windy up there," one said, with a nervous chuckle.
"Like scary windy?" I asked.
"Yeah, like, every time a took a step," and she proceeded to demonstrate how the wind threw her precariously off-balance at the top of a mountain.
"Well, good luck! The views are totally worth it," she said — a common mountain refrain — and they continued their descent.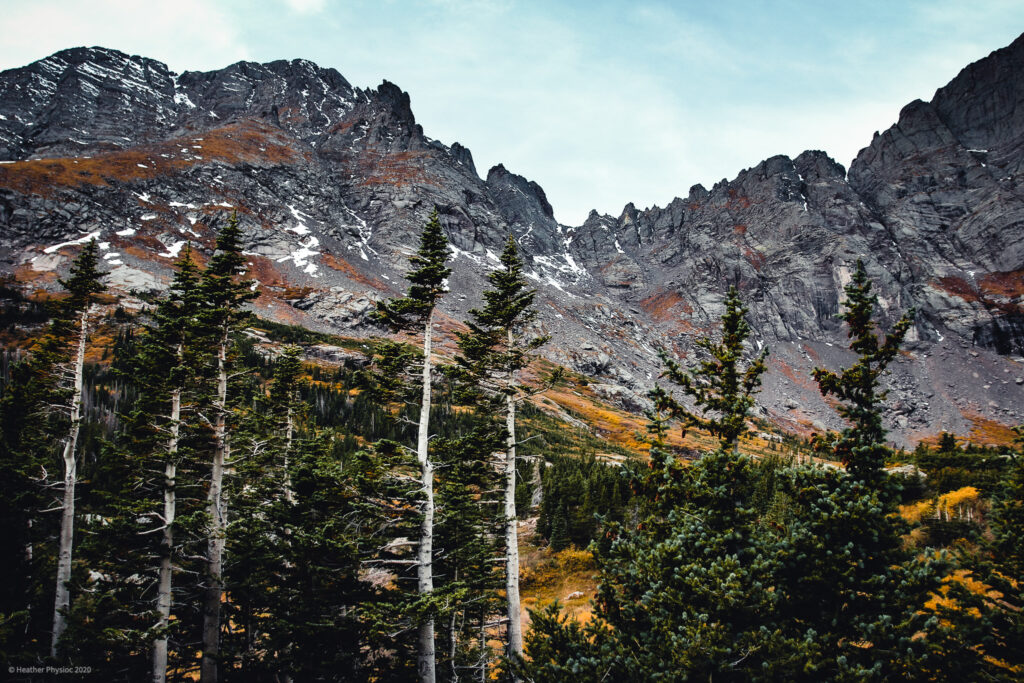 On we continued. The scenery was as breathtaking as the altitude. I loved the jagged relief of the mountaintops, starkly juxtaposed against the fields and rich alpine lakes below.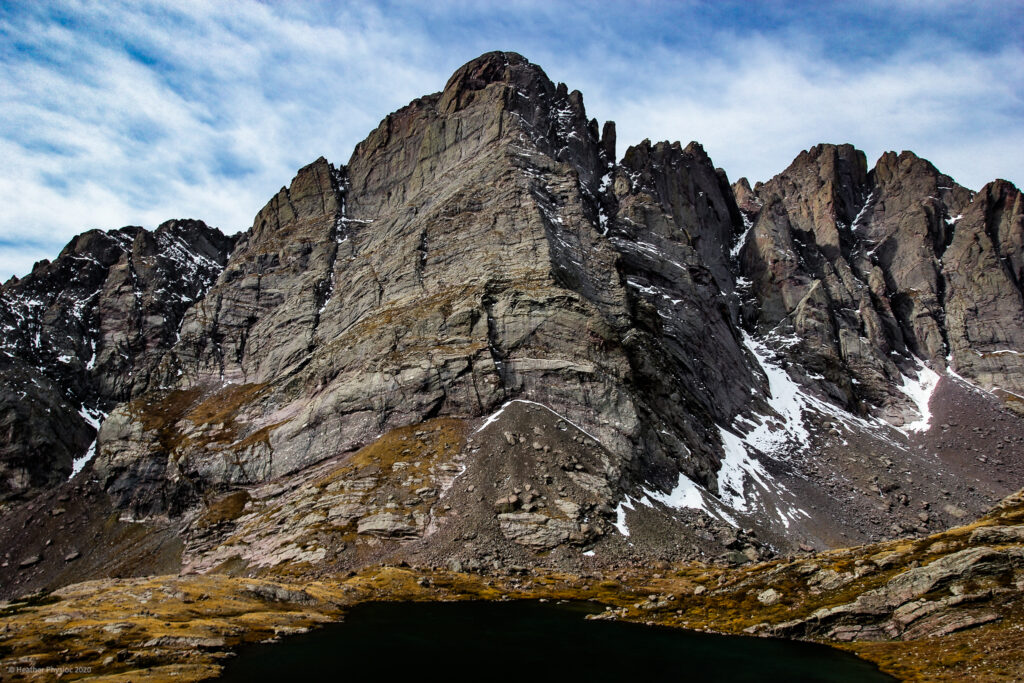 The climb was becoming more challenging. More rocky, narrow, trail, with the occasional thrill (or terror) of exposure.
I have come to accept that altitude-adapted locals of all ages blast past me on 14ers. My flimsy, flatlander lungs and under-trained legs make it an inevitability.
But something came over me.
Nothing slows me down like fear. Nothing literally stops me in my tracks like a full-blown panic. With tears, I leaned on my poles, and told Lori, "I can't get to the top."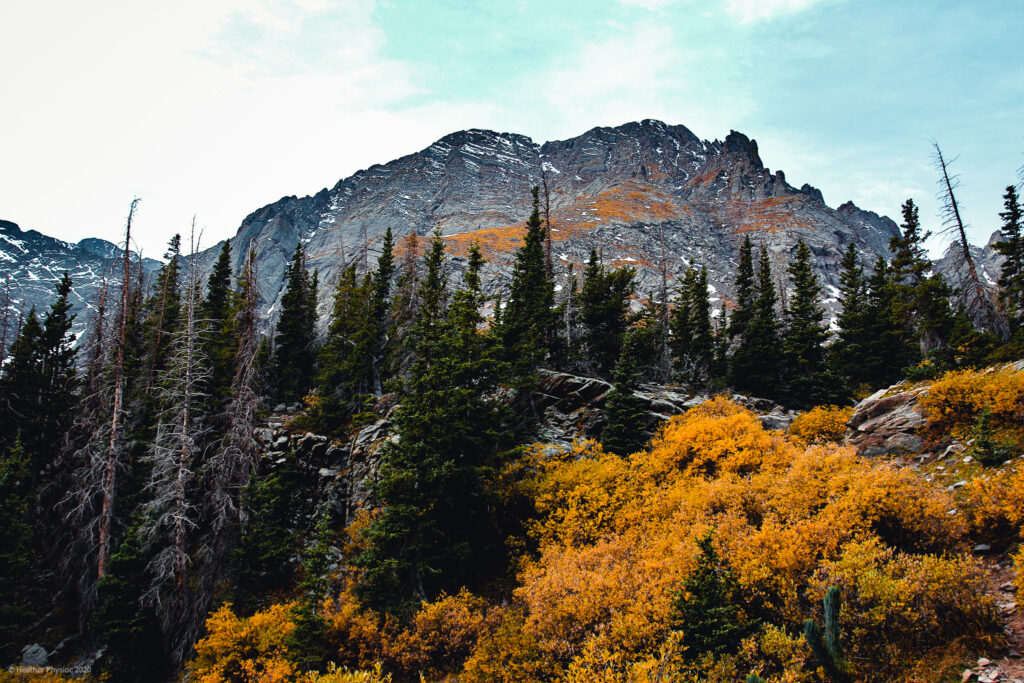 Lori is the kind of friend you want by your side in any situation. She has coached me as a boss, she has given advice as a friend, and now she was prodding me forward to do more than I thought I could do on this mountain.
"But I think you can go further," she said.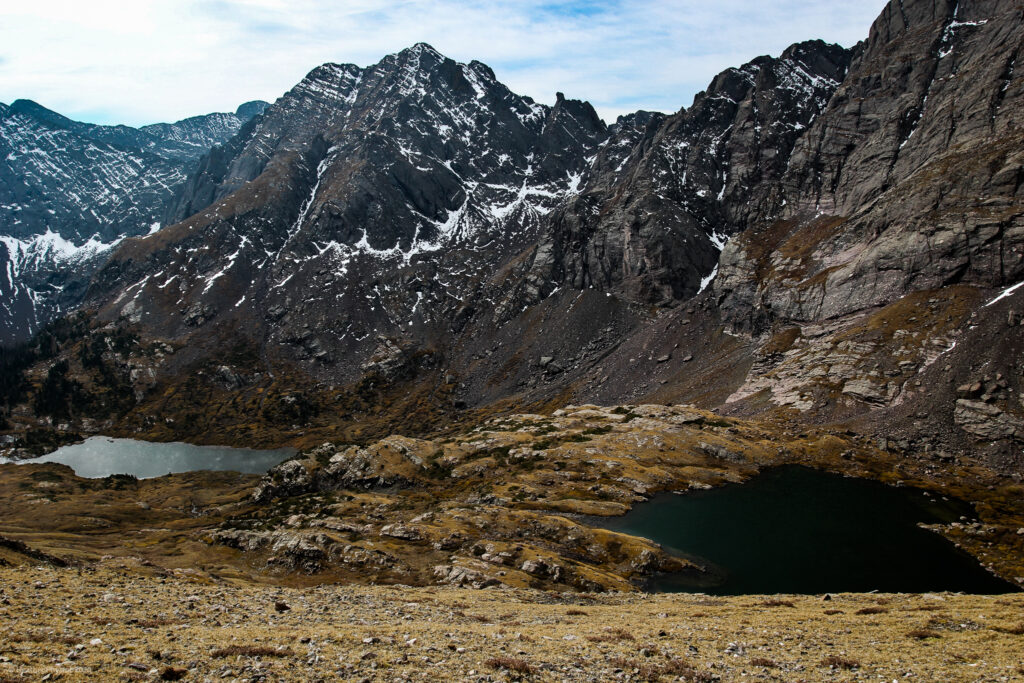 So I did go further. Not much. But further. One foot in front of the other, a few more switchbacks. Another hundred feet in elevation, maybe. My legs were shaking, from the work, yes, but really from the fear. I tried so hard to dig deep enough to get past what I knew was just momentary panic.
At just over 13,200 feet, I gave in to the wind, the weakness, and the fear.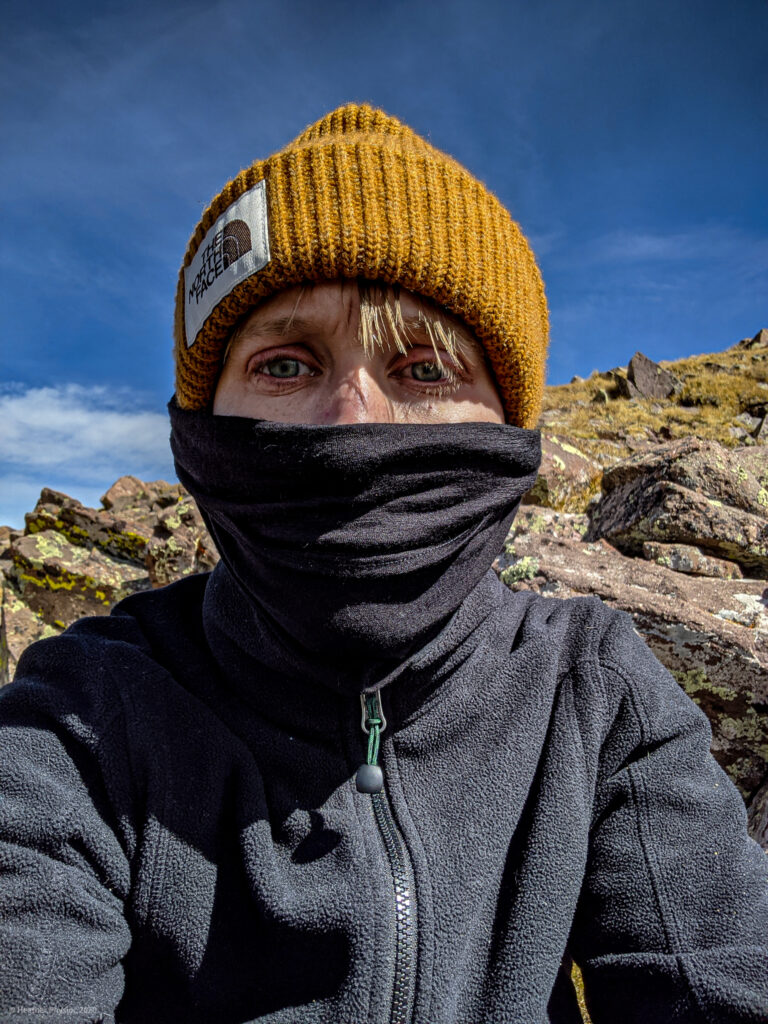 I think this moment could be called "ugly crying." Even grief. The feeling of working so hard and so badly wanting to be brave, but ultimately failing. It felt like I lost something. I came to this mountain to make progress against my fear, and it felt more like regression instead.
Eventually, I chose a spot in the sun to at least appreciate the views one last time while I awaited Lori, who pressed on toward the summit. My disappointment in quitting soon made way for excitement for Lori to finish.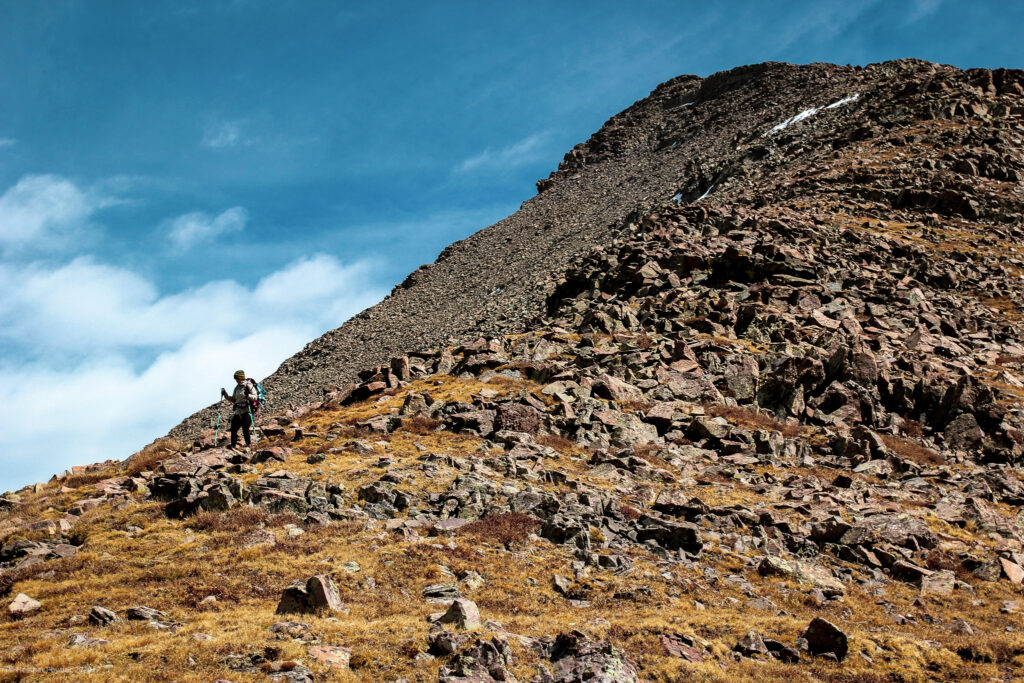 A short while later, I saw the glint of a reflection coming down the mountain. Her trekking poles. "Did you bag it?" I yelled up at her.
Lori had reached an obstacle she couldn't pass on the trail that required more technical ability than we had. She couldn't continue either.
For me, fear won this time. Much of the descent I reasoned with myself, chastised myself. But in truth, it was also laced with relief. And ultimately, it all gave way to gratitude for what my body has accomplished, and what my eyes have seen.
I am fortunate for what I have done, and what I will do in the future. Every time I show up on a mountain is a chance to face that fear. Many days, the fear is stronger – but on many others, I am.
Lori later joked that Humboldt Peak should be named "Humble Peak." I'm inclined to agree.
This mountain will still be there. There will be more mountains. And I will face those too. I may not always beat the fear, but I hope that with each peak, the fear will diminish.