Fear has been a consistent companion in my life. At age 10, I negotiated my way out of the deep end of the pool during swim lessons at day camp. I was later than all my friends to take the training wheels off my bicycle. My lifelong friend Molly remembered me as an anxious kid – "always over-preparing out of what seemed like worry." I turned down countless experiences and opportunities to avoid taking risks and facing the things that scared me most.
When I attempted Humboldt Peak last year, I reached about 13,250 feet and panicked. The wind was gusty, my legs were shaking, and one conversation with fellow hikers coming down the mountain about gusts on the ridge sent me into a tailspin. When the reasons to stop mounted, I gave up, sat down, and wept.
I don't regret stopping on the Humboldt ascent. In retrospect, it was still the right call with the windy conditions and the limitations of our technical abilities. But it never stopped bothering me that fear is what paralyzed me, not rational decision-making. It wasn't the difficulty of the task. I couldn't continue because of the terror inside my head. Because something I saw collapsed my courage.
Fear is supposed to help us make good decisions in the face of danger – not hold us back from taking any risk at all. I've grown tired of letting fear make the decisions for me. My rational brain, training, education, and practice — all these prepare me for the mountains. I learn more and more each time I get on the mountain or hit the trail.
Huron Peak would be my redemption.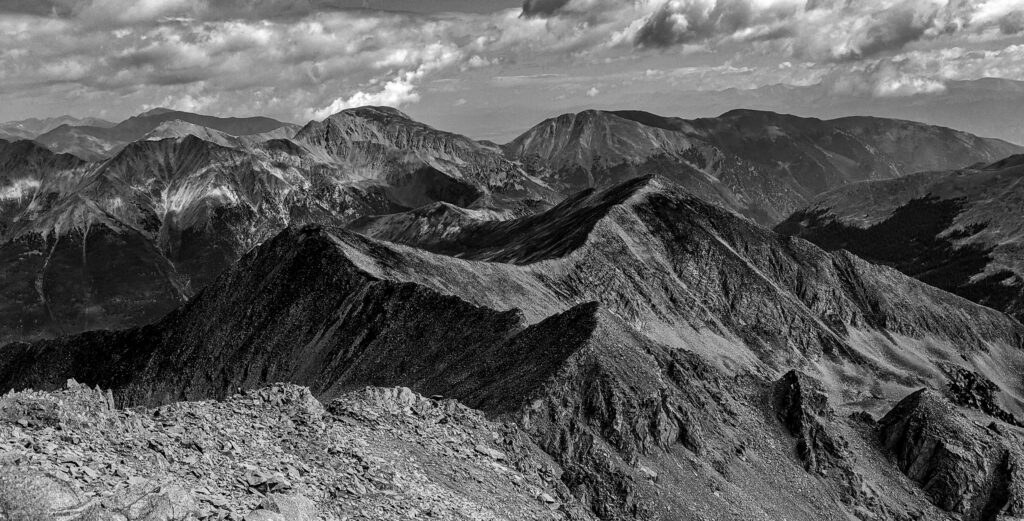 Training for Huron Peak
I prepared my body by hiking 25, then 30, then 35 miles per week around the hills of my neighborhood with a sandbag in my pack for months. I set daily reminders to read about the mountain, prepare myself for the trail, and study mountain landscape photography techniques. The most important thing I needed to strengthen, though, was my resolve in the face of fear. I needed to apply actual, tangible, specific action to challenging my anxiety on the trail.
I dissected the moments that I panicked on previous mountains, seeking a pattern I could learn from. I realized that I always spiraled immediately after observing another hiker not paying attention and having a slip or hearing someone recount their scary encounter on the mountain, like losing their balance on narrow traverses when a gust of wind blew through. I suddenly realized that the biggest obstacle to my completion was the details that I used to think I needed from fellow hikers to be successful. I needed to rethink my approach completely.
I itemized things that stopped me in the past and addressed each with a specific technique or behavior. I meditated on the moments that caused me to panic. I listened to podcasts about overcoming fear in all aspects of life, personal, professional and physical. I read studies about how fear functions and obsessed about the people who learn to face it. Shortly before the trip, I tried to desensitize myself to heights on tall bridges and develop new responses on 65-foot towers atop 240-foot hills at a local zipline course.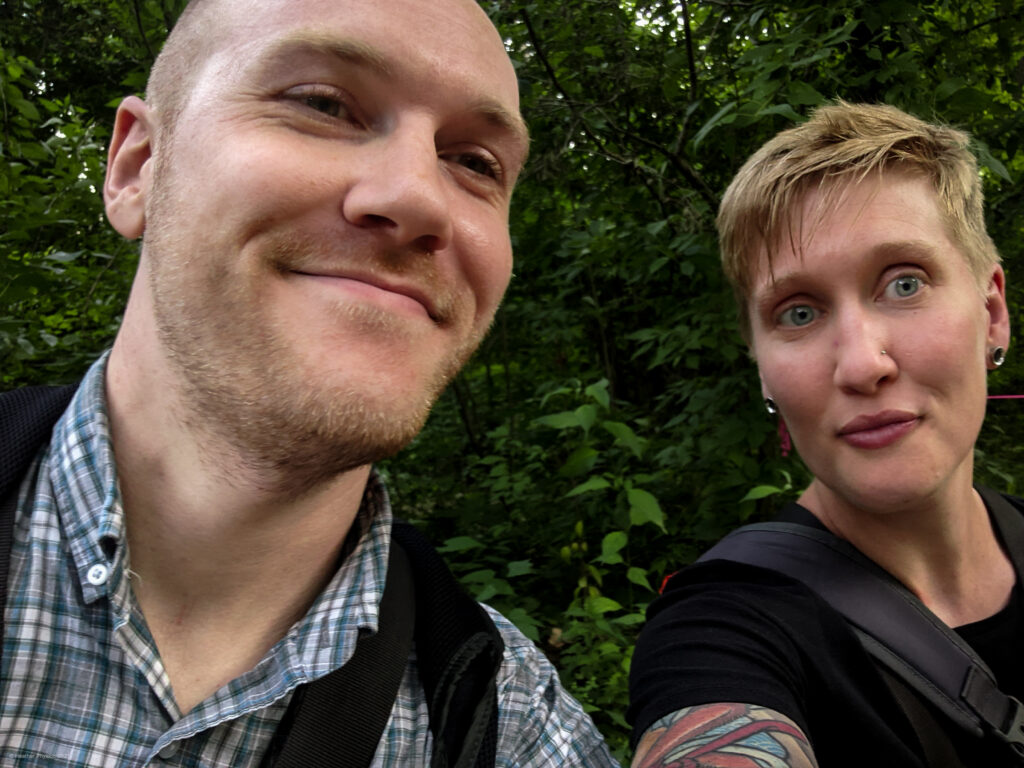 I am trained physically, mentally and emotionally. My gear is packed to a neurotic level of perfection. I sleep the night soundly before we leave for Colorado. I am ready.
Into the Mountains
Lori drove the entire route from Kansas City to Huron Peak like an absolute champ – even knowing she had to face down the 4WD-only road to get to our campsite. I passed the time in the passenger seat trying to snap the clearest cell phone camera shots I could of shadows and windmills on the Kansas prairie going 80 miles per hour down Highway 70, a fun way to get your creative gears turning on the road.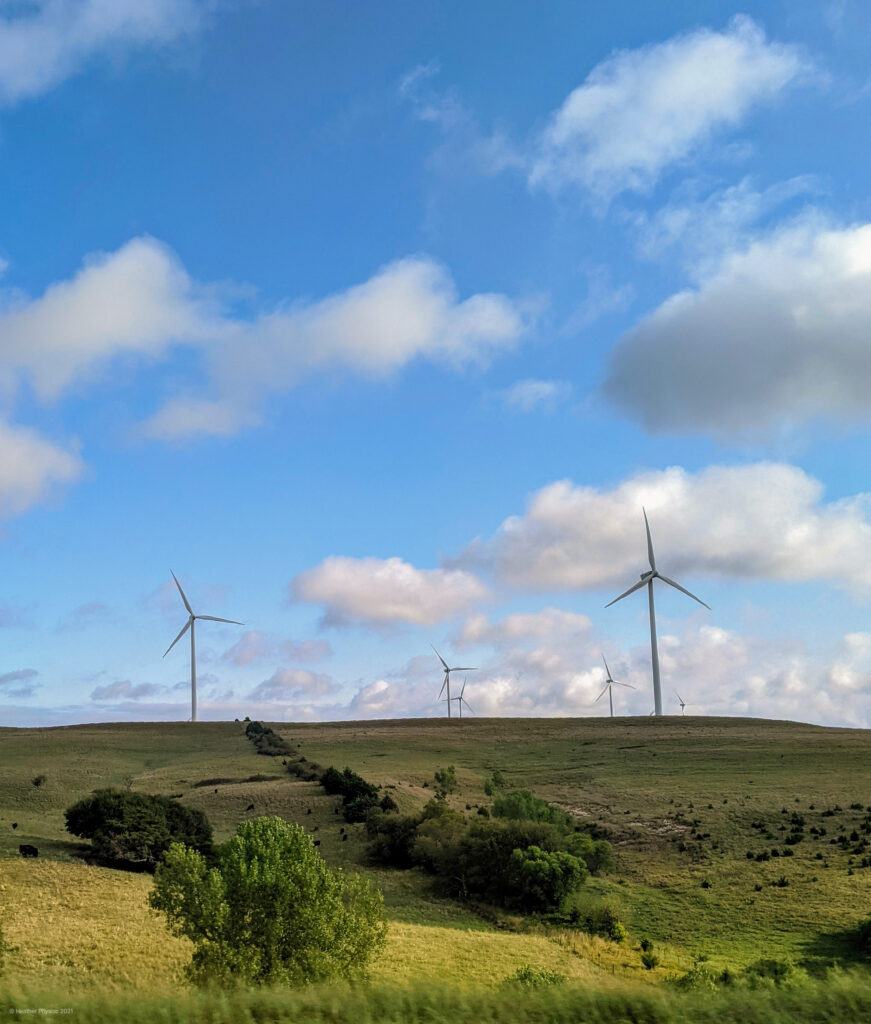 We arrived at the 2WD road late in the afternoon, about 5 p.m. It would be 45 minutes to drive 13 miles to the 4WD road from here. We ended up setting camp at the junction of these two passes. Immediately after we got out of the car, the rain started. We were getting pelted with rain and hail, and our gear was slick and not cooperating. It was a frustrating start to our weekend. Once we were set up "enough," we quickly cooked dinner and hit the sack. We were cold through the night, we slept terribly, and I was flopping around like a fish pulled into a rowboat from a strange spasm I had in a back muscle. As tough as it was, it would've been far worse on the ground!
We woke up to snow on the mountains and ice on our tents. We didn't want to get out from under the covers, but eventually… nature calls. (Ba-dum-ching.) I warmed some sourdough blueberry pancakes on the griddle, and we sipped coffee wrapped in blankets until we were ready to start exploring.
We hiked several hours on the Lulu Gulch trail, reaching about 12,000 feet in our exploration. Though breezy, the weather was lovely. We enjoyed gorgeous and expansive views of the mountains and valleys, watching the snowmelt throughout the day on the peaks. We saw everything from summer mountain wildflowers to dangerous Amanita Muscaria mushrooms to trickling, rocky streams.
It was an excellent warm-up for the climb to come the next day, but so nice to hike with no pressure or deadline to enjoy being in nature and snapping photos. We hauled armloads of dry firewood with us a mile or two down the trail to camp, cooked up some burgers, then early to bed and early to rise.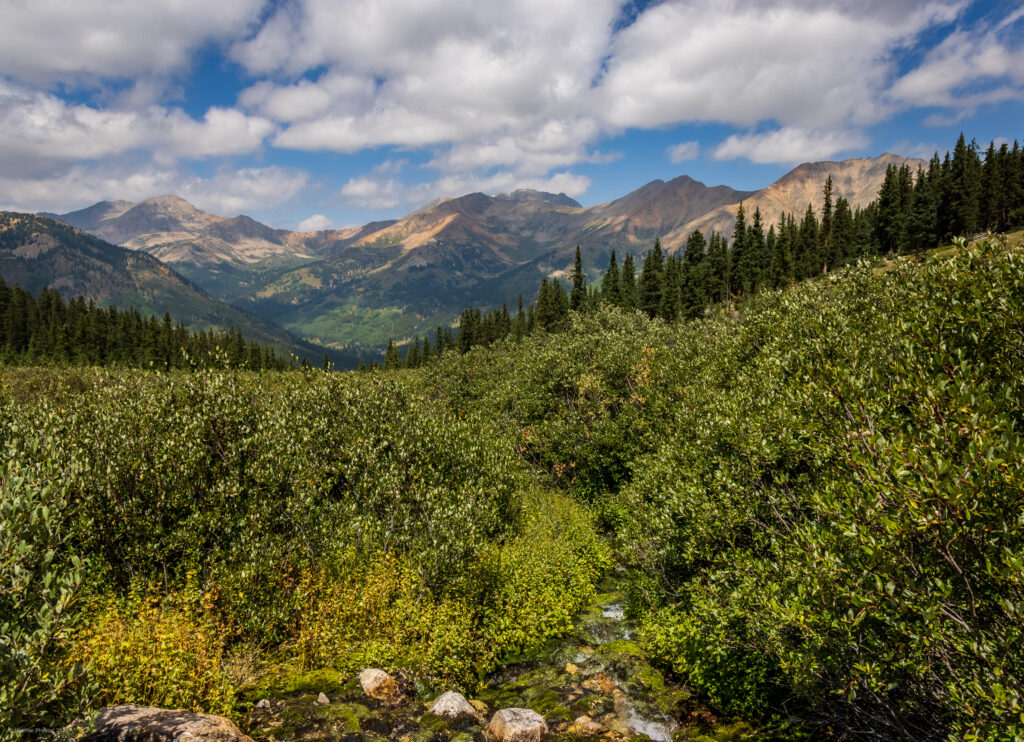 Summit Day on Huron Peak
And rise early, we did — before 4 a.m. to be precise — after another night of tossing and turning in the cold. I asked Lori if she was awake. She was. I suggested we get up and go and take our time getting up and going and getting onto the trail ahead of schedule. We did.
It was a shallow grade for the first 1.9 miles from the 2WD lot to the South Winfield trailhead. There is something extraordinary about that shadowy dawn time, where you need a headlamp to see the steps in front of you, and it feels like you're the only people awake on earth. I love to watch mountains slowly come to life, from the blue hour to the golden hour to the bright light of morning.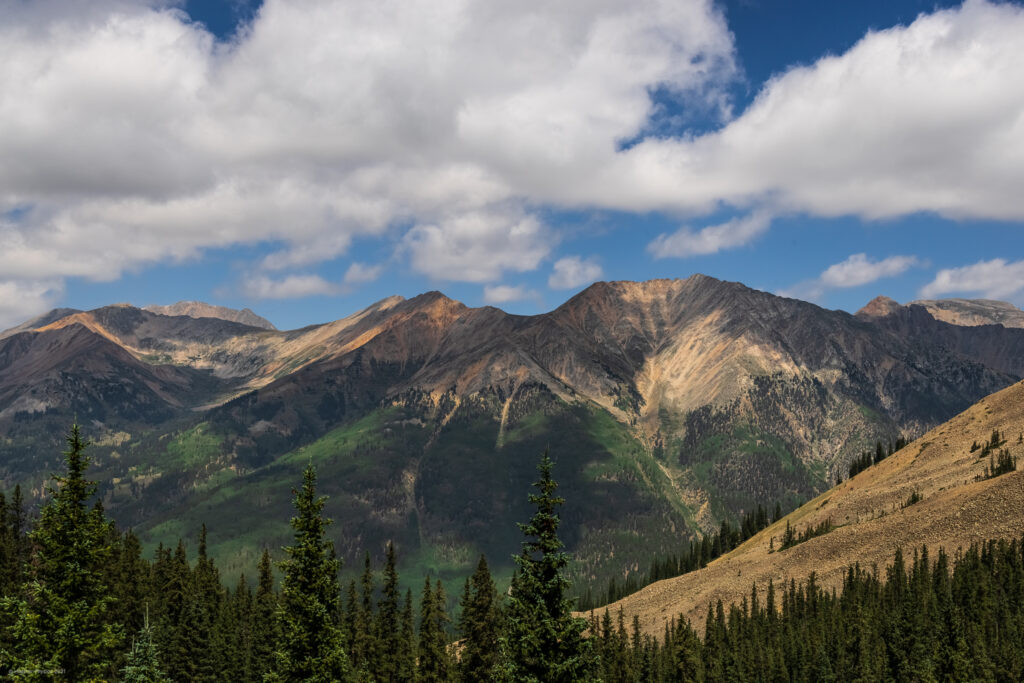 We thoroughly enjoyed the trailhead to the treeline through the forested part of the trail. We stopped every hour to rest, check our pace, hydrate, and snack, as we had promised ourselves the night before. When the uphill climb became tougher, we would count out 150 paces in our heads, rest for five breaths, and repeat. We were pacing well and making steady progress, feeling good about our summit.
I always used to experience anxiety when arriving at the treeline, because that's where the trail transforms. Things inevitably become rockier, steeper, windier, and more exposed to the elements. You also typically get your first clear views of the peak, which is when I am liable to anticipate what's coming and lose my presence in the moment. When you have exerted yourself for hours, and now you need to dig deep to pull out several more hours of energy to go seemingly not very far, it's easy for dread to seep in. I recounted that Huron Peak is one of the "easier" 14ers, challenging, hard work but not treacherous. Instead of letting my unease slide into the driver's seat, I paused to rethink and refocus momentarily. I reminded myself of the mission, to put one foot in front of the other.
The initial valley pass beyond the treeline was the perfect increase in graduation. I was warmed up and ready to put my head down and work. This part of the trail was just the right amount of more difficult, with beautiful and rewarding views to wind through. We began this section around 8 a.m., and for an hour or two, we gazed down upon meltwater alpine ponds surrounded by bright, summery green meadows and shadowy spruces and evergreens. We crossed fields of large, chunky stones – possibly some kind of granodiorite, bright and glinting when the sunlight hit it. The sun was still low enough in the sky to cast moving shadows over the valley and gave us hazy sunbursts from behind the nearby peaks.
Toward the end of this segment, we got our first view of Huron Peak. This is where we would begin our final push. The switchbacks toward the ridge looked about as friendly as 14er switchbacks can be, with brightly colored dots of happy hikers progressing up the trail and the first descenders of the day beginning to make their way back down the mountain. Whenever something tried to pull on my attention or anxiety, I recentered and focused on the next step.
The final, rocky ascent from 13,700 feet to the summit was where I needed to bring all my training into focus. I never lost faith that I was physically prepared for this hike. Increasing weight and mileage in the flatlands had me in good shape and feeling strong. It was time to tap into my mental and emotional work.
I needed to stay in the zone in my head and focus intently on the immediate next step in front of me. There is no need to look at the people around me and what they're doing or absorb their experiences, letting them spin me off course. I put blinders on and tuned them out. I zeroed in on each next big stone, or the next tree, or how to keep my footing on the next scramble. A few narrow areas gave me pause, and steep rocky areas required me to put my trekking poles in one hand and pull myself up a particularly steep step, but I stayed locked in.
Except when there were dogs. I make exceptions for dogs. It was a blessing that this 14er was so dog-friendly – my hiking buddies know that canine trekkers give me life when I need it most. I even caught myself giving myself internal pep talks about, "Be like a dog. They're happy to be here, working hard, experiencing the world." when I was showing signs of getting cranky or winded. (A warm hello to Chunk, Kale, Lucy, Lacy, Jax, and all other furry friends I met.) Just find a fellow hiker's dog, pet it generously, and tell it what a very good dog it is for being so brave and strong on the mountain – then hope that it absorbs through your skin.
Steady upward we pushed, and pushed until our final successful summit at 10:24 a.m. A small crowd gathered at the top, finally releasing packs, resting shaky legs, and taking in the mountainous panorama. We reconnected with hikers (and dogs) we had leapfrogged with on the trail below. Some hikers had completed upwards of 30 14ers before this and could easily name many of the peaks in the distance.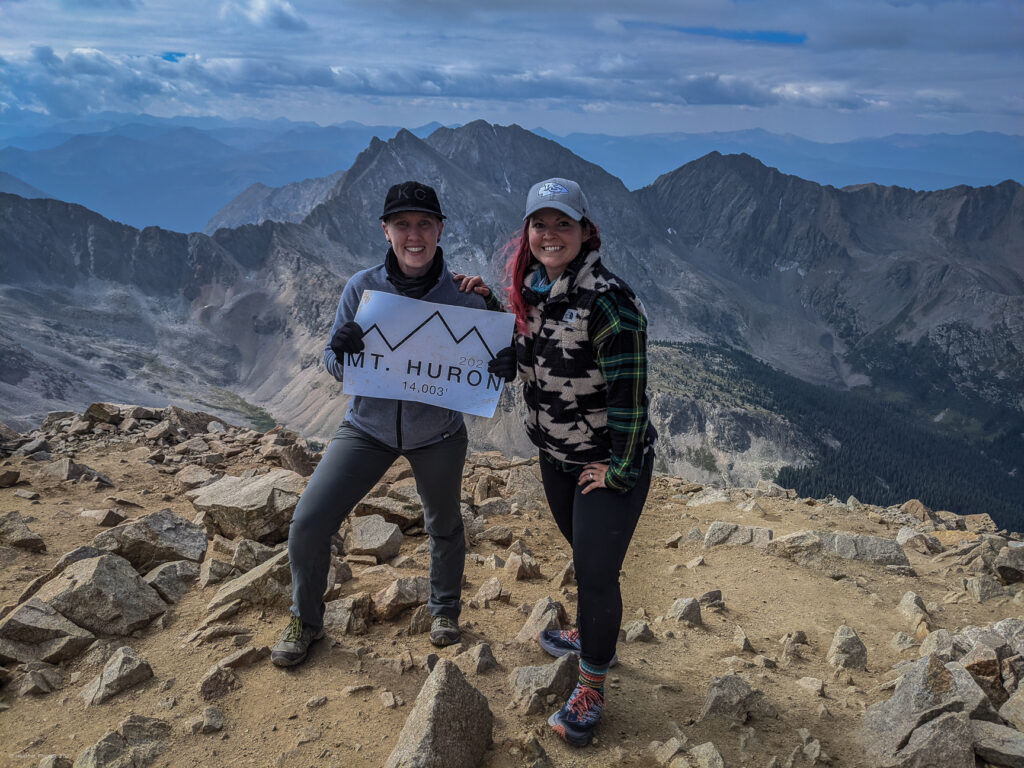 Huron Peak has prominent views of the Three Apostles, a tight-knit group of 13ers to the south. It has a beautiful s-curve ridge serving as a leading line toward Browns Peak, across which you can follow an alternate route to take Huron. We passed around a shared summit sign for photos and pulled out our summit beers – aptly, the Breckenridge Brewery Avalanche Amber Ale. My legs shaking with exertion and adrenaline, I sat down on the edge of the summit to rest and revel in the euphoric sense of accomplishment.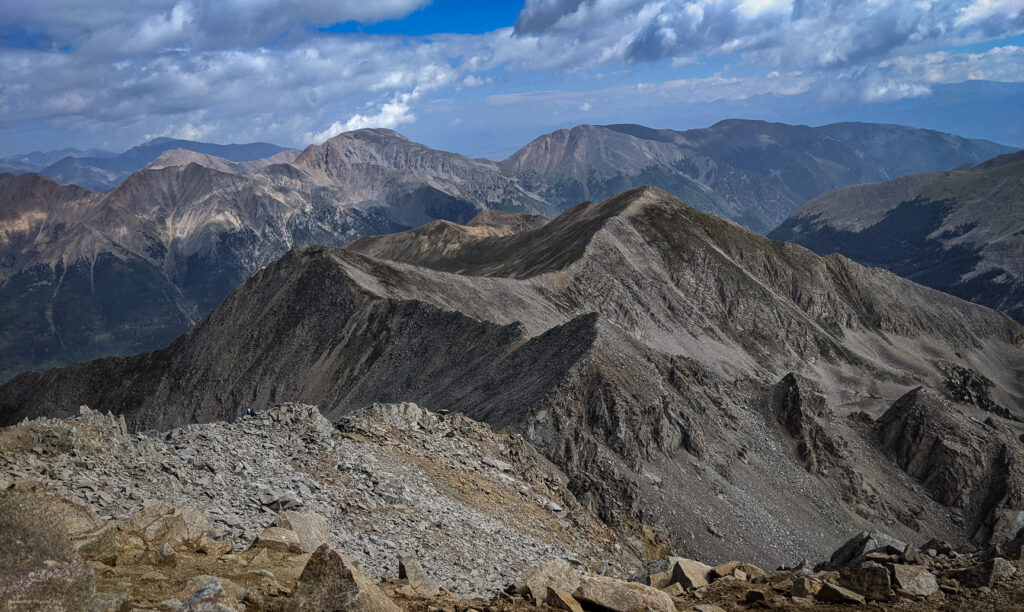 Soon the temperature dropped, and the wind made us shiver. Dark clouds were rolling in, so we decided to start down the mountain. Just as we were carefully picking our way down the talus, a light, dry snow began to fall. It was enough to cause some hikers to call it a day and turn around for fear something more substantial would roll in while they were at the summit. But fortunately, the snow was short-lived, and many more trail friends we met finished that day.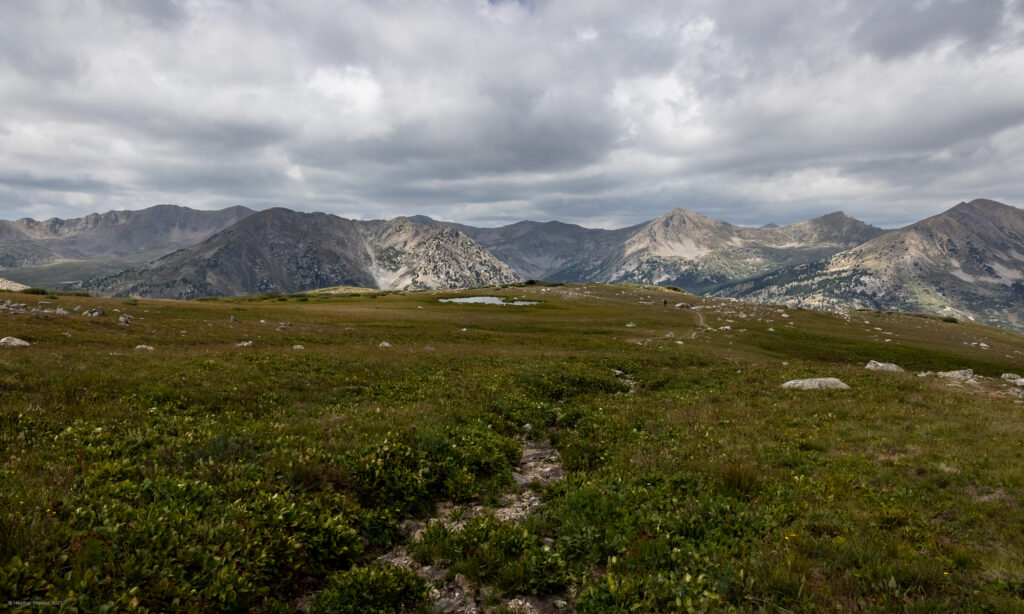 Serendipity & Trail Magic
Reaching the meadow again was sweet relief from the tension of working our way through steep and rocky terrain from the summit. Still, by the time we reached the end of the tree cover toward the trailhead, we were wiped out. I wasn't as consistent with snacks and hydration on the hike down as I was on the way up. I needed to take a brief refueling pause, and my feet and knees were over it.
Fortunately, not long after we passed through the 4WD lot, we encountered someone we met on the trail – Wes and his hilarious, 10-month-old, auburn-colored pitbull. By a little bit of trail magic, we needed a lift back to the 2WD lot where we had set up camp, and he had left his wallet at home and was almost out of gas, so we were able to help each other finish our summit days strong together. This encounter is one of many testaments to the human connections you make on the trail.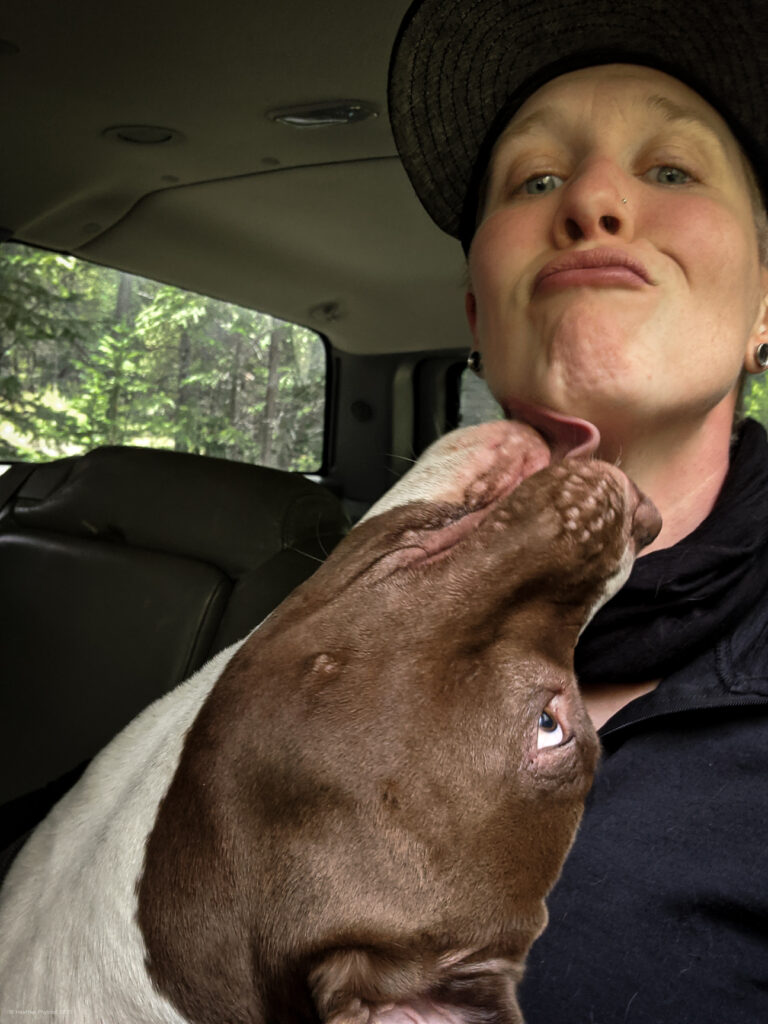 Serendipity treated us again when two amateur mushroom hunters – Dylan and Daniel – parked near our campsite on a mission for "Rocky Mountain porcinis," a colloquial term for the Rocky Mountain red mushroom, Boletus rubriceps. When they returned with their spoils, Dillon explained how he had recently taken up the hobby and shared things he had learned about how fungi behave at different stages of their life cycles. He planned to share photographs of his harvest with his community of mushroom enthusiasts to confirm if these were the edible chef's favorites he believed them to be.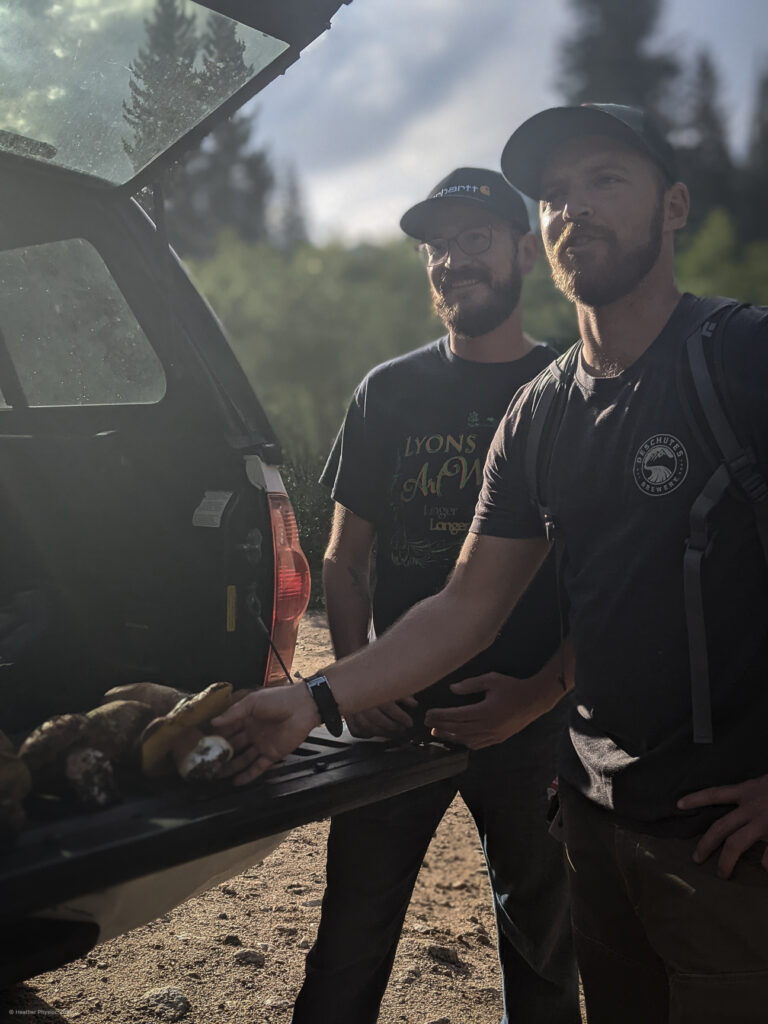 Fear vs. Bravery
We rested our weary feet, ate our final meal on the mountainside, and slowly packed our things. Meanwhile, the long sunset gave us a glorious display of clouds and color, such a treat after achieving this hard-earned goal. Lori and I quipped that after a summit, you always simultaneously want to be home as soon as possible, and yet you never want to leave. You desperately crave a shower, and for heaven's sake, some moisturizer, but you also aren't quite ready to go back to reality.
We wanted to get on the road by 6 a.m. the following morning, so we spent the evening vacillating between profound exhaustion and little bursts of energy, which we used to start packing up parts of camp for an early departure the following morning. I worked to create the perfect burrito of warmth under the covers in our tent – and tried to regain my breath when I was rapidly, shallowly gulping altitude air from the effort. I tried my best to be completely present in the feeling of satisfaction from this trip. We are strong and capable. We are clever and resourceful. We are committed and courageous. We did hard things, and we were brave.
It was the warmest night of the trip, and I slept easier than any night prior. I spent so much energy focused on fear when I should have been studying bravery all this time on the mountains I tackled before. I drifted off to sleep with a deep appreciation of this newfound courage and the work I had done to codify it for future mountains to come.