Some people say Detroit is a dead city. Some say that historic Motor City has been pushed past the point of no return after taking an economic beating in the last decade.
But I spent just one day in Detroit on business, and I can personally attest that Detroit is very much alive, and very much on an upswing. The people of Detroit are strong. No economic decline can keep them down for good.
Here's how I spent my day.
Heat Wave!
Pro-tip: If you are headed to Detroit on business and only have most of one day to spare, don't do it on a hot and muggy 95-degree Monday when many of the indoor attractions like museums are closed.
I sweated through a t-shirt so badly in the heat I might have to throw it away, but I still managed to find a few gems in Detroit. I'm excited to go back with a little more time to kill and my updated list of recommendations from locals to check out.
The first thing that struck me about Detroit was the oil running through its veins. I know it's called Motor City. I know that all the automotive giants are the backbone of this city. But you simply don't appreciate the automotive and industrial roots fully until you witness it for yourself.
I only had time and transportation for one part of Detroit on this trip, so I spent it in the downtown/midtown area, and I know I have only begun to scratch the surface.
Dime STore
My flight landed around 1 p.m. Detroit time, so I was eager to grab a bite to eat. I had heard about this breakfast/lunch/brunch place called Dime Store in the heart of downtown with lots of vegetarian options.
I went for the house-made barley, oat and black bean veggie burger with goat cheese, honey mustard and a multigrain bun. I also had a half order of their house-cut French fries with truffle mayo. The veggie burger was great, though needed a touch of salt. I was a fan of the goat cheese and honey mustard combo – even wished for a touch more of it. The fries were fairly standard but I'm always a huge fan of mayo with fries and the umami flavor of truffle was a nice touch.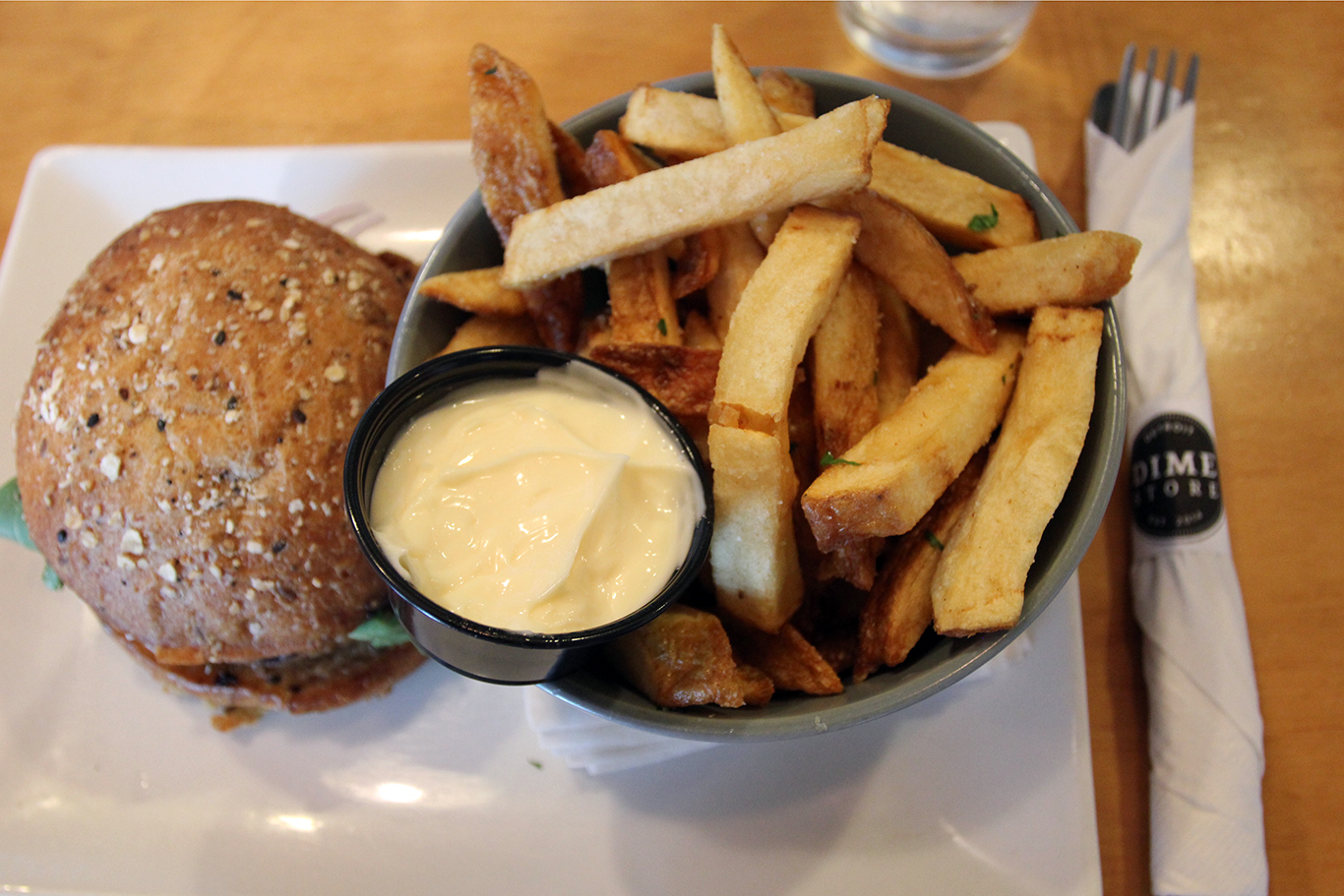 I was seated at the bar where I got to chat it up with the team behind the counter who also gave me more recommendations to experience Detroit.
Pure Detroit
I wanted to check out at least one store with local Detroit goodies, so I popped into the nearby Pure Detroit store. It is a somewhat hidden spot nestled inside the Guardian building next to a Bank of America branch. It mainly featured simple Detroit souvenirs and tchotchkes, as well as a nice Detroit books section, but I would've loved to have hit some of the other Detroit goods stores further out and maybe gotten some local wares from Michigan creators. Despite that, it was actually a great little spot to cool off with a coffee shop and some couches, too. Plus, the inside of the building was pretty beautiful.
Walked the Riverfront & Saw Canada
I headed down to Hart Plaza and the riverfront to check out the scene, and honestly there wasn't much to see in the spot I was at. Much of it was under construction and mostly blocked off by fences. Perhaps because of the heat, hardly anyone was there.
I was surprised to walk up to the river and look across to find myself staring into Windsor, Canada. The Caesar's Palace casino is the largest building, so perhaps not exactly a stunning first look at Canada, but still a unique novelty.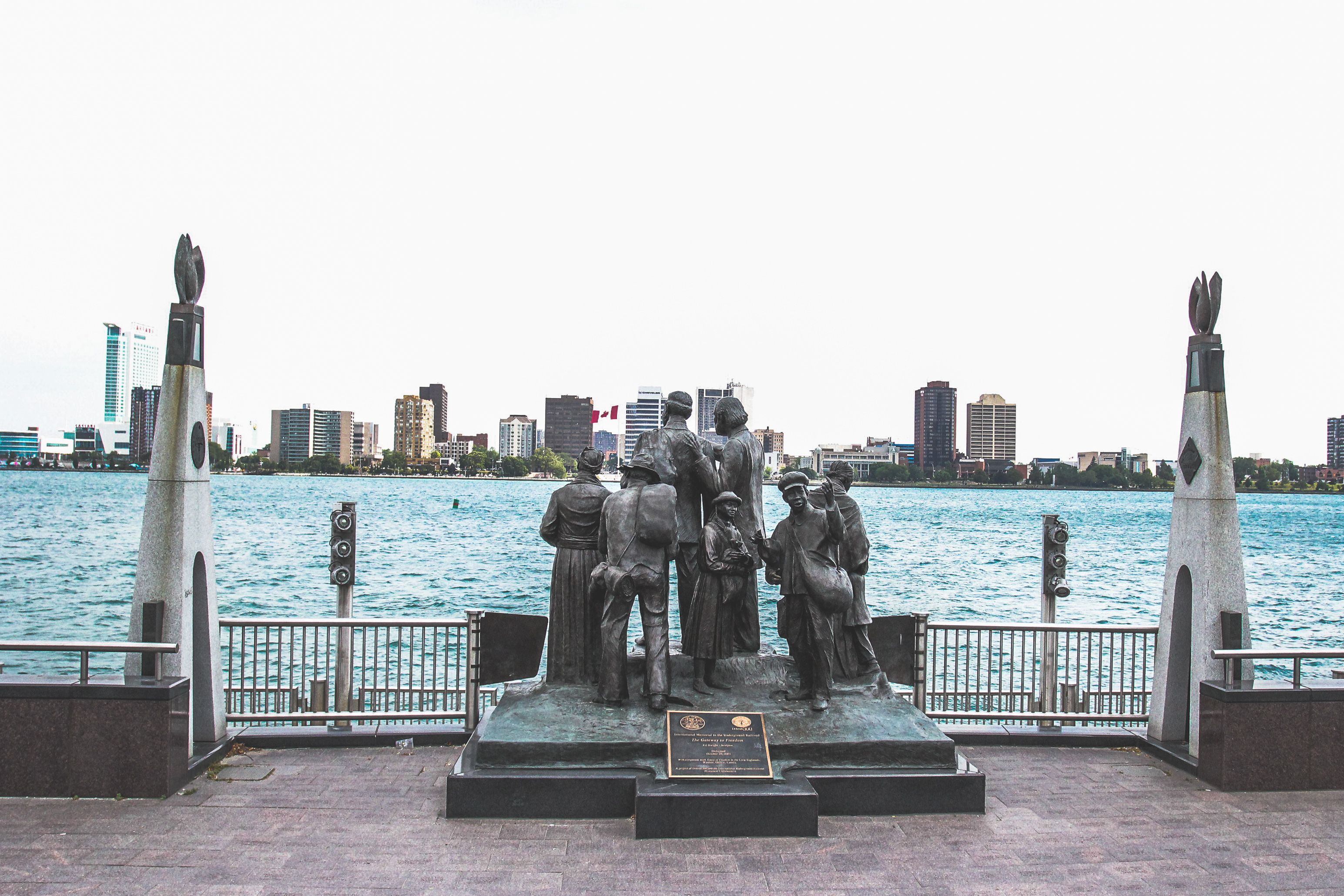 I walked a bit up the riverfront and ran into a small area of fountains in front of the GM building, and it was fun to see all the cute little kiddos splashing around in the water to beat the heat!
Roasting Plant Coffee
Bless this place and their air conditioner. I took some time to chill out and drink a huge iced tea and read a magazine at Roasting Plant at Campus Martius.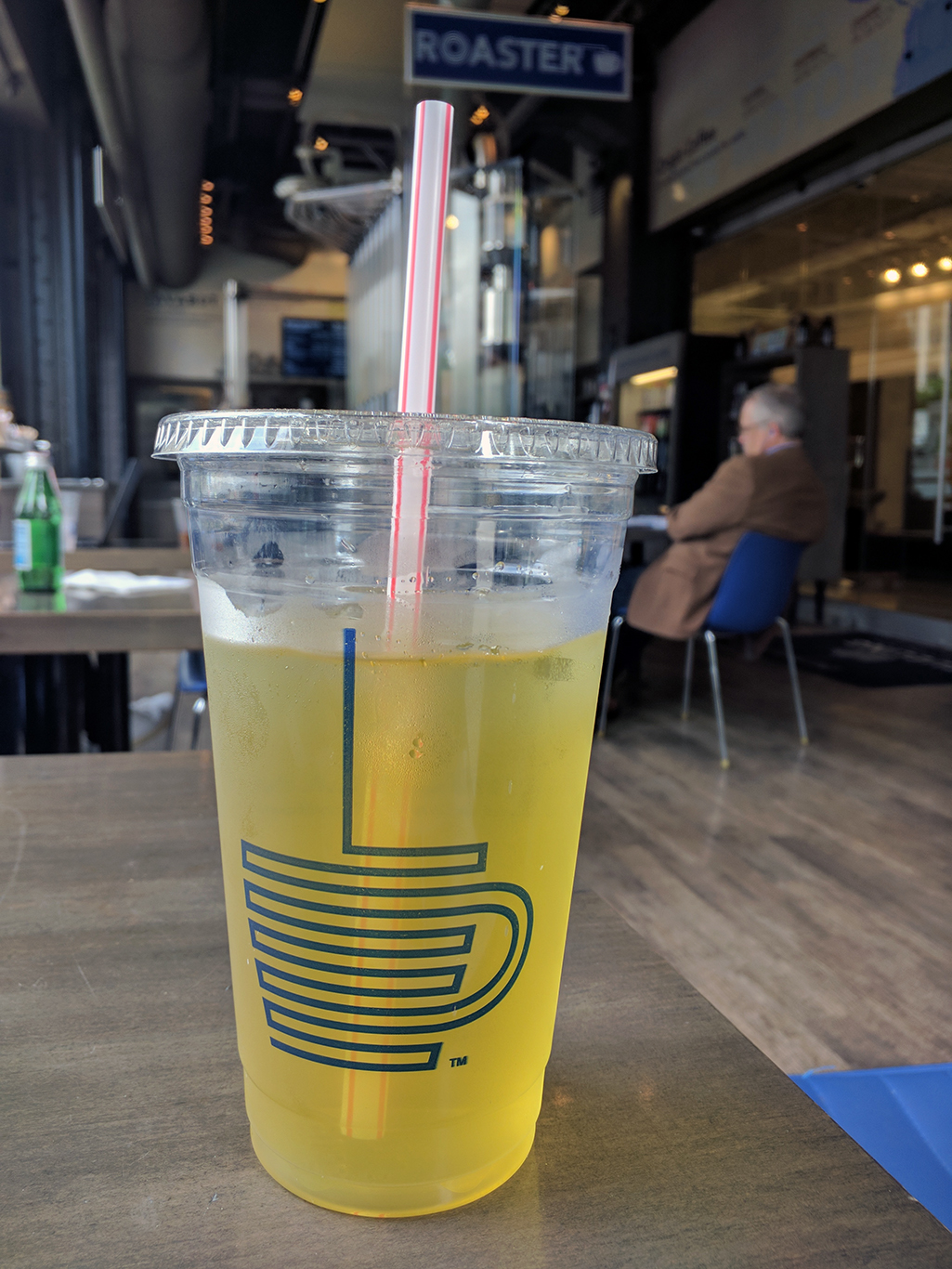 The Z Lot
I spent a good chunk of my day trip in a parking garage. You read that right. In the Detroit central business district, near The Belt, is a parking garage called The Z Lot. Each of the parking garage floors features the art of mural artists from around the world.
I walked from the very top – which has significant views of downtown Detroit's skyline – to the very bottom, which leads to an artsy alley called The Belt with several quaint businesses lining the wall.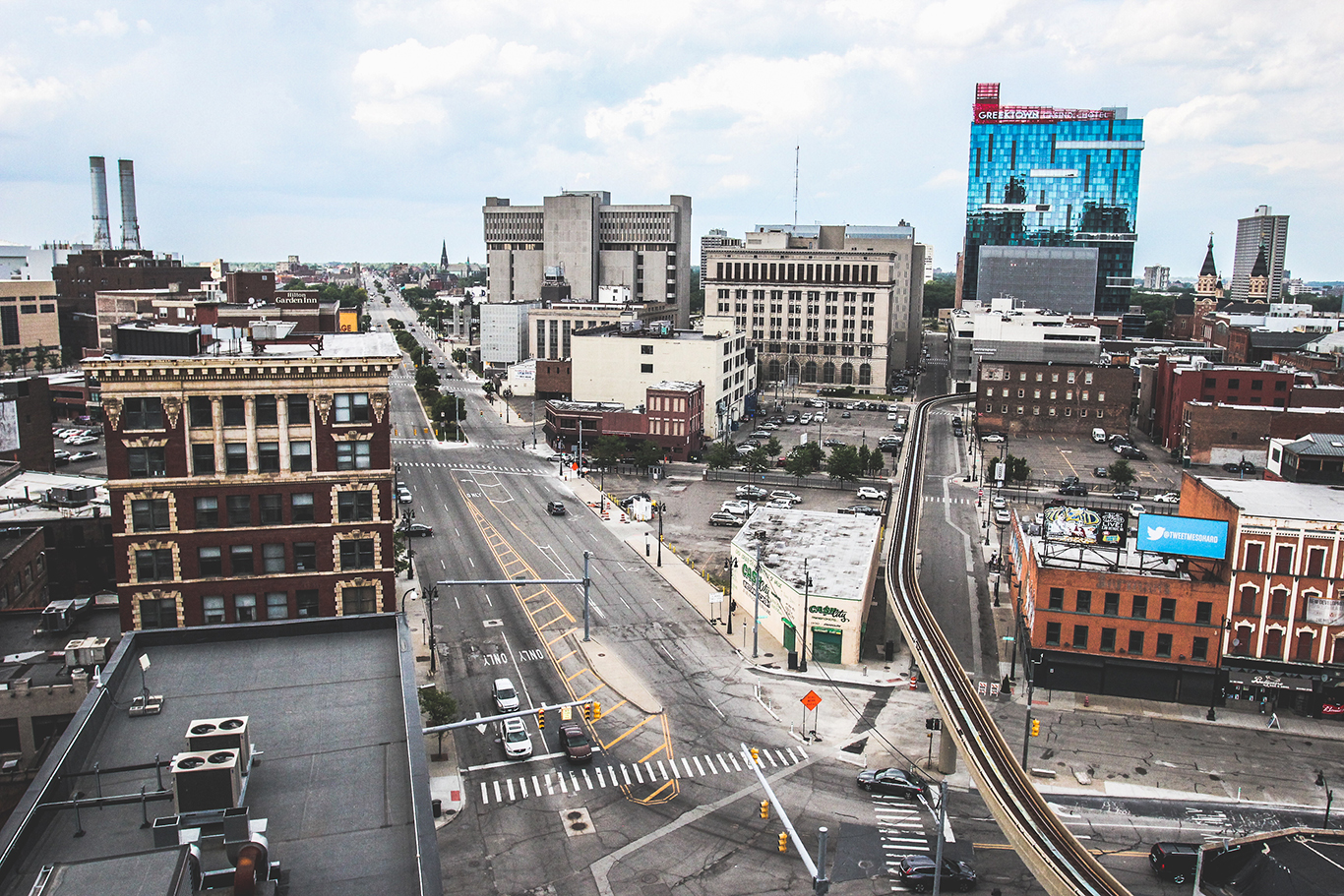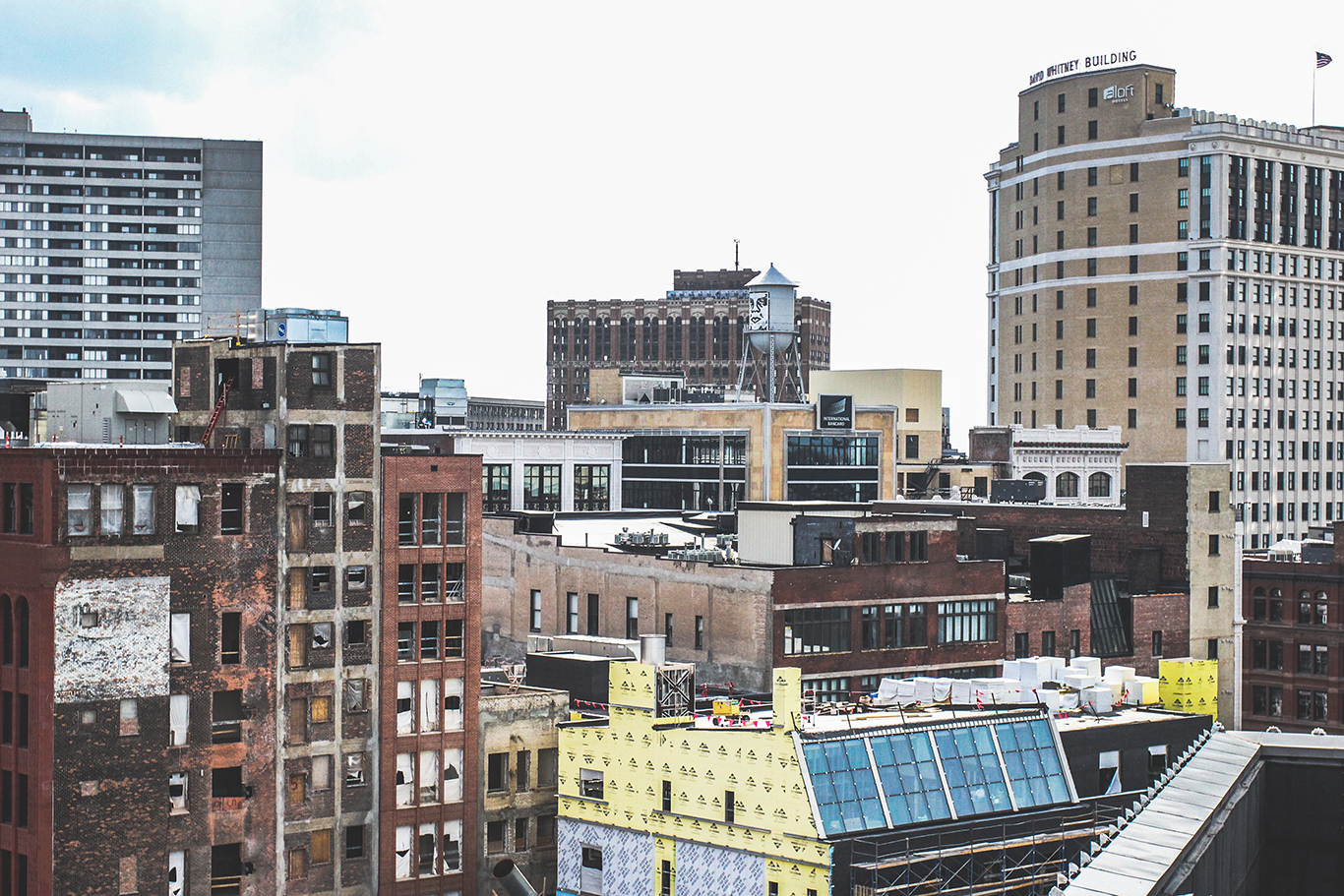 the Belt Alley
The Belt Alleyway came recommended to me as an artsy (and sort of hipster) part of downtown Detroit where you can appreciate murals and other art installations from local and not-so-local artists.  You can enter on Gratiot or Grand River Streets, between Broadway and Library Streets.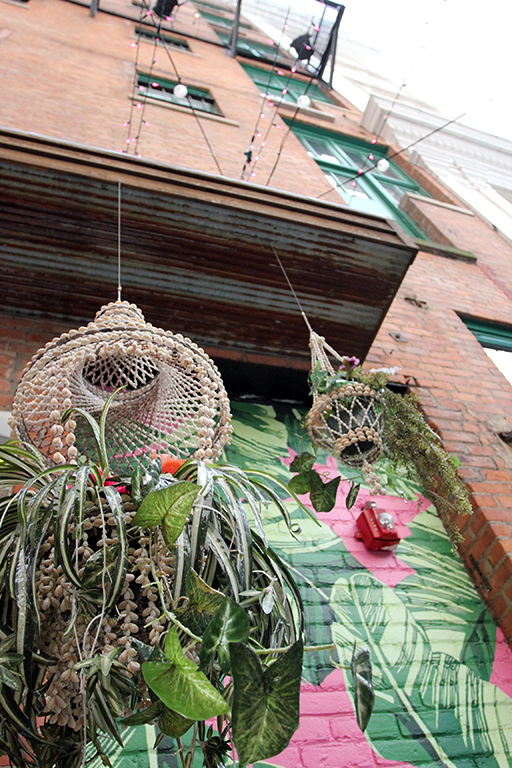 Aside from just being a cool spot tucked away in the heart of downtown, the best thing about The Belt alleyway is its origin story. It is just one of many alleys that the inventive people of Detroit have redesigned and renovated to convert from a shady, inaccessible place to a welcoming, safe, and exciting spot that connects pedestrians to art and local business.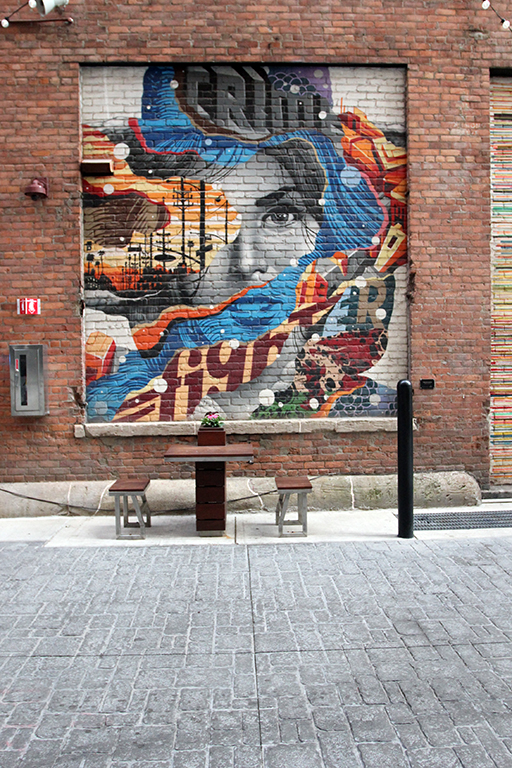 The Standby
One of the businesses you can find hidden in The Belt is a trendy cocktail bar and restaurant called The Standby. I love the art and style of the entryway alone.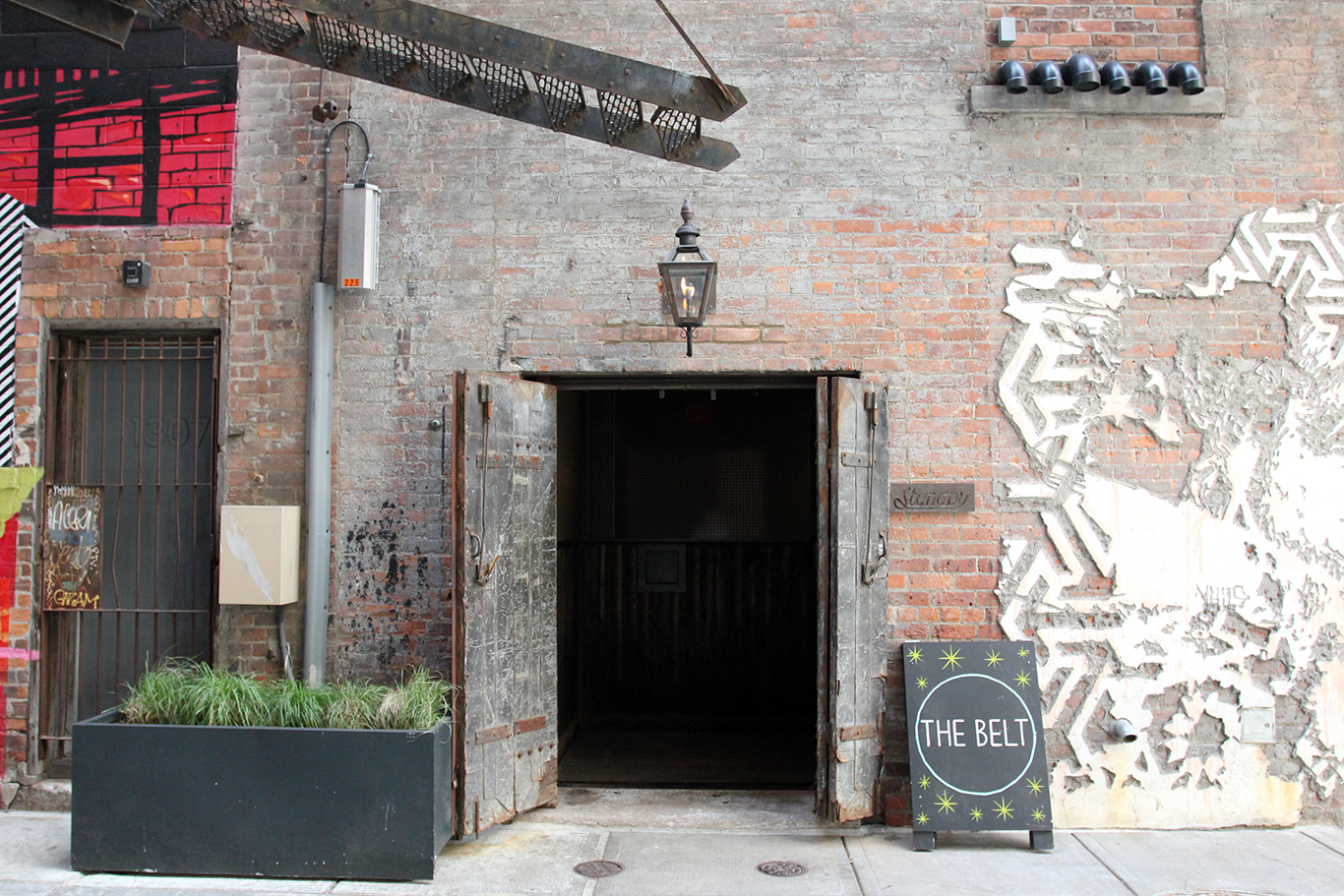 I came into the bar drenched in sweat from the heat wave weather outside, and asked my bartenders for the coolest, most crisp, and most refreshing drink they had. She recommended the Snake in the Grass, one of their gin cocktails — described as "citrusy, green, refreshing" — featuring Bombay Sapphire Gin, Nigori Sake, lemon, simple syrup, and matcha whipped cream.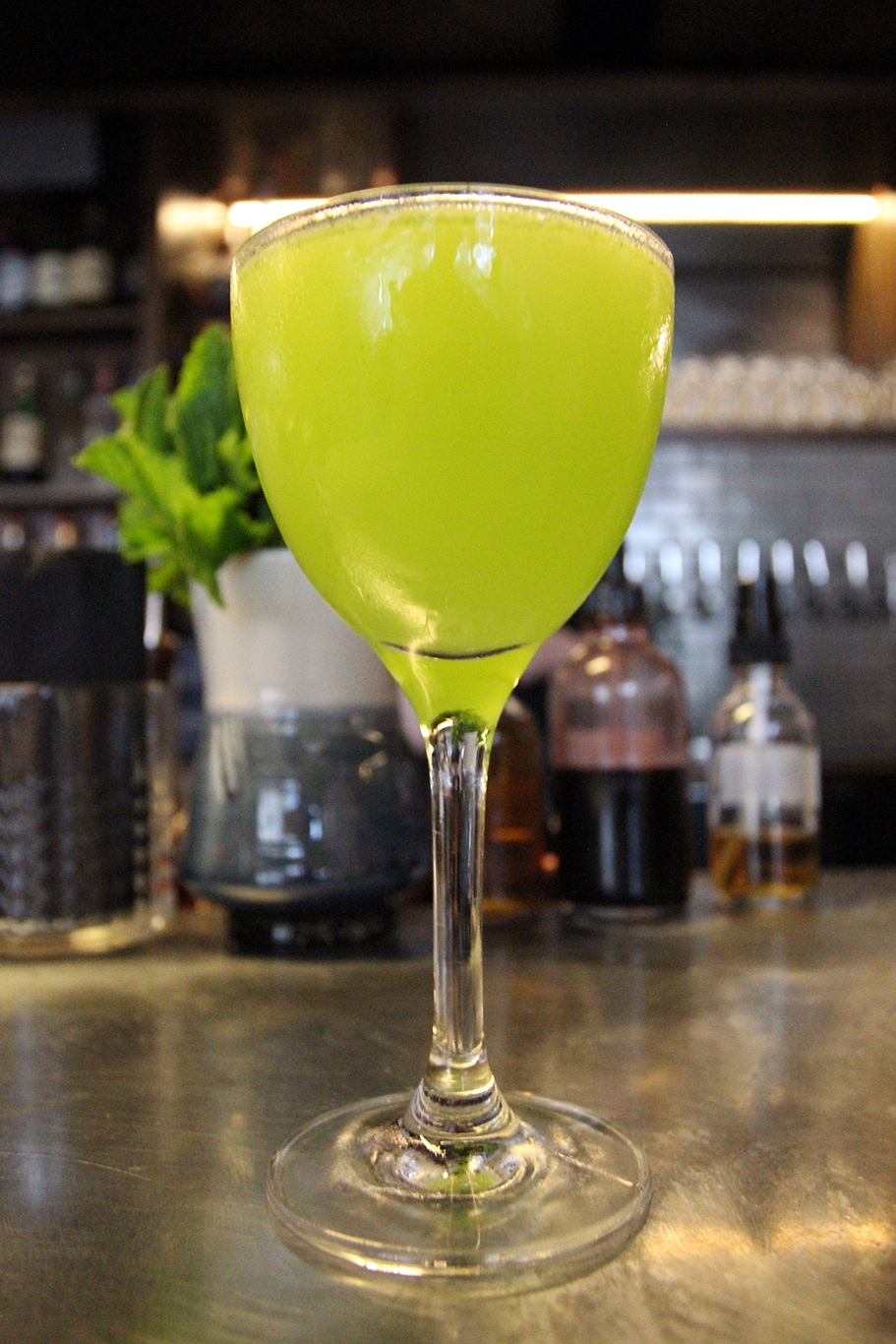 Selden Standard
My dinner at Selden Standard in Midtown was a highlight among my meals in Detroit. The wait was estimated at 45 minutes (!!) on a Monday night, so it's clearly a popular spot, but fortunately I managed to get a seat at the bar.
At first I was worried that after being in the heat outside all day sitting right in front of the grill would be a bummer, but the friendly conversation with Marcus, a culinary school alum who is truly passionate about food around the country, made it worthwhile. While I didn't happen to order any of the seafood or meat he was cooking, it was a real joy getting to watch it come to life.
I started with their Green Salad, with feta cheese, pickled fennel, rhubarb, sorrel, slivered radishes and crispy quinoa. I thought it was yummy and really appreciated the crunch of the crispy quinoa. I'm not sure I detected what the rhubarb brought to the table underneath the strong flavors of the feta and dressing, though.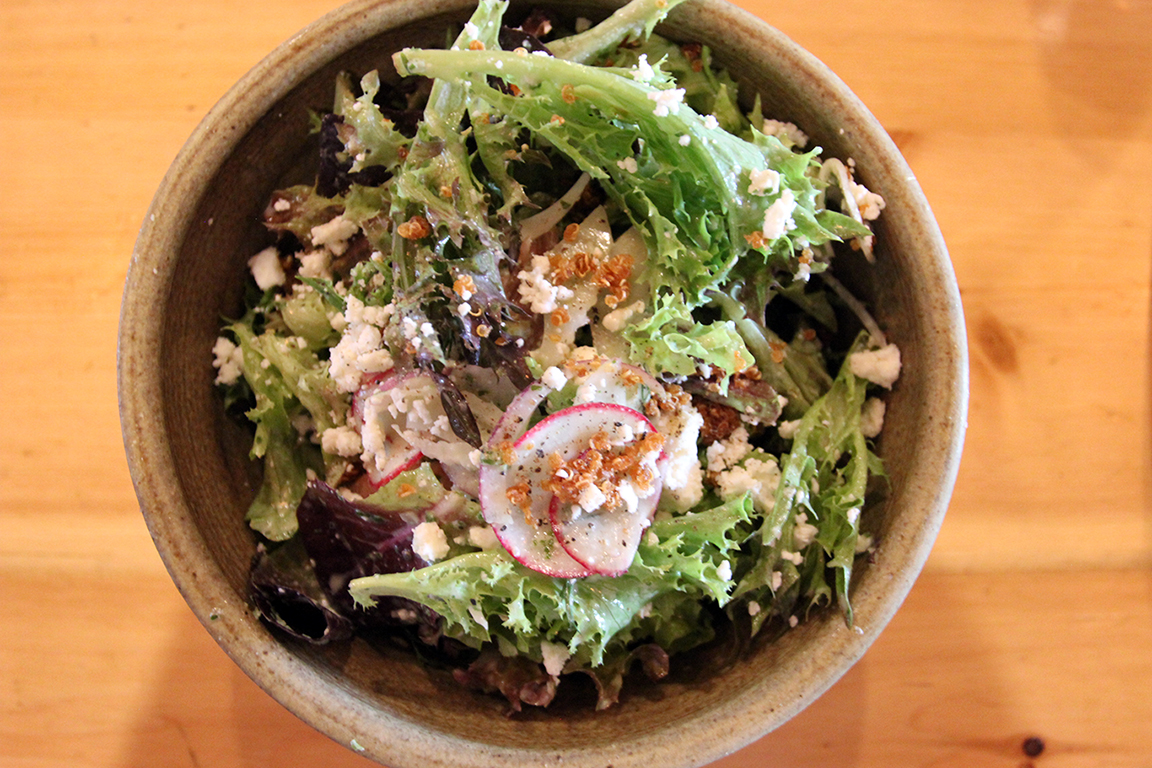 I ordered the oysters entree ($18 for a half dozen) and was served these gorgeous PEI Savage Blonde oysters on the half shell with a mignonette. I  found the mignonette to be too heavy-handed, and opted for the oysters straight instead.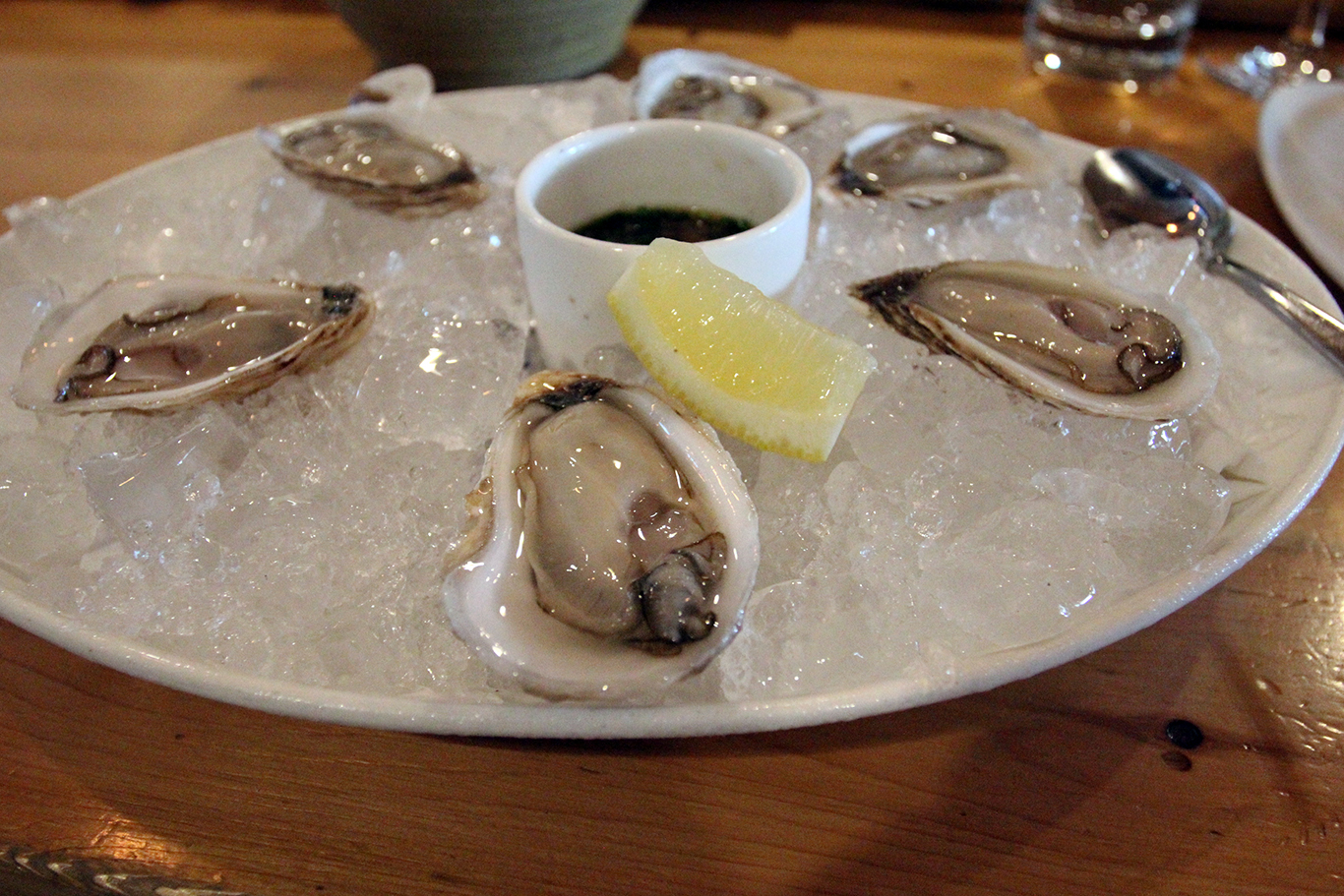 Instead of dessert I asked for bread and butter. 🙂 The pans du jour were a pretzel bread and a semolina if I'm not mistaken, paired with whipped butter. The semolina was good, but the pretzel bread was an awesome idea. Marcus shared that the baker, Lena, arrives at around 4:30 a.m. to make these pastries, available upon request.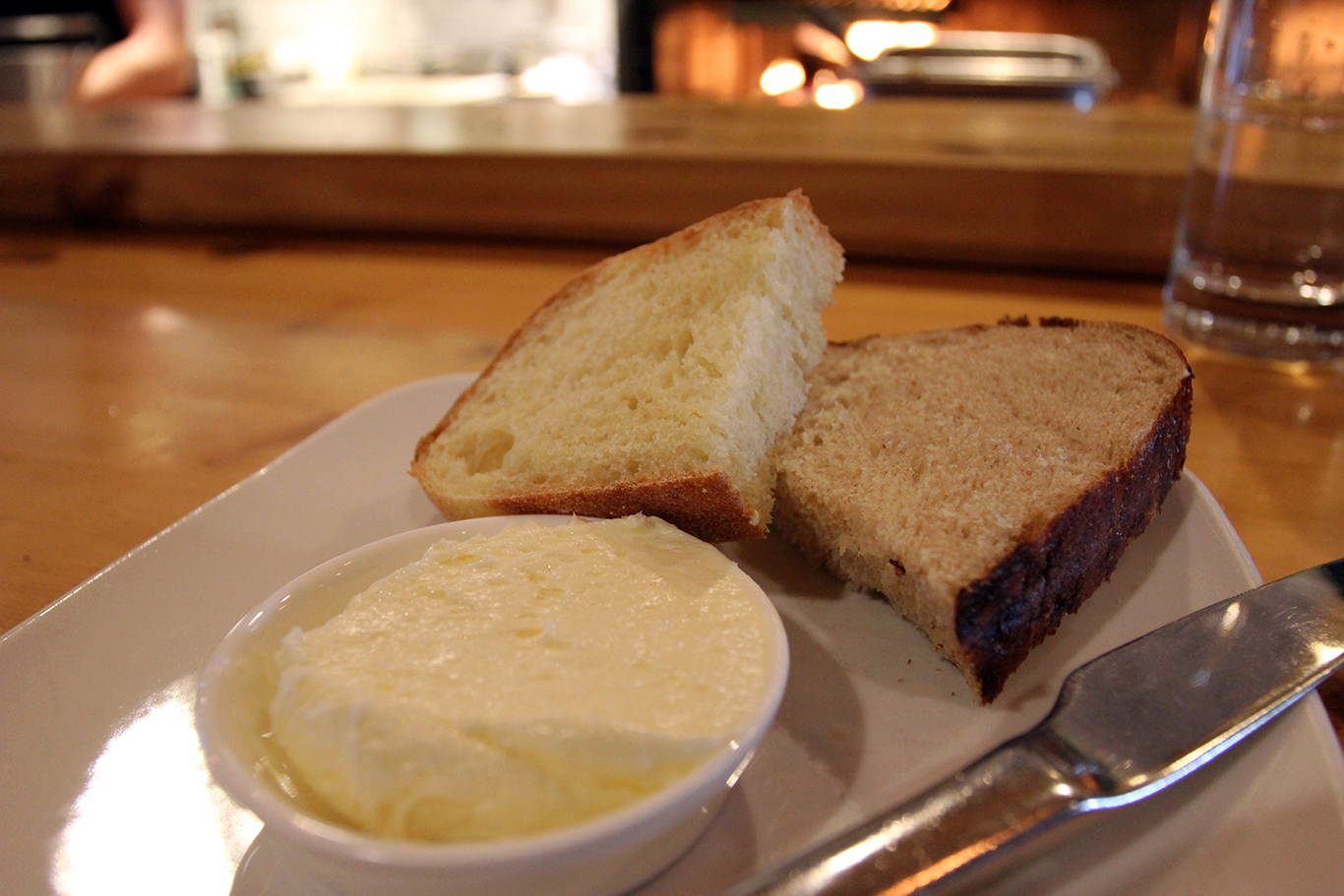 The Henry Hotel
On the recommendations of three of my colleagues, I stayed at The Henry hotel in Dearborn, which happens to be walking distance from my office. While some other hotels in the area that shall go unnamed were described as "dumps," this one got glowing reviews from all – and I can see why! I had nothing but peace, quiet and comfort during my stay and the staff was nothing but friendly. Bonus – free HBO to catch up on the programs you're missing back home while you get a little work done from bed. Be sure to check out the quirky art lining the walls of the hotel's first floor.
Glass Onion Griddle
The Glass Onion Griddle in Allen Park, not far from my hotel, is a classic home style cafe serving breakfast. I enjoyed a hot tea alongside a half order of their delectable French toast and a single diner-style scrambled egg. No fancy, extraneous frills, just classic home style cooking here.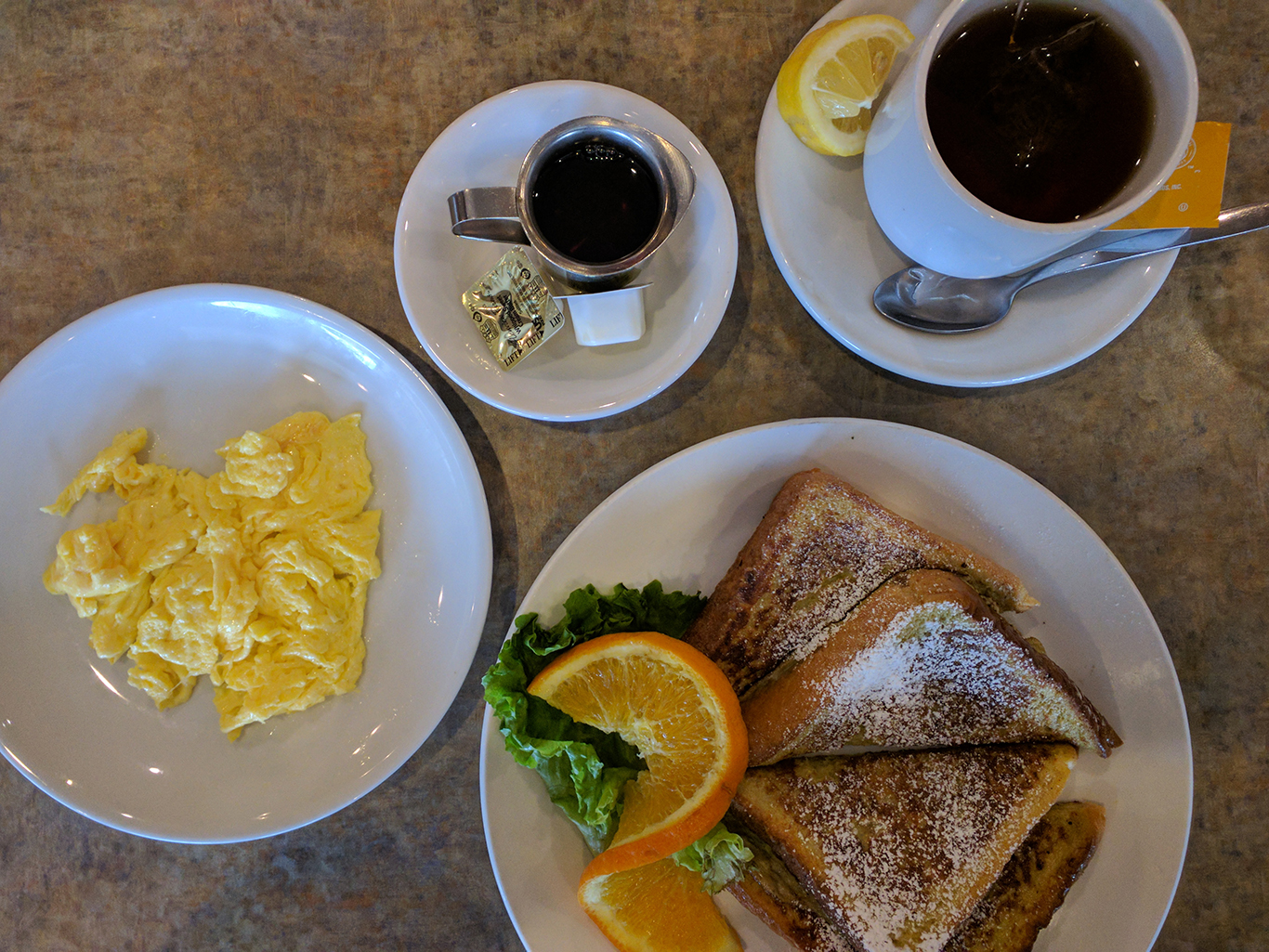 A local gentleman at the counter picked up my breakfast tab. It absolutely made my morning, and I promised I would pay it forward.