Growing up, I felt like my bond with my brother Cody was close. Granted, our four-year age gap meant that we were in middle school, high school and college at different times, we ran in separate friend groups, and we didn't have much in common. Regardless, I have always felt a deep loyalty to and fondness for my younger brother.
We grew up together primarily with our hard-working single dad. Most of the time, it felt to me like it was the three of us against the world. My dad worked long hours to make ends meet, and I spent my afternoons and evenings after school taking care of my brother. The three of us were in this thing together, just trying to make it work.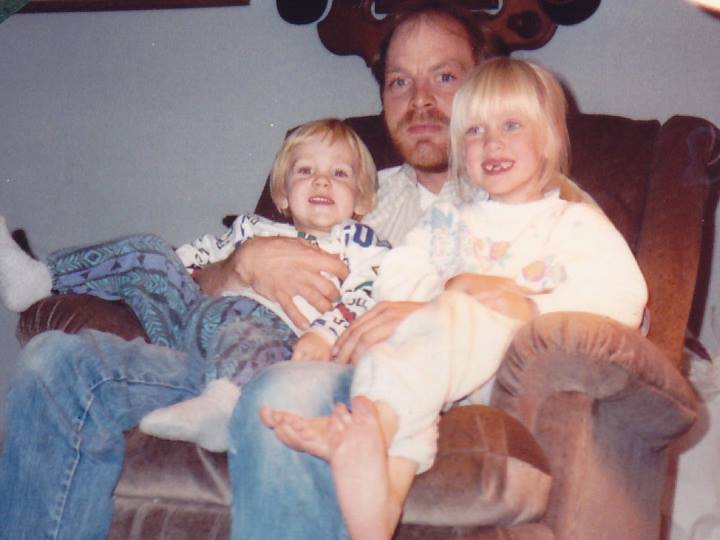 The distance between us.
After I moved to St. Louis for a job and my brother was still in college, he and I didn't keep in touch so well. I had a falling out with his girlfriend at the time, and it created a huge rift between us. I could barely communicate with my own brother for almost two years. That lasted until his relationship was coming to an end and we made arrangements for him to take the train to St. Louis for a weekend so he could get away and clear his head.
While taking him around my new city to see the sights and eating at my favorite local spots, we worked out the conflict that had kept us apart and bonded over what he was going through. Not long after I moved back to Kansas City, we even lived together while my husband was deployed to Afghanistan and stationed at Fort Polk in Louisiana.
Soon, my brother enlisted in the Army, too. Promptly after basic training, he deployed to Afghanistan for a year. After he returned from overseas, he stayed stationed at Ft. Bliss in El Paso for another few years until his contract was up.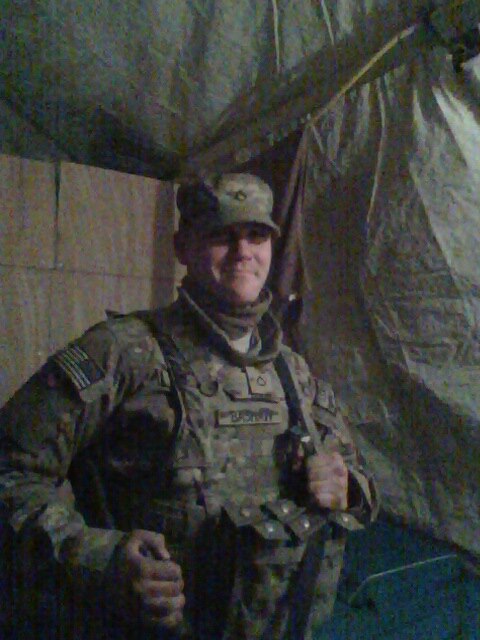 I didn't see him for most of those four years. Even after he moved home to Kansas City, we still lived entirely separate lives, only running into each other at family occasions and holidays.
We started putting in the miles.
At least until about a year ago, when I was on one of my annual solo hiking trips to Salt Lake City and Moab. I was at my SLC Airbnb, wrecked after a 13-mile day hiking in and around the mountains. I was reflecting on my love for hiking and how I wished I had someone back home to hike with more often. I reached out to my brother to ask if he would be interested in hiking with me in Kansas City. He immediately said yes, without hesitation.
Our first hike was on the Minor Park trails along the Blue River. We were terrible navigators on this poorly marked trail system that had recently sustained some trail damage, but we had a great time getting more than eight miles in on our first outing.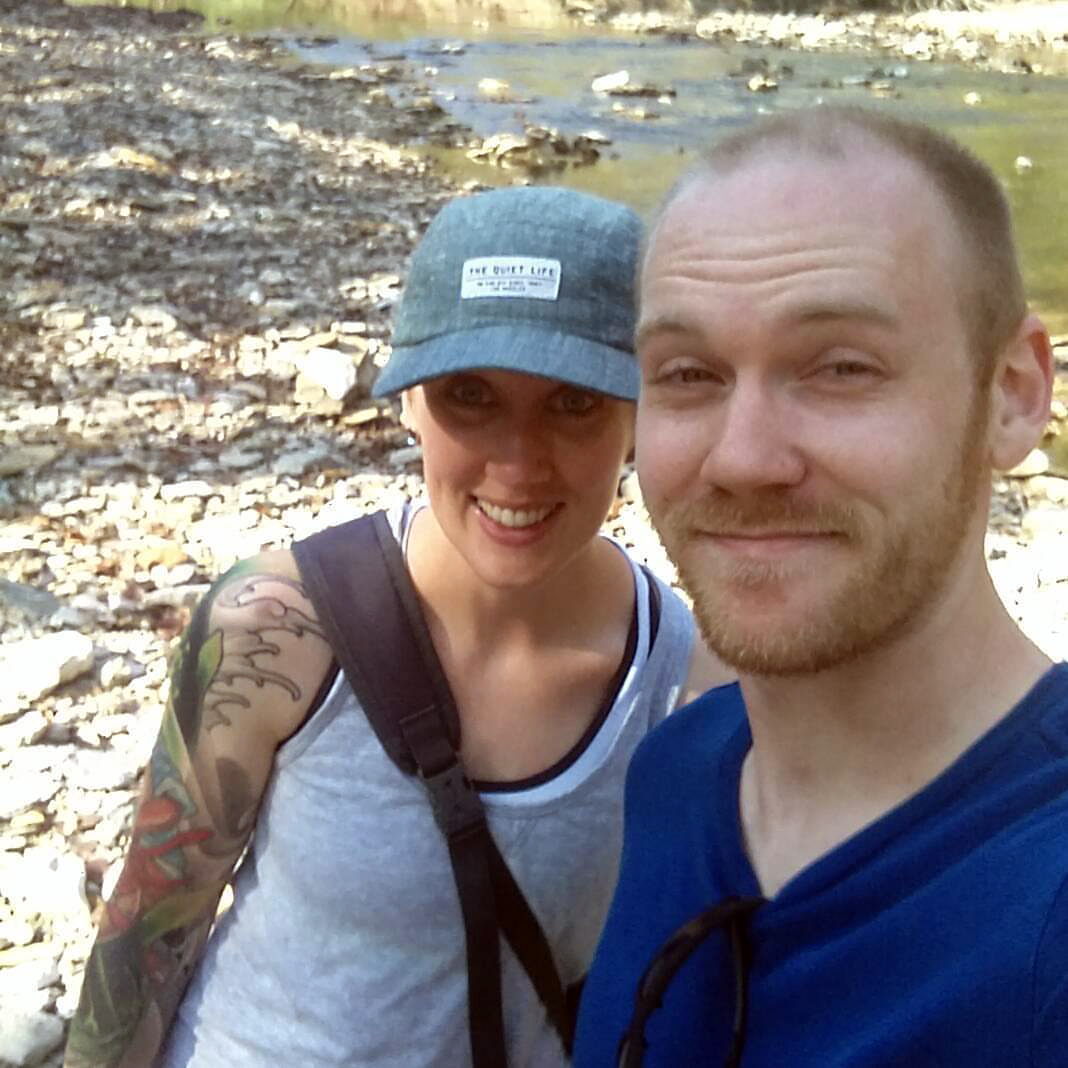 A few weeks later we tried the Shawnee Mission Park trail system. We branched out to Swope Park. Then Kill Creek Park. Then we started bringing our dad into it from time to time. We just kept showing up. Now, I look forward to our Sunday 8 a.m. hikes almost every weekend.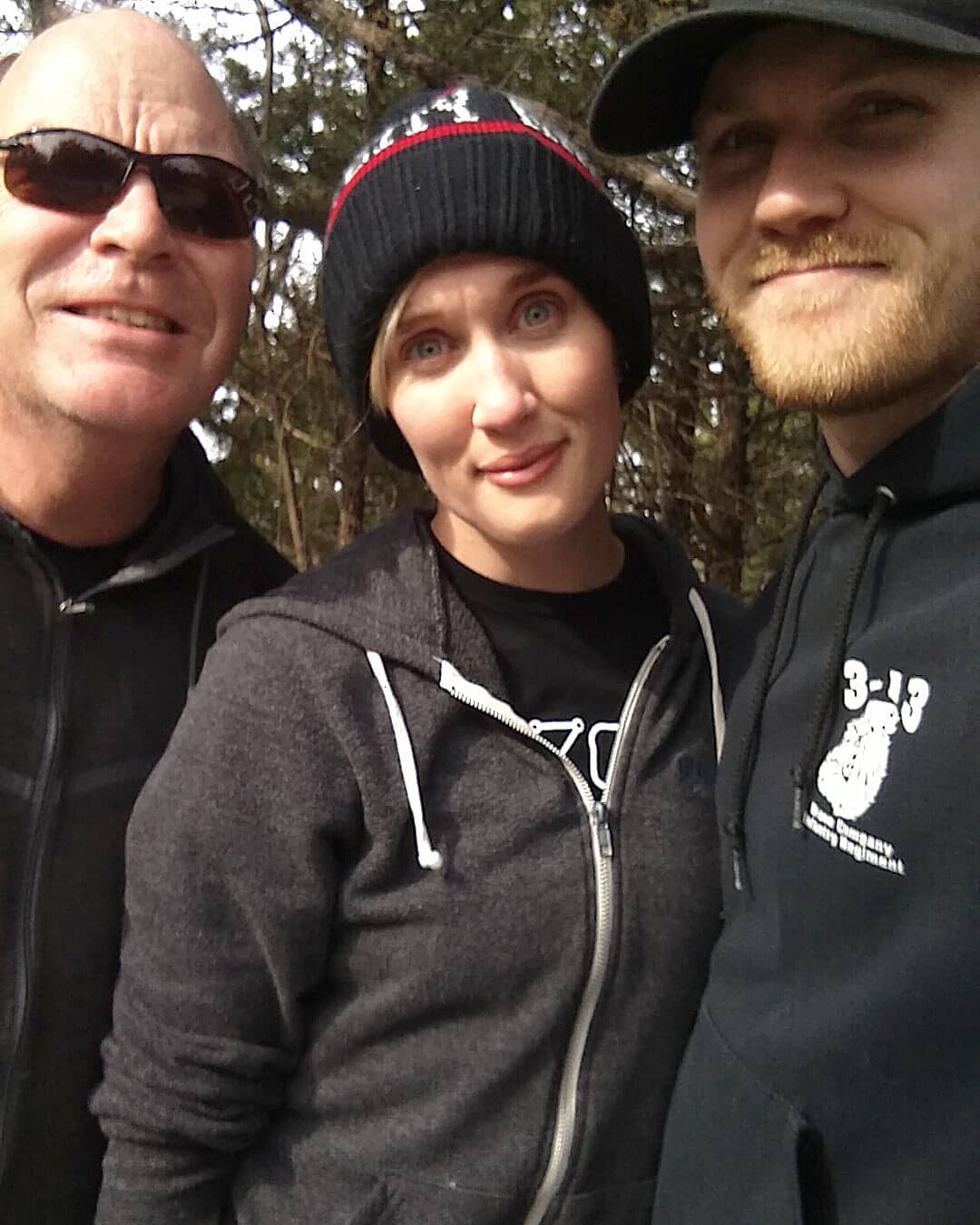 Aside from getting in a workout and appreciating the beautiful and changing scenery on these hikes, there is not much else to do but talk. We have put in a lot of hours and miles together on these hikes. The experience has helped us rebuild our relationship from the ground up, staying more connected to each other's lives and bonding over this newfound, shared love of hiking.
One of the things born out of this weekly hike was a big dream – Cody and I have our hearts set on hiking the 93-mile Wonderland Trail around the perimeter of Mount Rainier. It started as a daydream that seemed distantly possible, but strangely detached from reality. But now, he and I are taking real, tangible steps to make this dream happen.
We started researching, we started building our Osprey backpacking packs, and we booked our first out-of-town joint hiking trip to hike and summit Pikes Peak, a 14er (mountain over 14,000 feet) just outside of Colorado Springs to test our gear – and ourselves.
From Flatlands to 14ers
We decided we needed a more aggressive, mountainous hike that would put us and our gear to the test, and the flatlands of Kansas wouldn't be enough. Central Colorado is just an eight-hour drive from here, and easy enough to pull together a month out. So we started digging into the extensive REI catalog to build out our backpacking gear and practically threw a dart at a map to decide on Pikes Peak for a three-day hiking and camping trip.
Pikes Peak, nicknamed America's Mountain, is a 14,114-foot peak among dozens of 14ers in Colorado's Rocky Mountains. It is the longest and greatest elevation gain of the Class 1 ("easiest") Colorado 14ers.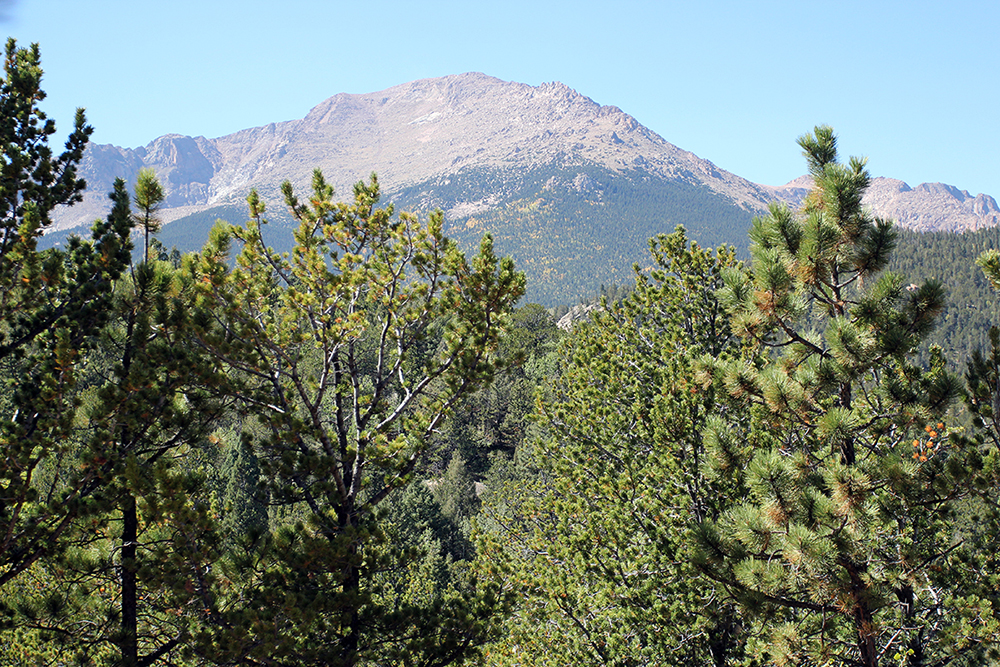 We committed, so we had to build out our backpacking packs. I was shelling out so much cash to REI I was worried I'd have to live in the tent I bought. I just kept swiping and telling myself this was an investment in a lifetime of adventures.
It didn't take long for people to start pointing out how difficult the hike was, and all the terrible things that could happen. Altitude sickness. Lightning strikes. Bear attacks.
One text from a particularly badass 14er-hiking friend who is also a glutton for punishment: "The altitude and the sheer rocks/incline is physically awful, and then there is the mindfuck that I can't describe…"
To add to the chaos, my dog took a turn for the worse. We had originally planned for three days of short hikes with two overnight camps so we could acclimate to the altitude, but we shortened the hiking to two days/one night at the last minute so I could be with my dog.
Cue crippling anxiety.
No Sleep Till Colorado Springs.
With the last minute plan change, we drove through the night from Kansas City to Colorado Springs. Neither of us managed to sleep much, except for a choppy hour at a rest stop, and Cody pulled the heavy lifting on driving. We arrived in Colorado Springs about 7 a.m., then got breakfast at Good Karma Cafe in Manitou Springs to get our bearings and fuel up for the hike – eggs, potatoes, bread, classic breakfast.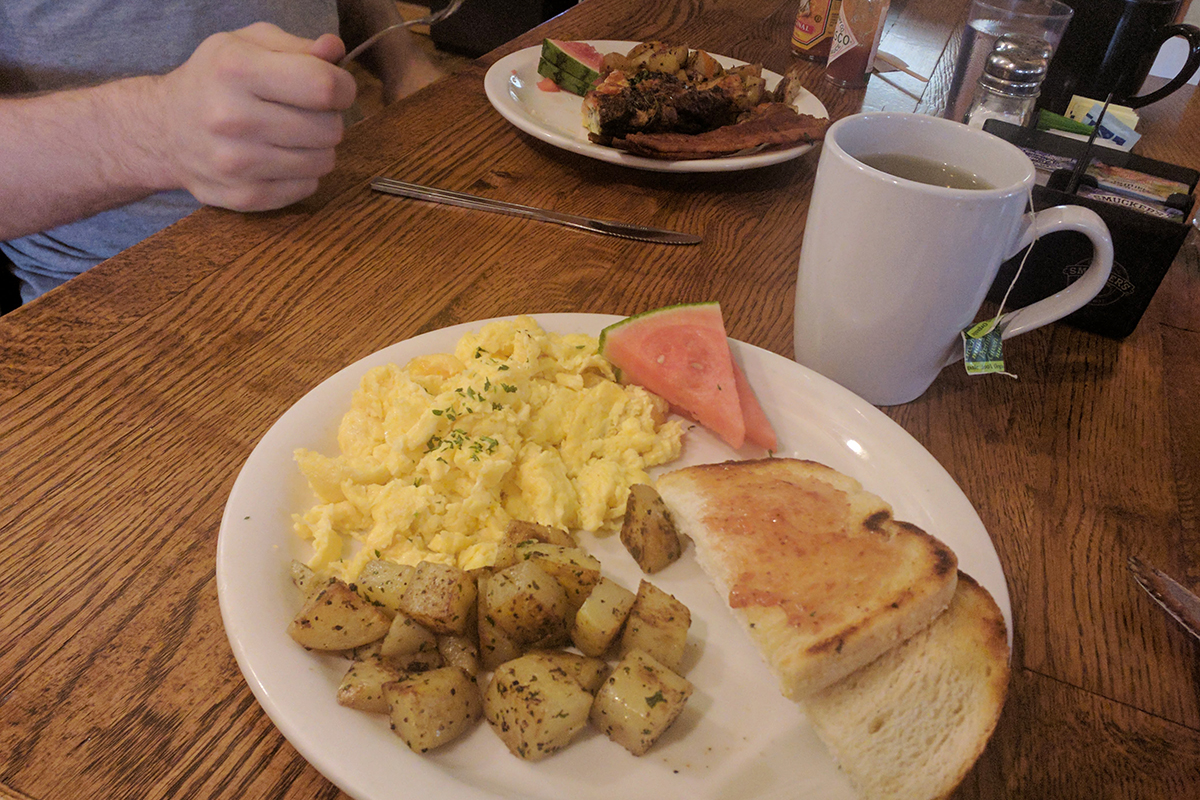 We tried to get parking at the Manitou Incline/Barr Trailhead lots, but 8:30 a.m. is a late start in these parts so we ended up parking near City Hall and taking the free shuttle to the lot, which was a steep push up to the trailhead.
I was immediately huffing, puffing, trudging and whining up the hill. We were in for a beast of a hike.
Our first 14er: Pikes Peak
Between our 35- to 45-pound packs, our limited time to properly acclimate due to our surprise time constraints, and our delusional under-conditioning, almost everything about this hike was a slog. (Note: We strongly advise against failing to acclimate properly, especially with the dangerous risk of altitude sickness.)
On day one, we hiked the slowest six miles we have ever done in our lives. What would have taken us two hours in Kansas City took us almost six hours at altitude in Colorado. The first and last three miles of the 12.6-mile Barr Trail were brutal for me. Here's how it went down.
Hiking Day 1: Manitou Springs to Barr Camp
The shuttle didn't drop us off right at the trailhead, so we had to hoof it up a super steep hill just to get to the starting block.
Before we had completed our first mile on the trail, we were already stopping frequently and questioning how we would ever make it to the top at this rate. The packs felt as if they weighed a ton and we couldn't catch our breath. We also got a later start than we had planned, so we were hiking in the dead middle of the day when the sun was highest and hottest. (While planning we feared everything from lightning to snow, but fortunately we got perfect fall hiking weather in late September on Pikes Peak. )
Awesome.
We were dodging tourists and local morning hikers left and right, especially those coming down from the Manitou Incline, a particularly difficult single-mile hike that goes almost a mile straight up in the air. You gain more than 2,000 feet in just under a mile. I had actually done this hike almost exactly five years before. I even took the Barr Trail back down and thought it was beautiful then.
Now I hated every single thing about this trail.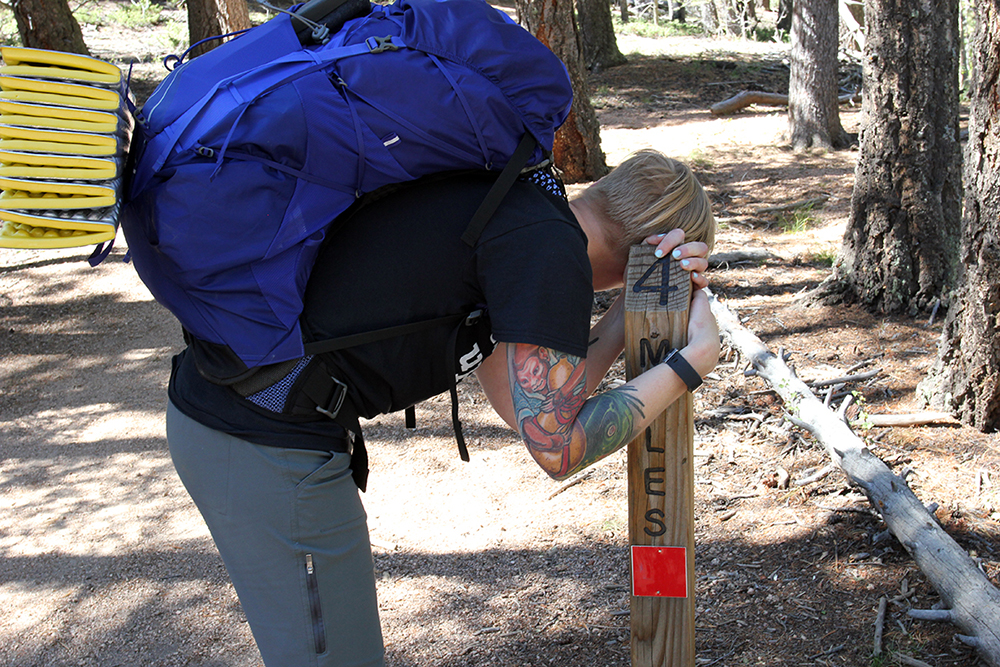 At every breather break and mile marker in the first half of day one, I was bargaining with myself that we could just as easily turn around and call it a day, and that would be perfectly reasonable. But Cody's energy and motivation were enough fuel to keep me moving.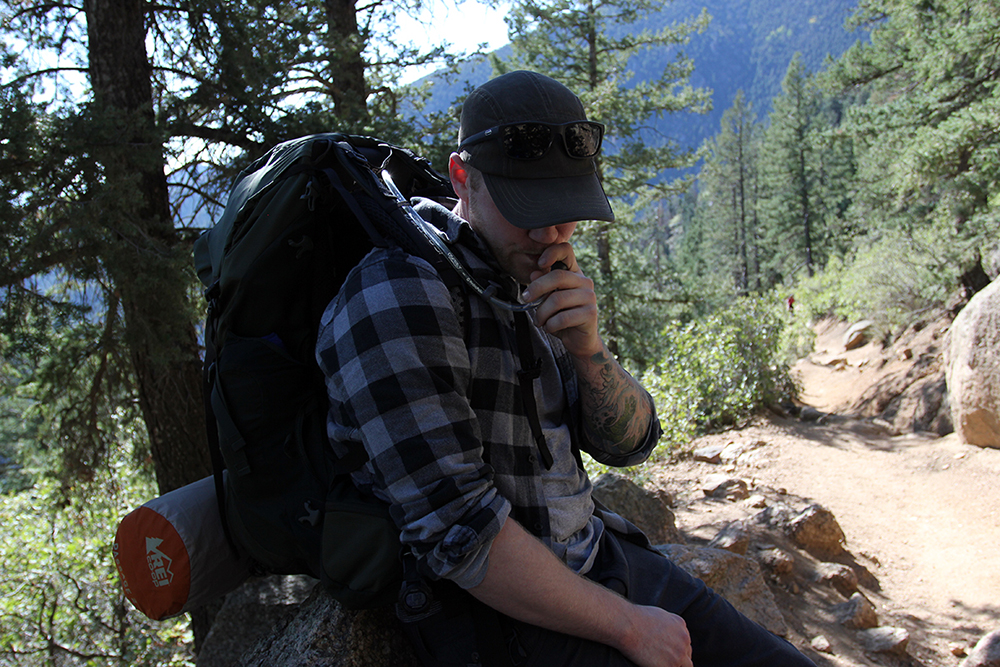 Fortunately, the second half of the day was far more merciful, though by no means "easy." The incline gradient became slightly less steep. The terrain became more of a flat trail than an endless set of stairs. We were further in toward camp than we were to go back out, exactly what I needed to suffer through the rest.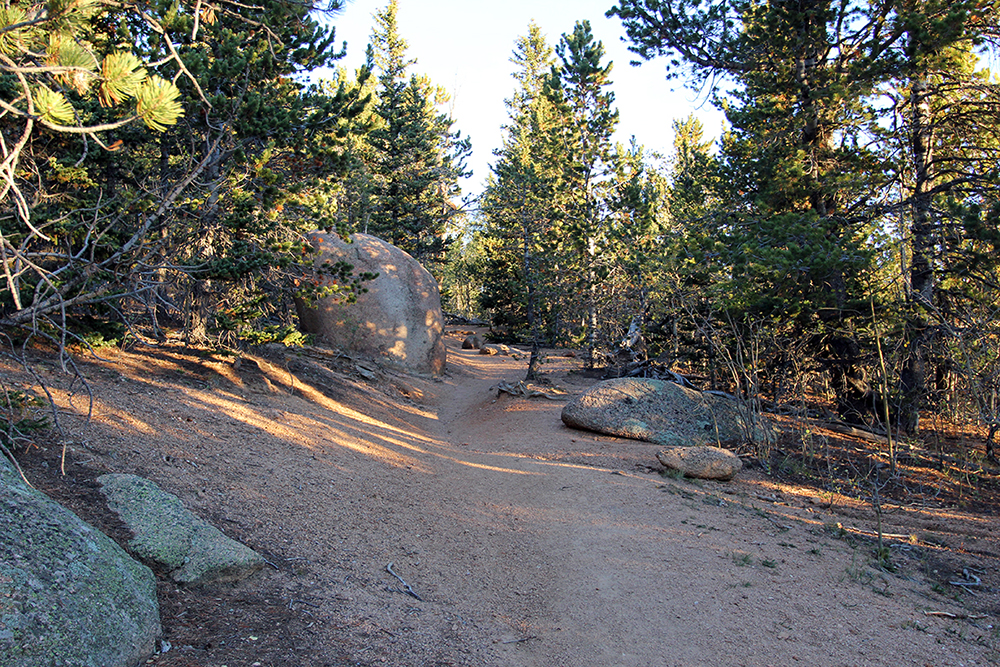 Finally, at just a mile or so from Barr Camp, our stopping point for the day, we got our first good view of the peak. Folks call this "Lightning Point" and reaching it would have been an accomplishment itself for me just a few years ago.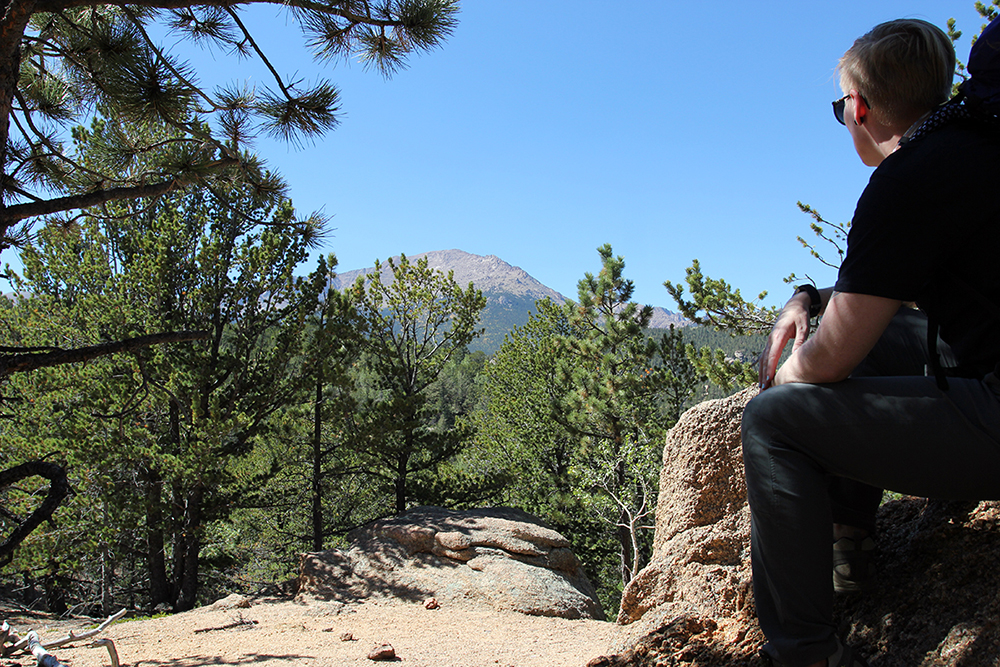 It's hard to describe the feeling. Immense relief to have the weight of our packs lifted up on boulders and not be walking. A small burst of energy and excitement to keep moving and finish this thing. Resignation to just keep putting one foot in front of the other. Sheer terror at how far we had to go to get to the top.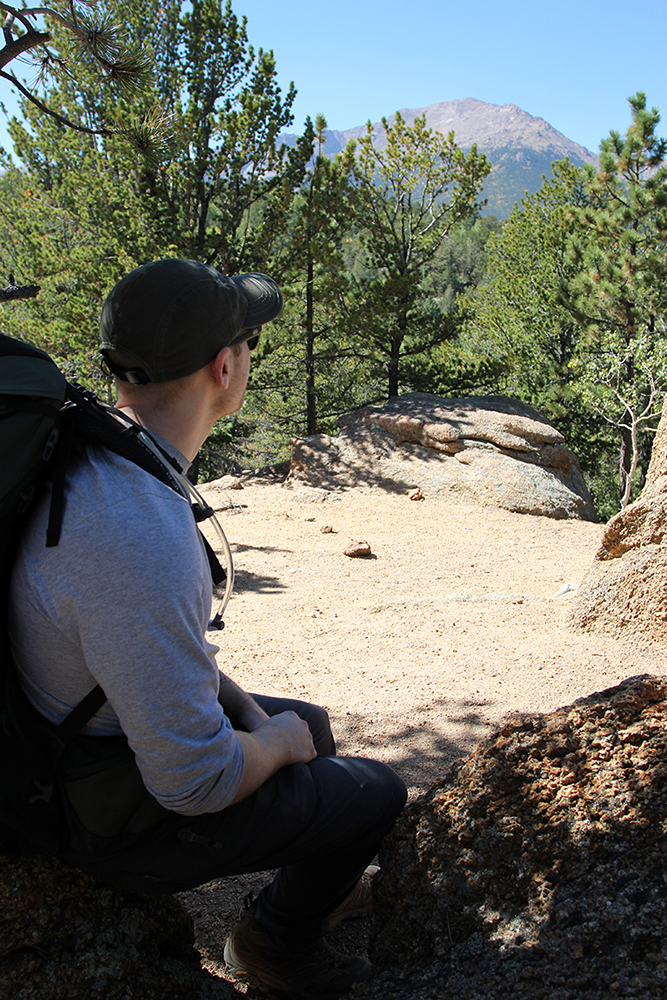 When we finally made it to Barr Camp around 3 p.m., there were tons of people already hanging out on the porch and chatting. We actually chose not to reserve a cabin or tent at Barr Camp, and instead elected to pitch our tents in the Pike National Forest just across the path, because they allowed us to use their bathrooms and bear bins, and collect water from their stream access point.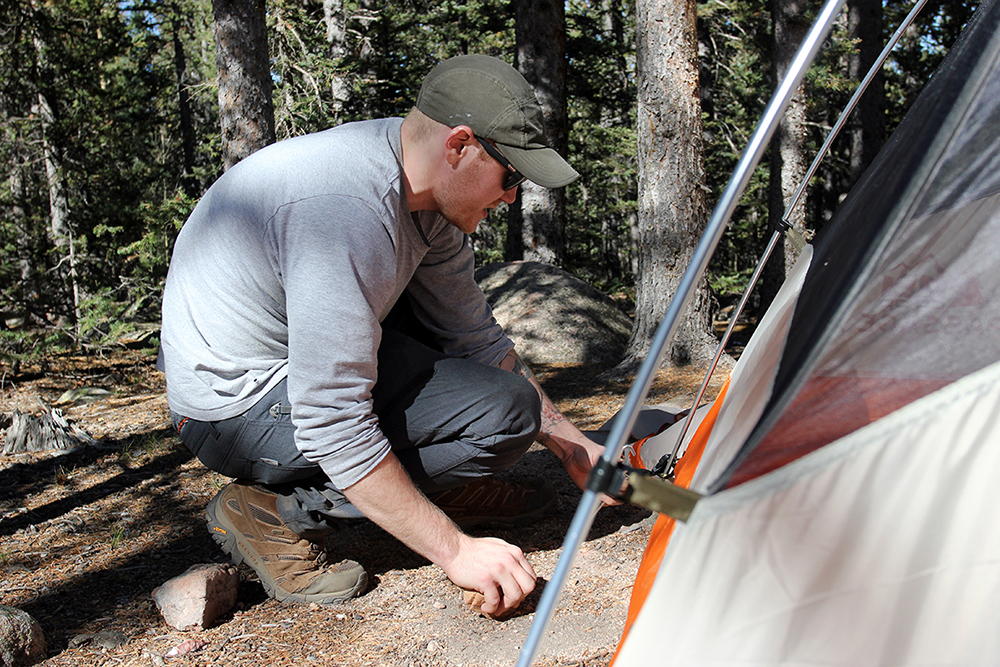 It felt incredible to get that stupid pack off my back. Imagine the feeling of relief of putting on warm, dry socks after a long, cold, wet winter day. Or the relief of finally peeing after you've had to hold it for several hours and you were about to explode. Taking off your bra and high heels after hours on your feet at some fancy event you didn't even want to be at. It was more of a relief than all of those things combined. And I love my Merrell hiking shoes, but taking those off and putting on my lightweight and warm Allbirds Wool Loungers at camp was positively bliss.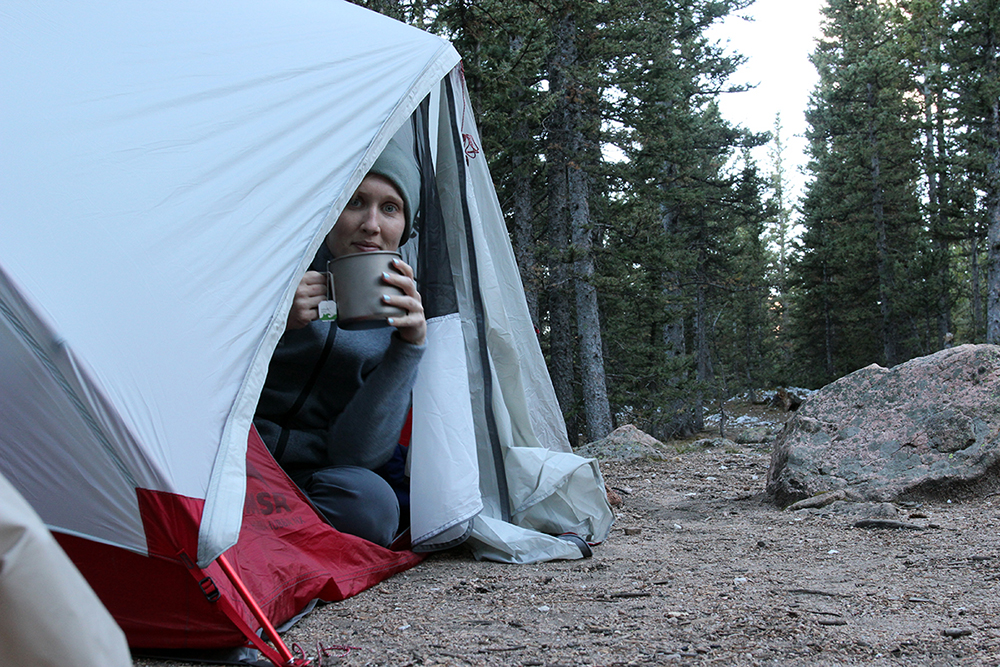 We had several hours of daylight left, and we still had our work cut out for us. Setting up camp, pitching two tents, filtering water from the stream to resupply, and cooking and cleaning up after dinner may not seem like much, but we were wrecked at this point. Every step was a chore, and I was feeling dizzy and nauseous from the hunger and altitude for a bit.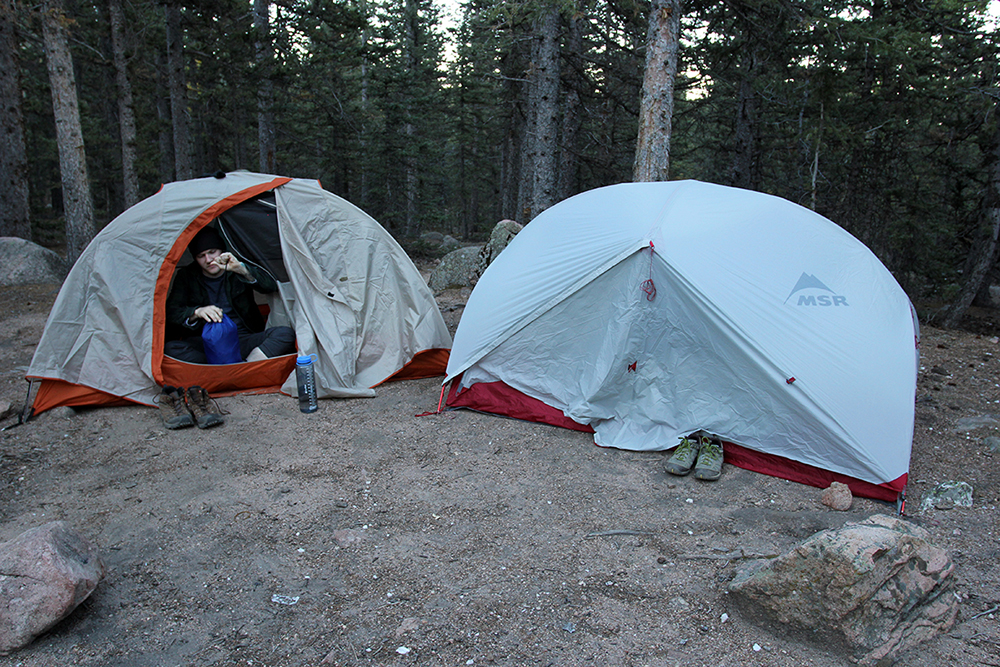 As we were setting up camp, I asked Cody how he felt about his first day. "Exhausted. Sore. Creaky. But really happy with our success. I like the physicality of it, pushing ourselves to our limits."
The moment we got food in our bellies everything seemed more promising. Cody was snoring in his tent by 6:30 p.m.
As exhausted as I was, I was lying awake in my tent on the verge of an anxiety attack. I'm not positive, but I assume it was some combination of worrying about my sick dog back home, being in an unfamiliar place and camping for the first time, and a gripping fear of the "active bear at our camp" that a sign warned us about when we arrived at Barr Camp.
Fortunately, I bore the weight of a single issue of National Geographic on this hike and was able to read until I couldn't keep my eyes open. With my hat, socks, full outfit and gloves on inside my sleeping bag, I finally fell asleep.
I ultimately ended up ditching the extra layers – the sleeping bag was great. I think I rotated every hour into a new sleeping position. Even with a sleeping mat, the hard ground was uncomfortable. But with 10 hours to get enough sleep in, I was happy to do it.
Hiking Day 2: Barr Camp to Pikes Peak Summit
We awoke at 5 a.m. to have a quick breakfast, break camp, and hit the trail again. We had expected for our muscles to have turned to stone and to struggle to get moving, but we felt surprisingly fresh.
It had been breezy throughout the night, but now it was perfectly still. We woke up under a black sky dotted with an unbelievable sea of stars.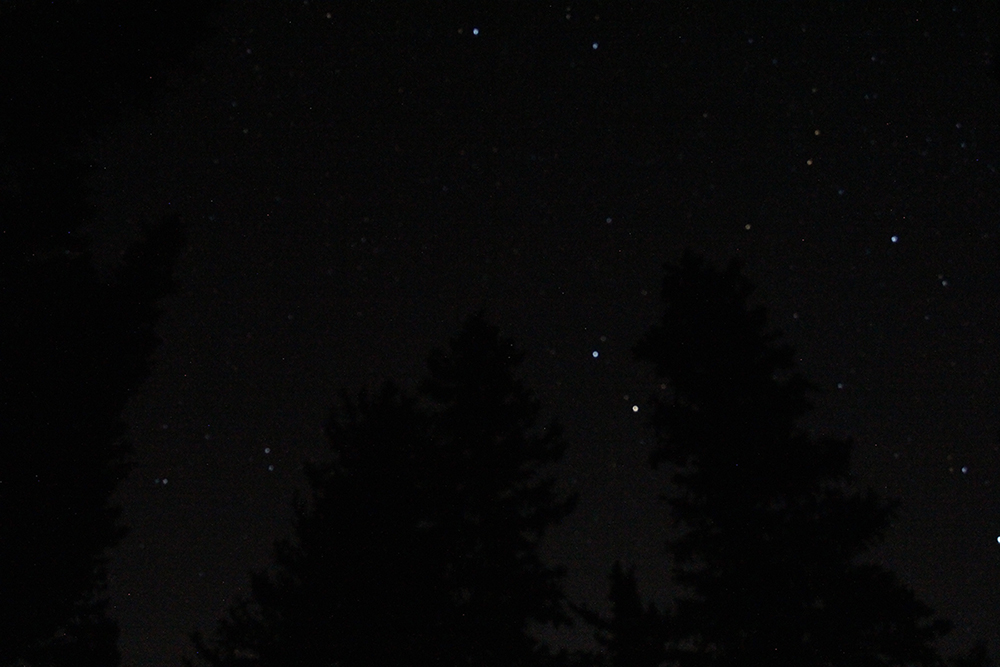 As the tiniest bit of light started to peek over the horizon, the pine trees were silhouetted against the sky.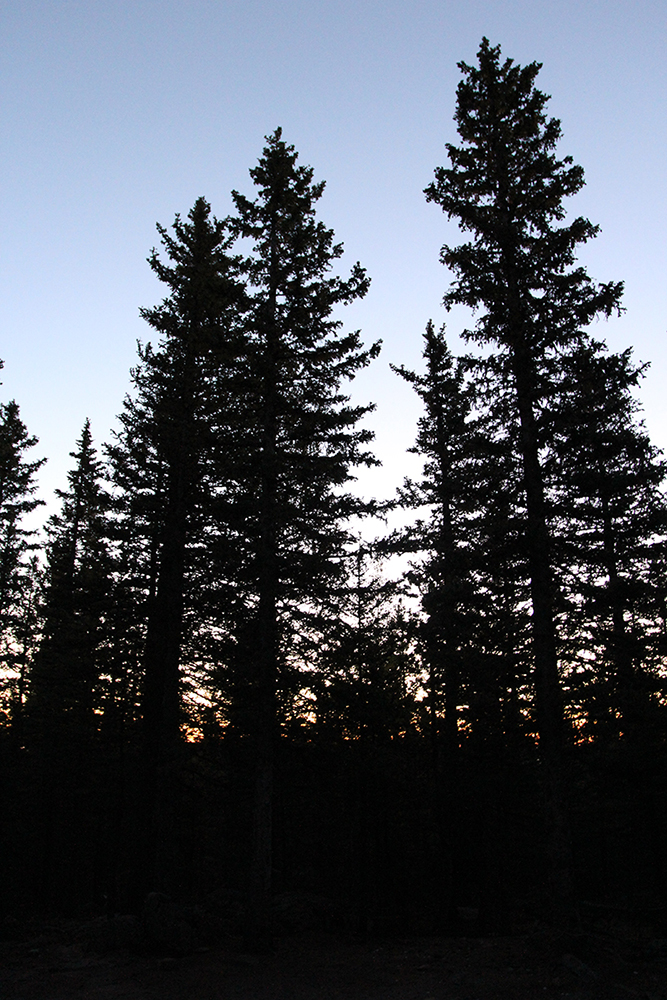 We enjoyed sunrise at the camp, boiled water for our breakfast, stuffed our faces, and then hit the trail by 6:30 a.m.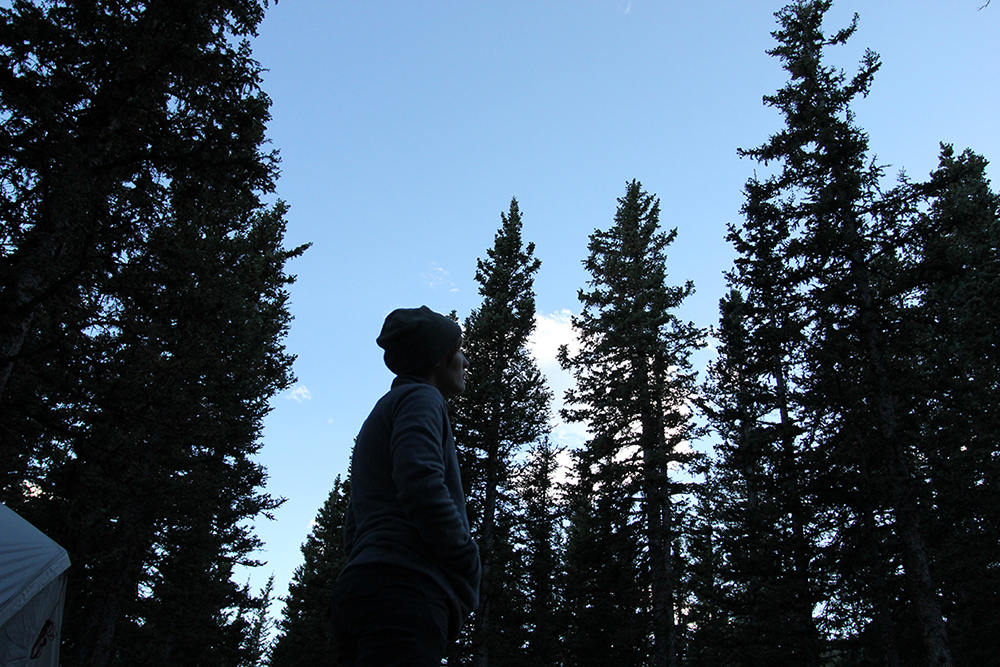 The first few miles of day two were simply beautiful. They were a fraction as challenging as all the miles the day before, though still called for plenty of stopping to catch our breath.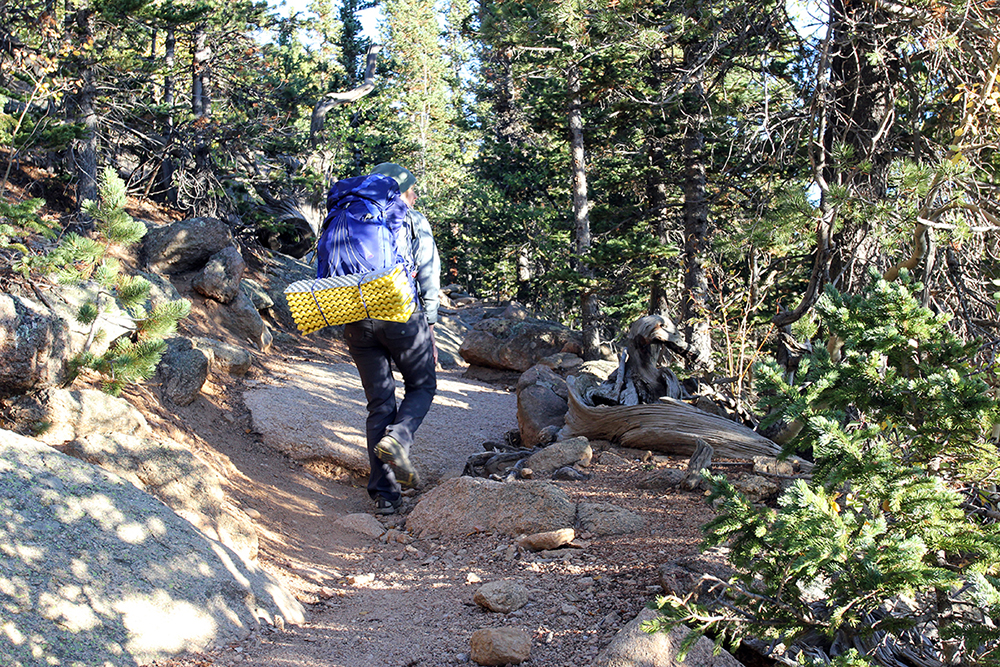 But the chilly air and cool morning breeze were refreshing and we were fresh from rest and food in our bellies. We were making good time with miles coming in around 35 minutes.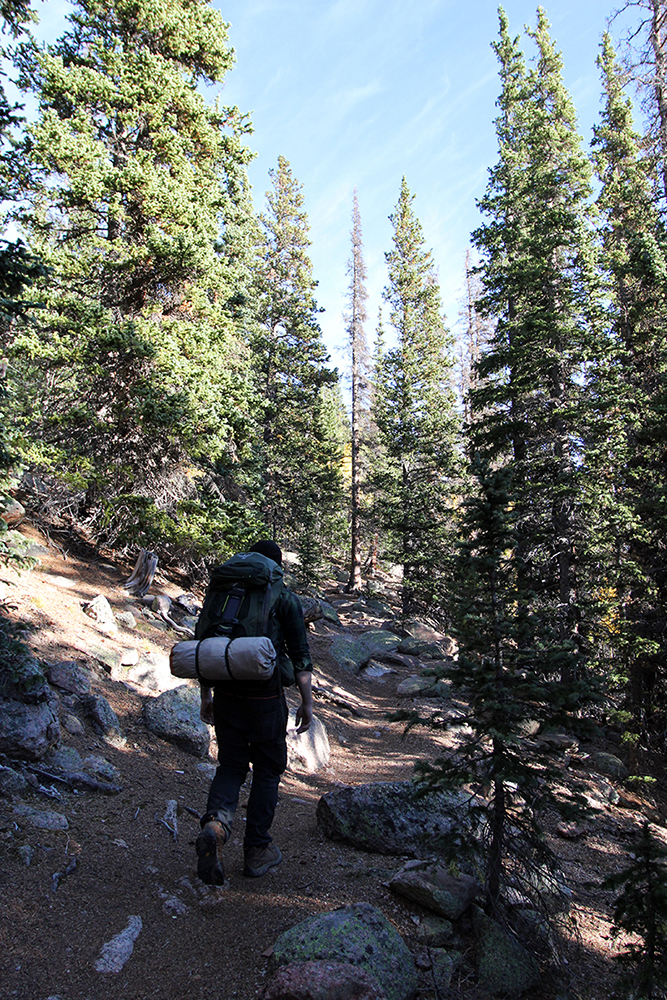 We were surrounded by aspen trees just beginning the transformation to fall, and stunning peeks at rolling hills and mountains through breaks in the green and gold leaves as the sun continued to rise around us.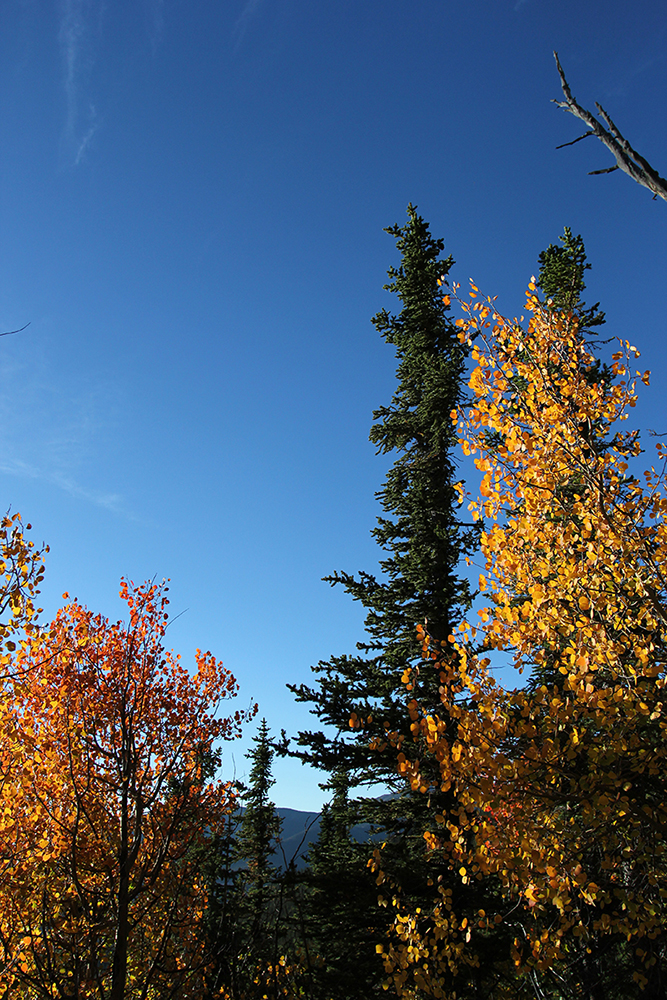 This was my favorite stretch of the hike. It felt like the hike I had imagined in my head. It felt like we were really going to make it.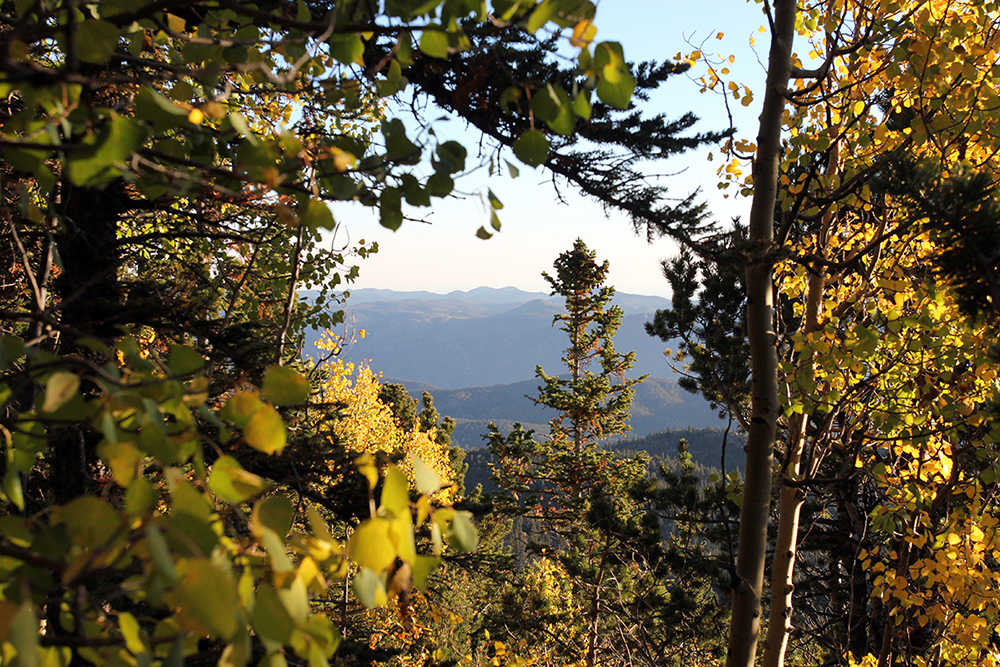 The views of the Colorado Springs skyline and taking in the vistas of other small peaks and alpine lakes, starting around the Barr Trail A-frame, were a nice comfort as we made our way up the mountain.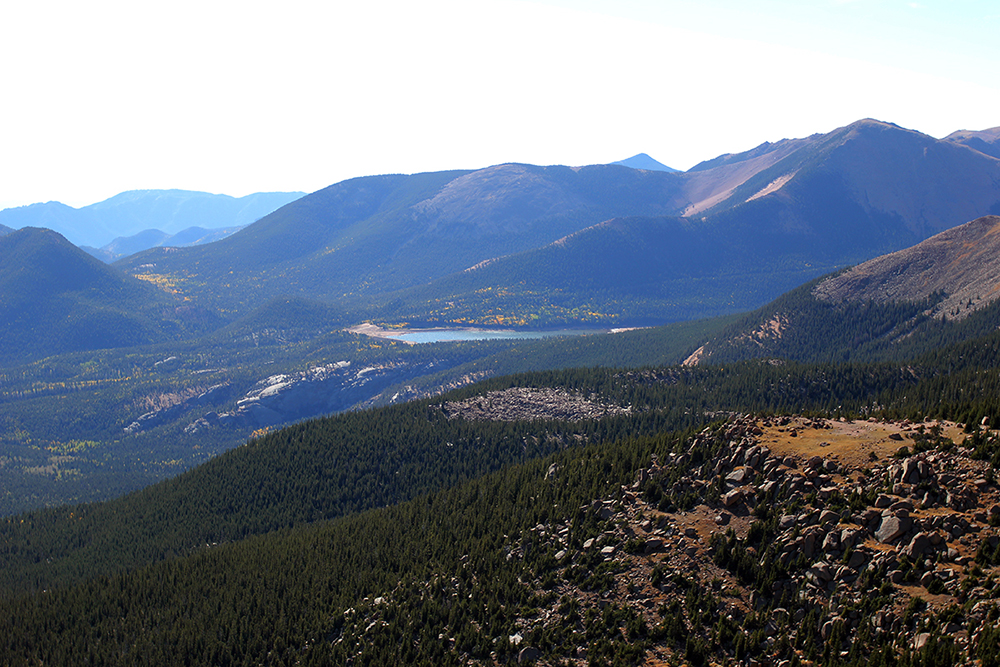 Then we hit the tree line. At first, things seemed fine, maintaining the fairly steady pace with slightly more shallow inclines. Then shit got real. We had gained another 2,500 feet of altitude and the path became gravelly and it felt like every step forward was a tiny step back.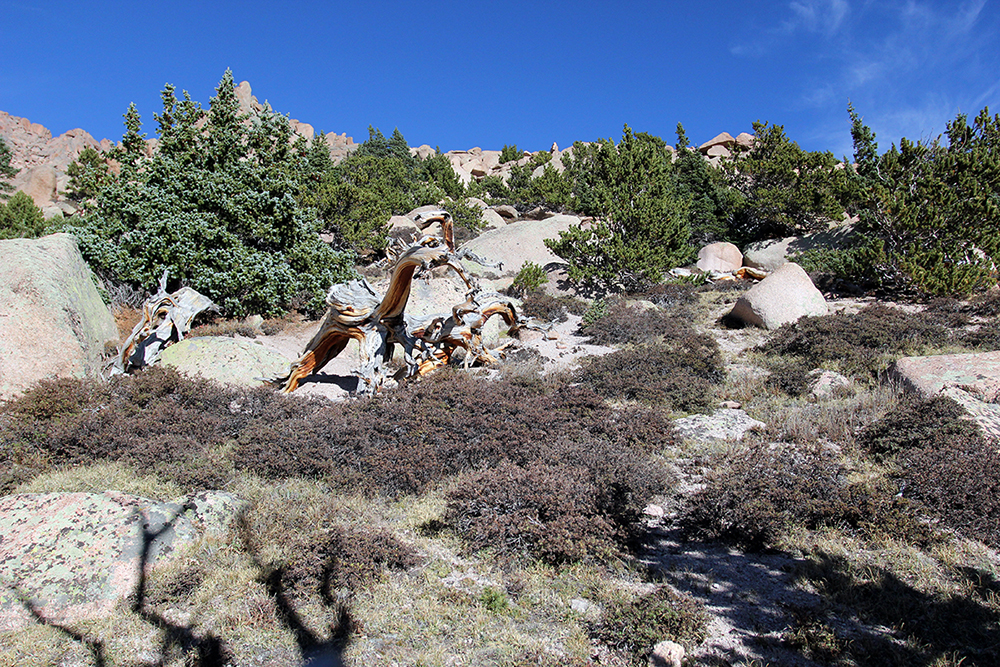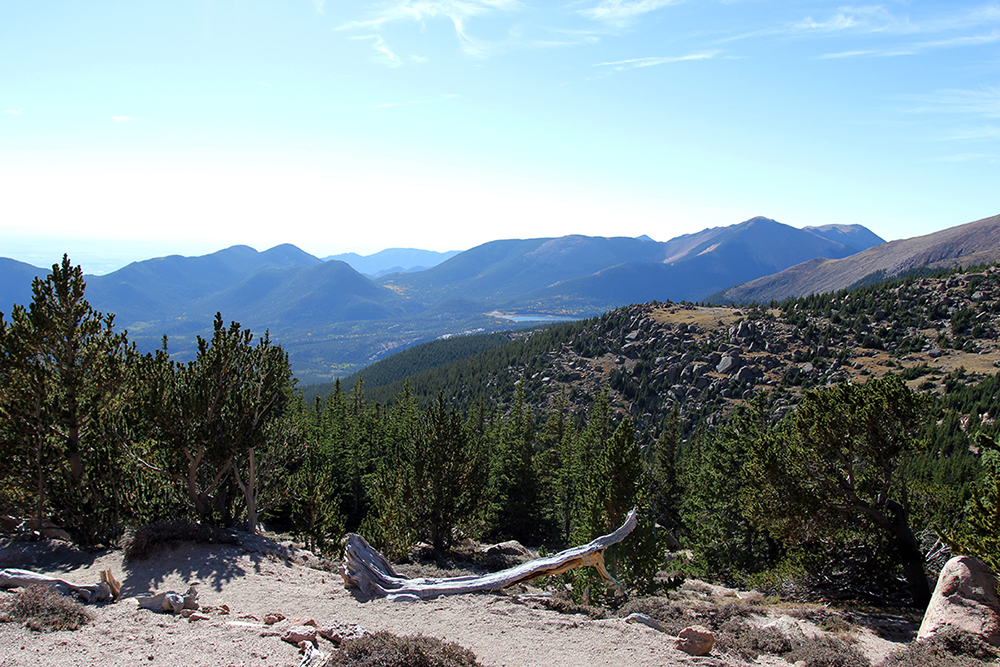 We had to break it down into 100 steps, 50 steps, even as few as 25 steps at a time in some places just to get through it. (Mainly me.) We were easily the slowest hikers on the trail, getting passed up by everyone from local nine-year-olds to 90-year-olds.
I honestly feel bad for my brother, because I was an absolutely miserable person to be around for the last three miles. I was stopping to wheeze and catch my breath leaning on a rock probably every minute. I was discouraged, exhausted, having a hard time breathing, could barely pick up my legs to take the next step, hungry yet no appetite.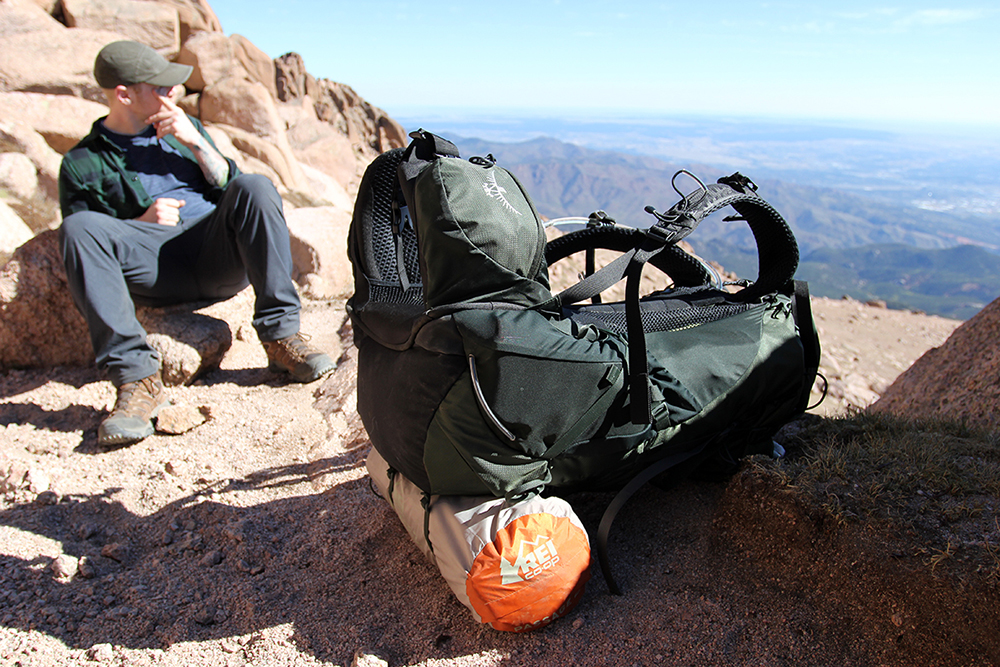 This was a truly disheartening part of the trail – but at 9.5 miles in, we had no choice but to continue. So close, yet so far.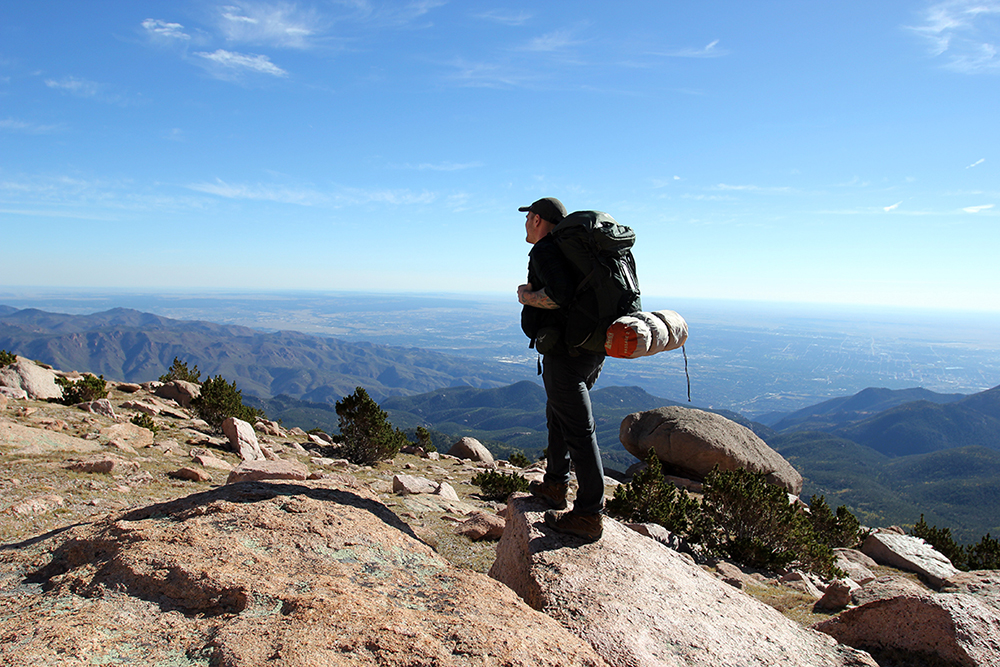 But we kept pushing. With my brother behind me and supporting me at every step, my dad's voice echoed in my head, "Just take one step at a time, Heather." He has said those words to me so many times over the years when I was struggling to move through something. I didn't always fully appreciate the meaning, but it got me through some really difficult moments in my life. Never had the words been so literal as they were now.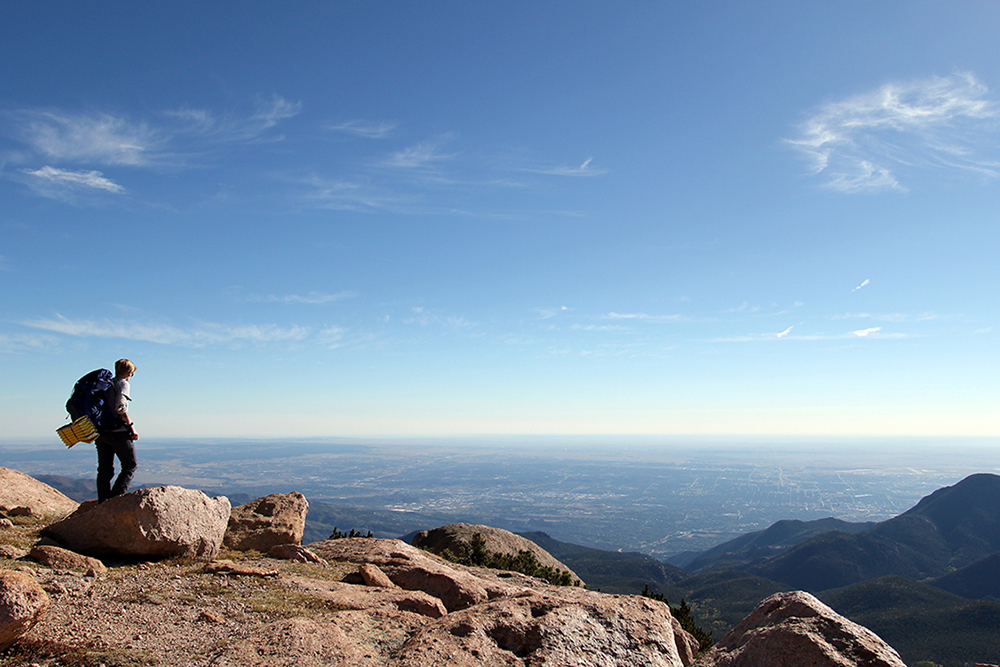 We reached the 16 Golden Stairs. I had been warned that they were "neither golden, nor stairs, nor just 16 of them." In fact, they were a series of stone switchback pairs, many of which required steep step-ups or scrambling.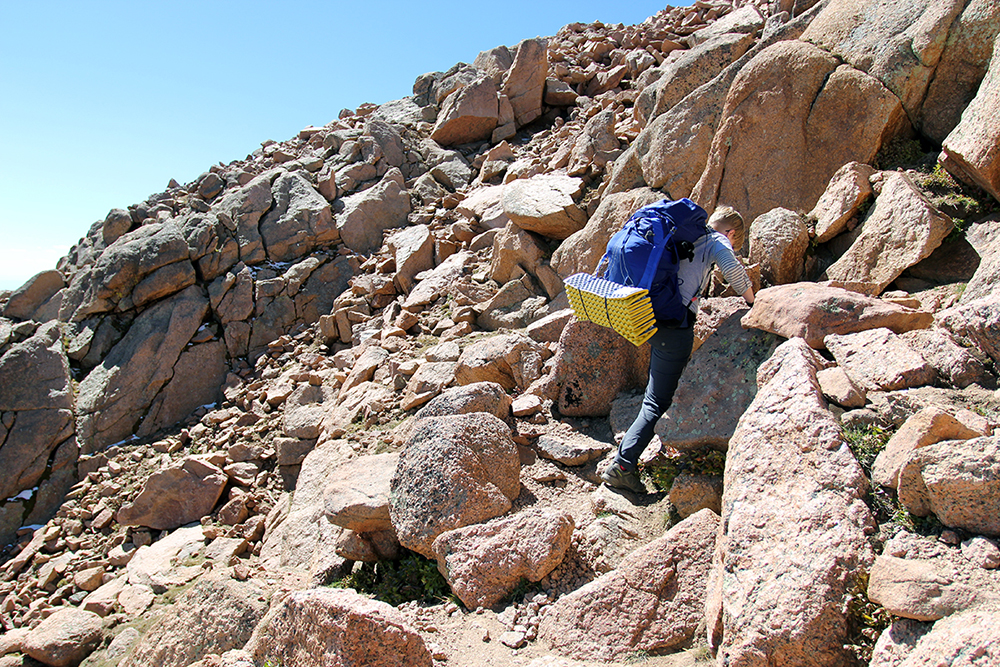 As difficult as these were – we were warned – I had a fresh burst of energy knowing I was so close to the top. Slowly and steadily we climbed the stairs, careful to gauge our footing in narrow, rocky patches with steep drop-offs. Frankly, it was just nice to be doing something different than slogging through molasses on the flat trail. This was my second favorite part of the Barr Trail hike up Pikes Peak.
Reaching the Summit of Pikes Peak
Between 12:30 and 1:00 p.m. on Sunday, September 22, my brother and I successfully summited Pikes Peak. After scrambling over the 16 Golden Stairs and trudging through the 200-yard home stretch of the trail, there was one last rock scramble with the end in sight.
When I climbed over that final step to the peak I was overwhelmed with emotion. A combination of exhaustion, relief, pride and elation brought me to tears.
The peak was crawling with tourists who had driven their cars to the top, taking cell phone pics from the edge. More than a few asked if we had just hiked the whole way. Despite hating how casual all of them looked while I was practically crawling weakly on my hands and knees into the building, I was so proud to be able to tell them yes.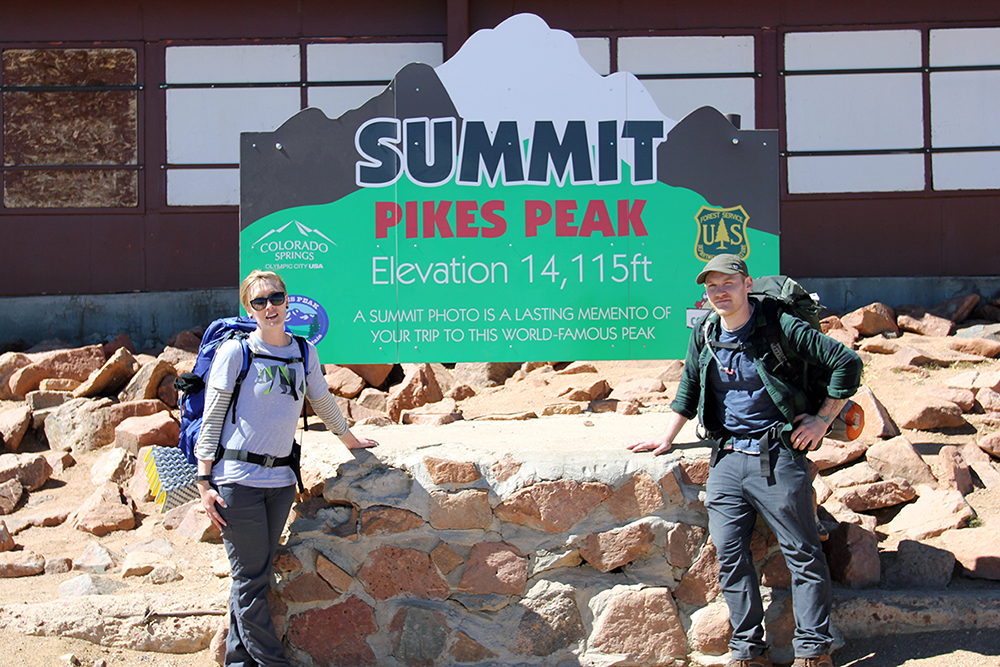 We treated ourselves to the famed donuts of Pikes Peak that we climbed 7,800 feet in elevation gain for (the coffee was awful), bought a souvenir each, and collapsed into our booth to await our Rocky Mountain Ride shuttle back down the mountain. Being our first 14er and proper backpacking trip ever, we felt it would be wise to shuttle down.
This 14,114-foot peak is the most demoralizing hike I have ever done. I am no mountaineer. I wanted to give up constantly, especially in the beginning and the end.
But my little brother, with his infinite patience and sage words of wisdom beyond his 29 years, suffered with me.
He followed behind me. He gave me permission to wheeze and whine as long and as much as I needed to. But he never let me give up. Hands down, he is the only reason I stuck with it and got to the top of that mountain.
"Were we in over our heads?" he asked at one point. "Absolutely. But we know now that we can do it. It was definitely challenging, but the setbacks are just part of the challenge, and it's all about how we can fix them and move forward."
This statement feels bigger than the hike.
Things haven't always been perfect or easy for the two of us, but this experience reminded me that he always has my back when I need him most.
This trip was filled with so many new life experiences, new learnings, new challenges. It was a huge goal accomplishment in so many ways – from setting up a tent for the first time, to summiting a mountain (a 14er, at that!) for the first time, my first proper camping not at our family farm, our first official backpacking trip. There's no one on earth I'd rather earn these accomplishments with than my brother.
When I look at a wide angle photo from the bottom of the trail facing upward, and there's a red line drawn over the distance and shape of the path to the peak, my mind is blown at what we just accomplished.
As much as we complained and suffered and questioned what the hell we were thinking, and for all the swearing that we would never do this to ourselves again, we are already making a list of the next few mountains we're going to conquer.
Colorado Springs
While taking on our first 14er with a monster hike to test ourselves and our gear was the focus of our trip and the real story here, there were a few gems from the rest of our trip to Colorado Springs I want to share.
Our Airbnb
This was my brother's first time ever staying in an Airbnb! It seemed apropos to choose the one labeled "Indiana Jones Stays Here on Holiday" in Fountain City, about 20 minutes from downtown Colorado Springs, and it was described as "the most interesting and comfortable place to stay in Colorado."
Frankly, I'm inclined to agree. This is the new best AirBNB I've ever stayed in. (If you want to try AirBNB for the first time, here is my referral link.) Arriving at Austin's beautiful home was such a refreshing, rejuvenating experience after two tough backpacking days.
He was waiting for us upon our arrival to give us a fascinating tour of the home, which was impeccably decorated with unique international artifacts he had collected and his own original artwork. He is a great host, infinitely courteous, and he has the sweetest dog, Haiku, who is happy to show you all her favorite tricks if you're up for it.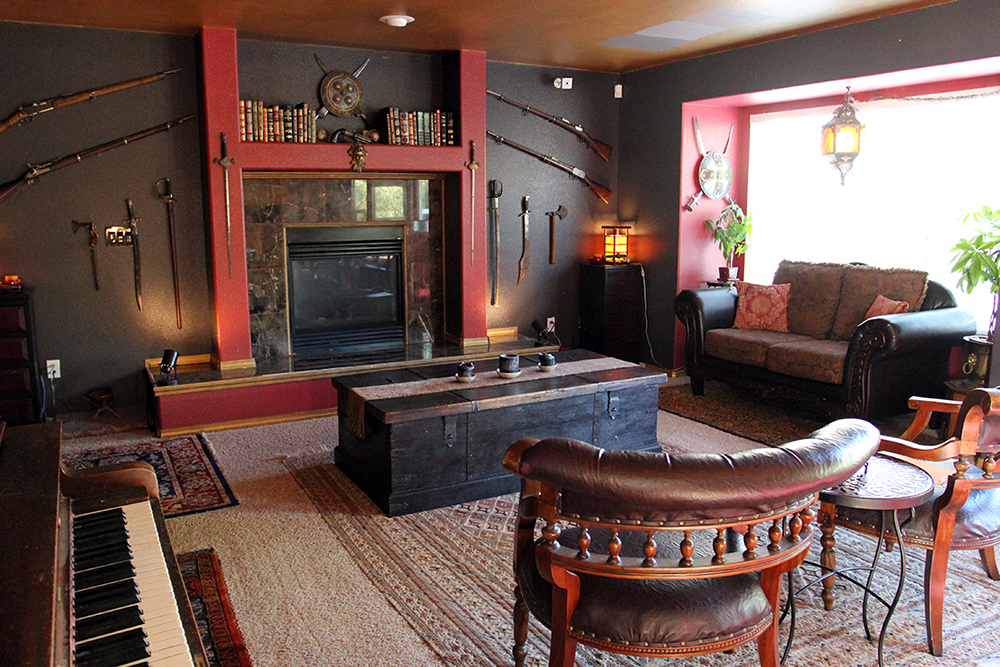 Austin's interior design background shines through with every beautiful detail in the home. At every turn, it felt like Austin had thought of every tiny detail that could make the stay better.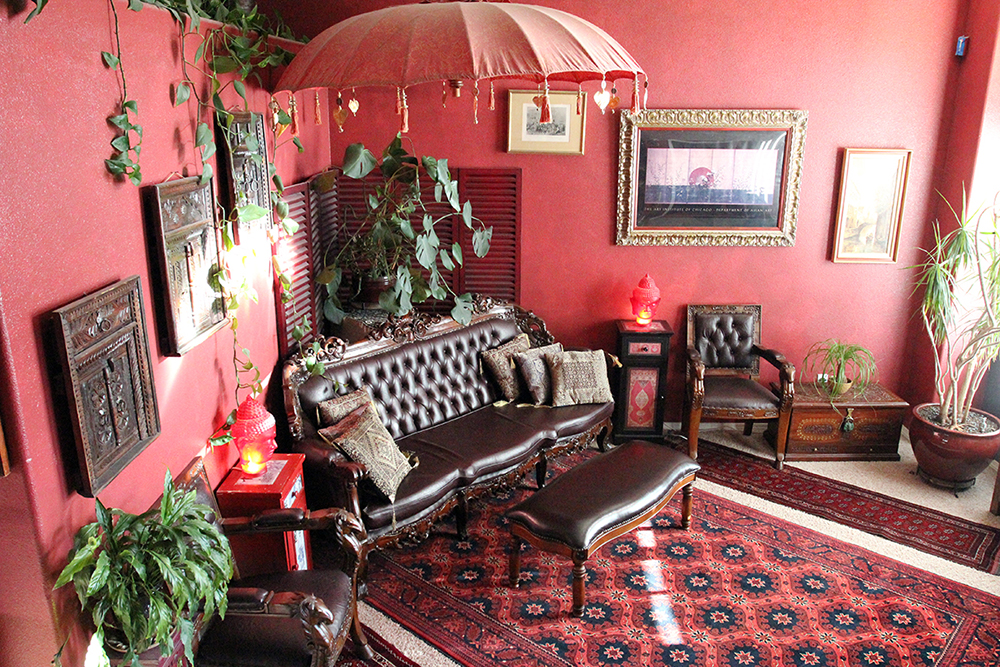 It was the big things, like having the most comfortable beds and the softest bamboo sheets on earth, to the little things, like adding his own personal recommendations to the local restaurant menus, chocolate mints on the pillows, and board games in the closet.
It was the creative things, like his own original rendition of the wonders of the world built from stone and brick in his backyard, and the convenient things, like having snacks and refreshments, as well as ingredients on-hand for us to whip up a pancake breakfast without having to leave the house.
After feeling disgusting and wiped out from the hike, it was so nice to have all these luxuries and start to feel human again. There's nothing better to bring you back to life than a bubble bath in the giant tub in the Bamboo room with candlelight, music and a book.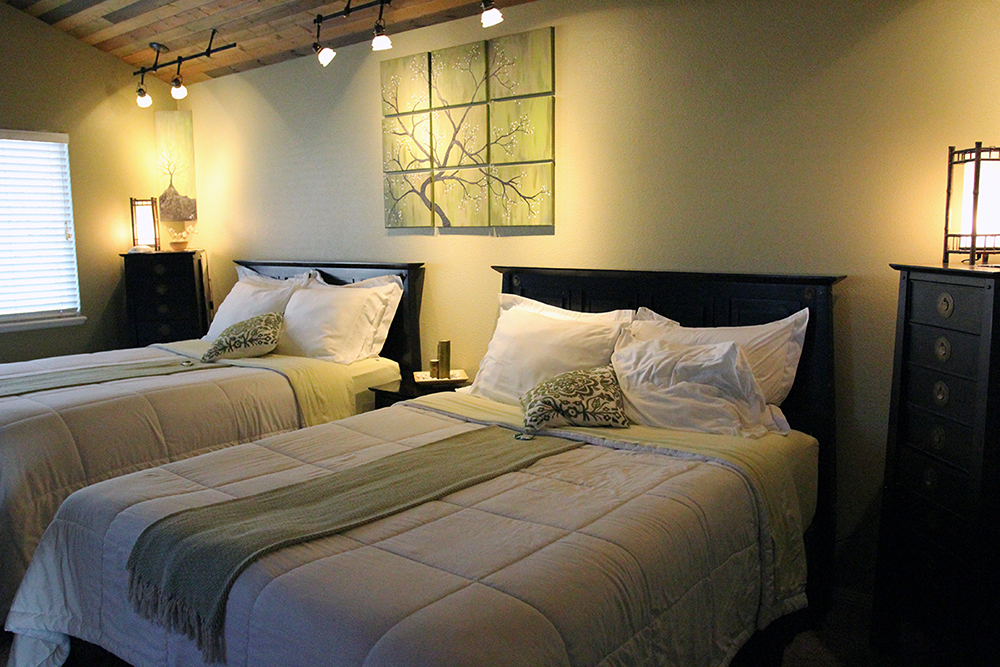 Our only regret is not booking a few extra days to just relax and enjoy the area with Austin's rental as our phenomenal home base. We will definitely be back on our next hiking trip to the area.
What We Ate
After eating undercooked trail food out of bags for two days, it felt like we earned some good meals while we were in the city. We ate at two places, The Rabbit Hole and Cerberus Brewing.
The Rabbit Hole
I really dig the entrance to the Rabbit Hole, though they need to fix their neon sign. It looks like you're going to walk down into a subway station, but instead, you are taken into a trendy underground restaurant with dim mood lighting and Alice in Wonderland-inspired décor. Fortunately, they were able to fit us in without a reservation.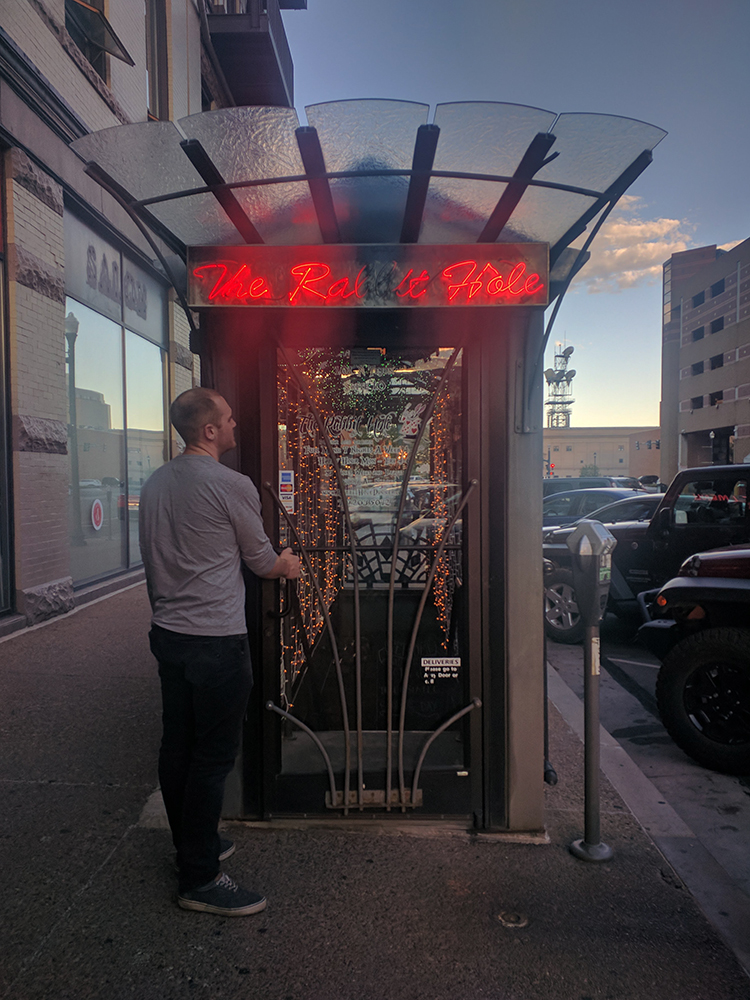 This was our dinner the night we came off the mountain and we felt famished. Bring on the protein, carbs, and cheese. My brother was feeling adventurous, so he tried mussels for the first time. I had only ever had mussels in white wine or red sauce, but the Rabbit Hole's were prepared in a Pretzel lager with garlic butter. They were super savory and satisfying.
For our meals, Cody opted for the Laughing Lab Colorado braised lamb shank over haystack goat mashers and baby carrots, with a chocolate milk stout demi-glace, plus an ice cold beer he had been daydreaming about since mile three on the mountain. He said the goat cheese took the mashed potatoes to the next level.
I chose the seafood pasta, with shrimp, scallops, and lobster over linguine pasta with a carbonara cream sauce. The kitchen graciously allowed me to leave the bacon off (I'm pescatarian), so I know that I missed out on a little of the salt and fat that probably brought the whole dish together, but it stood up well and checked all my carbs, protein and cheese boxes for the evening. Only bummer was that one of the scallops didn't have its 'foot' removed, but I caught it before taking a bite.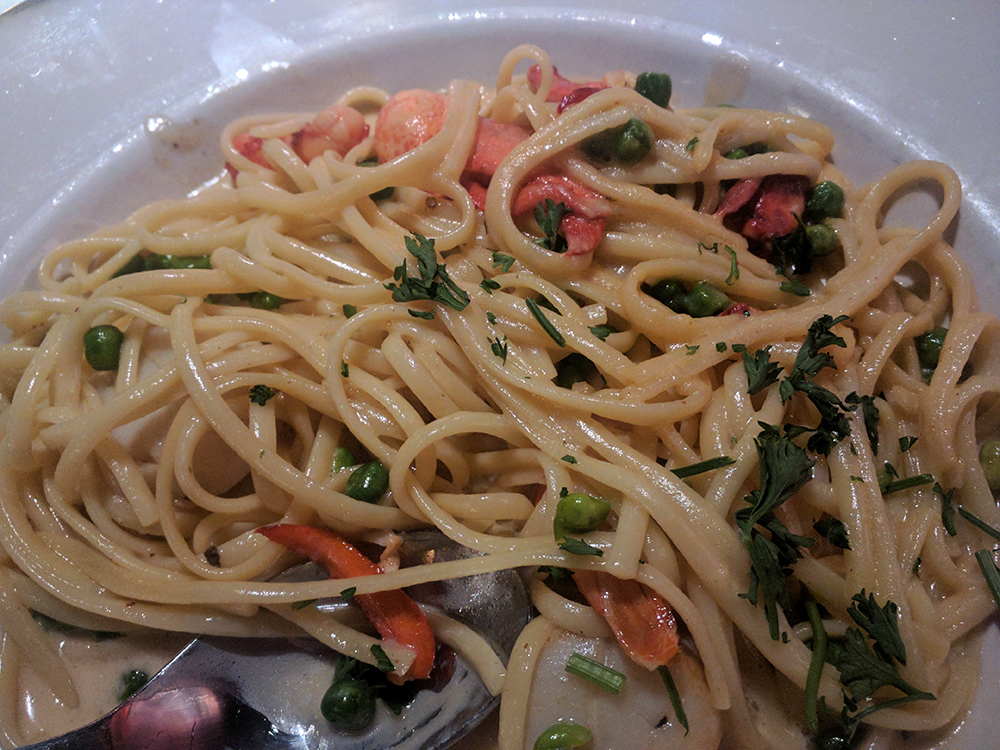 Cerberus Brewing
My dudes, you have to go to Cerberus Brewing. My meal was everything I dreamed it would be and more. This place came recommended by a Twitter friend, Chris Jones and it was the best possible way to close out our trip before the drive back.
We started our patio exerience with matching beer flights so we got to try five of their brews. I tried the Elysium IPA, Demeter Saison, No Big Deal Kolsch, Johnny Marzen, and one other.
We also ordered their fried green tomatoes as a starter. Y'all. This appetizer was so baller. Fried green tomatoes with whipped chevre, lavender, crunchy jicama and watermelon radish slaw with cilantro and a lime vinaigrette. It is every bit as delicious as it sounds.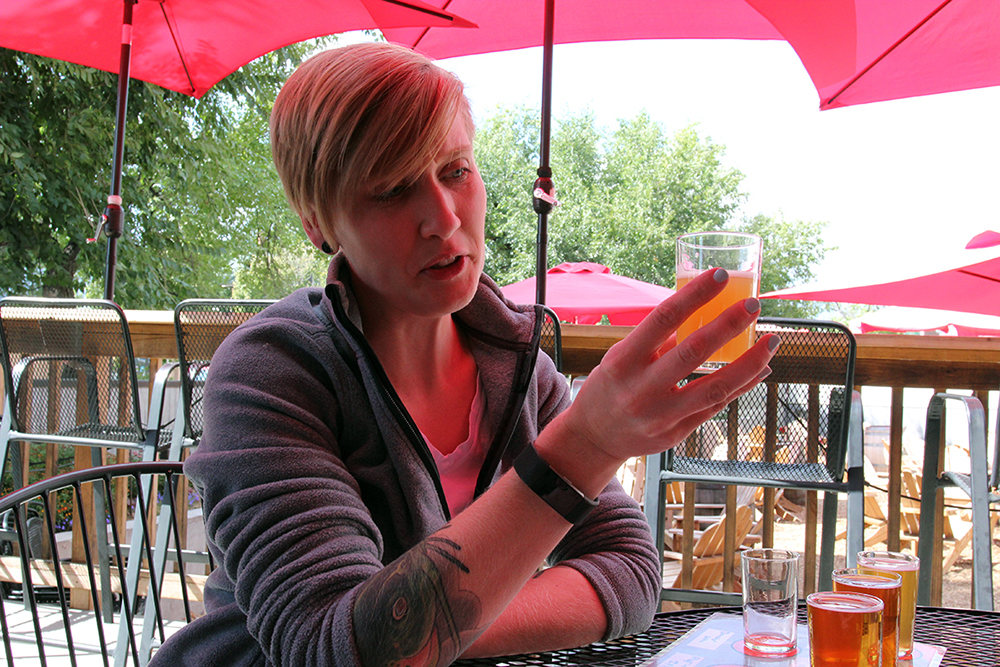 For our main, Cody got the Jamaican-spiced pulled chicken sandwich on special with a side of their pickled vegetables. I went for their beer mustard gnocchi, and I'm not exaggerating, this was the best meal I'd had in recent memory. Gnocchi submerged in a rich cheddar ale sauce, topped with broccoli, balsamic mushrooms, a red pepper relish, heirloom tomatoes, pickled mustard seeds, and sorrel greens. It is so rare that I get to be surprised by flavors in a dish anymore. The mustard seeds and ale sauce were so hearty with the creamy bites of gnocchi and complemented beautifully by the savory but tart balsamic mushrooms and fresh vegetables.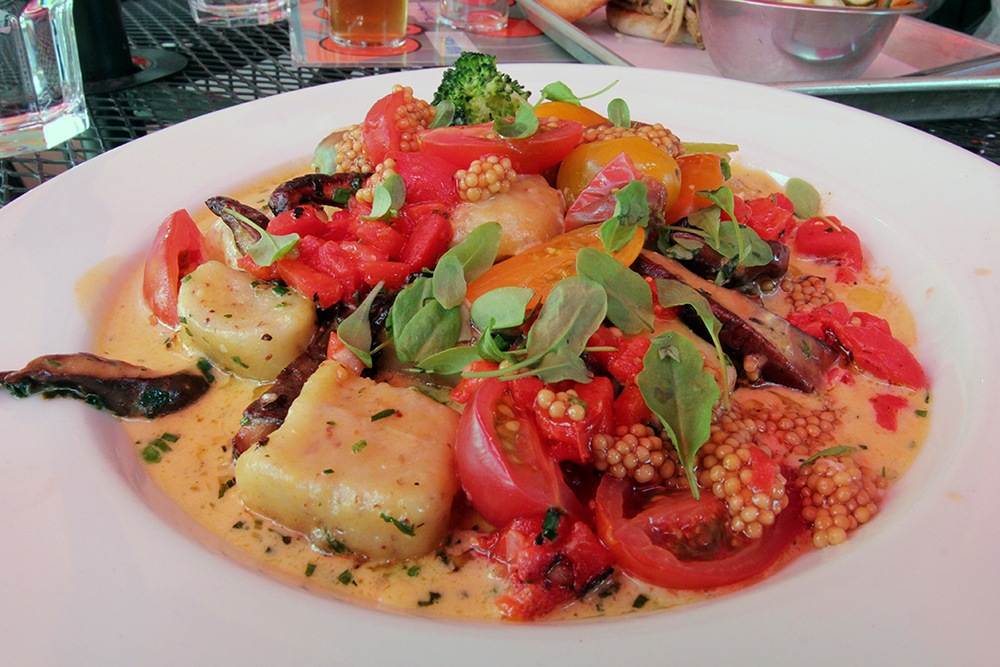 We closed our visit to Cerberus Brewing by picking up a few of their "crowlers" – their 32-ounce beers that they can on the spot – to take home to my better half, who took amazing care of my struggling dog so I could go on this momentous trip with my brother.
Then, we hit the road to head back east just as the clouds were rolling in and the rain came to Colorado Springs.
Note: Links to Amazon products in this post are affiliate links. Purchasing items from Amazon after clicking this link yields a small amount of revenue that helps support my ability to create this content. All product references are unsolicited, I'm just a fan.