It should be freezing cold and everything should be buried in snow. Instead the cobblestone streets of Old Port are wet with melting slush and snow, though most of the shops in the area are closed when we arrive in the area around 5 p.m. as if we should all be retreating to the hygge of our homes to hunker down against the elements.
Despite the "sleepy town" feel everywhere we went, my teammate Jared and I used our little bit of spare time on a recent business trip to explore the area and uncovered a few gems worth sharing. Warning: It's nearly all food.
The first thing I did after parking my car in the Old Port area was snap this sunset photo over the Fore River that connects to Casco Bay – then hit up the nearby valet for some recommendations.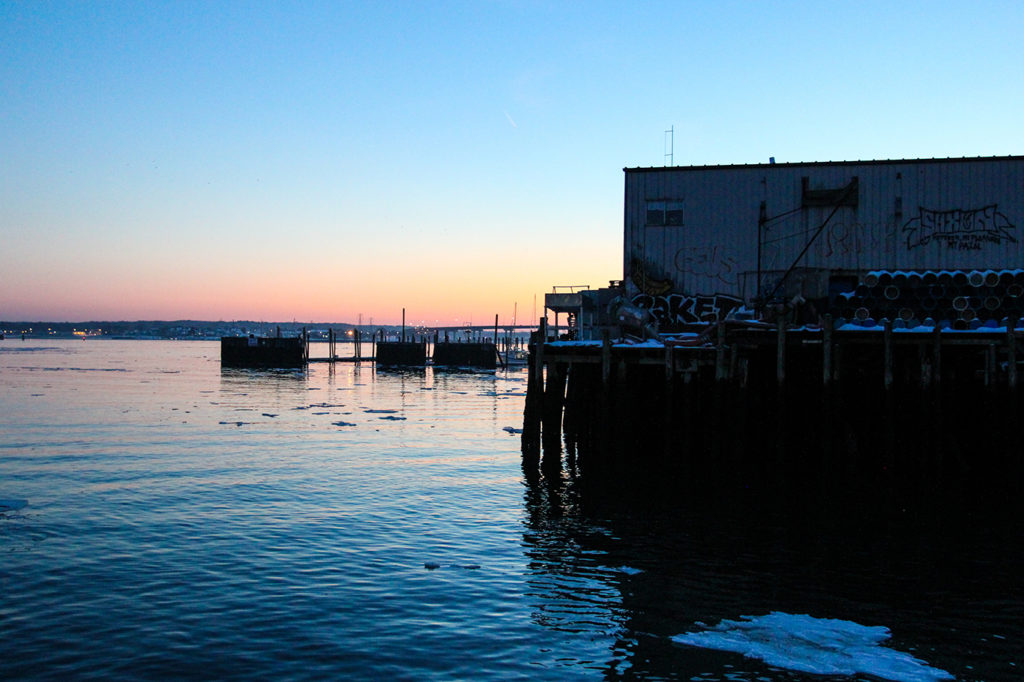 Independent Ice Company
Independent Ice Company was a quiet little whiskey bar in the Old Port area with leather booths, wood grain, candlelight, and a red backlit bar. Though it was almost empty on a Monday evening, the spot had a pleasant ambience and provided respite from the cold. The server had control of the playlist, and had Charles Bradley on rotation. I enjoyed the Kolsch from local Maine brewer Orono.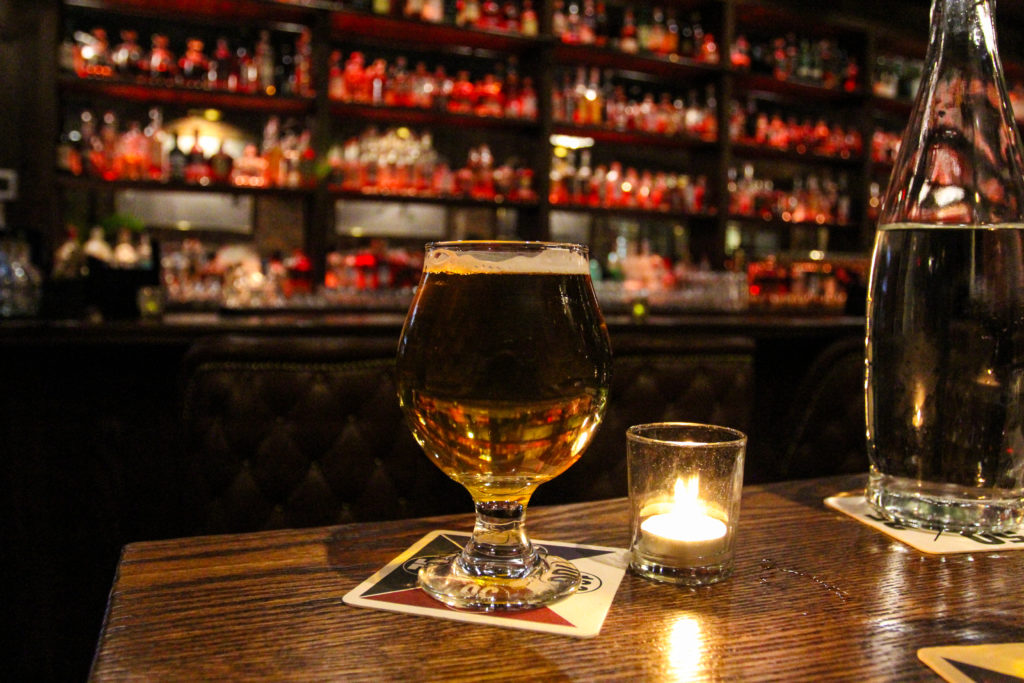 Scales
Our visit to Scales was our "splurge" meal of the Portland business trip. Jared looked up the best restaurants in the area for oysters. Right away we ordered a dozen east coast oysters and a glass of wine each. It's always fun tasting half shell varieties with friends, and we enjoyed their local Basket Island, New Meadow and Wolfe's Neck oysters.
We also ordered the wholly unnecessary (and wholly worth it) cloverleaf rolls with garlic butter. There was a strong debate between the lobster roll and their whole lobster special, but we ultimately both went with the special.
Brought to our table was a massive whole lobster split down the middle and buried in a butter wine sauce, a particularly herbaceous-tasting tail, and extra tender claw meat.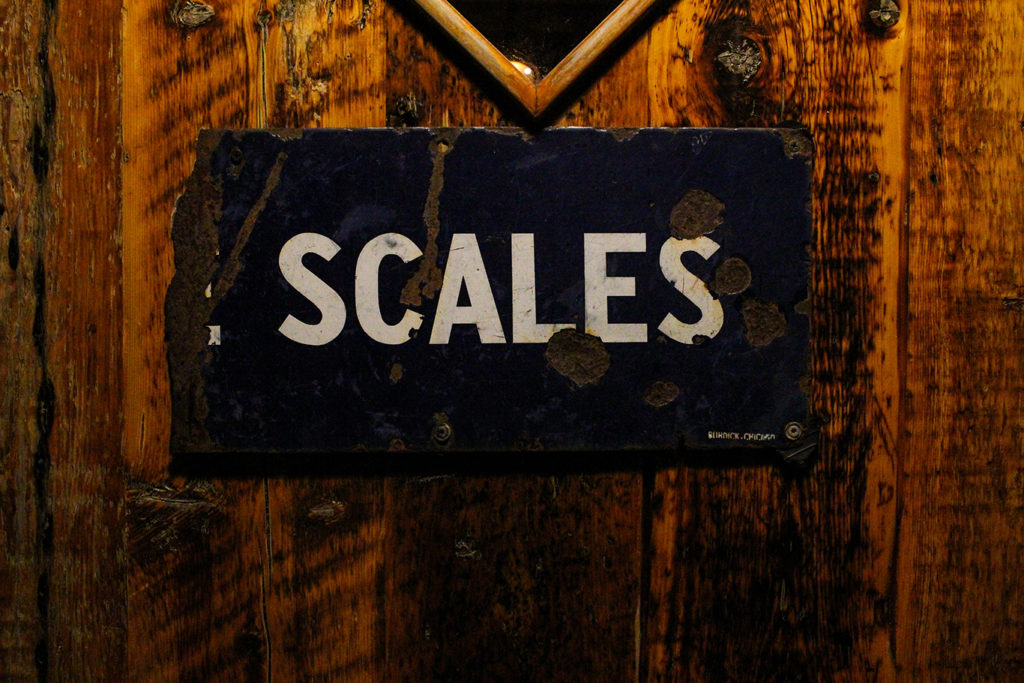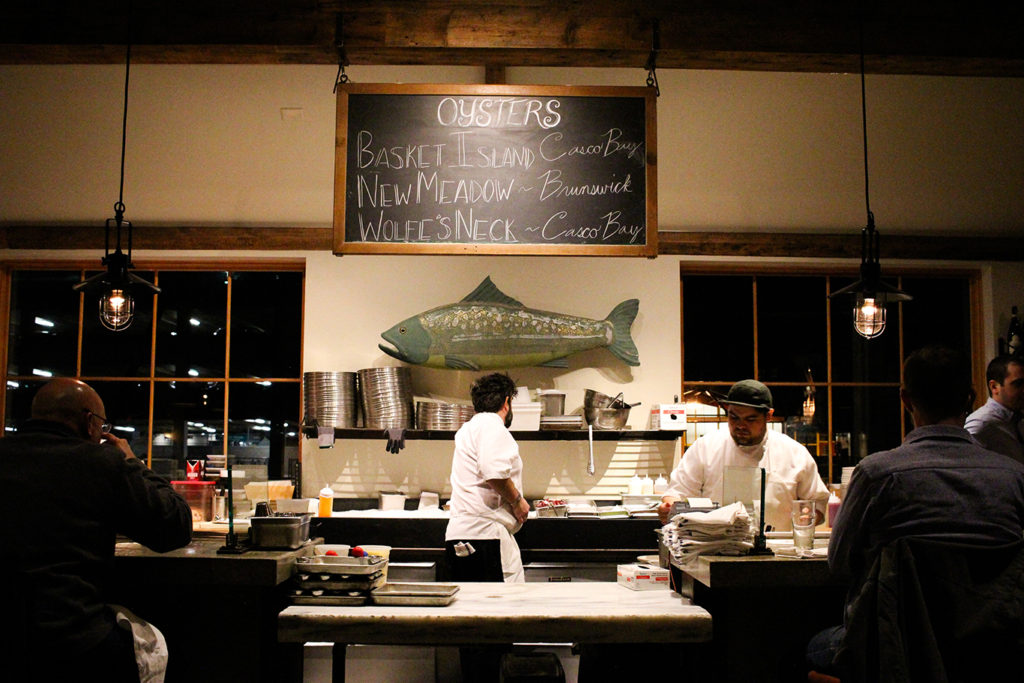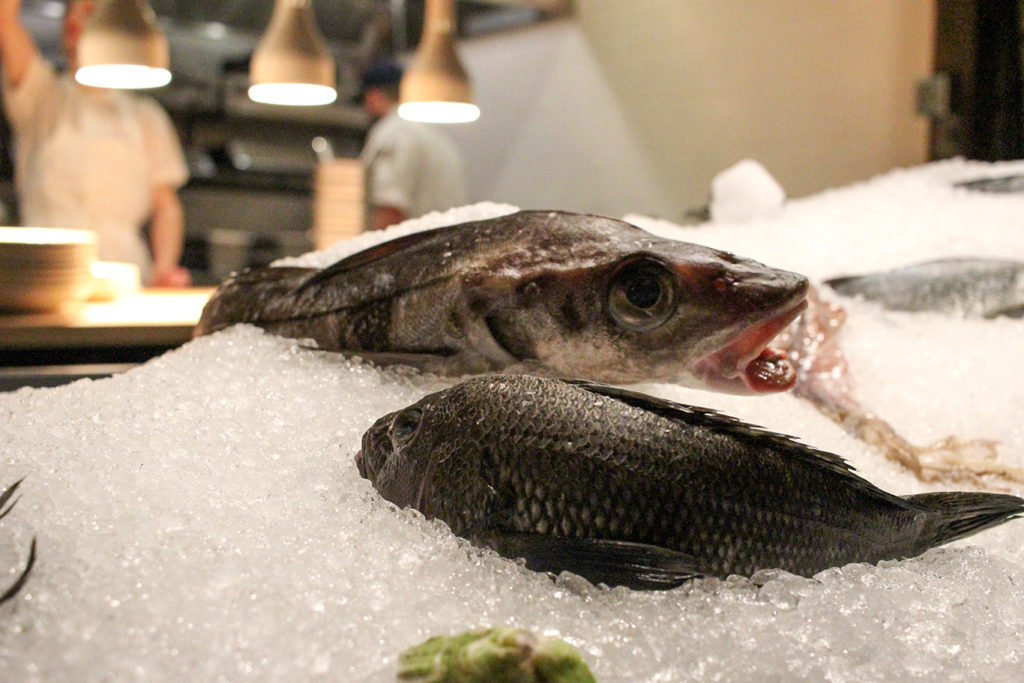 Glorious Gelato
We satisfied our after-dinner sweet tooth at Glorious Gelato, a true Italian gelateria founded by a Milanese couple 10 years ago. I treated myself to the chocolate hazelnut gelato on a waffle cone. Delicious.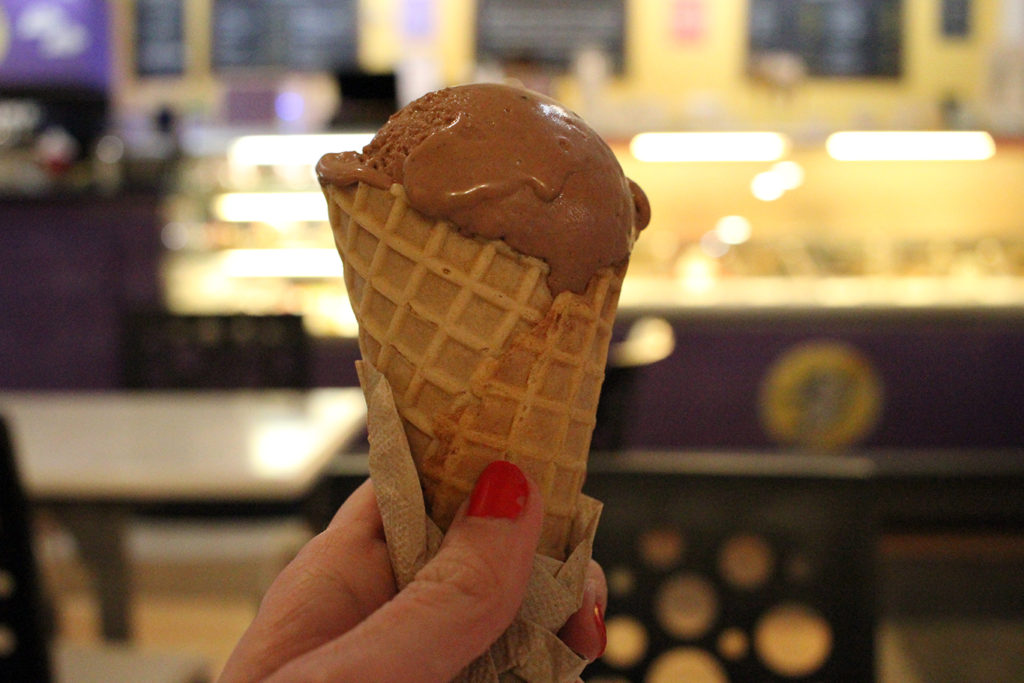 With all the purple interior decor with pops of yellow it was like the anti-Planet Fitness. I regret nothing. We made sure to check with our gelato server on the way out the door for a breakfast recommendation. Which leads us to…
Dutch's
Breakfast at Dutch's! What an awesome recommendation. The moment you walk in the door you are surrounded by quaint, old-fashioned posters advertising the outdoor attractions Maine has to offer. The diner vibe is strong in this hipster-friendly haven.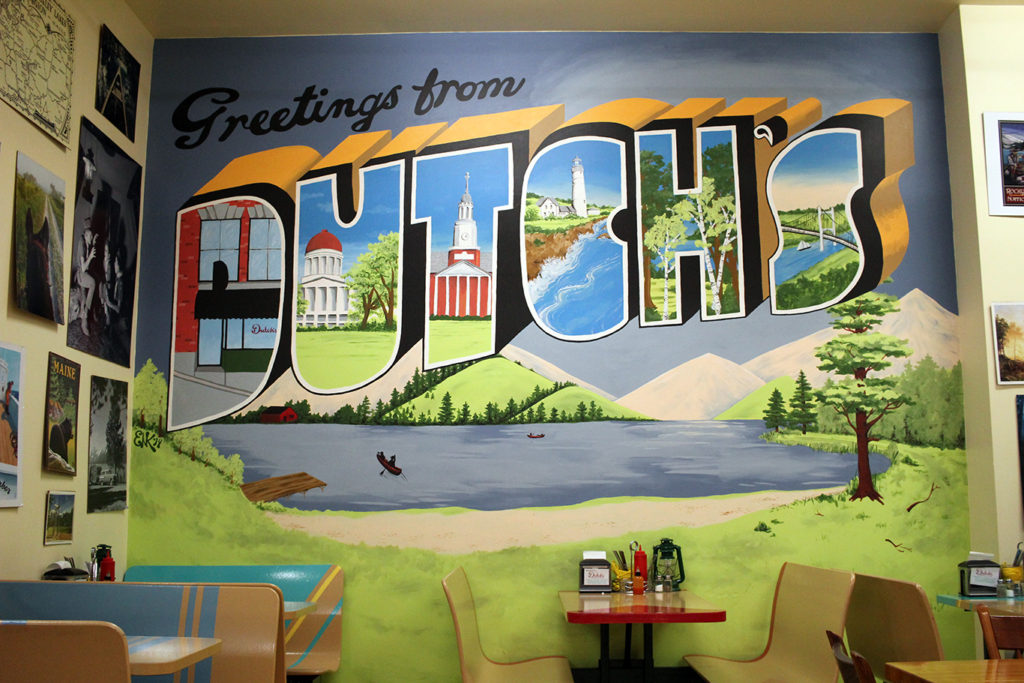 I wanted to eat 80% of the menu, but I ordered the extremely tasty vegetarian breakfast burrito which came filled with scrambled egg, cheddar, hash browns, refried beans, salsa, chimichurri, and sour cream wrapped in a flour tortilla.
One Six Green
When you are going into all-day client meetings to do great work together, you need a little caffeine to keep your energy and attention up. So we popped into One Six Green, a small shop owned by Australian expat Kharis Johnston.
Pro-tip: I brought my own reusable mug, but Kharis was quick to offer one of their "give a mug, take a mugs" for Jared's use.
Spring Point Marina
We had some time to kill before we had to hit the road to Kennebunk, the weather was nice, and we wanted to see a lighthouse. The nearest one was Spring Point Ledge Lighthouse. This is a real, functional lighthouse that has been here since 1897.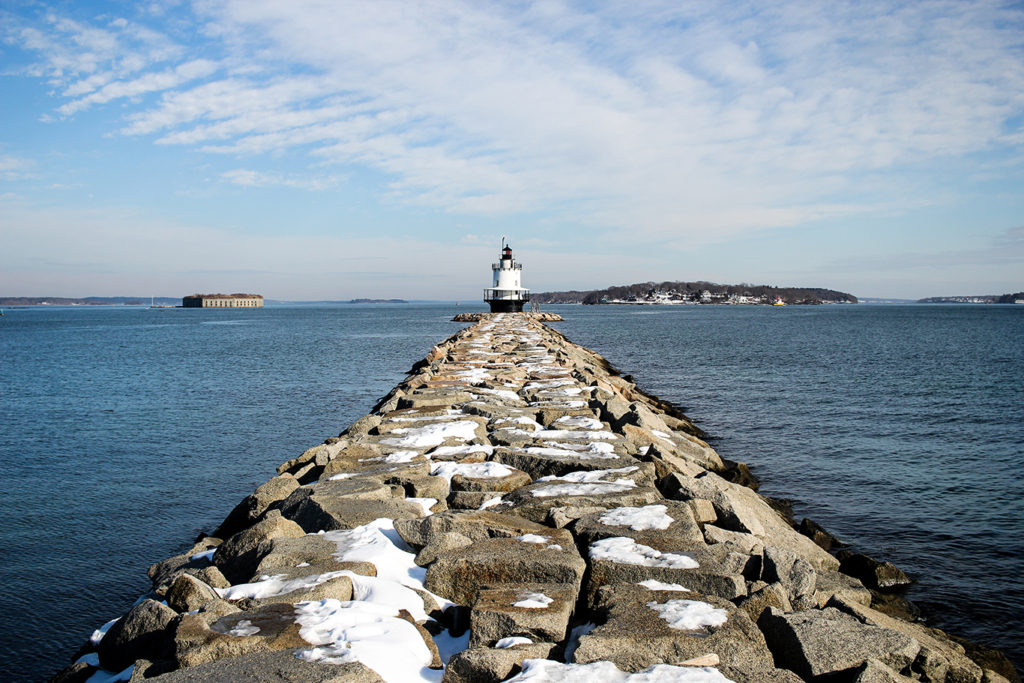 I'm not going to lie, we laughed when we saw how squat it was. But it turns out this is a caisson-style light station, and it's the only one in the U.S. you can actually walk to!
The lighthouse closed to interior visits – it's open only Memorial Day through Labor Day. It was still such a nice stop on an unseasonably beautiful winter morning. I wish I had been wearing more casual shoes to be able to make my way down the stone breakwater.
Victorian House near Kennebunk
Speaking of the commute to Kennebunk and Kennebunkport from Portland – check out this wild yellow Victorian house we spotted on the side of the road! There were so many big, ornate homes like this on our drive.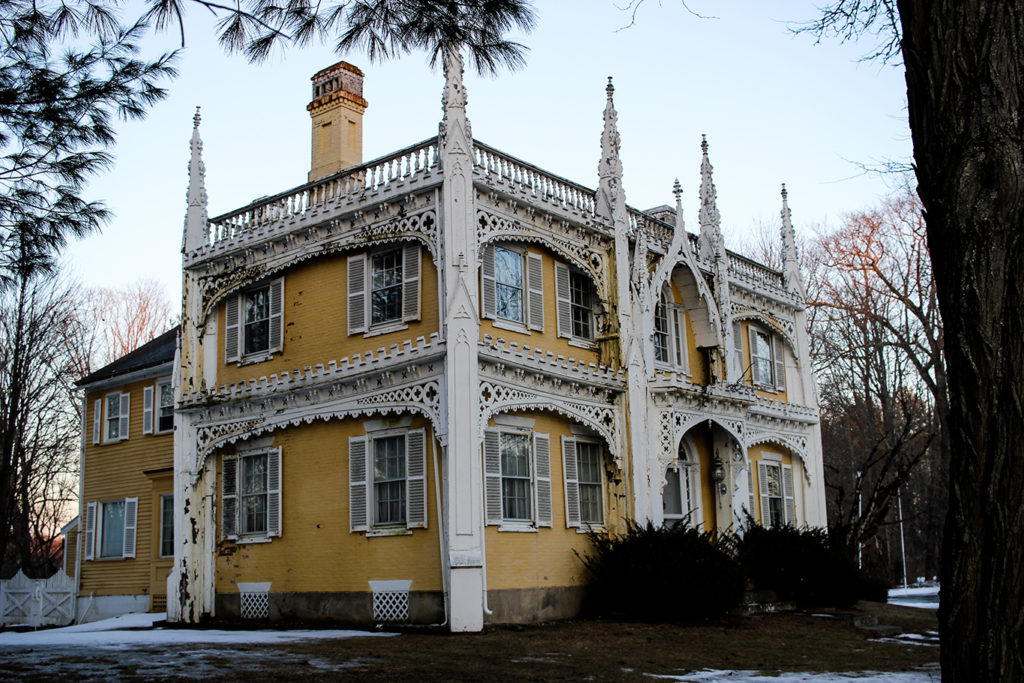 Boulangerie
When we arrived in Kennebunk, we wandered around the blink-and-you'll-miss-it town for a bit prior to our meetings. We popped into this lovely little bakery, Boulangerie, for a pastry.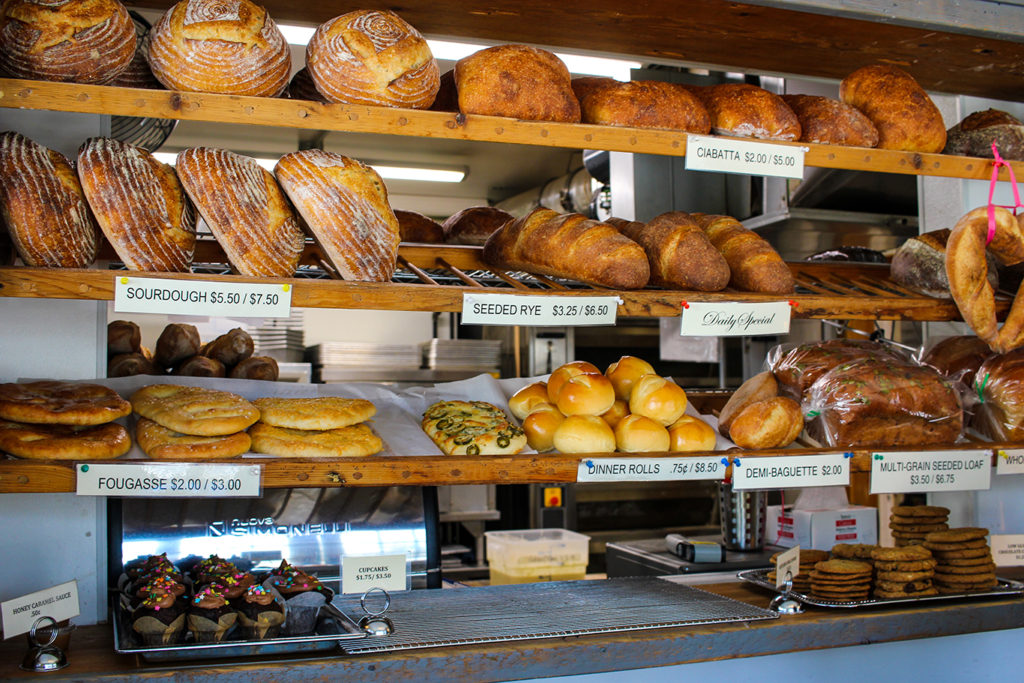 It looks like a big, red barn with lots of rustic wood textures inside. Such a cozy place to hole up with a friend and some pastry.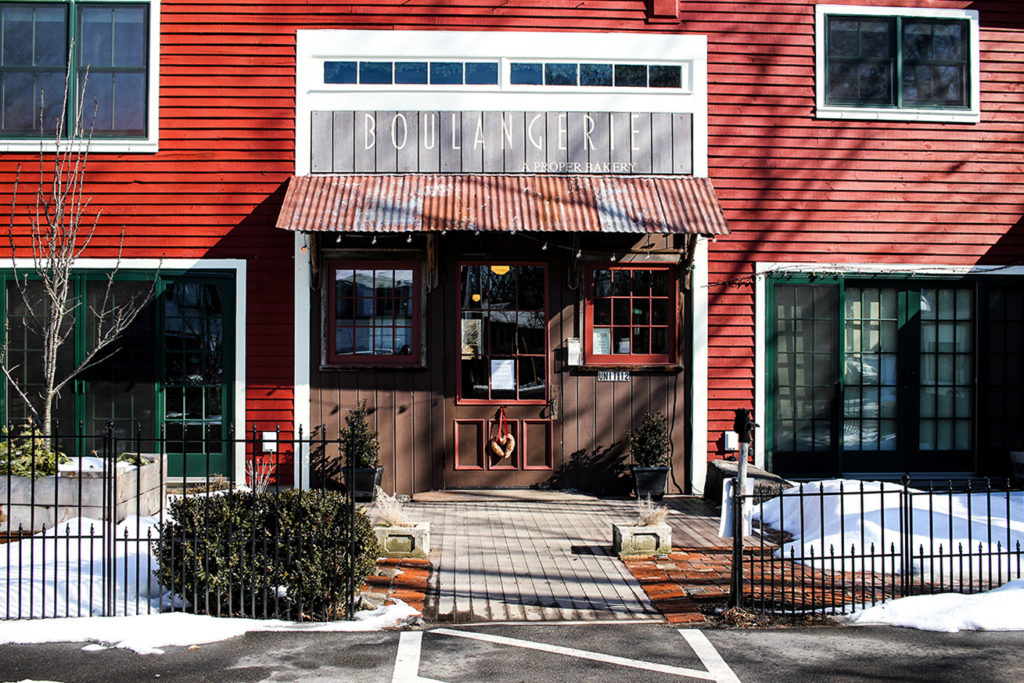 This "proper bakery" serves artisanal bread ranging from baguettes to loaves to danishes to quiche. You can also pick up a light lunch, coffee or tea, and a few local wares. I opted for the perfectly flaky, buttery croissant.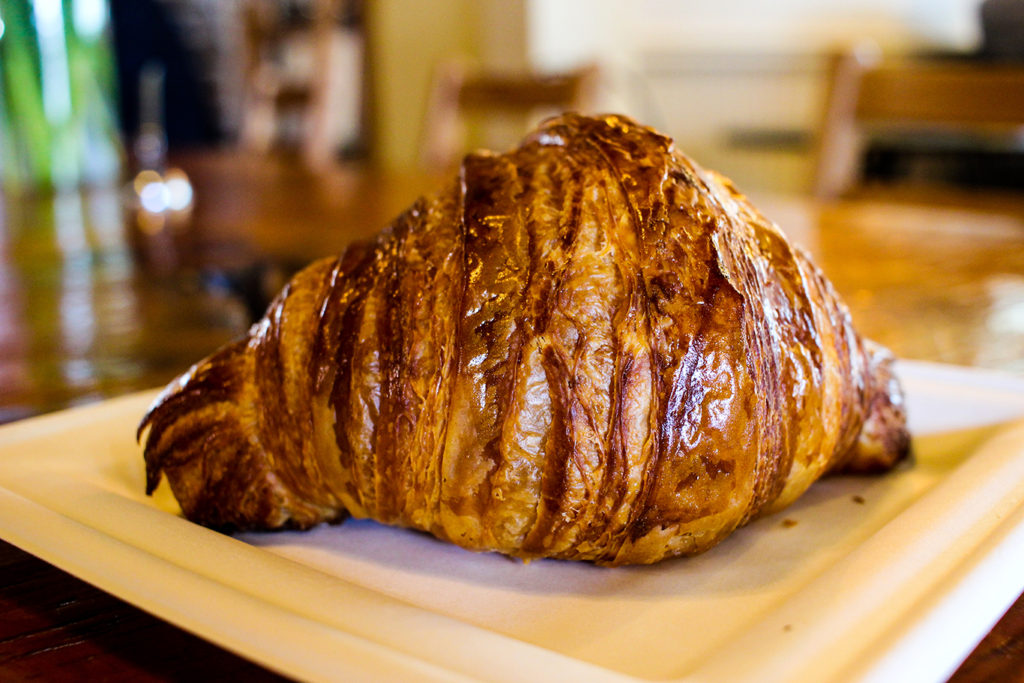 The Boathouse Waterfront Hotel
Our client recommended the Boathouse Waterfront Hotel for dinner, and it was a great time! The bartender who had migrated across the country from the other Portland was great company during cocktail hour while we awaited the rest of our party.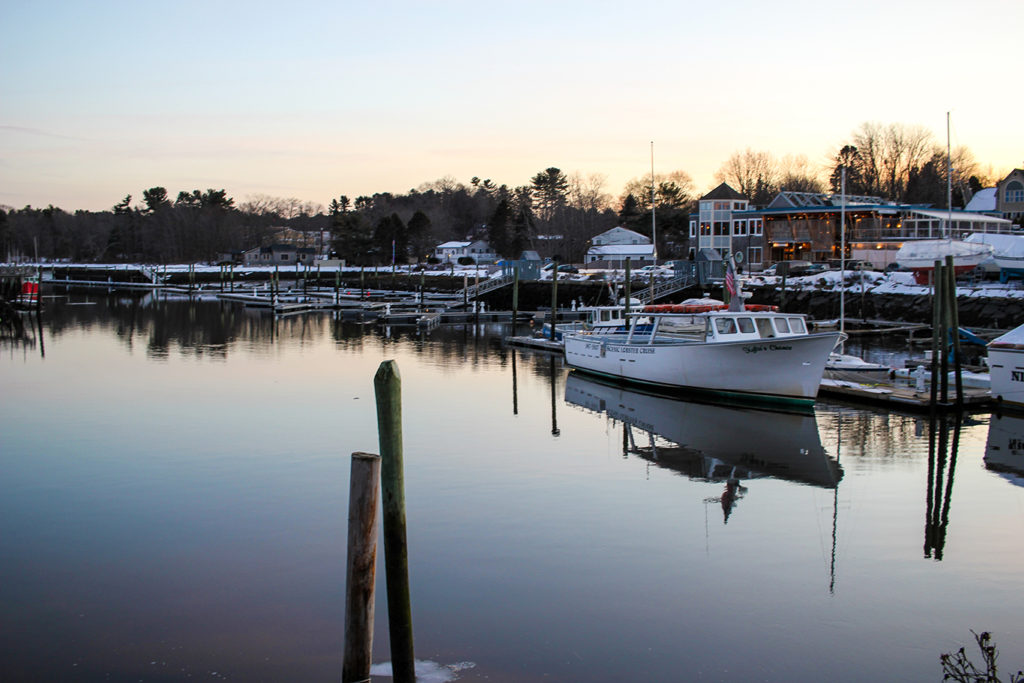 She allowed me a little time to check out their beautiful waterfront patio and snap a few photos.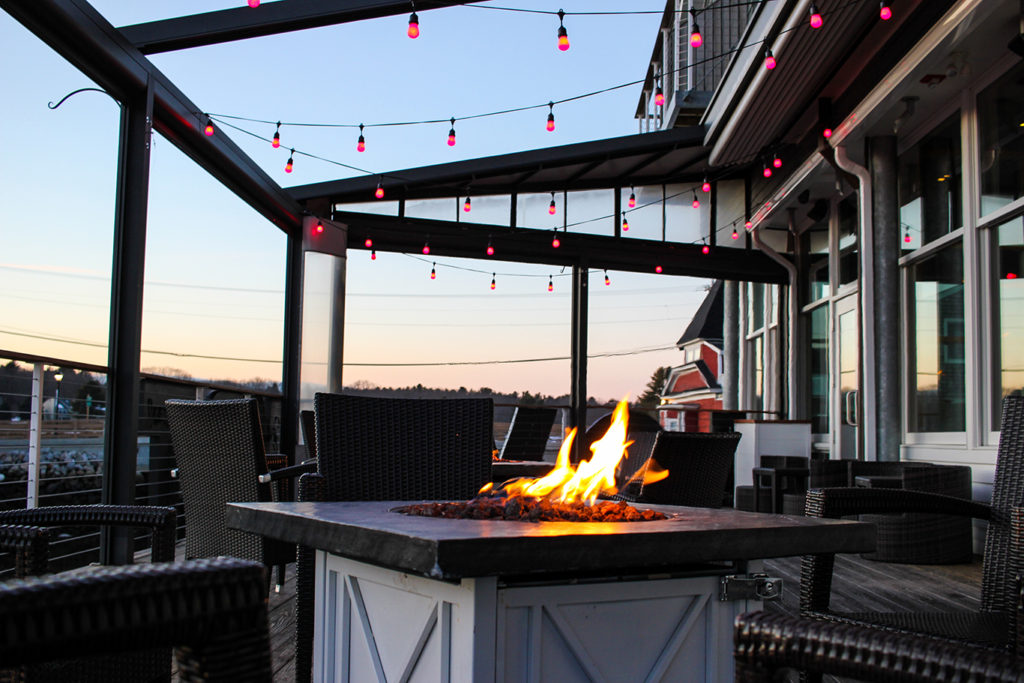 I ate everything at the Boathouse. As appetizers for our large group, we circulated two dozen chef-selected oysters (of which I had more than my fair share), the Maine Crab Cakes with pickled slaw and Green Goddess dressing, the lobster fried rice with sesame egg and Napa cabbage, and ridiculously good crispy Brussels sprouts with Sriracha, honey and lime.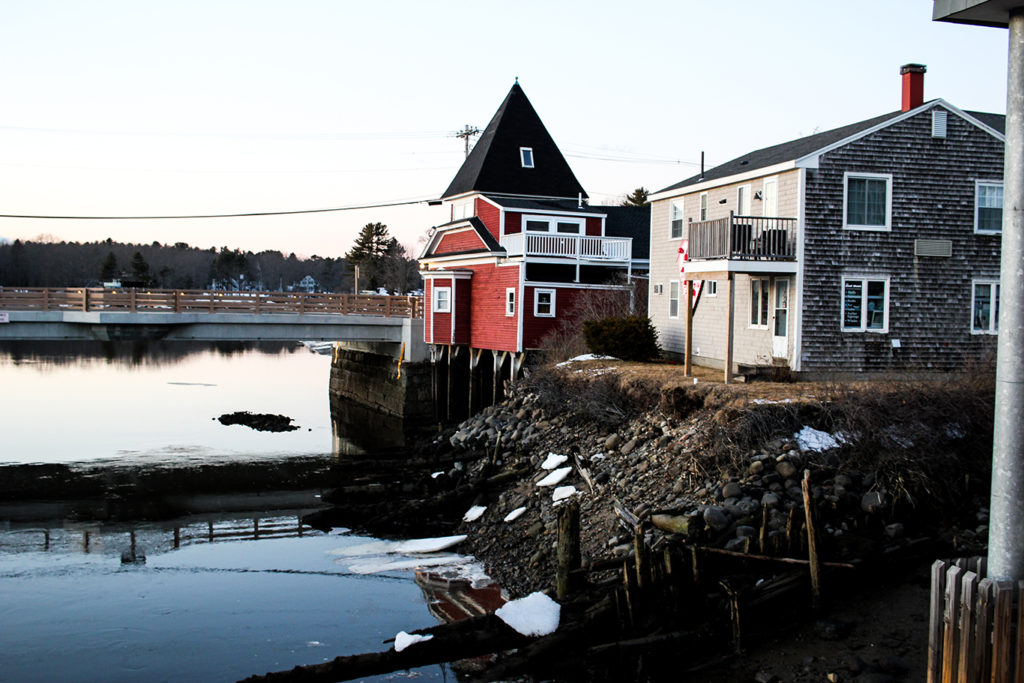 To top that off, I also ordered the lobster roll for my main. It was served New England classic on a New England roll with mayo, lemon and chive. I practically had to be rolled out of there.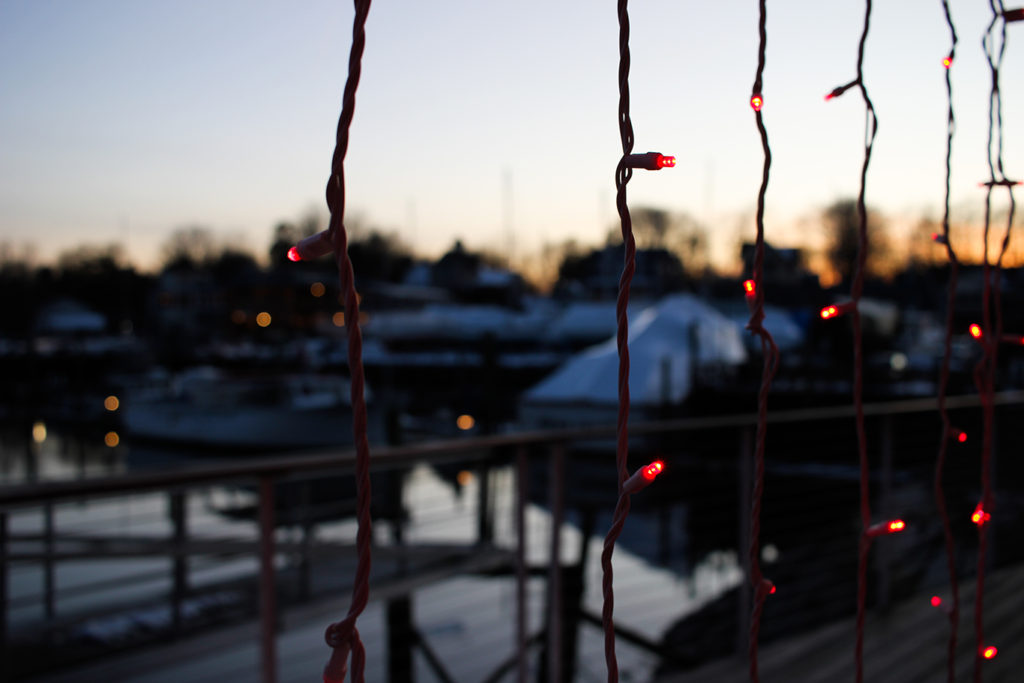 This meal was enough to make anyone fall in love with Kennebunkport.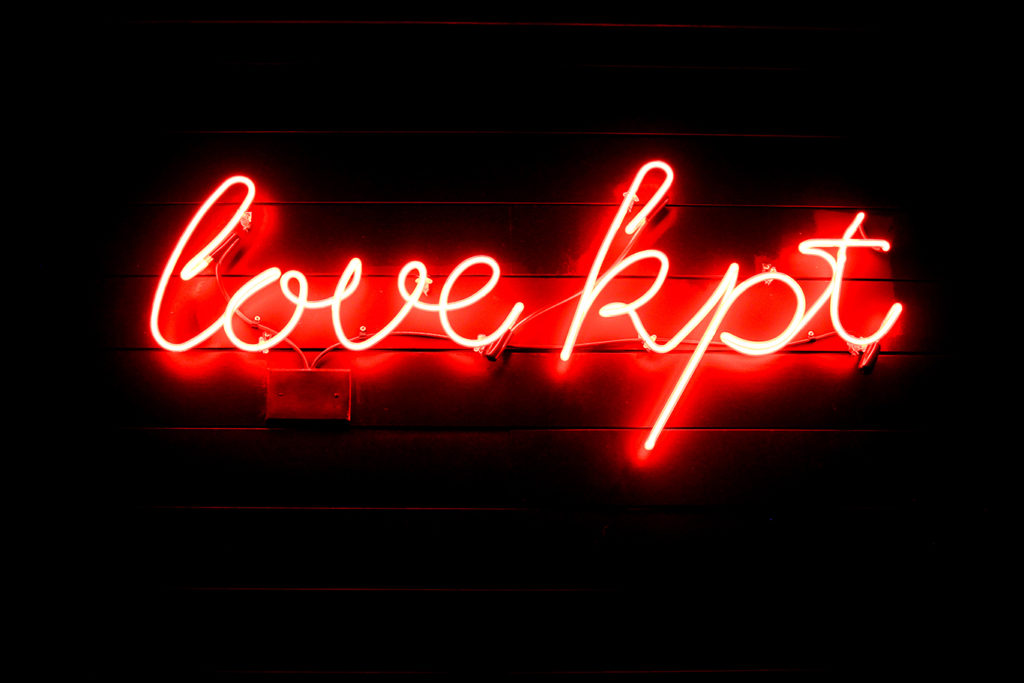 The Holy Donut
In case we hadn't eaten enough the night before, we sought out the famed "potato donut" from The Holy Donut at their original location on Park Ave. How much do you love this colorful display of deliciousness?!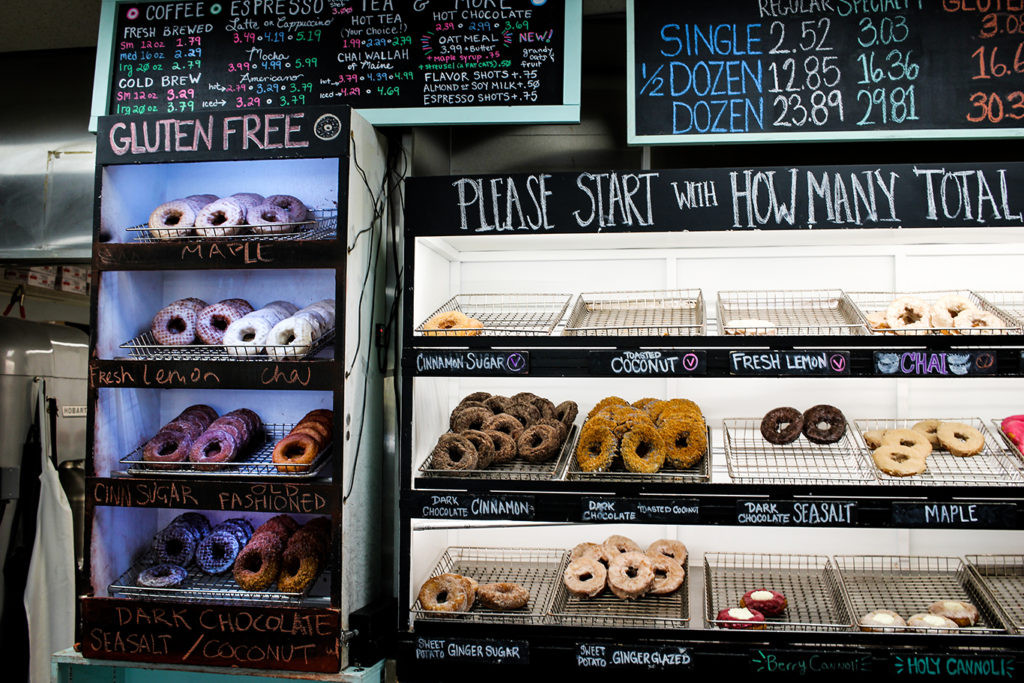 And what is a potato donut you ask? According to their website, "The (not-so) secret ingredient: fresh Maine potatoes. Adding mashed potatoes gives the donuts a delicious moist texture that makes them just melt in your mouth."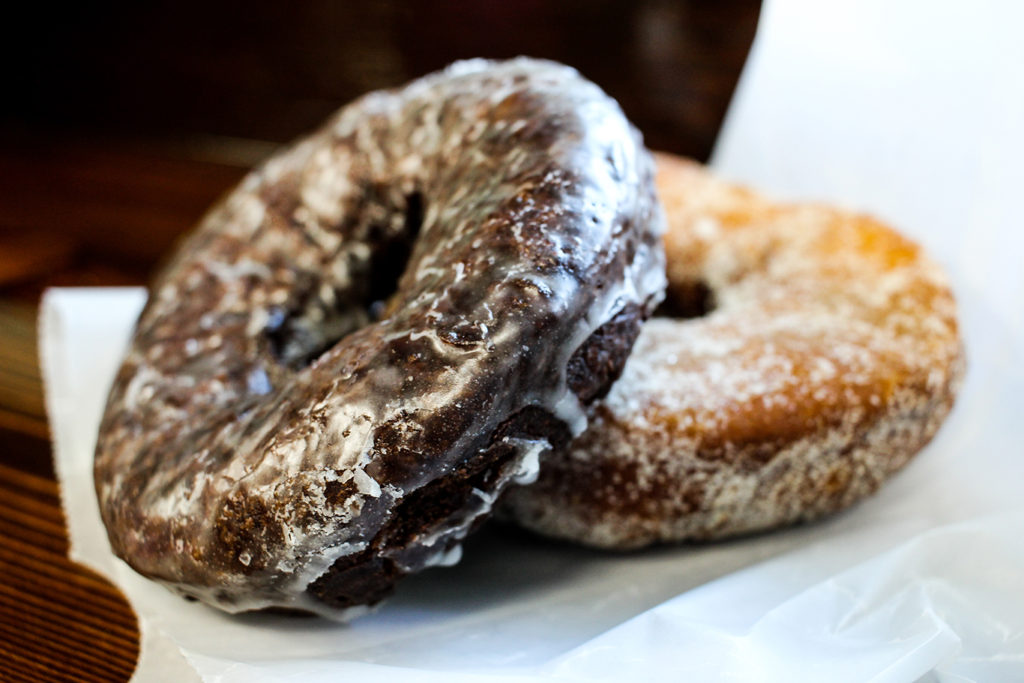 I can attest. I had their dark chocolate sea salt donut (right up my alley, and apparently their most popular flavor) and enjoyed it, but the real winner for me was their ginger-sugared sweet potato donut, made with roasted sweet potato and Maine potatoes in the dough.
Despite their massive growth since they opened in 2012, the shop still hand-cuts every donut, and aims to source as many whole ingredients locally as possible. Should they ever have a day when they don't sell out, they donate all leftover donuts to a local food pantry.
Isa Bistro
On our way out of town, we elected to have a little healthier meal after all our indulgences of the day before. We needed a meal at an odd time, and were lucky to find Isa Bistro open around 2 p.m. for lunch.
This spot was cozy yet felt upscale with its brick, dark wood, black-and-white tile, and beautiful warm lighting.
For a starter, we split the shaved fennel salad, with grapefruit slices, thin wedges of pecorino cheese, mint, a delicate vinaigrette and fresh-cracked pepper.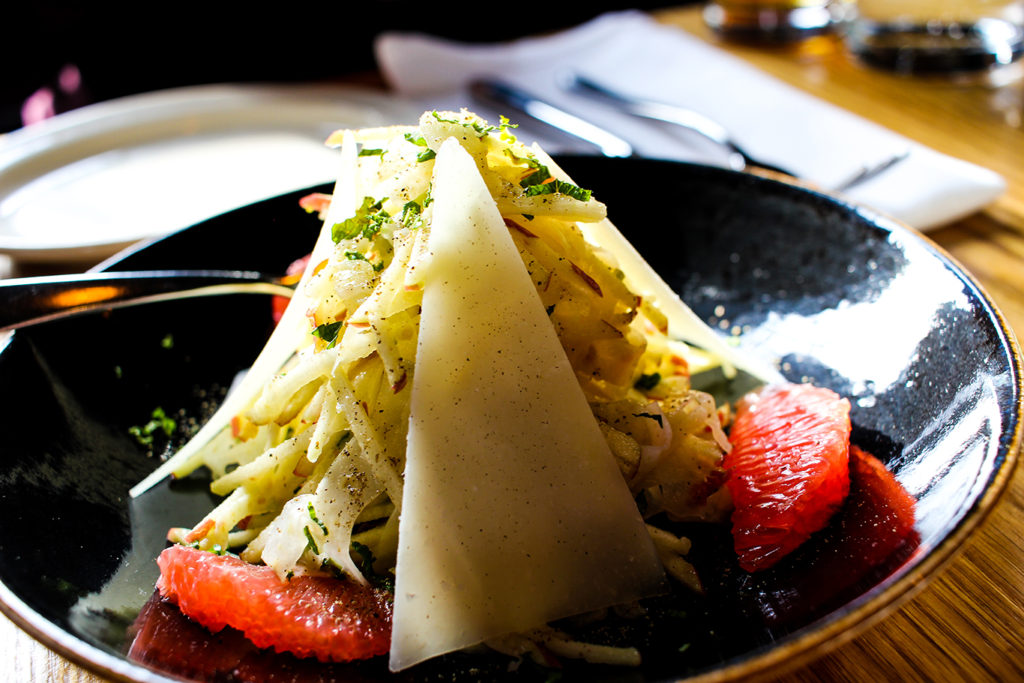 Jared had the meaty beef osso busco stew with hearty carrots, potatoes and grilled bread.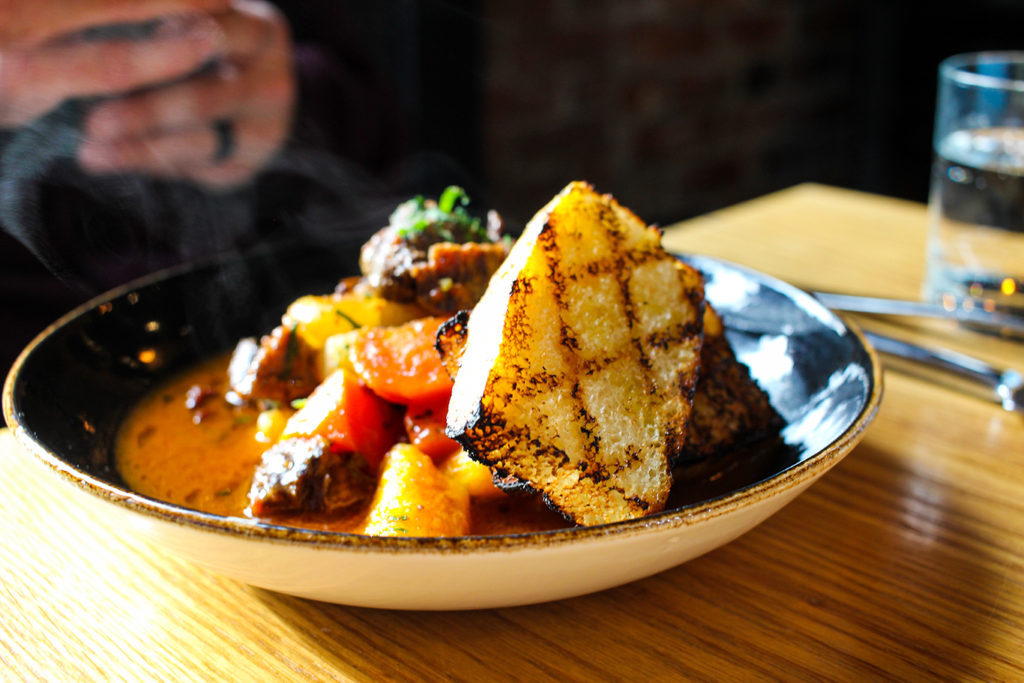 I ordered their lobster tacos on soft corn tortillas with fennel, thinly-sliced radish, zesty guajillo aioli, and a garnish of fresh cilantro. On the side was a lightly dressed greens salad.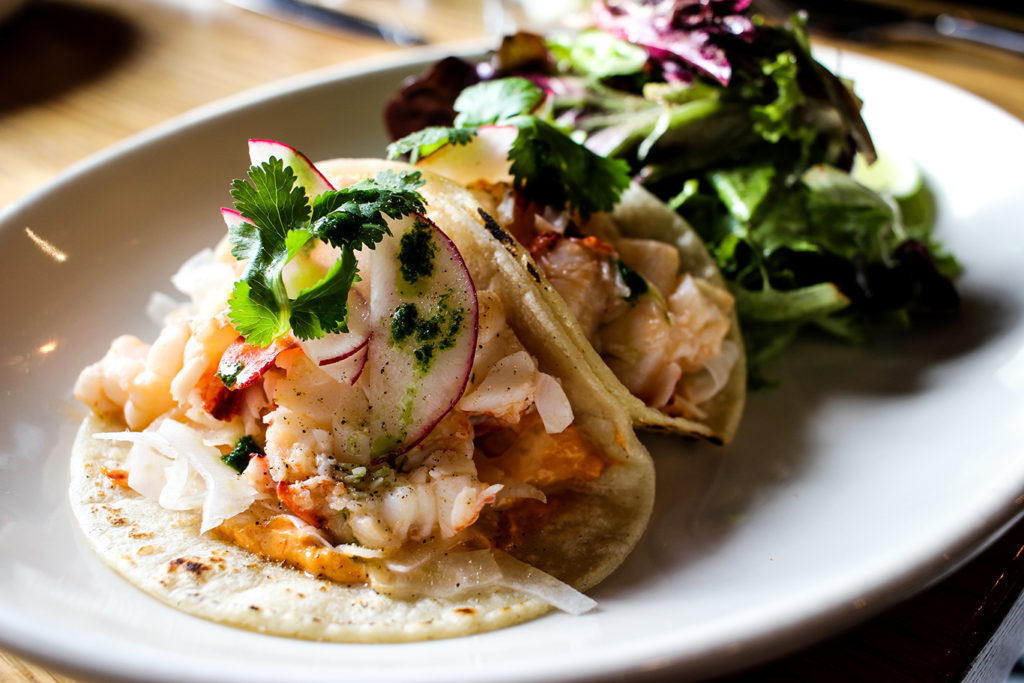 I couldn't ask for a brighter, fresher close to an unseasonably warm trip to Portland, Maine and nearby Kennebunk and Kennebunkport. I'm eager to get back soon!